BAREFEET RETREAT

57' Royal Cape
High Rate: $ 33,500 weekly All Inclusive
Low Rate: $ 29,500 weekly All Inclusive
Cabin Configuration:
Sleeps 10 guests in 5 staterooms, two identical Queens aft, two identical queens amidships, and one queen cabin forward to starboard; the crew sleep forward to port. All have their private bathroom with stall shower, AC, and Wifi.
Specifications:
Length:
Builder:
Built/Refit:
Beam:
Draft:
Regions Available:
Locations It Travels:





Special Features:
57'
Royal Cape
2020
28'
4'5'
St. Thomas




Maximized deck space
Largest fly bridge of any catamaran in the Caribbean
Wheel chair accessible
Fully Air conditioned
Onboard Wi-Fi
generator
watermaker
ice maker

Water Toys
15' Rib center console tender with 50 hp outboard seats 6-8
kids water skis
snorkeling gear
tube
wake board
two person kayak
floating mats
beach games
two stand up paddle boards
three to four rods for trolling and casting
fishing license for USVI only at this time
deep sea fishing
underwater still and video cameras
Dive tanks
Have a Question About This Yacht?
Fill out the form below and we will get back to you quickly!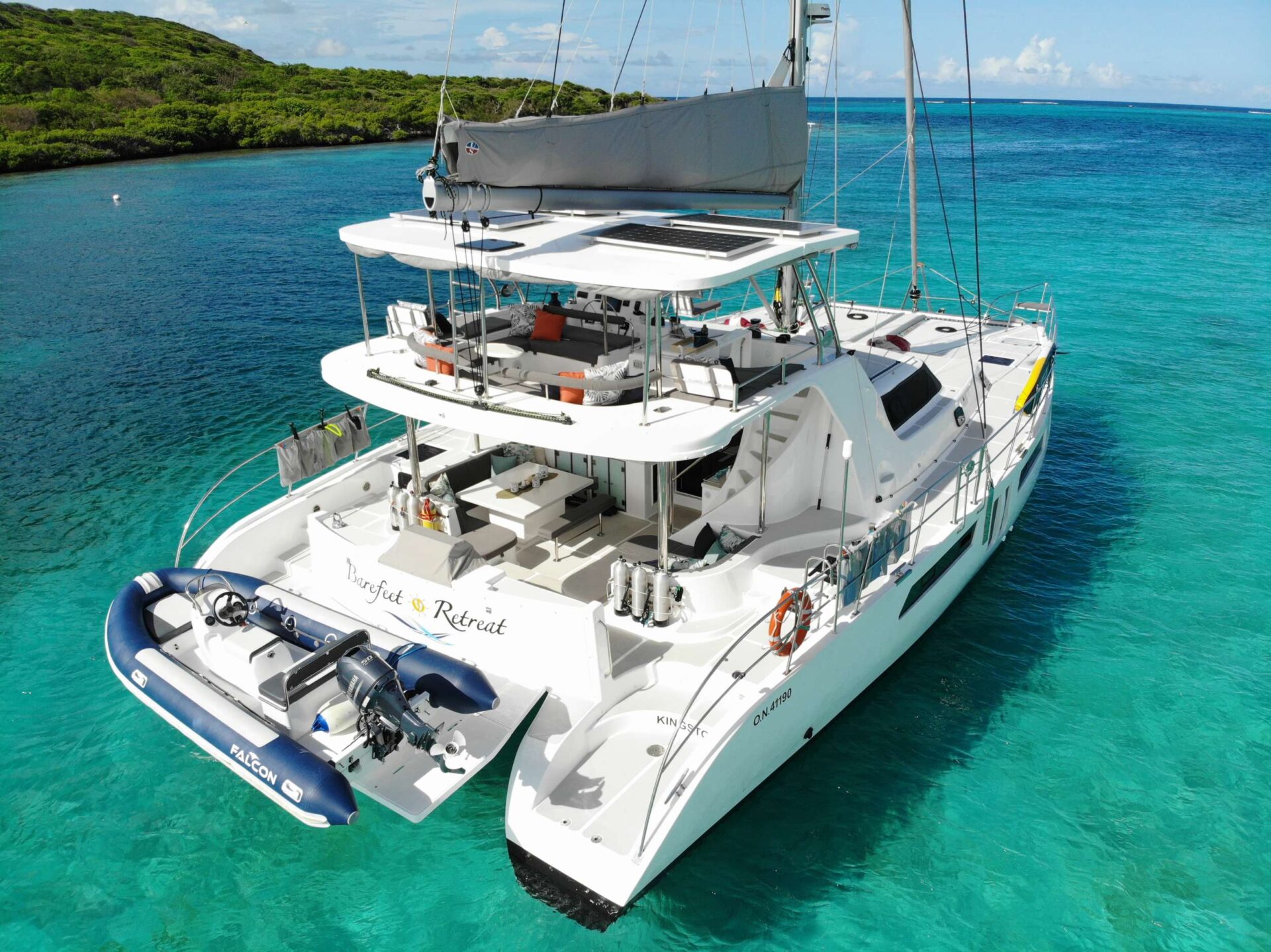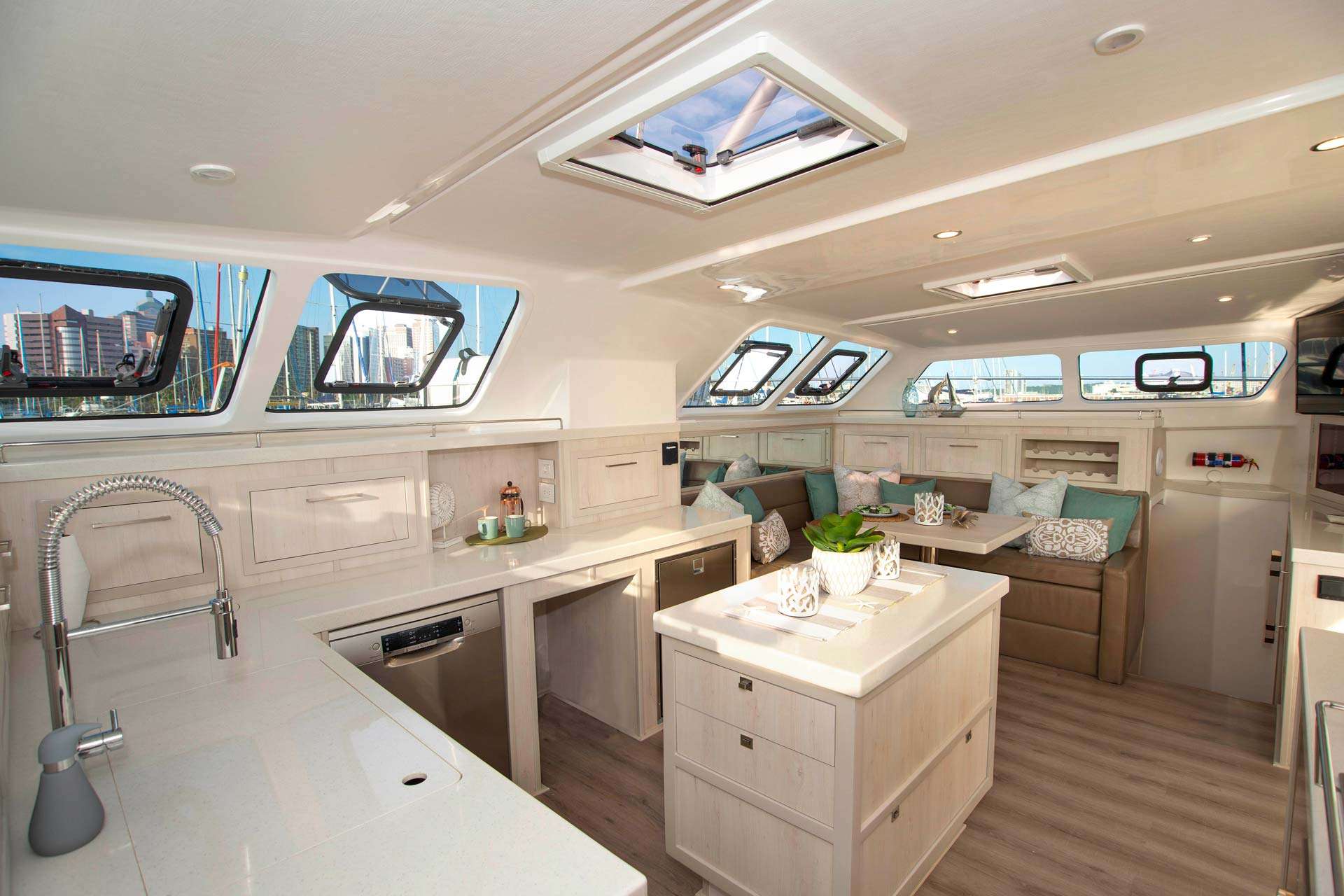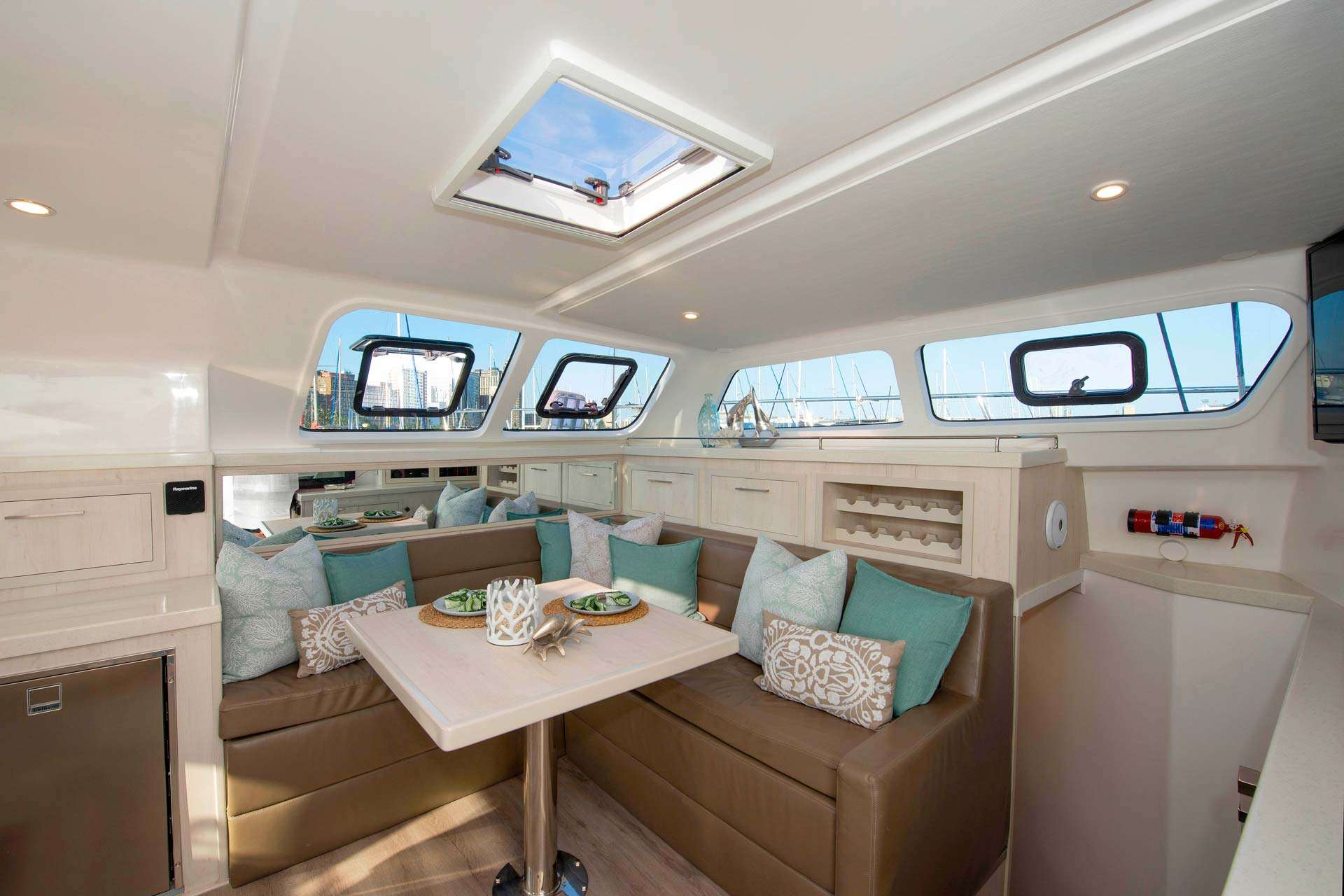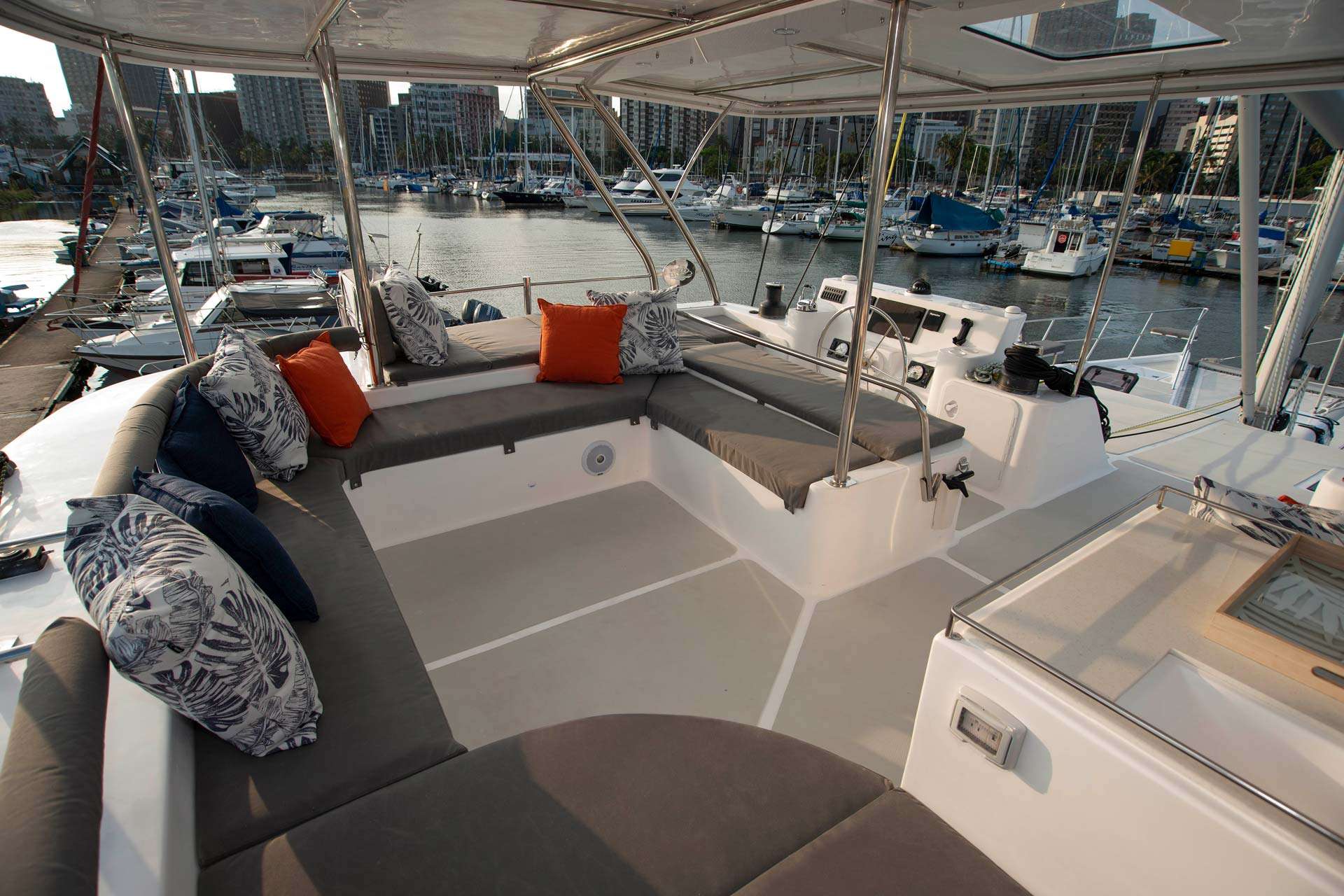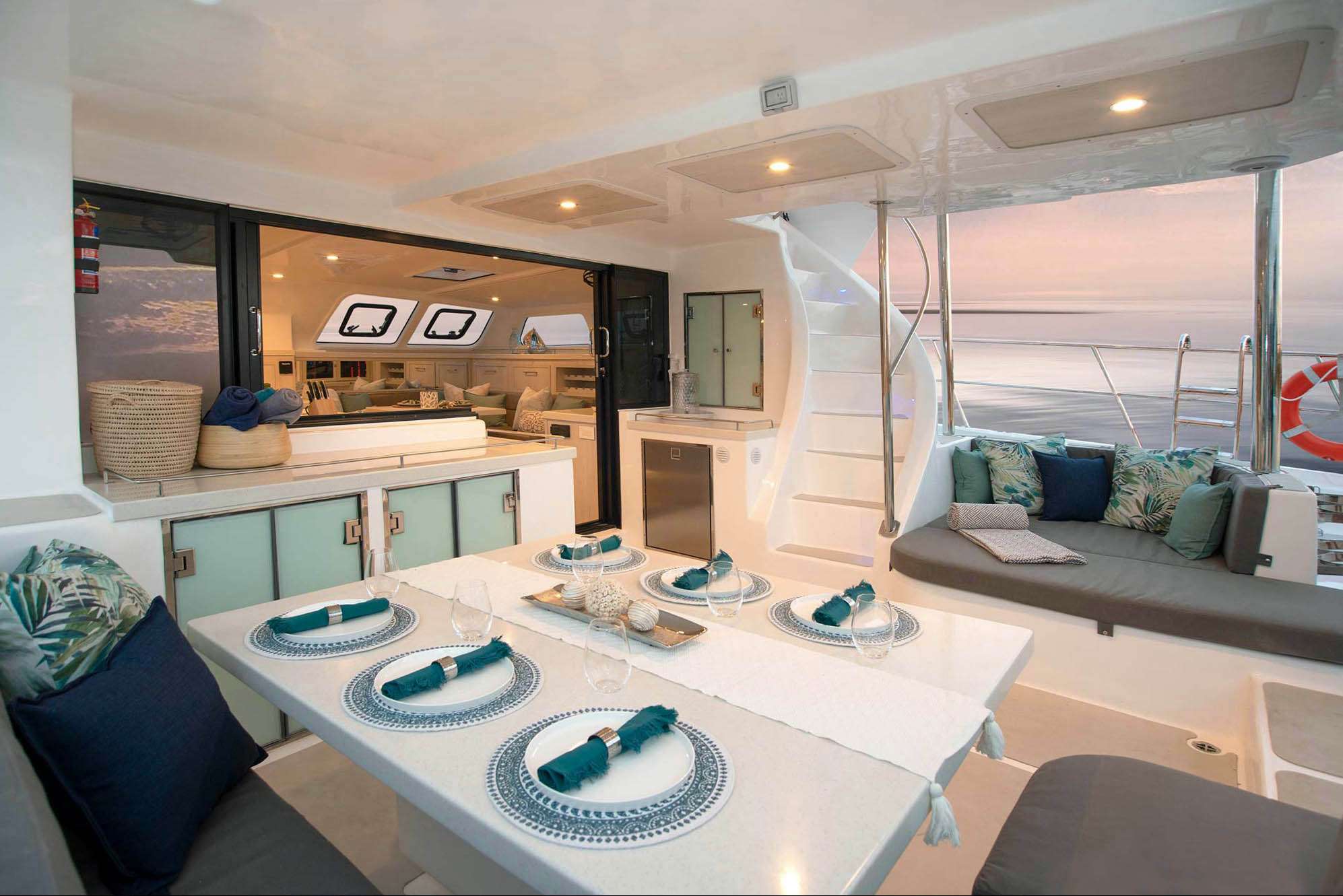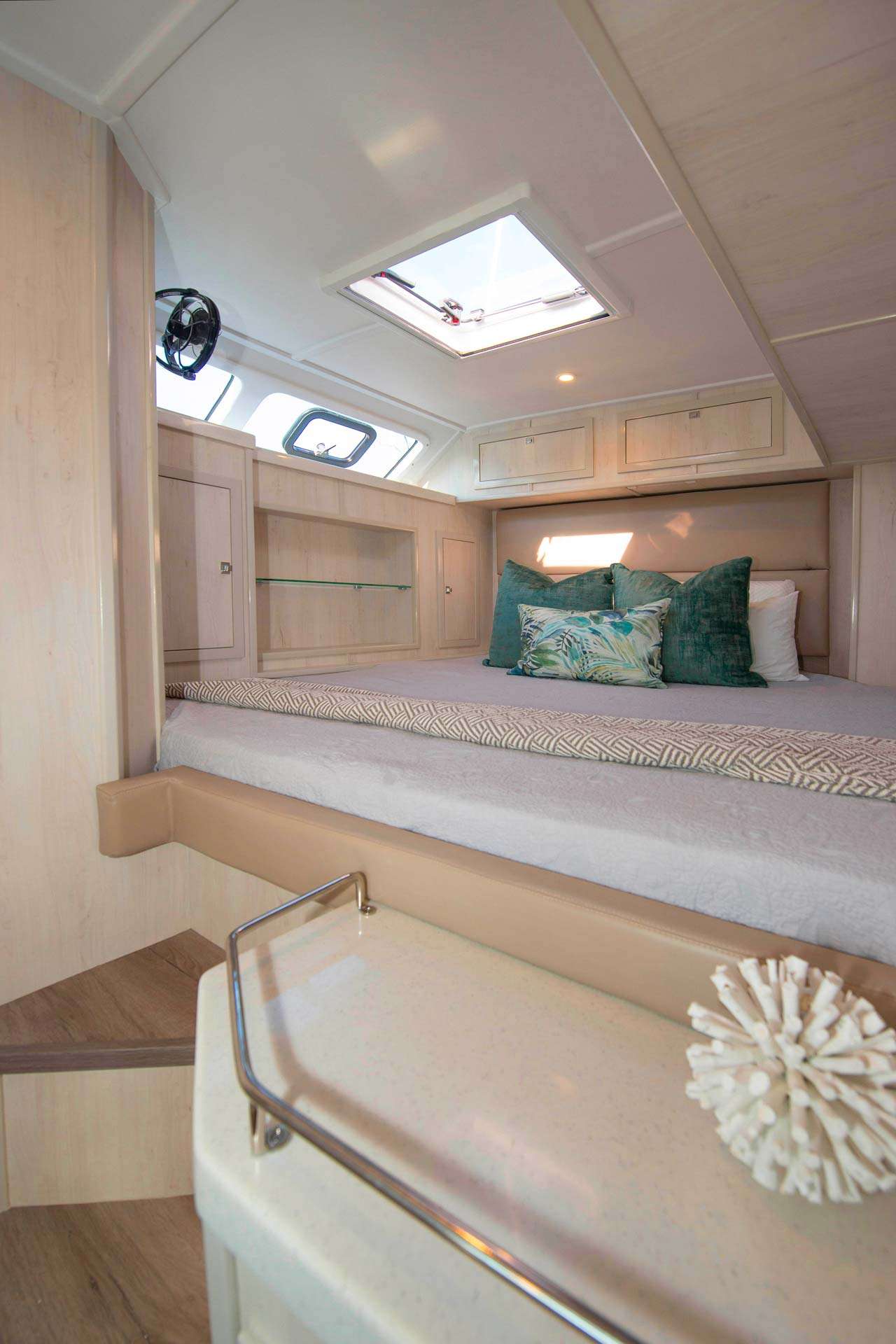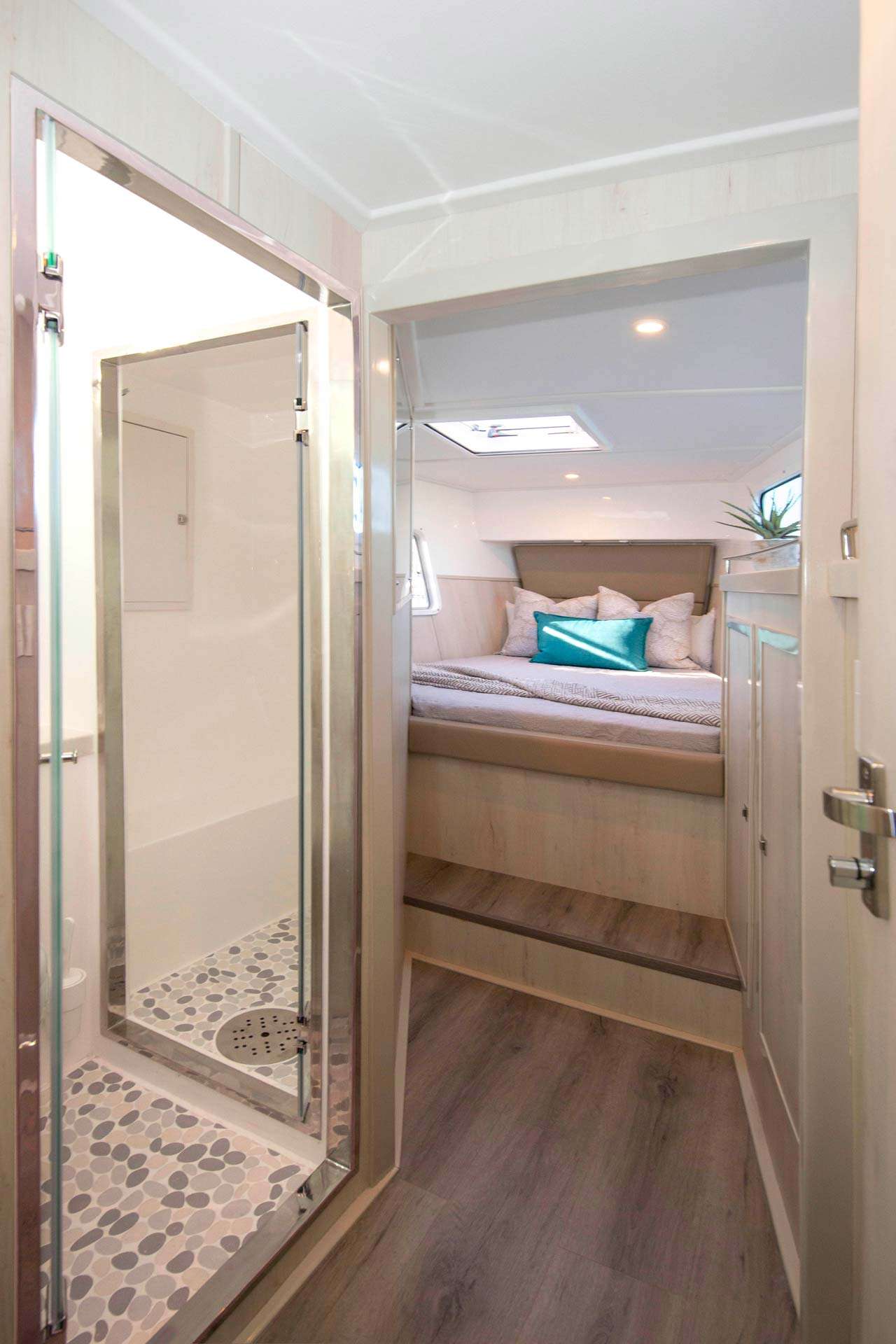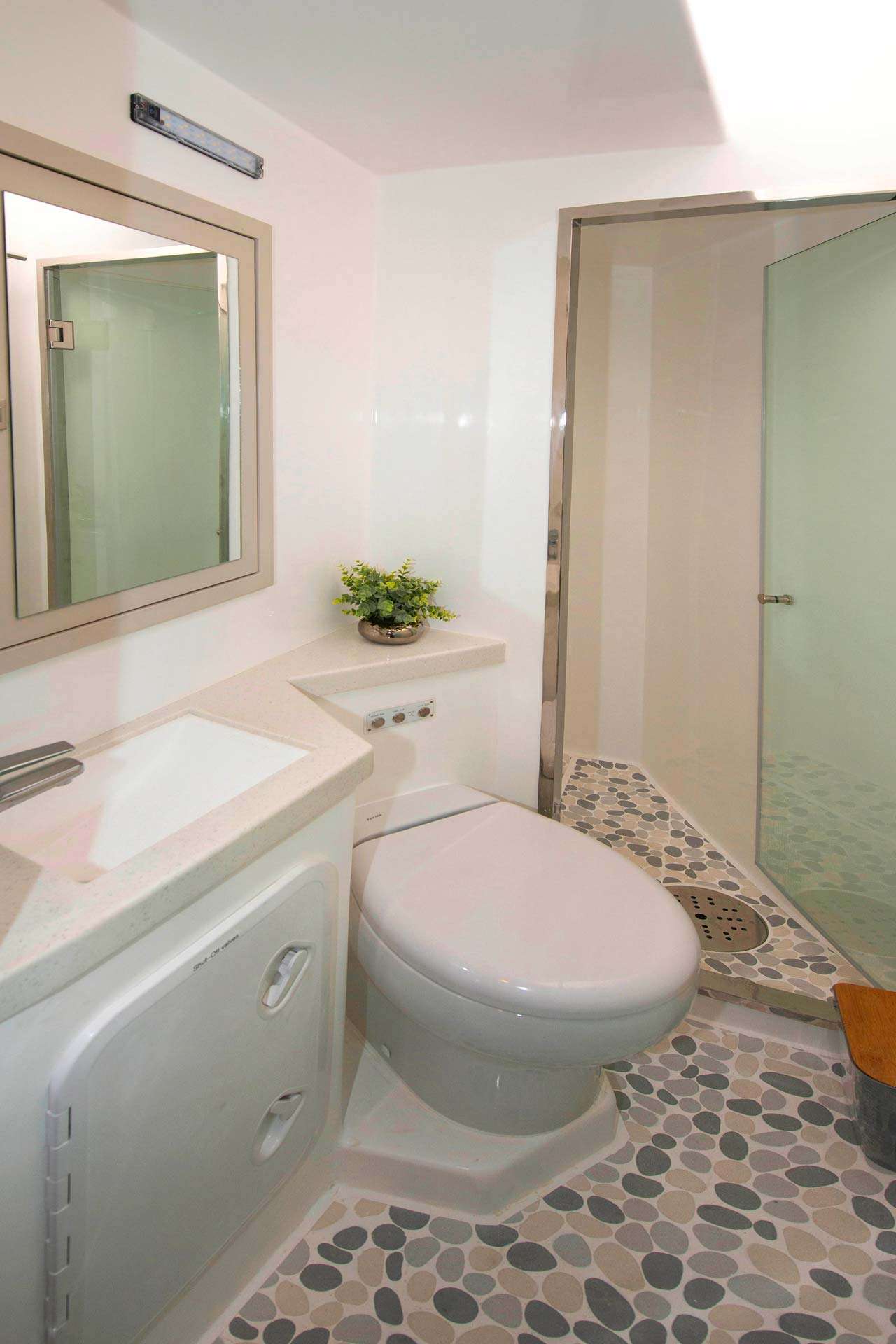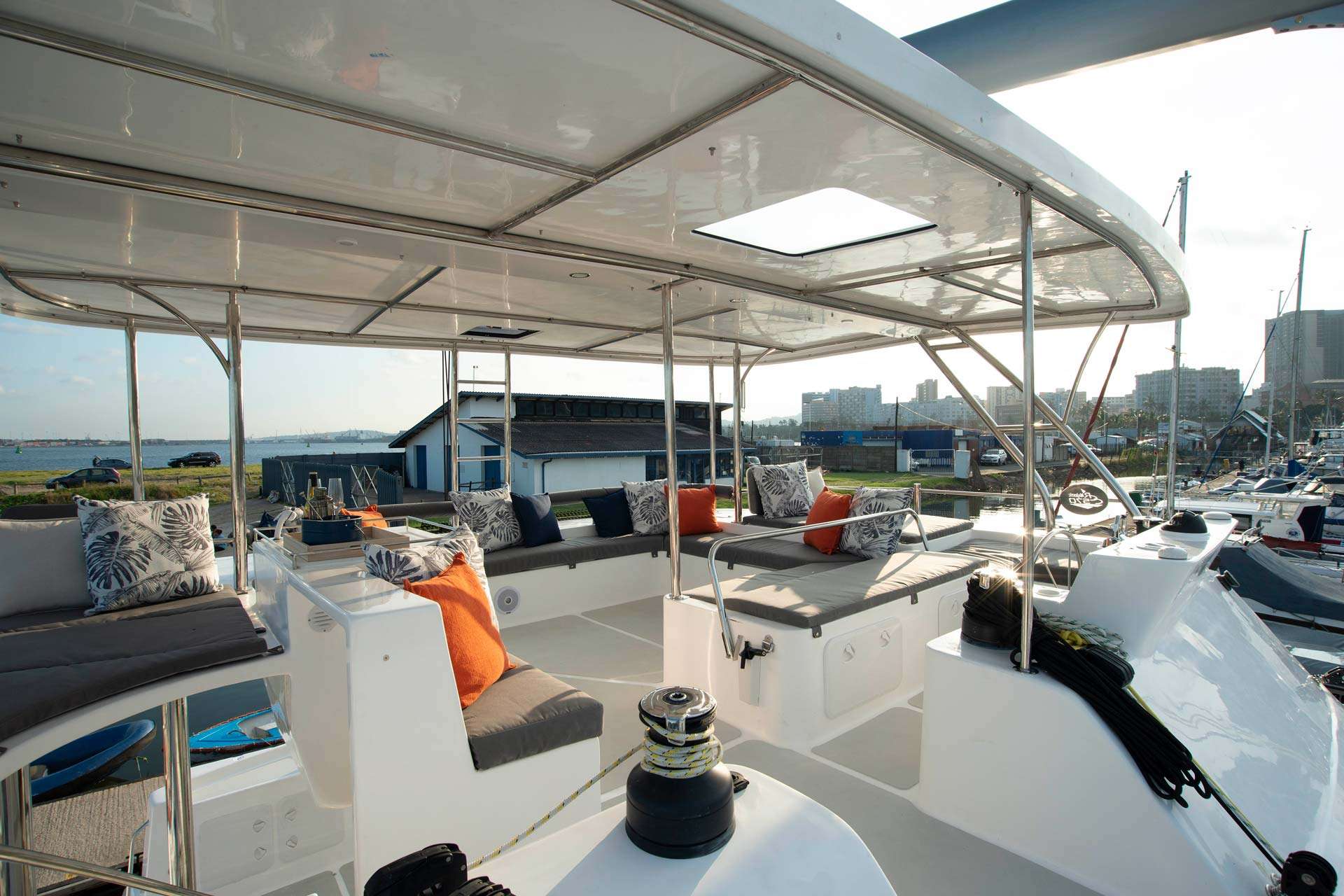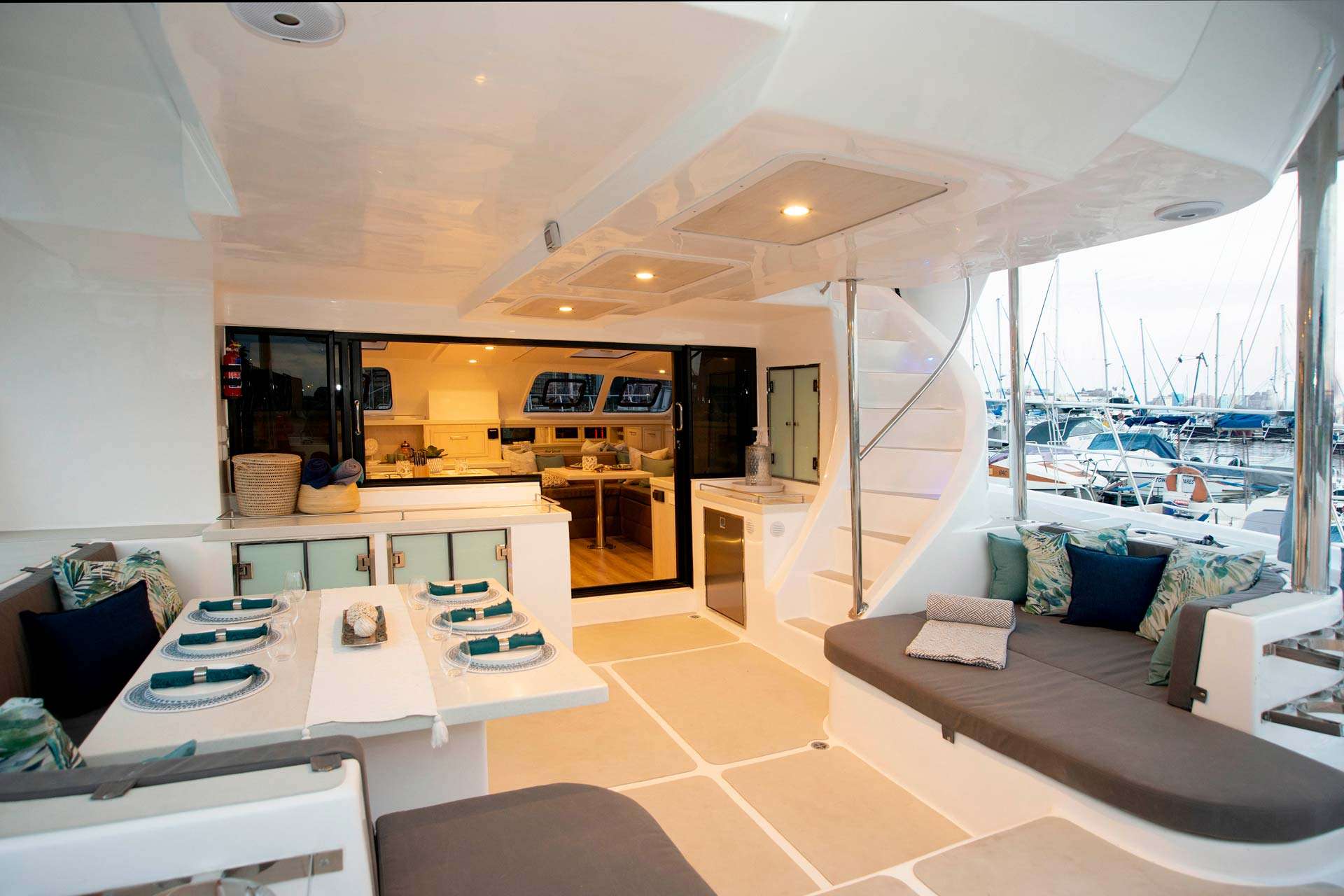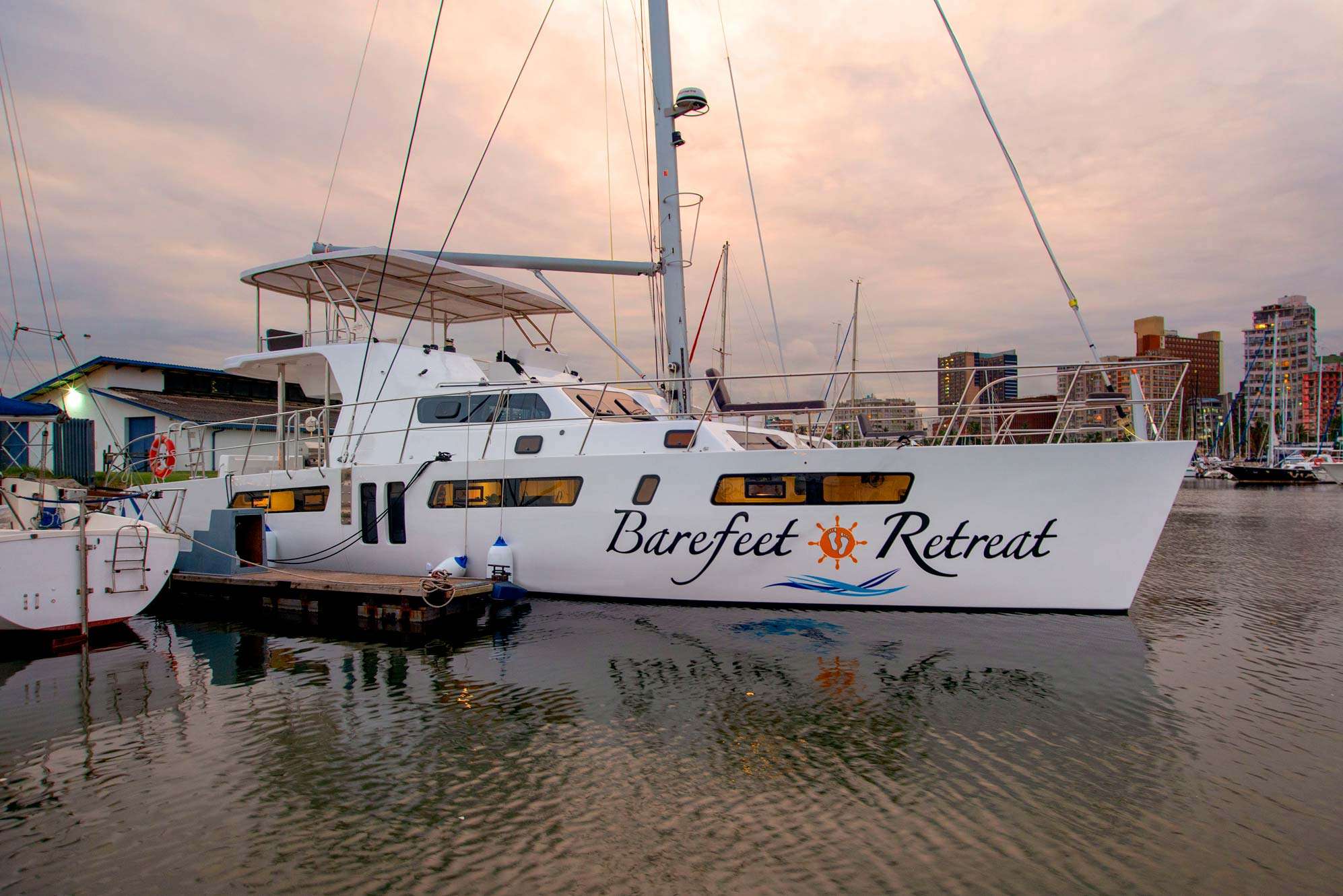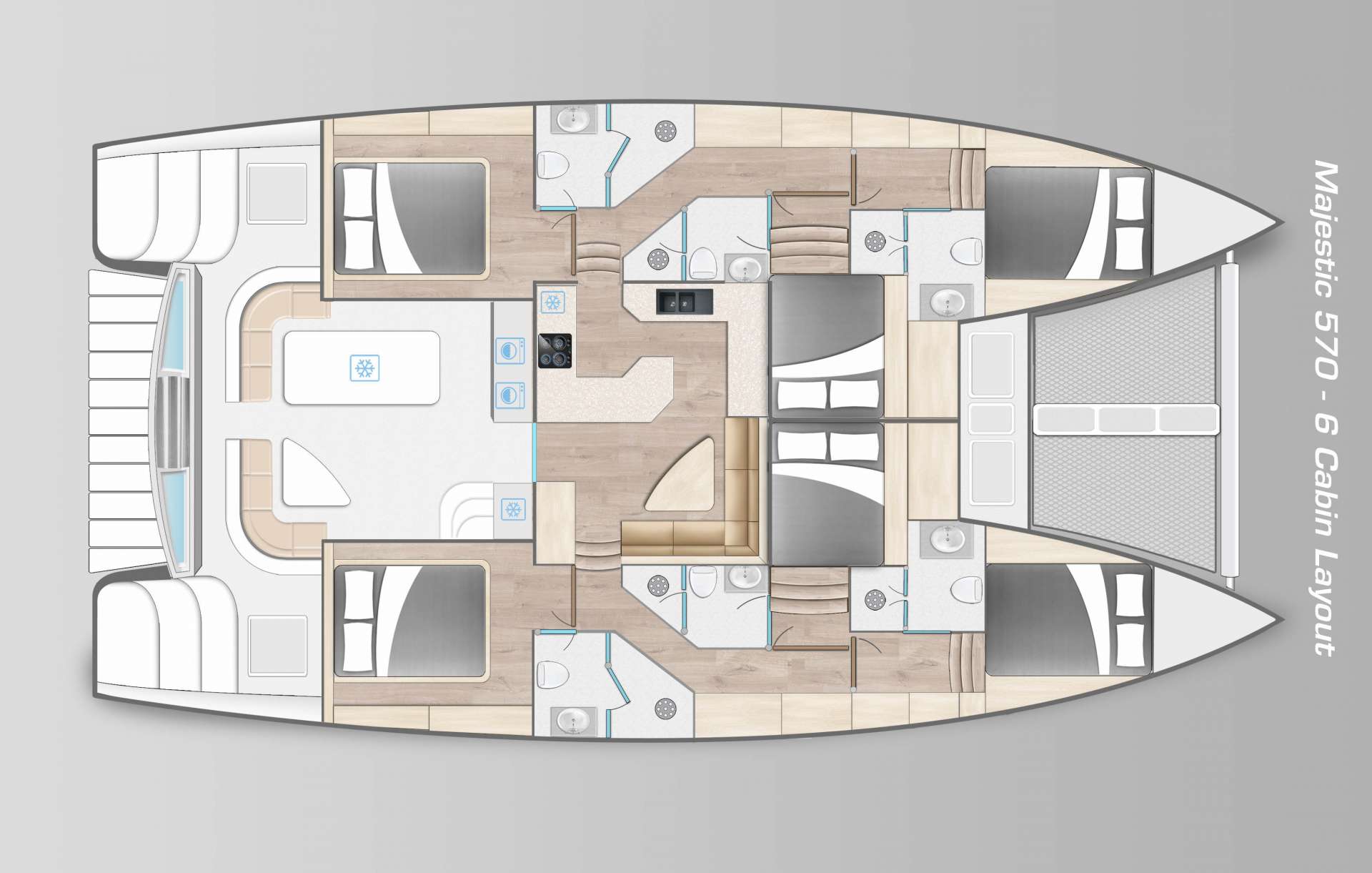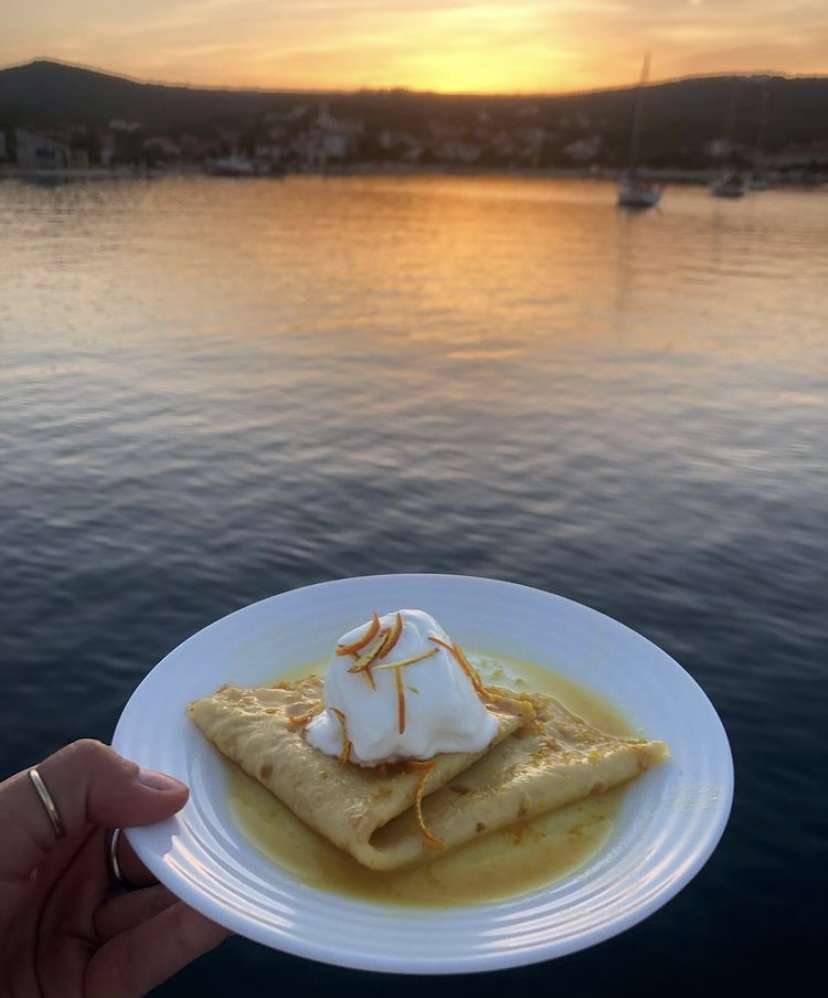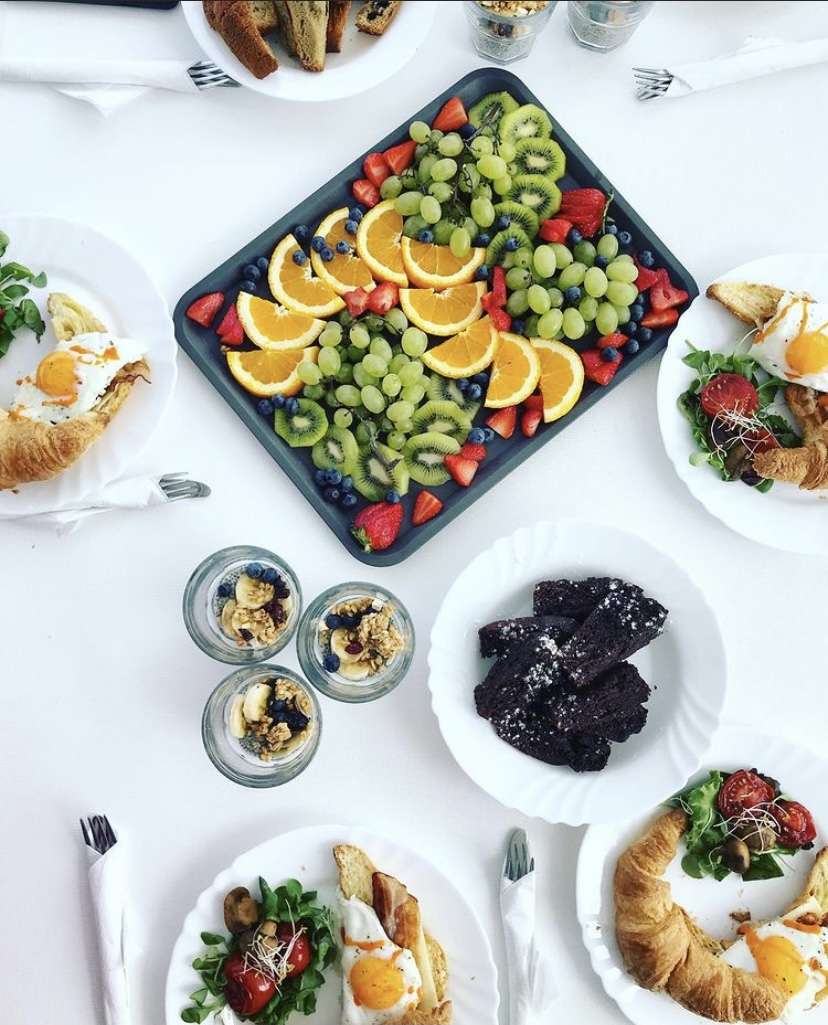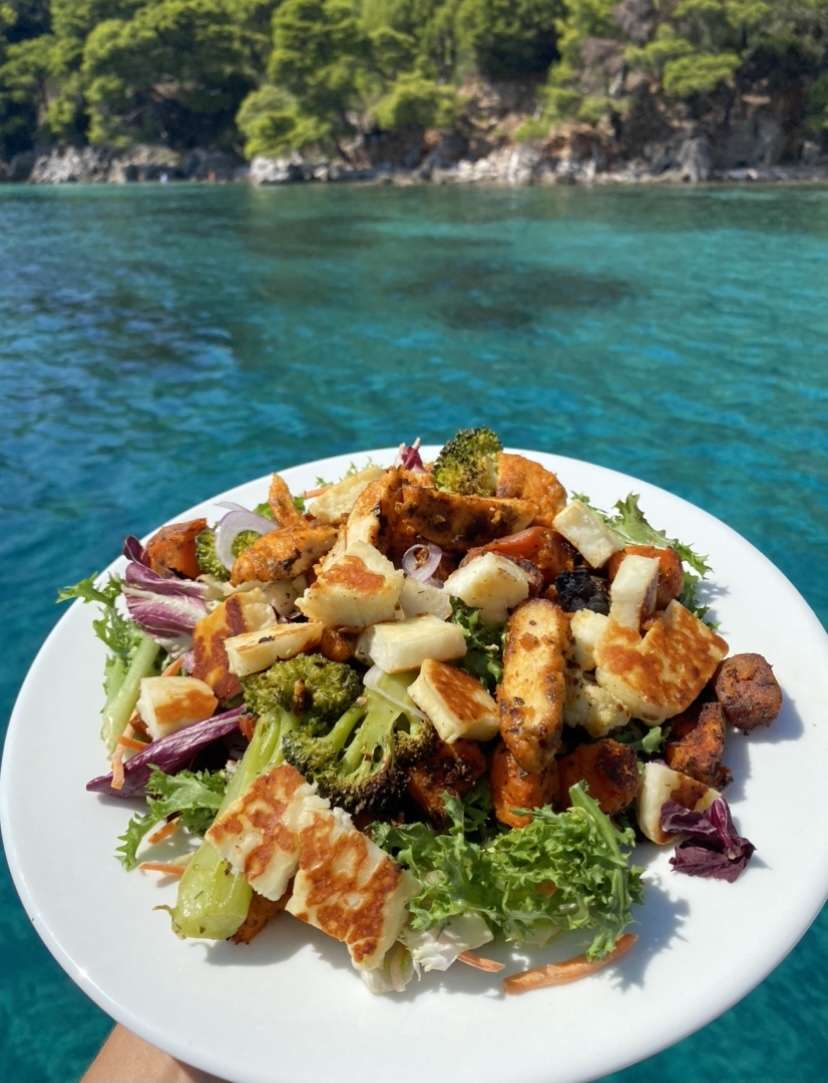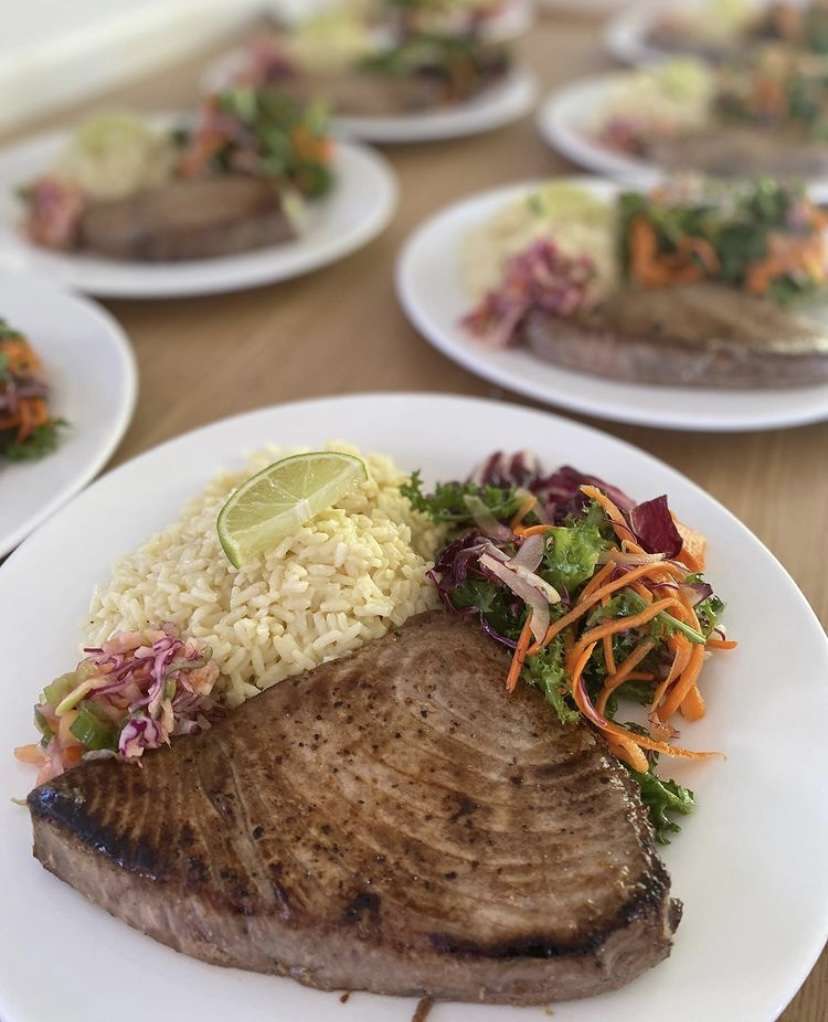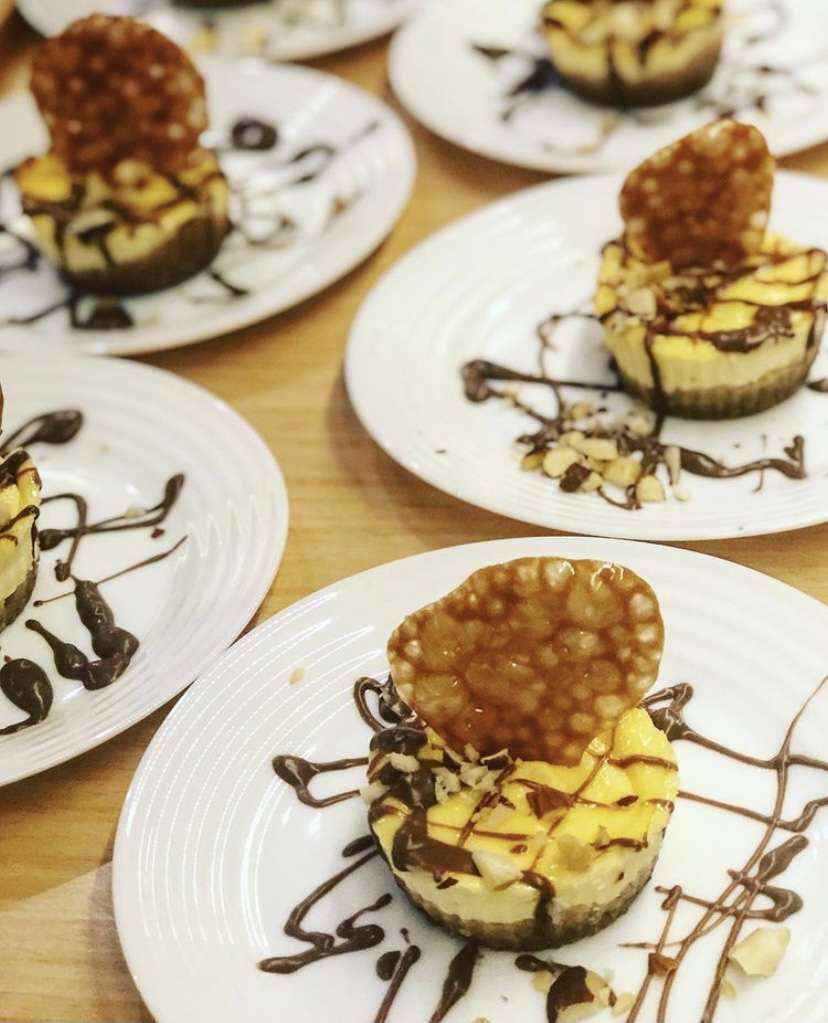 Description:
"Hi, it's Helion Marksman, captain aboard BAREFEET RETREAT.  We're going to do a little walk through of the boat today.  This is a Majestic Royal Cape 570 that was just built in 2020 and launched in March.  So we just got back into the USVI, and we're excited to show you."   An attractive South African in his early thirties, Helion oversaw the building of BAREFEET RETREAT in South Africa for the owners.
As you can see, we've installed new sponge decking for added comfort for guests.  We've got the full stainless steel wrap around guardrails, going around the deck, which is really nice for guests.  Everything has just been extended on this 570.  Basically, we've got new deck chairs, situated on the starboard and the port sides.  We've got big trampolines, dolphin seats, and just unlimited space.
One of the nice features on this new Majestic 570 that we did with the production team was build this complete walk through up to the new fly bridge from the bow . Most yachts don't have a way to get to the fly bridge from the bow.  You have to go aft.  But on BAREFEET RETREAT, our bow has four tiers, or decks, with bean bags on each deck, joined together by stairs, creating a seamless way for guests to walk up to the enormous fly bridge from the bow.  Each tier or deck has four bean bags on it.  What this does is maximizes usable deck space for guests.  This is one of the tiers; there's enough room for four guests to sit just on this tier alone.  If you're single handedly sailing, you can walk down, check the rigging, and end up in one of the bean bags on the main deck.  With its ample seating for eight guests, sun mattress pads, table and wet bar, the fly bridge is just an incredible space to hang out."
Coming into the fly bridge, we've got a full bar with the cocktail menu; guests can choose what they want for happy hour.  We've got sunbathing on both the starboard and the port sides.  And what I really like are these nooks and crannies where you fit two people and a nice little reading space, a full wrap around fly bridge for those evening cocktail hour, pulled up around the fly bridge, and of course the deck seating over here.
What I really love about this fly bridge bench is that it can seat five people next to the captain, which is one of the best features, because in the past, having a single captain's seat, you'd have to turn around to speak to the guests.  Right now with 360 degree panoramic views, we can take it all in.  Two people over here and three people next to you; it's just a great feature.
Coming down from the fly bridge, we've got stairs leading to a shaded area aft.  This is really a fantastic spot.  We can sit ten people here and have an absolute blast with full wrap around sun shading and rain covers.  The space can be fully enclosed from inclement weather.
A new feature on the Majestic 570 is the shade lounge where you can fit three people in here, read a book, get out of the sun, and it's just an awesome spot on these sun loungers outboard of the dining table in the cockpit.
We have the covers down, because of the rain today, but we've got our deck barbecue which is a notable feature on the past models.  We've got dive tanks for scuba diving.  With a 14'6″ Falcon inflatable dinghy and a 50 hp Yamaha for tubing, going fishing, and going on those long distance harbor excursions, this tender platform is really cool.  Once you drop your platform, you can put a table and chairs, drop it down on low key with the wireless remote, and enjoy lunch on the water for those romantic evenings watching the sun go down.
We'll now come into the galley.  As you can see, we've got chef Ally….  We've really really spent some time in the galley on this version.  It's pretty much like a house galley; it's massive; tons of plating areas; we've got the island over here; just full wrap around plating areas, a dish washer, and a big old farm sink that we really enjoy for those 10 passenger trips.
Coming into the saloon, we've got really, really cool seating here, wrap around, with a little table for kids who can watch a movie, if you want to have a family trip with TV over here.
So there are three cabins in each hull, each with bathroom with stall showers.  We put a lifetime of thought into the rooms, trying to make them as spacious as possible.  There is a lot of storage.  We've got really cool etching on these doors here; a different sea animal for each room.   Each room has – stern floor plan.  In each shower stall, we've got large windows, so you can see onto the sea, and a lot of light coming in.
Off the passageway, the mid cabin is really spacious; only King size beds in these, and plenty of storage around.  Each has their own bathroom.
The forward cabin is also amazing.  There is a lot of light, and it has its own bathroom and shower with an escape hatch on the side of the bed, just to bring in that light.  You can actually look out from your bed onto the sea water, which is really beautiful.  A lot of light coming through the windows, and obviously each room has its own little hatch, so you can get some air.
The port pontoon is the same as the starboard.
We really appreciate your spending some time with us today, and we look forward to seeing you soon on BAREFEET RETREAT.
Based year round in St. Thomas, BAREFEET RETREAT charters for:
$29,500 weekly all inclusive for two guests
$30,000 for three
$30,500 for four
$31,000 for five
$31,500 for six
$32,000 for seven
$32,500 for eight
$33,000 for nine
$33,500 for ten
Rates include food, fuel, bar, and dockage – everything! – except gratuity.  Christmas and New Years weeks are sold at a premium.
2019/2020 CHRISTMAS/NEW YEARS: 7 night minimum
CHRISTMAS: 1-10 guests @ $40,000 – charter must end on 12/26/20 or earlier
NEW YEARS: 1-10 guests @ $45,000 – charter may not start prior to 12/27/20]]
BAREFEET RETREAT Walkthrough Video
BAREFEET RETREAT E-Brochure, Photos, Info Sheet, Crew Profile, Sample Menus, Guest Comments, Rates & Bookings
Information believed correct but Nicholsons cannot be responsible for content.