BEST REVENGE 5

58 Privilege
High Rate: $ 27500 weekly All Inclusive
Low Rate: $ 23,500 weekly All Inclusive
Cabin Configuration:
2 Kings + 2 Queens, each with private bathroom & AC; the crew are self-contained.
Specifications:
Length:
Builder:
Built/Refit:
Regions Available:
Locations It Travels:





Special Features:
58
Privilege
2003/2011
Tortola BVI, Falmouth and/or Nantucket Massachusetts, Windward and Leeward Caribbean Islands on request




WINNER - 2013 CYBA "Going Green to Save the Blue" Award at the Tortola Charter Yacht Show
Two HD LCD TVs: 45" & 21"
- Full surround sound system in salon w/progressive scan DVD player, VCR & multi-disc CD Player
- IPOD docking station in salon
- 5 speakers in salon, 4 in cockpit, 2 at forward deck/tramps
- Portable DVD Players in Each Cabin
- Separate stereo systems in each cabin.
- Nintendo Wii & Playstation 2 (10+ Games)
- Capresso Espresso Machine
- underwater lights
- 2008 New Nautica tender/dinghy
- 2009 New Cockpit Sunmats
- Windlass (Lofrans Albatross)
- Full Safety Eqpt. for each guest
- Liferaft
Water Toys
14.5 ft. dinghy w/ 60 HP OB (Yanmar Hi-Thrust - Custom Paddleboards (2) - Windsurfer - Water-Skis (adult & children) - Kneeboard - Wakeboard - Masks
Fins & Snorkels for all guests - Floating Sun Mattresses & Noodles - Beach Equipment - Two heated deck showers at transom - Assorted Board Games - 2 double inflatable kayaks
Have a Question About This Yacht?
Fill out the form below and we will get back to you quickly!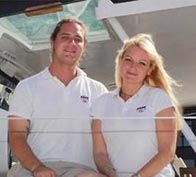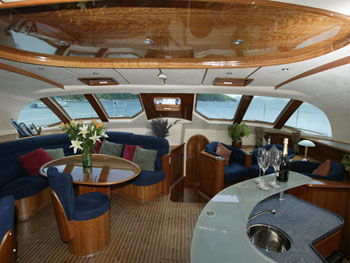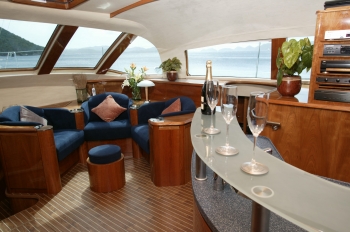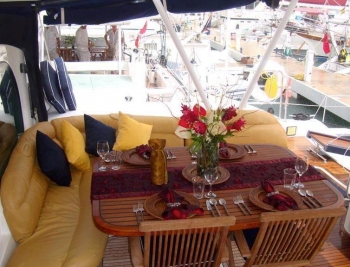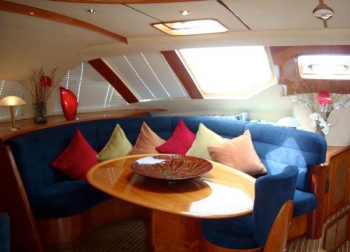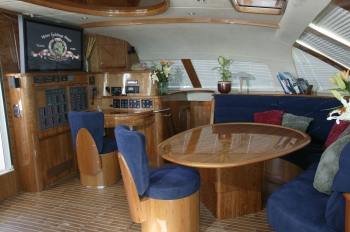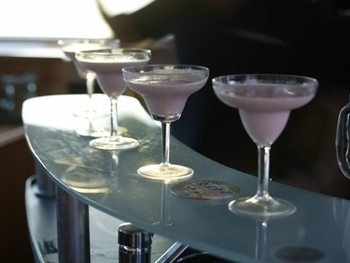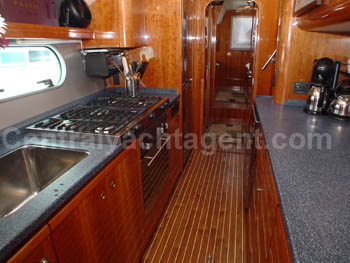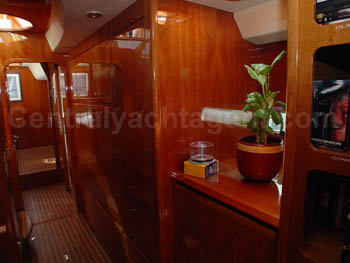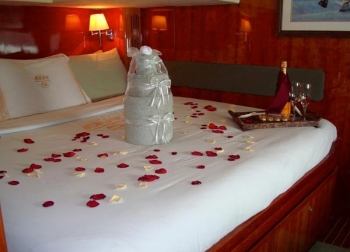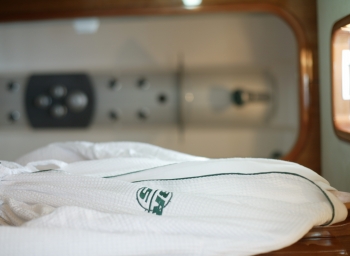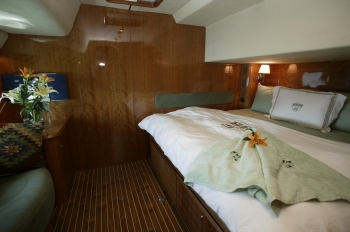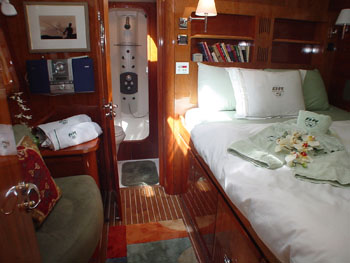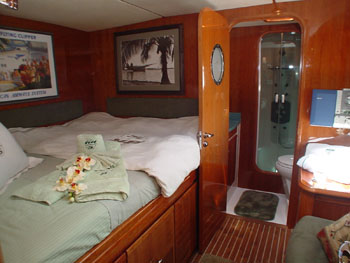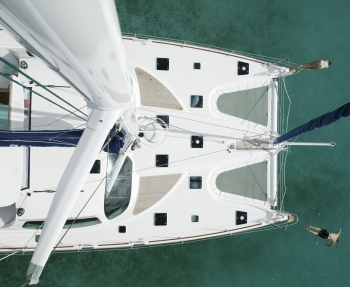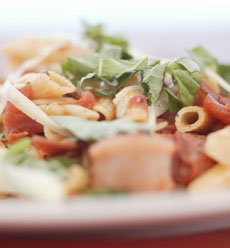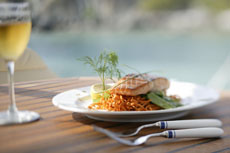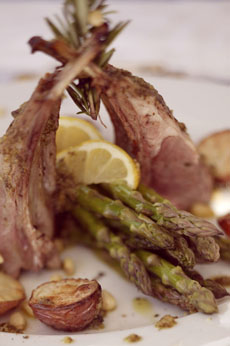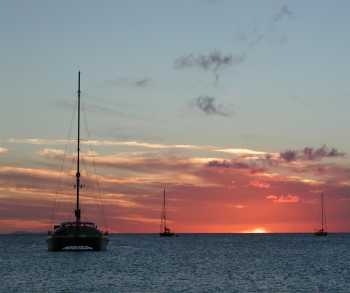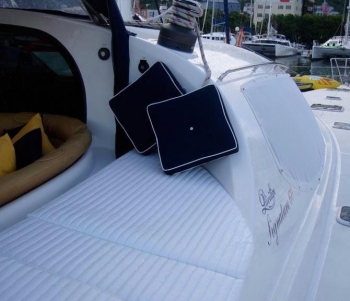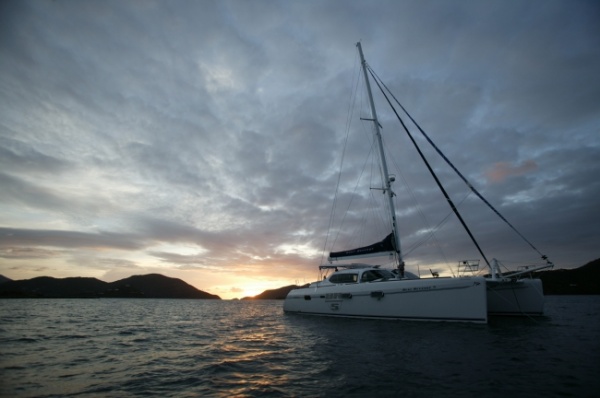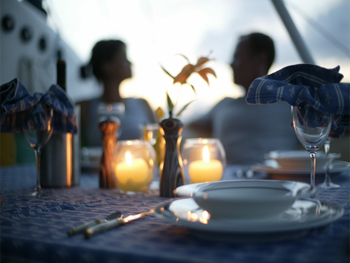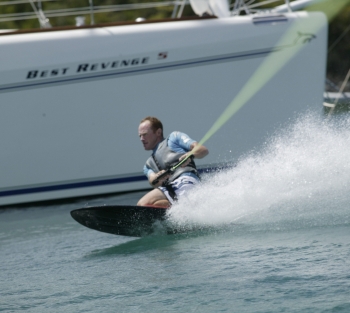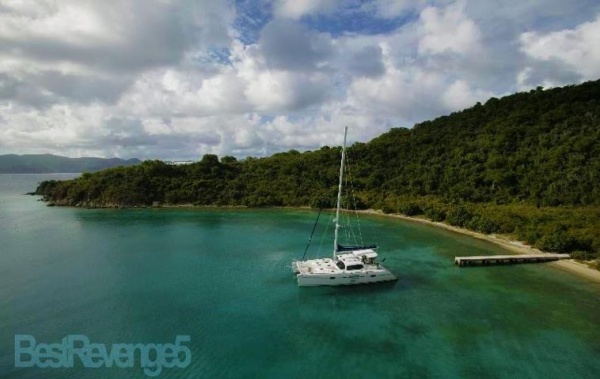 Description:
What a beautiful, quality yacht the classic 58′ Privilege sailing catamaran BEST REVENGE V is, and what a stunning crew!  BEST REVENGE V offers a quality charter experience in beautiful surroundings with a top notch crew, who know service.  The crew know how to entertain discerning clients used to a high degree of living.  They wear uniforms; they stand ready with the coffee pot; they speak only when spoken to; they are always ready with a smile; knowledgeable, good sailors, fun people!  Nicholas and Lucy Baxter, South Africans, have served many discerning guests over the five years they have been crew of BEST REVENGE V in the Virgin Islands and New England. Presently in the Virgin Islands, where the yacht bases during the winter and where on request she will venture further south to the beautiful Windward and Leeward Islands, BEST REVENGE will return to New England for Summer, 2017, where she is presently available all of August and bits of July for cruises starting in either Falmouth, Massachusetts (Cape Cod) or Nantucket, where she spends a lot of time with her owners. In September and October she'll venture south to the Chesapeake Bay to charter. This summer (her calendar always books up quite a lot in advance), she ends a  charter in late July, 2017  in New York City, a rarity…  Guests from New York City might like to take advantage of it.  Board in New York City and either sail out to Long Island, or up Long Island Sound to Connecticut and Rhode Island for a one way cruise, or go up the Hudson as far as the masts on the yacht will allow and then visit Fire Island.  The thing is to get out onto the water, and here BEST REVENGE is, right in your neighborhood.  Less than seven day cruises are discouraged by surcharges, but the yacht quotes all inclusive prices, ranging from $27,500 a week for eight guests to $23,500 a week for two guests, and sliding charter fees in between for greater or smaller charter party numbers….  Rates for the Virgin Islands and New England are roughly the same, except that in New England, because the yacht is not duty paid to cruise in US waters, the yacht is chartered on a bareboat basis for $18,500 a week plus expenses (based on 8 guests; these figures will change, depending on number of people in the party), and then we give you a choice of crew – you select Nicholas and Lucy – and then you wire $5,000 to the stakeholder for the cre to provision and pay for charter costs.  We use a demise contract.  It works!
BEST REVENGE V has 4 guest cabins (2 with kings, 2 with queens), each with full en suite heads, seating area & small desk, 1 or 2 standing closets, substantial drawer/cabinet space, and separately zoned A/C.
Crew Profiles:
Crew Profile
Nick and Lucy are a dynamic and welcoming team who instantly help adventurers feel relaxed and right at home. Nick and Lucy met in South Africa, where they both hail from. They have an intimate knowledge of BEST REVENGE 5'S sailing areas and are a dedicated team ensuring that you have the best time possible while on your vacation. They love entertaining guests on board and take pride in anticipating every guest's needs. Whether you would like to try wake-boarding, slip into crystal clear water for a spot of snorkeling, or simply relax on deck with a good book whilst sipping your favorite cocktail, Nick and Lucy will be there to fulfill your needs. They have been together for 5 years, spending the most recent 4 years in the British Virgin Islands and St Maarten, Guadeloupe. With their great sense of humour, excellent hosting skills and infectious zest for life they are the perfect hosts ensuring their guests enjoy the ultimate holiday.
Captain Nick Baxter
Originally from the small town of Ficksburg, South Africa, Nick grew up sailing Hobie Cats, fishing and diving. His love of the ocean, nature and wildlife has been a constant motivator to share the joys of the great outdoors, particularly the ocean, with others. From a young age, Nick made the sea his home and passion. He is also an avid amateur photographer with a love of wildlife and underwater photography. A safe, fun loving and skilled Captain and Dive Instructor, Nick is a fantastic guide to both the skills of sailing and the beauty of what lies beneath the waves. Nick is an RYA Yacht Master Ocean Certified Captain as well as a Certified PADI Dive Instructor, with many specialities under his weight belt. He is both patient and extremely knowledgeable helping new divers feel at ease and ensuring an unforgettable experience.
First Mate & Chef Lucy Fletcher
Lucy – whose family hailed originally from Ireland – grew up in the heart of South Africa and has always had a passion for travelling. She soon concluded that the best way to travel was under sail! Since then, she has worked delivering yachts as a deckhand in the Atlantic and Pacific oceans and as chef and 1st Mate on charter yachts. Lucy has a real passion for creating delicious dishes in the galley.
The foundations of her cookery come from the eclectic mixing pot that makes South Africa the rainbow nation – supplemented by her recent experiences as a yacht chef aboard sailing charters in the French West Indies. She loves trying new recipes and enjoys cooking internationally inspired cuisine and fosters a strong respect for the natural beauty in flavours and textures of the ingredients and products that are seasonally, locally available. Lucy is happy to meet any guest's requirements and put smiles on their faces with her delightful culinary treats. Note: Lucy can specialize her menus for any guest's requirements, including providing specific menus for any who are allergy sensitive and prefer "raw" or "vegan" cuisines.
******************************************
The right hosts can make all the difference on a cruising adventure and, together, Nick and Lucy make a winning combination. With Lucy's enthusiasm for exquisite food, Nick's expert sailing, watersports and SCUBA diving knowledge, and BEST REVENGE 5'S superior quality, you will be hard-pressed to find a more fitting team. Most of all, Nick and Lucy enjoy hosting guests with warmth, real care and fun! Whether it's a quiet family get-away, or a lively group of friends, Lucy, Nick and BR5 (who we affectionately call "the third crew member") will transform your cruise into an unforgettable adventure.
The number one priority during our design of BEST REVENGE 5 was ensuring the comfort and enjoyment of her guests. We know that not all of our guests are avid or experienced sailors – in fact, some of our previous guests had never even been on a boat before taking a BEST REVENGE cruise.
We knew BR5 would deliver an exciting sailing experience. But we saw no reason why our guests shouldn't also enjoy the comforts of home while aboard. In designing BR5, we made sure to include features that would make their stay more comfortable and entertaining, including a spacious salon with a full wet bar, a separate seating area with three single-person "comfy chairs", a dining table that converts into a cocktail table; and a state-of-the-art entertainment center with a large LCD screen; extra seating in the spacious cockpit that features luxurious thicker-contoured cushions; and easy-to-use fresh-water toilets just like those you might find at home.
We also know that our guests want to get the most out of their escape to paradise. To that end, BR5 includes the most popular water-sports equipment, amazing audio and visual systems, and culinary offerings that are specialized to your taste.
We believe that we have created the perfect charter catamaran in BEST REVENGE 5, and that our fine crew and extensive customized features make BEST REVENGE 5 one of the most luxurious, comfortable and charterer-friendly yachts around. We invite you to come and spend a week (or more!) on board to see for yourselves.
BEST REVENGE V E-Brochure, Rate Sheet,  & CALENDAR