FORTUNA

79' San Lorenzo (Italy)
High Rate: € 42,000 weekly Plus Expense
Low Rate: € 36,000 weekly Plus Expense
Cabin Configuration:
Up to 10 guests in 4 Cabins, comprising:
- 2 Full Beam Master cabins
- 2 small Twin cabins, each with Pullman
All with private bathroom
8 guests work best....
Specifications:
Length:
Builder:
Built/Refit:
Cruising Speed:
Regions Available:
Locations It Travels:





Special Features:
79'
San Lorenzo (Italy)
2013
25 knots
Genoa, Italy & San Raphael, France
Sardinia & Corsica




Brand new in 2013
Cruising speed of 25 knots
Corsica & Sardinia based
All Italian crew plus Spanish chef
4 Guest cabins
2 Full Beam Master cabins
2 Twin cabins each have Pullman berths
kite surfing
scuba diving
windsurfing instruction
Have a Question About This Yacht?
Fill out the form below and we will get back to you quickly!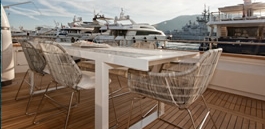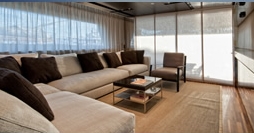 Description:
The 2013-built, 79′ San Lorenzo (Italy) motor yacht FORTUNA has a fast cruising speed of 25 knots, and the captain can slow this down, as guests often prefer, as long as every once in a while, he can speed the boat up for a minute to clear the exhaust from the pipes….
This is mostly done on long trips (12 hours) out to Sardinia and Corsica, an area with crystal clear waters and wild natural ports and turquoise beaches that FORTUNA's Sicilian captain highly recommends, because the islands are protected from the Mistral winds that can blow along the French Riviera during July and August.  A yacht in the South of France will have trouble leaving port when the Mistral blows from the northwest, because that area is more exposed than Corsica and Sardinia.
European yachtsmen flock to the less traveled Corsica and Sardinia in August, perhaps because they are already familiar with mainland France, but for anybody who has not visited the exciting port of Cannes, complete with its outside cafes, patisseries, night scenes, the choice is on the table.  You can cruise either area aboard FORTUNE.
FORTUNA is the perfect yacht to escape on.  The long mirror on one side of the ceiling in the saloon reflects the windows and curtains just under it, doubling the feeling of space and height.  The modern sofas and stainless steel arm chairs are upholstered in light grays, and the floors are wide planked brown wood.
The sun deck on FORTUNA is wholly dedicated to one large lounge area with three, modern wicker sofas and arm chairs surrounding a coffee table with white and black table top….It's a comfortable place to sit at sea.
Dining is offered on the main aft deck…perhaps another reason to visit the less traveled Sardinia and Corsica….for privacy!  Guests dining on an aft deck at dock in the South of France will likely have to tolerate large crowds….unless you anchor out or visit one of the many uninhabited bays along the coast of France, a truly remarkable, naturally beautiful cruising ground with white sand beaches and turquoise water.
FORTUNA is basing in Genoa and later in San Rafael, France (near San Tropez), so the yacht can be close to Corsica to pick up last minute charters…..  Indeed, FORTUNA is operated by a company that specializes in cruises in Sardinia and Corsica…. The Captain is assisted by an all Italian crew plus Spanish chef.
The yacht accommodates eight guests in four staterooms; two are the full width of the ship – one is a large master cabin with Sky satellite TV and DVD reader; the other is a smaller but full beam VIP cabin, and the twin cabins are mirror images, both very small, but functional – they both have lower twin beds, and they both have Pullman berths for parties of ten, but groups of eight work best on FORTUNA as the Twin cabins, while comfortable, are barely large enough to hold one person, let alone three.  All cabins have private bathroom.
Kite surfers will like that FORTUNA's captain is an avid kite surfer, who knows where all the best kite surfing locations are in the South of France….  The yacht also carries two stand up paddle boards, which double as beginner level windsurfers, and the captain teaches windsurfing.  Scuba diving is also an option….although usually captains hire a guide for insurance purposes at extra cost to guests, depending on diving ability.  Diving is good in Corsica and Sardinia…!.