High Rate: $ 20,500 weekly All Inclusive
Low Rate: $ 19,000 weekly All Inclusive
Cabin Configuration:
Master Queen + 2 Forward Queens + 1 Upper & Lower Twin, each with bathroom
Specifications:
Length:
Builder:
Built/Refit:
Regions Available:
Locations It Travels:




Have a Question About This Yacht?
Fill out the form below and we will get back to you quickly!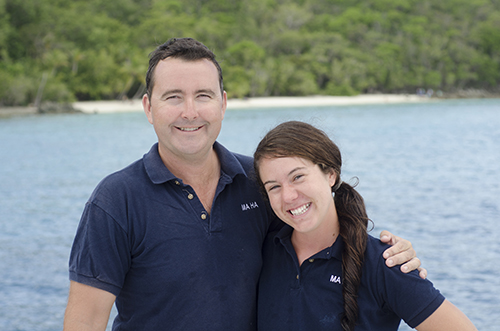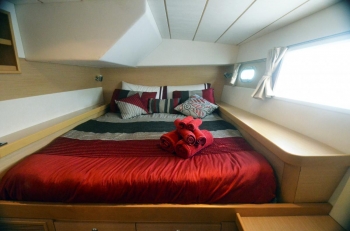 Description:
The splendid Lagoon 57' catamaran, MA HA, built in 2007 has a walk-in teak cockpit with music, prettily set dining table in blue plus sea fan plate holders.  There is lots of navy blue in the cockpit – two deck beds in blue, a bench settee in blue along the aft end – but there is sufficient blue and white strip throws and light blue highlights to keep it from being monochromatic.  There's a large plug-in fan, and a hard top roof….
The cockpit opens to the air conditioned saloon, a dining/lounge combination….  A sign on the round dining table to port says, "Jelly Fish Juice" – it is infused water – Marley Beckenridge, the chef, tells me she has octopus balls for it, but they're sleeping right now (taking a break)….  The sign says, "ginger, lime, sour sop, sugar cane."  It is a delicious concoction!
It is Marley's first season on MA HA, but she arrived in the Virgin Islands during February of 2016 and ran charters for Festiva….  She tries to cook with as many local ingredients as possible.  She was competing in the cooking competition at the boat show….  Chefs are expected to prepare two courses – an entre and a dessert – and the secret ingredient is local food, any of the chef's choice….  Marley prepared breadfruit tostado, a local vegetable slaw, local butchered beef, and a chocolate coconut cream puff with passion fruit merinque, and for this dessert, she made the cocoa herself!  She picked the cocoa bean from the tree; she roasted it, and she has the powder in the galley!
Harvey, the captain, and Marley are cousins.  Harvey worked on the luxurious 76' catamaran AKASHA, so he is trained in service!  Previous to chartering, Harvey's background was in eco-tours in the BVIs.  He goes ashore with guests and shows them around….  Last week he took guests to the Bubbly Pools on Jost Van Dyke and explored the clay on the island.  He explained how the clay acts as an exfoliating agent for masks on the body and face….
Marley and Harvey participated in the yacht hop at the show….their theme was Space.  They had astronaut outfits – inside was filled with aliens – they did snacks – they had green jello shots and Harvey prepared his Moon Rock Cocktail.
MA HA sleeps eight guests in four cabins.  The two cabins forward are the same size.  The aft master cabin is to port.  The fourth guest cabin is aft starboard.  This is not identical to the master cabin on the other side, because Marley's cabin is located aft of it.  Harvey made over the forepeak.  All the beds on MA HA are Queens with brand new linen – German imported mattresses with toppers.  They are beautiful cabins with mustard and green, neutral colors.  All four bathrooms are 'wet heads' – that is, they don't have stall showers, but the toilets are electric flushing.
Harvey has a house ashore in Tortola, while Marley lives aboard between charters.  Seven weeks are booked for the Winter 2017 season so far….  An aquarium window in the stairway leading from the guest cabins to the saloon magnifies fish under the sea.  Marley tells me there are lots of big tarpon to be seen in Nanny Cay…..