O'MATHILDE

183' Golden Yachts
High Rate: € 290,000 weekly Plus Expenses
Low Rate: € 220,000 weekly Plus Expenses
Cabin Configuration:
Sleeps 12 guests in 7 cabins, a King and Twin located on the main deck, 4 guest cabins located on the lower deck, 3 with Kings + 1 Twin, and the master King located on the upper deck, all with private bathroom and rain showers.
Specifications:
Length:
Builder:
Built/Refit:
Cruising Speed:
Regions Available:
Locations It Travels:





Special Features:
183'
Golden Yachts
2018
4000lt @ 12 Knots
Athens, Greece




Master Suite located on the Upper Deck
Grand Entrance area
Comfortable main aft deck
Dining on the upper & sun decks, as well as inside on the main deck
7 Guest staterooms for parties of 12
Water Toys
1 x Williams Tender 6.25m Sport edition with Yanmar 6Y3 Diesel engine (total 260hp) with ski pole
1 x Williams Tender 3.45m Sport Jet edition with 90hp BRP Rotax ACE 903 engine with ski pole
1 x Vanguard Rescue Tender 4.20m with 25 hp outboard Mercury
2 x Jetsurf GP 100
2 x Seabob F5
1 x Seadoo GTX LTD 230
1 x Seadoo Spark 900HO ACE 2UP/IBR TRIXX
1 x Jungle Jim
1 x Malibu Lounge
1 x Kayak (1 pax)
1 x Kayak (1 pax)
1 x Transparent Kayak (1 pax or 2 pax) glass bottom
2 x Paddleboard
1 x Electric Bike
1 x Bike
Assorted Water Skis
WakeBoards
Wakesurfs & towable toys
Have a Question About This Yacht?
Fill out the form below and we will get back to you quickly!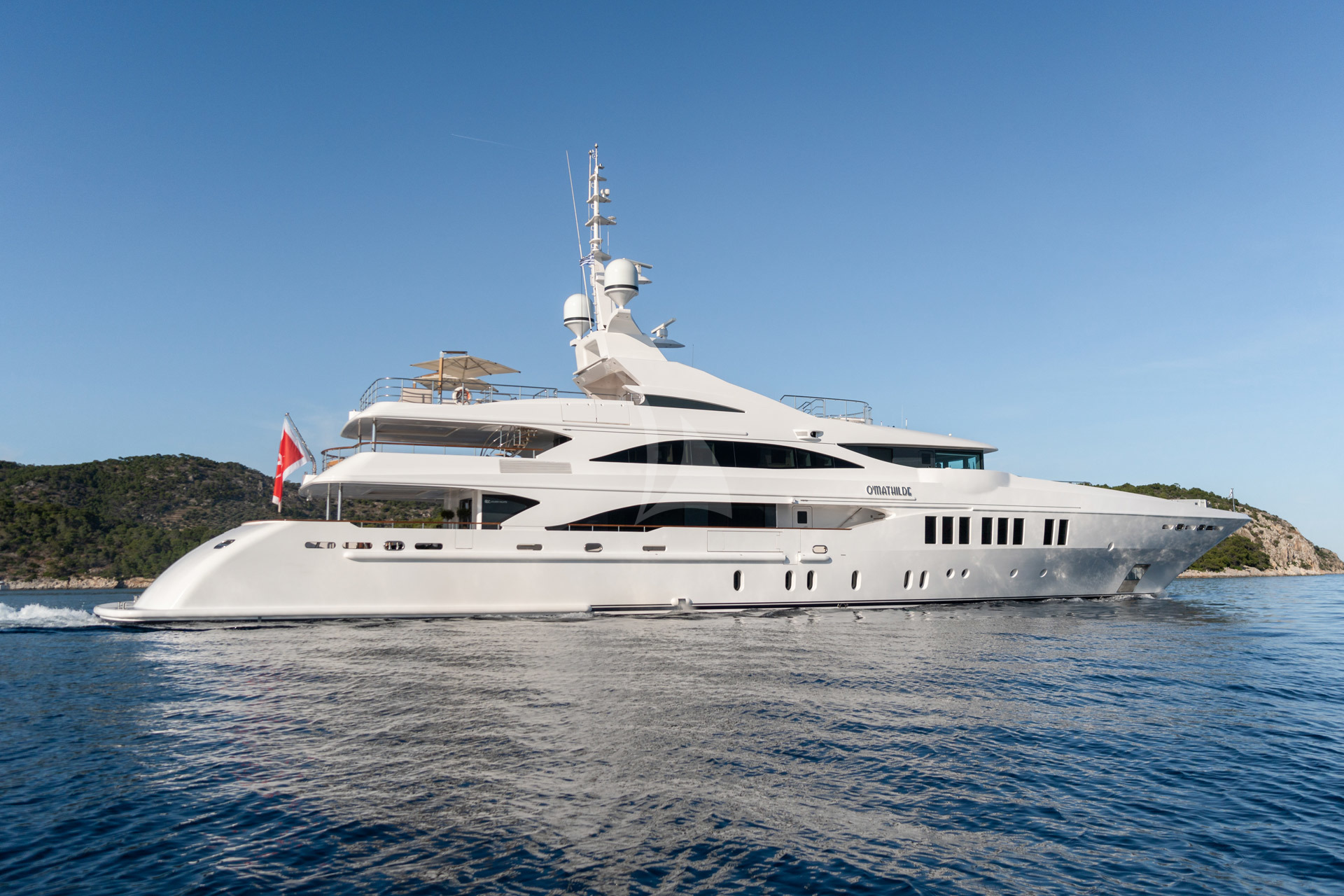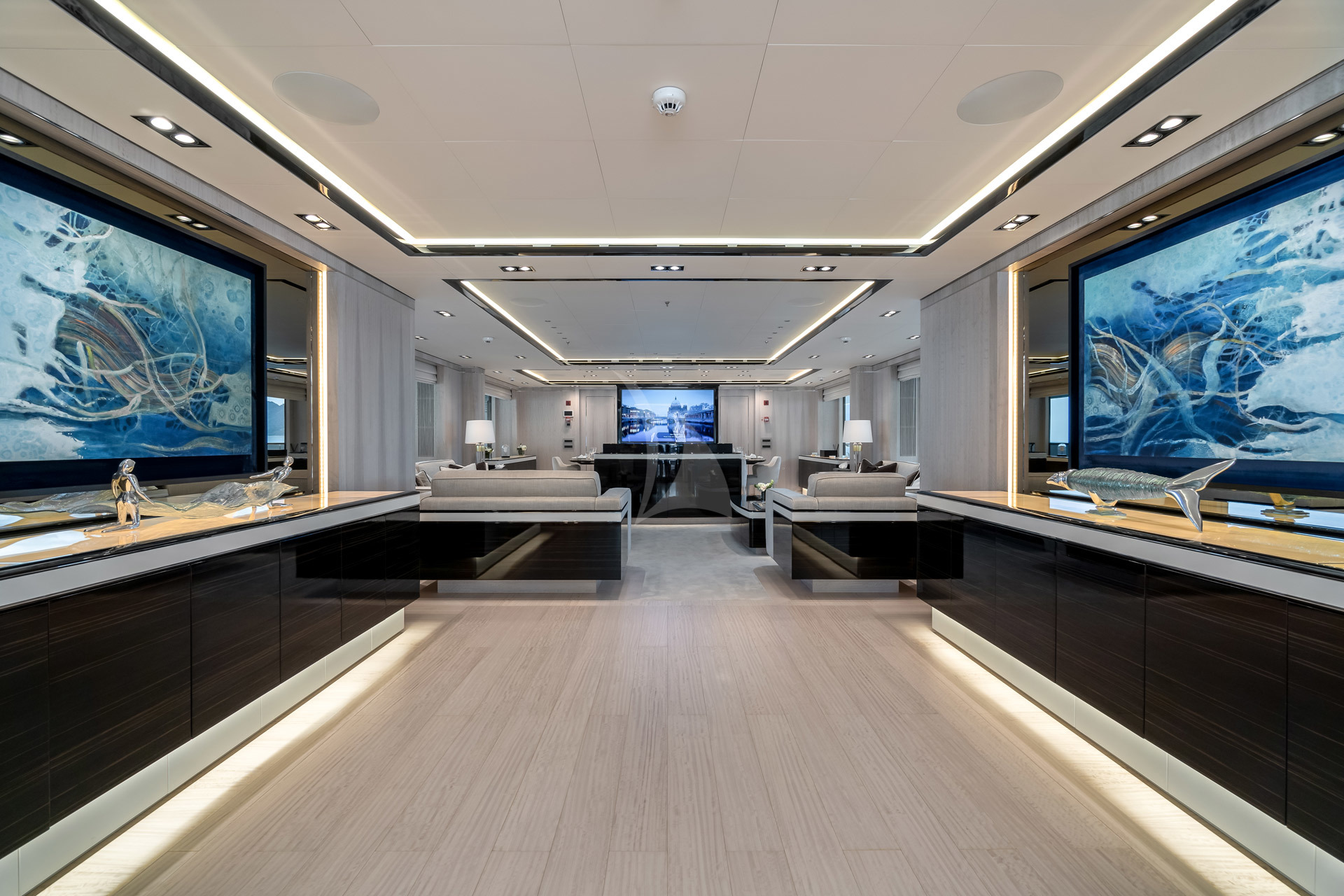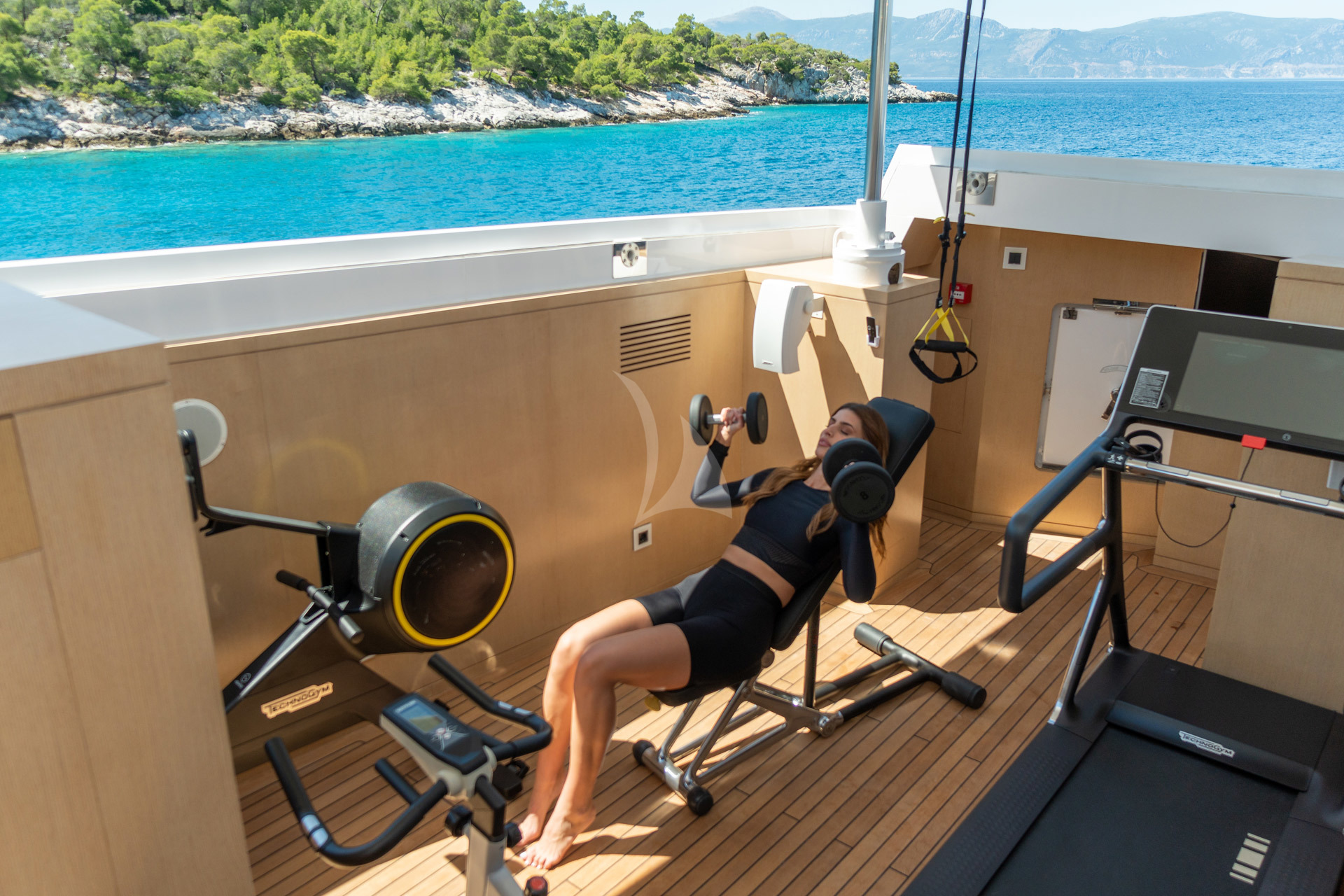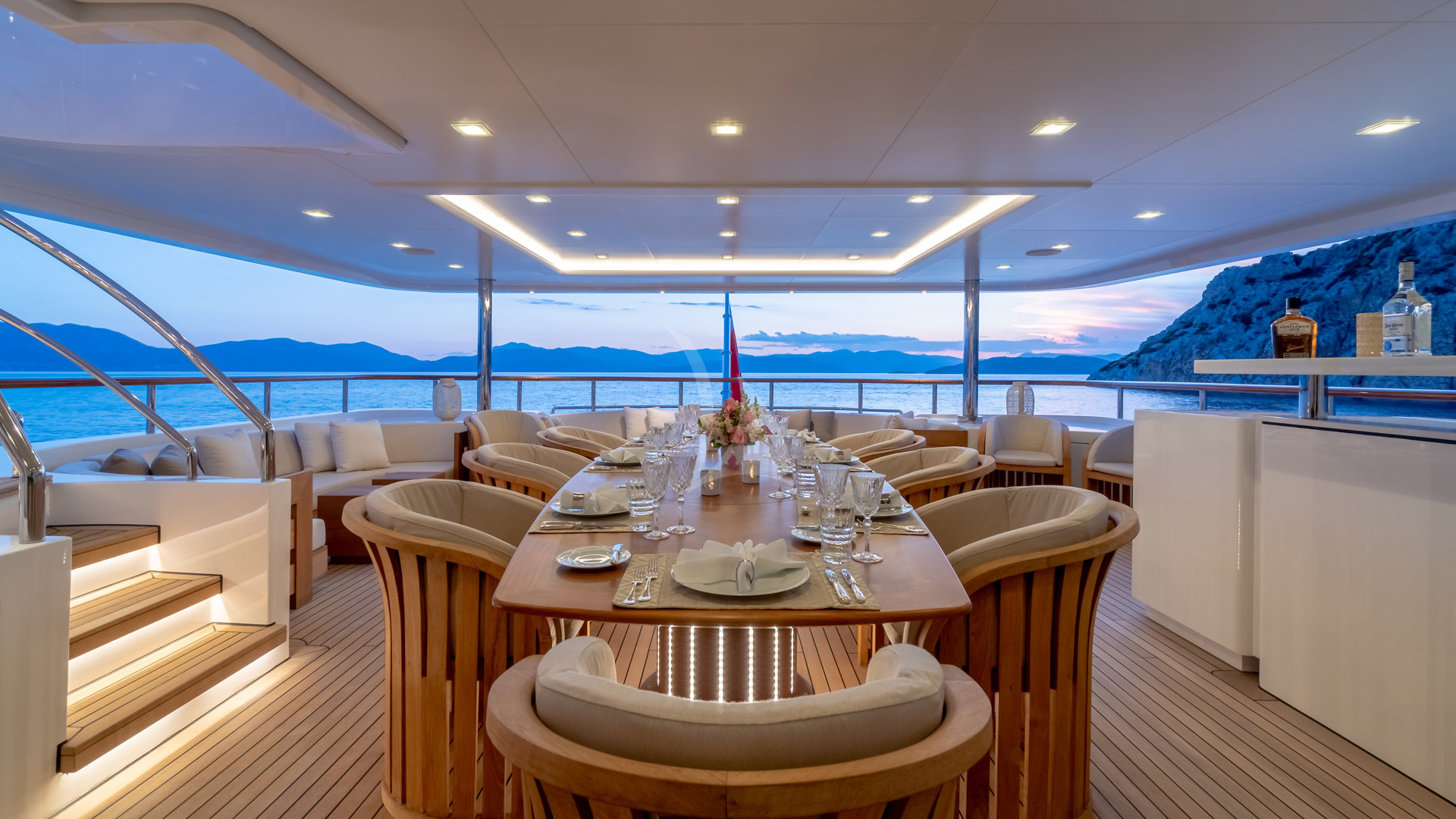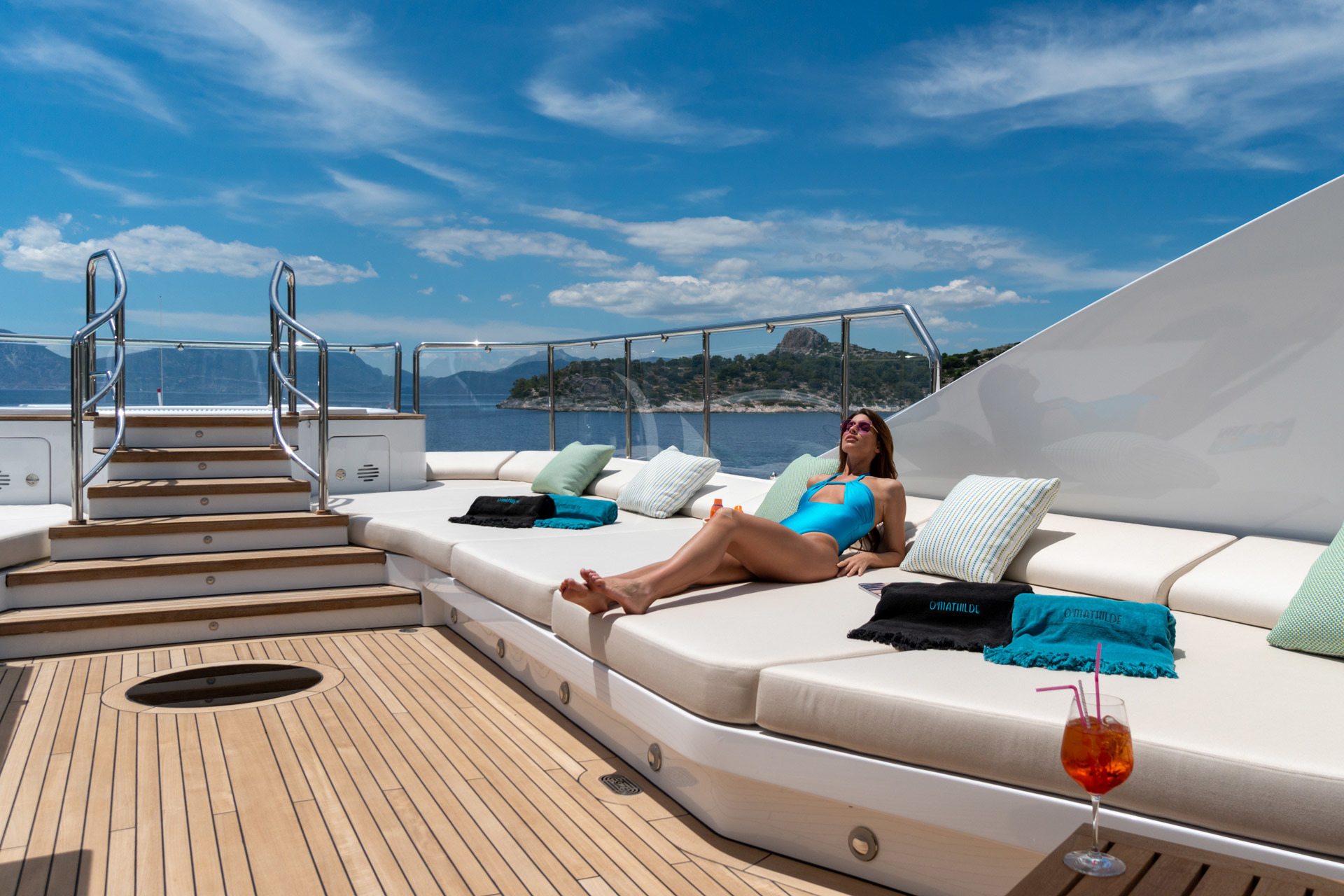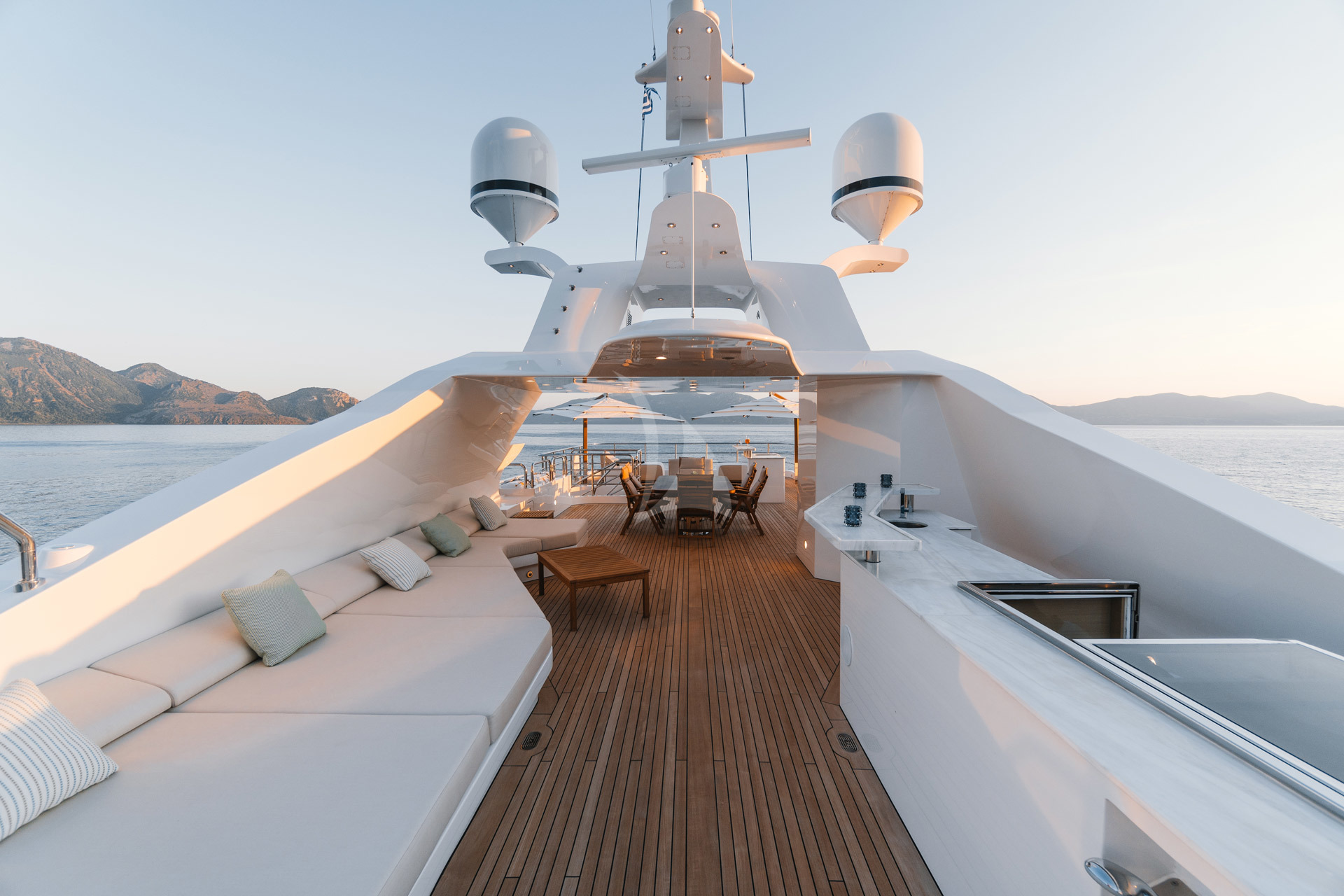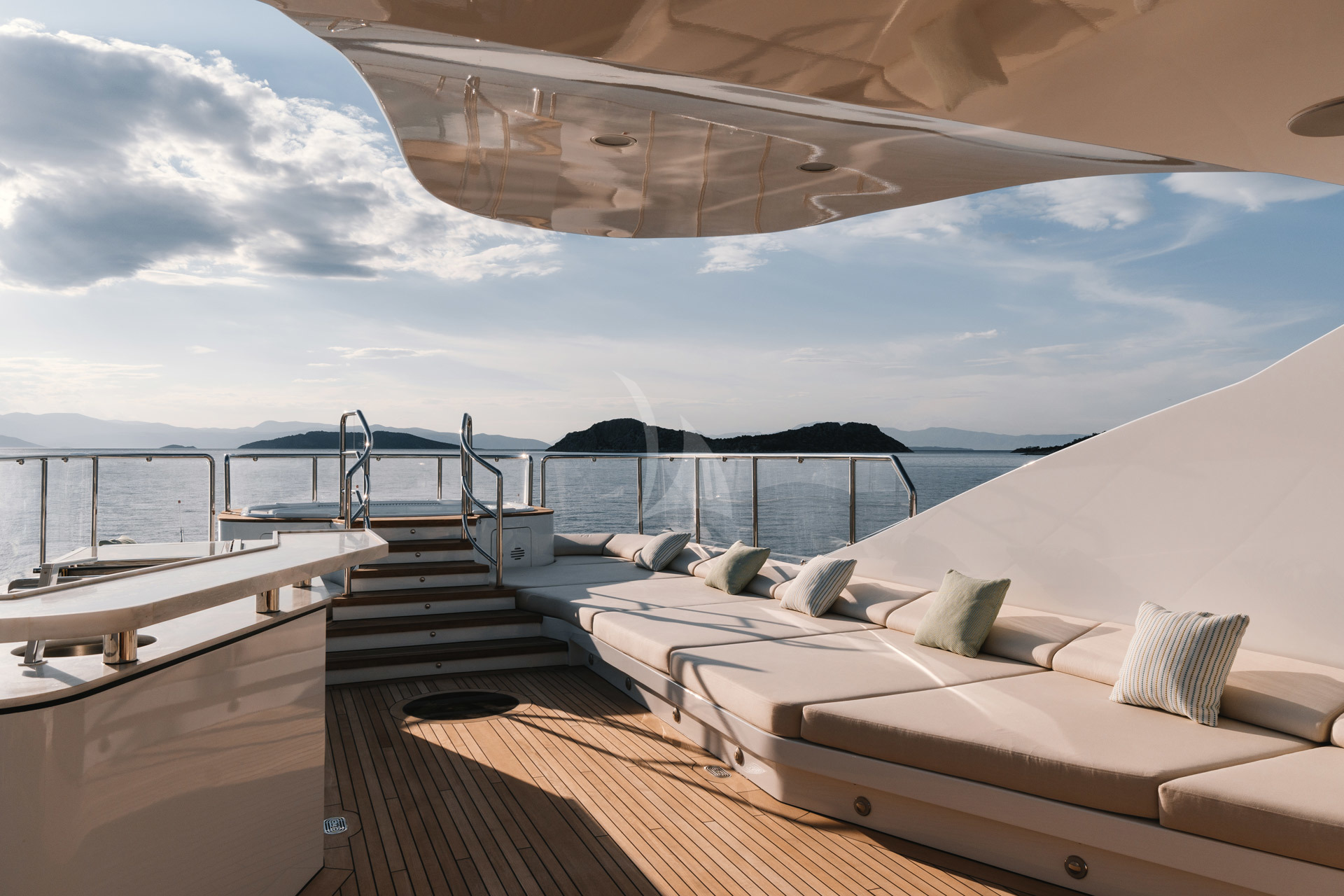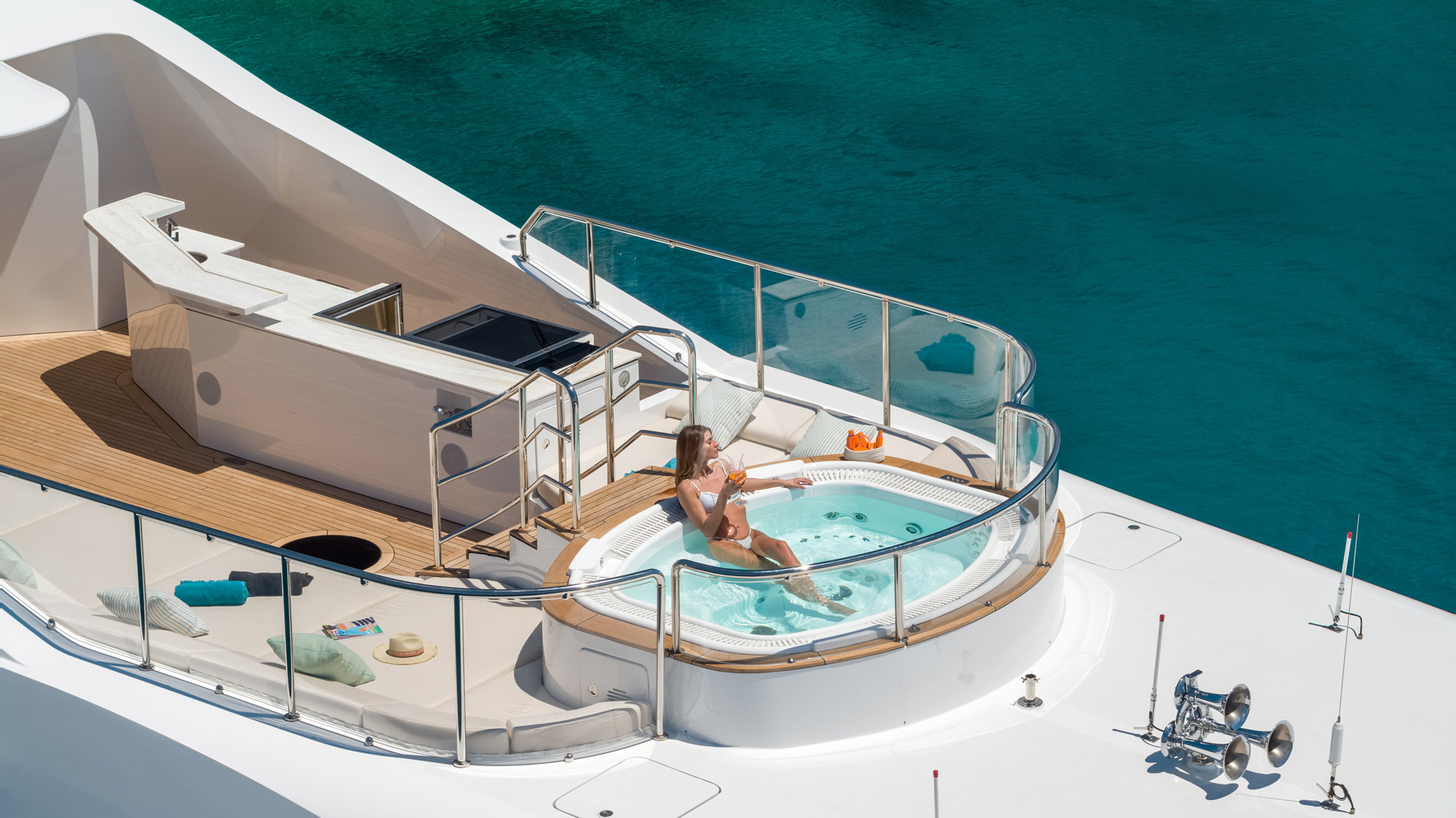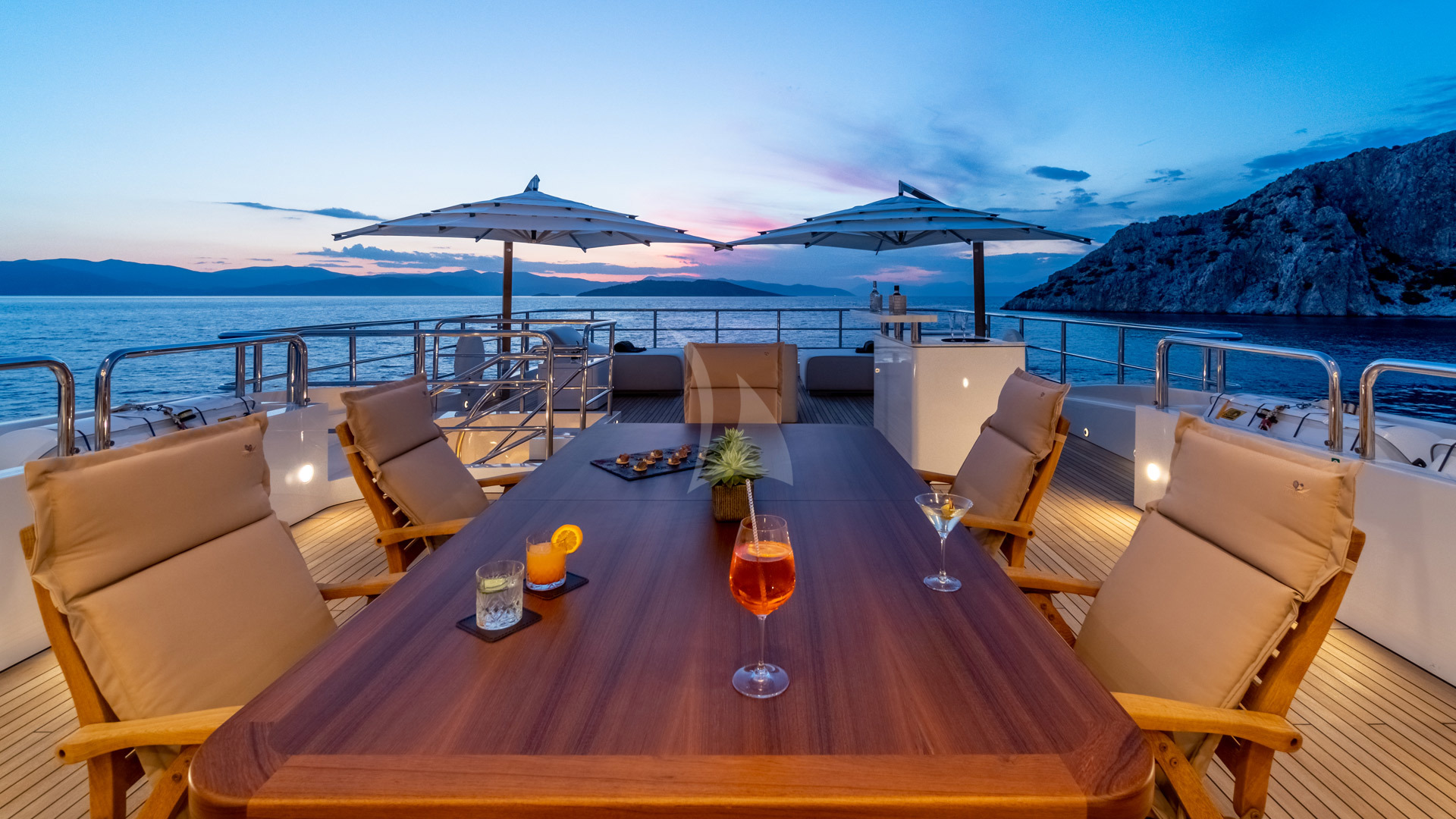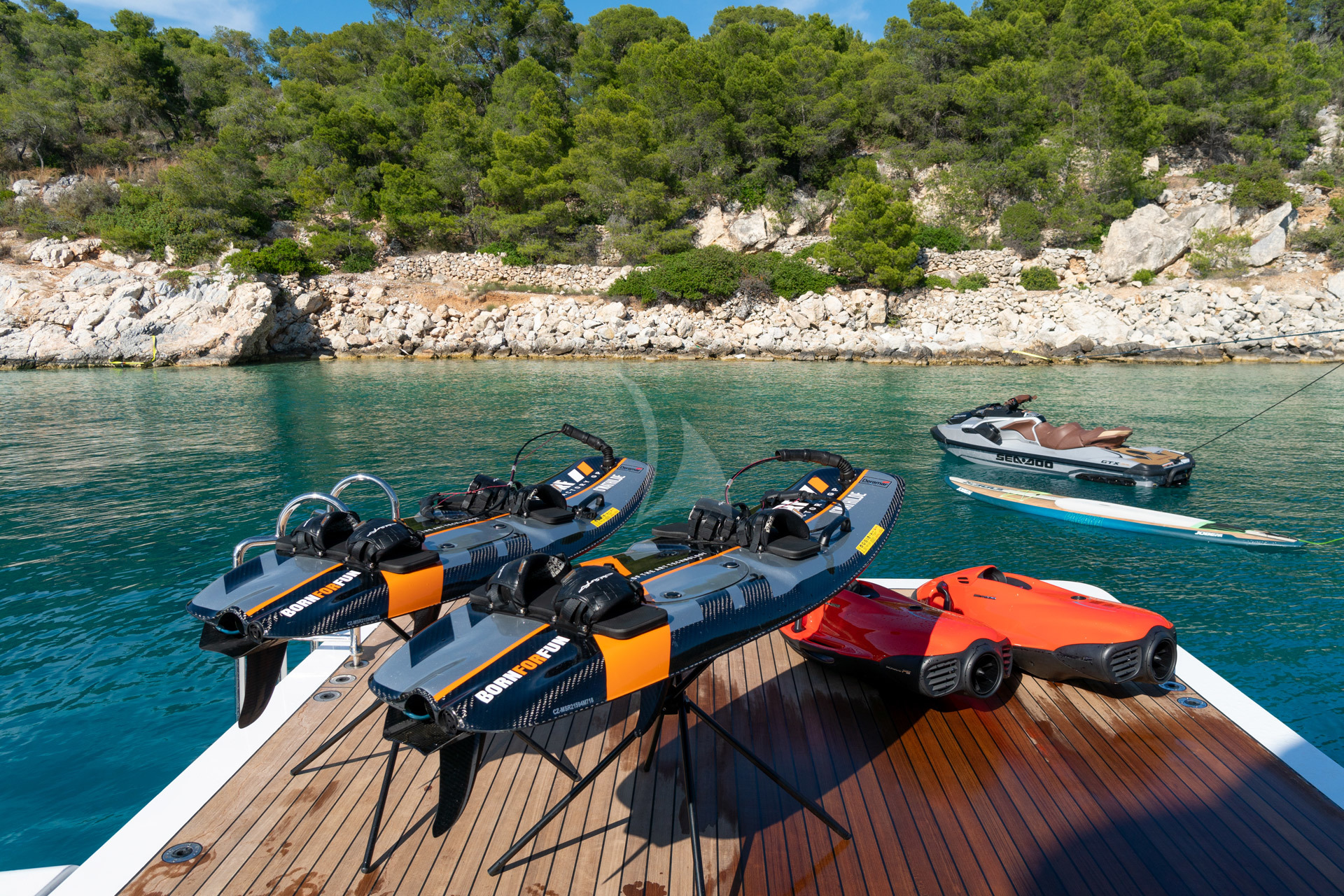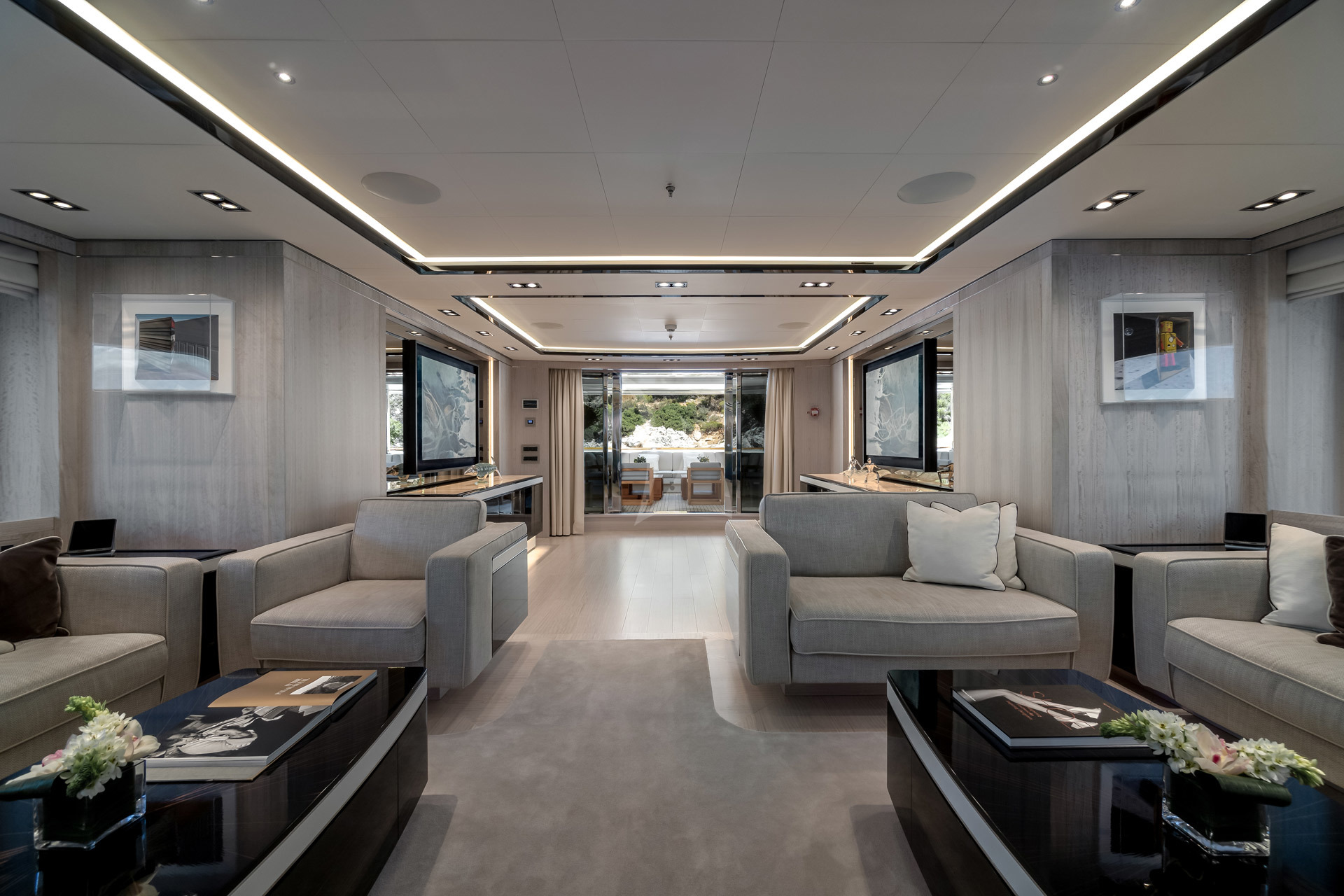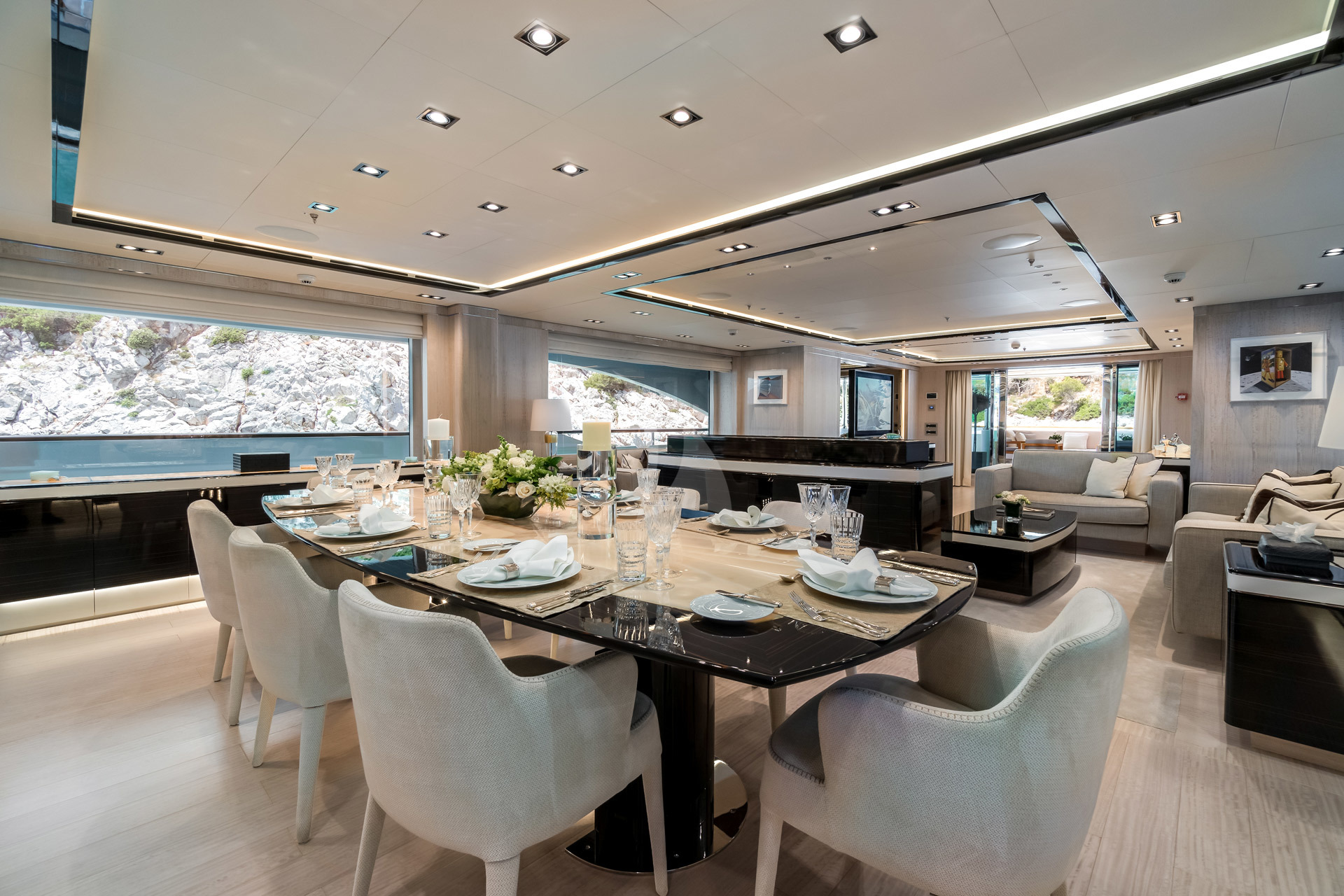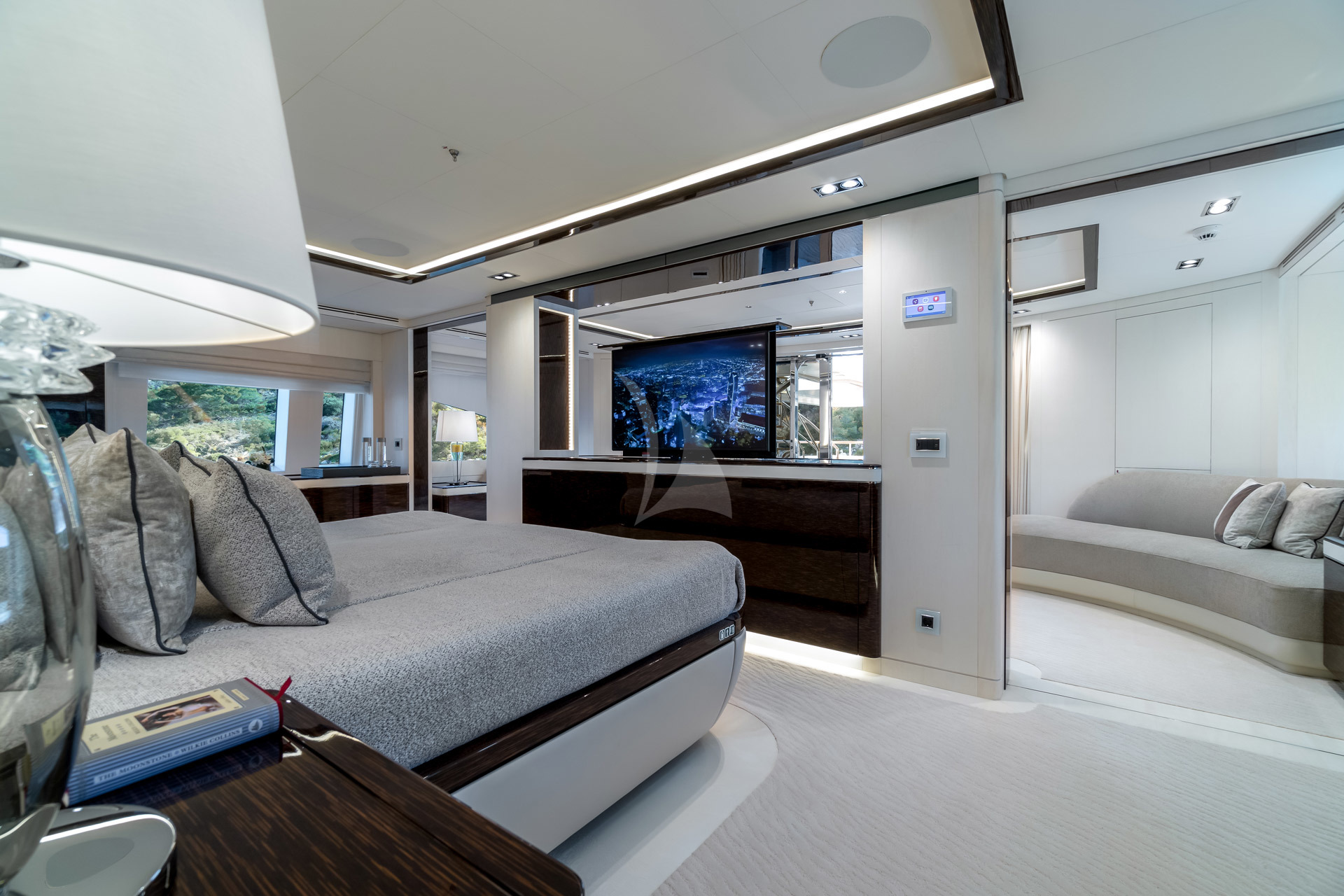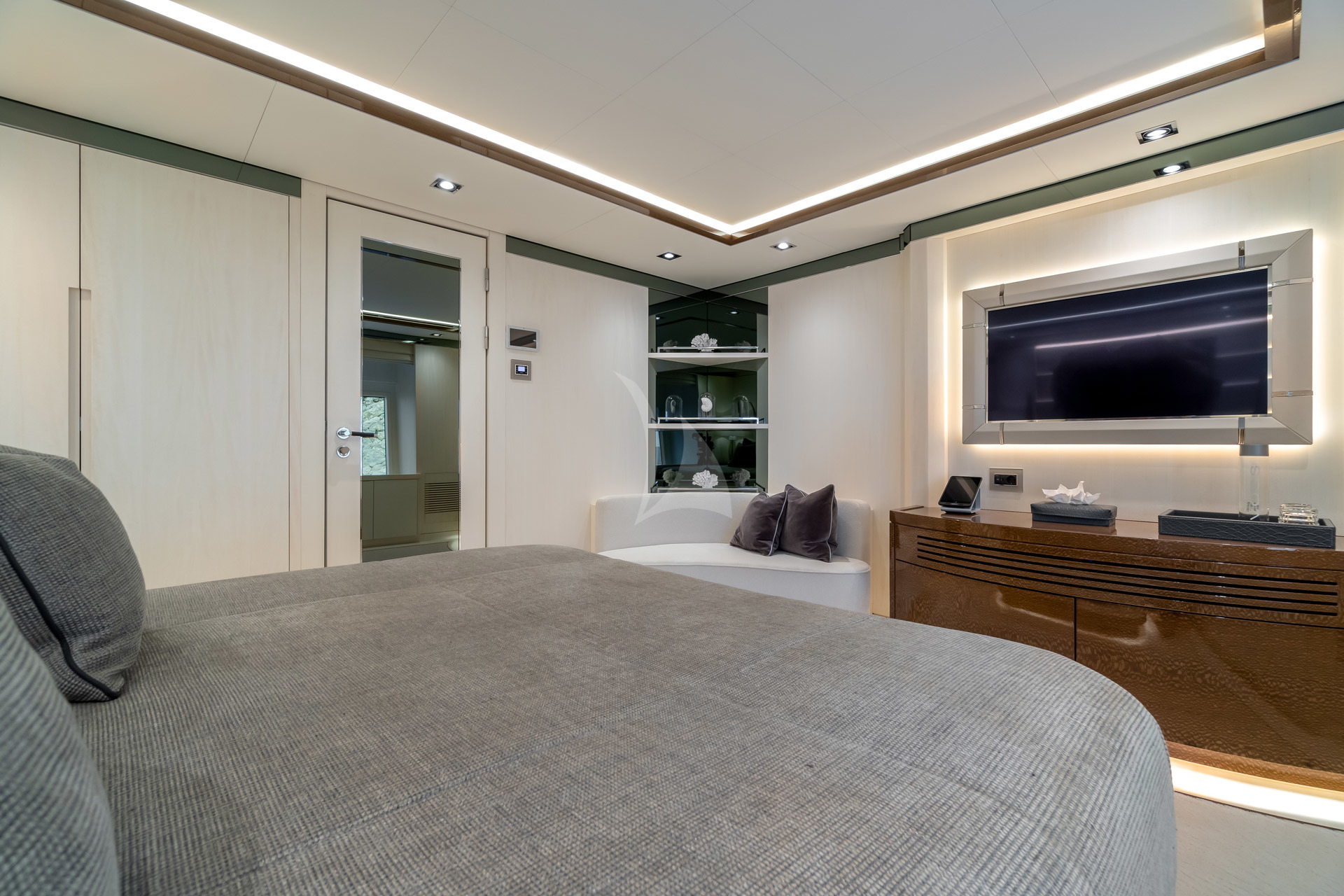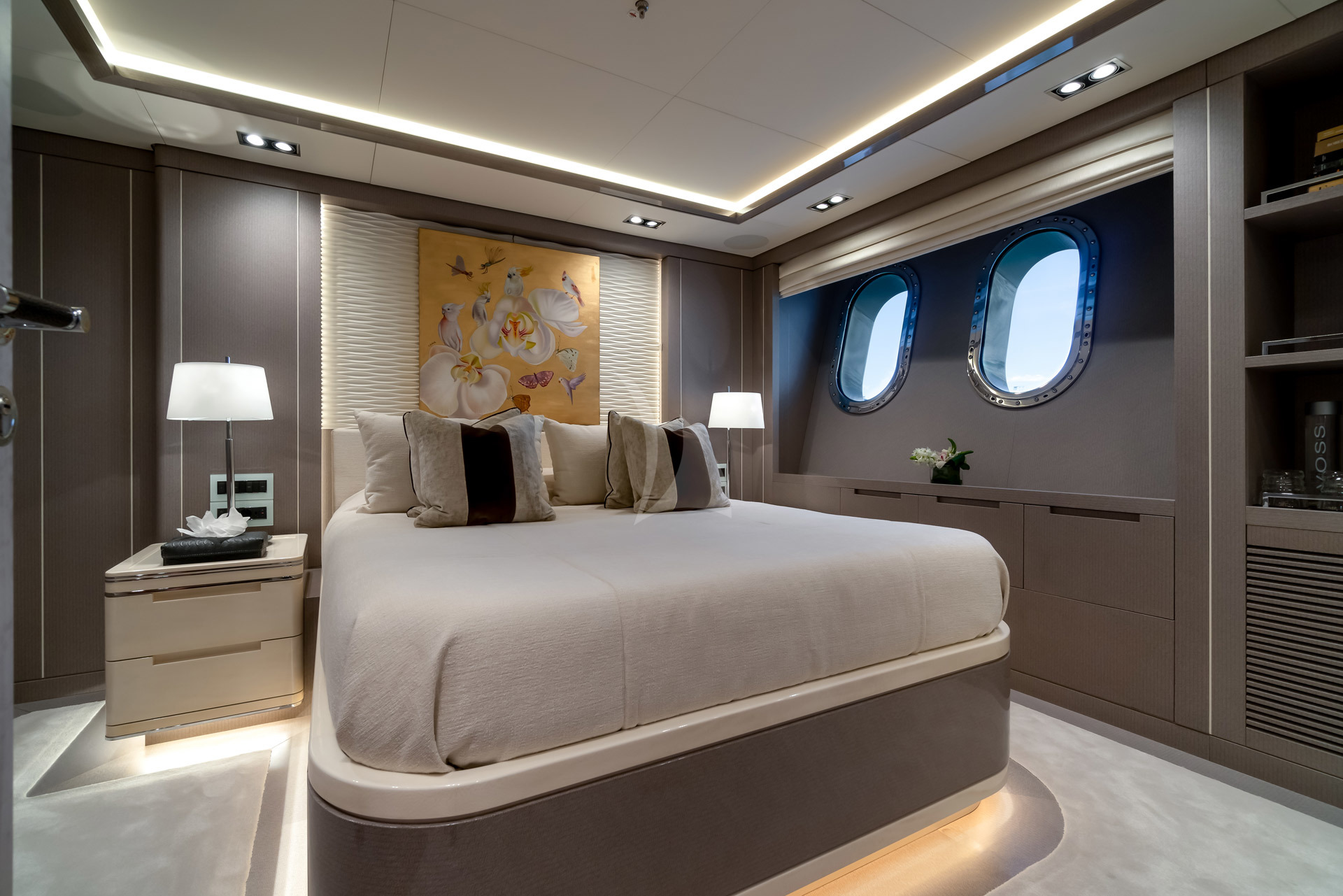 Description:
The long central walkway over the coach roof to O'MATHILDE's Portuguese seating on the bow balances the long gangplank aft, leading to the yacht's marvelous seating area aft that says, 'let's sit here awhile' before leading into another long arrival entrance before reaching the yacht's amazing main saloon that has so many couches – nine of them! – all done in white – there's enough room to seat everyone and enjoy the pop up TV.  Forward is an oval shaped enamel and highly varnished wood dining table with ten white cloth dining chairs, all very chic….  A private office and lounge leads forward to a suite of guest cabins on the main deck which is not the master cabin but the guests VIP cabin plus twin cabin for families. Below there are four additional guest cabins, three Kings and one Twin, each with marble bathroom, updated, modern, and new.  The master cabin is located on the upper deck, a suite of rooms with private lounges forward with views over the bow and bed centrally located facing aft over the stern, but cleverly hidden from the upper aft deck with pop up and down television. It's bathroom is a suite of rooms with incredible rain shower and dressing rooms/closets.  All three decks thus far are joined by a marvelous spiral staircase that's well lit, and all seven staterooms, accommodating twelve guests max have modern bathrooms with gorgeous rain showers, each suite large, each fit for a princess with Asian art, maple paneling, chrome ports, each finished similarly as the master stateroom with the same high standard with fun art that says, "Oh, be joyful!"  Upstairs on the upper deck aft is the main dining area, and dining is also offered on the sun deck, a long and narrow space with long dining table and chairs centrally located with sun beds aft and Jacuzzi pool forward, the focal point.  Next we enter the bridge, a place of power, barometers, and leather.  O'MATHILDE is a large, 184′ yacht in impeccable condition with discreet, indented dedicated outdoor gym, located on the sun deck.  Captain Manos, a graduate of the Greek Merchant Marine, holds a waterski license and wake board license and looks forward to training guests in watersports activities together with his mostly Greek and Ukraine crew of eleven.
Audio Visual Equipment and Deck Facilities:
Audio distribution system with independent Airplay, Bluetooth, Internet radio, Spotify, tune in radio, Pandora, Sirus Xm, Deezer, Napster in each area of the yacht.
Indoor and outdoor B&W speakers and sound bars.
Mini iPads in each cabin for music and TV control. Alternatively, the guests can connect their own iPhone/iPad/Android device.
Four outlets at the sun deck area for high power party speakers and DJ booth connection.
Thirteen TVs 32"-60" are installed throughout the yacht each with independent movie players, satellite receiver, media player, Apple TV, blue ray players, local TV channels and local inputs for gaming consoles, video cameras etc.
7.1 Dolby Atmos installed in master suites, VIP suites and salon.
Central Digital Media System that can project images to all TVs.
Outdoor Cinema in the main deck area that can connect with Media Players, Satellite receivers and Apple TV.
Movies Server with 450+ movies that are updated annually.
---
Communications:
Sat com (phone/fax), internal telephones, personal computer, internet Wi-Fi and e-mail service.
---
Gym equipment:
1 x Treadmill – Run Personal Unity
1 x Bench Personal
Various Dumbell Weights (6KG,8KG,12KG,14KG)
1 x Wellness Ball cm 0.55 grey
1 x Skillmill Connect
1 x Skillrow
1 x Trx Line
---
Notes:
Zero speed stabilizers. Jacuzzi on the sun deck. Luxurious owner's suite on the upper deck. Βest quality outdoor cinema. Fully equipped outdoor gym area with sea view.Medical Assistance program for the guests.
Services:
Medical advice and instructions from specialized doctors 24/7 over the phone
Patient's transportation within Greece by ambulance, helicopter or other available means to the nearest appropriate medical unit to administer the necessary medical treatment.
Based in Athens, Greece, O'MATHILDE charters for:
EUR 290,000 weekly + expenses during July and August
EUR 220,000 weekly + expenses Other Months
+ 12% VAT

Rates include the yacht and crew but do not include food, fuel, bar, or dockage, sold at cost price.  It is customary to wire a 30% APA  (Advance Provisioning Allowance) to the yacht a month in advance.  The captain keeps receipts and settles the bill before guests disembark.  Gratuity and 12% VAT tax are not included.  Gratuity is for the charterer's discretion, but 10% of the charter fee is suggested.
O'MATHILDE E-Brochure, Photos, Specifications, Crew Profile, Sample Menu, Guest Reviews, Rates & BookingsInformation believed correct, but Nicholson's cannot be responsible for content.