High Rate: $ 18,500 weekly All Inclusive
Low Rate: $ 15,500 weekly All Inclusive
Cabin Configuration:
Sleeps 7 guests in 4 staterooms. 3 are equal, Queen guest cabins, each with private bathroom, and 1 is a Vee-berth single cabin in the foc'sle with access over the bow and shares one of the inside guest bathrooms. The crew are self contained forward to port. Fully air conditioned, modern, and with lots of natural light.
Specifications:
Length:
Builder:
Built/Refit:
Beam:
Draft:
Regions Available:
Locations It Travels:





Special Features:
45'
Fountaine Pajot
2020
8.85'
24.7'
St. Thomas




2020 model
Fly Bridge
Talented Chef
Special Diets
Equal Cabins
Lots of natural light
Water Toys
11' inflatable dinghy with 25 hp outboard
tube
two stand up paddle boards
underwater still camera
underwater video camera
fishing gear
trolling rods
snorkel gears
beach games
rendezvous diving only
underwater lights
floating dock
onboard Wi-Fi
solar panels
sailing awning
iPod/device hookups
saloon television & stereo
generator
ice maker
Have a Question About This Yacht?
Fill out the form below and we will get back to you quickly!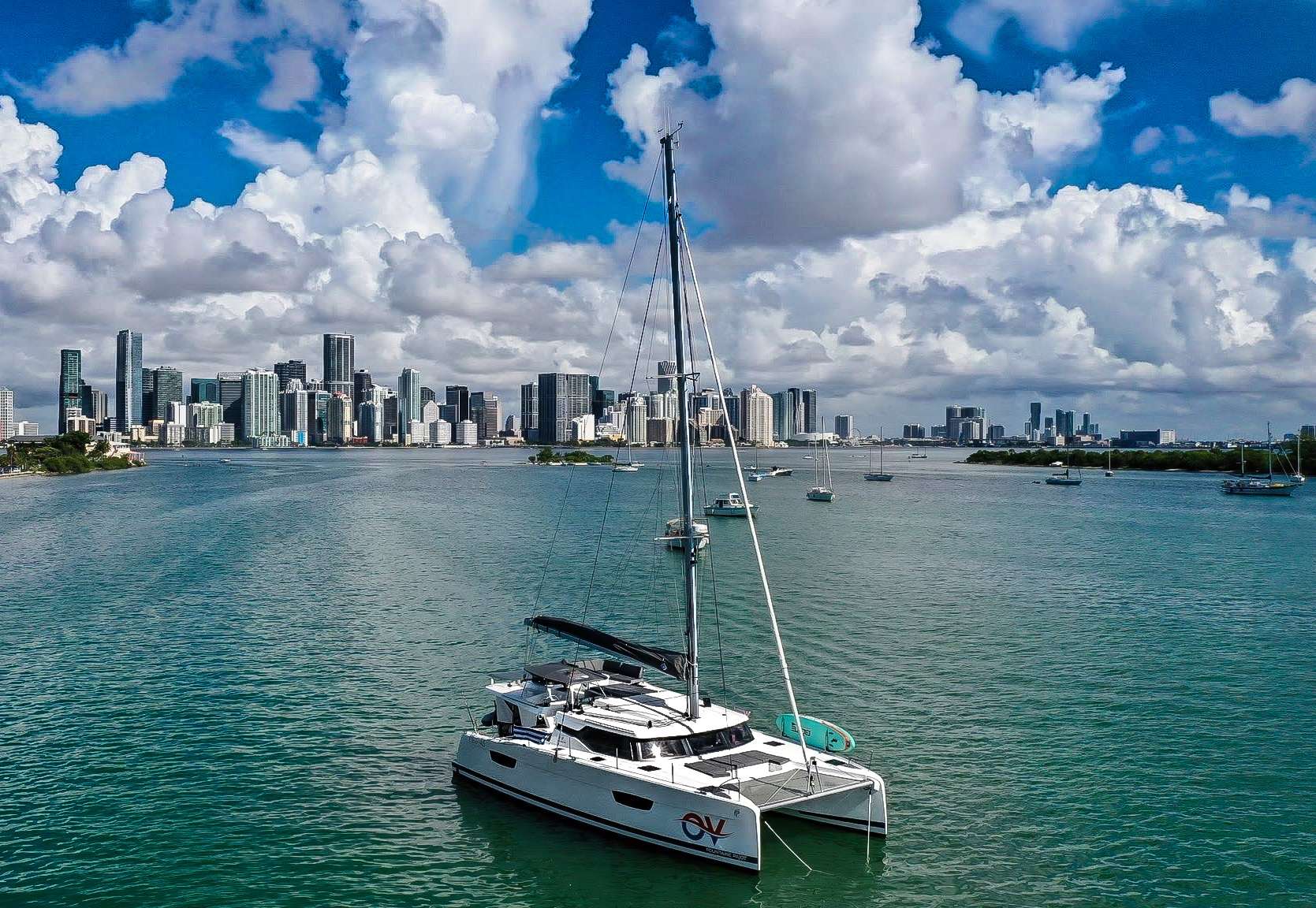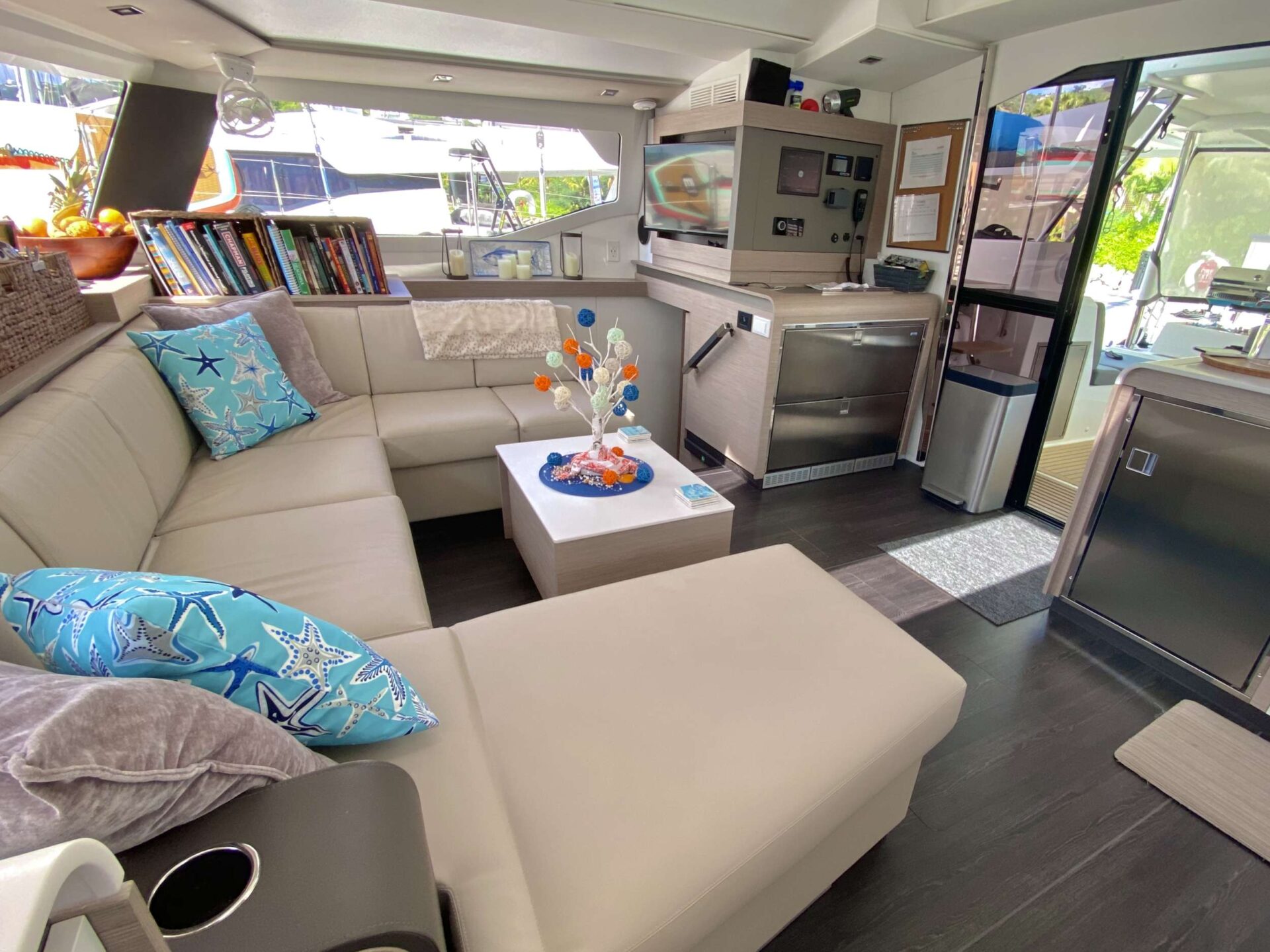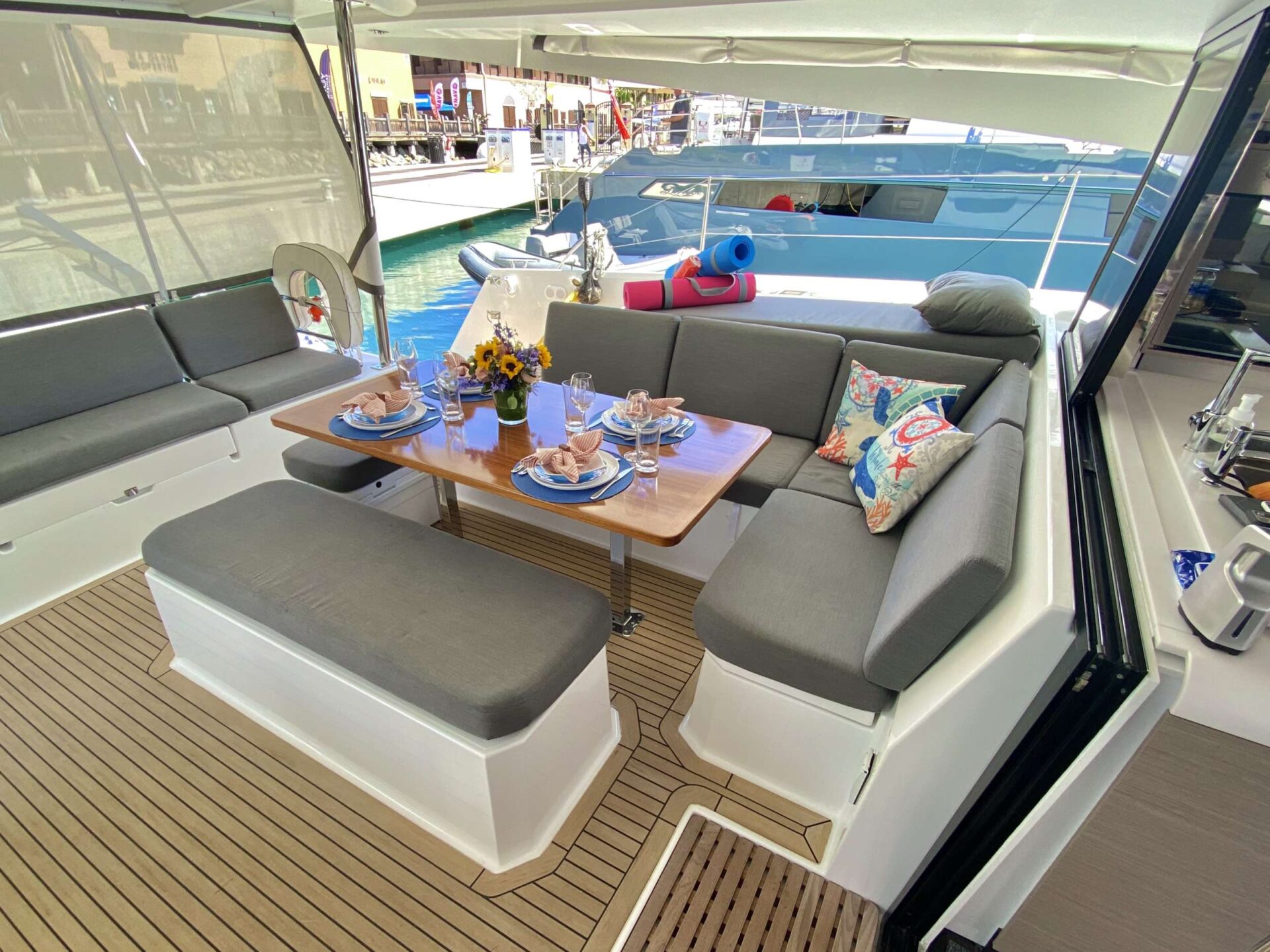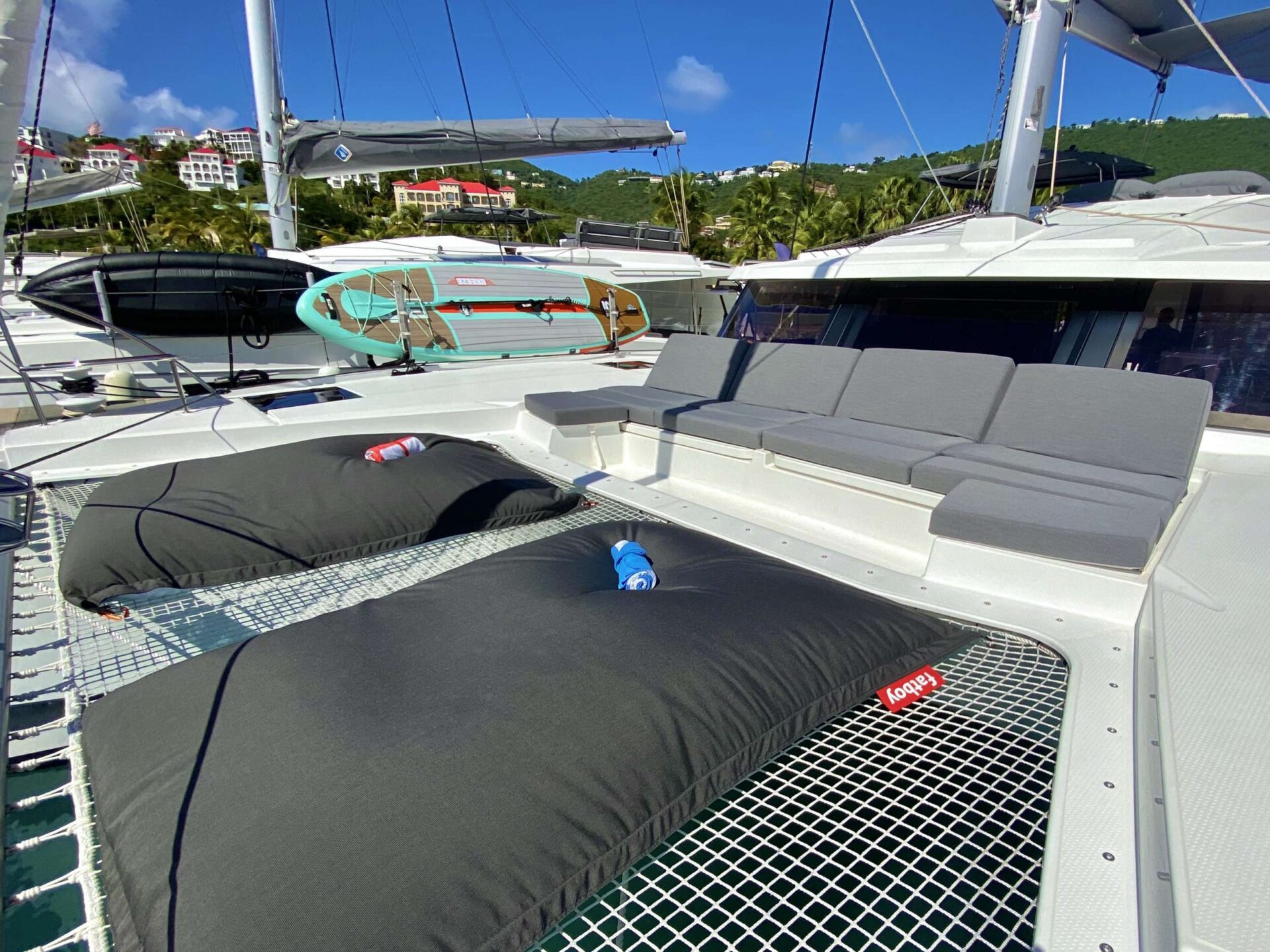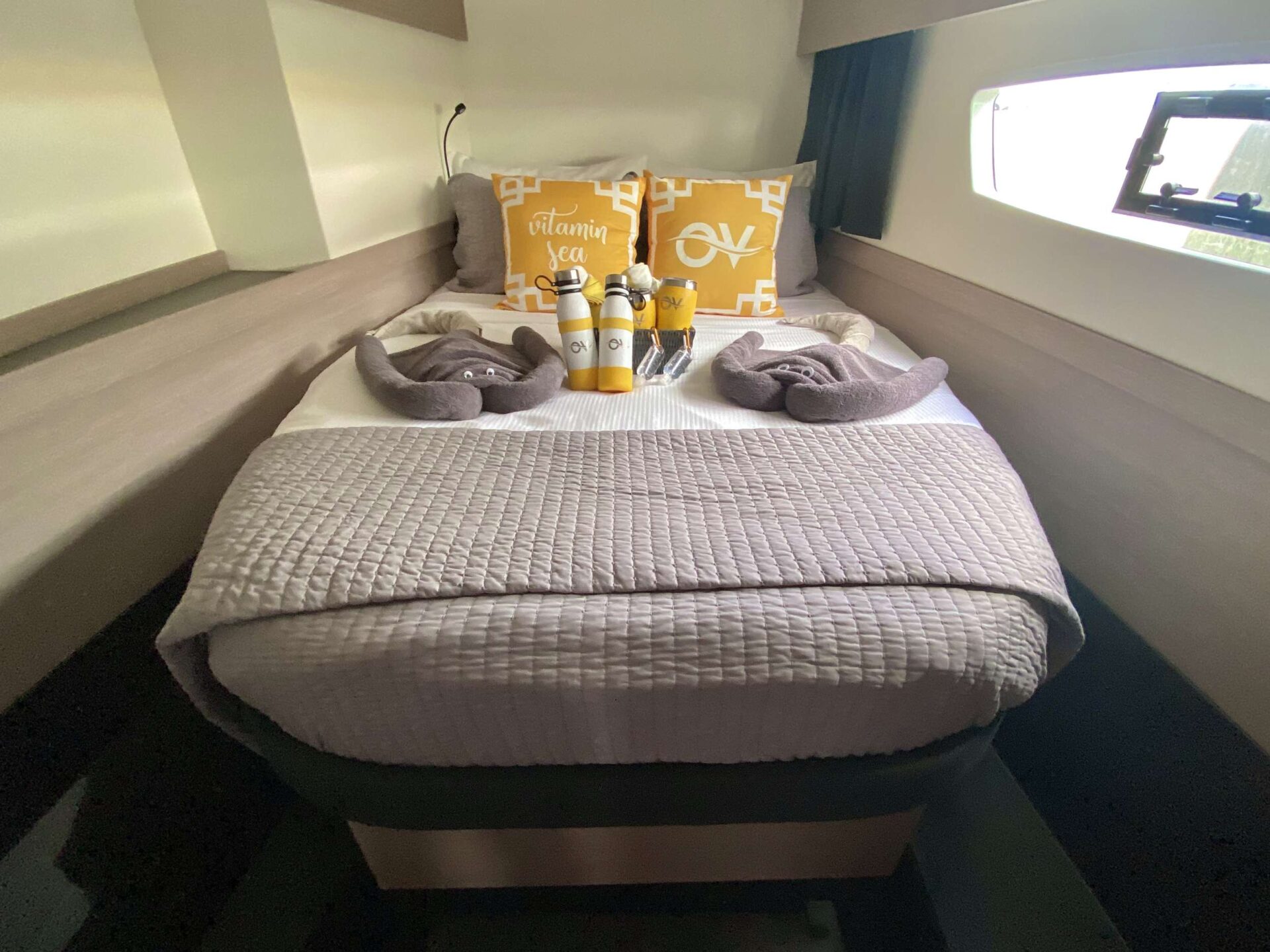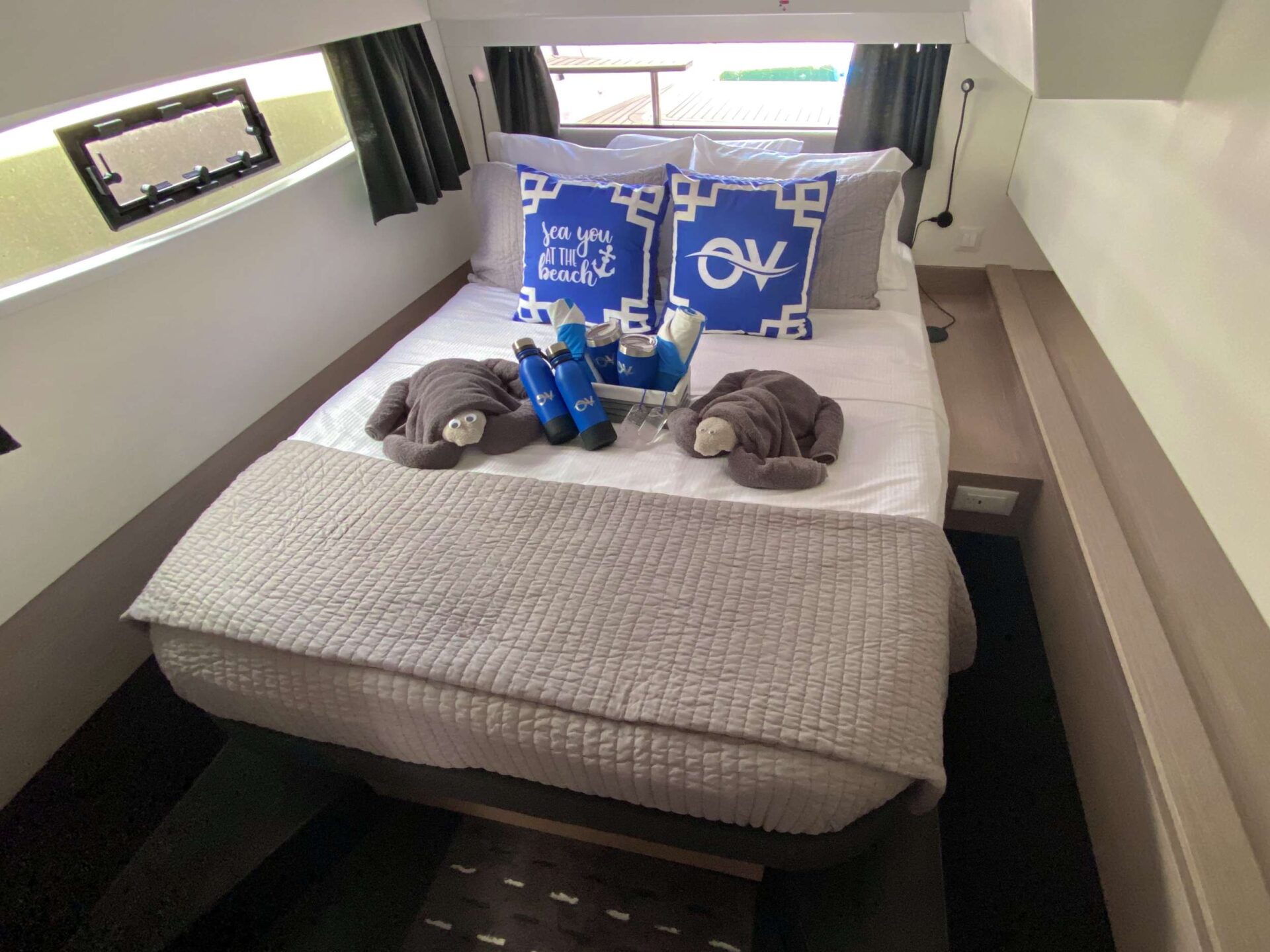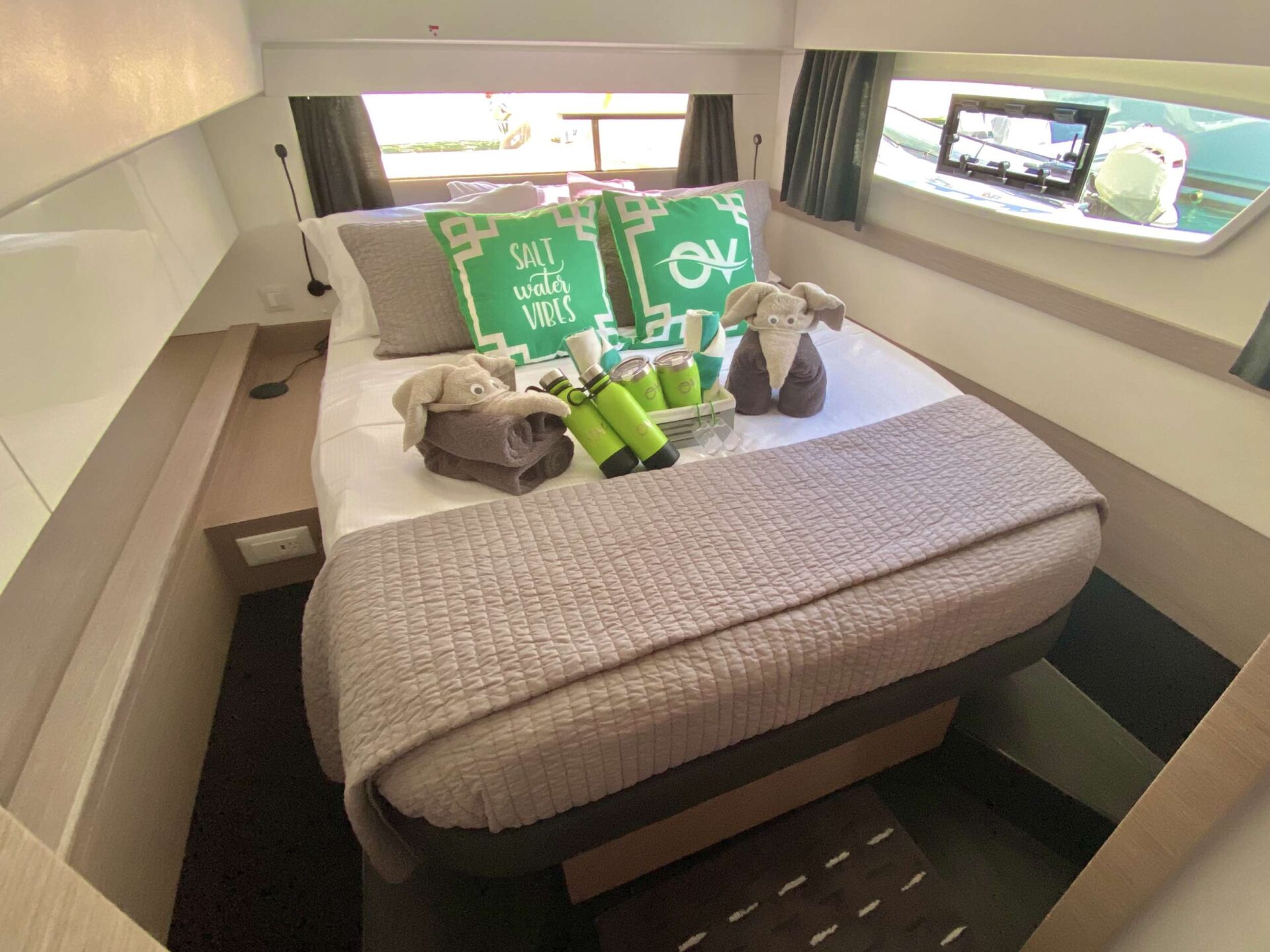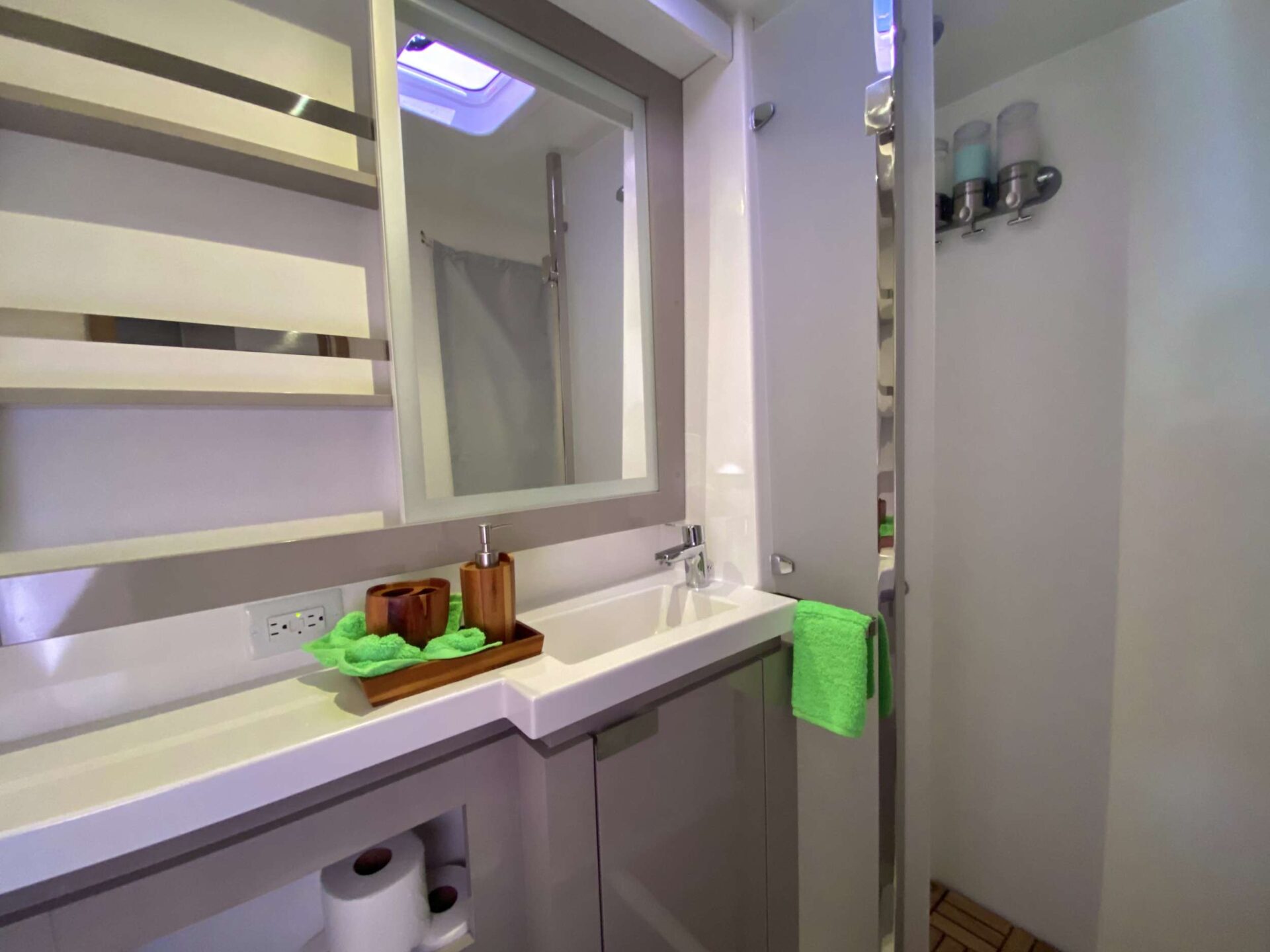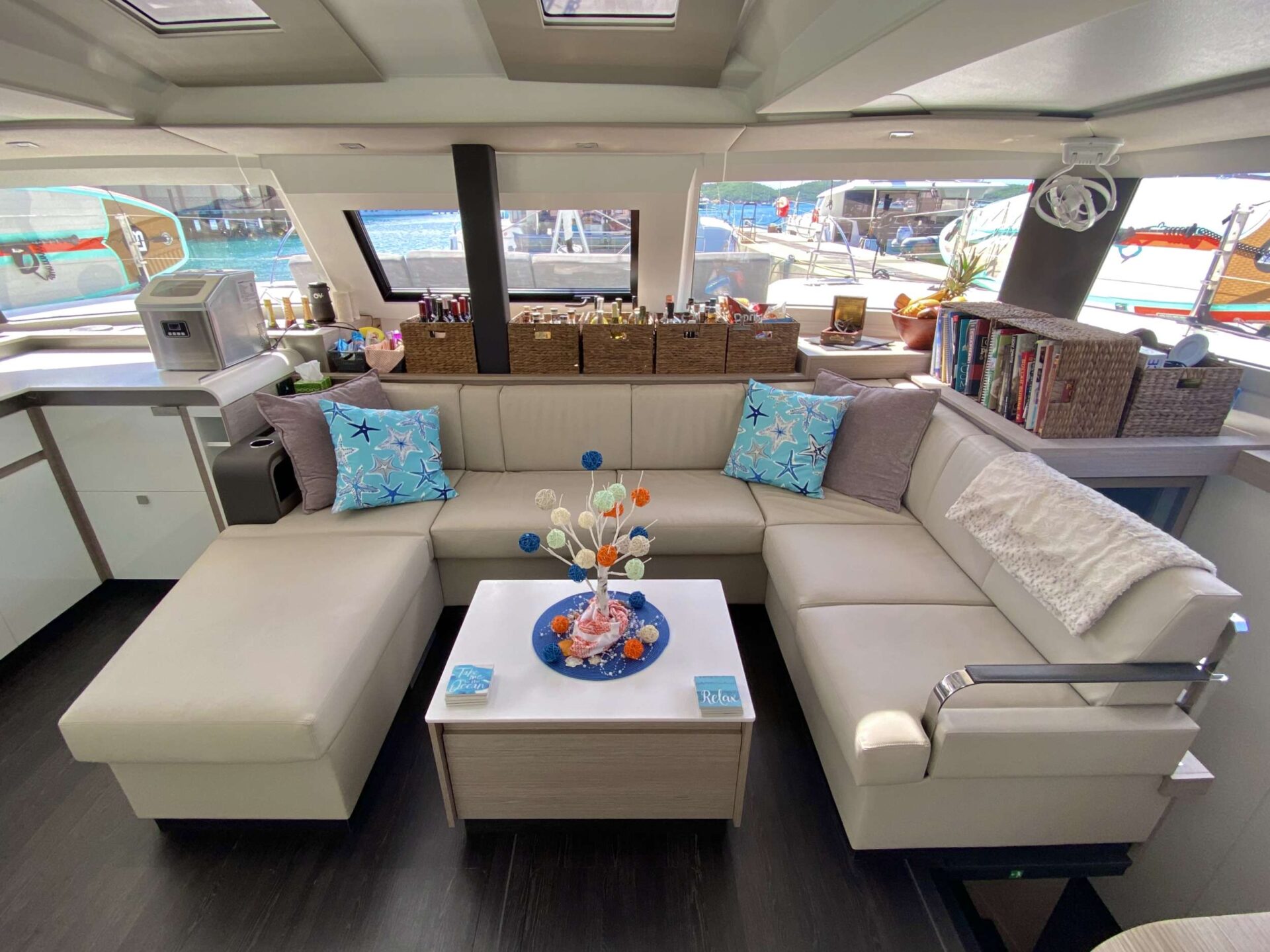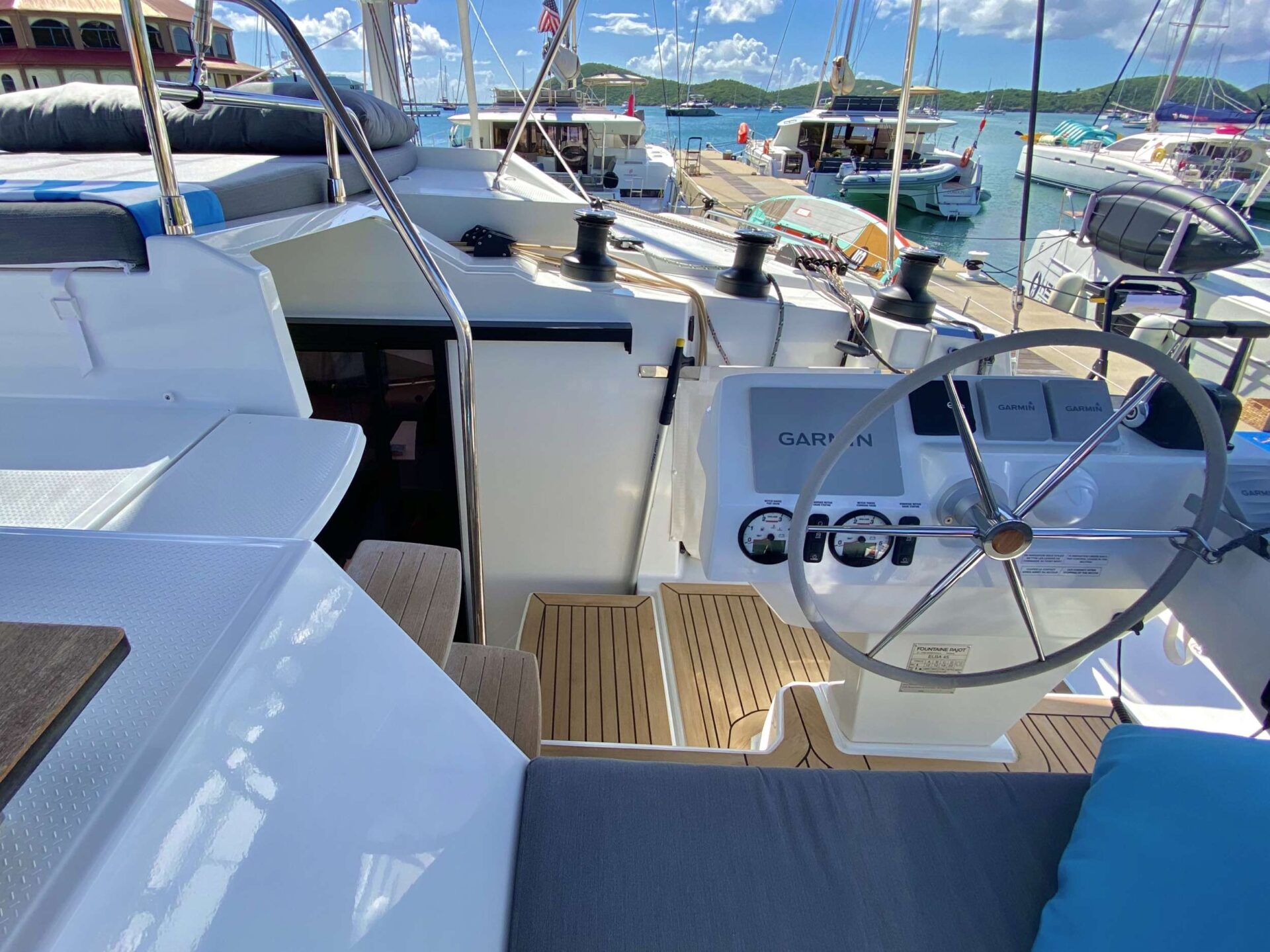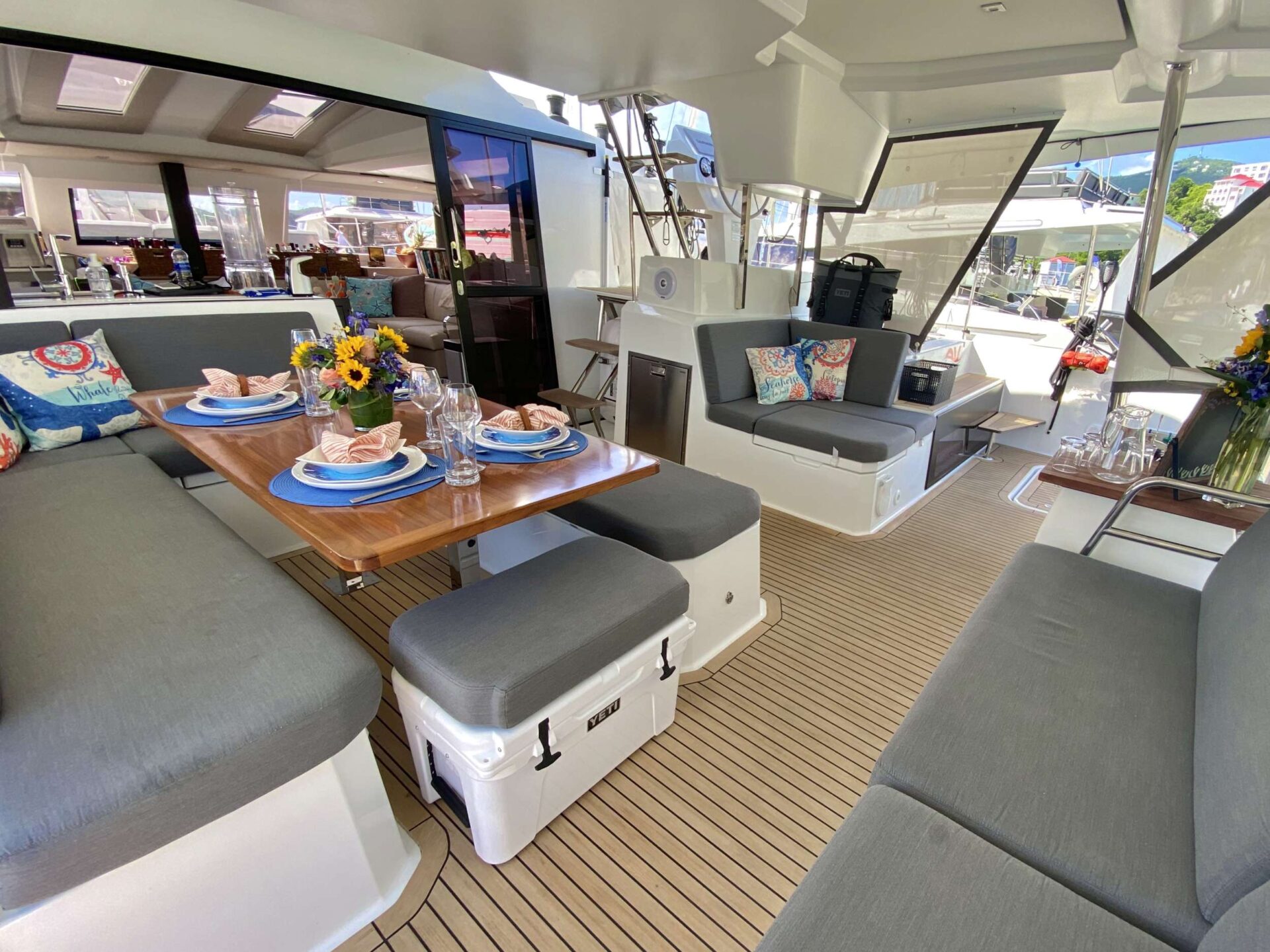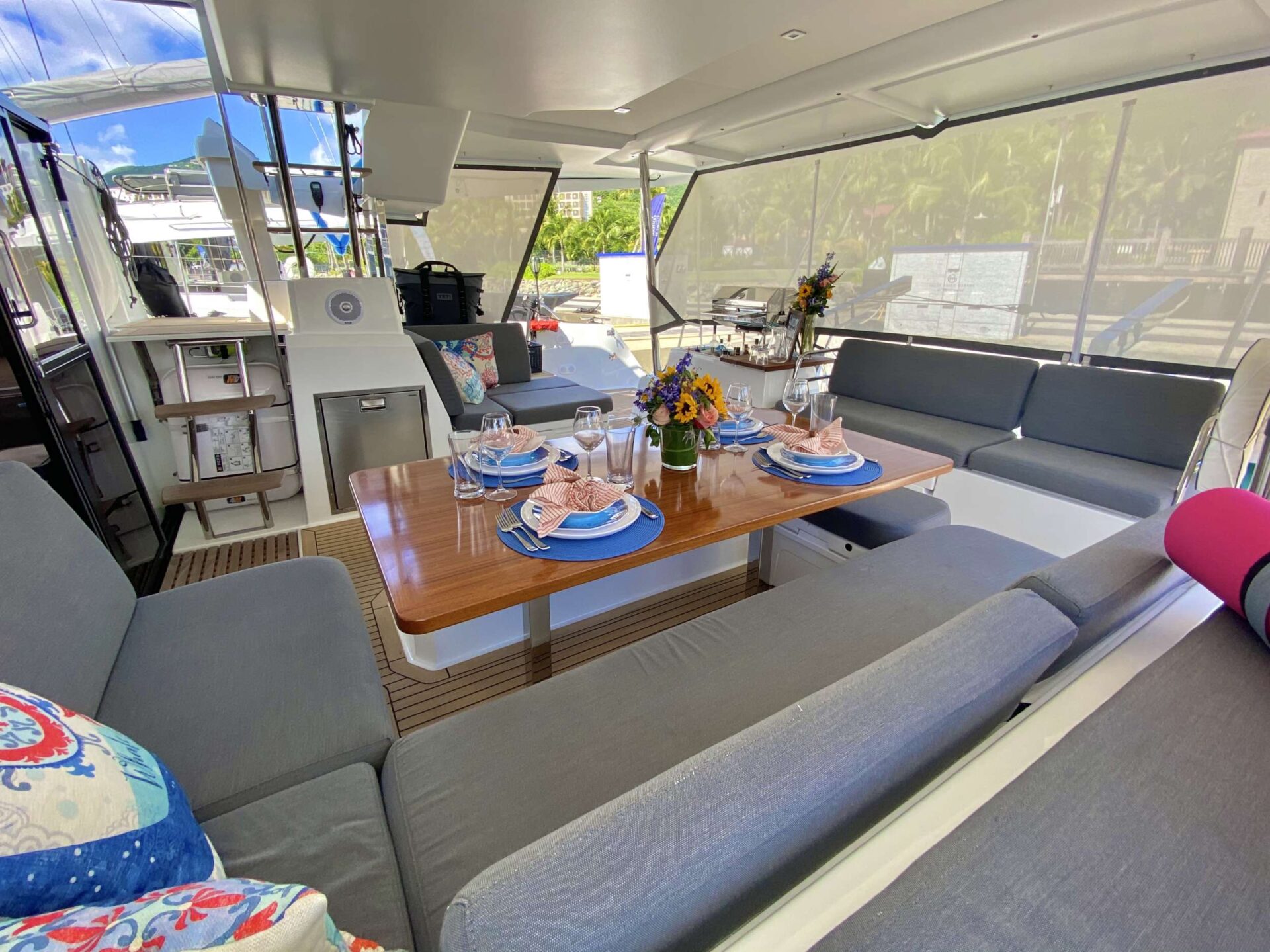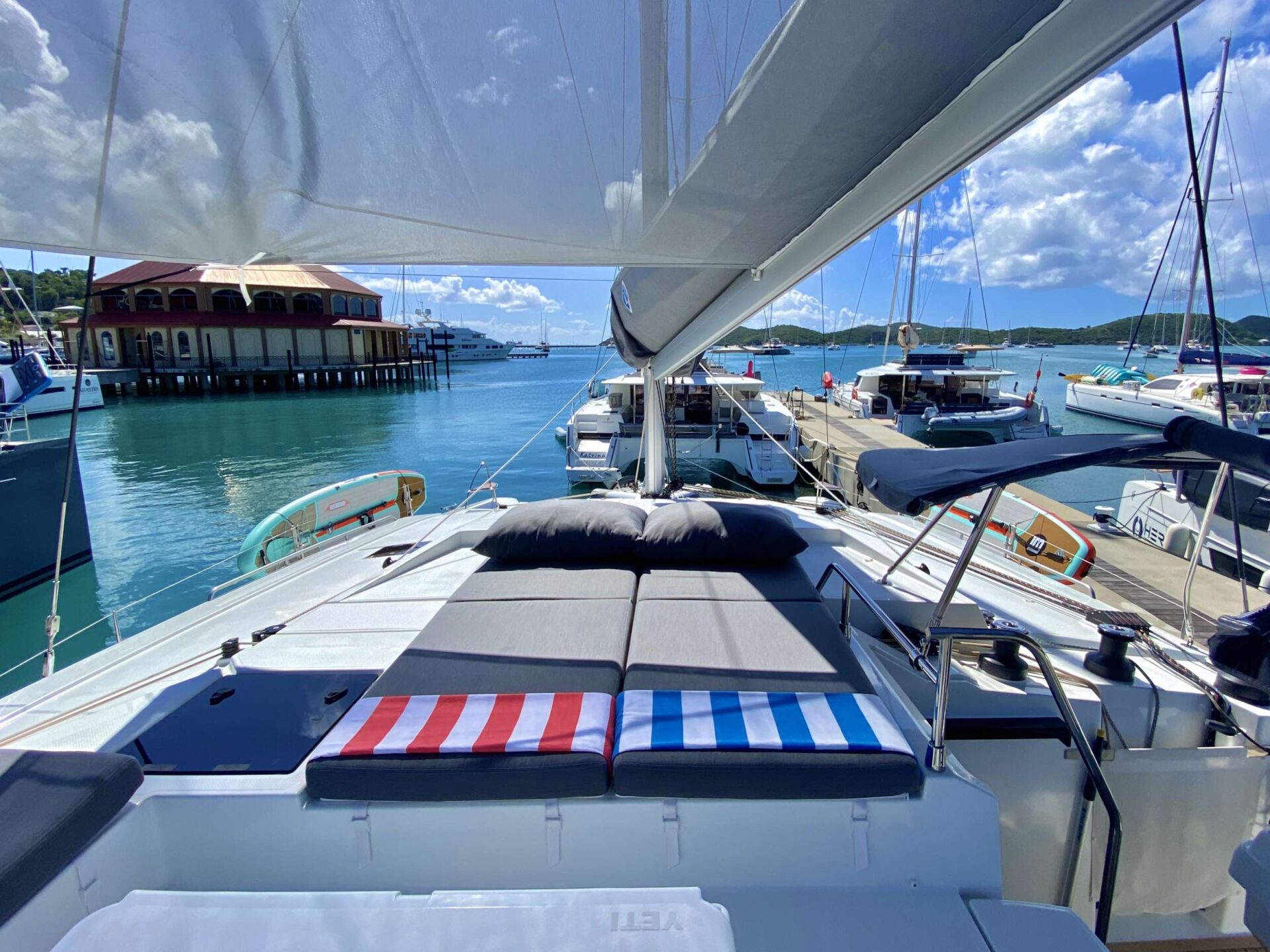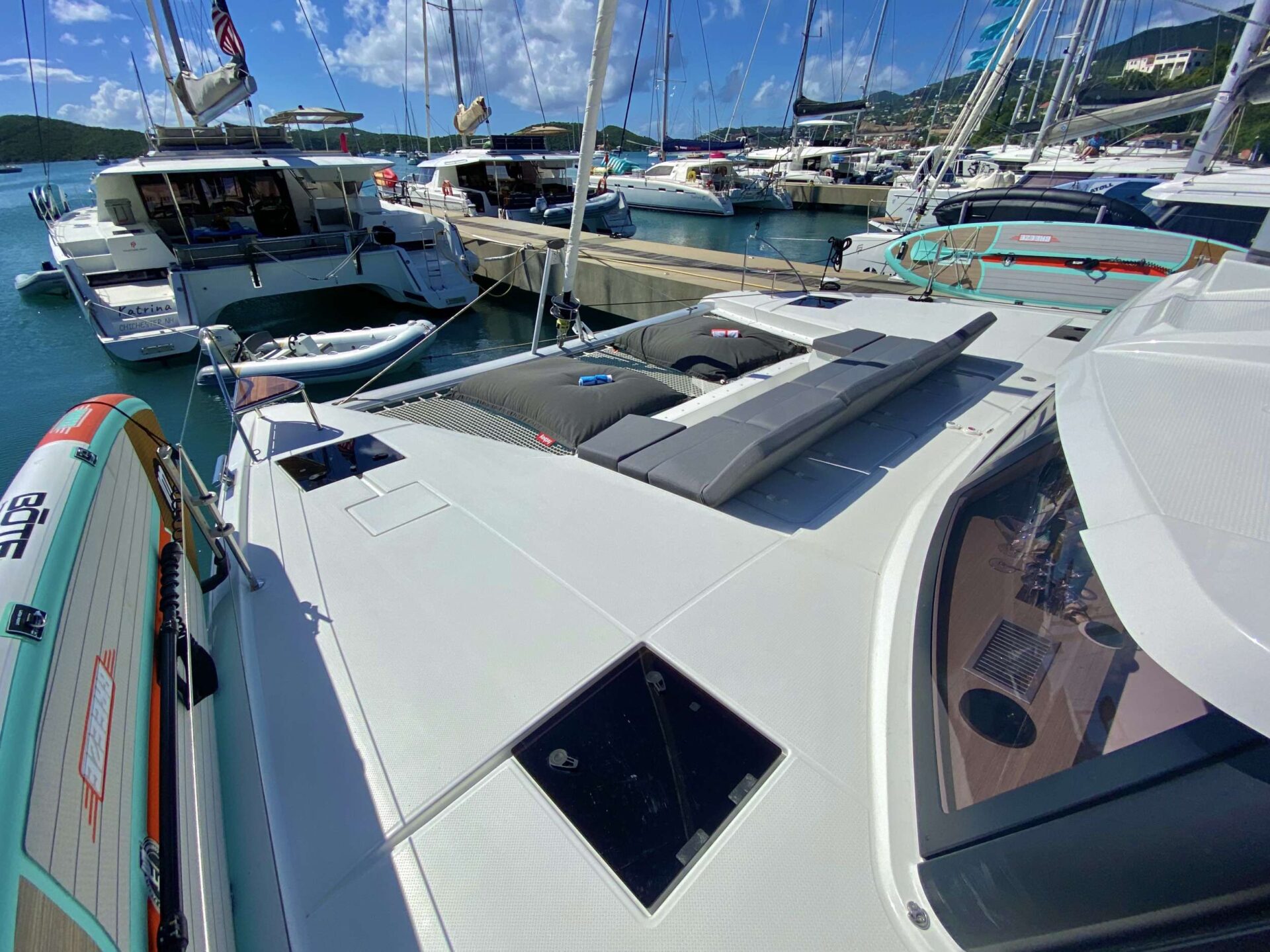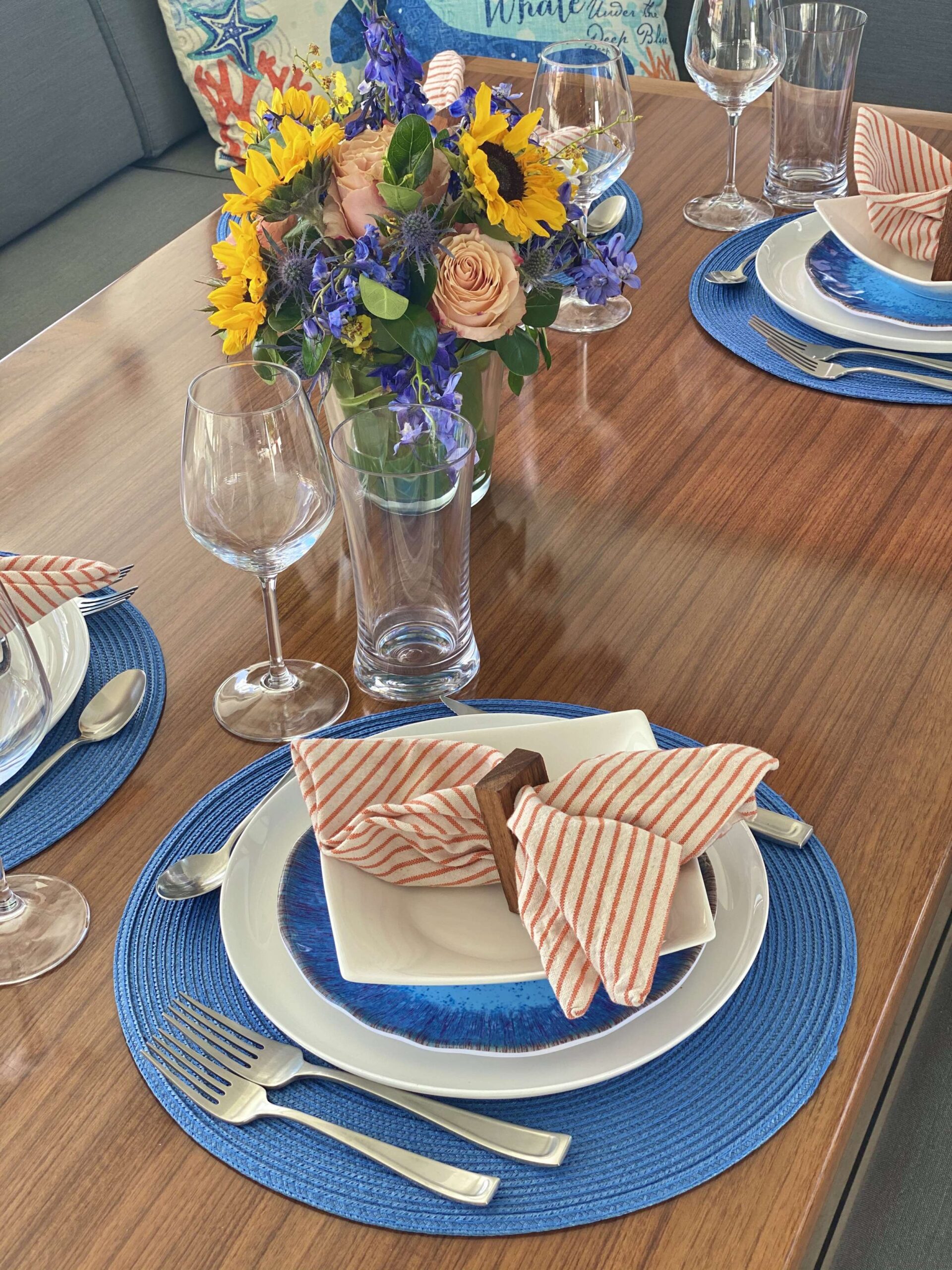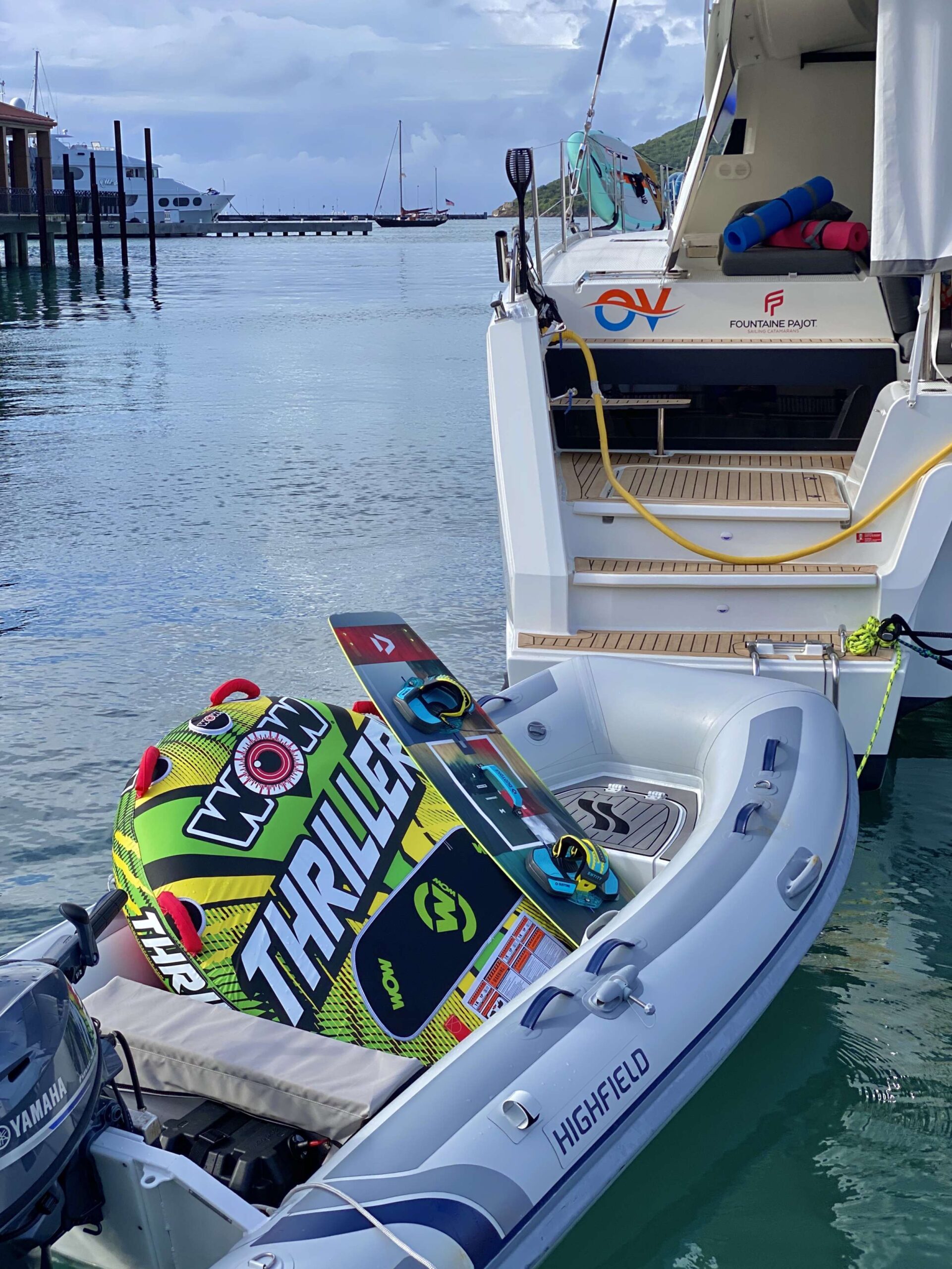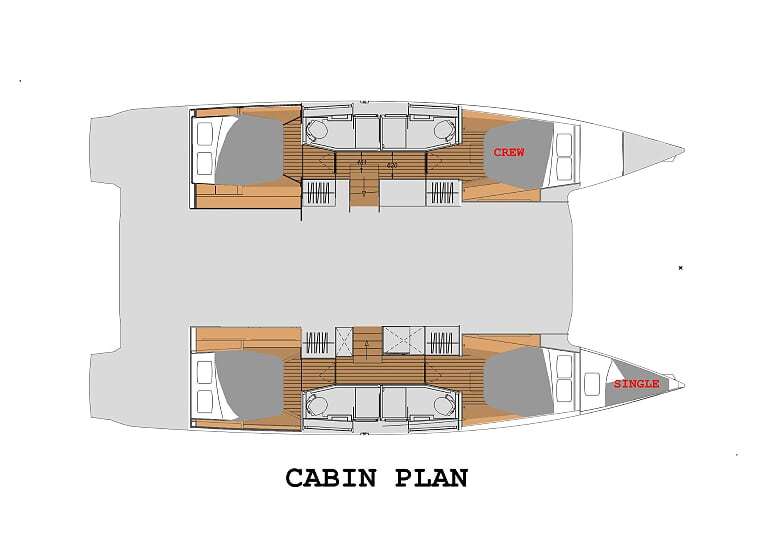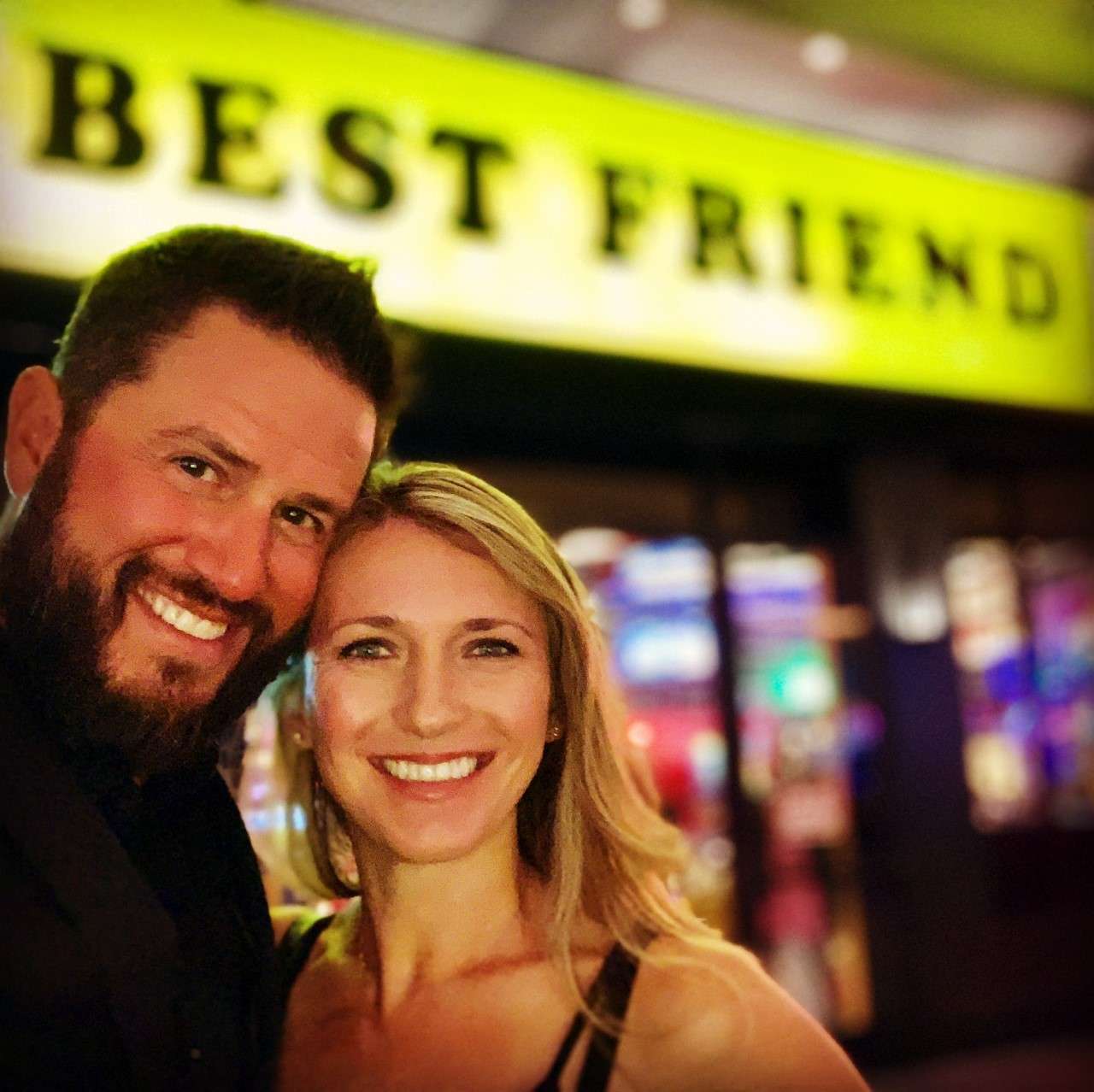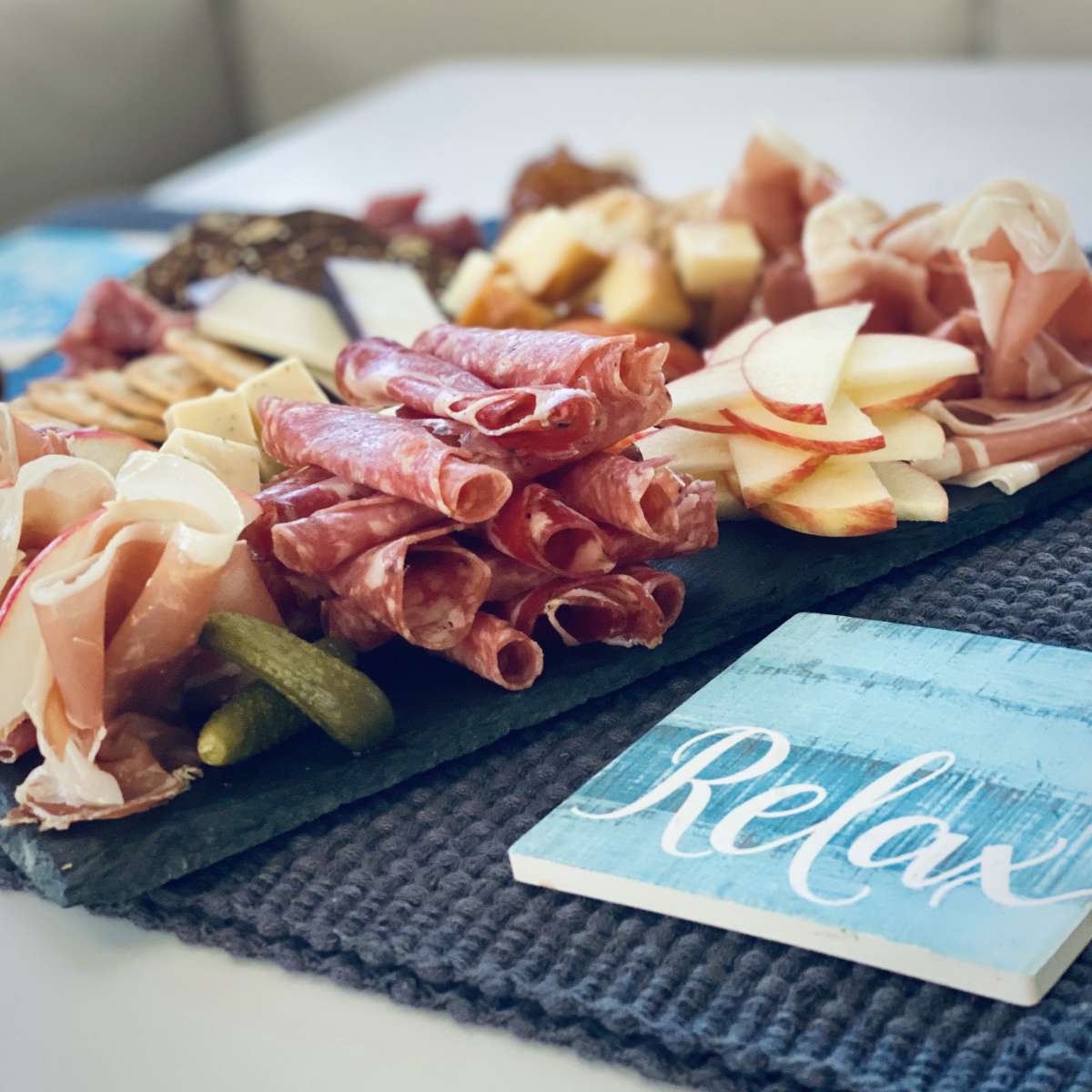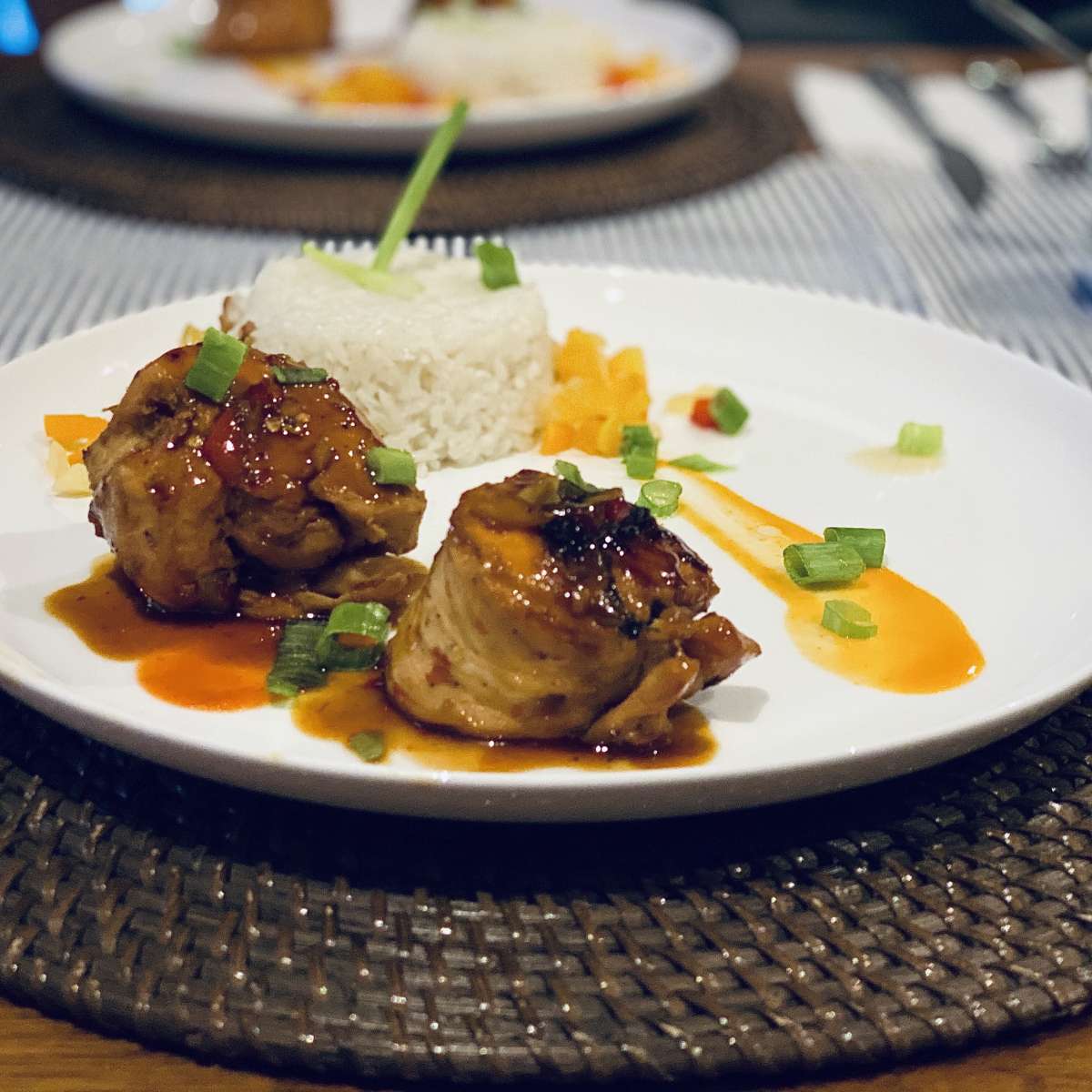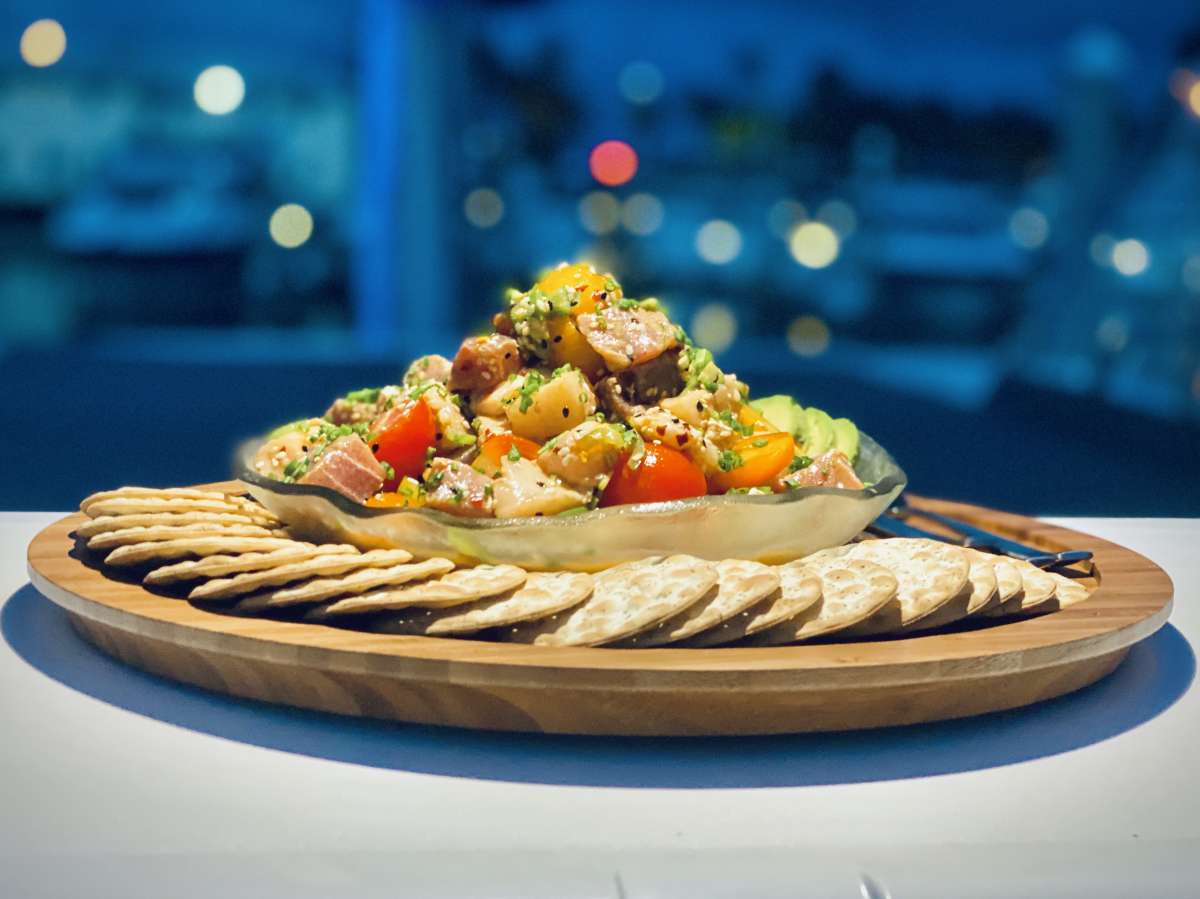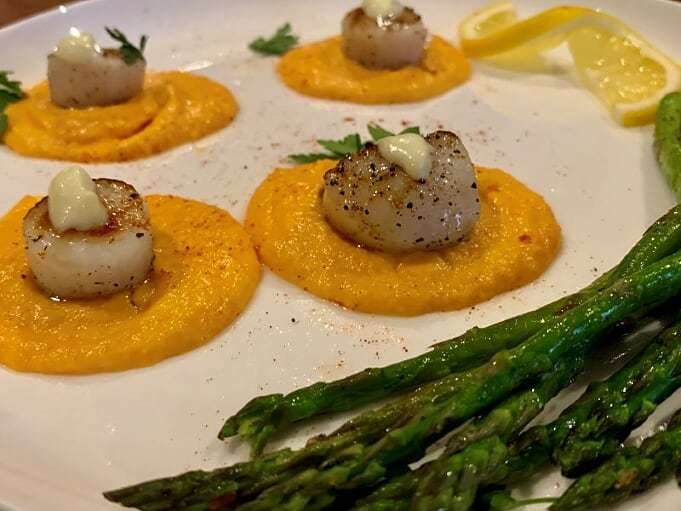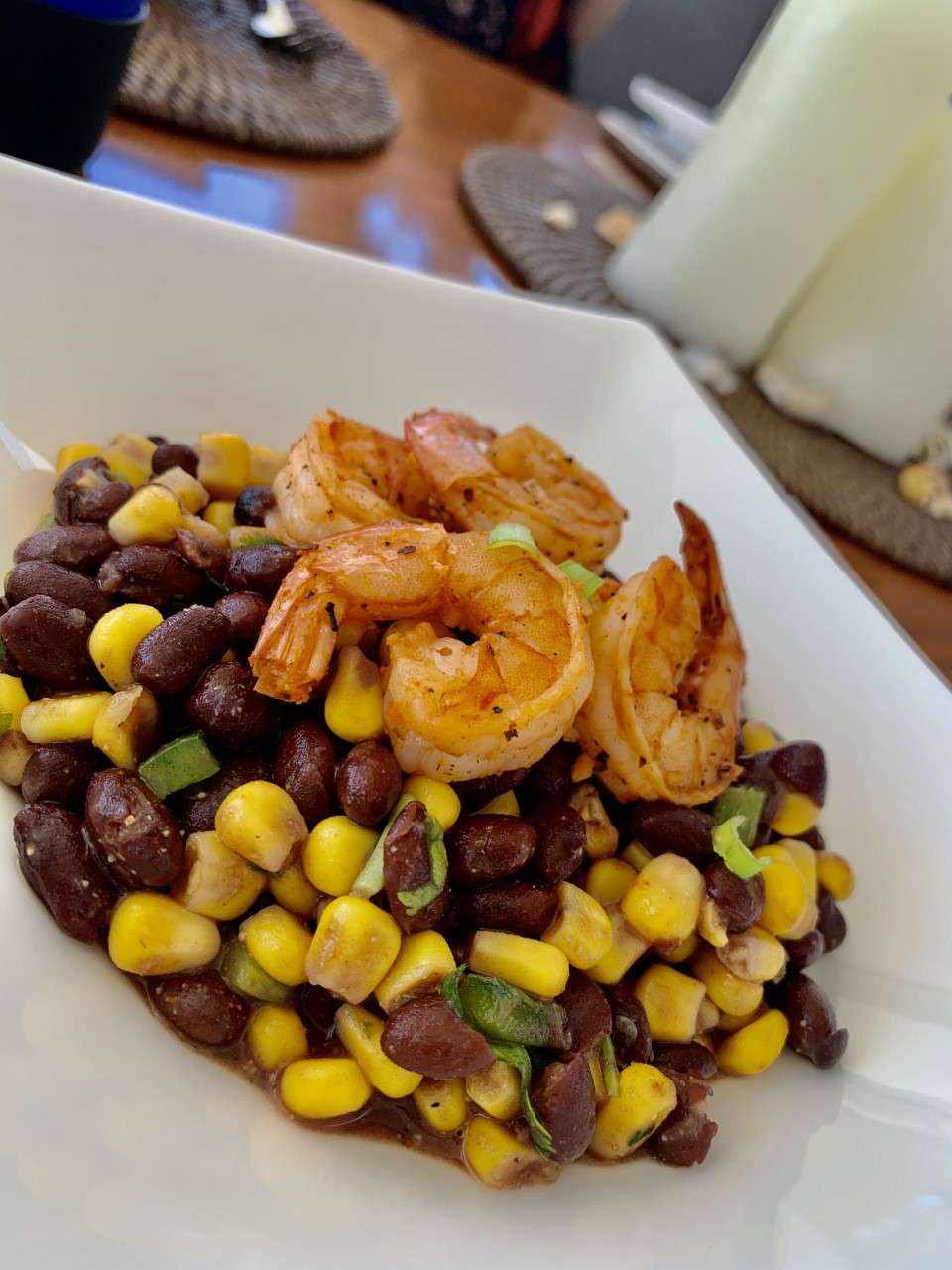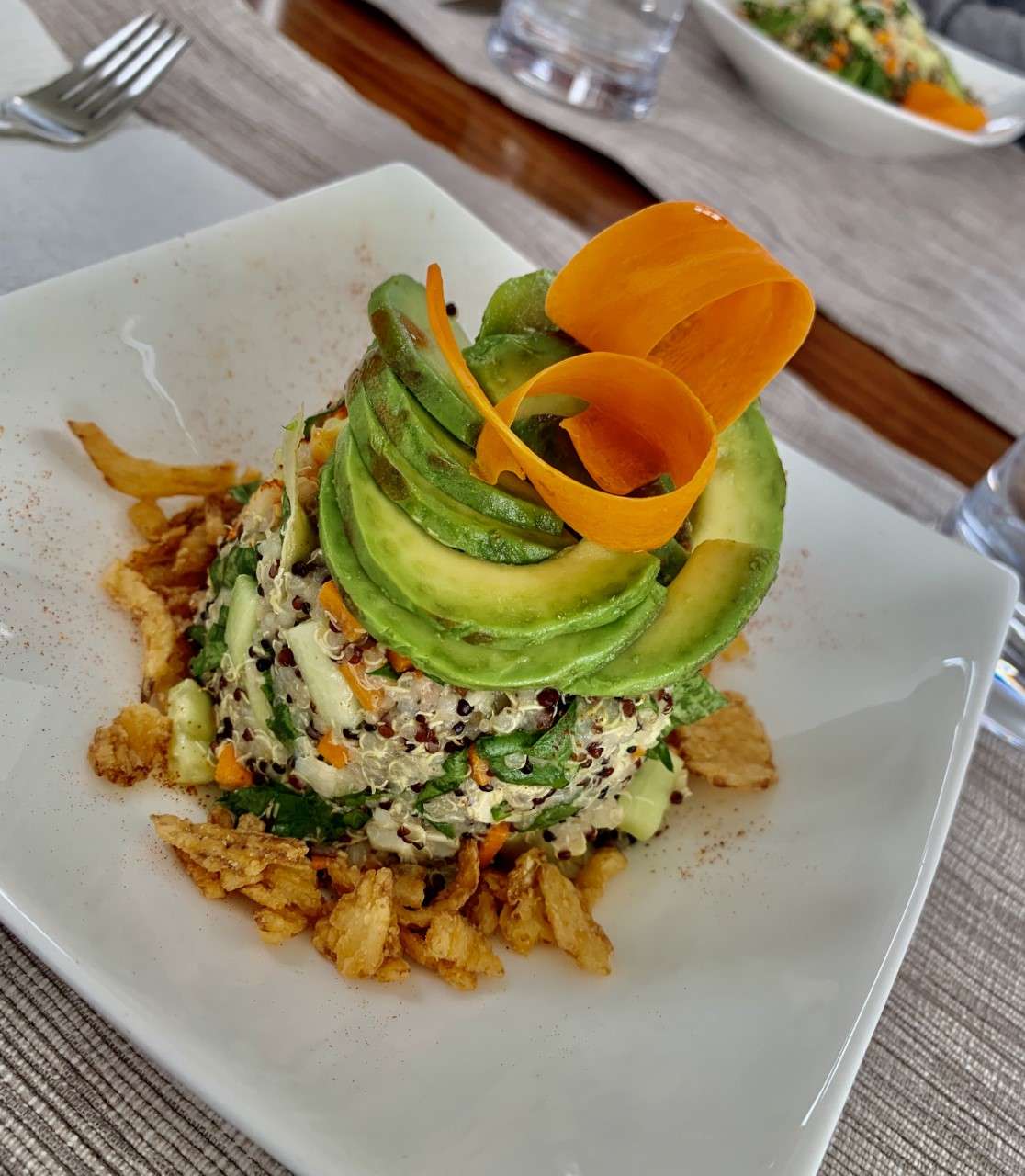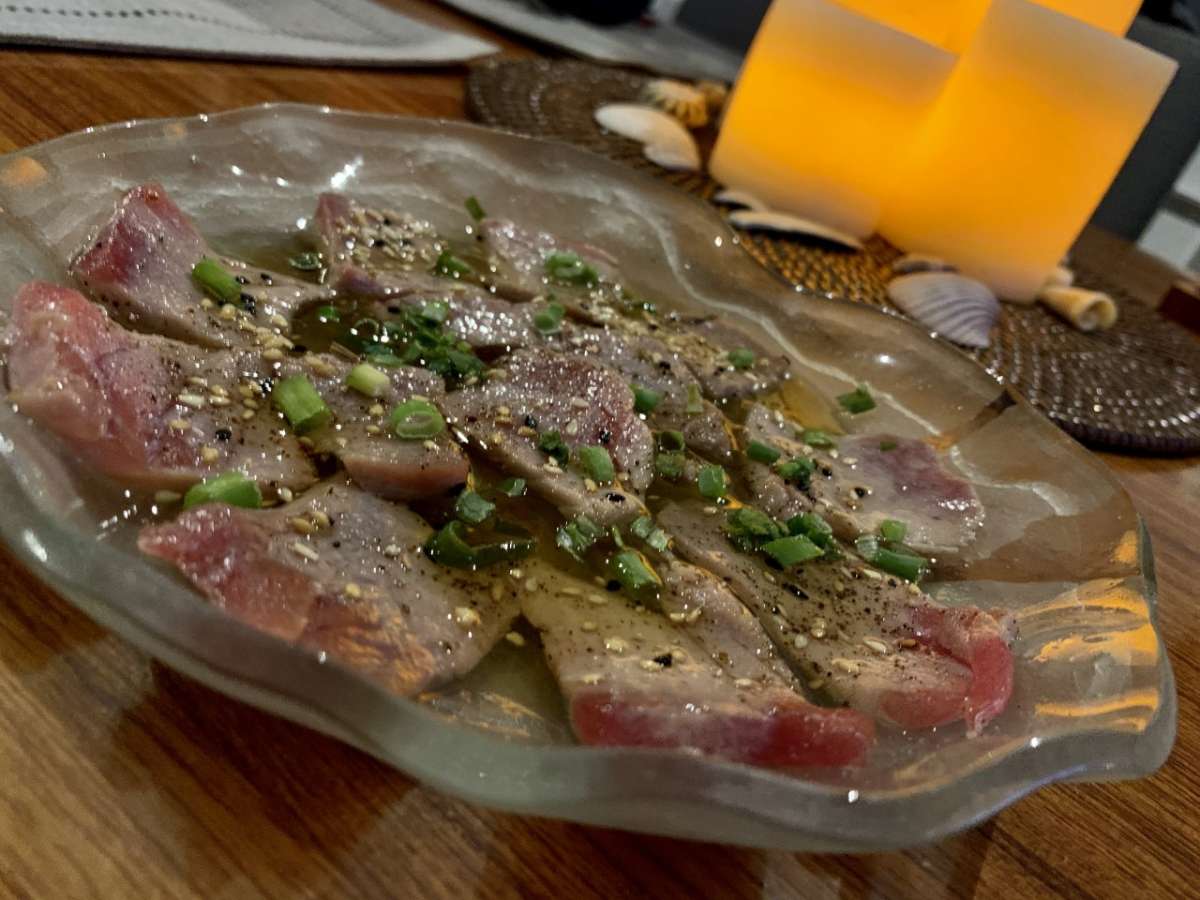 Description:
"Welcome to OV", says Captain RJ, a cultured, young American with dark beard, who speaks easily  RJ taught the owner of OV to sail and then was invited to run OV for him in the Virgin Islands.  "We are a brand new 45′ Fountaine Pajot catamaran for six guests, built in 2020, available from St. Thomas.  We're going to give you a tour this morning.  We're going to start with the back patio, the salon area, then we're going to go around the deck.  My name is RJ, and this is Jenna, the first mate…..
"In the cockpit here we have a nice seating area; it makes an excellent space for eight, but we have it set now for four, which is great for our judges competition this week.  Jenna is participating in the culinary competition here in St. Thomas for the charter yacht show.
"Ample seating around the elbow; we've really been enjoying the boat; she's set up fantastically for a full complement of six guests and two crew; you're going to see that in a minute; there are some really great seating areas all around the boat.  We've got our back area here; we've got our nice captain's bar here, as well as our grilling area here.  We're set up to entertain six guests easily.
"Follow me this way, and we'll head up to the top deck."  Pointing to the two paddleboards strapped to both sides of the bow, RJ says, "We have a nice selection of water toys onboard.  Up front here we have two inflatable paddleboards for running around remote areas with here in the Virgin Islands.  The seating area on the trampolines is spectacular for sunrises.  Evening cocktails are also great up here.  These bean bags are really nice.  You're guaranteed a twenty minute nap as soon as you sit down on one of them, I promise.  They're fantastic; it's a really nice area up here to hang out on, especially when we're sailing."
"Come around this way, and we'll make our way down the sidewalks to the fly bridge, where we have some really nice touches.  We have the helm station here; the yacht is easy to sail, but up top here is one of the magical parts of OV, whose initials stand for "Our Velocity," – the owner's travel blog.  So the idea is for guests to come up with as many meanings as they can imagine, Our Vacation, Ocean Voyages, etc.  It's pronounced "O-V"
"The fly bridge here has some really nice day beds for laying out in the sun on.  In addition, it's also got this nice seating area here with couches and table for more than we have crew onboard.  So we can accompany extra guests, if you would like to invite friends over for sundowners.  It's a fantastic place to gather, have some appetizers, cocktails; it probably is one of the favorite spots of the boat.  We find people up here more often than anywhere else.  It's a great spot.
"Let's take a peak at the area aft of the cockpit where our toys are displaced and see what is available.  We've got some noodles for those who'd like a little help or don't want to work so hard while they're swimming or snorkeling.  We've got a dinghy that's powerful enough to pick somebody up on a wake board.  Of course, we have the tubes for pulling kids around with.  We've got an excellent selection of brand new snorkeling equipment.  We've got our floating dock there, plus a two man kayak.  We have a nice selection of toys to share with everybody when they get here, whatever they may like to do.
Returning to the cockpit, RJ says, "I'm going to turn things over to Jenna, who's going to show you around inside."  A cute girl in blue skirt with hair in a bun, she says, "Come on in, everybody!  Welcome to inside the galley and cabin area.  I love these couches here just for sitting and being casual.  It's kind of nice that we just have the coffee table, so that it's perfect for appetizers or if you're sitting down having drinks.  You can also mingle with me in the galley, or my dishwasher RJ.  He doesn't have to leave the party.  He's also involved." Pointing to a large chopping block on the galley counter, she says, "This block is an amazing feature.  We have it set up as our coffee display right now.  This is what we do in the mornings.  But if need be, this whole block fits over the companionway hatch here in the galley, giving me a long counter to aid plating, so I can make things gorgeous for guests.  It's a great feature of my galley.
"We do have our ice maker here, which has been amazing for guests.  RJ and I have been keeping up with cool beverages, which has been wonderful, especially as it's not raining anymore here in the Virgin Islands, and it's getting a little warmer."  This interview took place in November, 2020.
"Let's go down to the cabins with their wide open spaces.  This is our green room, and I've been having a lot of fun with my towel animals.  This is the elephant room, which is green.  It has our water bottles and our service cups all set up for you and some hand sanitizer and towels."  Waving toward windows on two sides of the cabin, Jenna said, "This cabin has a lot of beautiful natural light with its windows all around."
"Let's check out the bathrooms and turn on the lights so everybody can see.  There's plenty of space in here.  You can see we do have our awesome teak floors in the shower stalls, which feel great on your feet while you shower.  I've been really impressed with the water pressure aboard OV.  Everything on this boat gleams; on older yachts sometimes that is an issue. OV is amazing.
"We have our selection of body wash, shampoo and conditioner just in case people forget theirs, and a huge feature for anyone whose been on other boats, we have electric heads with fresh water flush; it's a big deal.  In case somebody does forget, we have toothbrushes to make guests feel comfortable.  That's the most important.
Passing the private crew cabin forward to port, Jenna said, "Let's head over to the starboard pontoon."  Referring to the orange cabin, she said, "This cabin might be one of my favorites, just because it's the sting ray room.  I'm referring to my sting ray towels.  It also has a lot of great beautiful natural light, and this one still does have the nice accent lighting under the bed similar to the other cabin, which is really cool for at night, or if you're trying to wind down."
"The adjoining bathroom has lots of room and lots of storage space.
"Let's head aft to the blue room, which is identical to the other two guest cabins; all are the same size with Queen beds, so guests can share the charter fee and get equal accommodations.  This blue room is our turtle room today.  I've been having lots of fun with the towels.  I think it's cool that each room has different color pillows with a little saying on it; it gives a positive vive for everybody.
"Here is our bathroom, and another cool feature that we have in the bathrooms, where everybody splashes water everywhere, we do have shower curtains.  So the bathroom stays a little dryer, which helps out me and everybody else.
Finishing the tour with RJ in the saloon, RJ says, "Thank you for touring OV; we hope to meet you in person and see you in St. Thomas."
Based year round in St. Thomas, OV charters for:
$15,500 weekly all inclusive for two guests
$16,000 weekly for three
$16,500 weekly for four
$17,000 weekly for five
$17,500 weekly for six
$18,500 for seven
Rates include food, fuel, bar, dockage.  Gratuity is not included but expected.
2019/2020 CHRISTMAS/NEW YEARS: 7 night minimum
CHRISTMAS: 1-7 guests @ $23,000, charter must end on 12/26 or earlier
NEW YEARS: 1-7 guests @ $23,000, charter may not start prior to 12/27
OV Crew-Guided Video Tour of Yacht
O.V. E-Brochure, Photos, Crew Profile, Sample Menu, Guest Comments, Rates & Bookings
Information believe correct, but Nicholsons cannot be responsible for accuracy.