High Rate: $ 18,000 weekly All Inclusive
Low Rate: $ 15,000 weekly All Inclusive
Cabin Configuration:
Sleeps 6 Guests in 3 Cabins, identical, each with Queen berth and private bathroom. Crew are self-contained, so nobody need sleep in the saloon. Individually controlled Cabin Air conditioning
Specifications:
Length:
Builder:
Built/Refit:
Beam:
Draft:
Regions Available:
Locations It Travels:





Special Features:
45'
Lagoon
2018
26'
4'
St. Thomas




Indoor/outdoor living
Special Diets
Individually controlled Air conditioning in each cabin


Water Toys
12' dinghy with 30 hp outboard
snorkel gear
1 2-person kayak
1 floating mat
fishing gear (trolling and casting
2 rods)
Saloon Stereo
deck shower
bimini awning
watermaker
onboard Wi-Fi
ice maker
generator
BBQ
Have a Question About This Yacht?
Fill out the form below and we will get back to you quickly!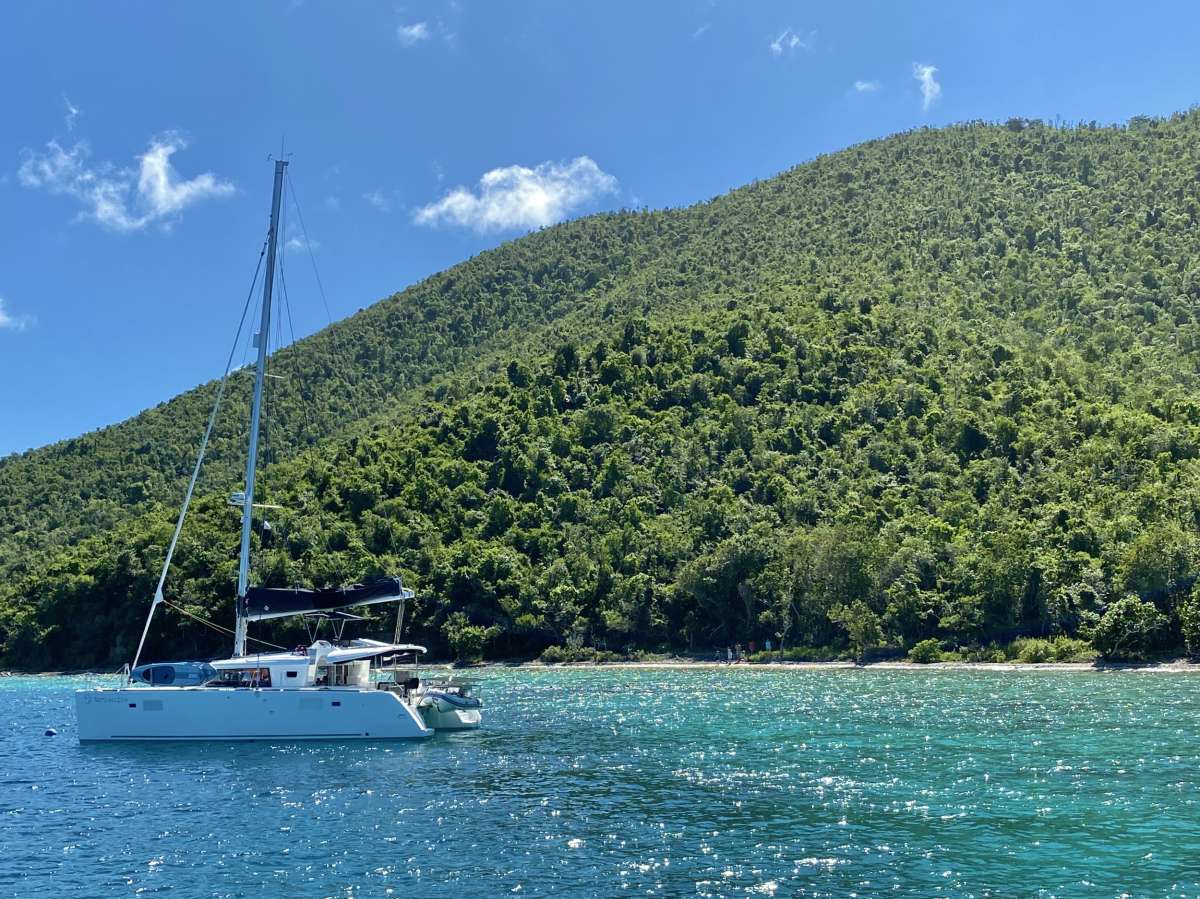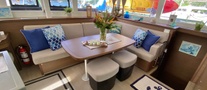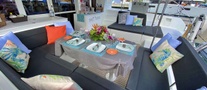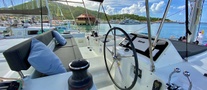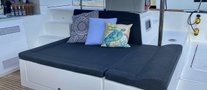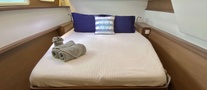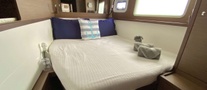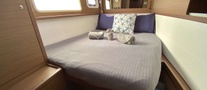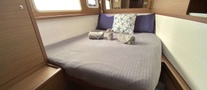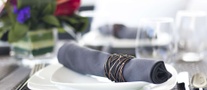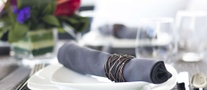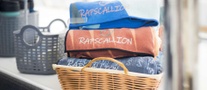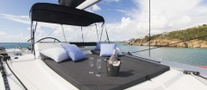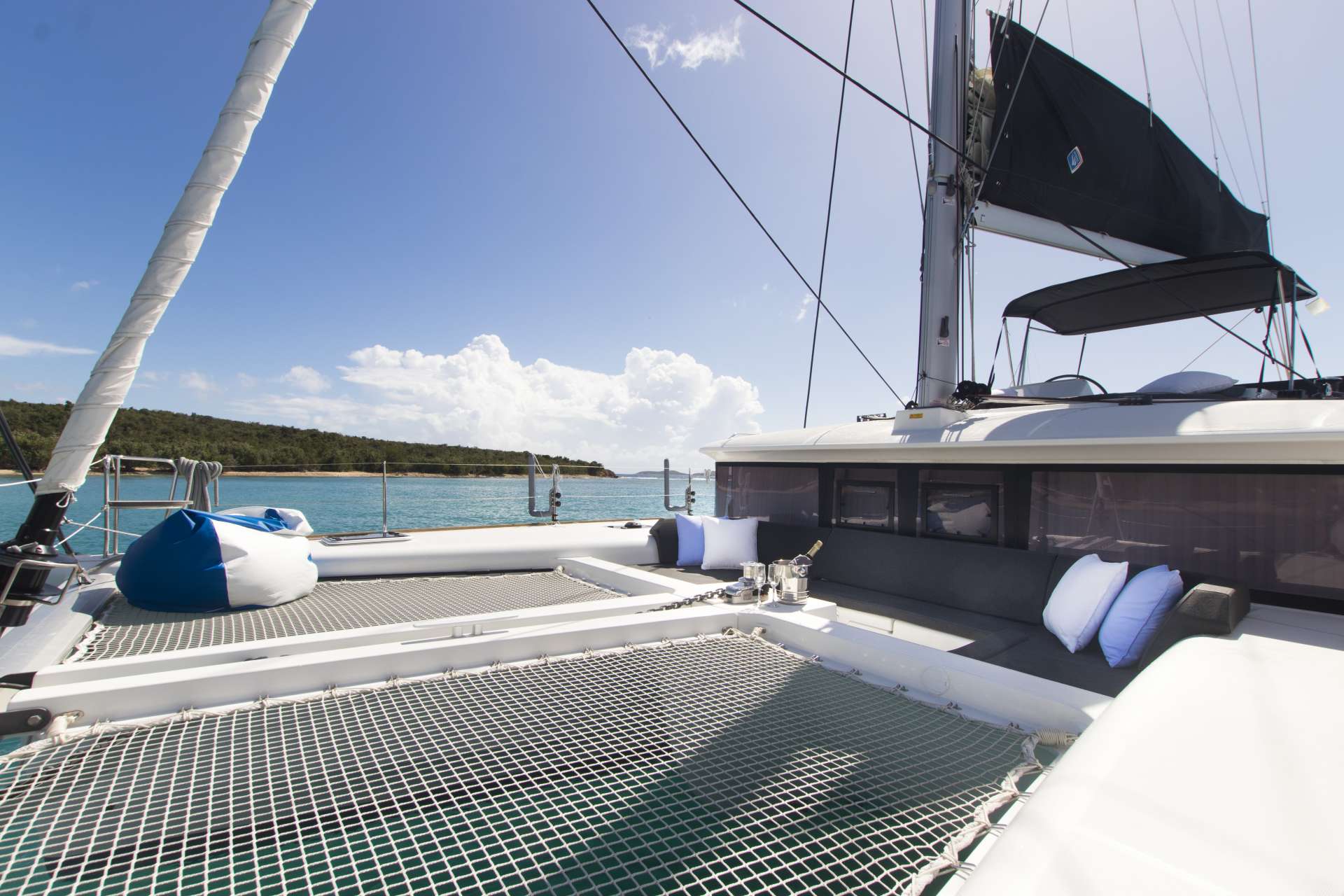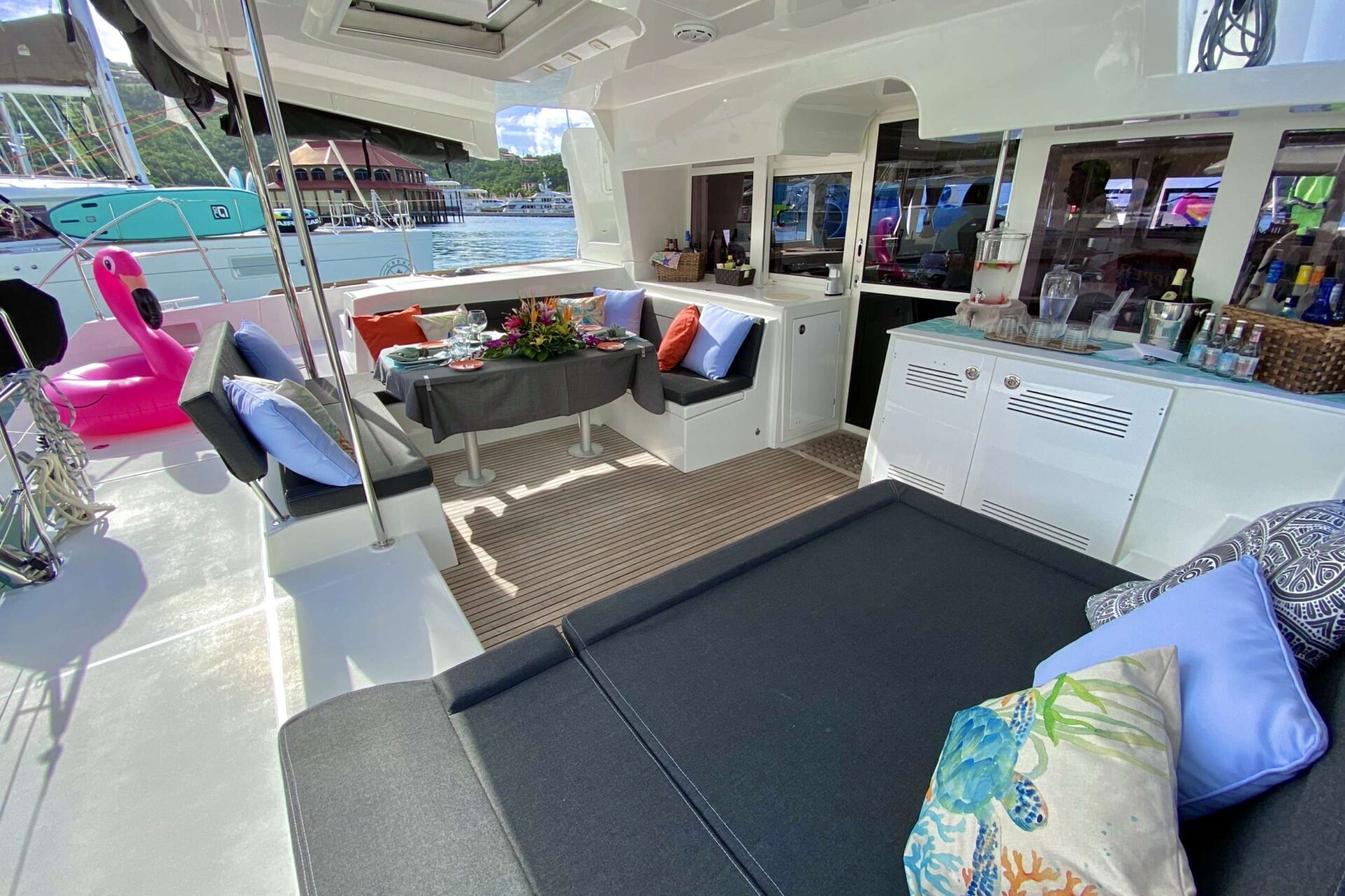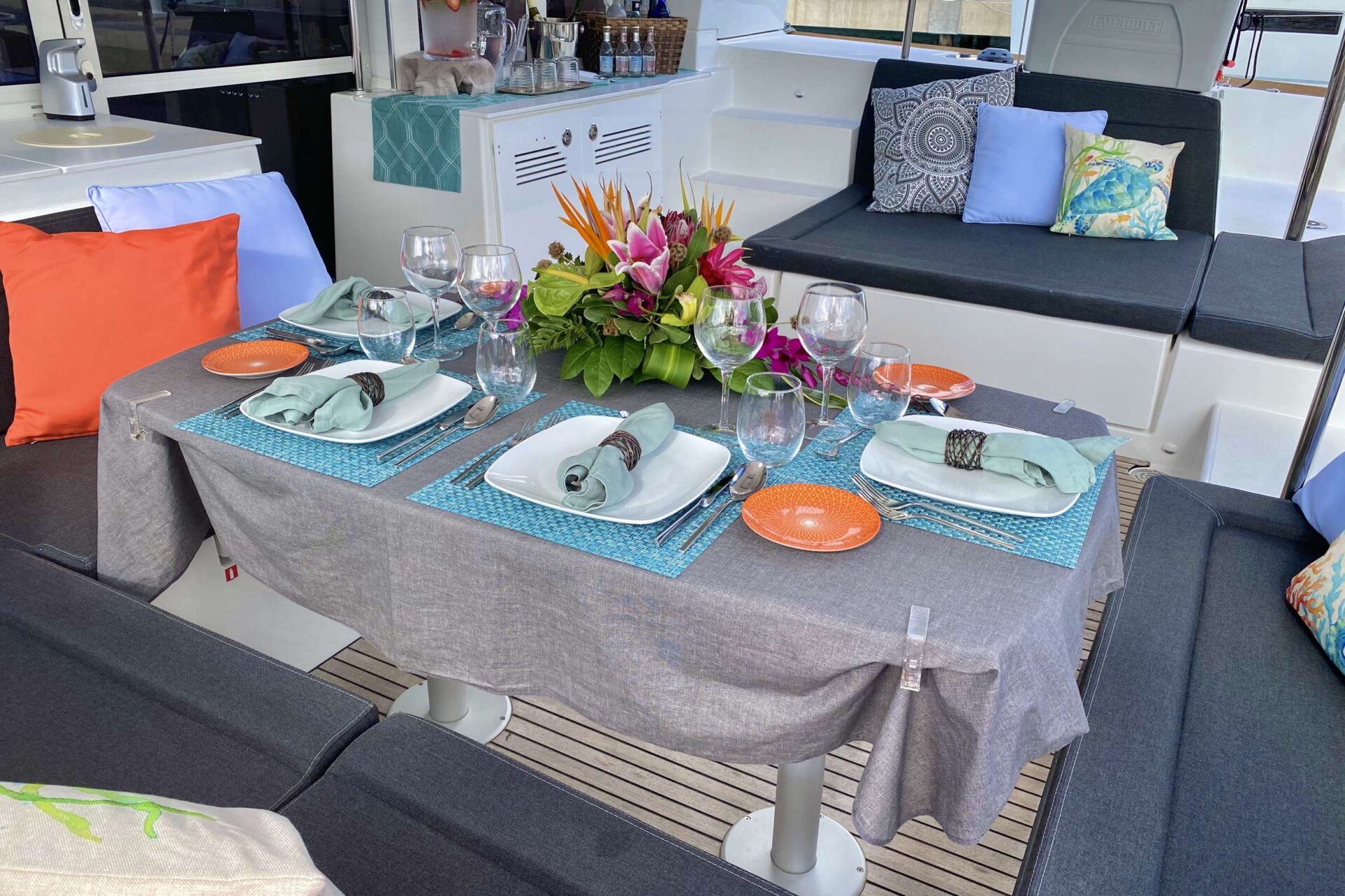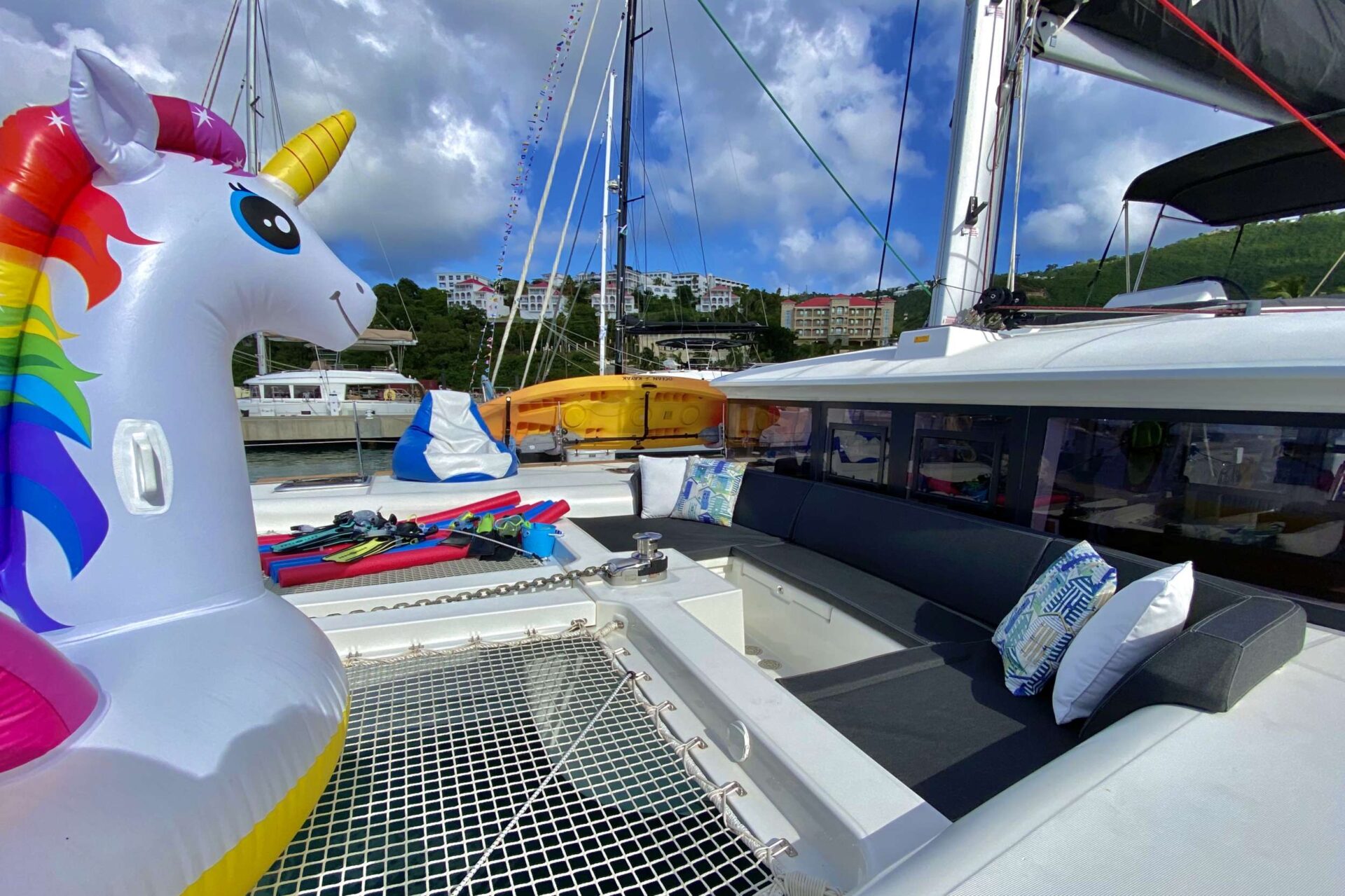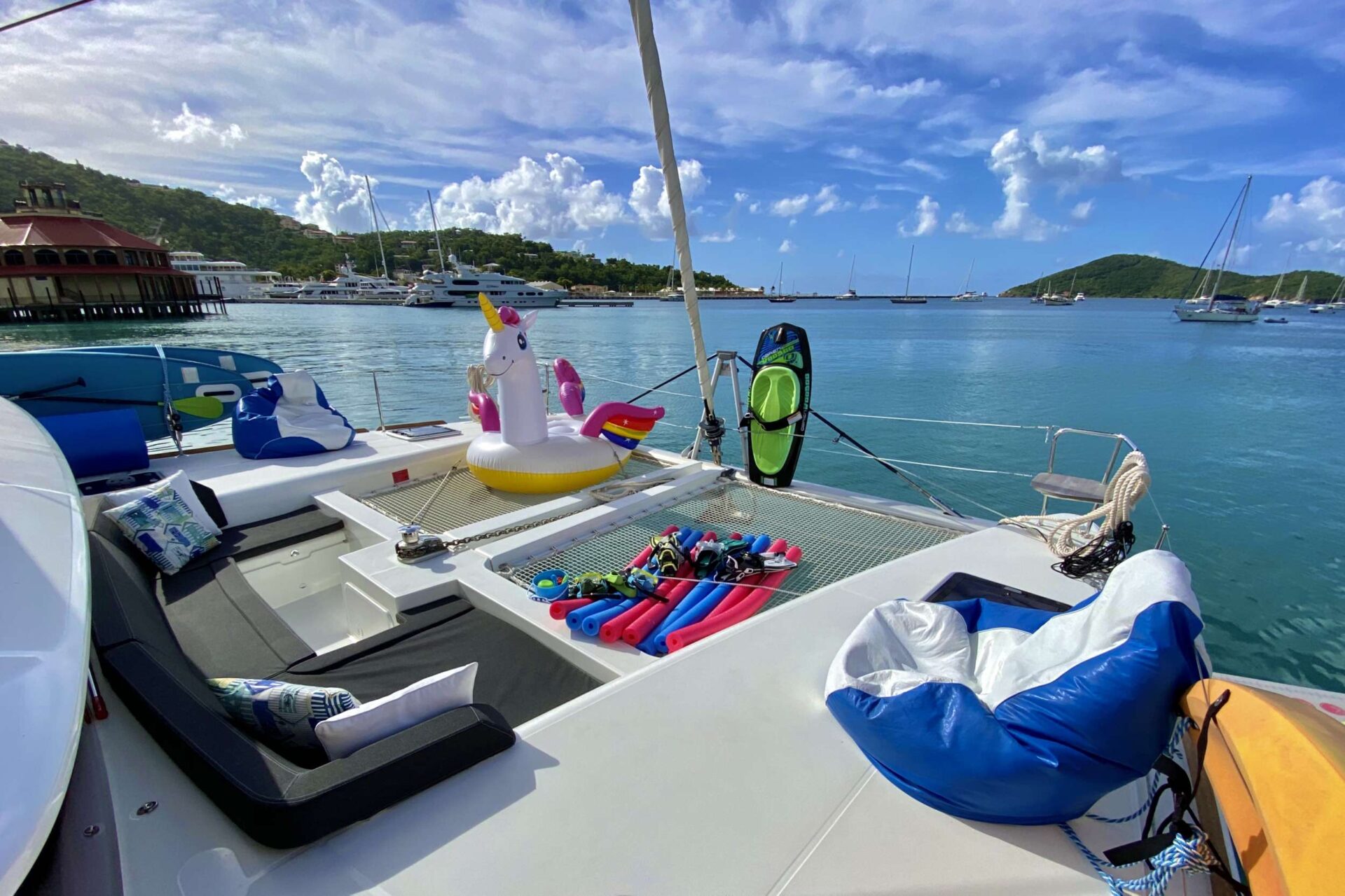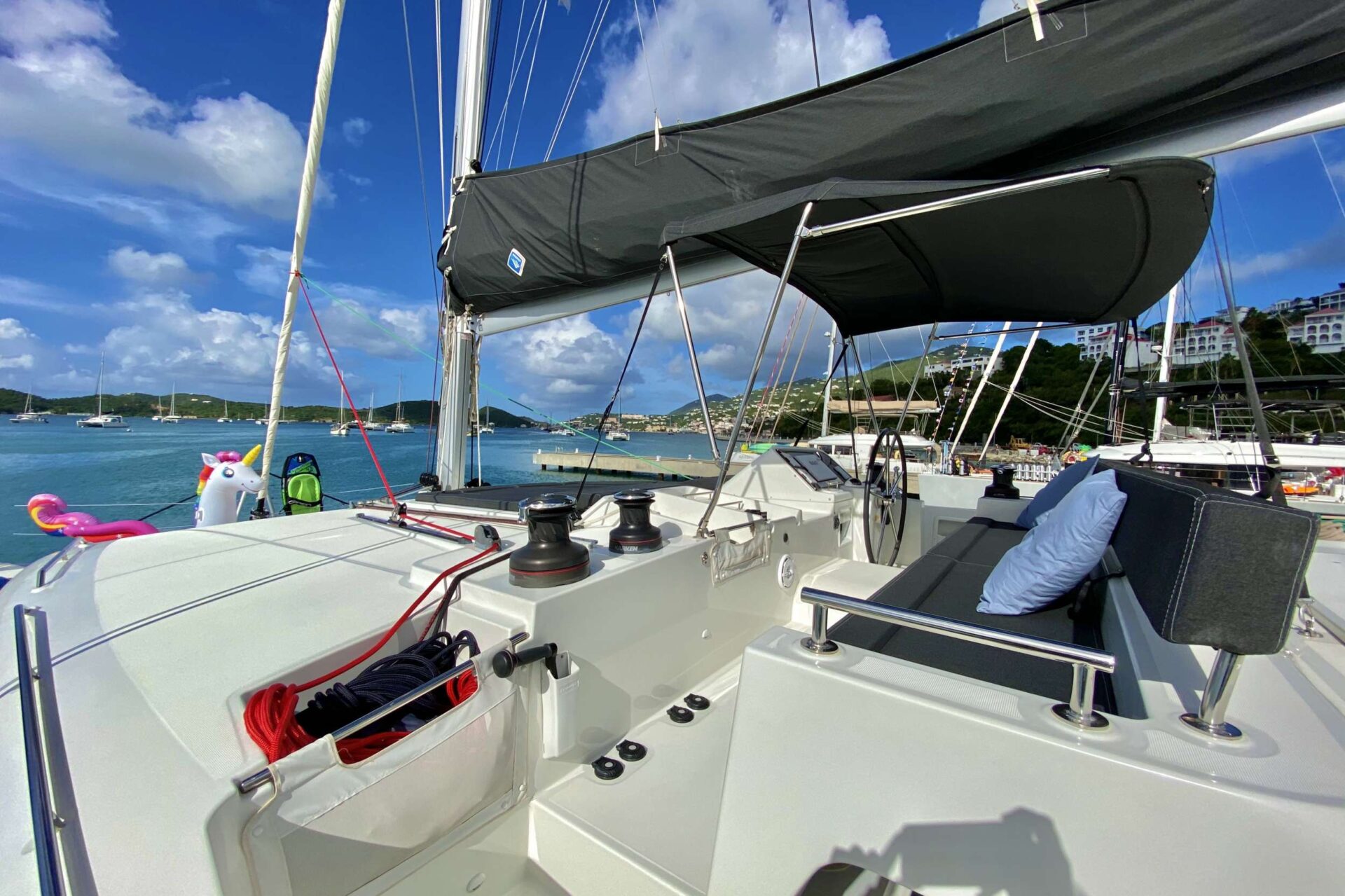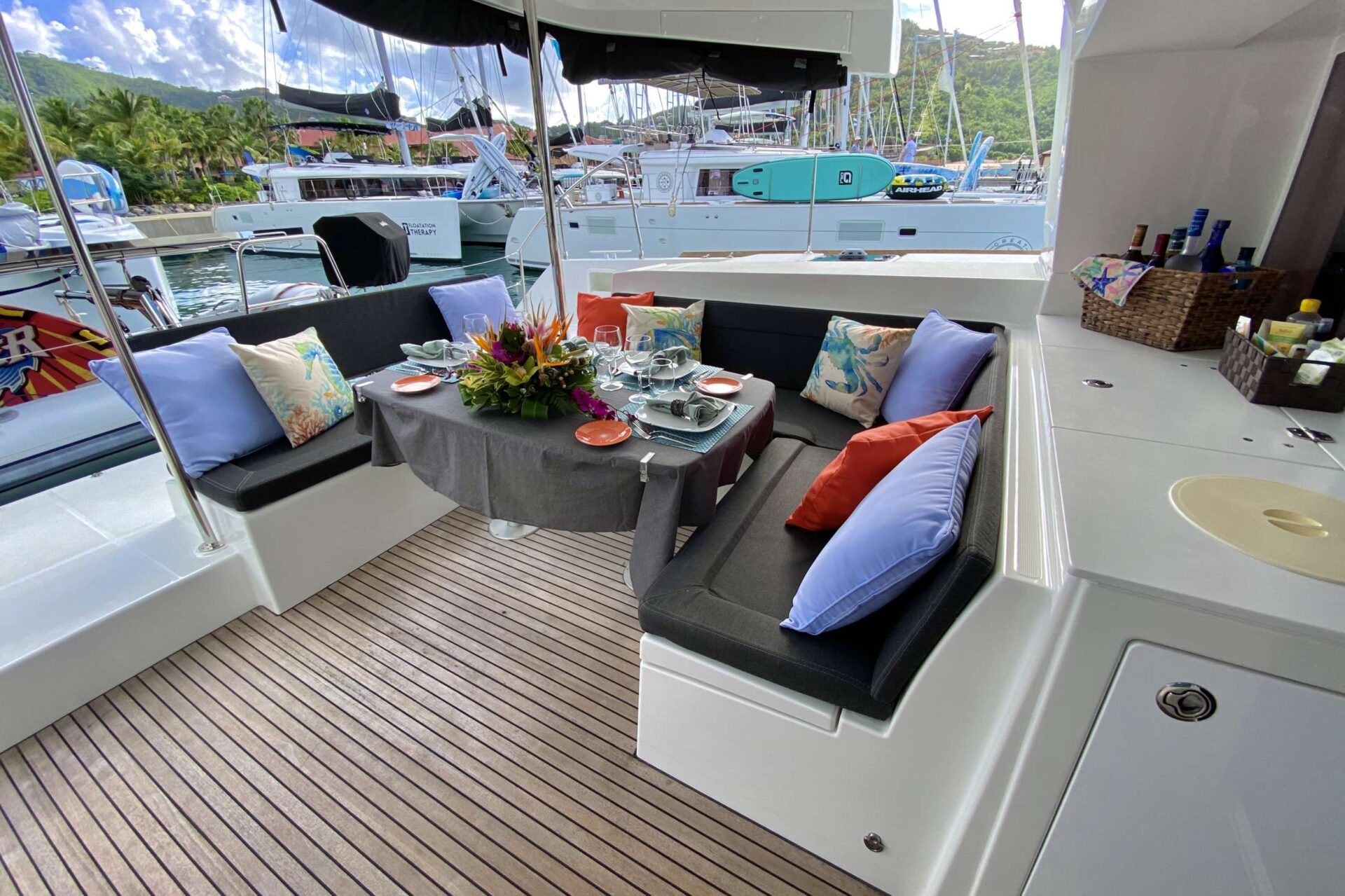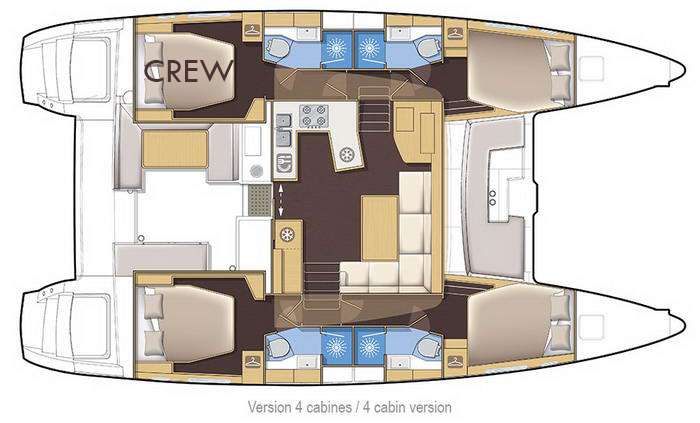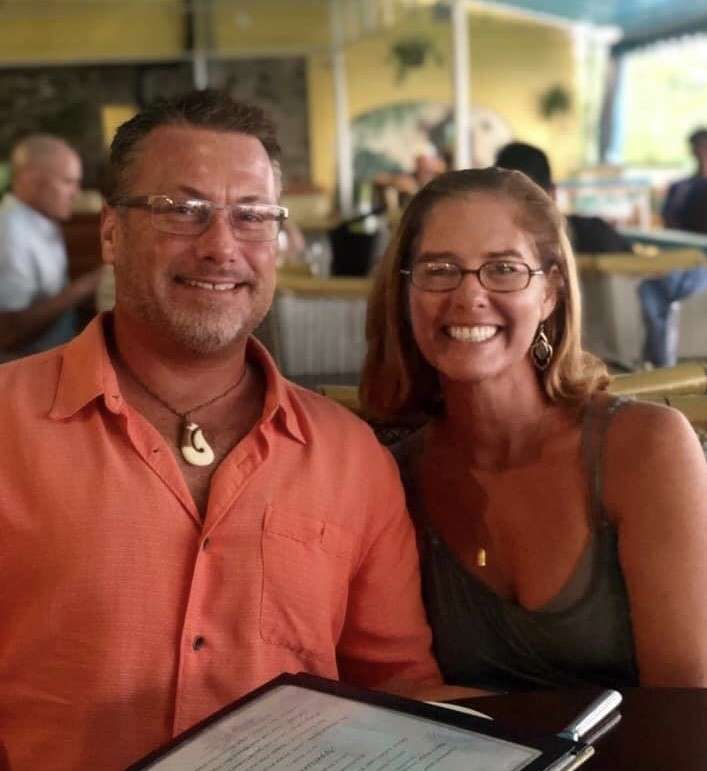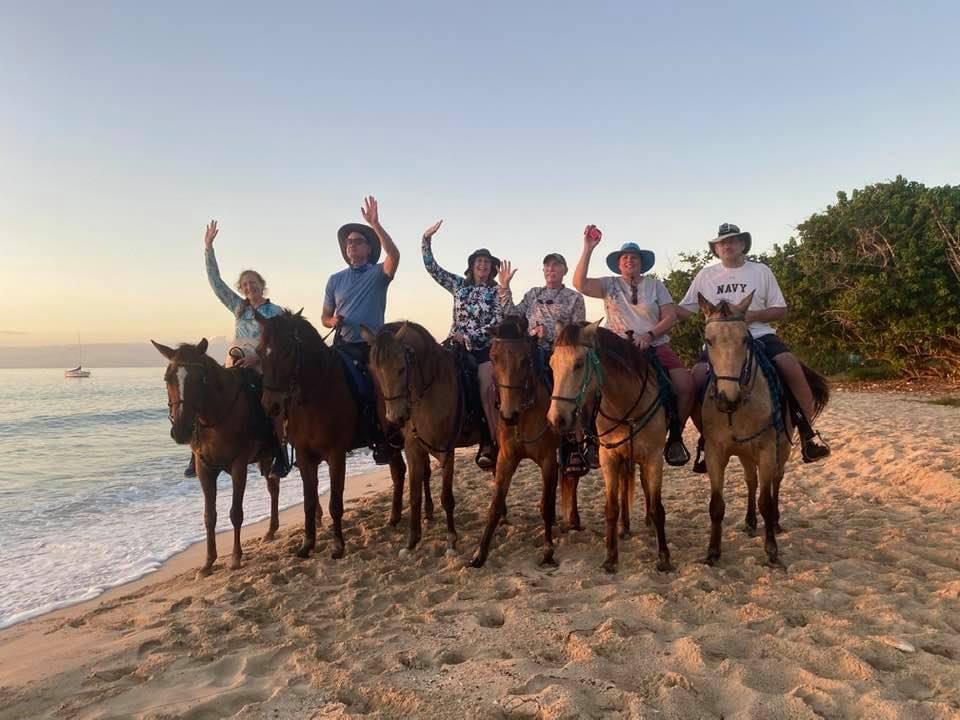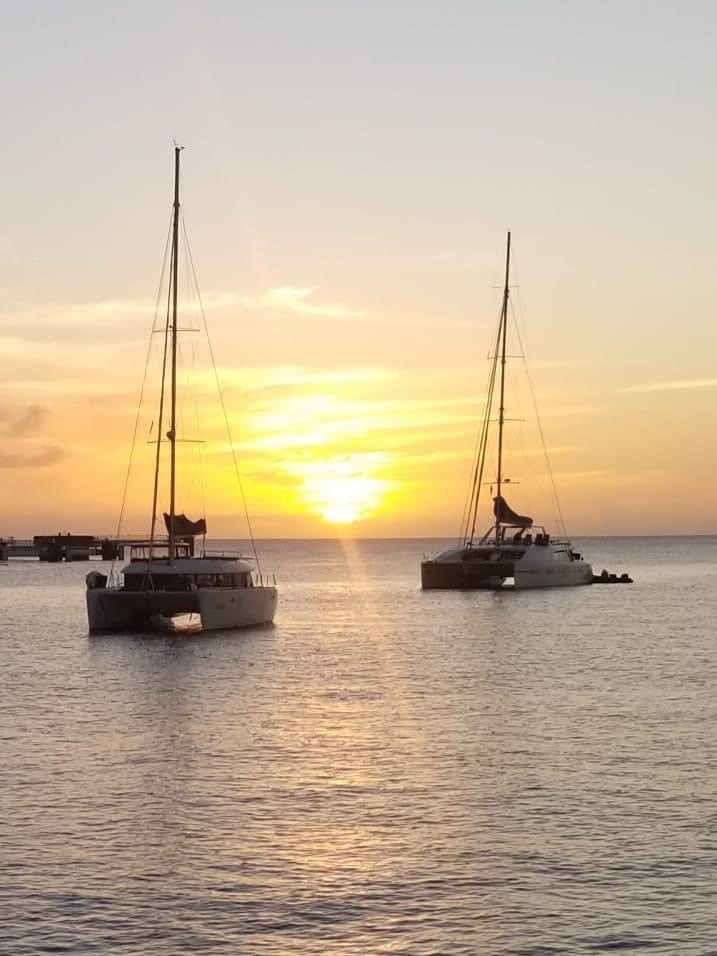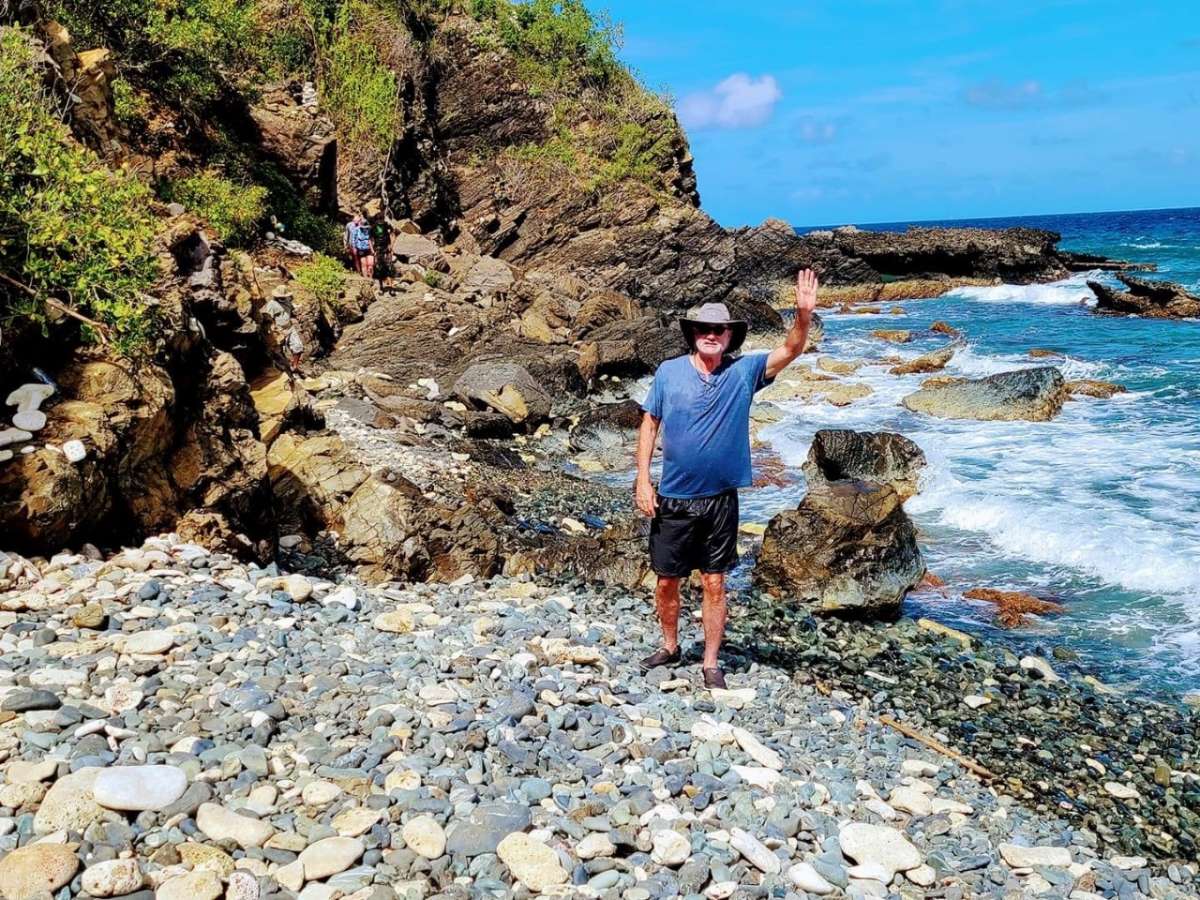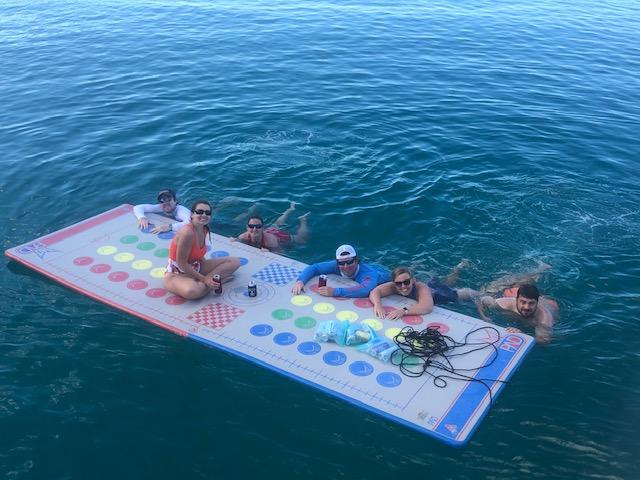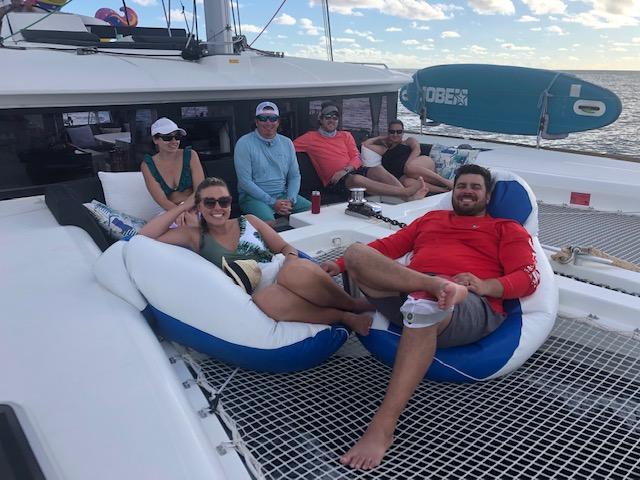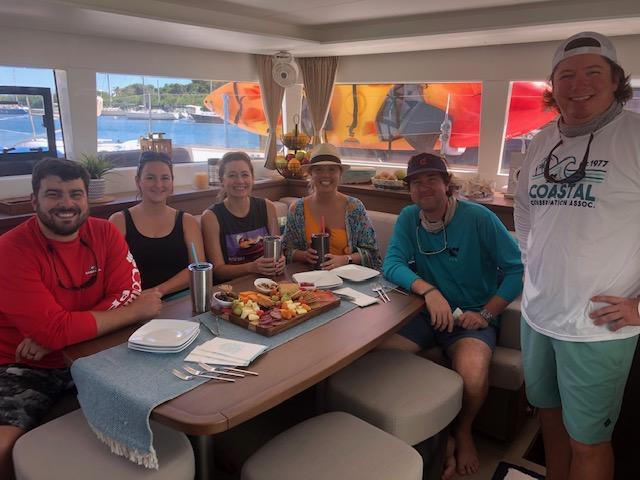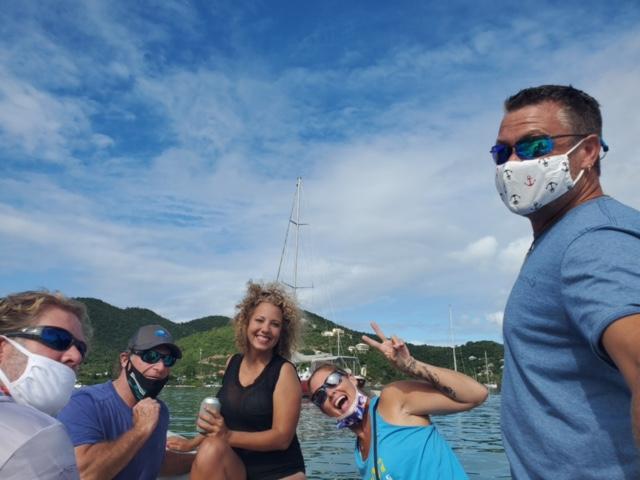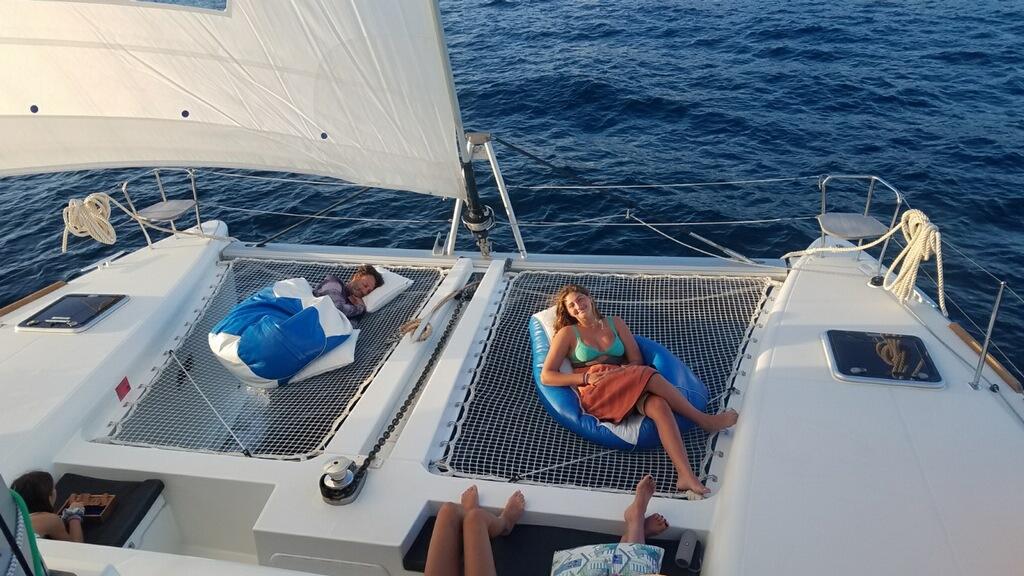 Description:
Hi, I'm Captain Ryan Adelmann; my wife is Stephanie, and this is RAPSCALLION.  Welcome aboard!  I'm going to take you up through the outside exterior of RAPSCALLION real quick, and then Stephanie will show you the interior.
Watch your head coming up, starting from the very top, the fly bridge, one wonderful feature on RAPSCALLION that we like is the nice sun pad for people to layout on the deck, while we are either underway or at anchor.  It's very comfortable, and we can even put a little tarp down for some shade, if we have to.
RAPSCALLION is a 2018 45′ Lagoon catamaran, and we love her!
Up here on the bow we have no shortage of floatie toys.  We've got a nice little float mat, two stand up paddle boards onboard, two-person kayak over here, next to beautiful chef Steph.  And of course if you don't have a unicorn, what fun are you?
One of my favorite features is this sitting area right up front here.  Guests just like to sit out there and watch the stars at the end of day and have a nice night cap or a cocktail.
One extra bonus feature on RAPSCALLION is our floating pad out here that has lots of fun games that we can play.  It has two Twister patterns on it. Quite frankly it does turn into just a bar after one or two wipe-outs.
Of course we love to go snorkeling, so we've got snorkel gear for everybody, whether it's children's size or adult size.  If you want to make a sandcastle, adults are welcome to use the children's bucket of toys.
Moving right back aft, we come out to our wonderful seating area where we usually have our dinners outside.  Right now we are set up for a table of four, but we can certainly seat six.  We bring out extra chairs for right out here.  For the purpose of the yacht show, we are not having it that way right now.
We've got an ice maker onboard.  There are several fridges for our provisions and a freezer, watermaker, pretty much everything we didn't have on our land car!
Stephanie took over from  Ryan to show us the interior.  "So we're going to come into the interior, where I like to keep it ice cold.  The windows between the saloon and cockpit slide open or close.  When we're underway, it's nice to get that nice cool breeze.  Guests are usually hanging out back here, forward.  I love that.
Ushering us into her galley, she said, "Welcome to my office.  This is my galley.  Not much to say.  This is off limits here.  I don't people like in my space.  I've got refrigeration here, my stove, my oven.  All my storage is kind of off-limits, but if you ask nicely, I'll let you see in there."  She referred to a cupboard up high.
When it rains, we do set up inside.  In the last several years that I have been a chef on yachts, I have never once had a meal inside.  So the tropics are perfect.
This is the wonderful liquor cabinet that we have going on here.  I usually set up a coffee station here or outside, depending on weather.  Our coolers are going to be full of beverages that are help yourself.  We stock lots of champagne for mimosas.  We do Bailey's and coffee for adults who would like that.  Pretty much anything that you ask for, we're going to have.
Down stairs?  Each room has its own air conditioning system.  So for me, I like to sleep on 77 degrees, because I'm an island girl.  A lot of our guests like it ice cold.  So right now I have it at 72 degrees, and it's cold!  Very cold in here!  These are all Queen beds.  They are very, very comfortable beds.  We've got night lights on either side.  We do have reading lights on both sides for you.  We have plenty of storage space.  Down here you have large drawers, which is really nice to pull out. There is a spacious closet over here. We do have fire extinguishers in every room.
What I love about our bathrooms is that we have a snap that holds the door and they close!  Just meaning that you have a little bit more privacy, and we've got plenty of space here and in both of the cabinets here.  We do fresh water toilet flushing.  We do provide the shampoo, conditioner and soap here.  There are plenty of bath towels, wash cloths, things like that.  The water pressure in the shower is excellent.
This room is pretty much the same, just a little different on the layout.  It's 74 degrees in here, a little warmer.  Each night I put fresh water with two cups and a little side chocolate for you.  I have more chocolates than anything on this boat.  Again, queen sized beds, rest rooms, more closet space.  We do have the lovely Rapscallion rolled towels.  We love her….  All the rooms do have overhead hatches, and we can open them up at night if you'd like to get a wonderful breeze.  We do have ventilation also here.  So we just keep the shade shut right now for the air conditioning.
We have the same layout on the other side.  We accommodate six guests in three cabins.
When we returned to the saloon, Captain Ryan asked, "Did you show him the dog kennel?"  Stephanie said, "I did not show him the dog kennel."  Ryan said, "That's where we keep the camera man tag."
Based year round in St. Thomas, RAPSCALLION charters for:
$15,000 weekly all inclusive for two guests
$15,500 weekly all inclusive for three guests
$16,000 weekly all inclusive for four guests
$16,500 weekly all inclusive for five guests
$17,000 weekly all inclusive for six guests
Rates include food, fuel, bar, and dockage – all inclusive except Gratuity.
CHRISTMAS/ NEW YEAR'S RATE:
CHRISTMAS: 1-6 pax @ $18,500 – must end no later than 12/26
NEW YEARS: 1-6 pax @ $21,000 – may not start prior to 12/27
RAPSCALLION E-Brochure, spec sheet, Crew Profile, Sample Menu, Guest Comments, Rates & Bookings
RAPSCALLION Crew-Guided Video Walkthrough
Information believed accurate; Nicholsons cannot be responsible for content.  Please consult Rapscallion E-brochure above for accurate information.