High Rate: $ 30,000 weekly All Inclusive
Low Rate: $ 27,000 weekly All Inclusive
Cabin Configuration:
Sleeps 10 guests in 5 staterooms, two Queens on the main deck with private balcony & windows all around, two below to starboard, each with Queen beds, and 1 below to port, a twin cabin that the crew will swap if guests if five couples are taken. The crew sleep forward to port. All staterooms have their own bathroom and are fully air conditioned and have Wi-Fi.
Specifications:
Length:
Builder:
Built/Refit:
Beam:
Draft:
Regions Available:
Locations It Travels:





Special Features:
58'
Leopard
2013
28'
5'8"
St. Thomas, year round




Ashburton trained chef
Swimming with dolphins
Two Main Deck Queen Cabins
Forward Cockpit + Aft Cockpit
Largest Fly Bridge Lounge seats ten for cocktails

Water Toys
15' tender with 50 hp outboard seats 12
waters skis
snorkel gear
tube
fbeach games
three stand up paddle boards
two fishing rods
underwater still camera
rendezvous scuba diving only
6x18' Floating Mat
Sub-Wing
Noodles
Inflatable Flamingo
Bocce Ball
Board Games
Wake Skate
Inflatable Flamingo & Parrot Volleyball
JBL Waterproof speakers x 2
Have a Question About This Yacht?
Fill out the form below and we will get back to you quickly!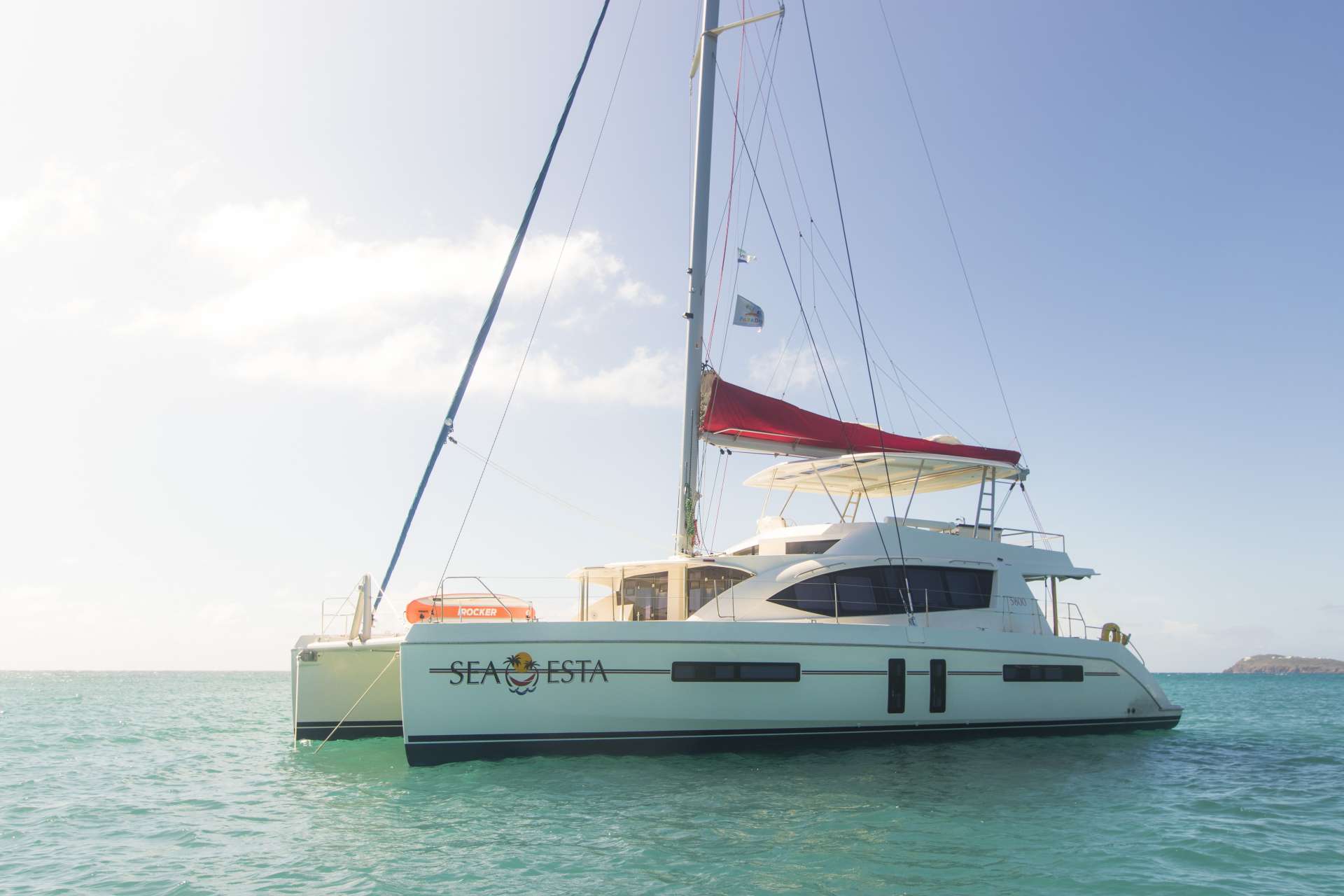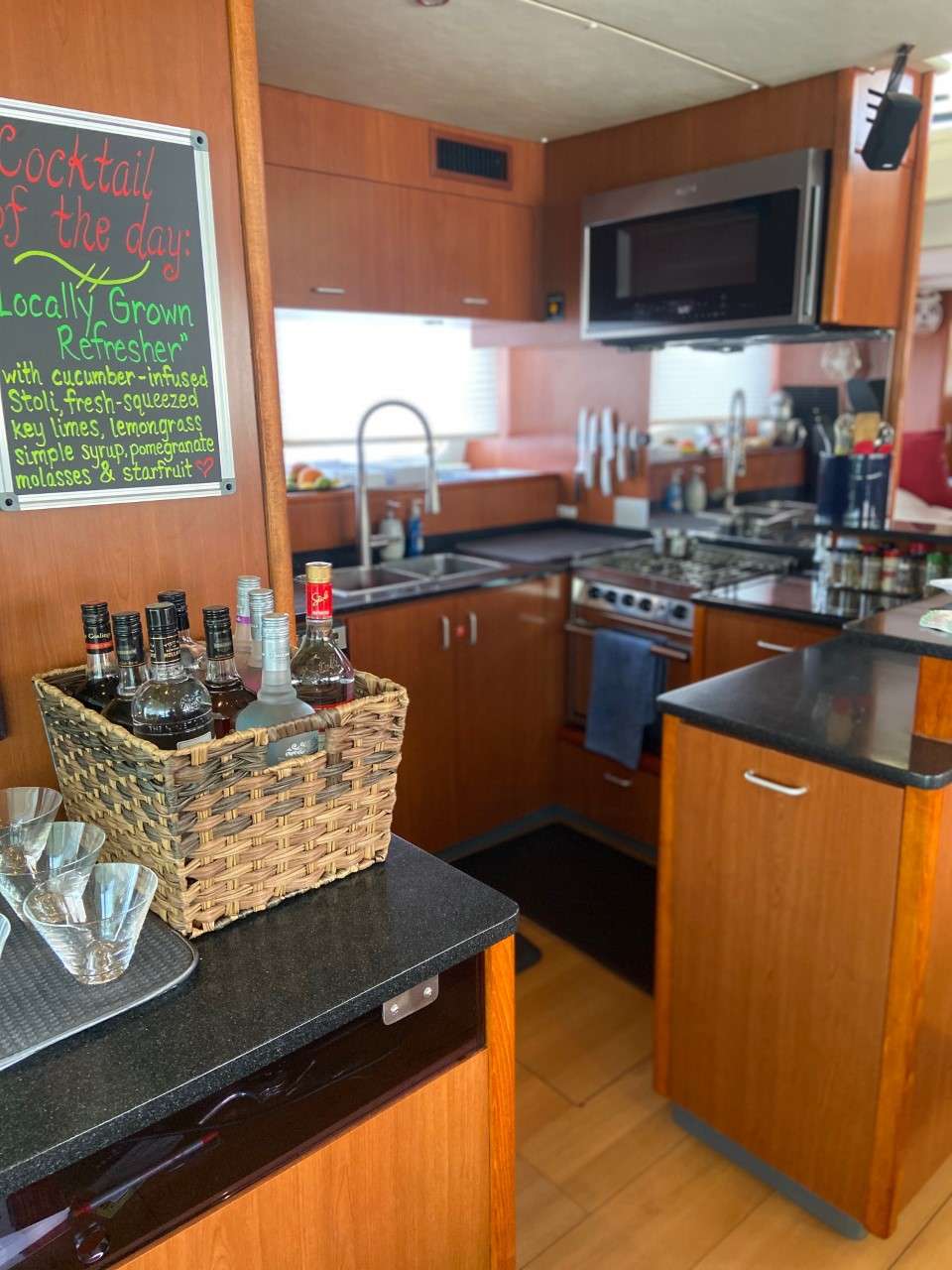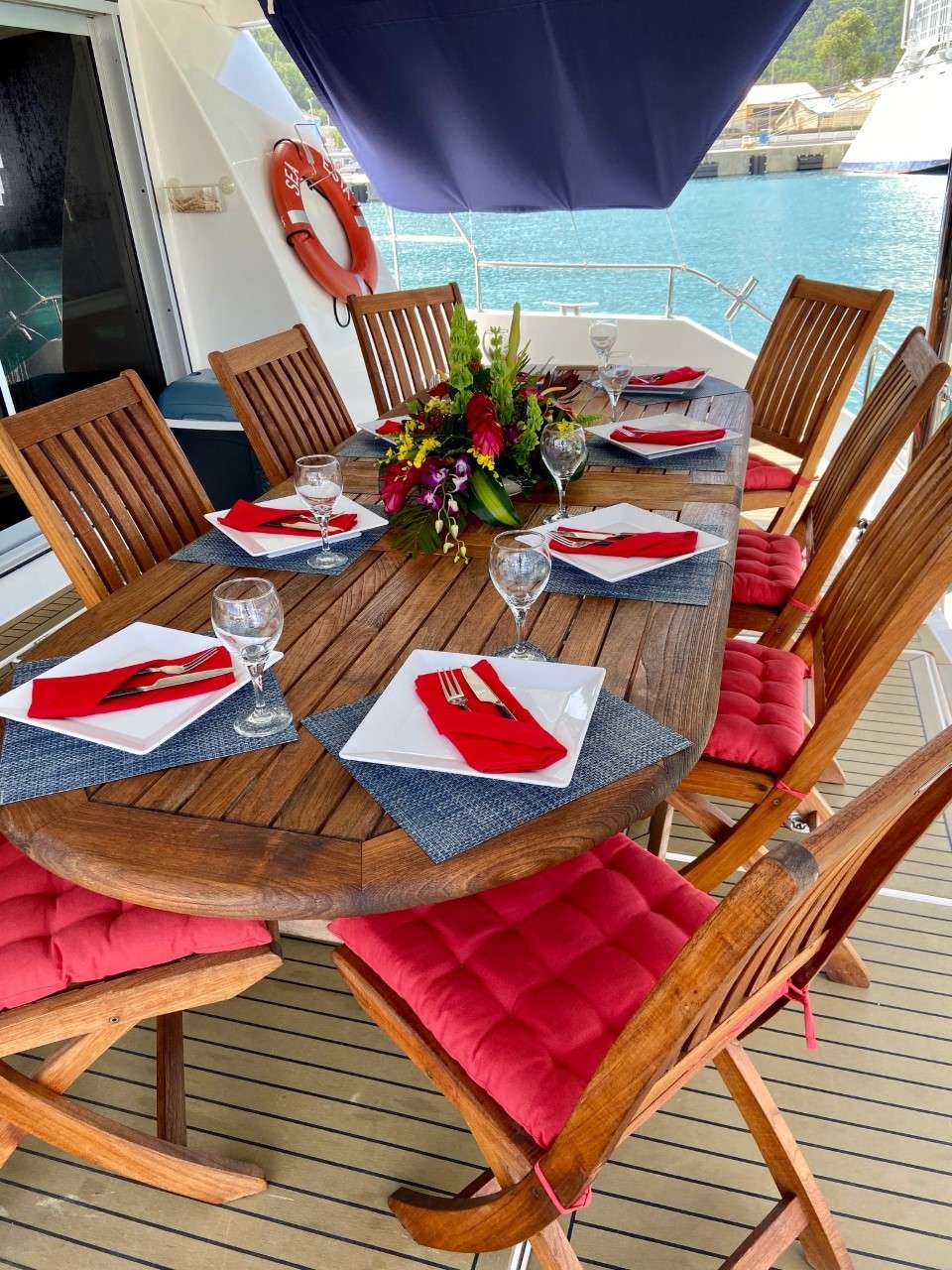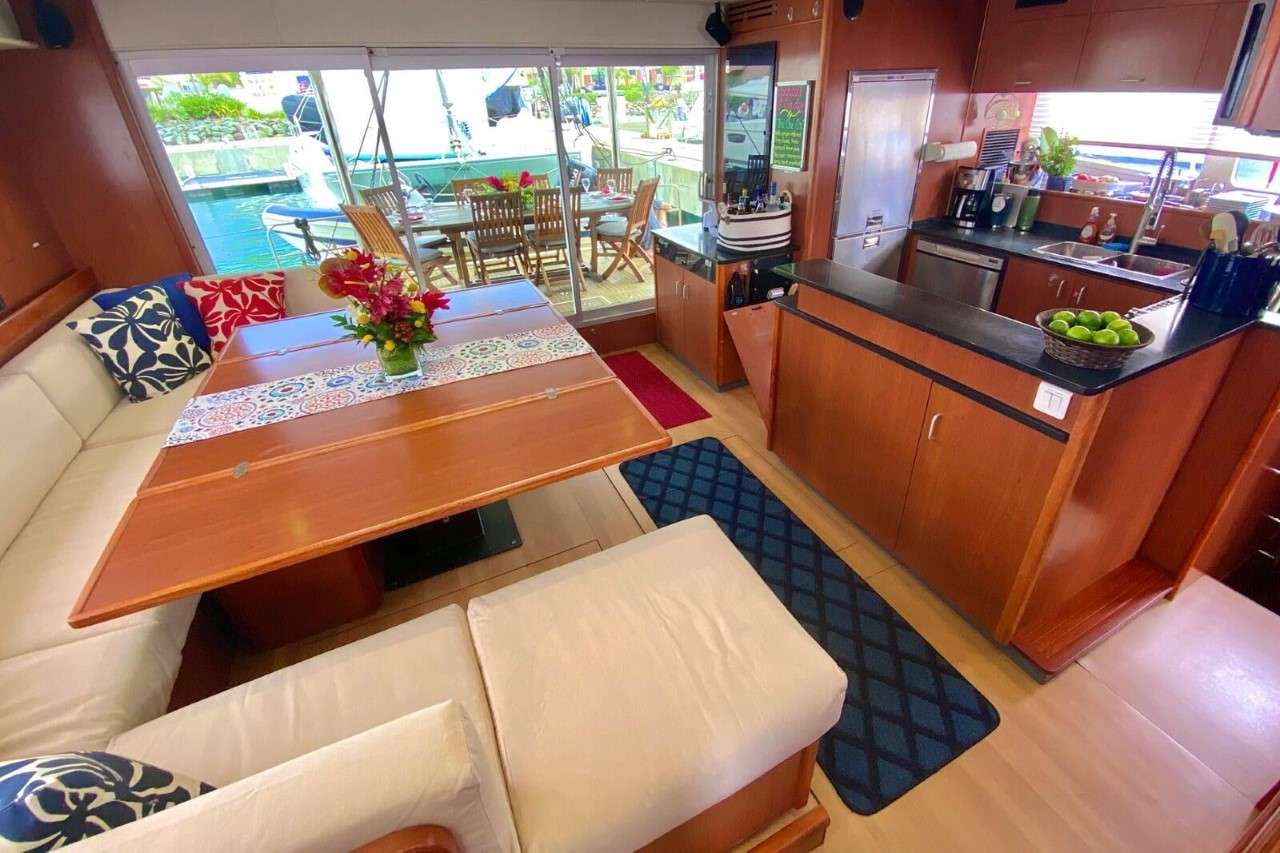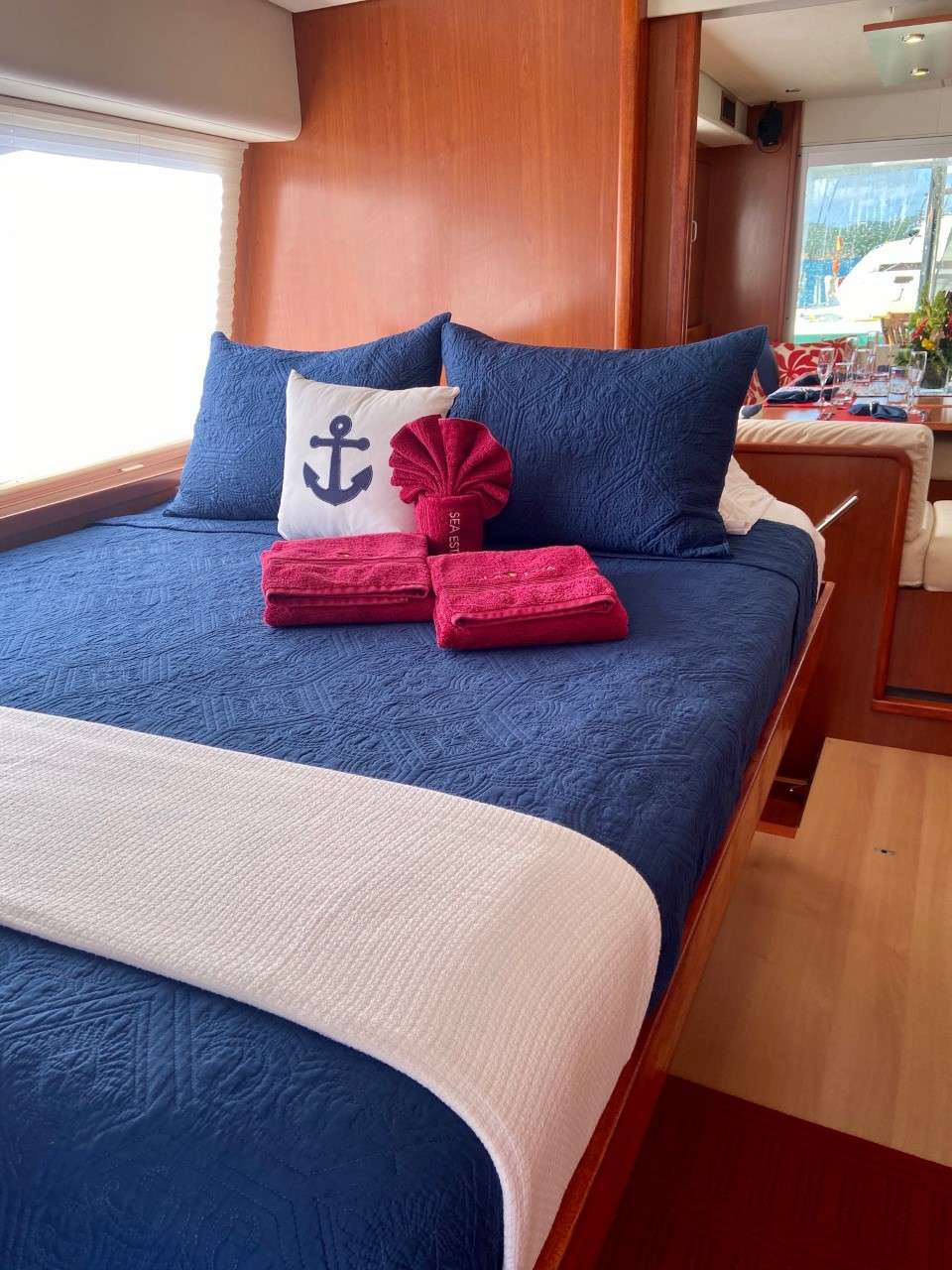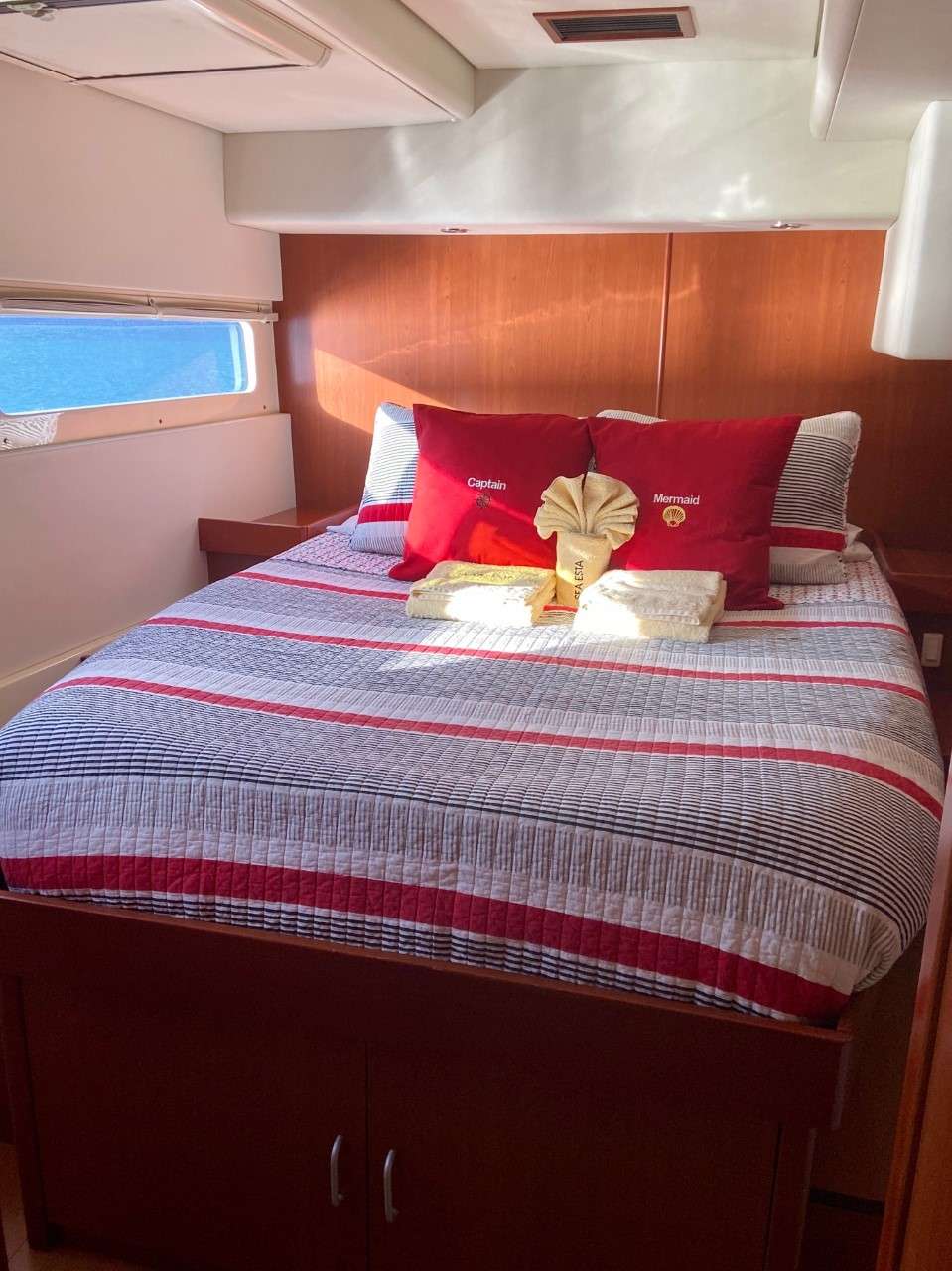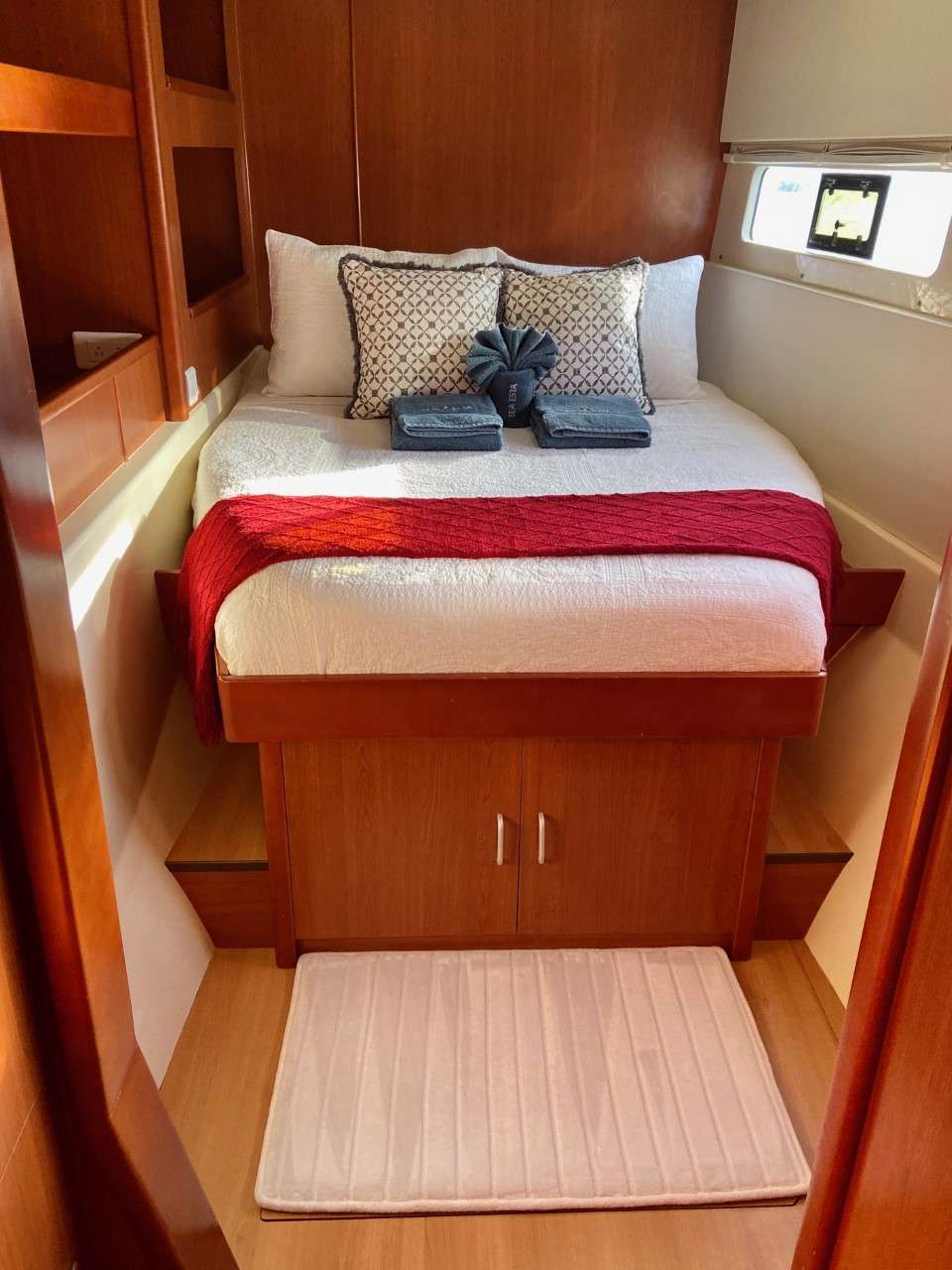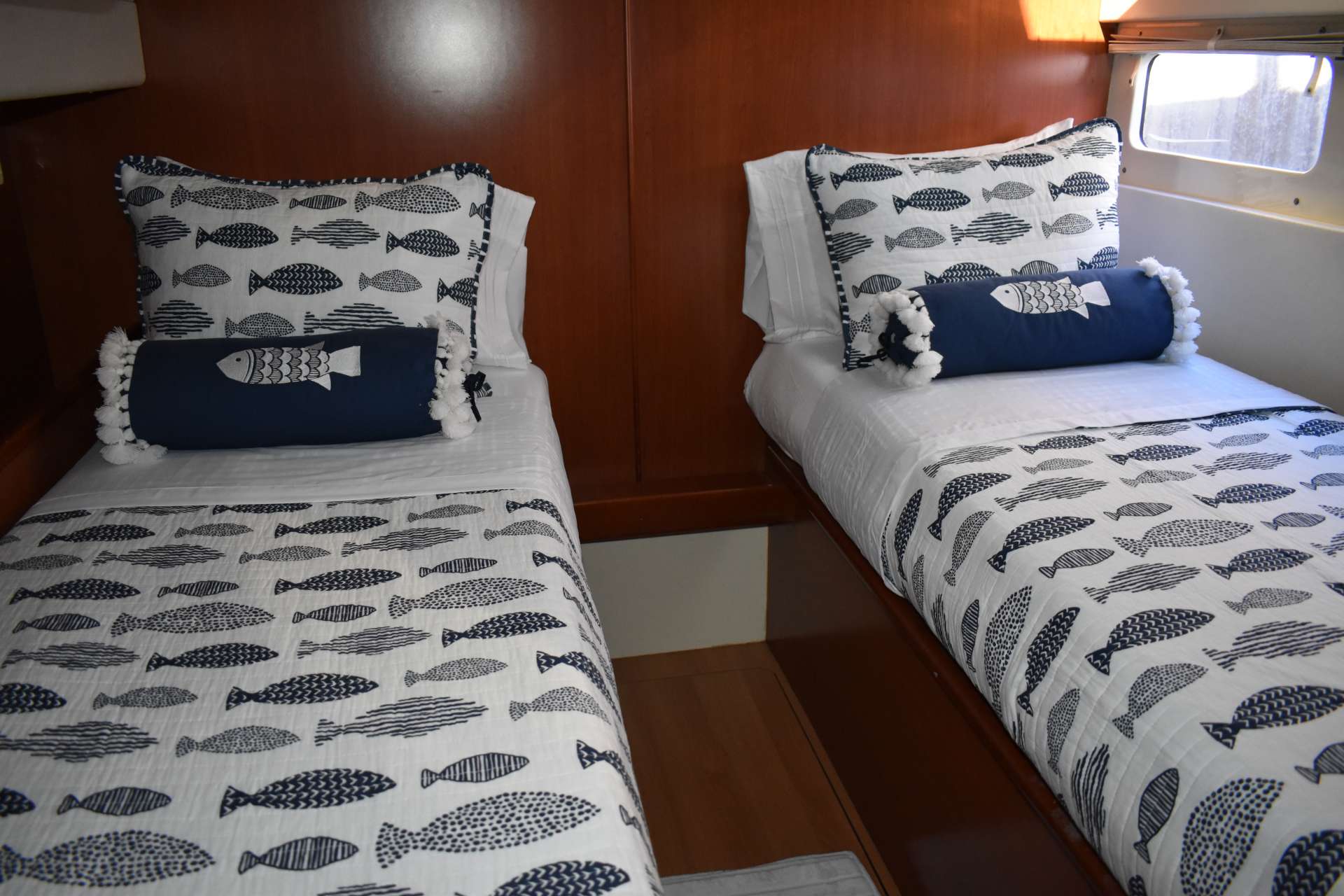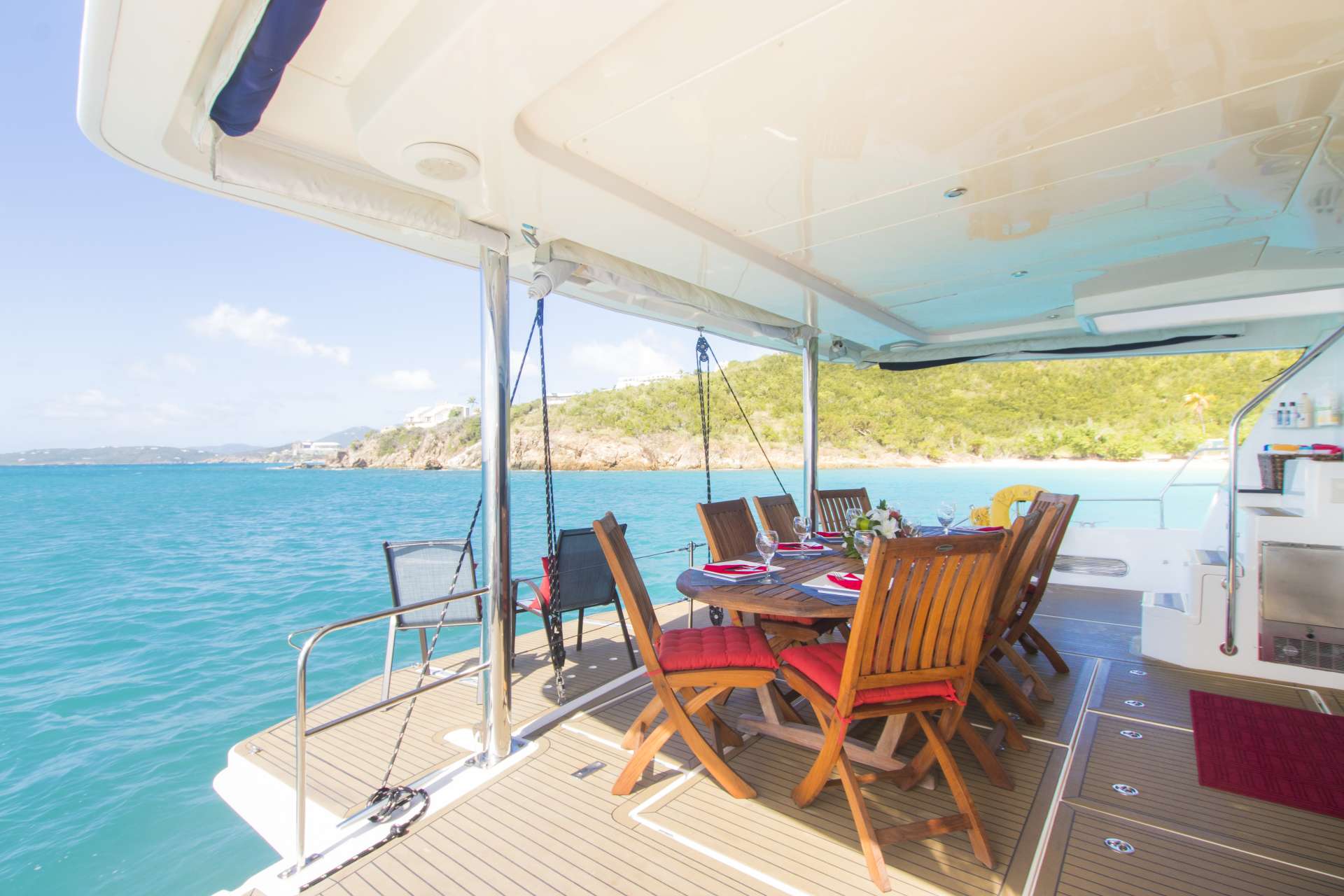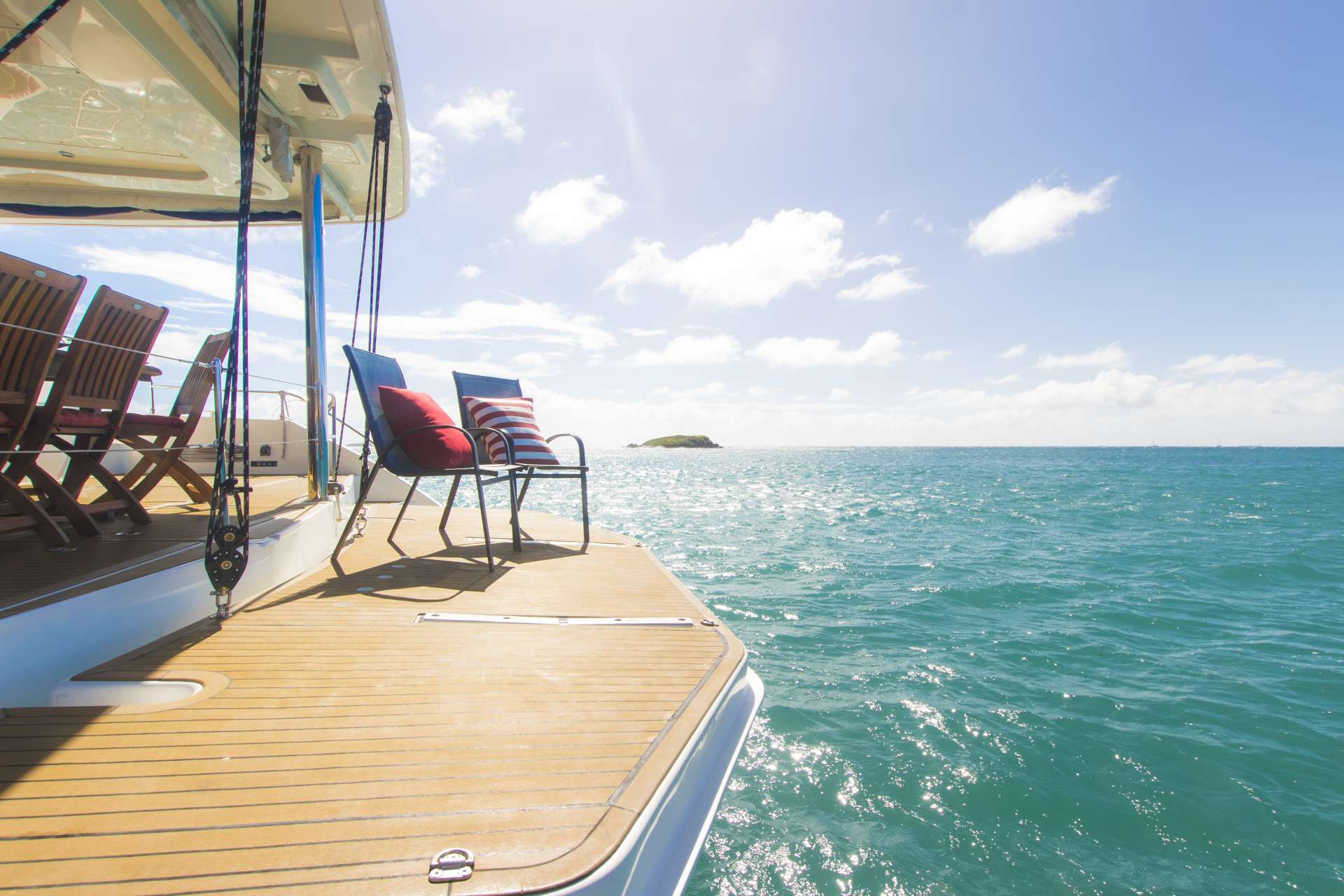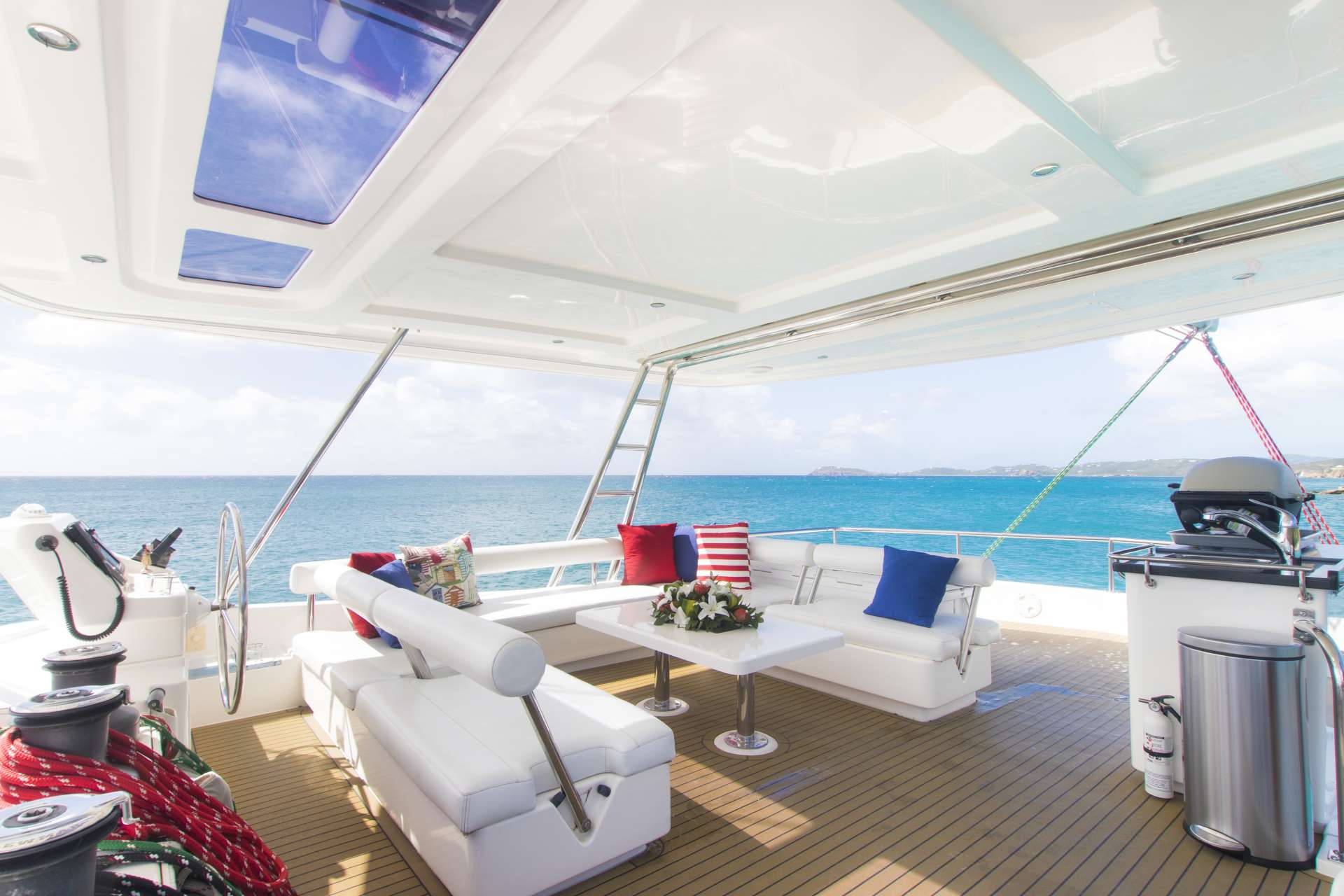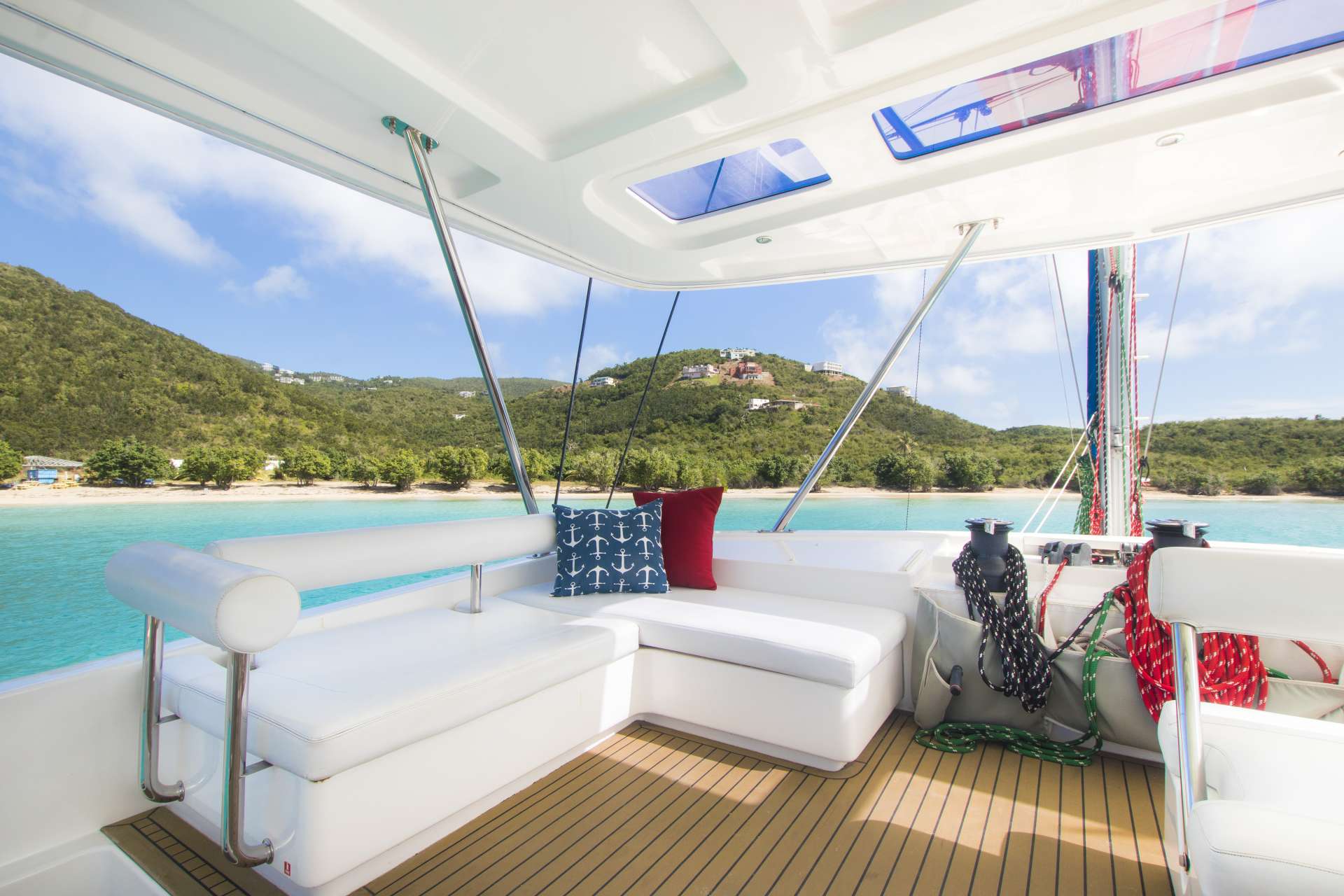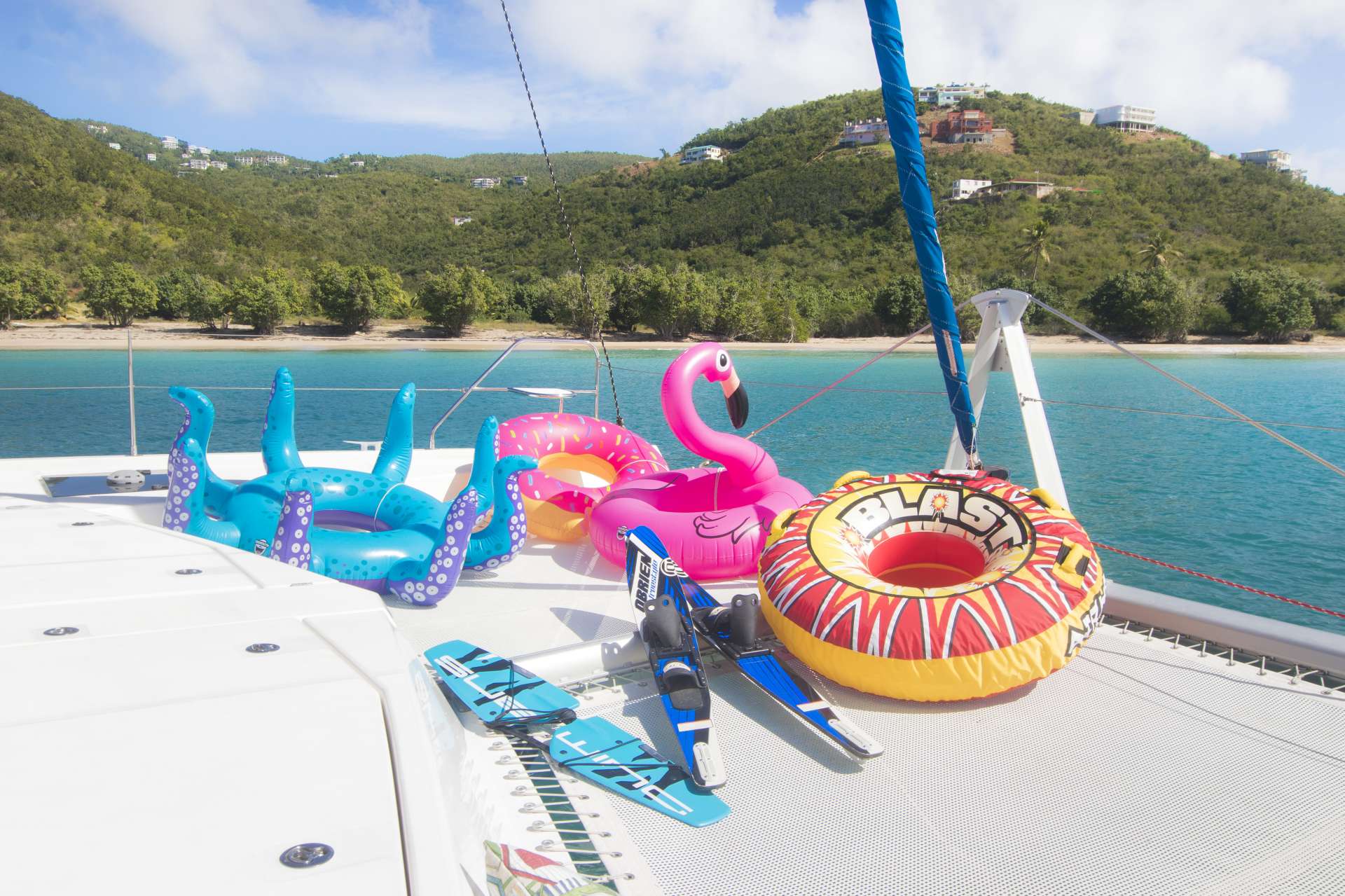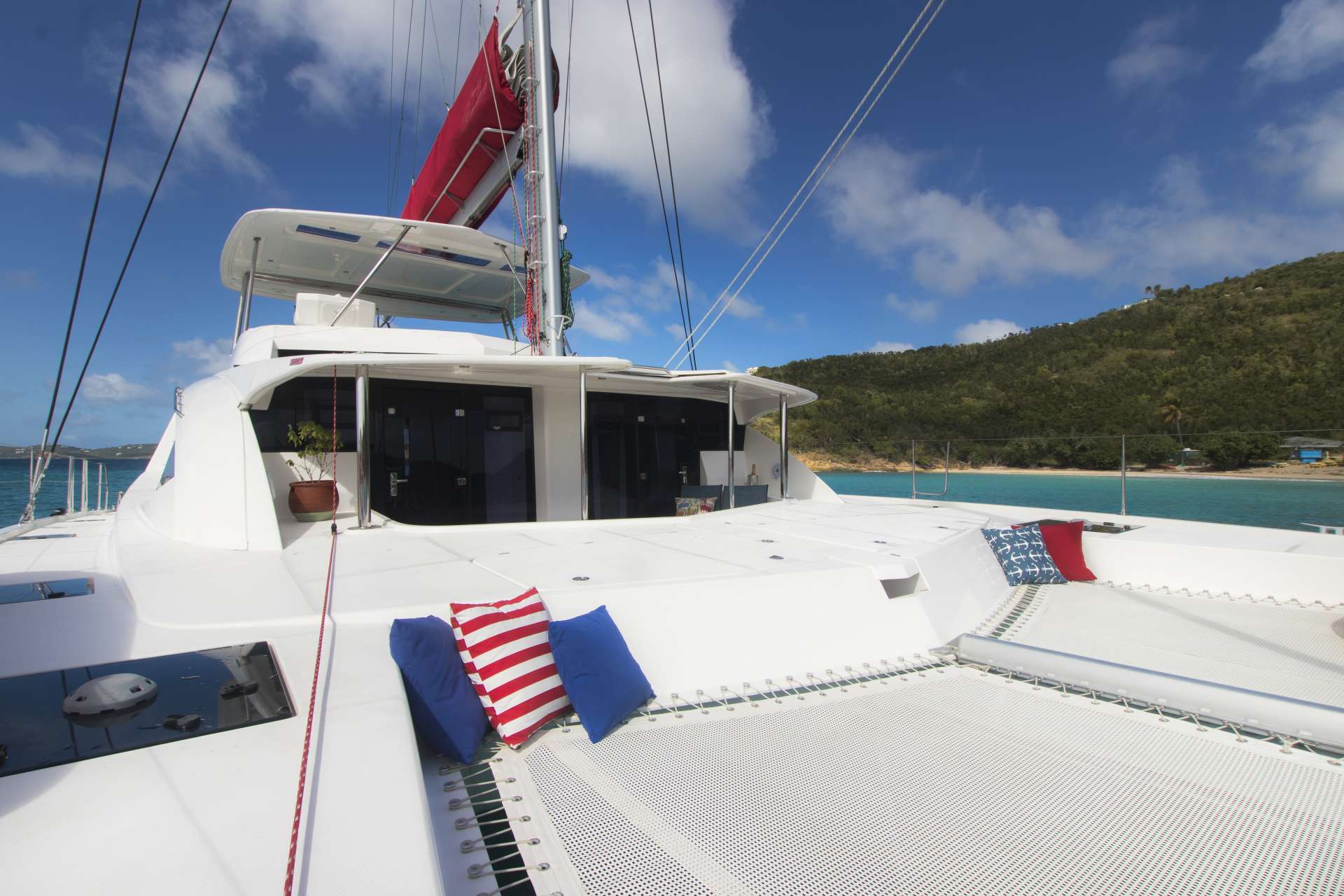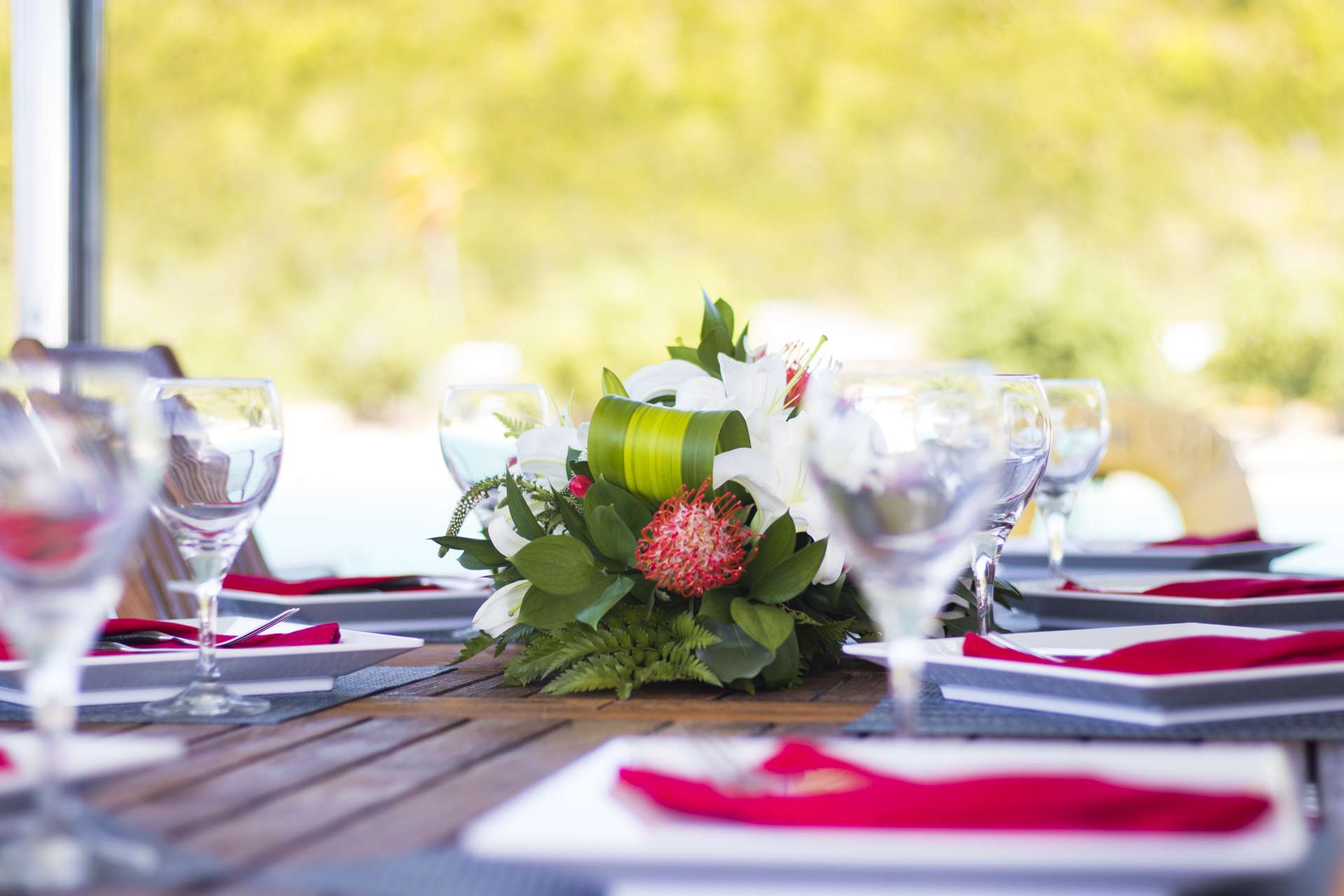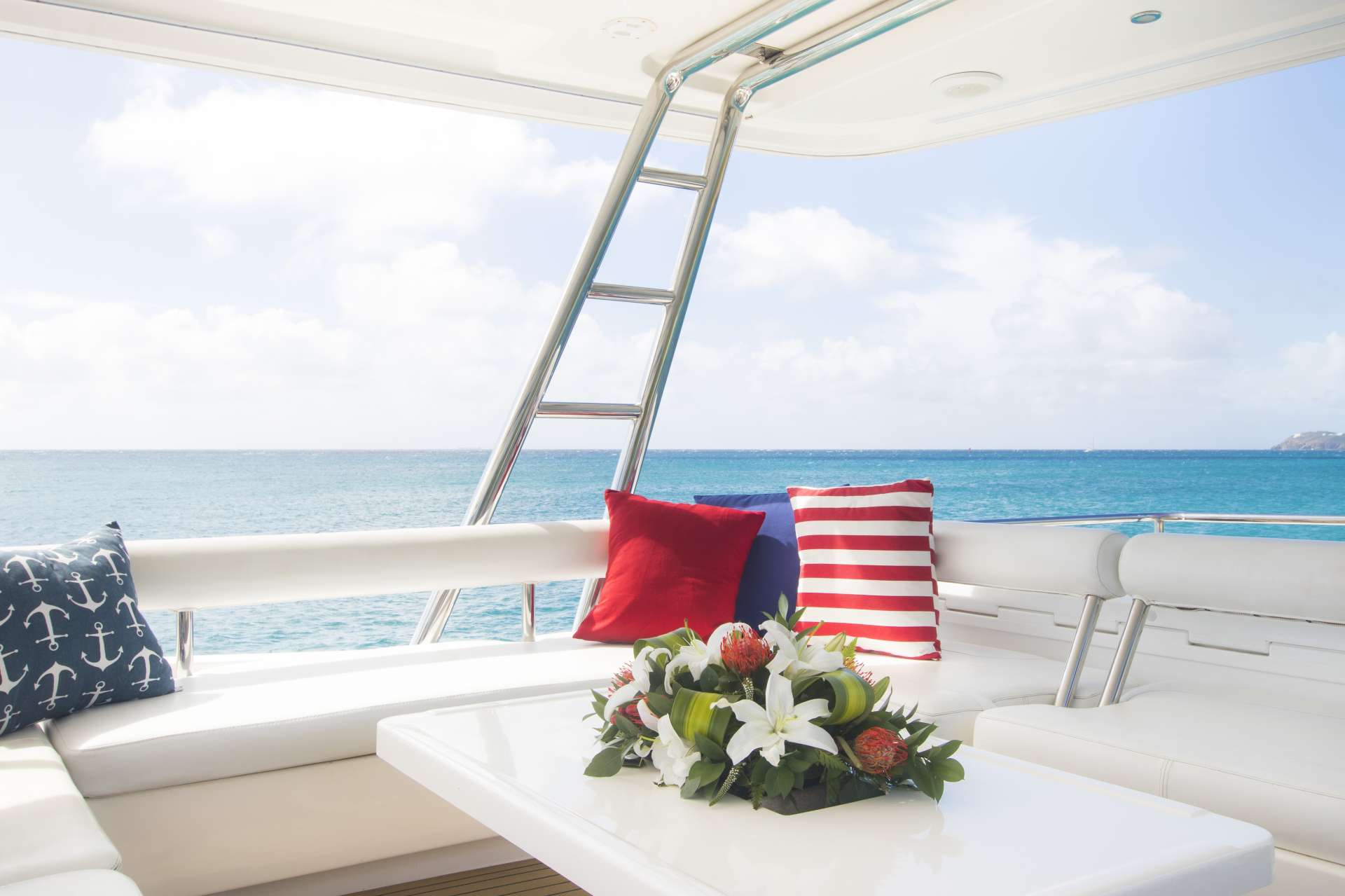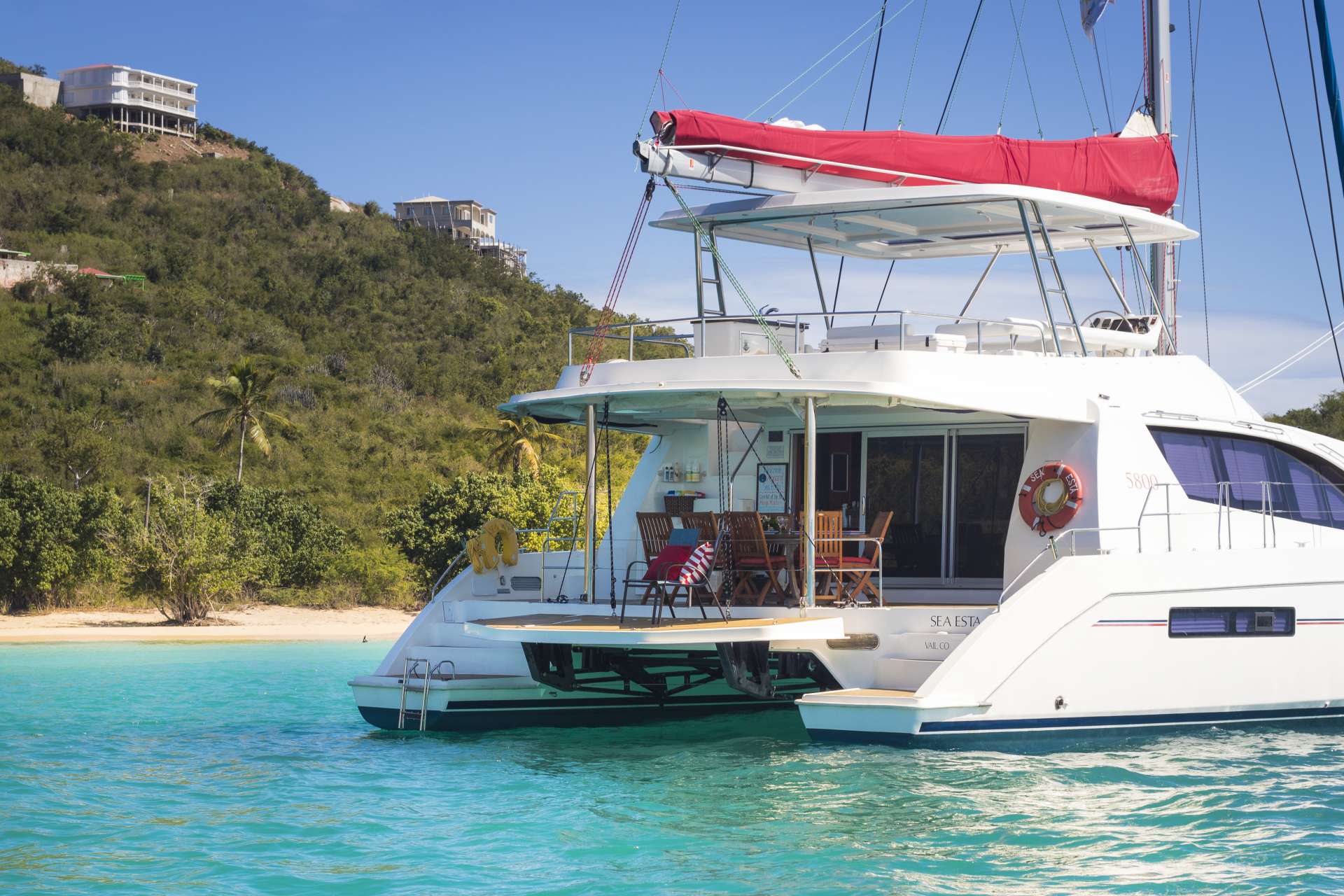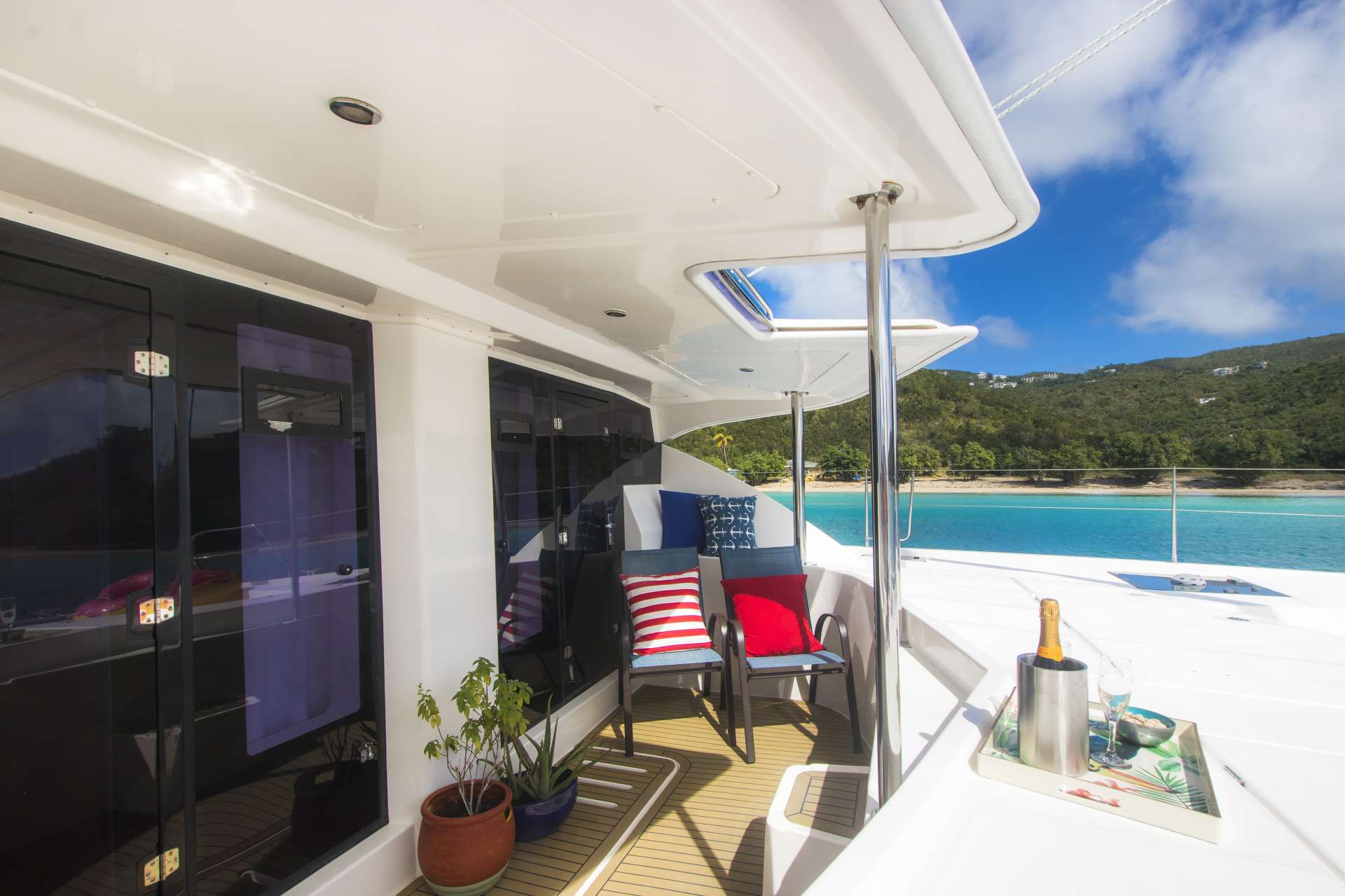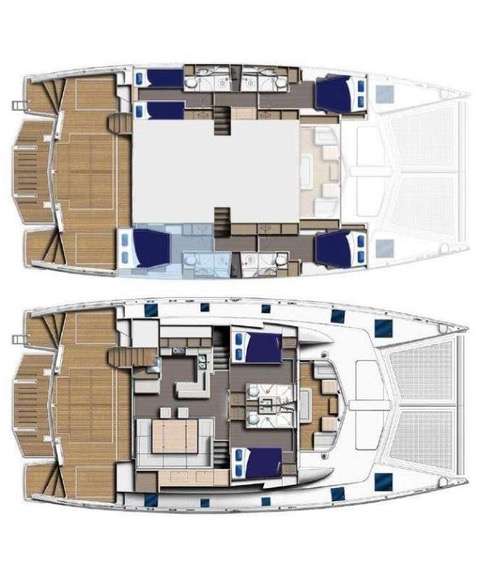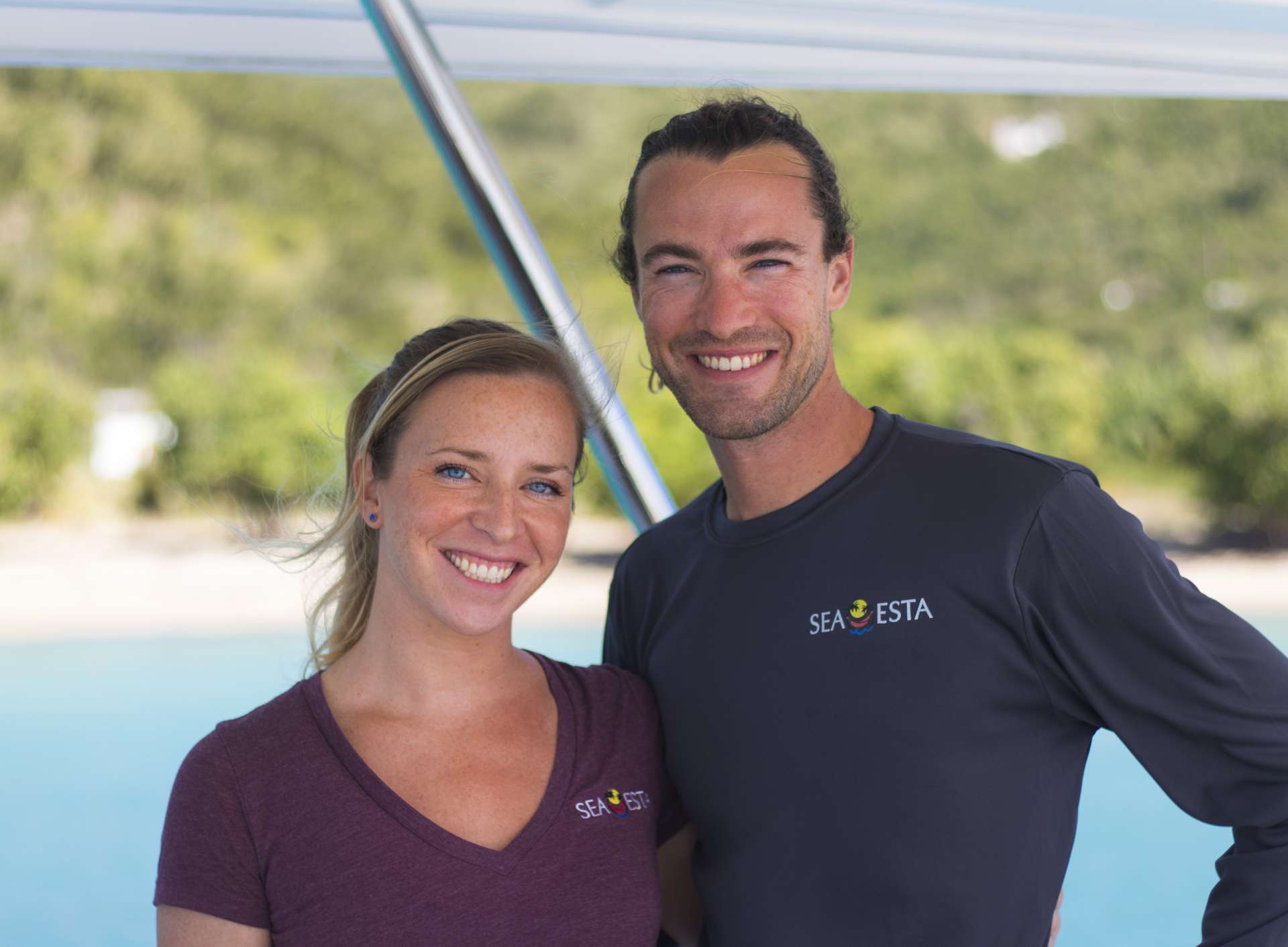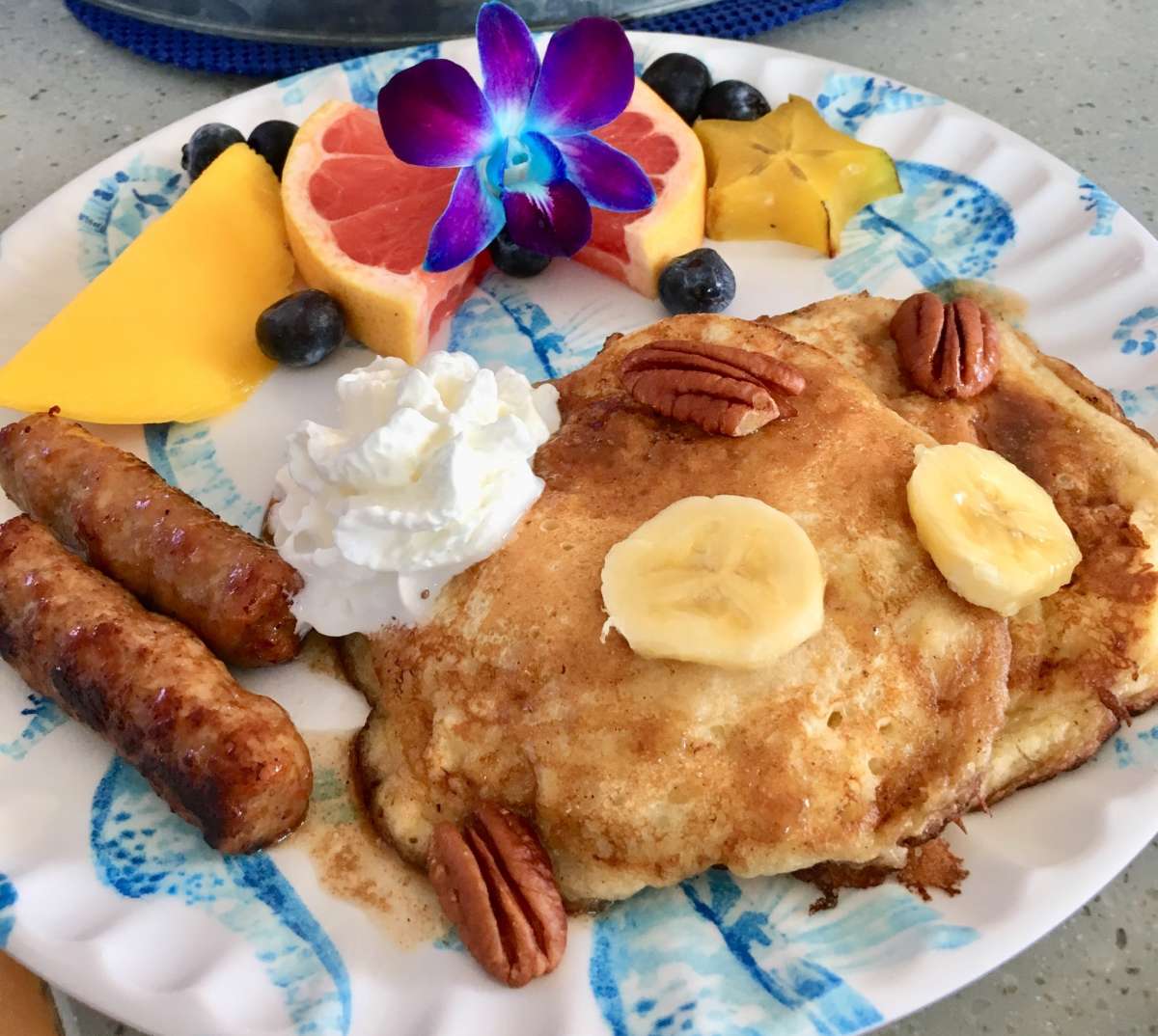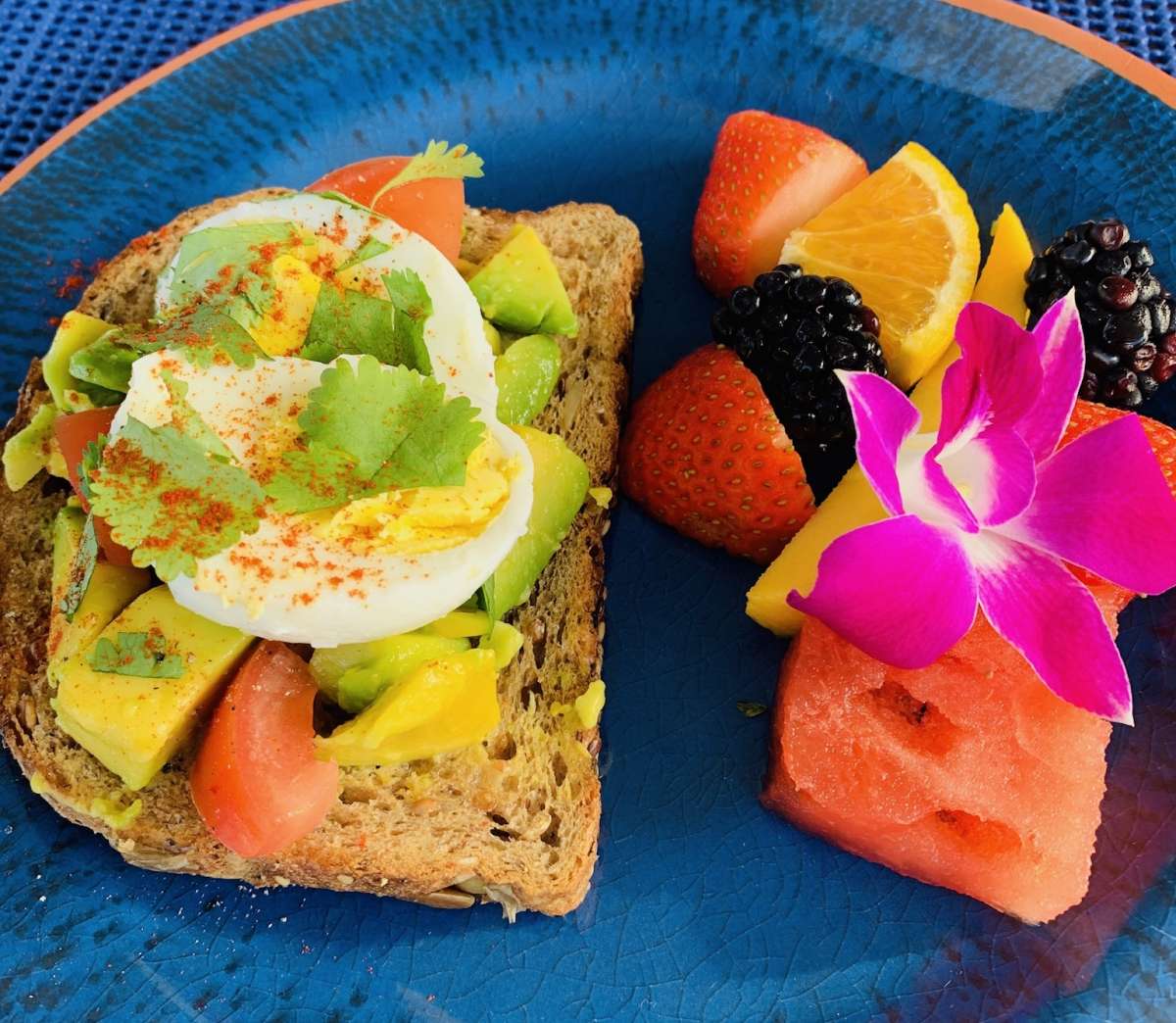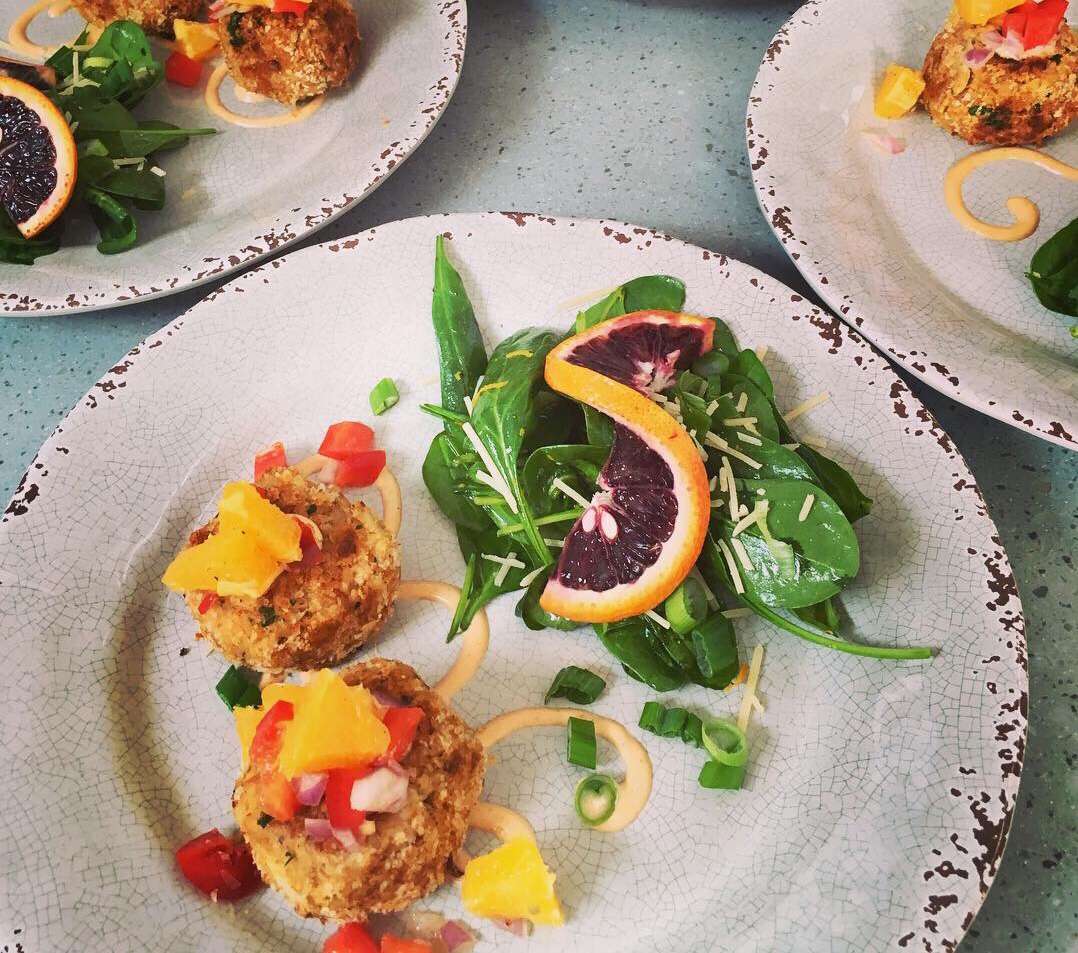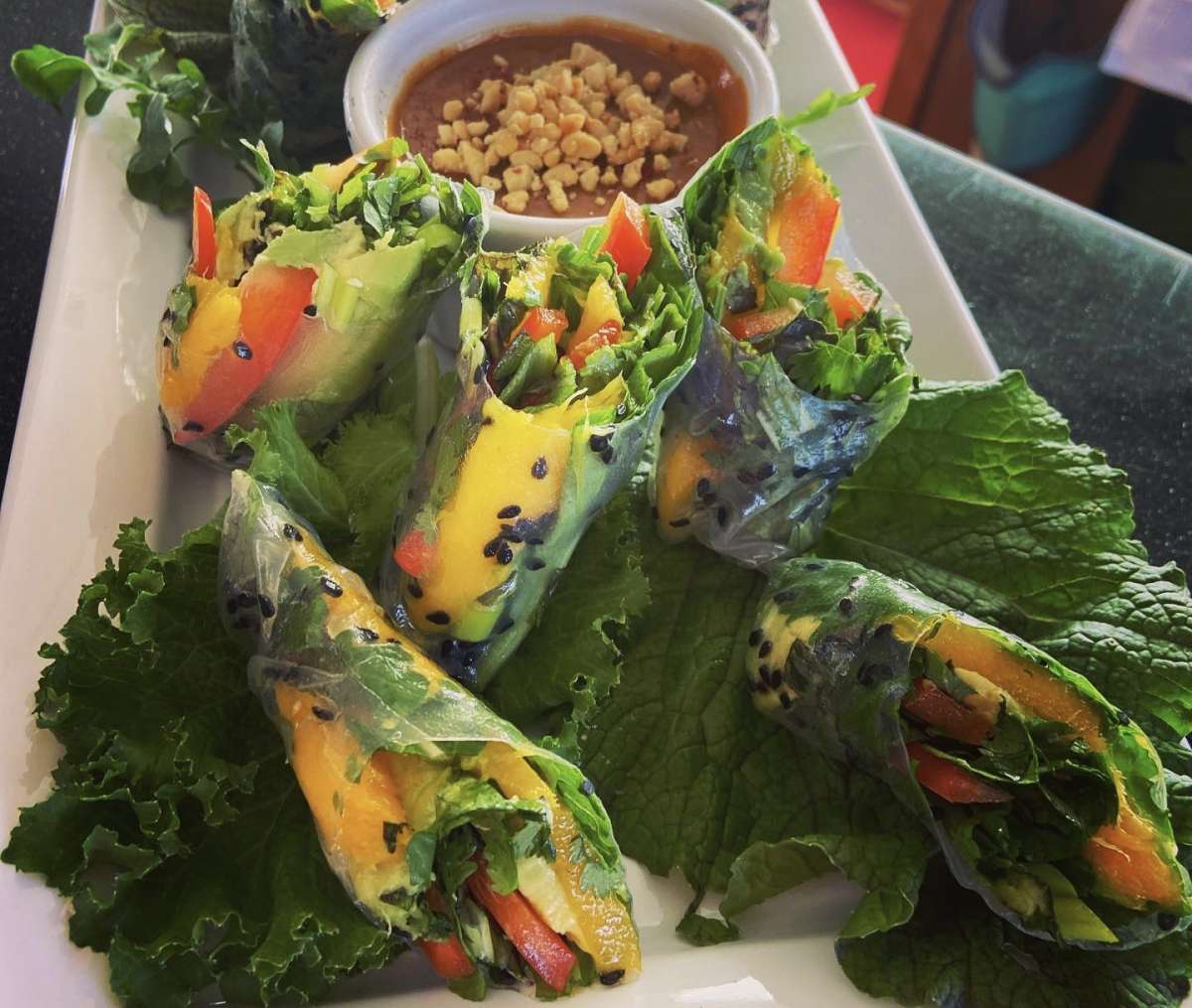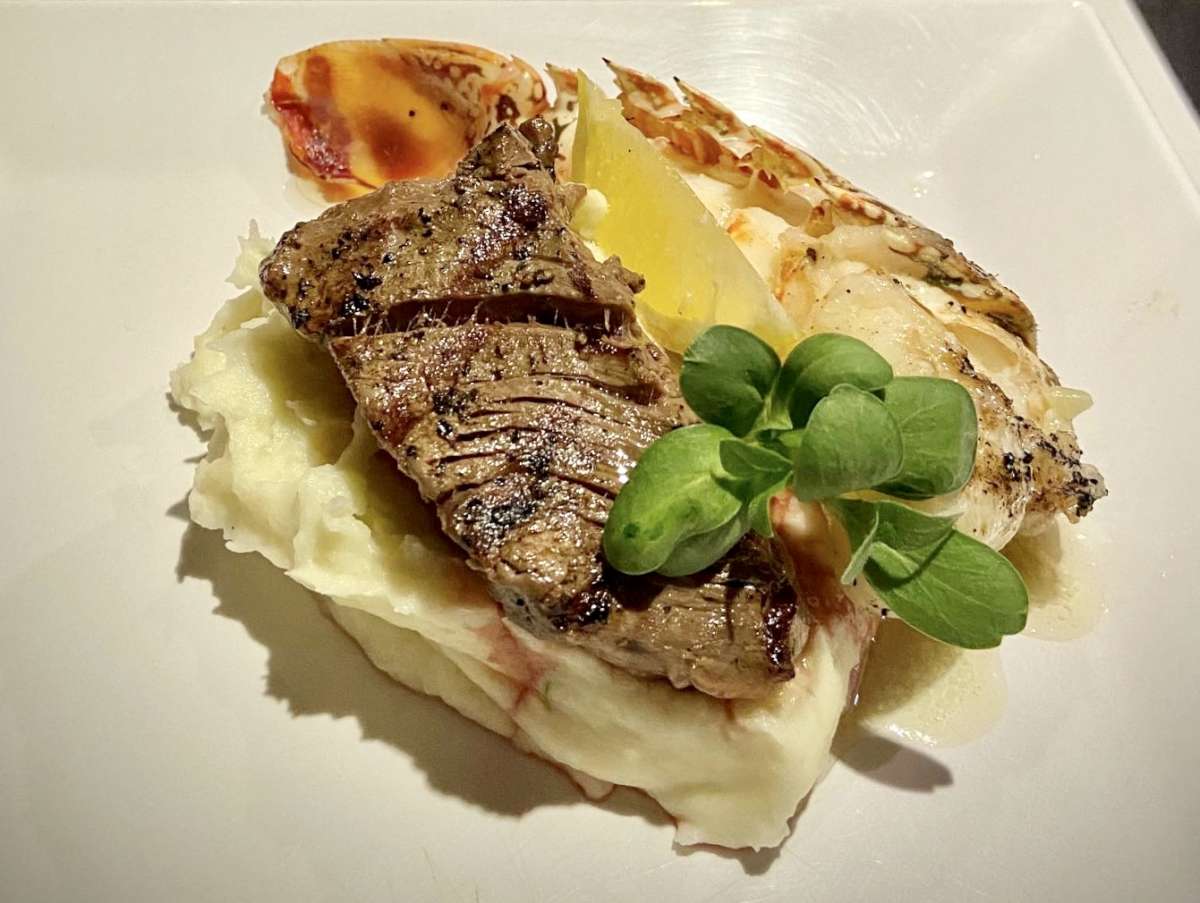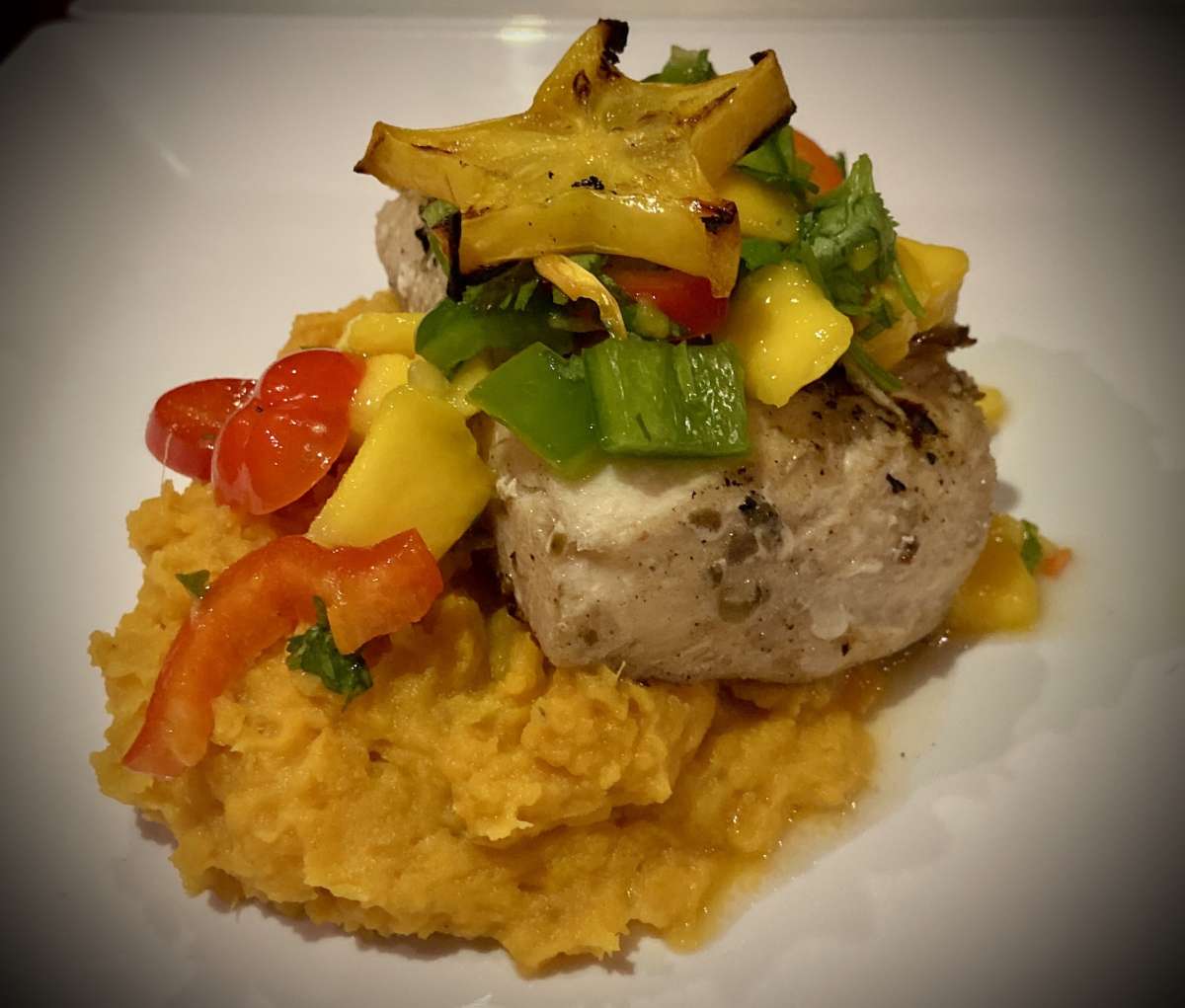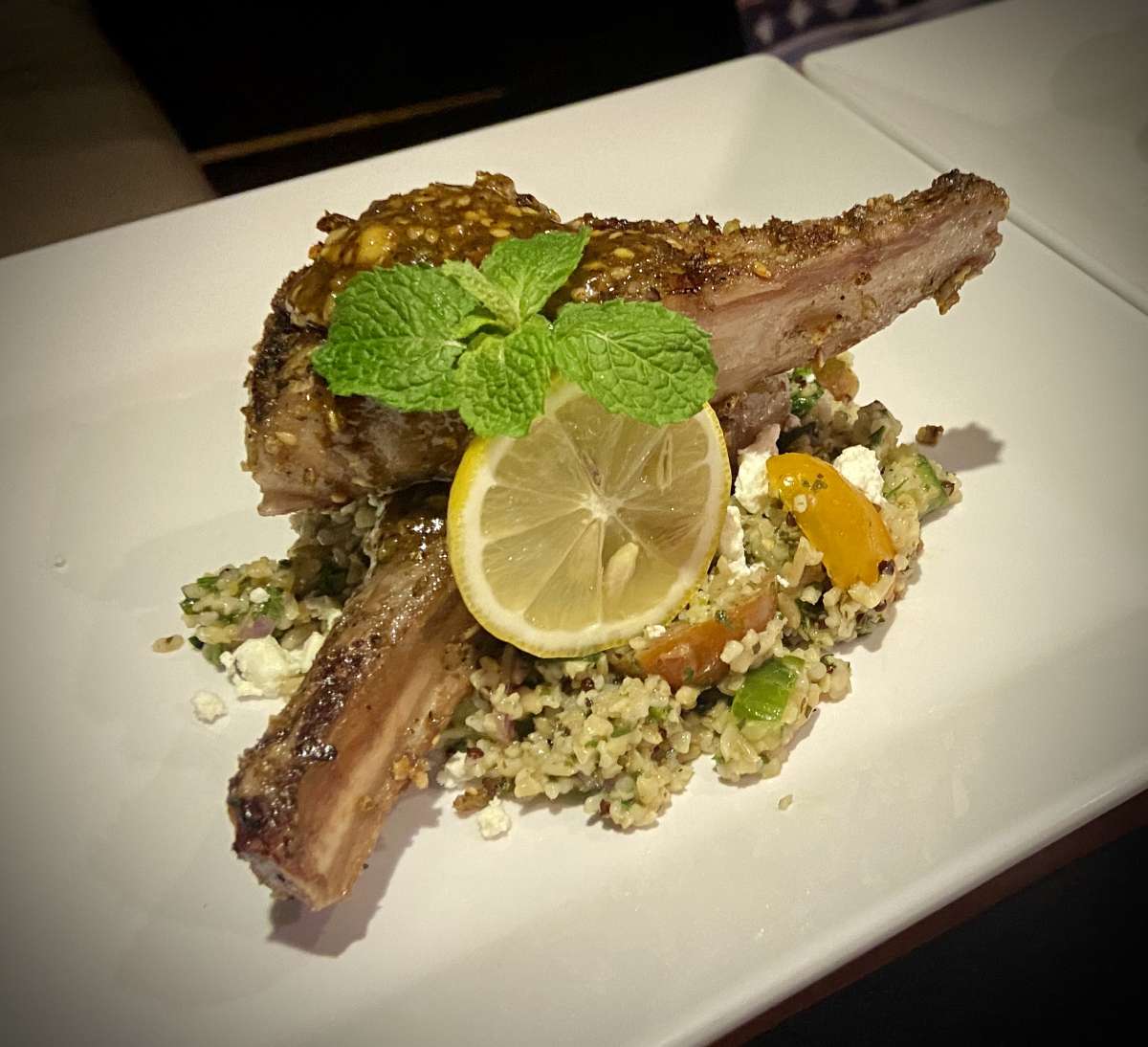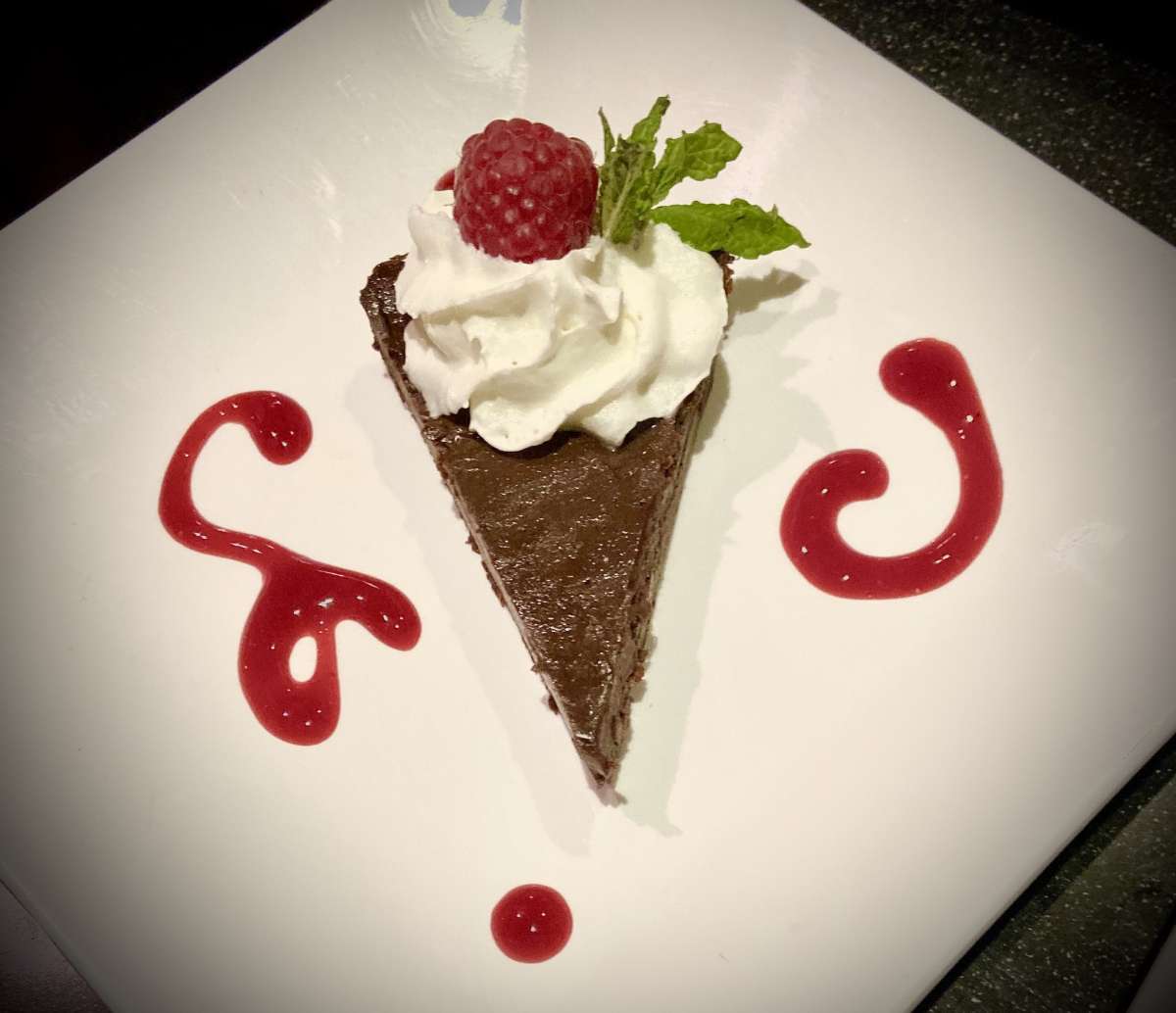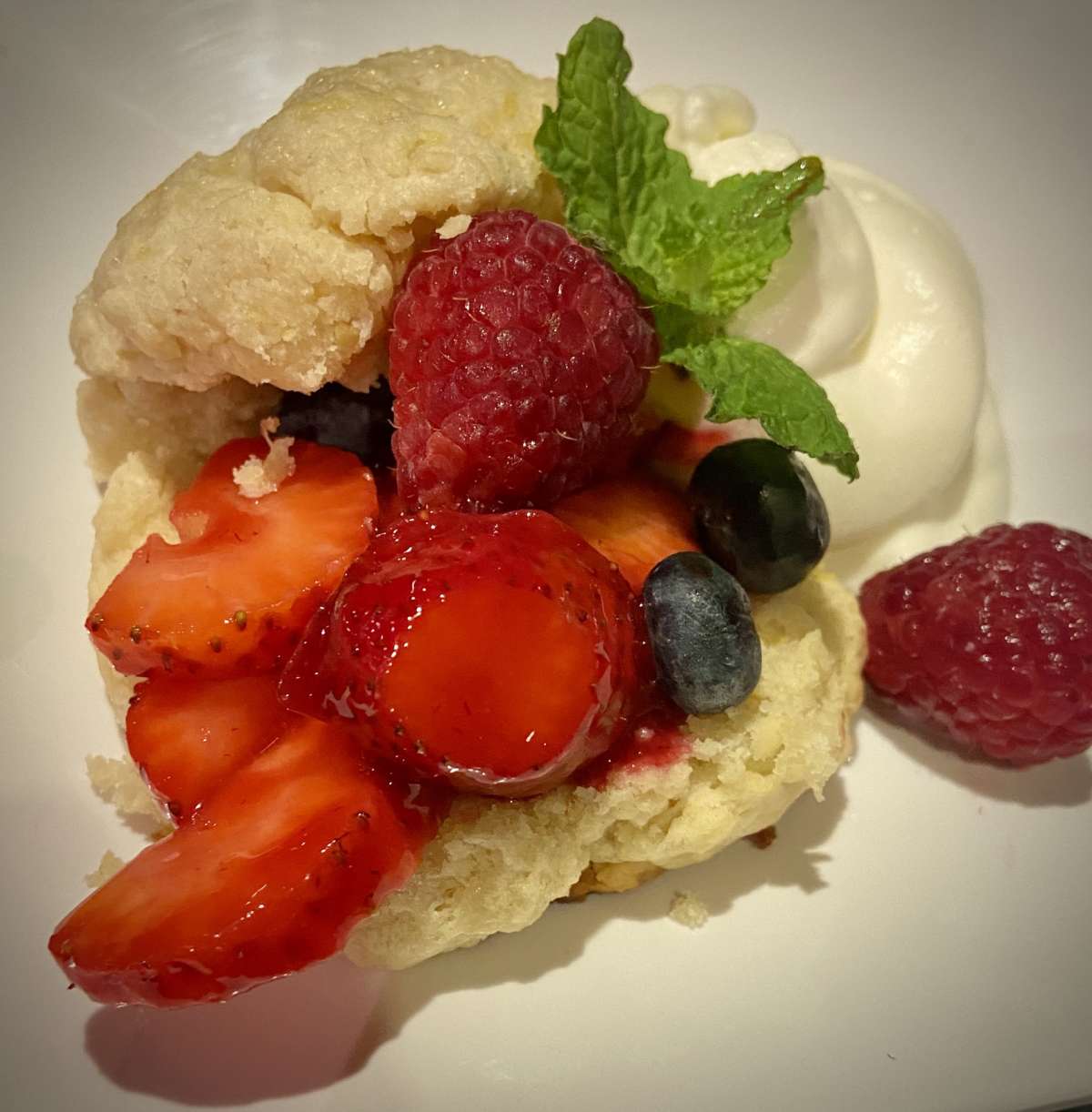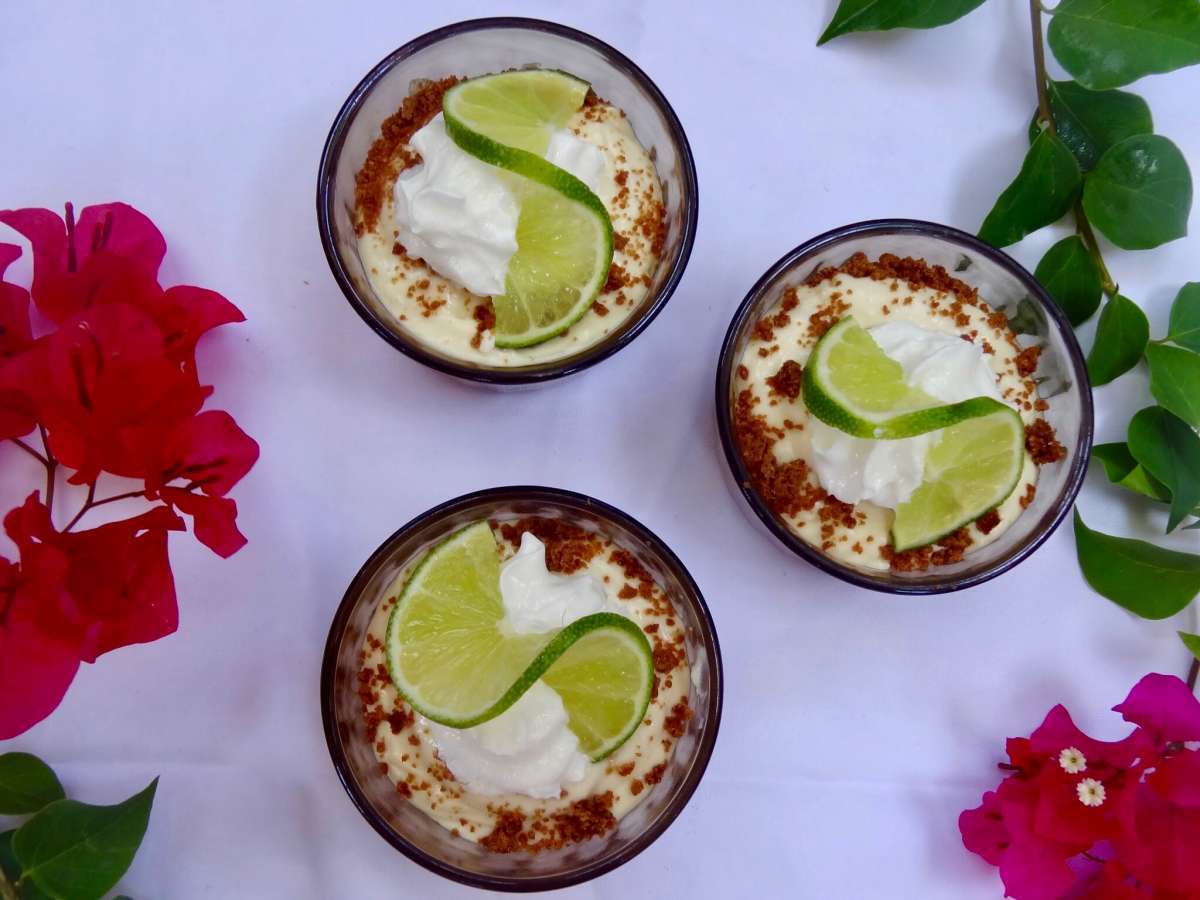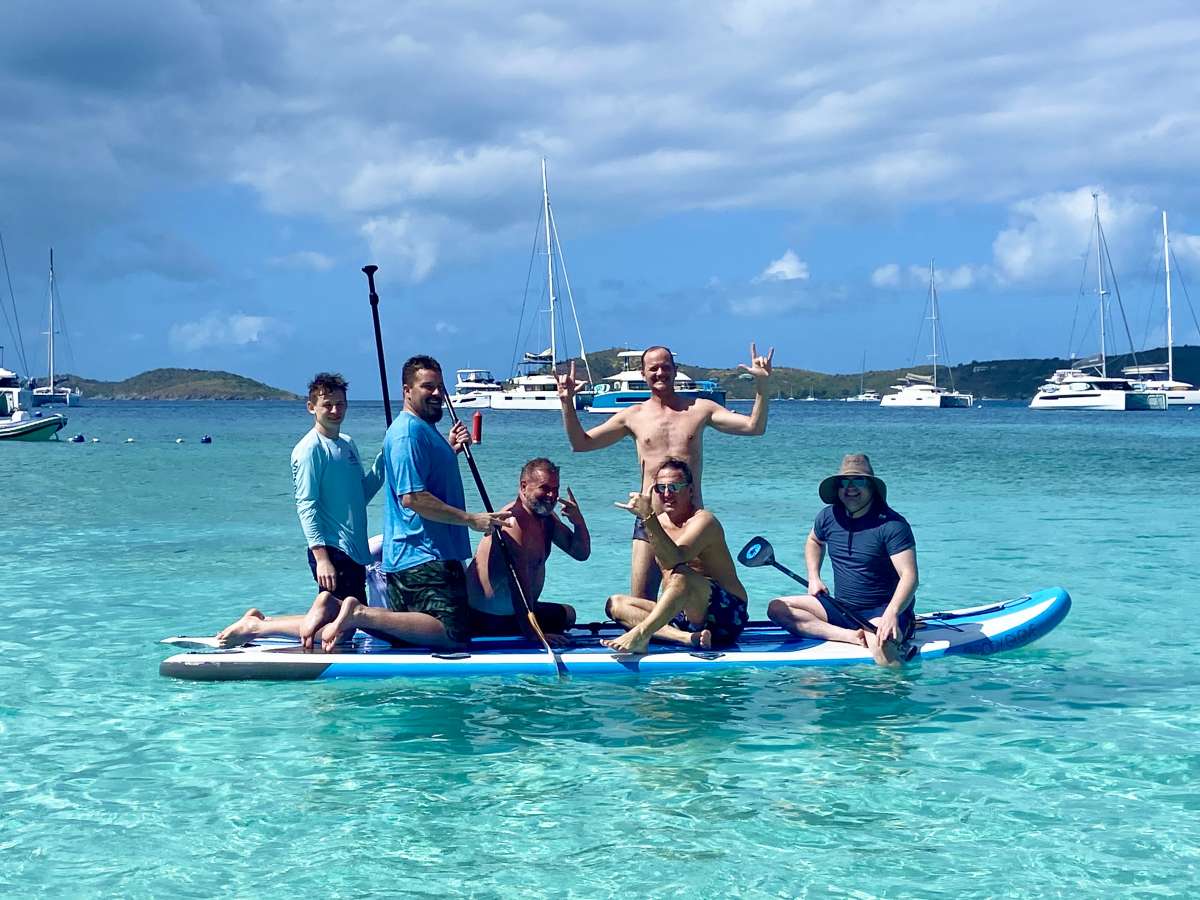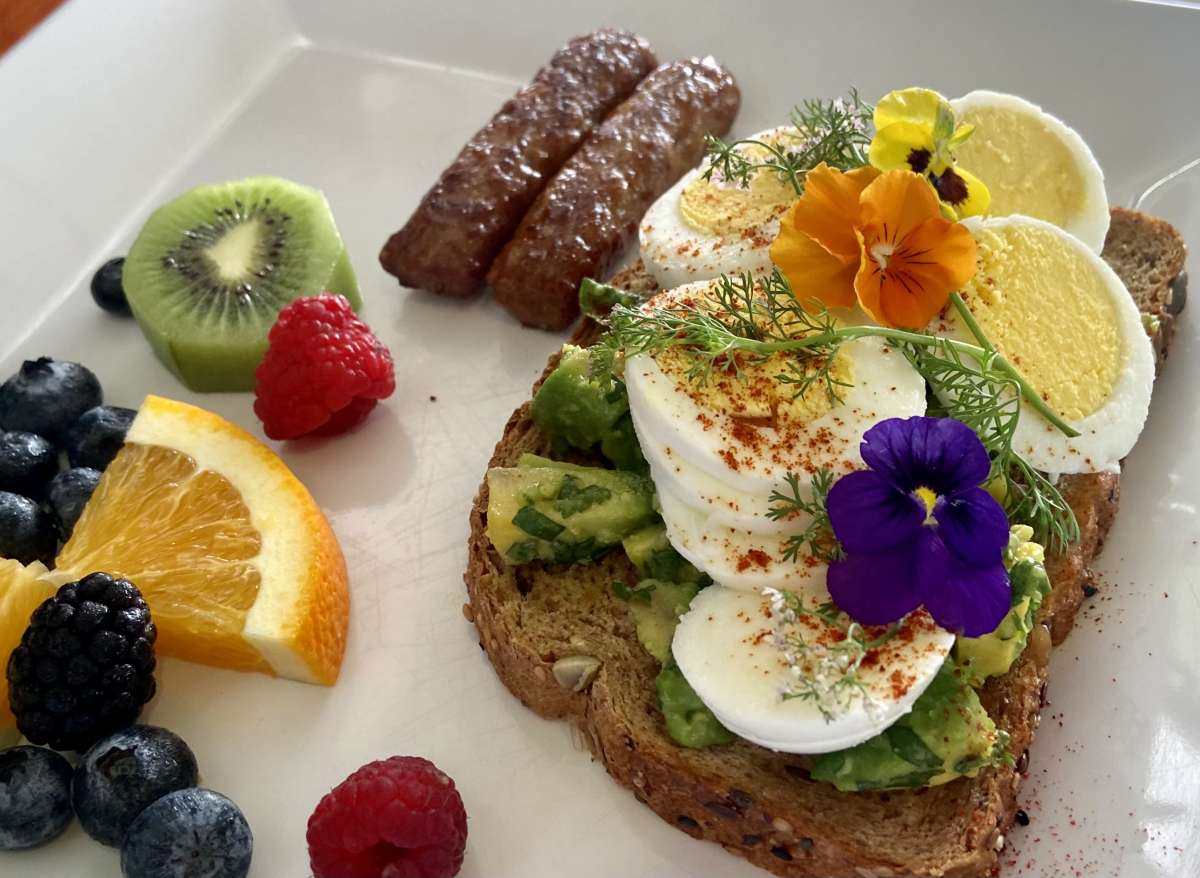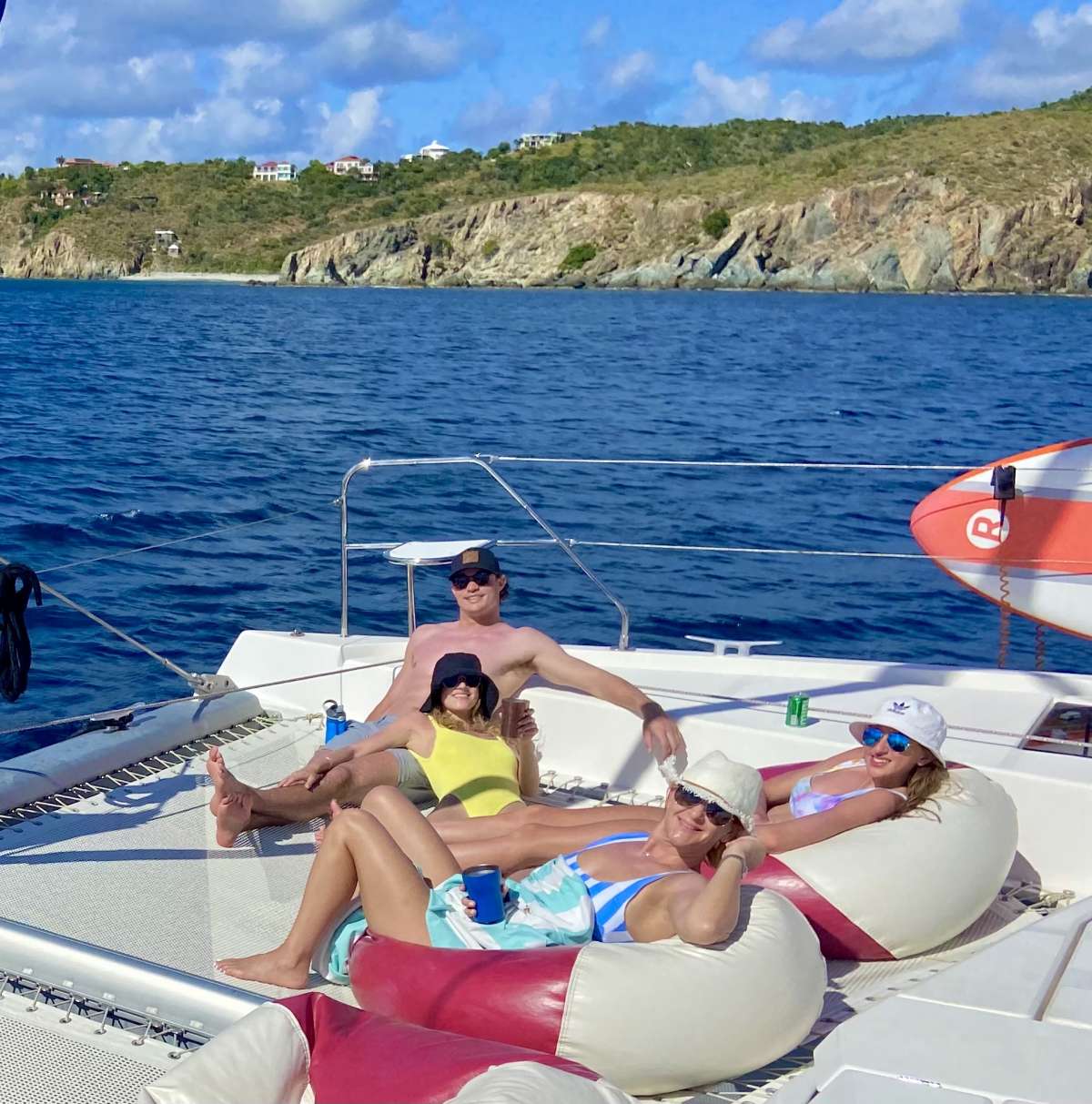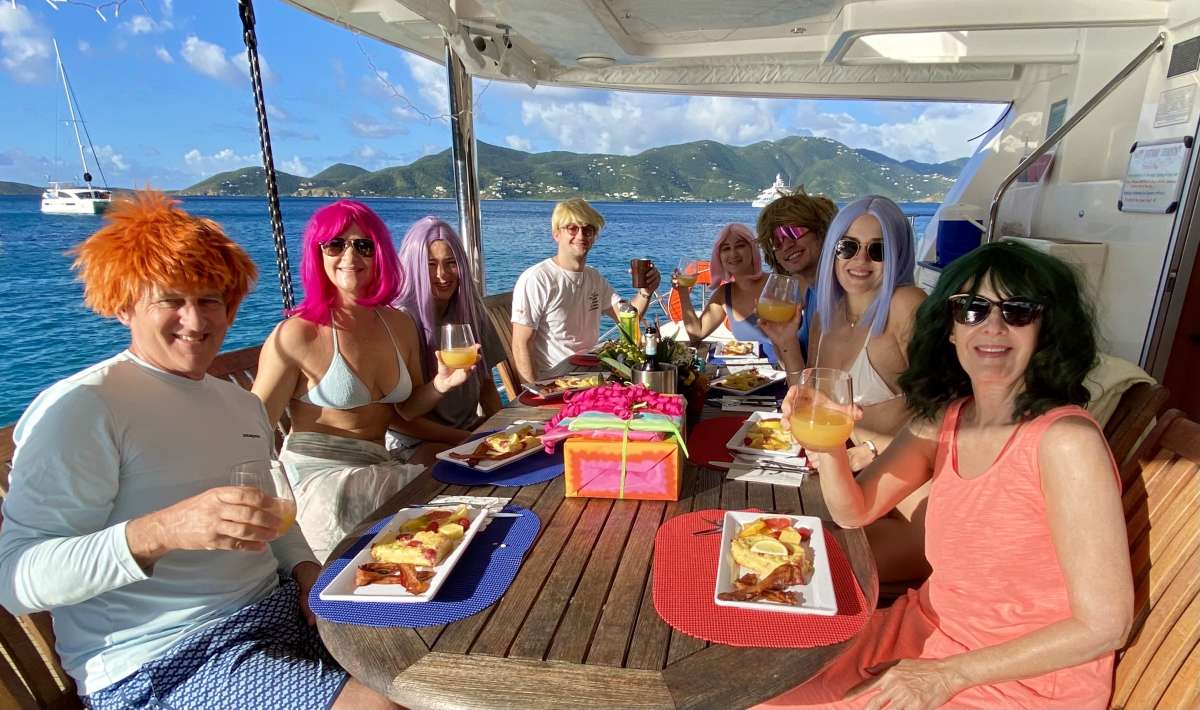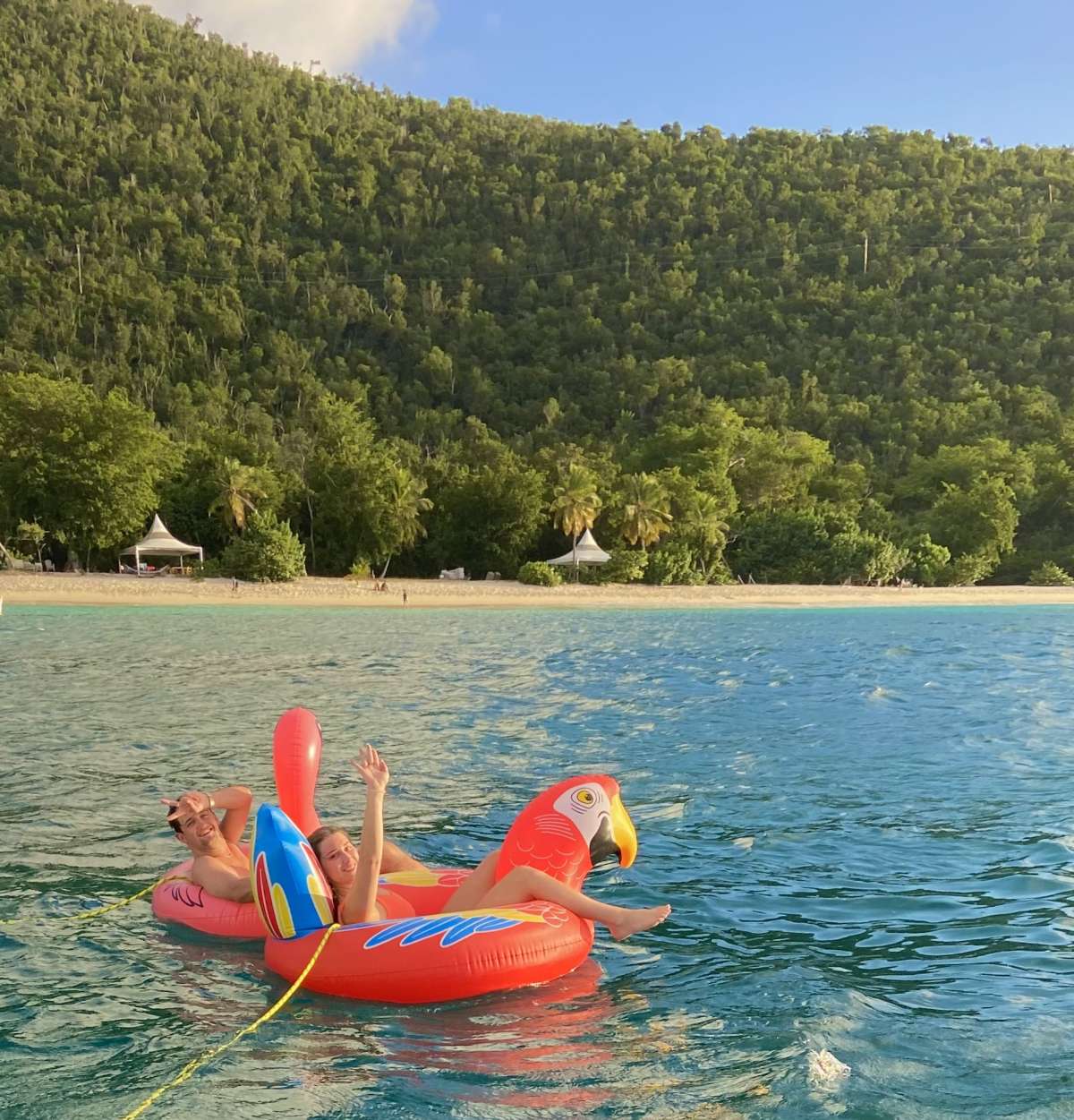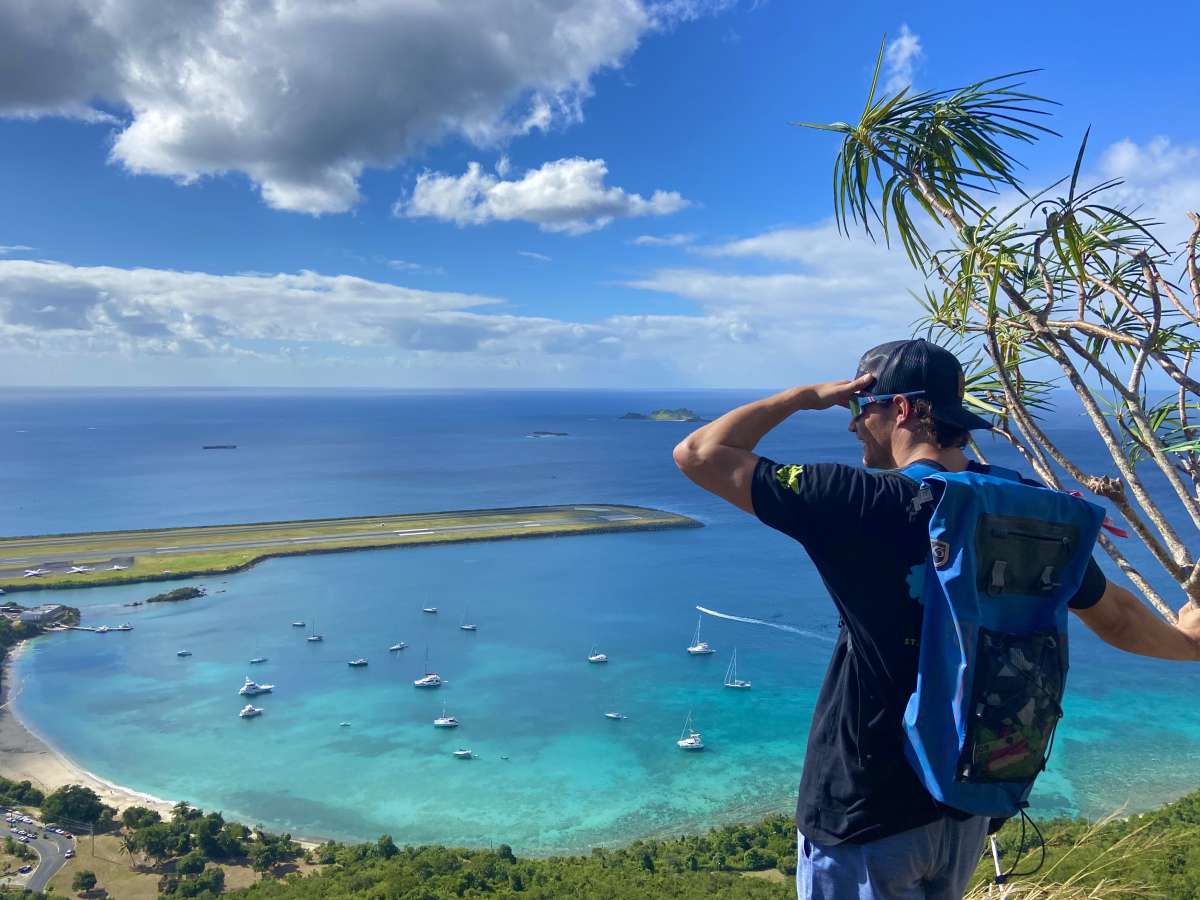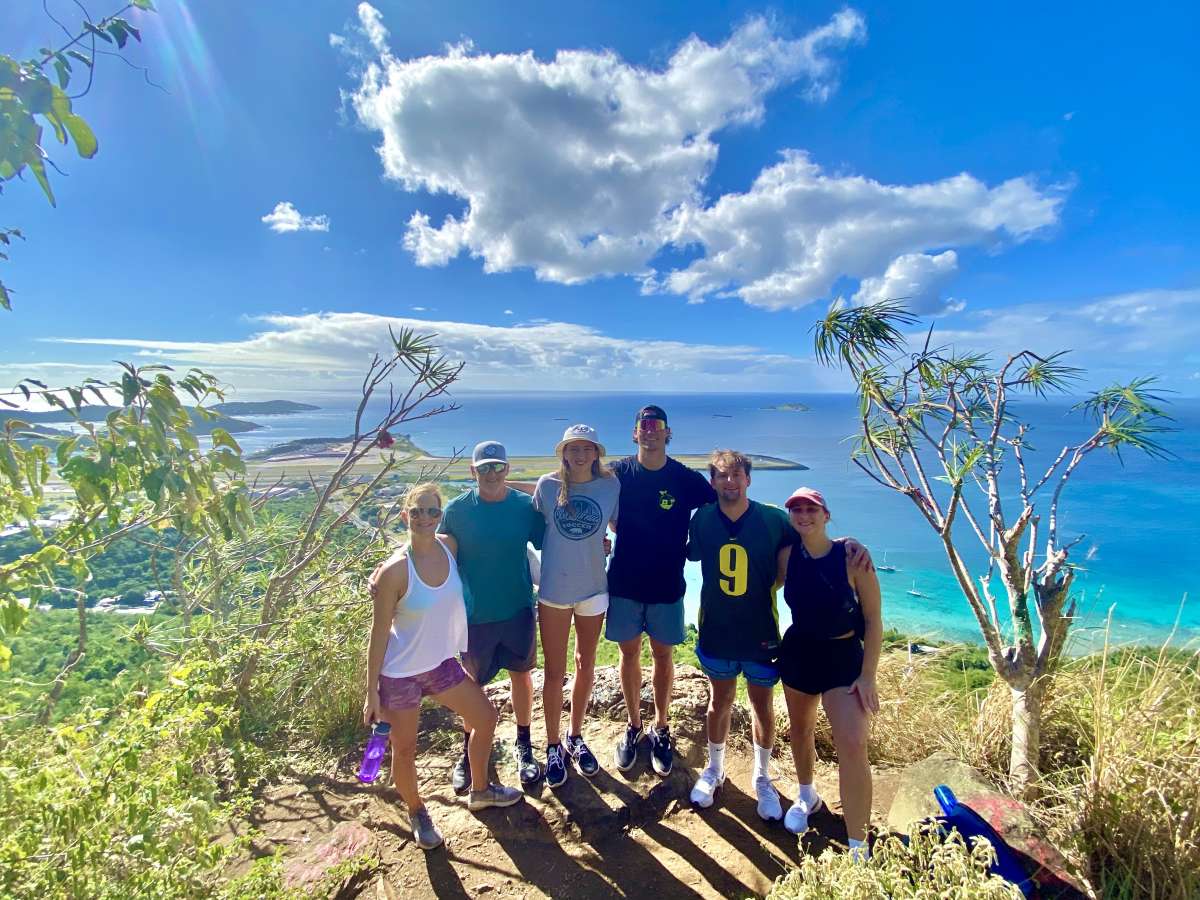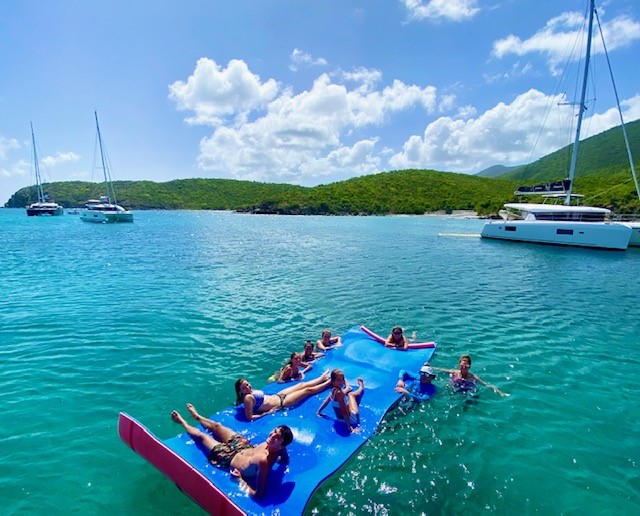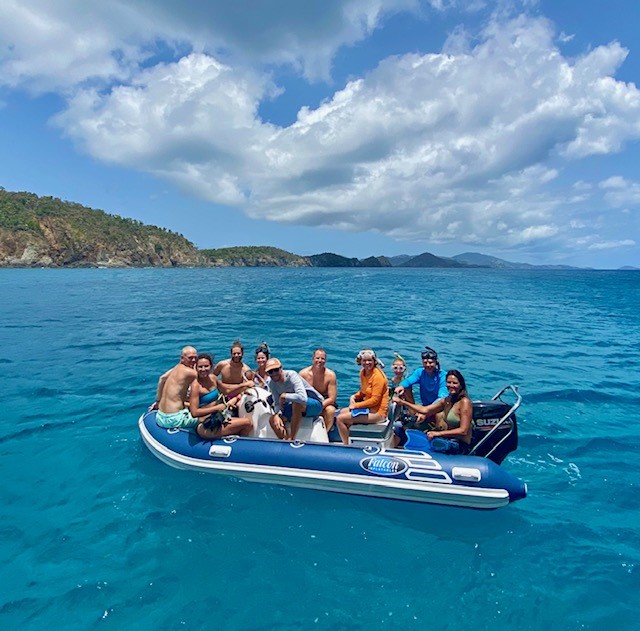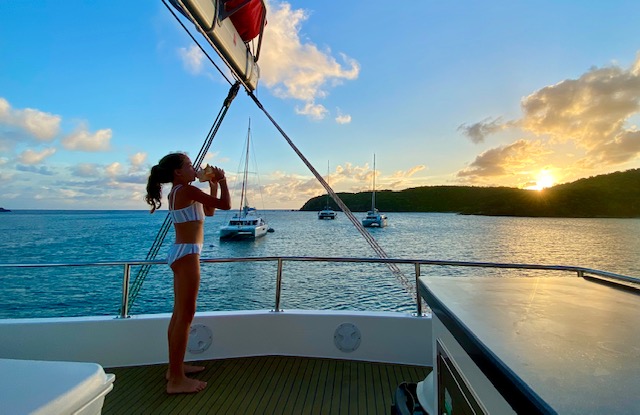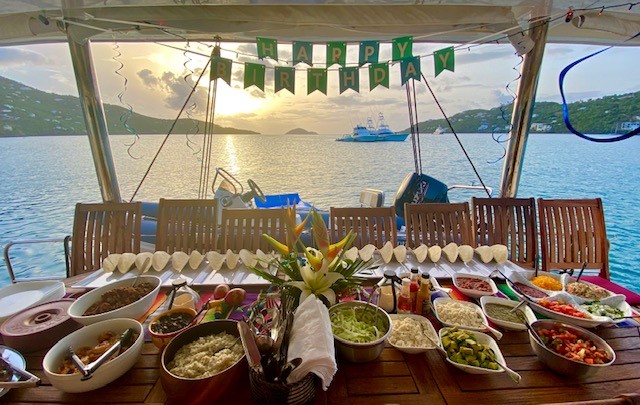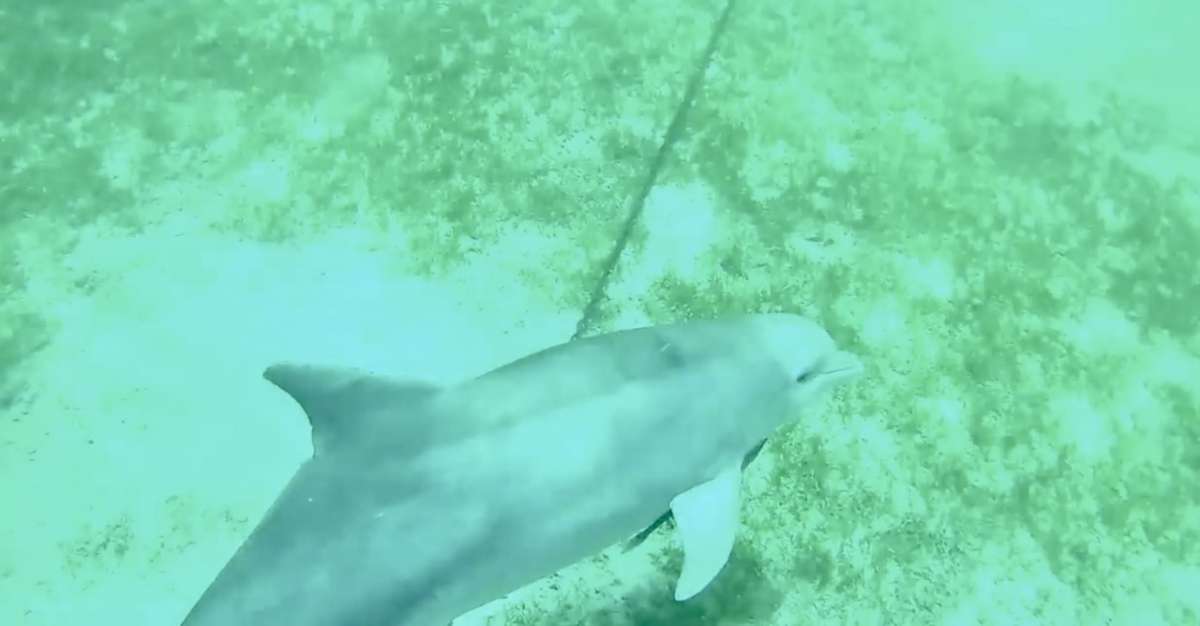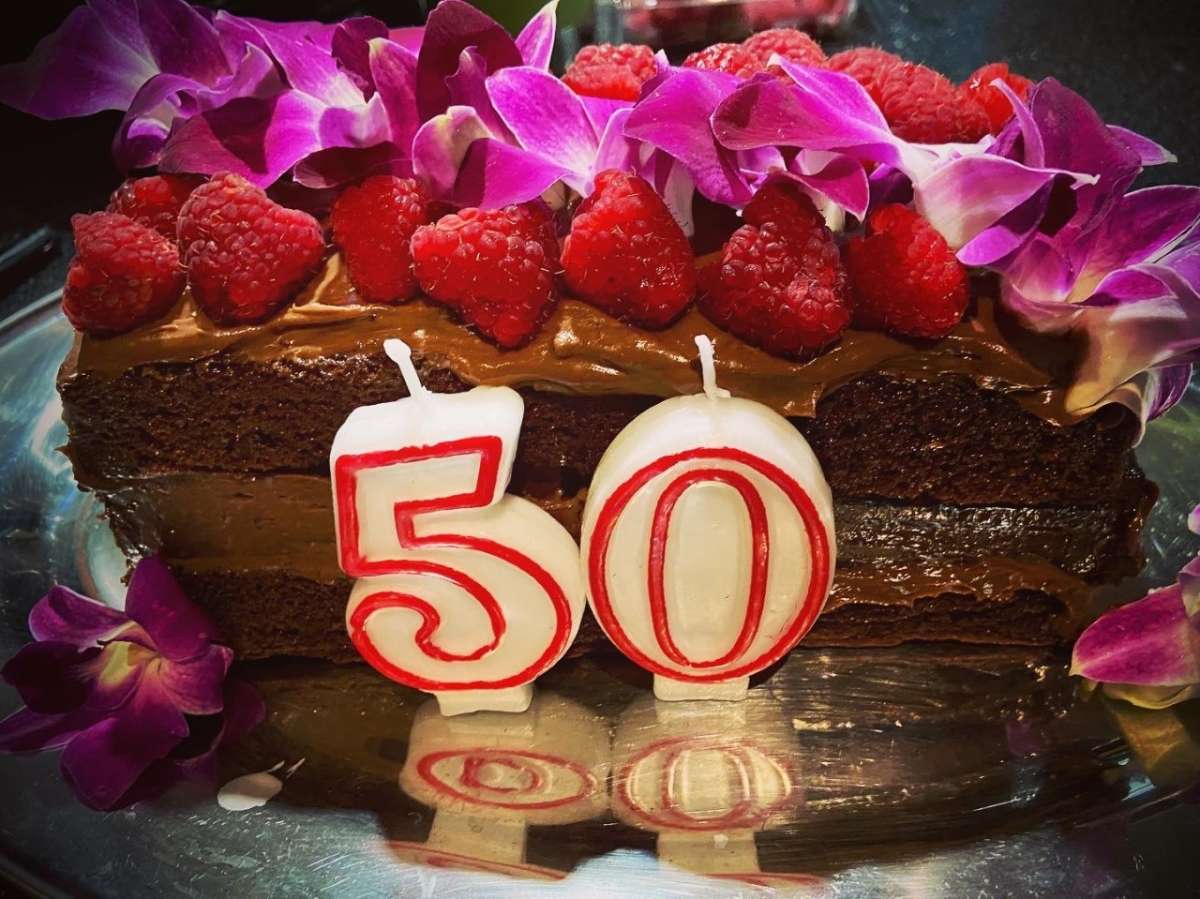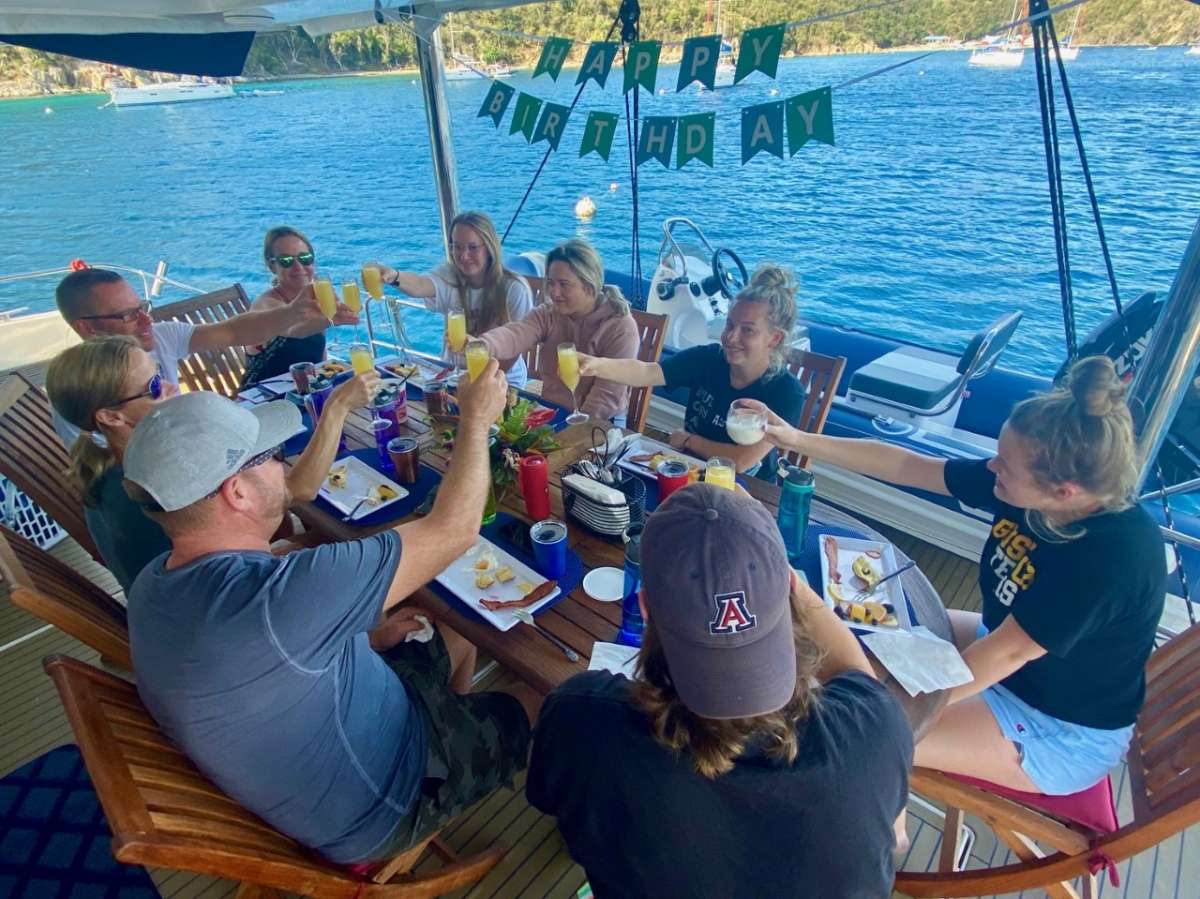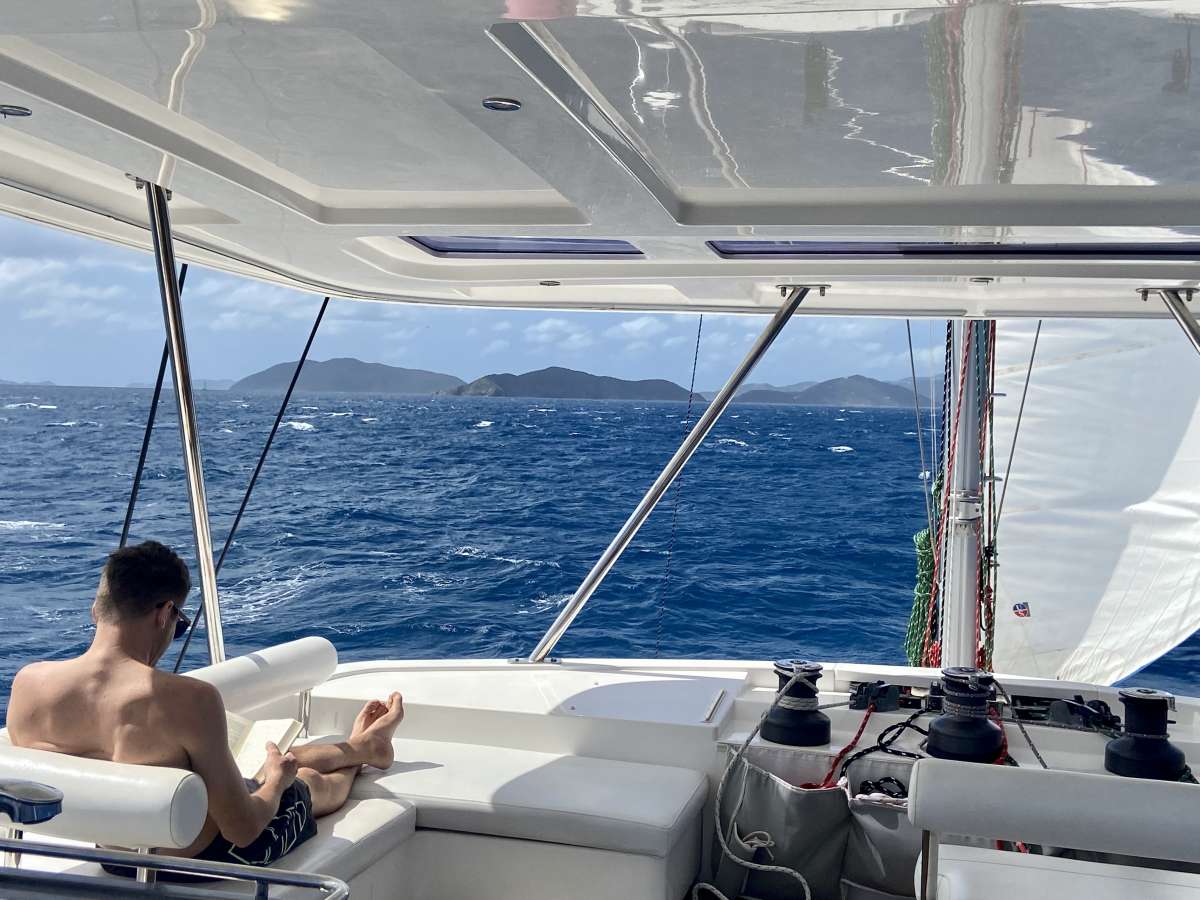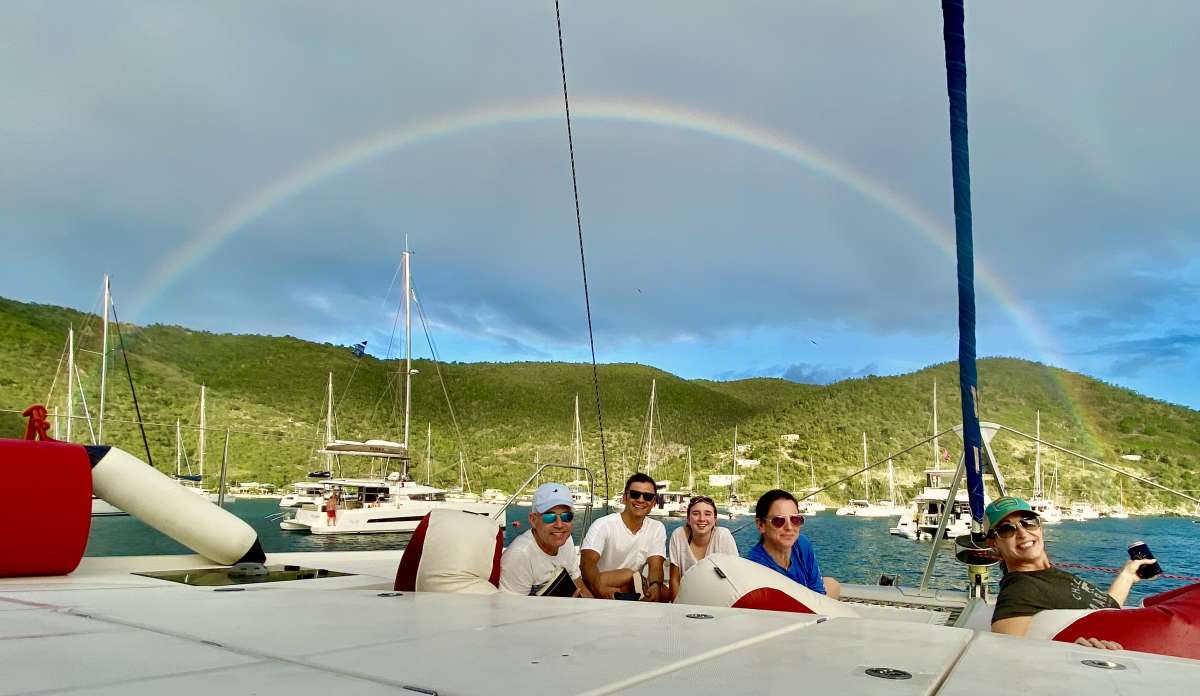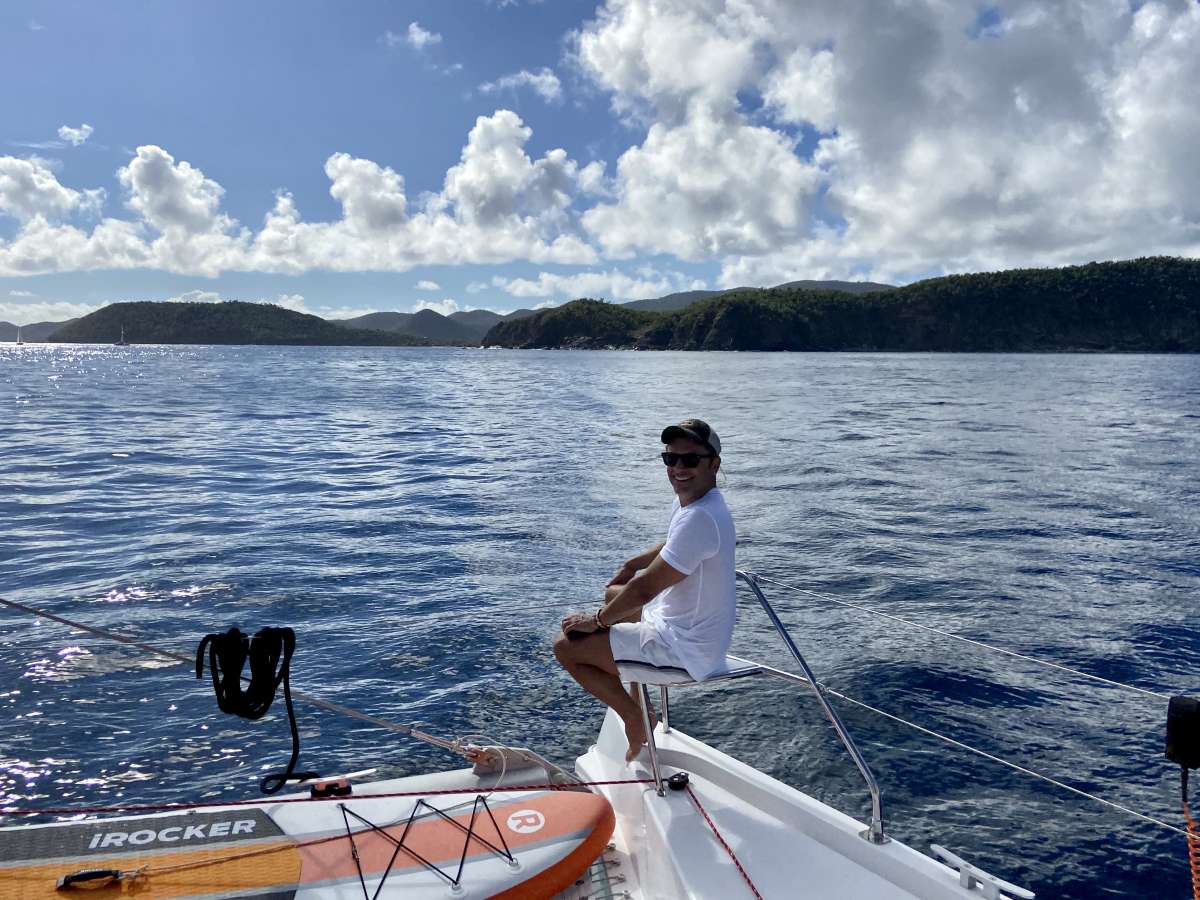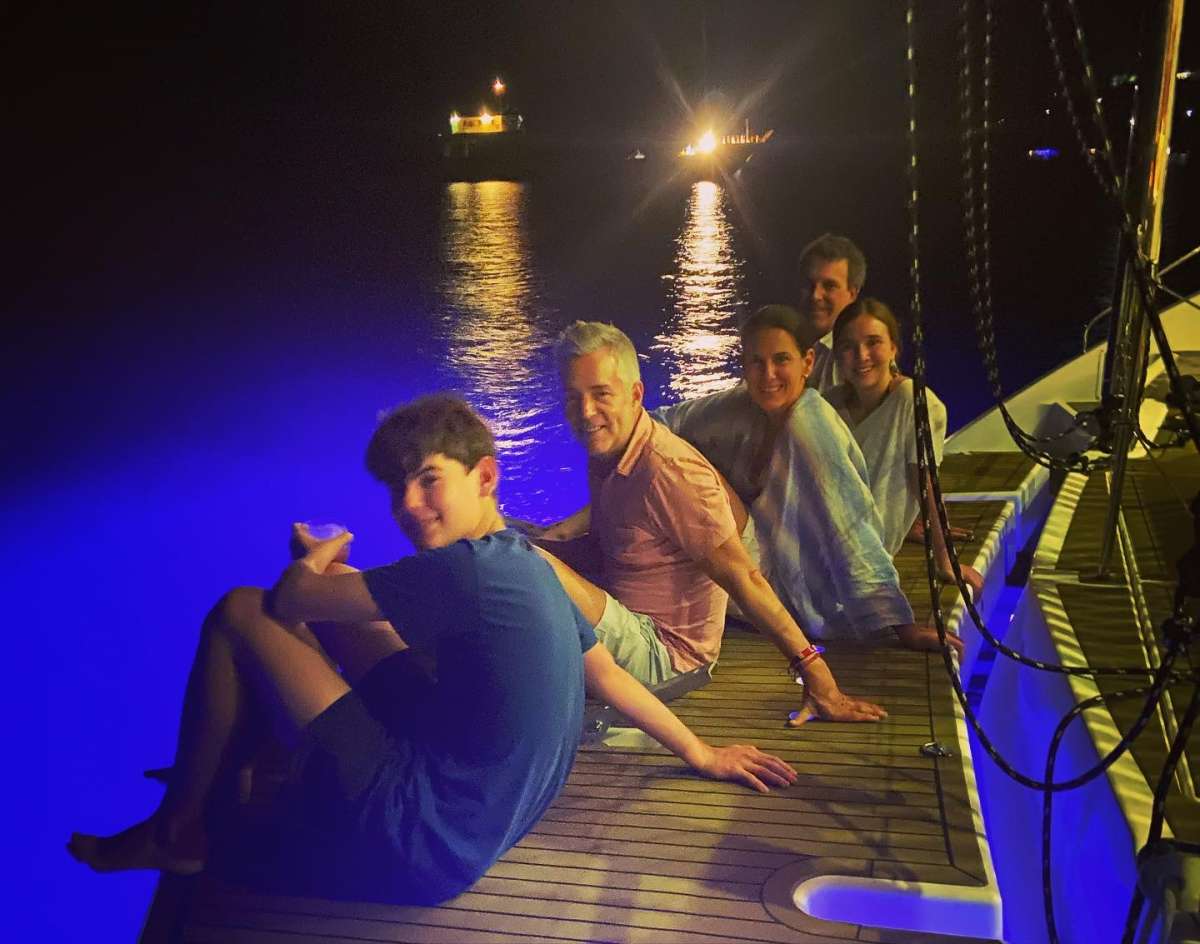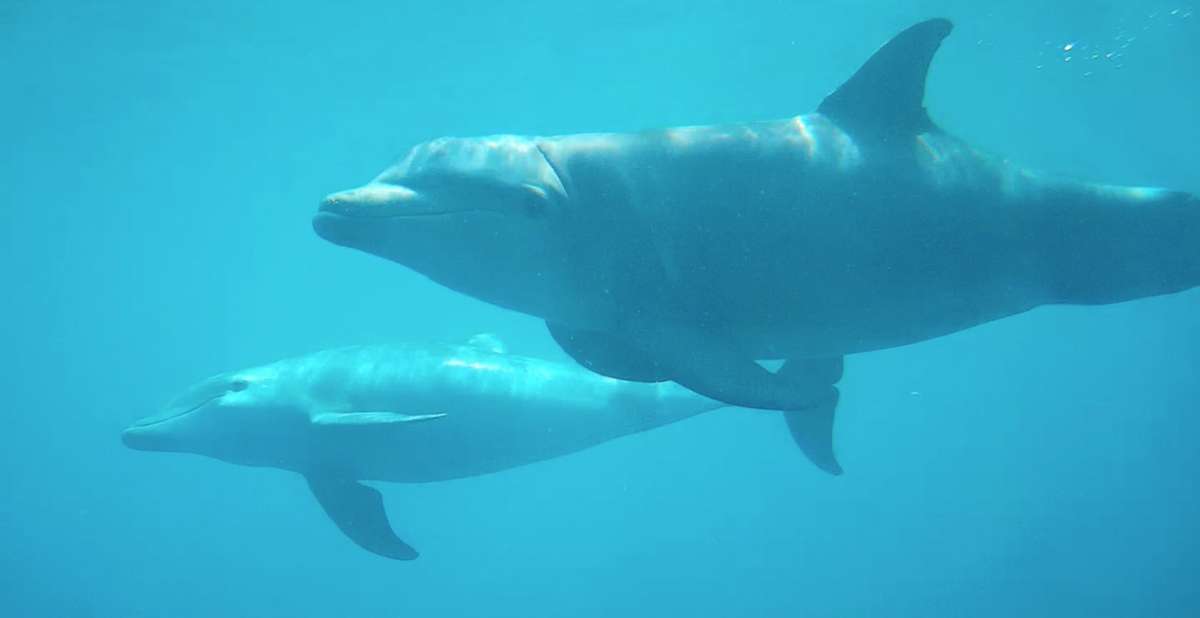 Description:
Hi everyone; I'm Brad Marquart; I am the captain of SEA ESTA.  And I'm Christy Marquart; I'm the chef on SEA ESTA."  Both Brad and Christie have 100 ton captain's licenses. Christie grew up in her family's restaurant business; she will attending the Ashburton Cooking School in September, 2021.  "We're going to show you around SEA ESTA to give you an idea of what guests can find here onboard," says Brad. "We're going to move forward and check out some of our toys.  So here we are at the bow of SEA ESTA, and we've got a couple of features to point out.  We've got a lot of toys laid out for everybody and we really love active families.  So we're happy to get toys out here on charter."
We've got this awesome new hammock, and then if you turn around over here, you can see we've got this cool feature on this Leopard 58 this porch area that actually leads into the two main deck cabins that we have onboard.  Guests really love this in the morning especially.  They can bring their coffee straight out here and sit in lounge chairs and just relax on the chaise.  Or if we're underway, the kids will often be up on the trampolines, while the parents are back here in the shade, relaxing, watching the kids, having a good time.
Let's move on back and check out the fly bridge really quick here.  Step on the stairs here.  "Here we have probably the largest fly bridge in the show.  We certainly have enough space for a group of ten to all be up here at the same time, which we just really love.  We've even had up to 23 people here once during a tandem charter and had a blast up here with all those people. So while we're underway it's very typical for guests to be up here with us.  I'll be at the wheel of course, and sometimes I can provide some sailing instruction or some knots instruction and I just enjoy doing that.  There's a lot of space up here, and we keep their drinks cool here.  Happy Hour space as well, we can do our appetizer here as well, using this space here on this table in the center.    Guests just love the breeze that comes through up here. Typically you can see the view so much better from up here.  The vantage point has lots to offer.  It's a cool spot.
We'll head back down to the cockpit, the aft deck here.  This is where we provide dining for the three main meals each day.  As I said appetizers we typically do upstairs, as long as its not too windy.  But this provides a beautiful setting, big views all around, and good breeze, so it stays nice and comfortable back here for the guests.
From here we'll head inside and Christy will take over.  She says, "Stepping into the salon we have a nice spacious salon.  One of the things I like best about this space is the high ceiling.  We've got the hatches up there that we can open up in addition to the awesome breeze we get from the forward rooms.  It's just a very very comfortable space to hang out during the day.  The table in the salon can fold in for a little more room.  I haven't done too many meals at this table, except for one time we had a rainy day, and I did comfortably sit ten people around this table.
I love my galley.  I especially love it, because it's not a walk through galley, so I have my own space here.  So guests can sit in the salon and hang out and talk with me while I'm prepping food.  Besides the fly bridge, these two bedrooms up here are two favorite things about the boat.  These rooms are unique in that guests who maybe have mobility issues; they don't have to climb as many stairs to get in here.  Or if they feel a little claustrophobic being down below deck, you're up here where you can see everything.  So it's a really nice thing about the Leopard 58s.
We take ten guests, so we have five guest bedrooms.  We have the two up here, and then we'll go down to the starboard side, where we have two more Queen cabins.  Nice and cozy, I would say this is probably the master; they're all pretty similar in size, but this one aft has slightly more closet space.  We've got shelves up here.  The bathroom has a shower and a curtain, so you can look out the window, while you shower.  It's very comfortable, very bright down here, and cool.  Every cabin is air conditioned.
Come up gradually here and let's check out the port side.  You might want to check out the upper room port cabin as well.  They have these doors that slide all the way open right now, but they do have another level; I'll show you.  So you can get a little more privacy here.  The guests can close the doors for complete privacy.  It's nice to be able to open up wide like that.
So let's go down to the port side.  So we have a Queen cabin forward, but currently that's our crew room.  So I'll let you come down and check out the port side aft twin cabin.  This is a really cool feature of this boat too.  I will say that 90% of our charters last season opted for the twin cabin over the Queen crew cabin.  It's good for children who don't want to share a bed, or if you have an odd number of travelers.  Or for couples who don't mind sleeping separately, this room is great for that.  We always check with the guests too though.  If we have five sets of couples who would like Queen beds, we are totally happy to move; we just swap rooms, and we take the twin cabin, but as is now, we're in the forward room.  It just kind of worked out that way.
So that's the majority of the interior, I think.  So we'll sit down and do some interview questions.
Based year round in St. Thomas, SEA ESTA charters for:
$27,000 weekly all inclusive for two to four guests
$27,500 weekly for five guests
$28,000 weekly for six
$28,500 weekly for seven
$29,000 for eight
$29,500 for nine
$30,000 for ten
Rates include food, fuel, bar and dockage – everything – except gratuity.  Christmas and New Years weeks are sold at a premium.
CHRISTMAS/ NEW YEAR'S RATE:
CHRISTMAS: 1-10 pax @ $31,800 – must end no later than 12/26
NEW YEARS: 1-10 pax @ $38,000 – may not start prior to 12/27
SEA ESTA E-Brochure, Photos, Info Sheet, Crew Profile, Sample Menu, Guest Comments, Rates & Bookings
Information believed to be correct but Nicholsons cannot be responsible for accurate information.  Please consult SEA ESTA E-Brochure for details.