SEVEN SINS

138' Heesen (Holland)
High Rate: € 137,000 weekly All Inclusive
Low Rate: € 125,000 weekly All Inclusive
Cabin Configuration:
3 Doubles, 2 Twins - 3 Full Beam Cabins plus Two Twins - The Master cabin and Full-Beam VIP cabins are located on the main deck; the third Full Beam is located on the accommodation deck, along with the 2 Twin cabins. The Full beam VIP cabin on deck has a couch that pulls out to a single berth. All Cabins have En-Suite bathroom.
Specifications:
Length:
Builder:
Built/Refit:
Regions Available:
Locations It Travels:





Special Features:
138'
Heesen (Holland)
2005/2015
Antigua West Indies, Cannes France




Extended by 2.5m - more deck space - refurbished owner's cabin
Finalist at World Superyacht Awards in Refit category
Huge selection of water toys including floating trampoline and two Seabobs
Upper deck dining for 12 and a table for 10 on the sun deck
Stabilizers
Air Conditioned
WiFi
Approved RYA Water Sports Center
Water Toys
21'Castoldi jet propulsion Tender 260 HP• 2x SeaDoo Spark 2015• 2x Seabob F5 from 2015• 1x Jobe Wakeboard• 2x Pairs of Waterskis• 10x Sets of Snorkelling Equipment• 2x Sets of Junior Snorkelling Equipment• 1x Sevylor Banana for kids• 1x Sevylor Banana for Adults• Assorted Beach Games• 2x inflatable Canoes from 2015• 1x inflatable Trampoline• 2x inflatable Donuts• 1x Paddle board
Have a Question About This Yacht?
Fill out the form below and we will get back to you quickly!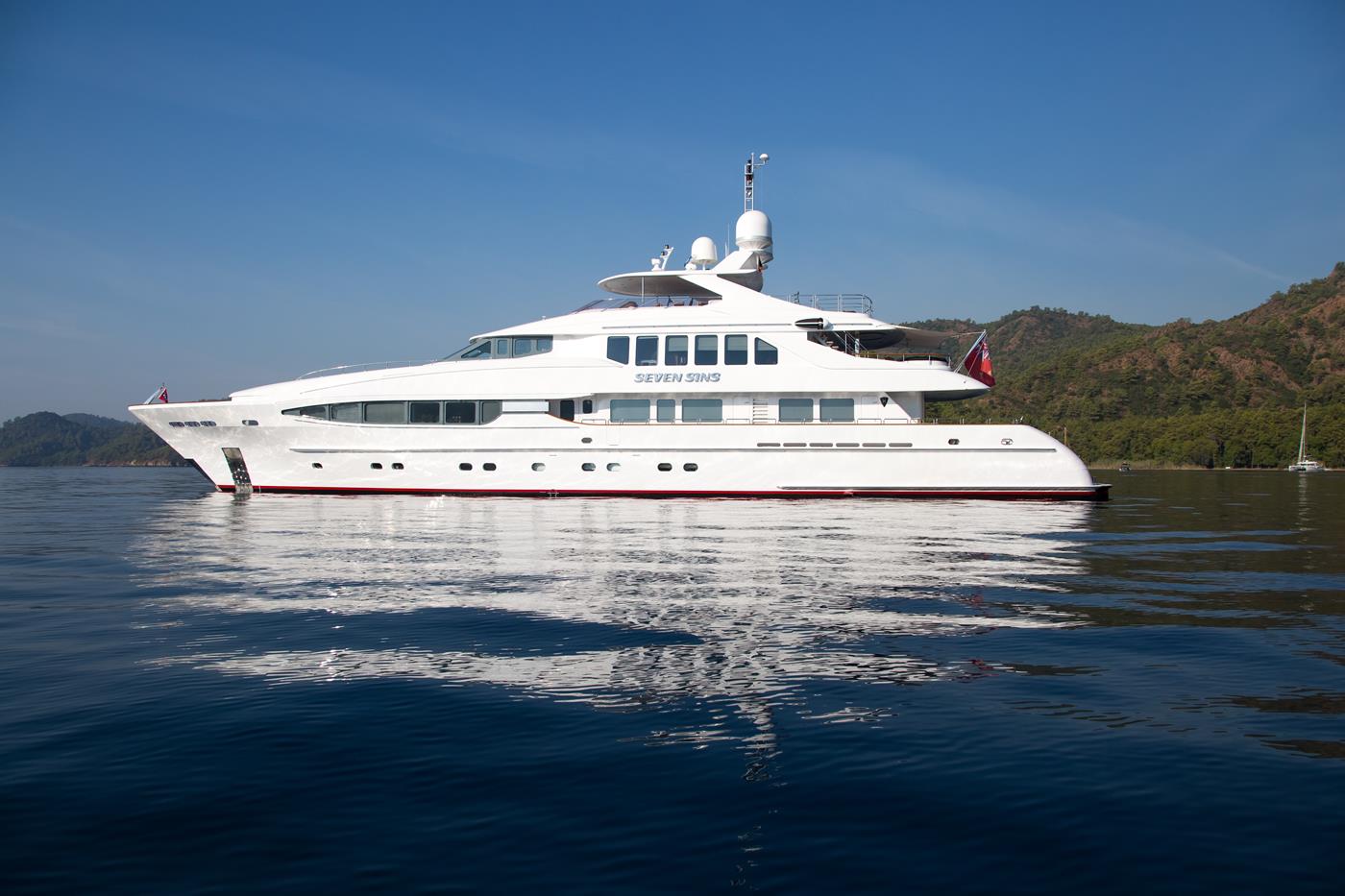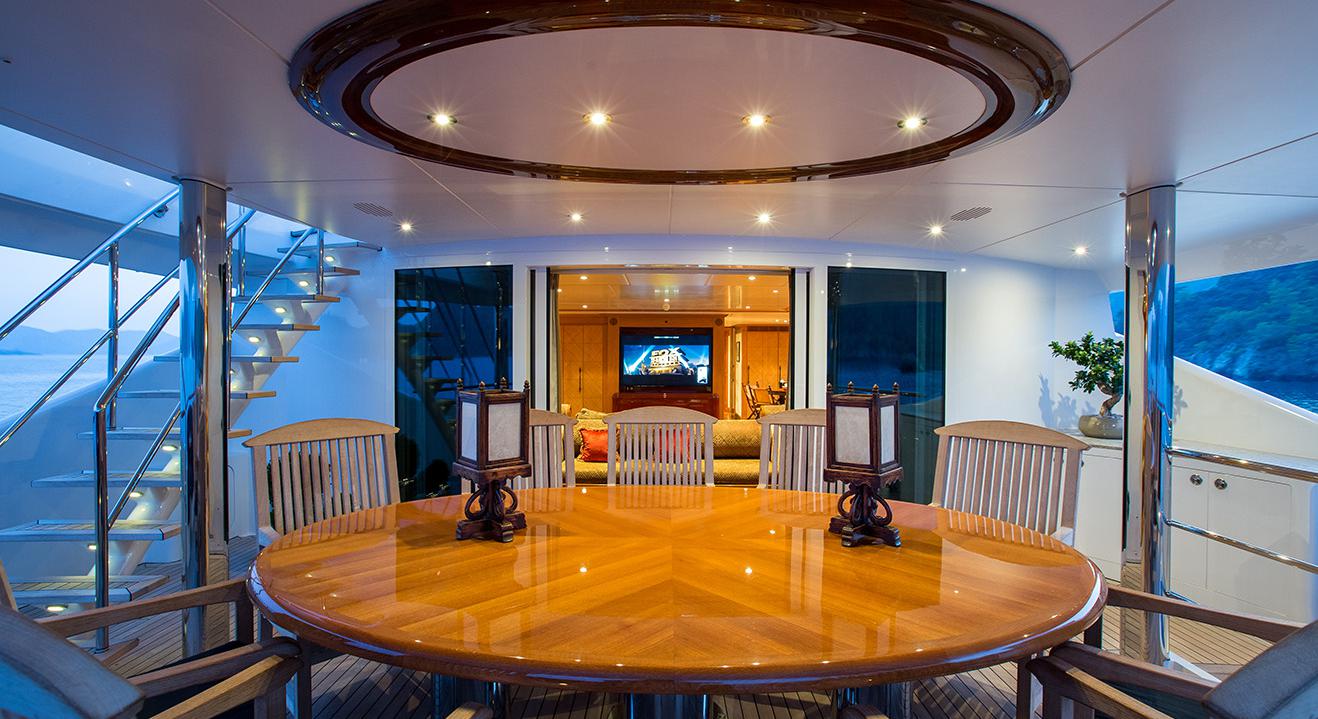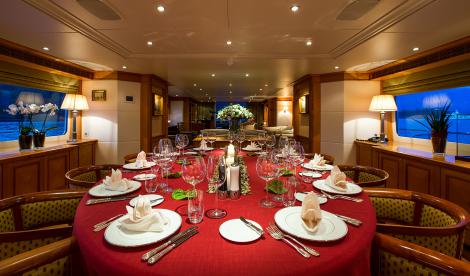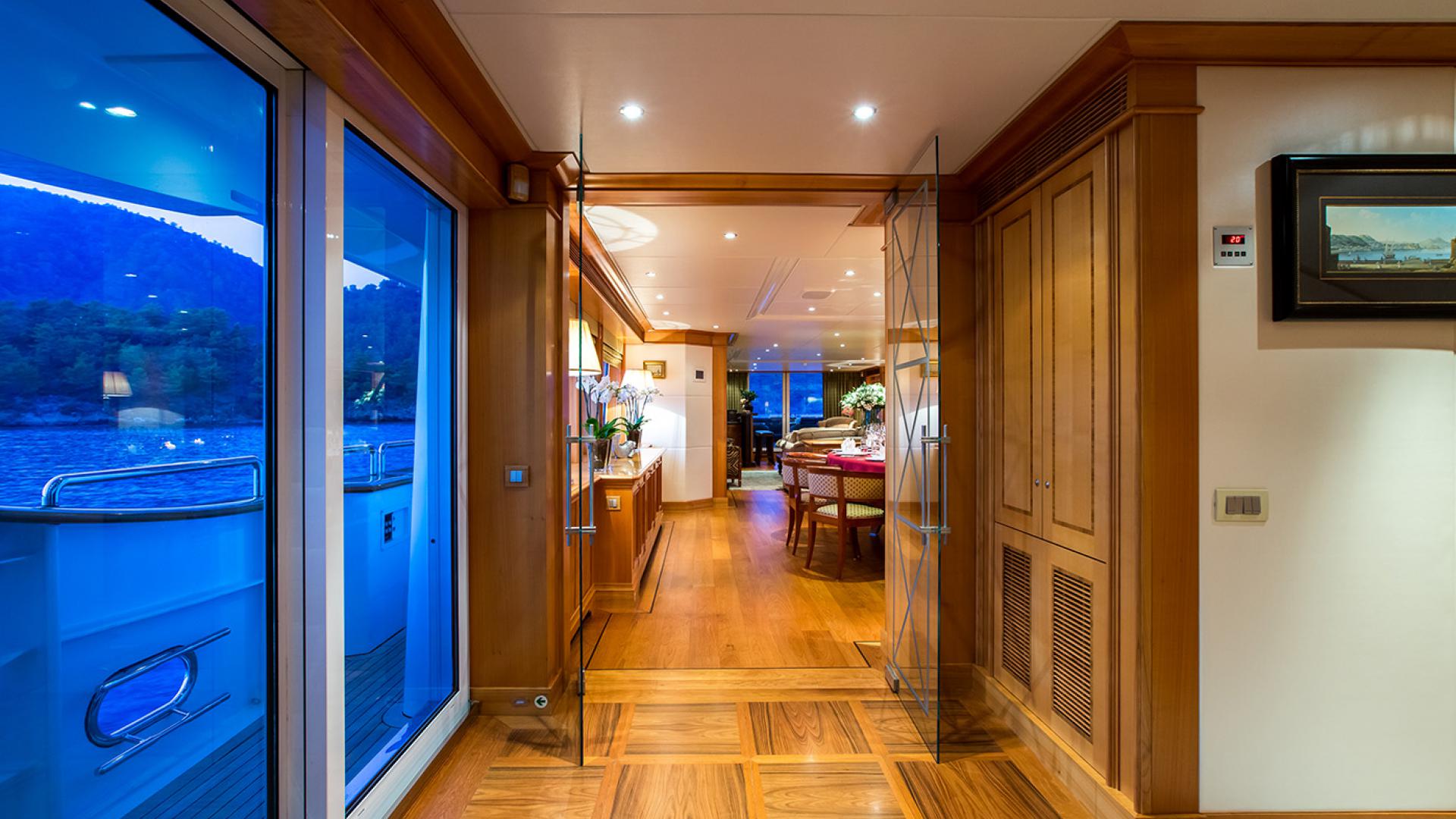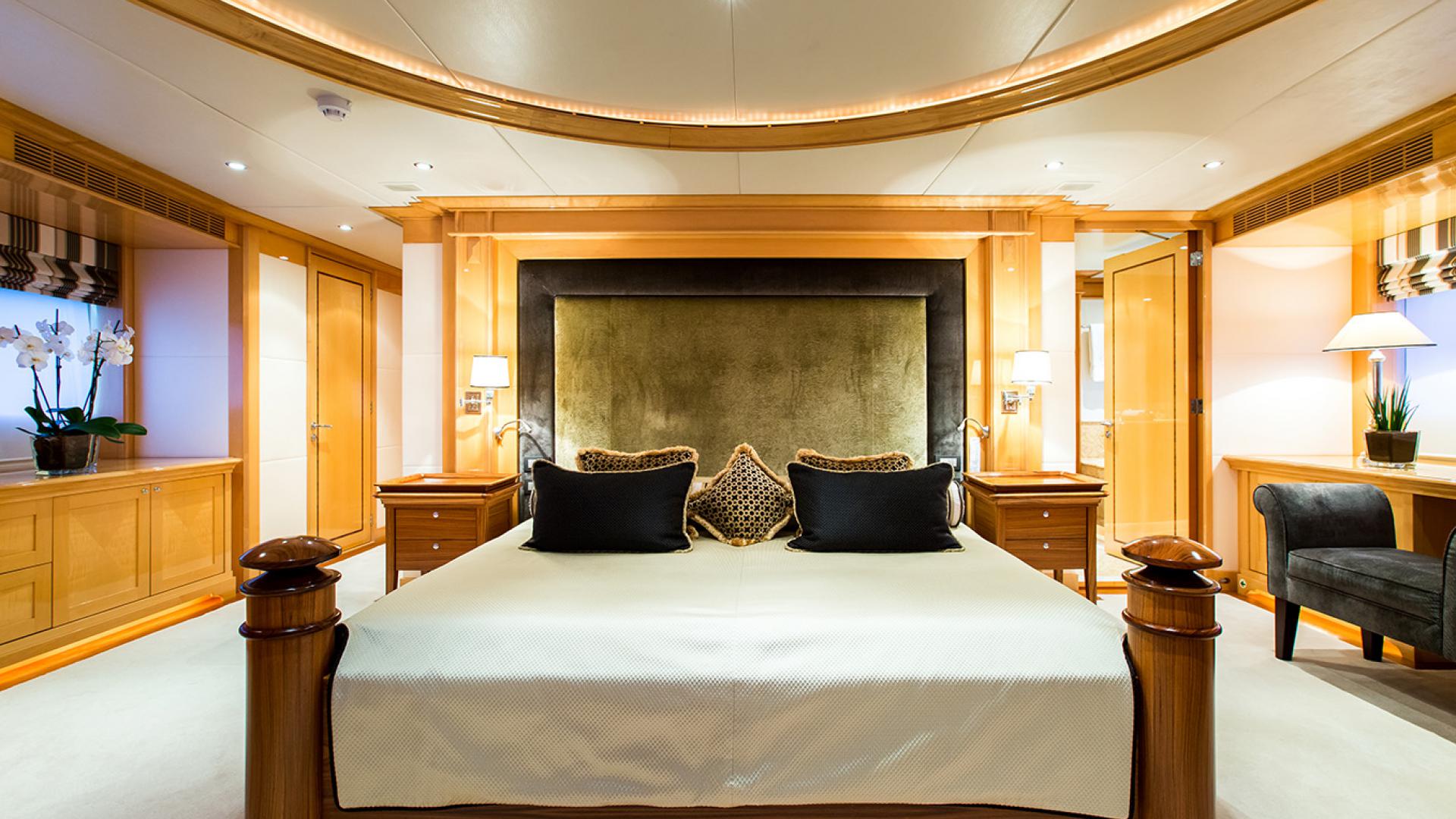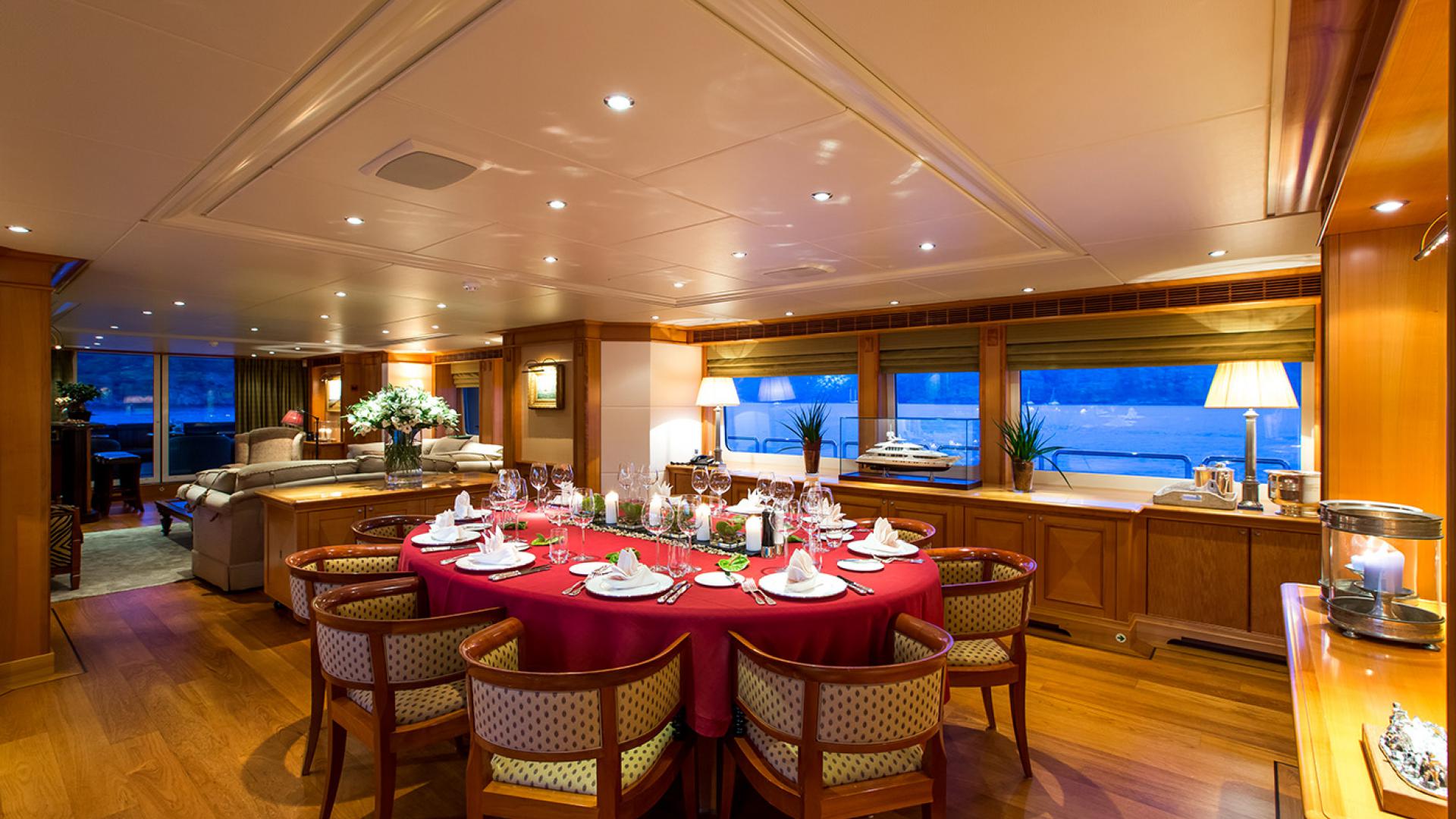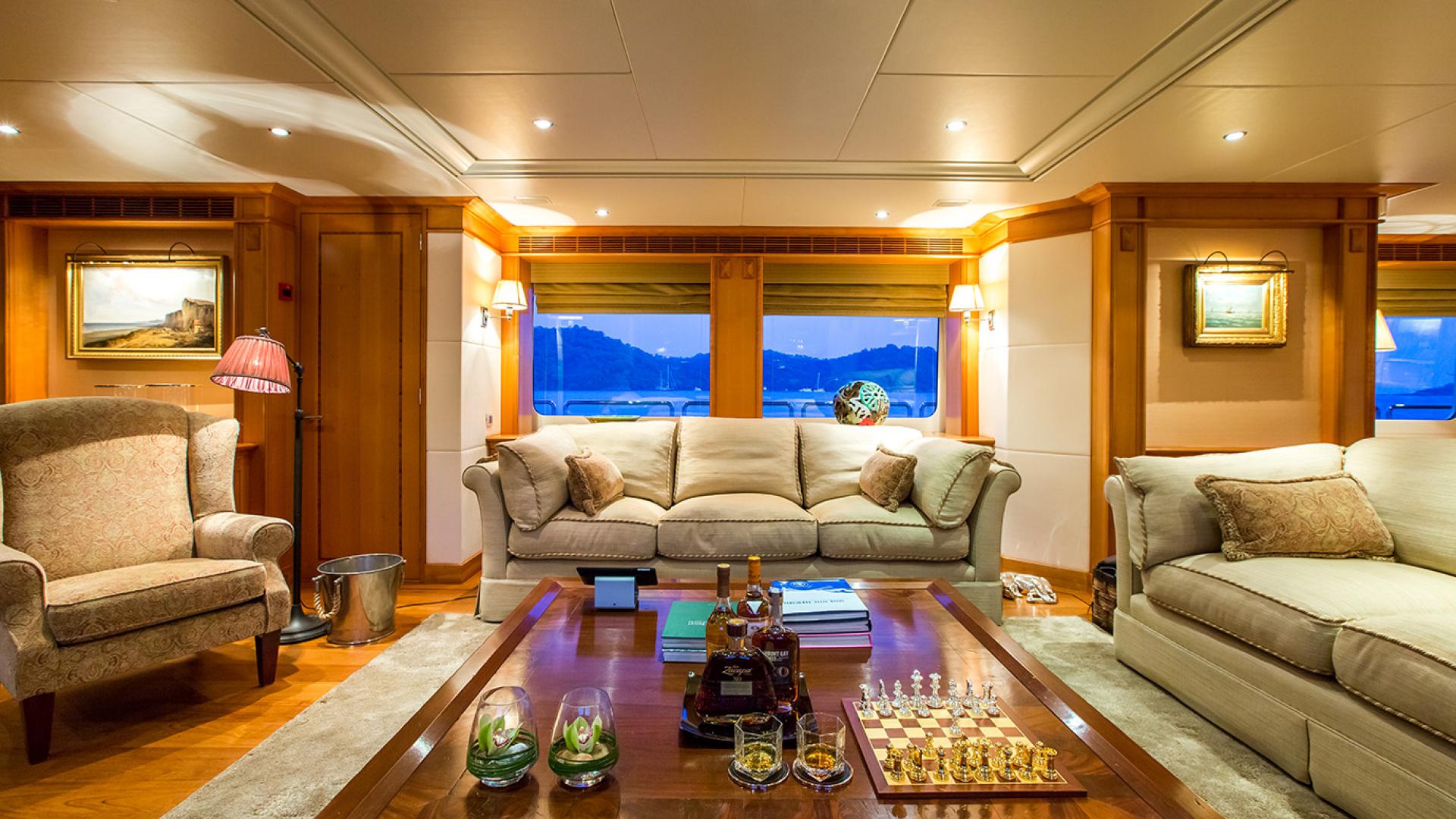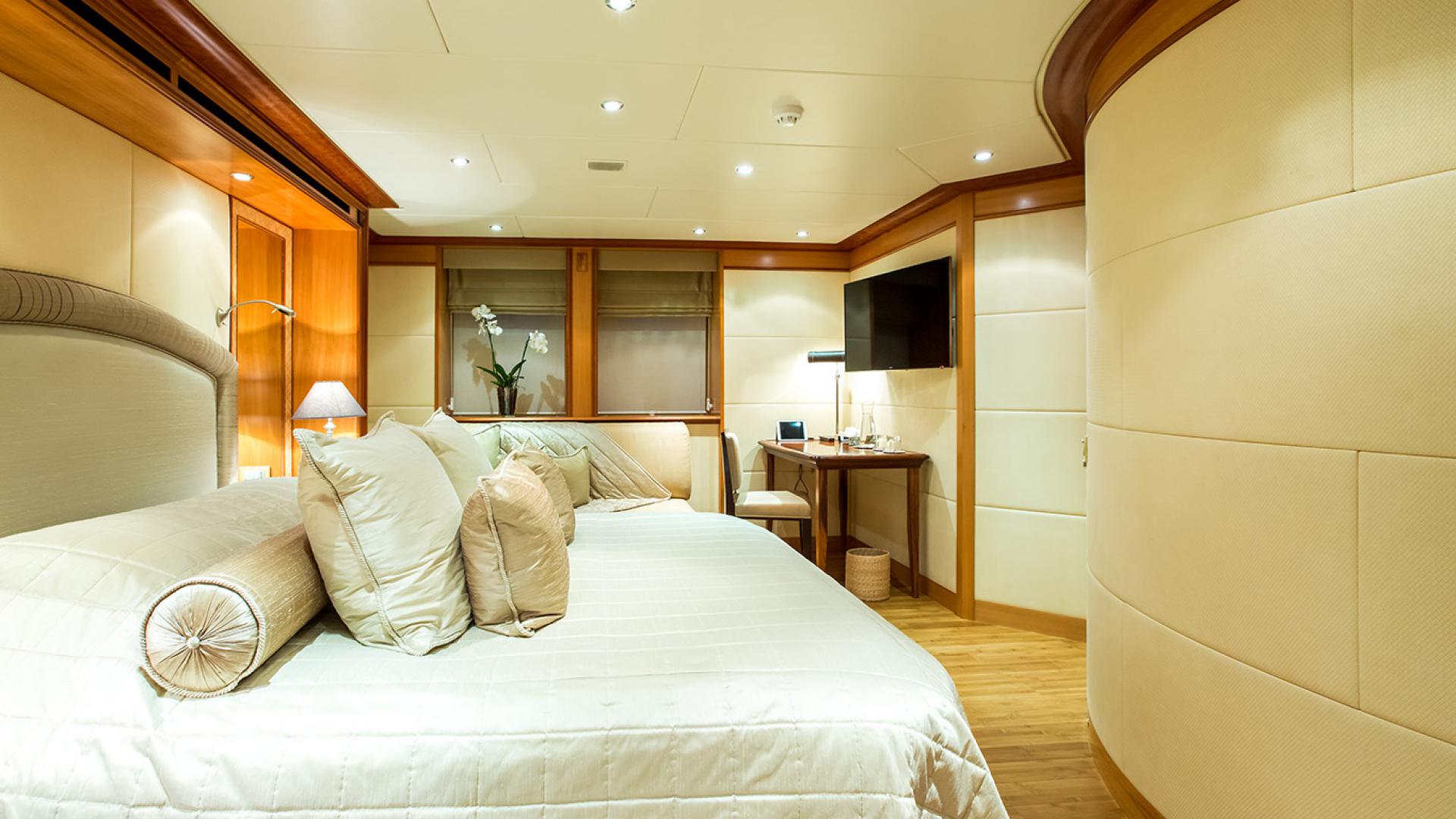 Description:
It's not often you find a yacht with full beam cabins, but SEVEN SINS has three of them, two located on the main deck and one located below, making her ideal for three couples.  Families of nine to eleven can also be accommodated, in that there are two additional twin cabins, and the 'on-deck' VIP cabin has a couch that converts to a single berth.  Two nice things about SEVEN SINS are her modern Asian appointments and her low weekly rate, which, considering her size – 138 feet – and relatively young age – built in 2005 – and refit in 2015, which extended her waterline 8 feet for better fuel consumption – isn't bad.
SEVEN SINS has just returned from the South Pacific in 2016, and following the Winter of 2017, she will be available for charter in the Western Mediterranean. SEVEN SINS crew of 8 are as nice as they can be and hail from France and Europe and have fine credentials.  Captain Xavier Penez has years and years of merchant marine experience and aims to welcome guests warmly aboard; Chef Meni Olds from Colombia has been professionally culinary trained in Thailand, certified in Vegan Gastronomy and recently completed the prestigious Ships Cook Certificate in France.Her specialty is fish and Asian-Caribbean fusion with an emphasis on gourmet healthy meals with a twist of comfort. She is pleased to cook delicious dishes for You and happy to tailor menus according to your personal preference catering to any dietary needs: Gluten Free-Vegan-Vegetarian-Paleo-Sulfite/Nitrate etc … The chief steward and stewardess are both long time hands aboard SEVEN SINS, as well as personnel from the QE II.  Stewardess Nel is a trainer in 5-star service.
The feeling that you get when you go aboard SEVEN SINS is that you like her.  The floors in the saloon are wood, and this spacious room also has zebra-pattered arm chairs for a folksie feel.  Up in the sky lounge, three couches wrap around four rustic mahogany coffee tables.  One couch reclines for watching television, and both upper and lower dec saloons open to aft decks.  The sky lounge doors to the aft deck are curved, push-button glass doors, which let in lots of light.  Dining is done mostly on the bridge deck aft, but there is a dining room forward of the main saloon, plus there's a table for ten on the sun deck, which is a glorious space, complete with Jacuzzi, grill, sunbeds forward and aft, and gym equipment.
SEVEN SINS' interior detailing is worth mentioning.  The on-deck master with office has all new soft furnishings; it's now done in creams and blacks and has a textured headboard and tray ceiling. The bed faces forward through windows that look out over the bow.  There's a TV, make up vanity, and an onyx bathroom with glass shower, plus tub and walk-in wardrobe.  The full-beam cabin on the accommodation deck has a jet tub and the twin cabins have superb Asian accents and crisp white sheets.  SEVEN SINS has one of the most pleasing decors we know.
Please enquire for a copy of the yacht's PHOTO PRESENTATION PDF and CREW PROFILE 2017
Please see the feedback and a personal 'Thanks' to the Owner from the Client who has just finished his charter in French Polynesia:
"Dear (Owner's name),
You don't know me but, although we have never met, I think I know more than a little about you.
I just finished a charter of the M/Y Seven Sins in French Polynesia. And based on everything I saw and experienced on your boat and with your crew tells me that you not only have fine taste, but you have the same eye for quality and pay the same attention to detail that I try to do in my own projects.
I develop, own and operate retail and mixed use real estate projects in the Dallas, Texas area. And though it drives many around me crazy, I can't rest unless every element of my project is perfect… from the design, to the construction, to the finishes and materials, to the retail and restaurant tenants [and their own design and finishes!], and beyond.
On the Seven Sins, I saw that same unwillingness to accept "good enough" or live with  things that work "pretty well". I'll be honest…I looked hard to find flaws, problems or issues…. not so that I could complain, but rather because I just can't help myself! It's who I am and it's what I do! And I can tell from what I saw… it is who you are too!
I am pleased to report to you that every aspect of your vessel and your crew were, in a word, impeccable. Beyond all of my very high expectations in every way.
This email is simply to say "thank you" for sharing your vessel and its able and charming crew with us. and I hope I'll get the chance to spend some more time on her perhaps again in the South Pacific or perhaps in the Caribbean.
Thanks again,
(Client's name)"