TIME OUT SCUBA DO

45' Lagoon
High Rate: $ 18,000 weekly All Inclusive
Low Rate: $ 15,000 weekly All Inclusive
Cabin Configuration:
Sleeps 6 guests in 3 staterooms, all identical, two aft and one forward, all with Queen size berth, private bathroom, and AC controls. The crew sleep forward to port.
Specifications:
Length:
Builder:
Built/Refit:
Beam:
Draft:
Regions Available:
Locations It Travels:





Special Features:
45'
Lagoon
2017
25'
5'
St, Thomas




Special Diets
Equal Cabins
Cute young crew
Scuba Diving for Certified divers
dinghy missions
fishing
Water Toys
12' tender with 15 hp outboard
tube
floating mats
stand up paddle boards
fishing gear
two rods
USVI fishing permit only
onboard scuba diving
captain is a dive master
guests must be certified to dive
Resort course is offered to beginner divers for $150 plus instructor
3 guided dives included for certified divers
extra dives are $25/person/diver
6 sets of scuba gear are included
must fill tanks ashore
onboard Wi-Fi
fully air conditioned
generators
sun awning
Have a Question About This Yacht?
Fill out the form below and we will get back to you quickly!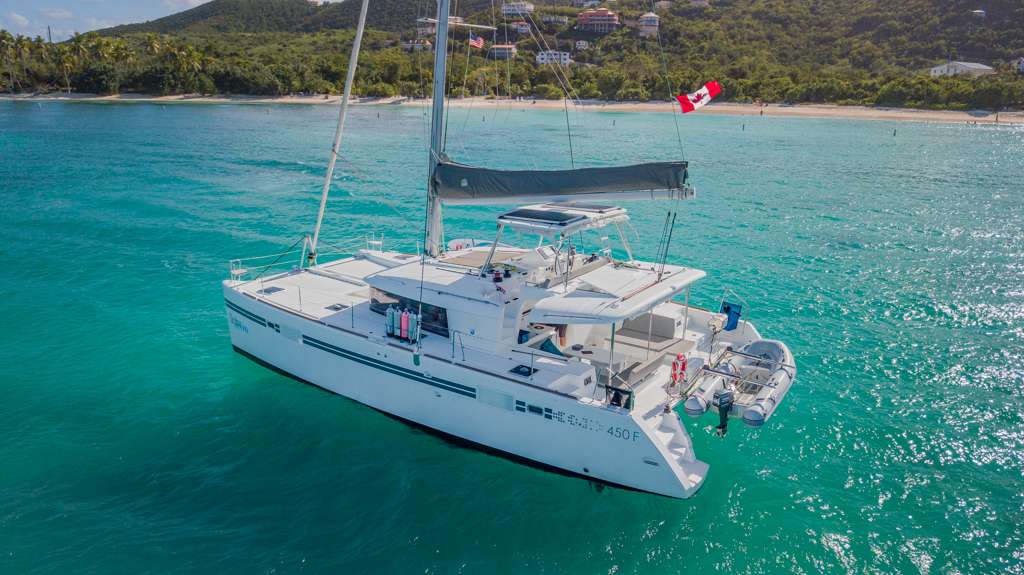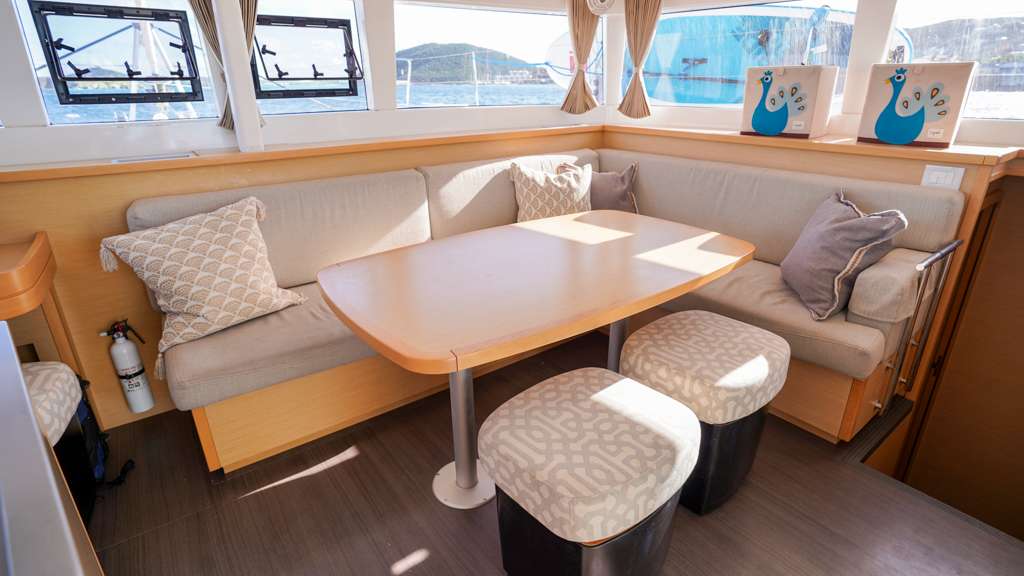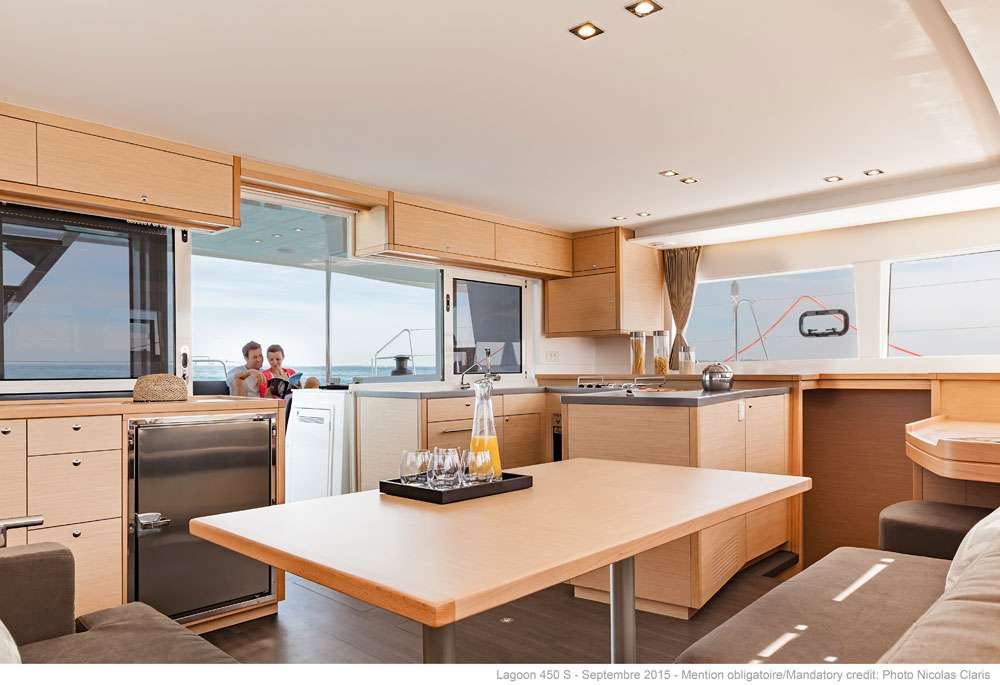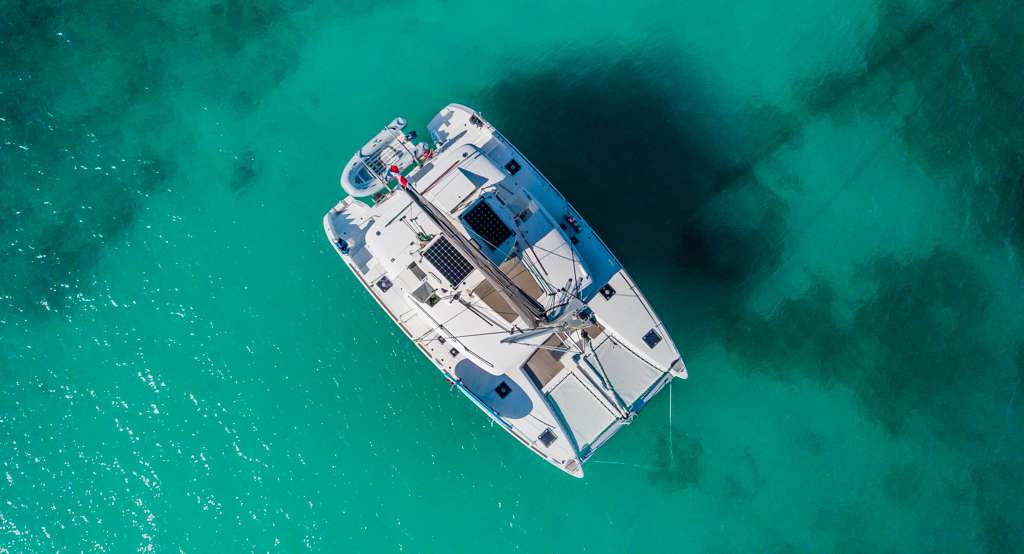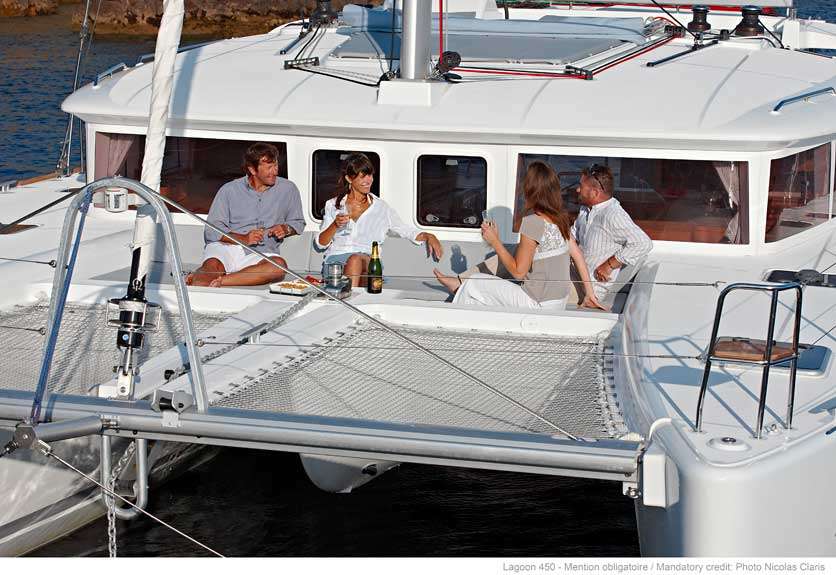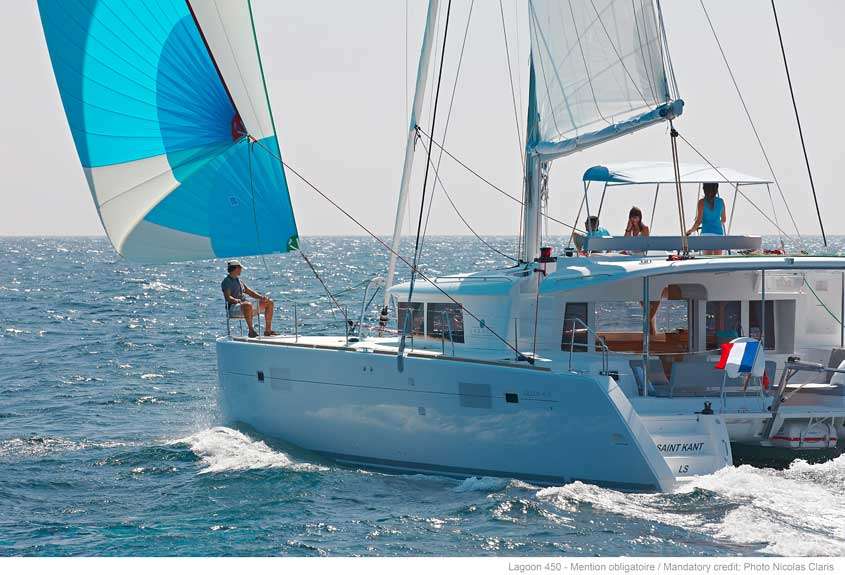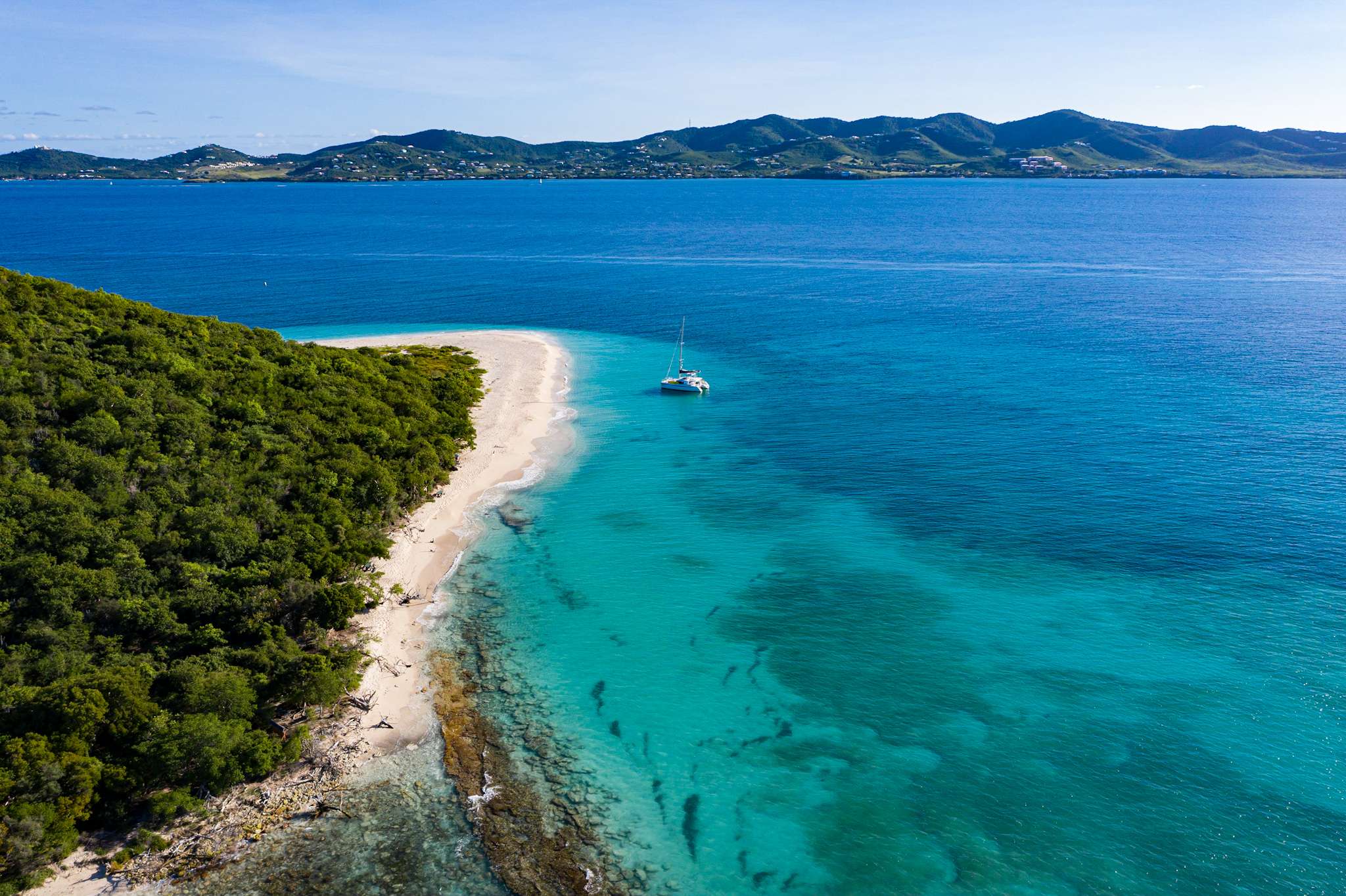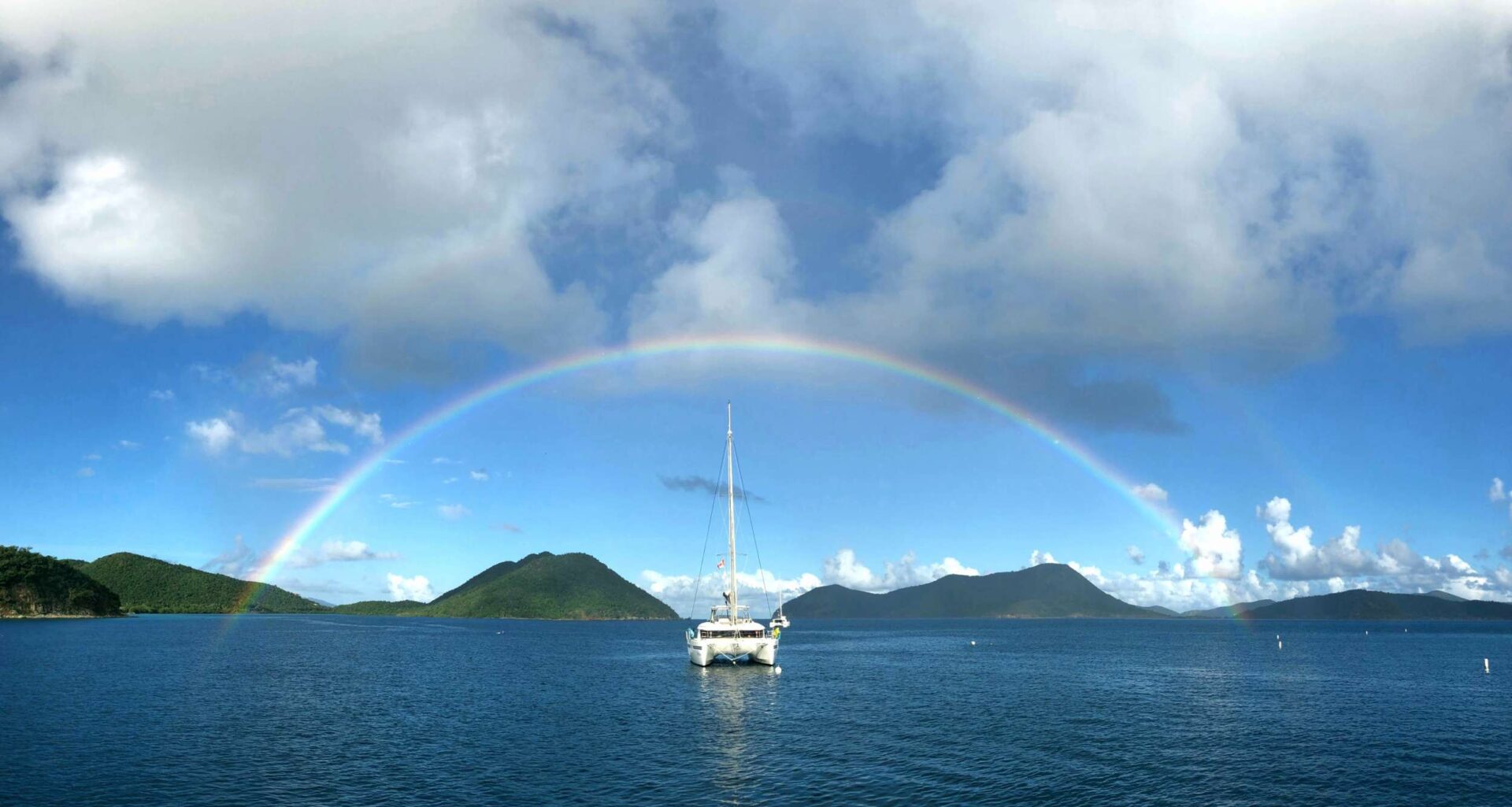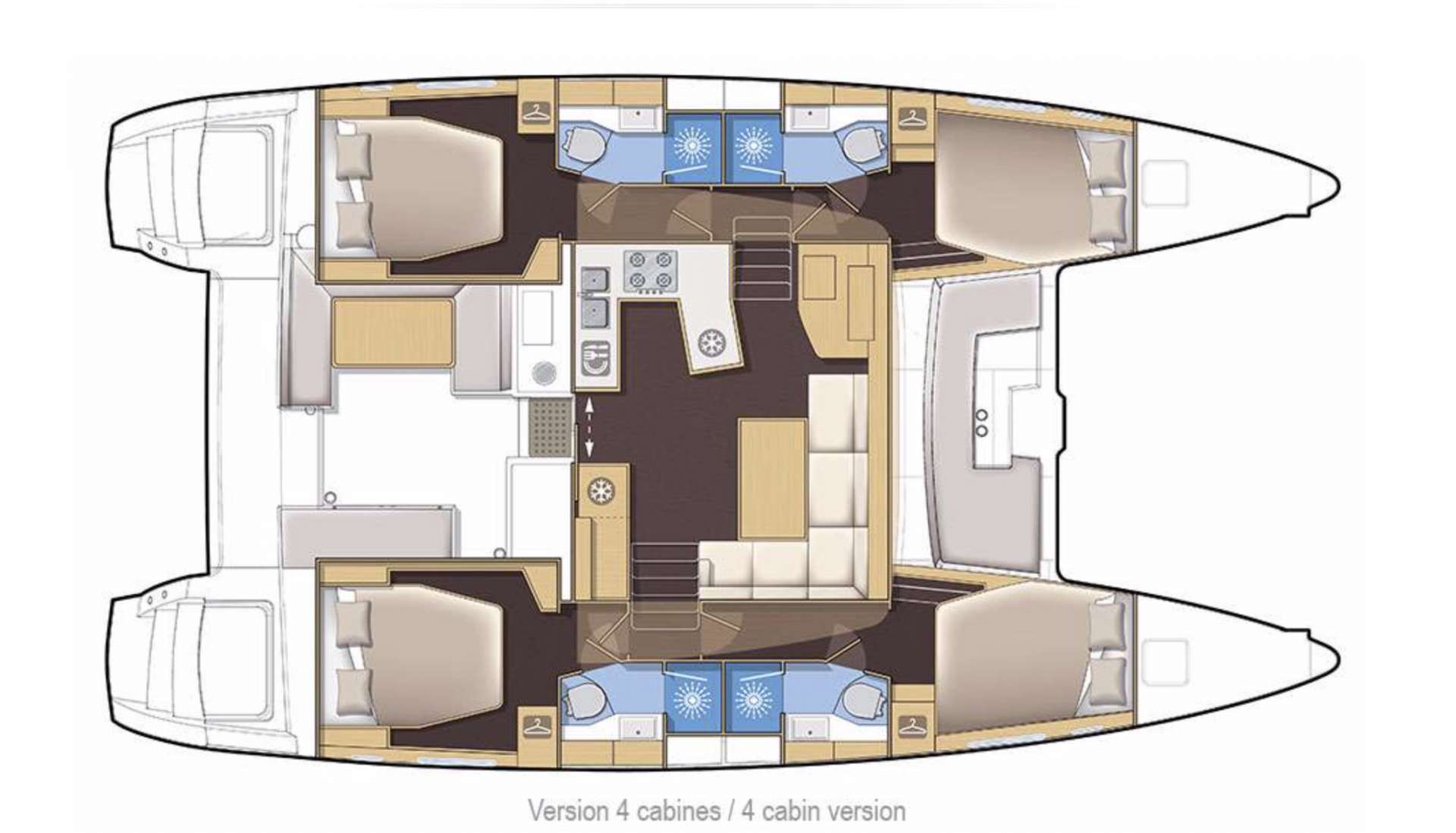 Description:
Hello.  I'm Brian Keoski and this is Patti Burns."  A cute young American couple in their early thirties.  Brian grew up in St. Croix and has a flock of long blond hair and beard, perfect for family charters. "We're going to show you the yacht," he said.  "Let's start in the bow.  We'll show you some of the toys first. Starting off, we have this kayak.  People love kayaking.  It's such an easy way to get around in some of these calm bays, and you can see all the fish in the water; it's so crystal clear.
"We do a lot of diving," he said.  "We have eight dive tanks; the rest are stored under the deck there.  I'm a Padi Dive master, so I love taking people diving; it's such a nice way to experience the Virgin Islands.  Most of the beauty is underneath the water, in my opinion.
Here are the paddle boards we have.  Again, a nice easy way to get around and explore a little bit.
People love laying on these nets, especially when we're underway.  You can lay here, read a book, get some sun.  Some of our adventurous guests love it when it's a little bit rough out and they get splashed with the water, it's like splashdom," he said.
"We have a little seating area up here next to the trampolines.  It's another great spot just to hang out – cocktail hour at the end of the day, read a book.  People spend a lot of time up here.  These windows open up right here, so it's really easy to serve snacks and drinks through the window.
We have a sun pad on the fly bridge, which is another awesome area for people to lay out and get some sun when we're sailing.  Depending on which way we're tacking, half of its shaded and the other half isn't.  It's funny to watch people roll around as the shade changes.
Let's go up to our helm.  This is the operation station up here, my favorite part of the boat, of course.  Plenty of room up here for guests to sit up here.  A lot of our guests want to be interactive with us, and they like to learn how to sail.  So it's cool to show everybody how we do things.
We're on a boat, so obviously we've got to have the fishing pole, especially running between here, St. John and St. Croix; you get that south chop and you can catch everything out there; you get wahoo, tuna, mahi mahi, and then we cook fresh fish for dinner, which is awesome.  You can't go wrong with that.
Here's our dinghy; it's the perfect size to get people around.  We go on dinghy missions, find some cool spots you wouldn't normally get to go up close with the big boat, of course.
Here's the grill master station.  I'm in charge of the grilling.  We cook steaks, burgers, chicken, fish.  It's all good.
And then here finally is our aft deck.  We do all of our dining outside unless the weather's bad, but it's the Virgin Islands, so the weather is usually good.  We have plenty of room for people to sit, space out, have a nice meal with a nice view.
The bar is set up here, and here's a shelf where everybody puts their cameras, phones, when they're up here in the cockpit.
Let's move the party inside, shall we?
Hello, I'm Patti.  Let me take you inside.:"  A cute young girl in shorts and a bando, she doesn't look much beyond twenty, but she has a lot of experience.  "Over here we have our galley, a nice little set up….  We have our lounging area over here.  If you want to read a book, go ahead and grab one, move in here and hang out, read a bit.
I'm going to take you down stairs to the starboard pontoon.  So here's a room in here.  We've got natural light coming in.  It's quite nice.  Extra memory foam padded Queen beds, super comfy.  And then to the head; we've got a nice bathroom going on here, a lot of space, plenty of space to put your make up or products, whatever you need. We've got our shampoo, conditioner, and body wash in here, so you're all set up.
We'll move to the starboard aft cabin.  Same in here, nice natural light, bedding, plenty of space, more space in these cupboards, another drawer.  Here's the other head, nice and spacious.
Now for the port aft bedroom.  It's a mirror image of the starboard aft bedroom.  Here she is, Patti calls….  And then also behind this door is a nice little window, so you can look out while we're sailing.  It's fun watch the water swoosh by.  Here's another bathroom.
Patting the door to the forward port cabin, Patti said, "This is me and Brian."
Returning to the main salon, she said, "I think that's about it for the inside."  Please watch Patti and Brian's crew interview here. They're going to tell you so much more about themselves than what's here.
Based in St. Thomas, TIME OUT charters for $15,000 weekly all inclusive for two guests, $15,750 for three, $16,500 for four, $17,250 for five, and $18,000 for six.  Rates include food, fuel, bar, and dockage – everything except gratuity.  Christmas and New Years are sold at a premium.
HOLIDAYS:
2020
Christmas Flat Rate $20,000 St Thomas pick up and drop off. 7 night minimum. Charter must end on or before 12/26/2021
New Years Flat Rate $23,500 St Thomas pick up. 7 night minimum. Charter must start no earlier than 12/27/2021
SCUBA DOO 450 CREW-Guided Video Walkthrough
TIME OUT's E-brochure, PHotos, Crew Profile, Sample Menu, Rates & Bookings
Information believed correct but Nicholsons cannot be responsible for content.