TOUCH THE SKY

58' Leopard
High Rate: $ 29,000 weekly All Inclusive
Low Rate: $ 26,000 weekly All Inclusive
Cabin Configuration:
Sleeps 10 in 5 cabins, two identical main deck Queens with balcony and windows, two to starboard below each with queen berth, and 1 Twin aft to port, all with private bathrooms, stall showers, AC, and Wi-Fi. The crew sleep forward to port and will swap the Queen for the Twin, if guests require.
Specifications:
Length:
Builder:
Built/Refit:
Beam:
Draft:
Regions Available:
Locations It Travels:





Special Features:
58'
Leopard
2013
28'
5'8"
St. Thomas




SCUBA diving with 2 Padi dive instructors
Ten Guests accommodated
15' Highfield Rib center console tender with 50 hp outboard
Organic produce when available
Water Toys
15' Highfield Rib center console tender with 50 hp outboard seats six
adult and children's water skis
snorkel gear
tube
wake board
1 2-person kayak
2 stand up paddle boards
trolling and spinning fishing gear
onboard SCUBA with two dive instructors for up to six guests - 4 dives a week max at $35/diver/dive- guests rent equipment and pay for tank refills
Have a Question About This Yacht?
Fill out the form below and we will get back to you quickly!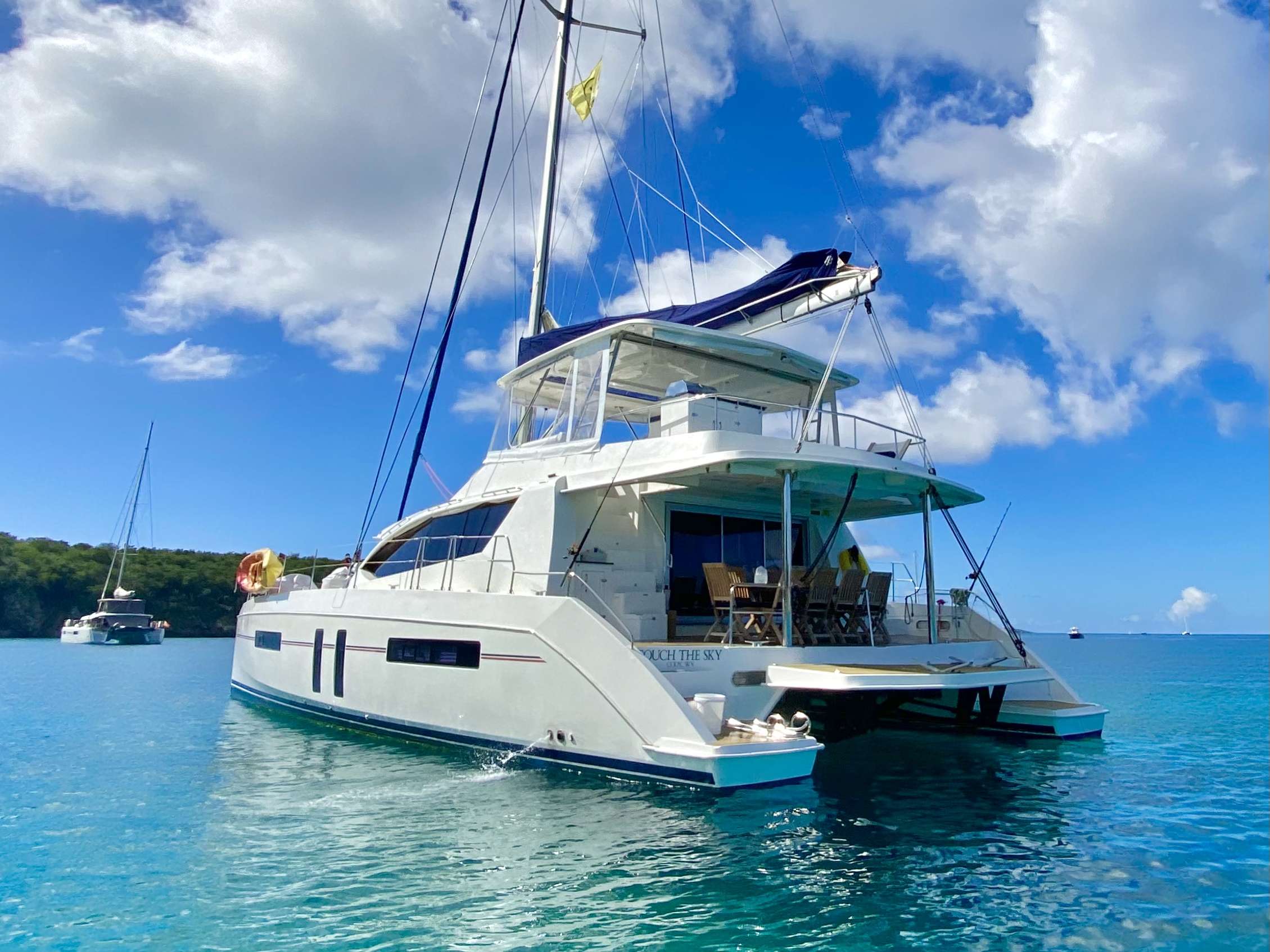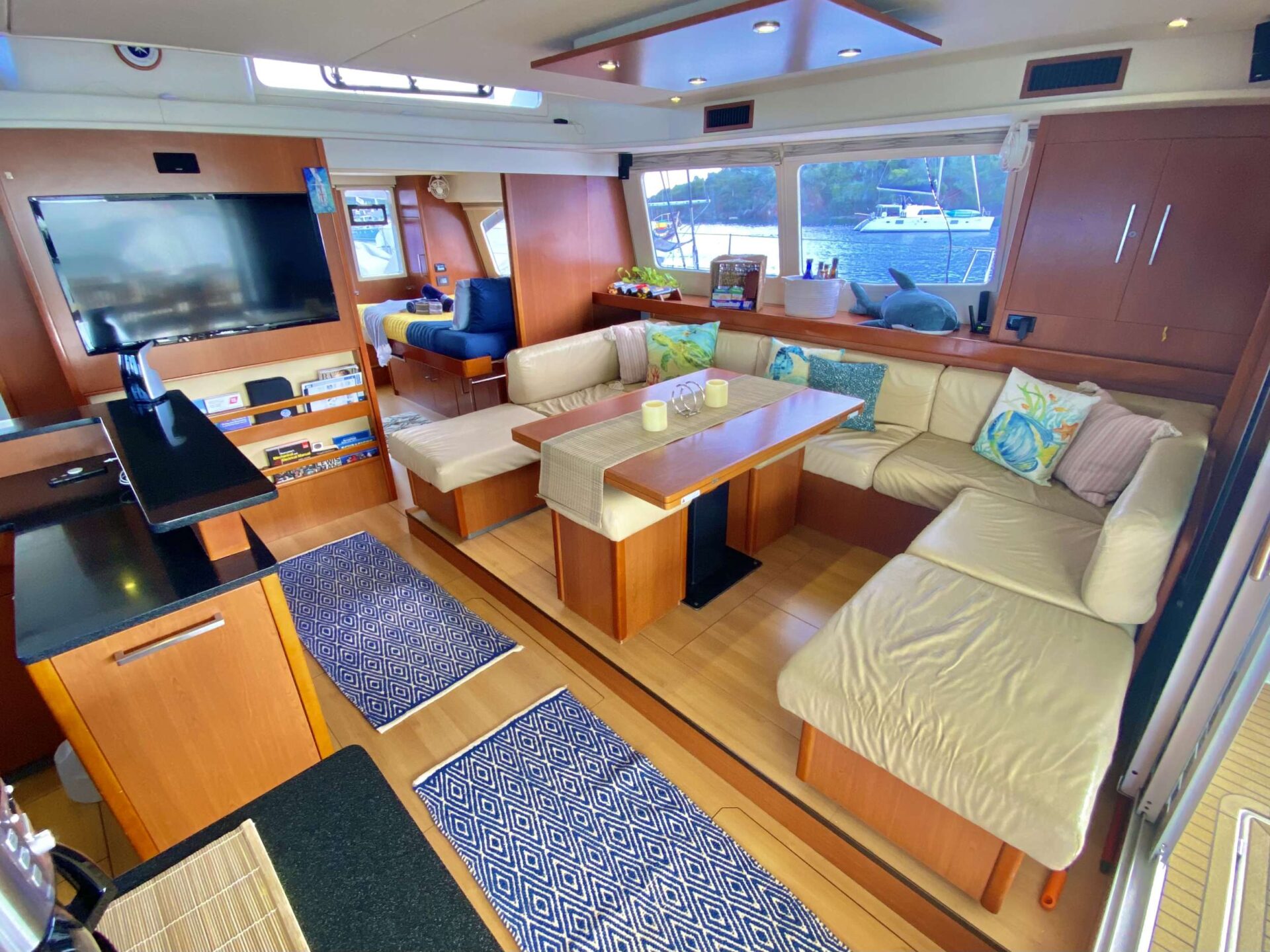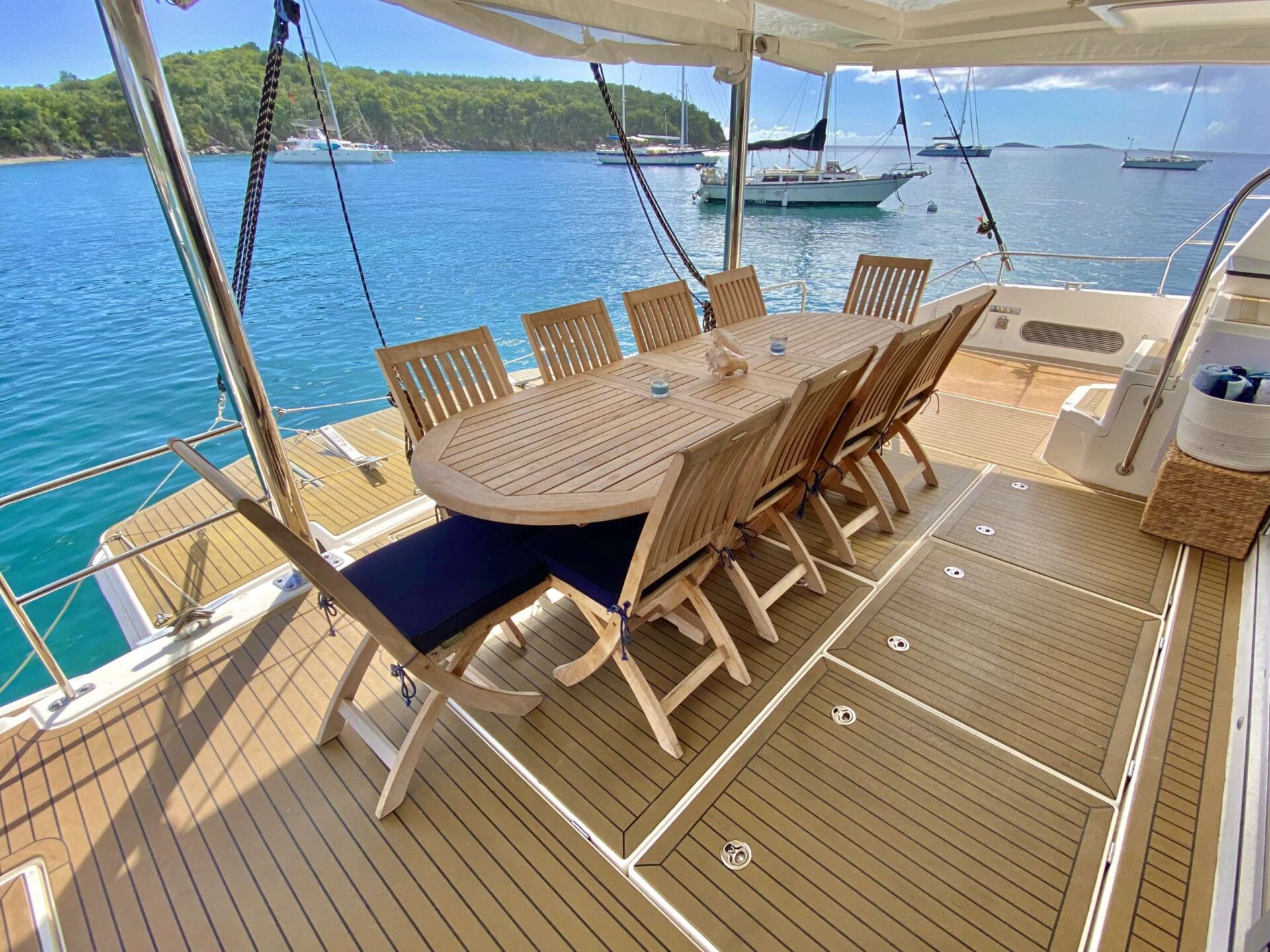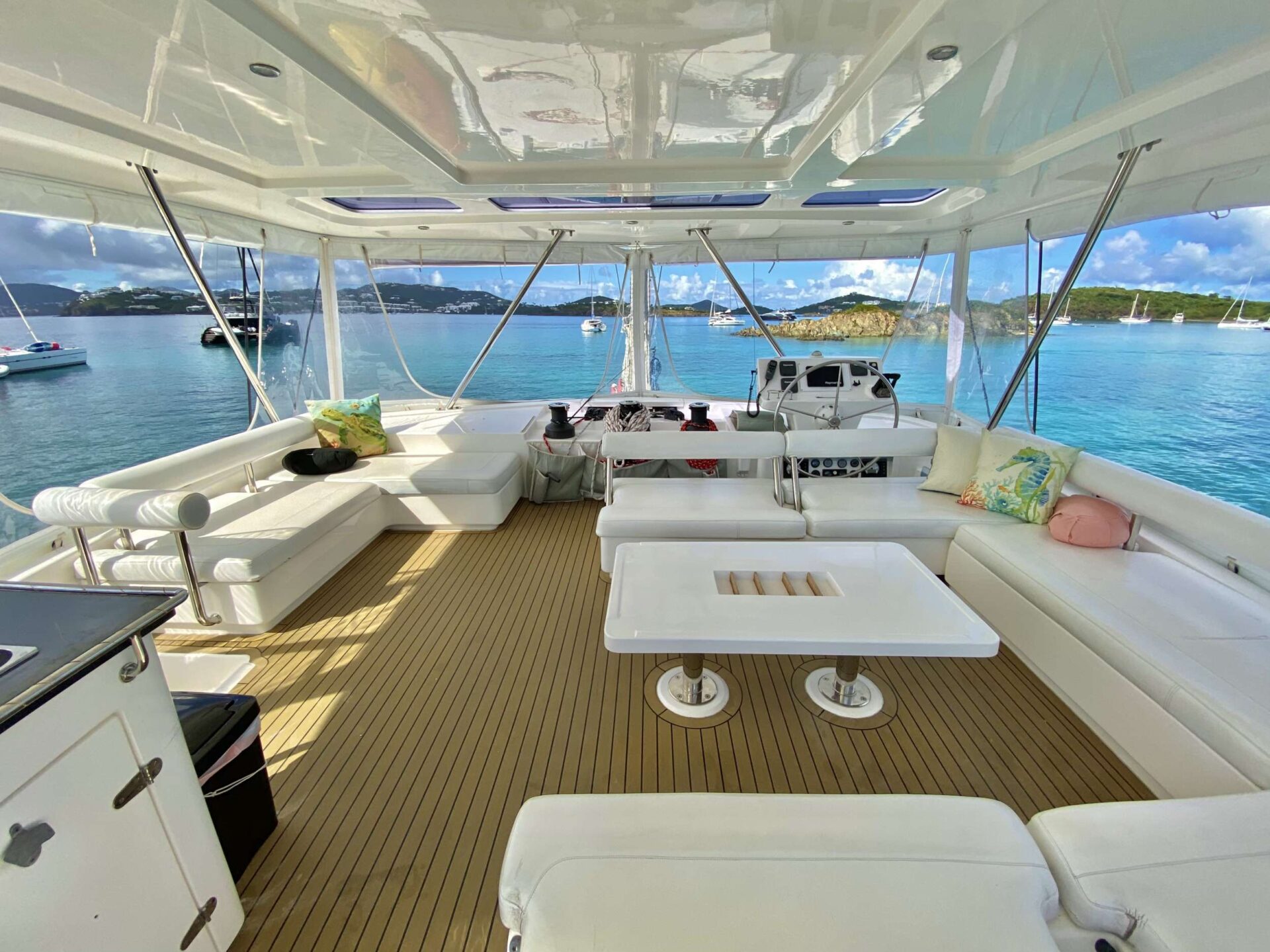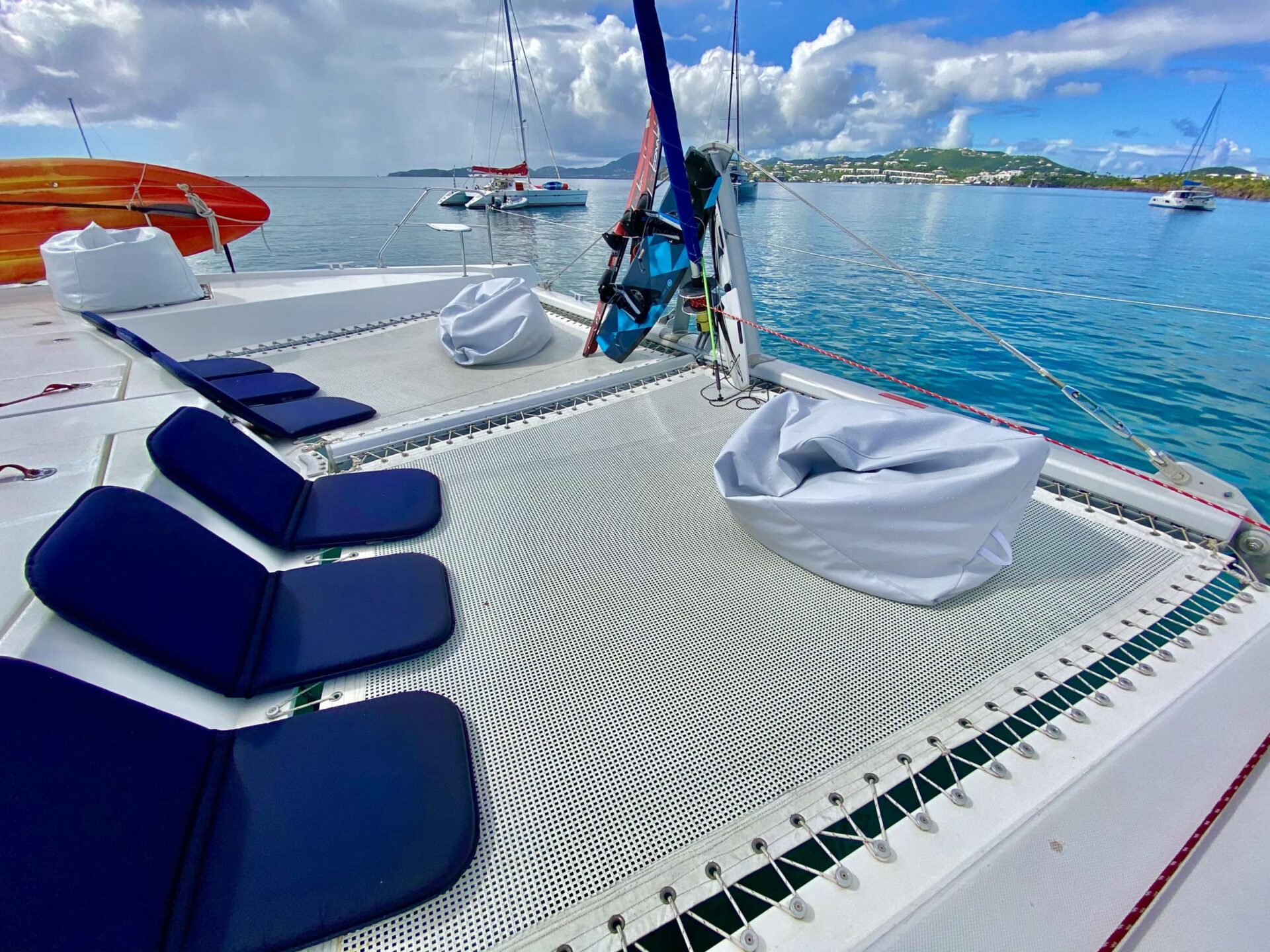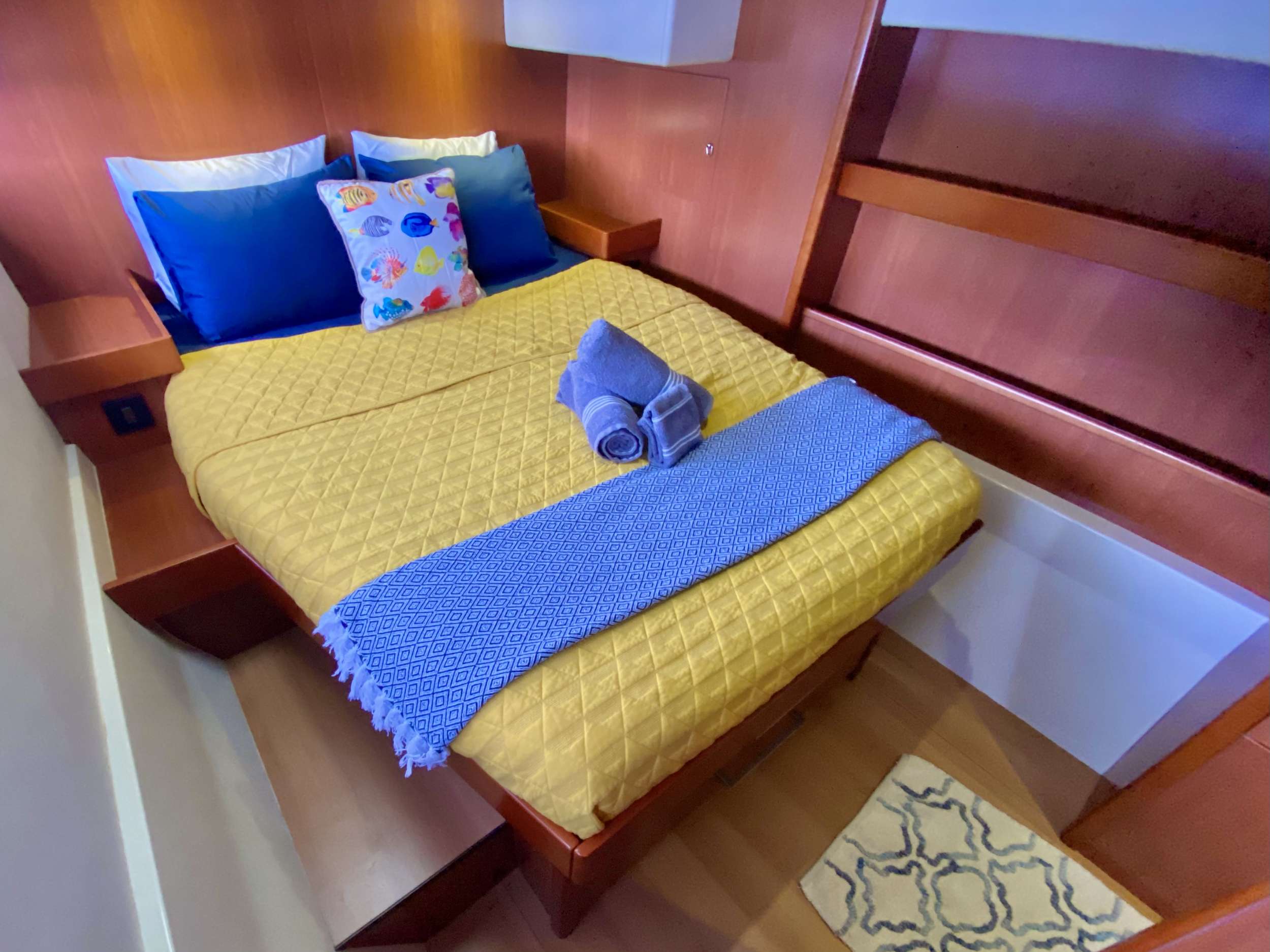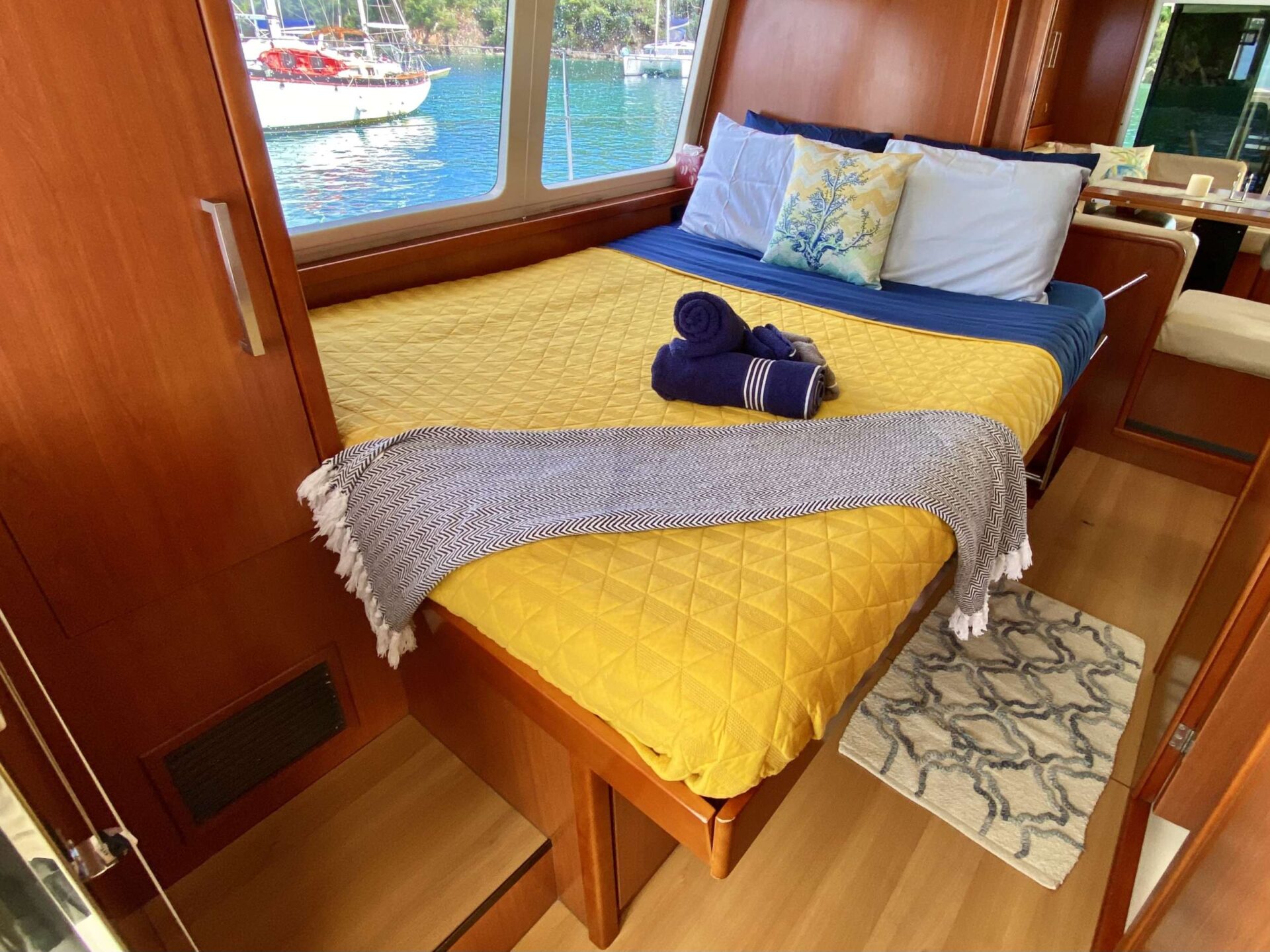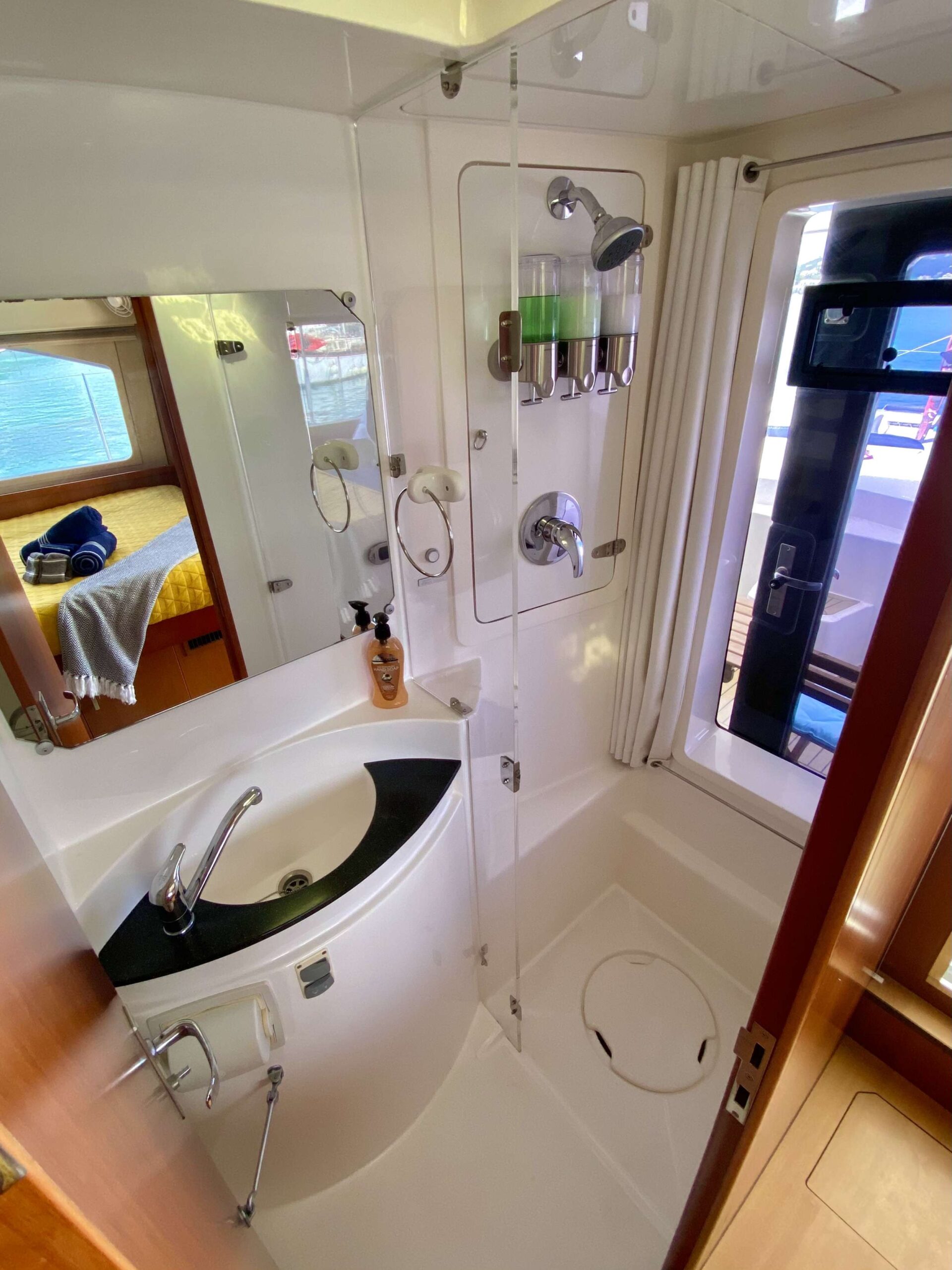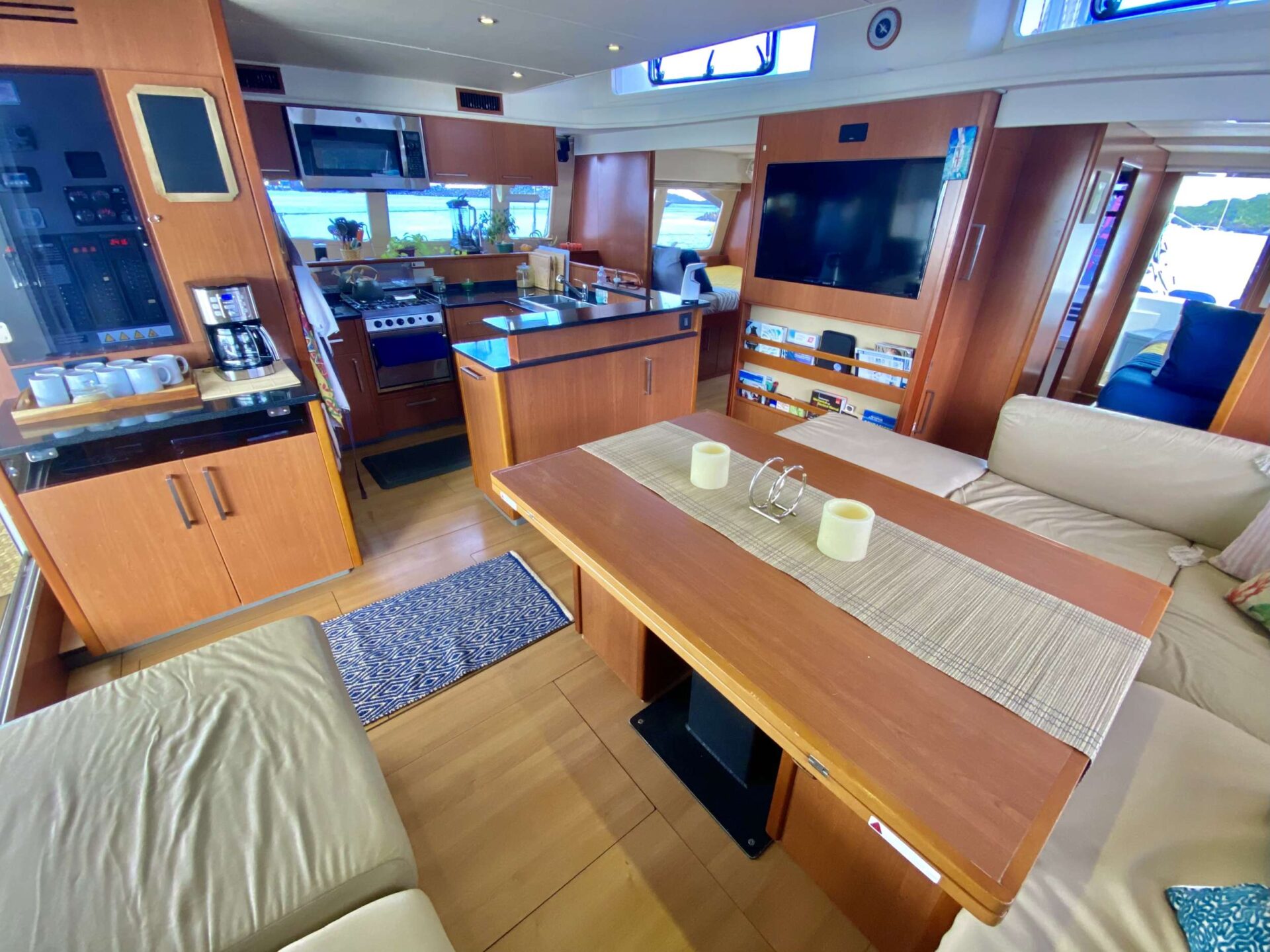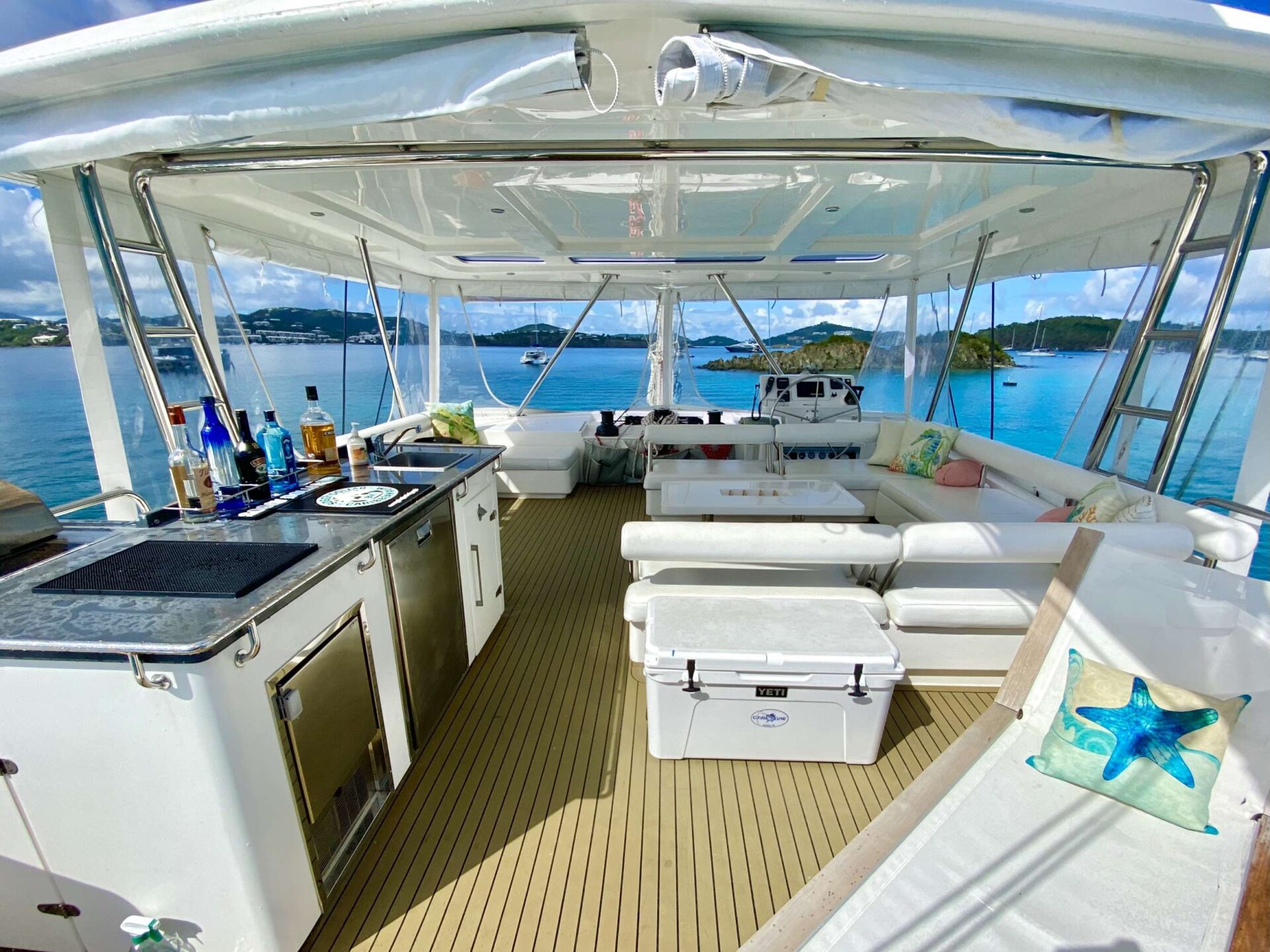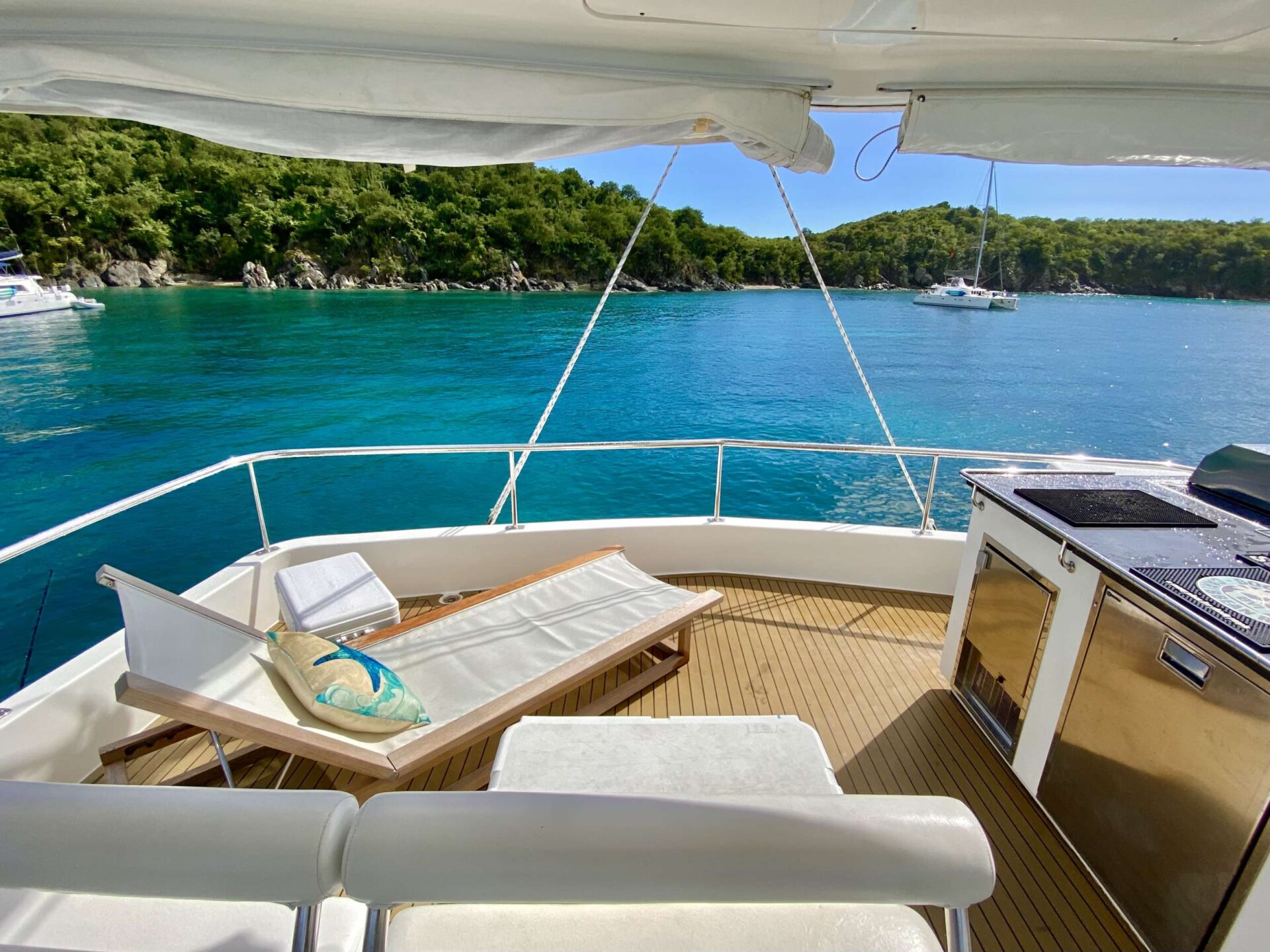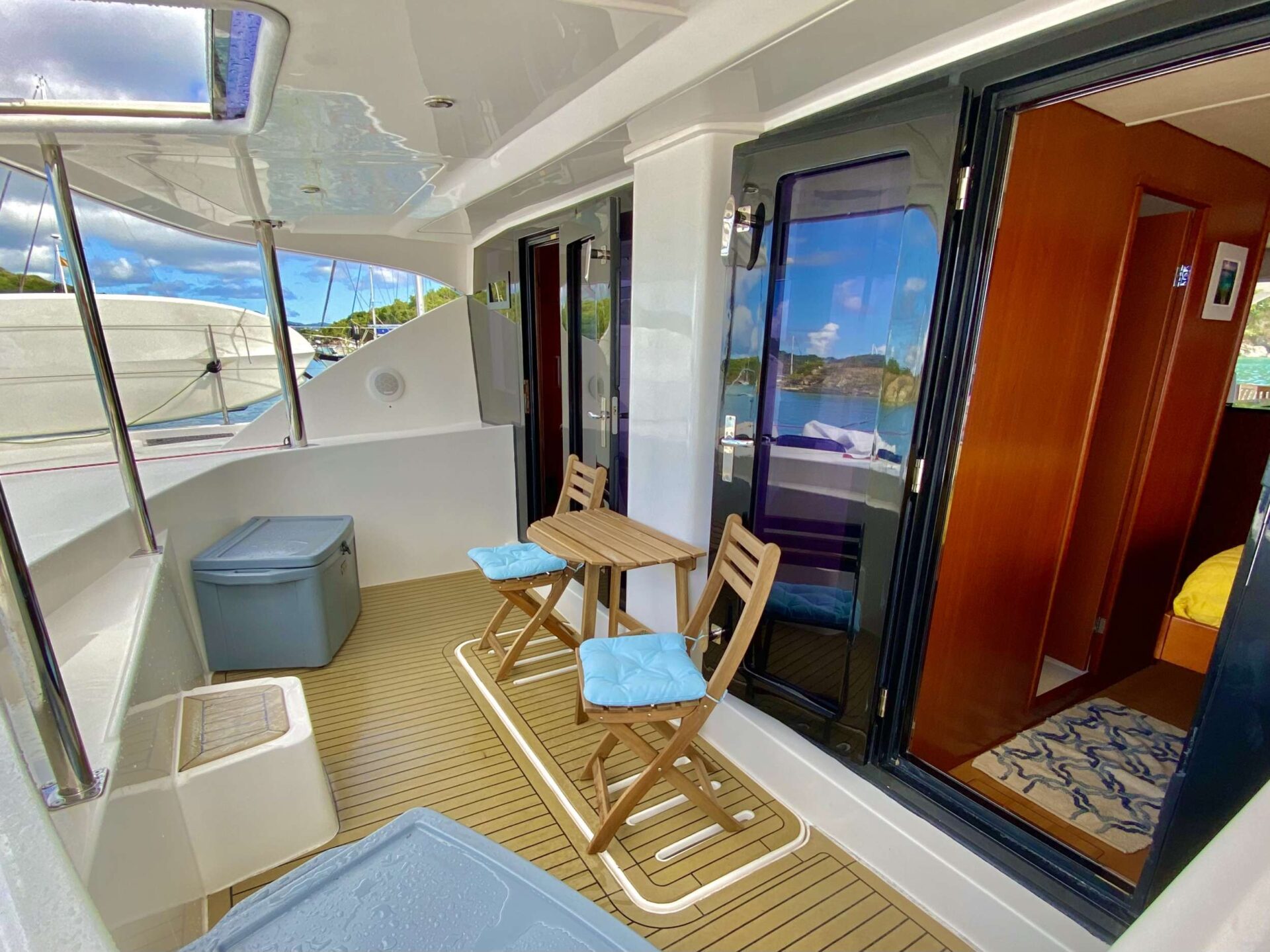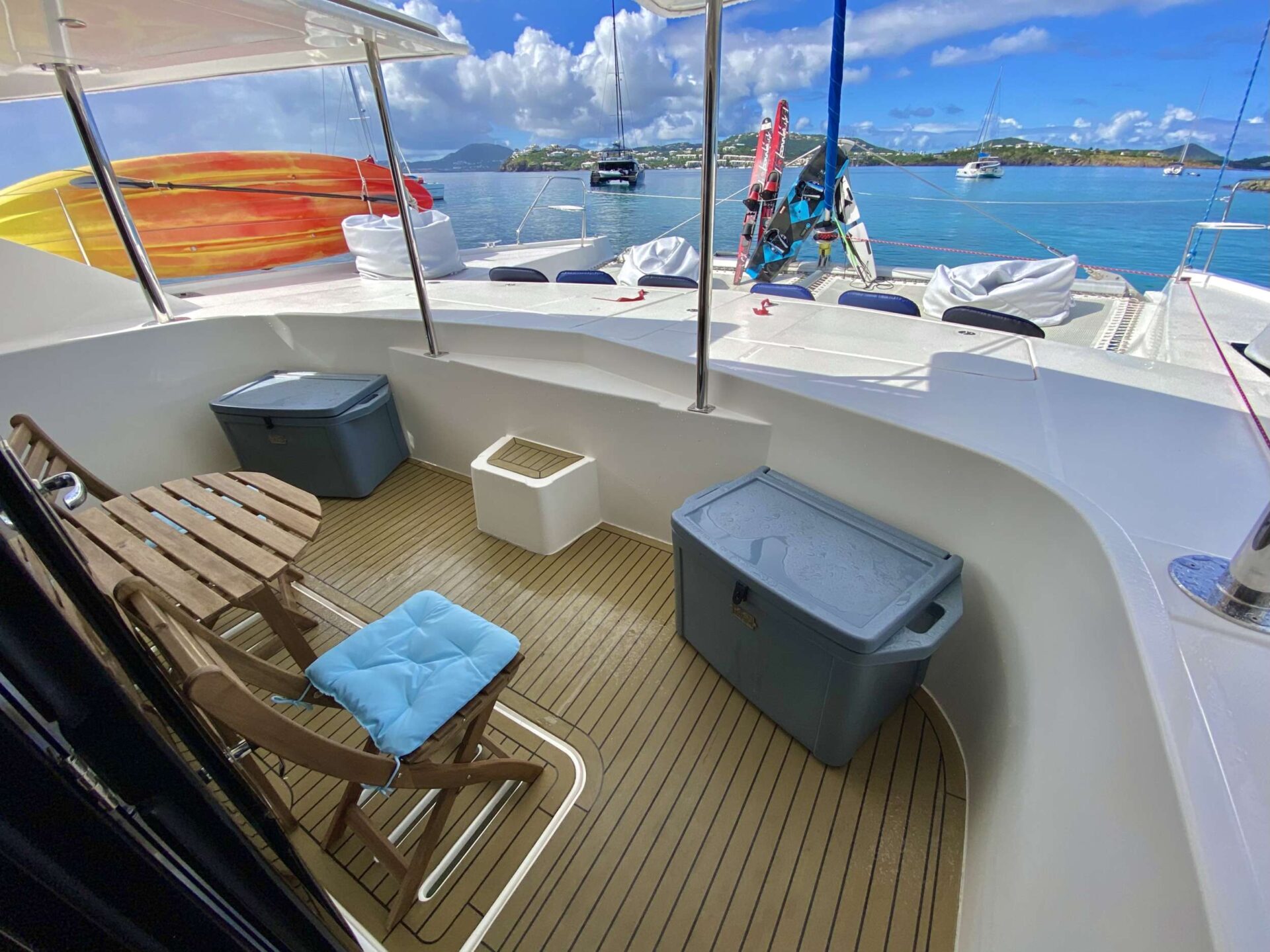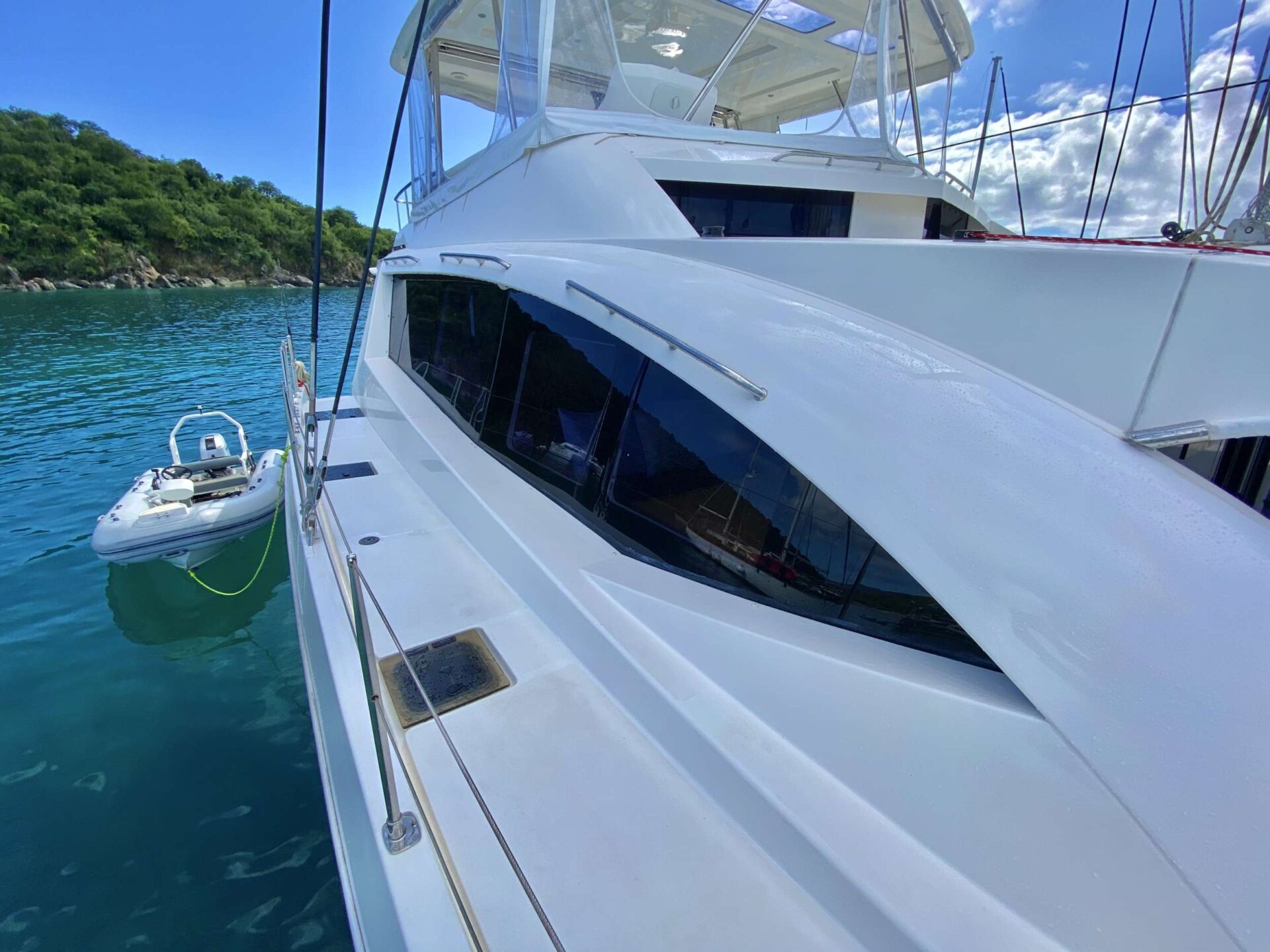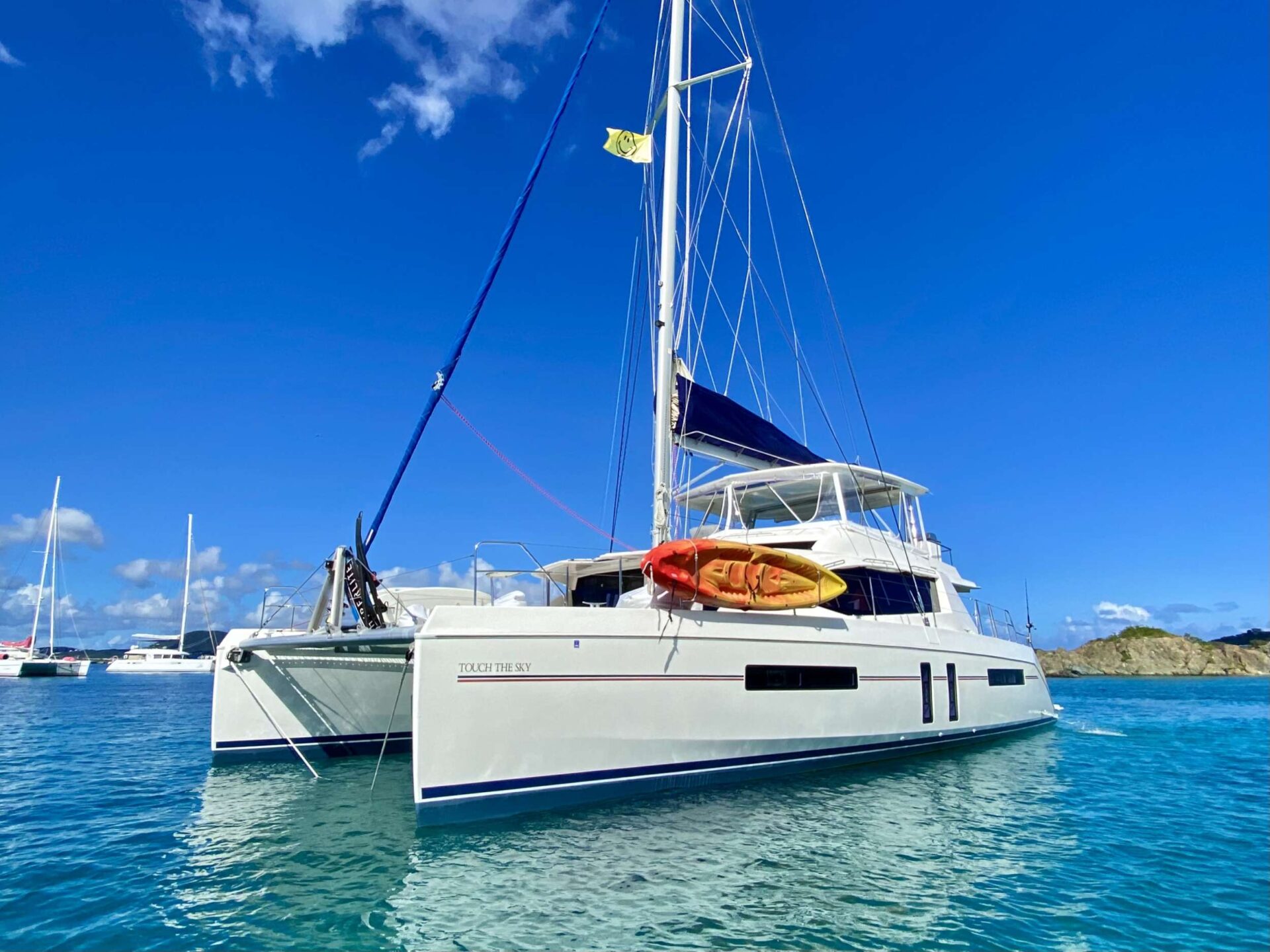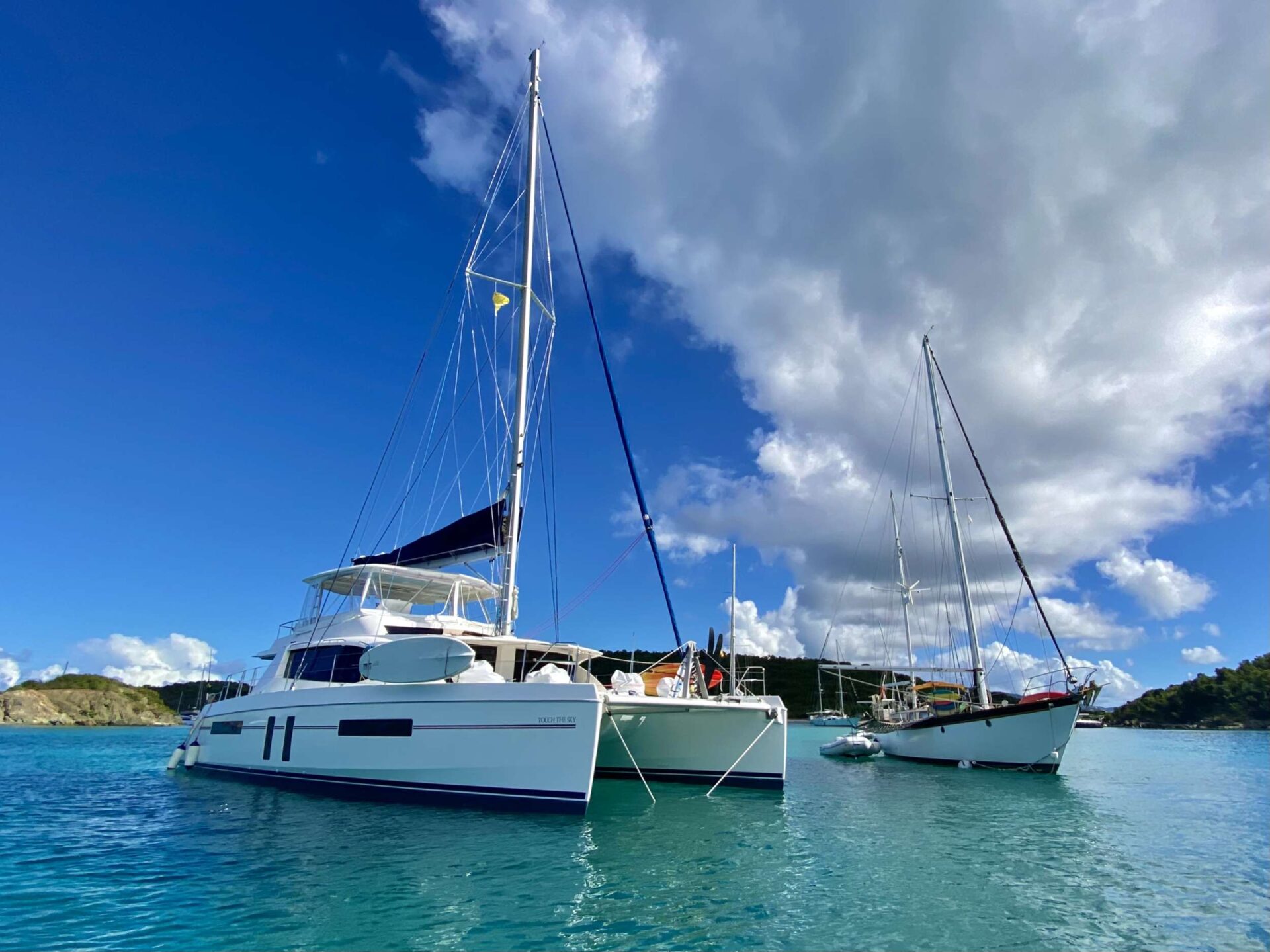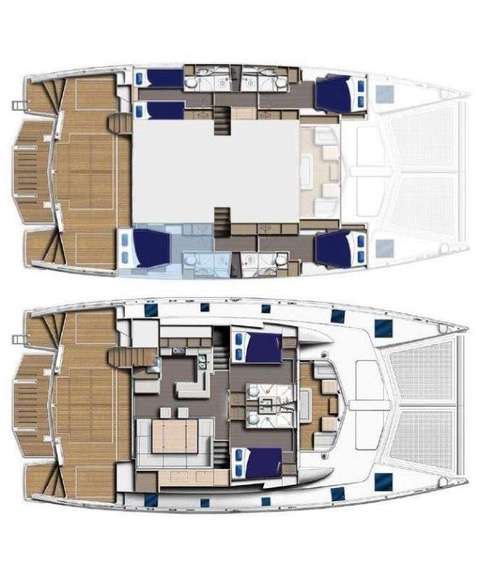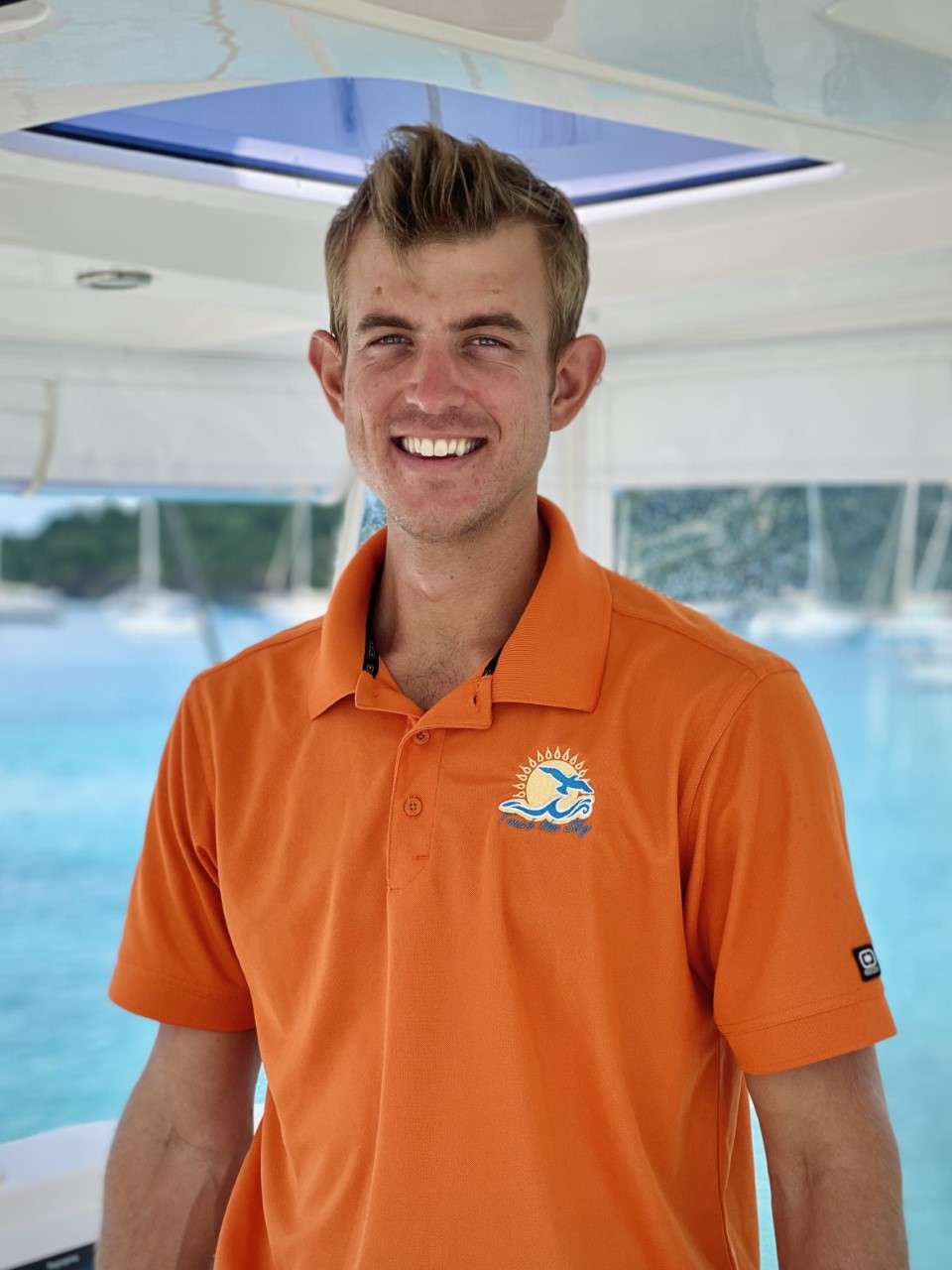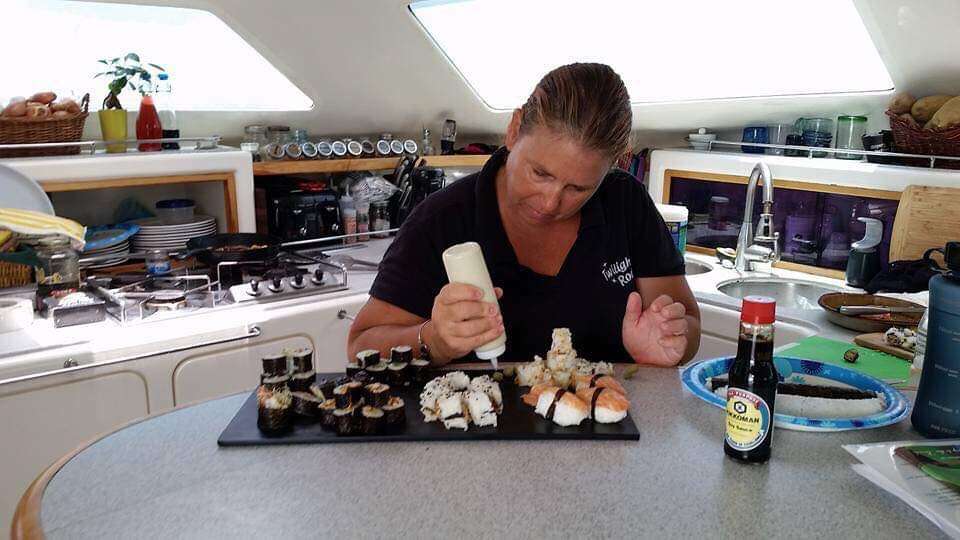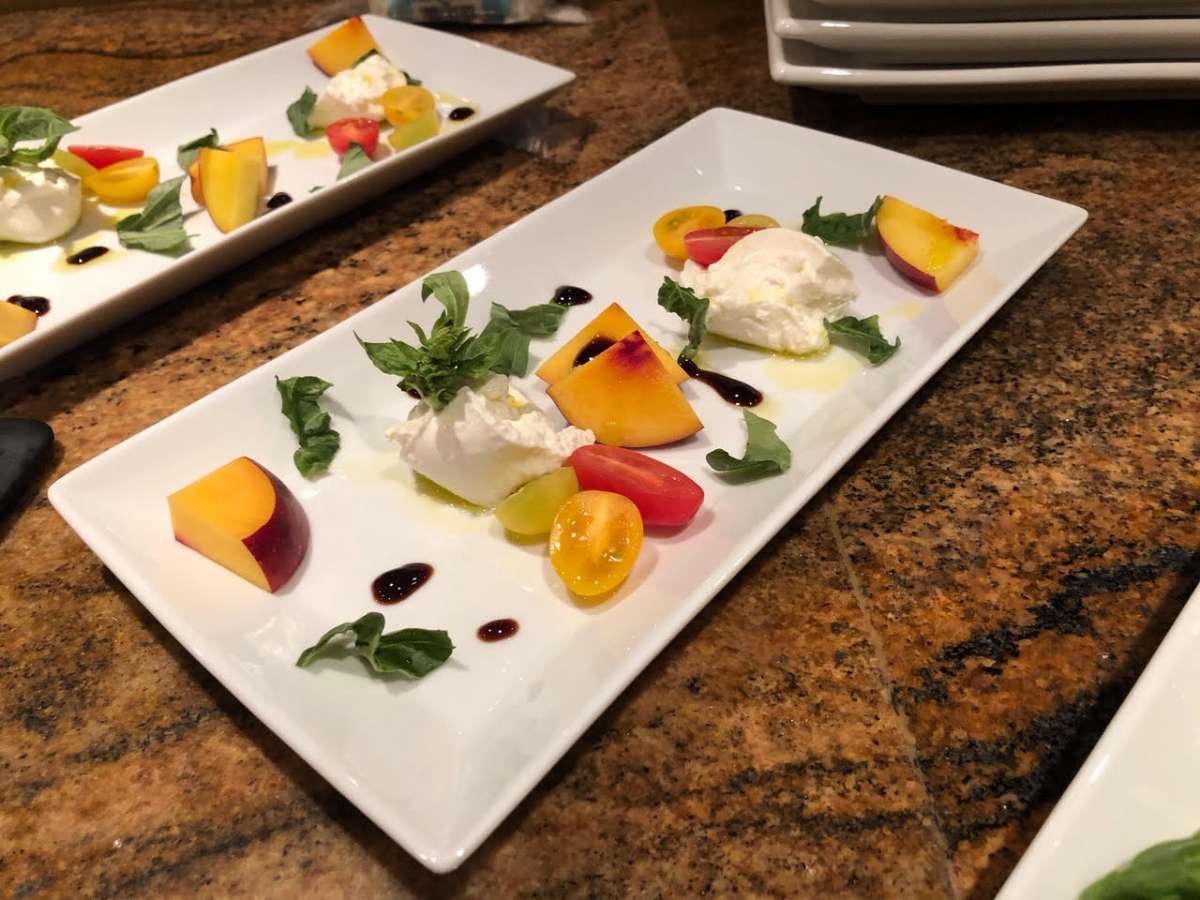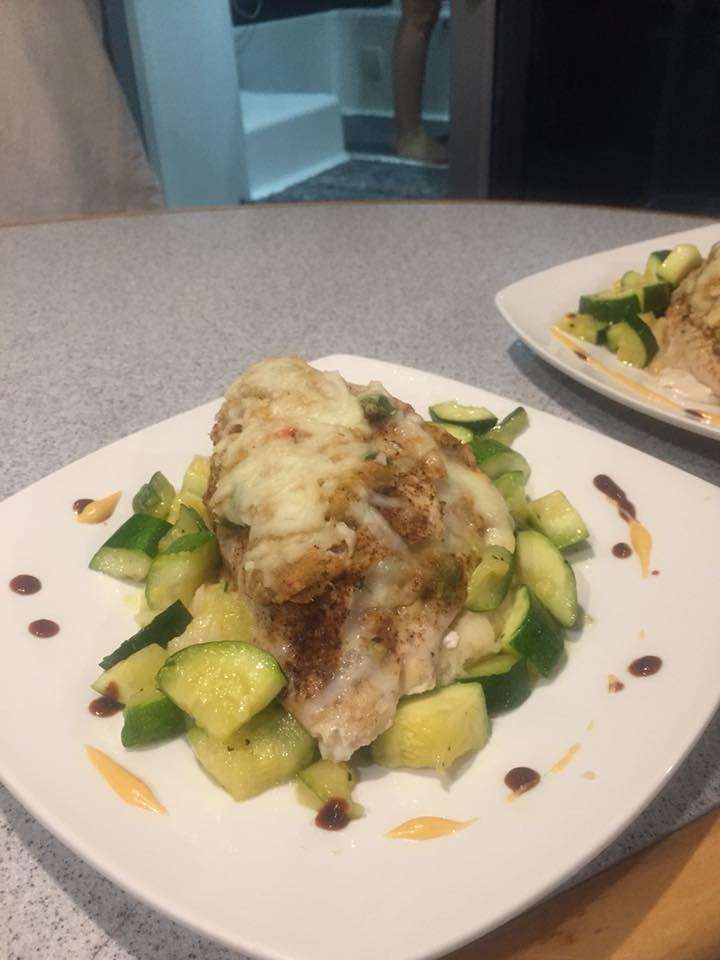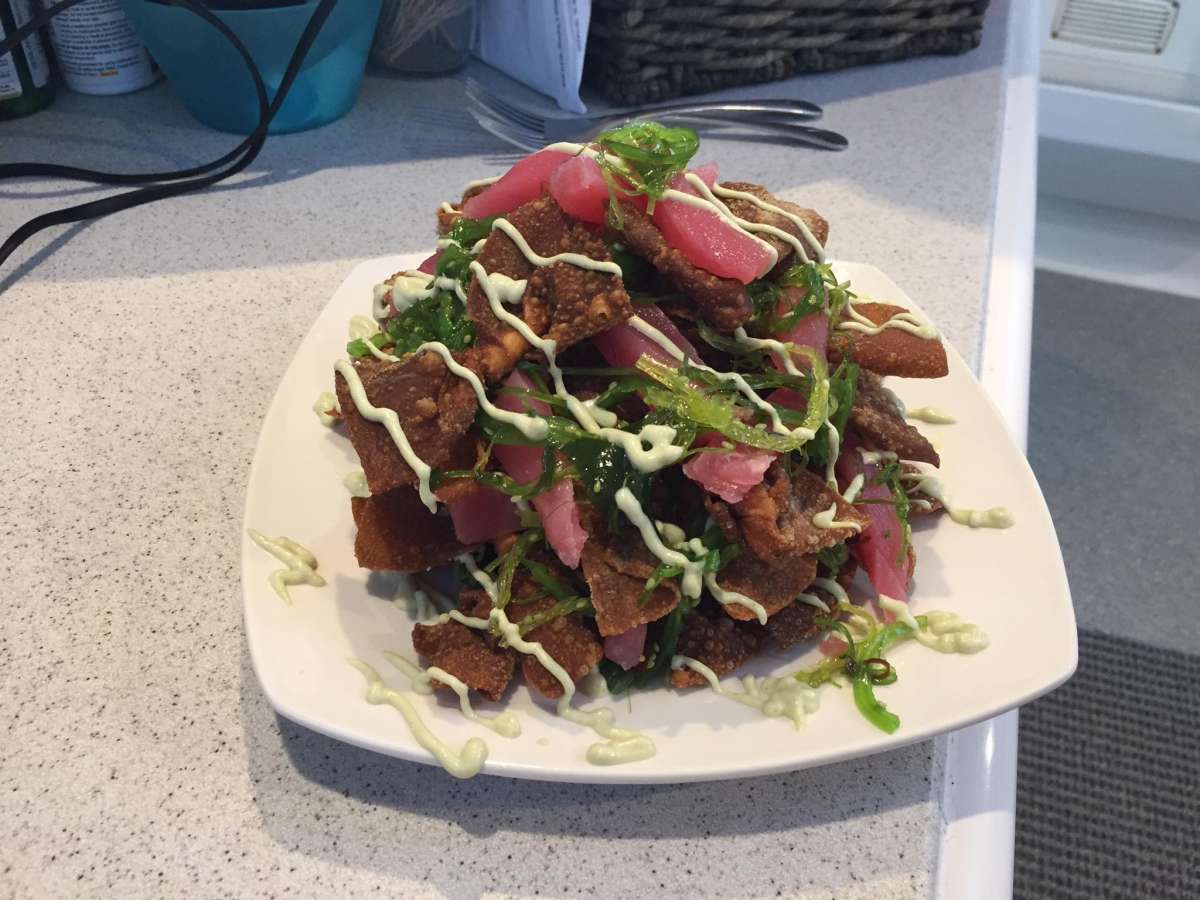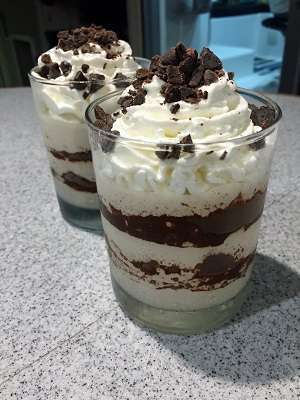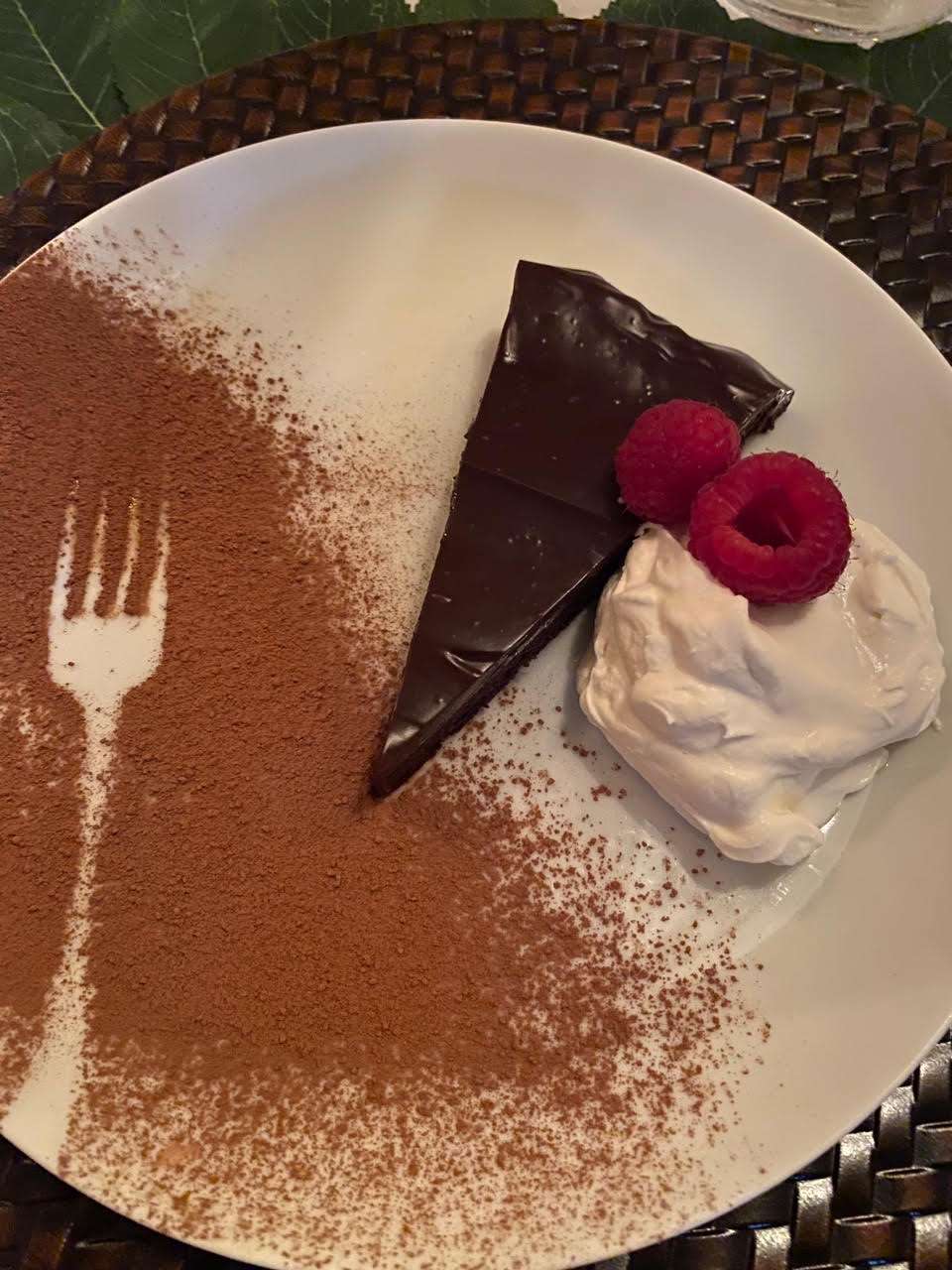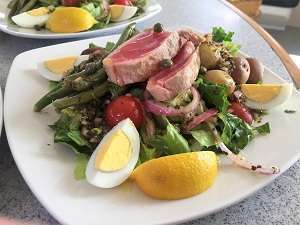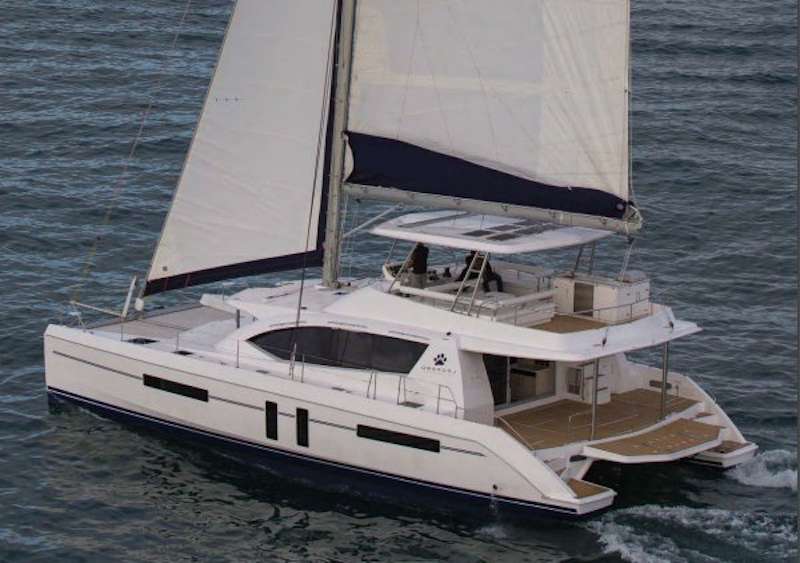 Description:
The fly bridge is easily my favorite place aboard TOUCH THE SKY, a Leopard 58, says Captain Ben Campion in an interview from home, when the US Virgin Islands border was closed and he couldn't get to the charter yacht show.  "There's lots of seating, and it's all in the wind, and you're not getting blasted by the sun, because it has a cover.  It's a really nice place to hang out.  You can fully experience the Caribbean there and all the views."
His friend Holly accompanied him.  Holly ran a charter yacht with Ben the previous year and was going to run TOUCH THE SKY with Ben this year, but something came up, and she has since been replaced with Jody Oles, who works very hard in the galley and perhaps has more sailing experience than Holly.  Says Holly, "Ever since I met Ben, he's always been wild about the ocean.  Everything is water.  So the guests really love Ben.  Ben is such a fantastic water guy, and guests always come back from snorkeling saying, "I would never have seen that, had Ben not pointed it out to us."  He knows where to find everything.
Asides from being friends for years before they started chartering, Ben says, "I have been on the water doing soft core charters since 2014 in the Mediterranean and Caribbean.  I did the Caribbean, going up and down the Greater and Lesser Antilles last year, going island to island.  I have first hand experience on yachts in the Caribbean.
"In 2014 when I first got introduced to boating, my uncle had bought a yacht.  It was the one we worked on last year, the 45′ Fountain Pajot.  He bought her in the Mediterranean, looking for somebody to crew it.  He reached out to a bunch of friends and family, and I was the only one who took the opportunity.  That's where I got the sailing bug. Ever since then I would come back as often as I could.  After my fourth season on the boat, I got a full time job as a first mate on an 80′ yacht, and that's where I said this is what I'm going to do for my career.
We've do pretty well with anyone we have on the boat, but if I had to choose which type of charter party fits me best, I would have to say I like families. I like seeing the parents and kids interact.  I enjoy creating memories they will share together forever.  The kids are usually so blown away by the snorkeling and sailing, the color of the water – everybody loves that – but kids express it.  I'm not super fond of the party animals all the time; we prefer families and laid back couples.
The yacht gets its name from a song called Touch the Sky. It's about wandering to the unknown.  Last year when we had the 47′ boat; it was a great boat, it was awesome for six guests, but even with a fully loaded boat, it was cramped for six with all the storage.  So this year we're really excited to have a larger boat.  It's more comfortable for guests; there's a little more wiggle room.
If I had to choose a charter memory, it would be when we had the French guests onboard.  They all flew from France, and before they arrived, they had been asking us what challenge we would have for them.  So what we came up with was anchoring the boat just off a beach and set up this obstacle course where they had to divide into groups of three and transport this fender to the beach, come back with the fender, go back with it after putting a life vest on it, and the last person to reach shore had to swim down with the fender, catch a mask and slap it on the fender, bringing it back to the boat by kayak.  It was hilarious and funny.
If I came back as an animal, I would have to go with being a bottlenose dolphin.  They have the brain capacity to fully enjoy living underwater; they jump, they swim, and they're great to snorkel with, while speaking to us."  Ben did his best to imitate the sound.
Based in St. Thomas, TOUCH THE SKY charters for:
$26,000 weekly all inclusive for two to four guests
$26,500 for five
$27,000 for six
$27,500 for seven
$28,000 for eight
$28,500 for nine
$29,000 for ten
Rates include food, fuel, bar dockage – everything! – except gratuity.  Christmas and New Years weeks are sold at a premium.
MINIMUM NIGHTS: Inquire for charters less than 6 nights.
For 6 night charters, divide weekly rate by 7 nights X 6 nights. For 5 nights or less, divide weekly rate by 6 nights X number of nights.
BVI PORT FEE: Add $400 each end for BVI ports other than West End or Jost

SLEEP ABOARD: 1/2 the daily rate. Dinner ashore at client expense. Includes boarding after 4pm, welcome cocktail and breakfast the next morning and early start. Special offers do not apply to this rate, calculate prior to any discount please.
HALF-BOARD RATES: Discount of $150 per person
Includes: 7 breakfasts, 4 lunches & 3 dinners. Requires 3 lunches and 4 dinners ashore at client expense. Also see Local Fare option below.
2-4/$25,700 5/$25,750 6/$26,100 7/$26,450 8/$26,800 9/$27,150 10/$27,500
LOCAL FARE MEAL PLAN: Discount of $75 per person
Includes: 7 breakfasts, 5 lunches & 6 dinners. Requires 2 lunches and 1 dinner ashore at client expense.
2-4/$25,850 5/$26,125 6/$26,550 7/$26,975 8/$27,400 9/$27,825 10/$28,250
CHRISTMAS/ NEW YEAR'S RATE:
CHRISTMAS: 1-10 pax @ $30,800 – must end no later than 12/26
NEW YEARS: 1-10 pax @ $37,000 – may not start prior to 12/27
TOUCH THE SKY Crew Interview Video Ben & Holle
TOUCH THE SKY E-Brochure, Photos, Specifications, Crew Profile, Sample Menu, Guest Comments, Rates & Bookings
Information believed correct, but Nicholsons cannot be responsible for content.