TRES SUENOS

61' Privilege
High Rate: $ 27,000 weekly All Inclusive
Low Rate: $ 25,000 weekly All Inclusive
Cabin Configuration:
Sleeps 6 guests in 3 King cabins, each with King bed, one a master forward to port, and 2 guest Kings aft, all with private bathroom. Crew sleep forward to starboard and in the foc'sle.
Specifications:
Length:
Builder:
Built/Refit:
Beam:
Draft:
Regions Available:
Locations It Travels:





Special Features:
61'
Privilege
2011
30
5'4"
St. Thomas




3 King beds
Organic and Local produce, when available
Foil board lessons
Tender with 50 hp outboard
Water Toys
Tender with 50 hp outboard
kneeboard
Snorkeling
Water ski (mono & bi)
Wake board
2 under water scooters
Skurf
donuts
noddles
Skibob
kneebob
2 kayaks
Fishing gear for 2
tube
floating mats
beach games
two stand up paddle boards
fishing gear
Foil Boards
Have a Question About This Yacht?
Fill out the form below and we will get back to you quickly!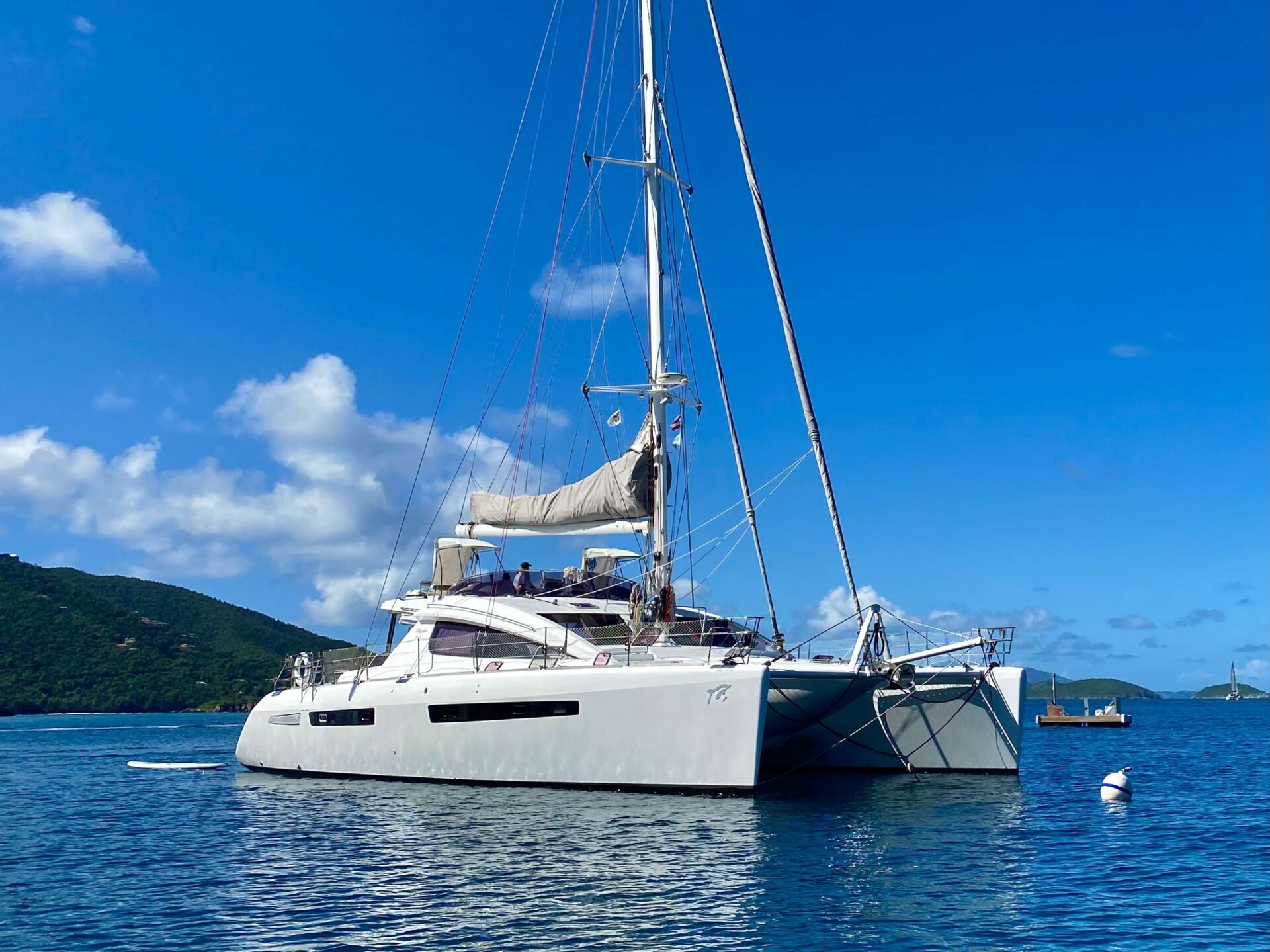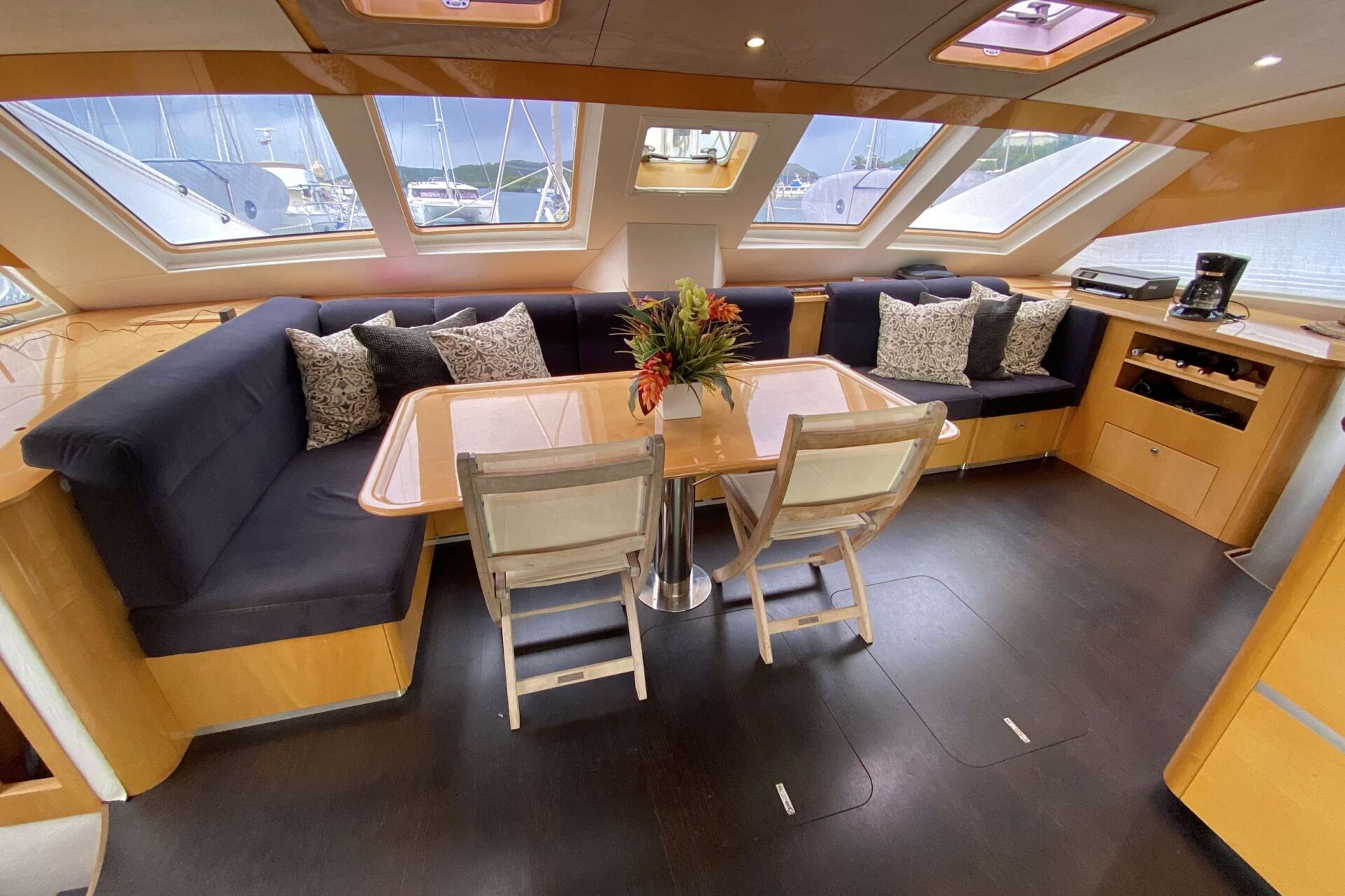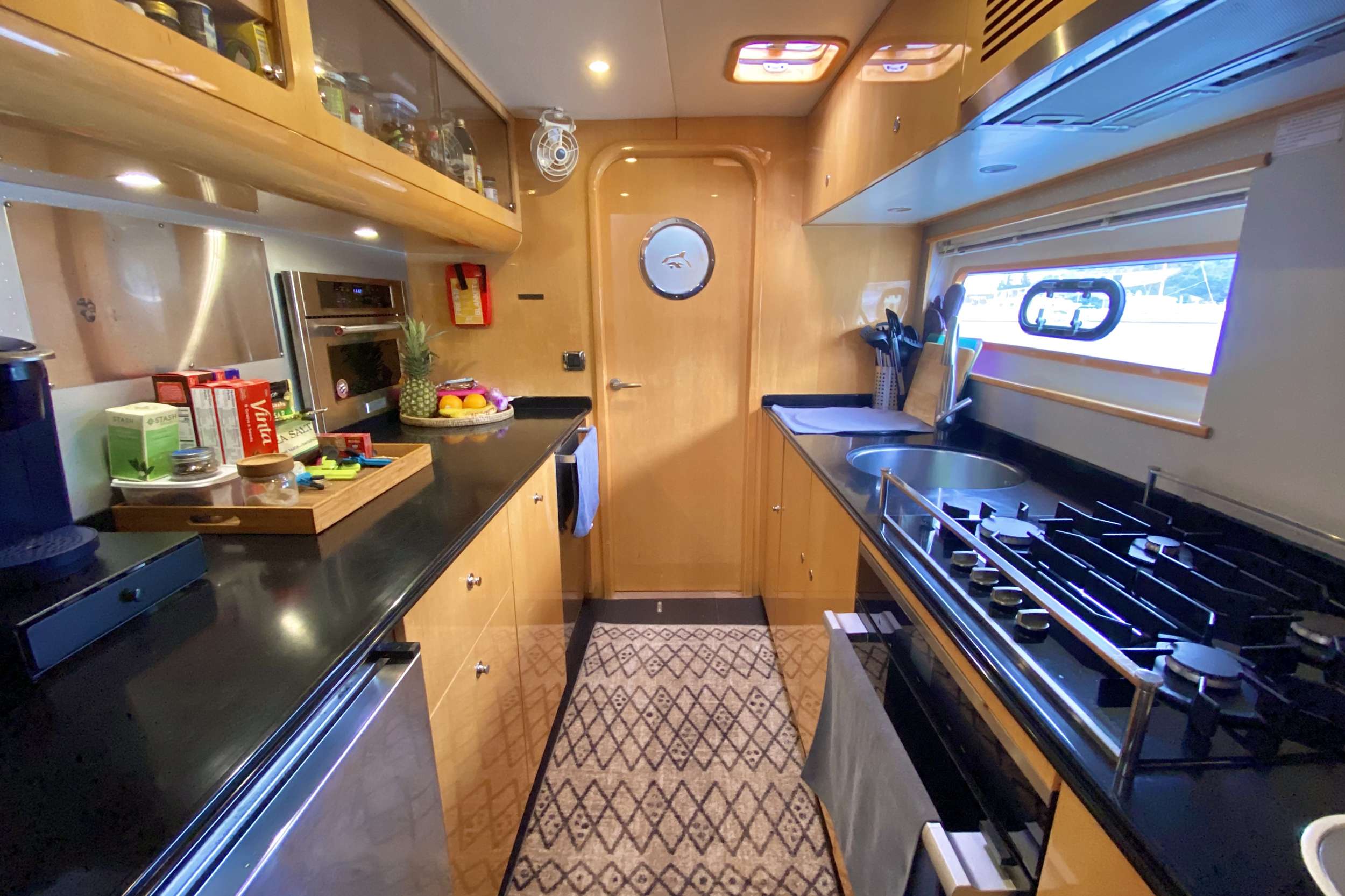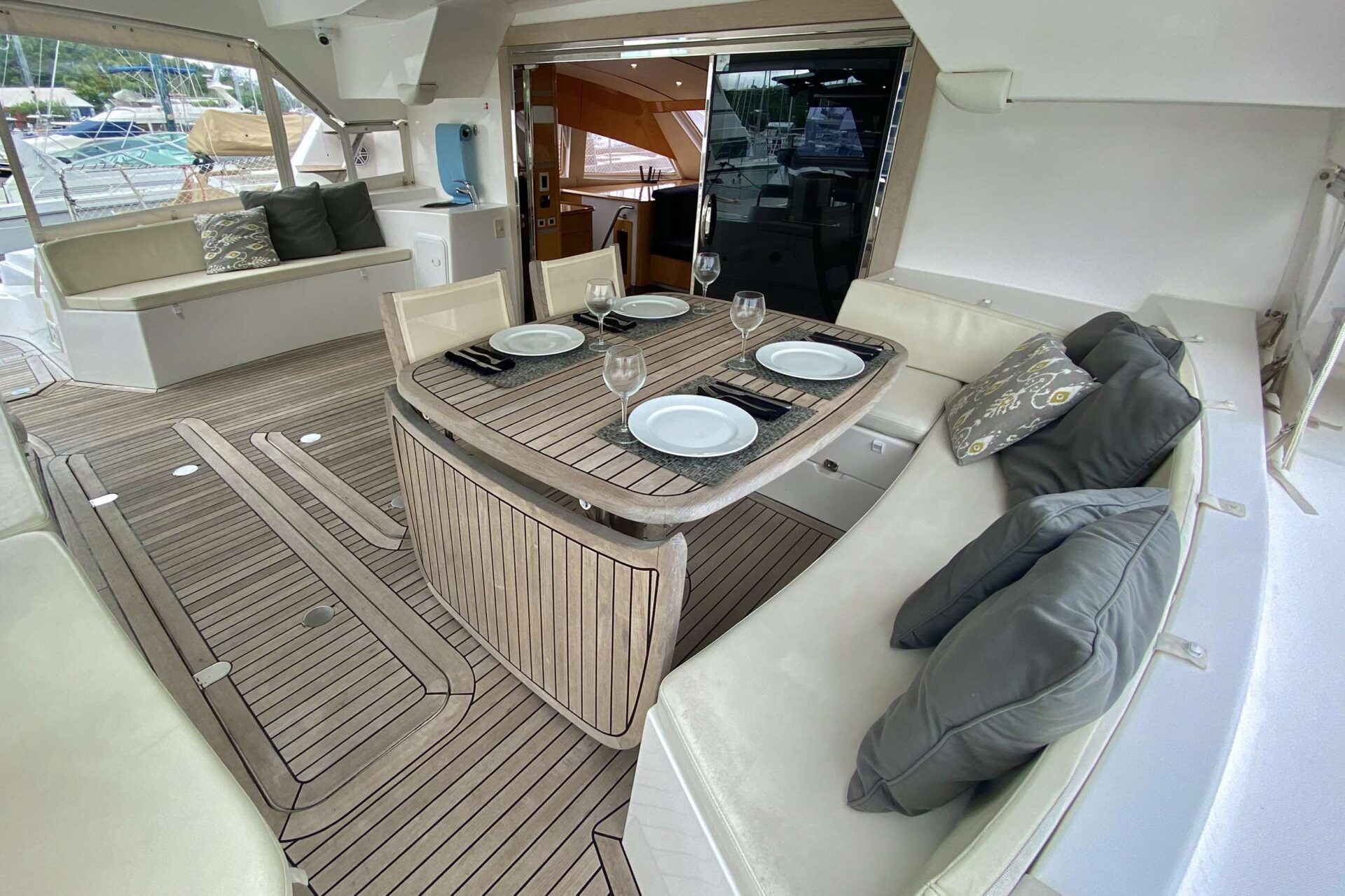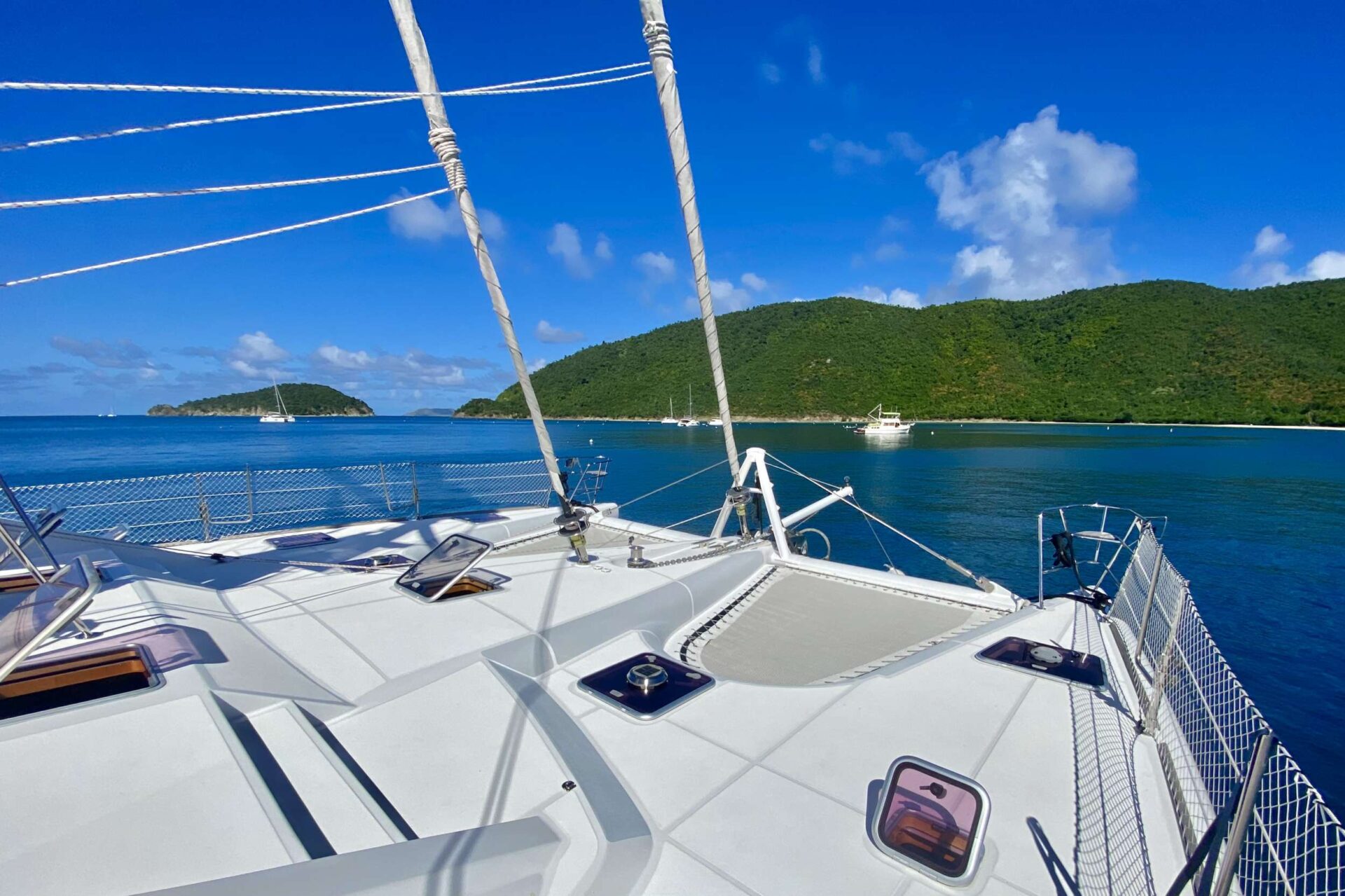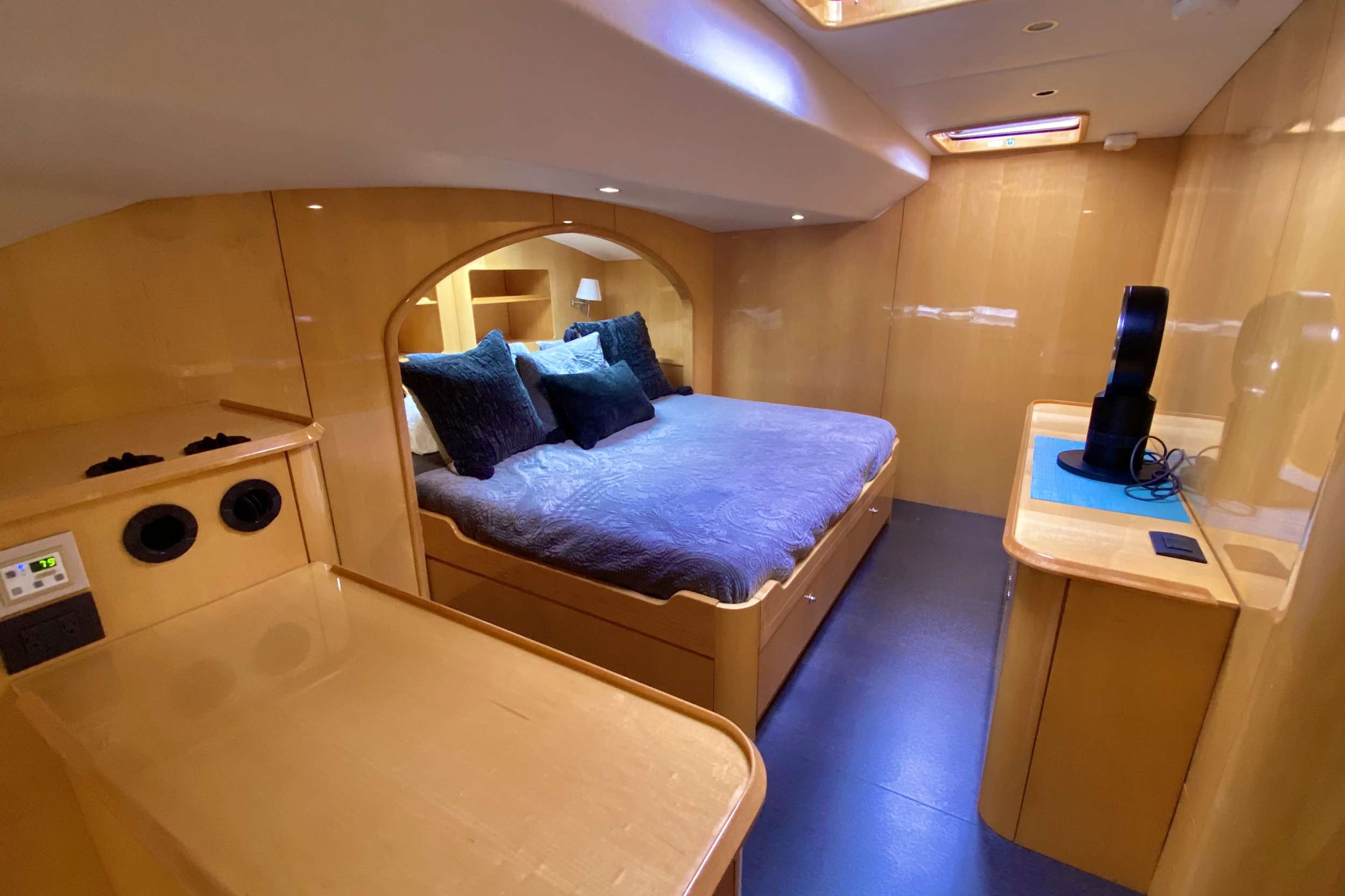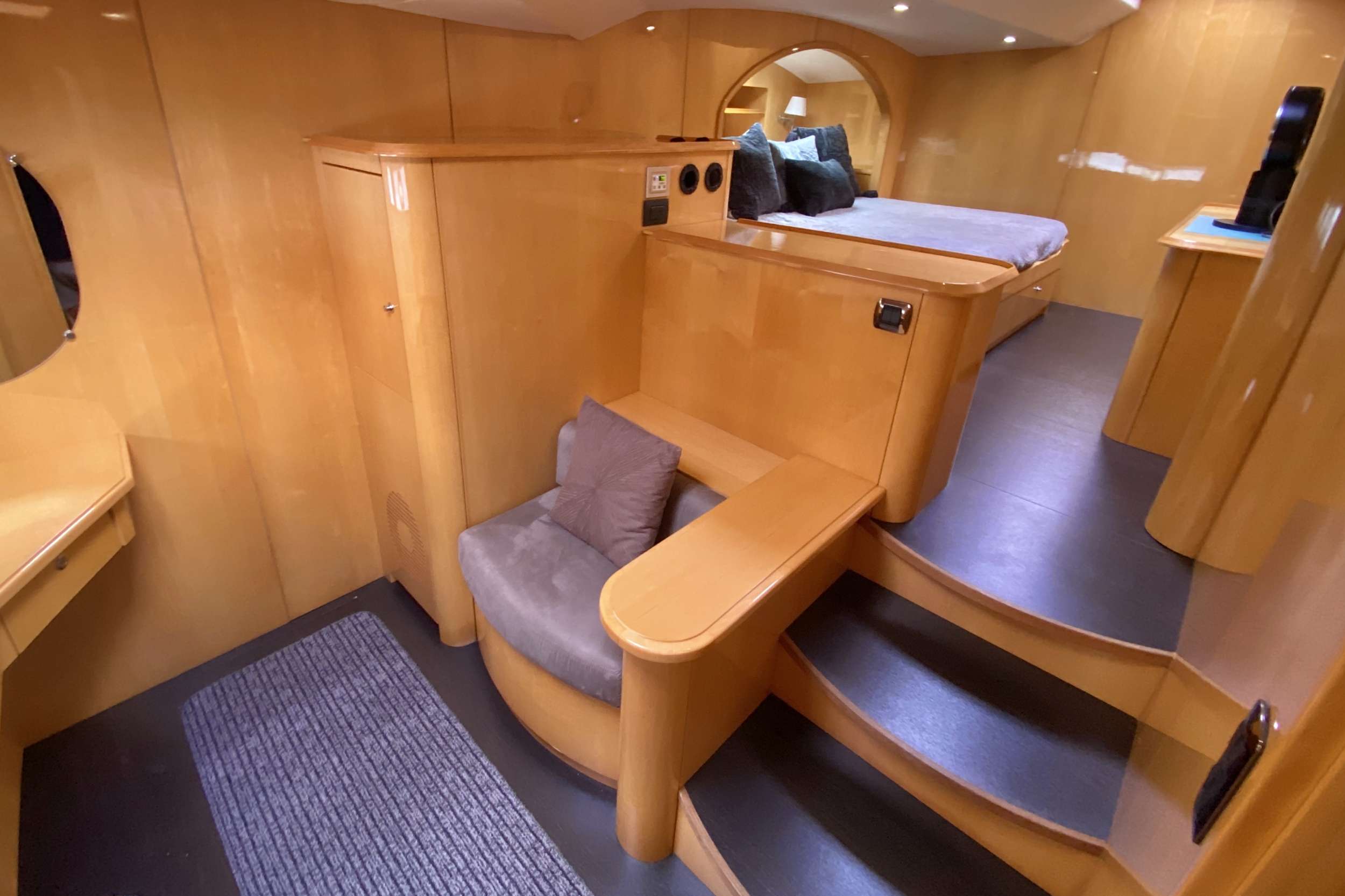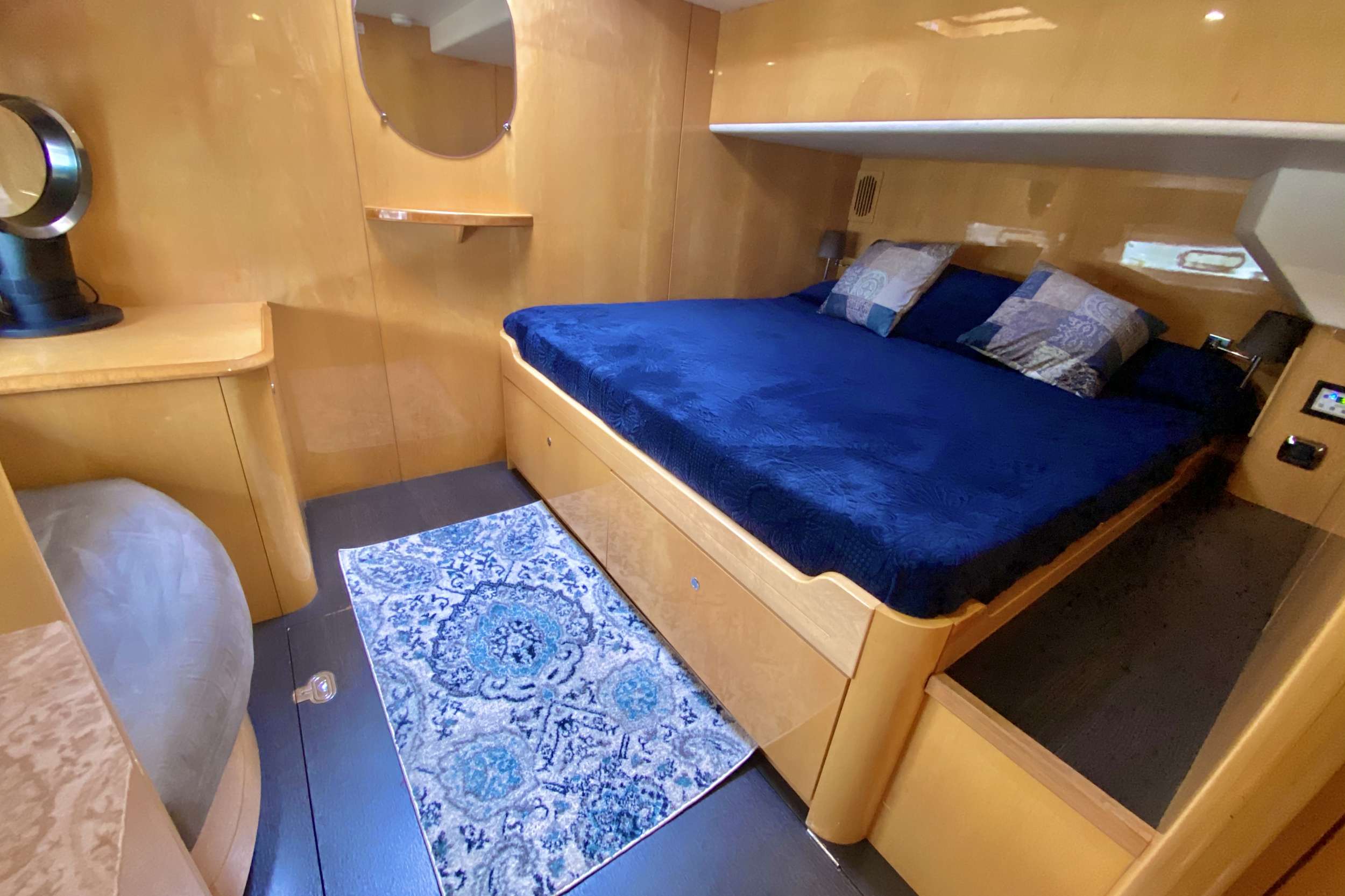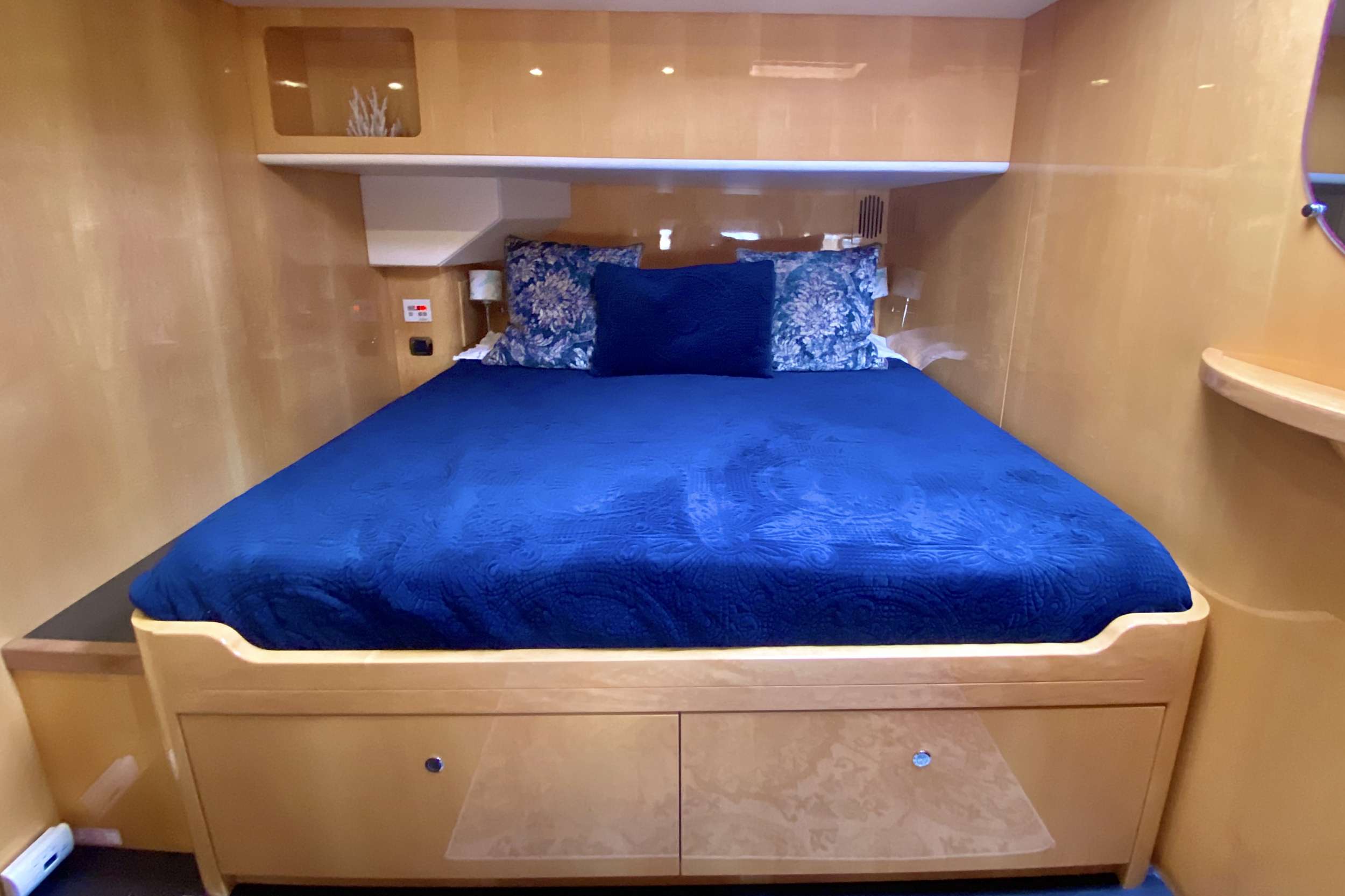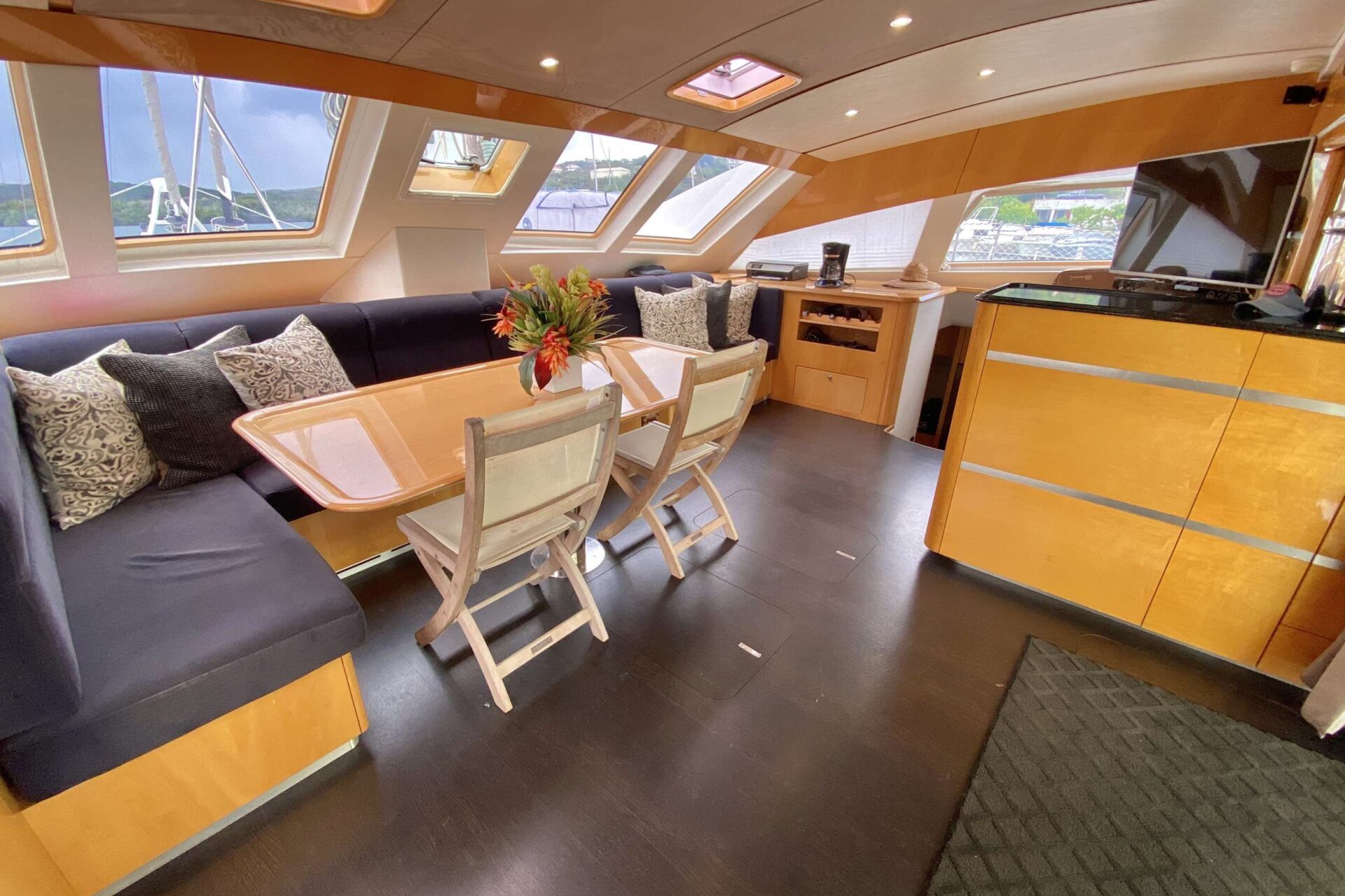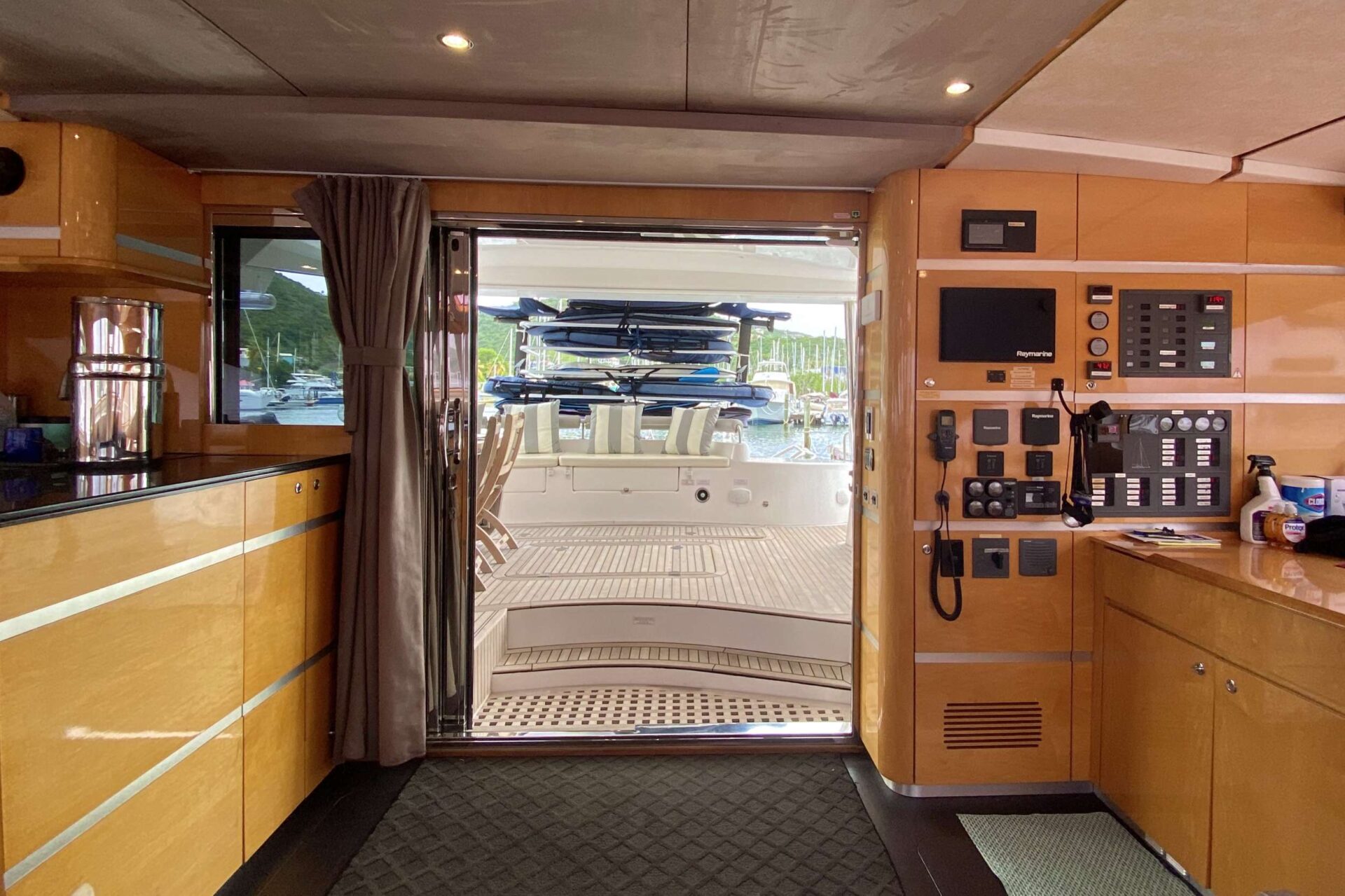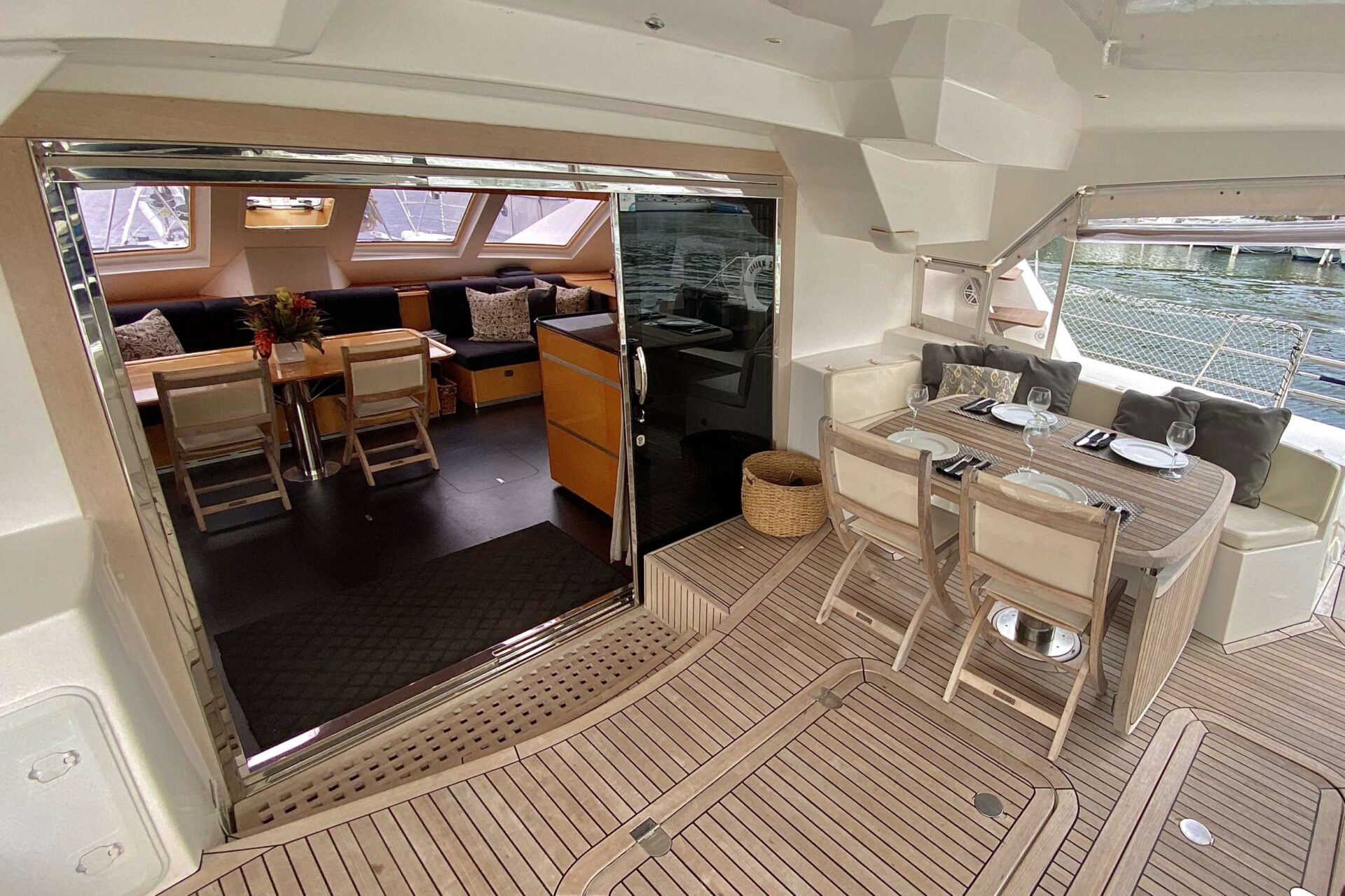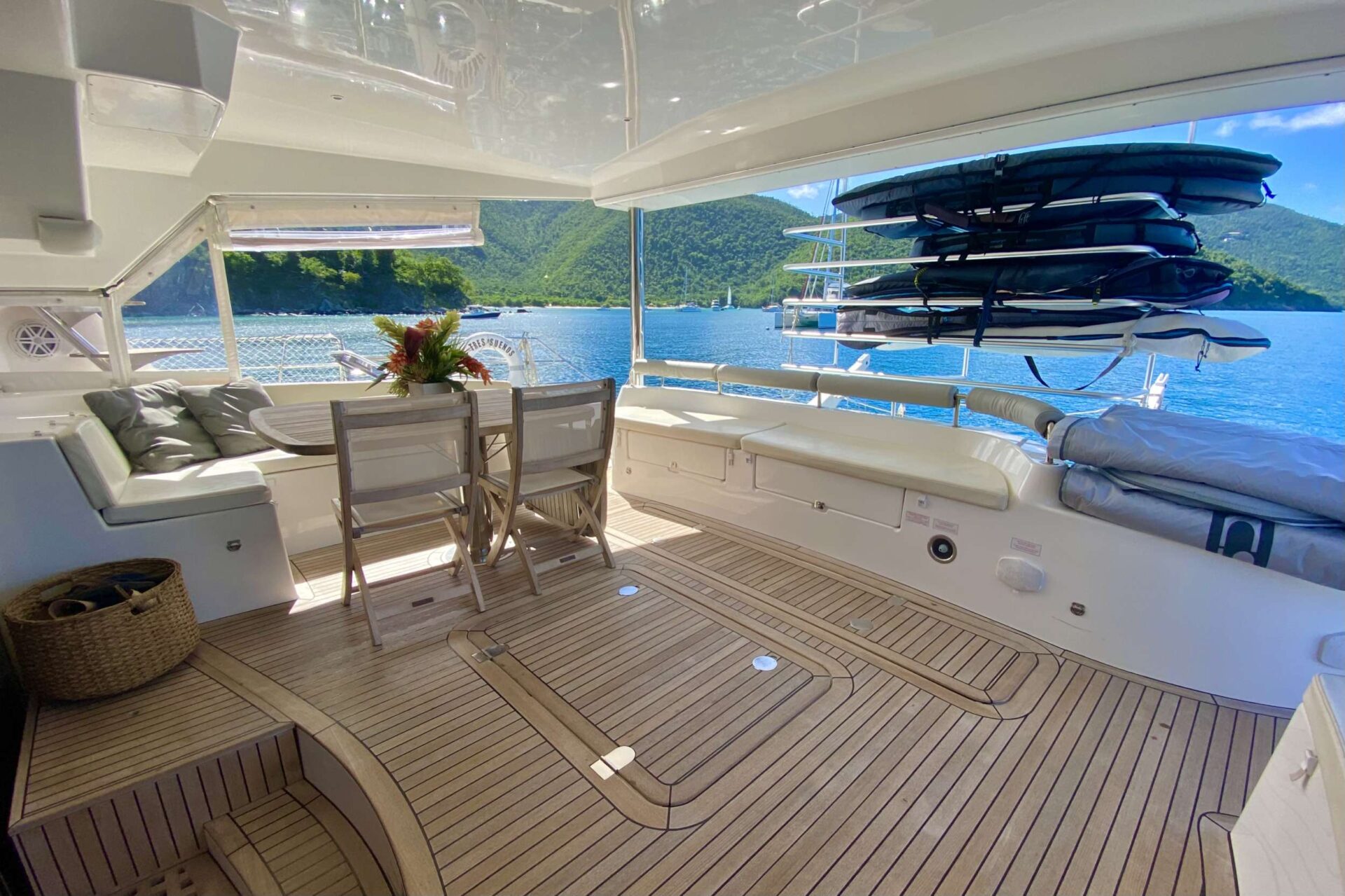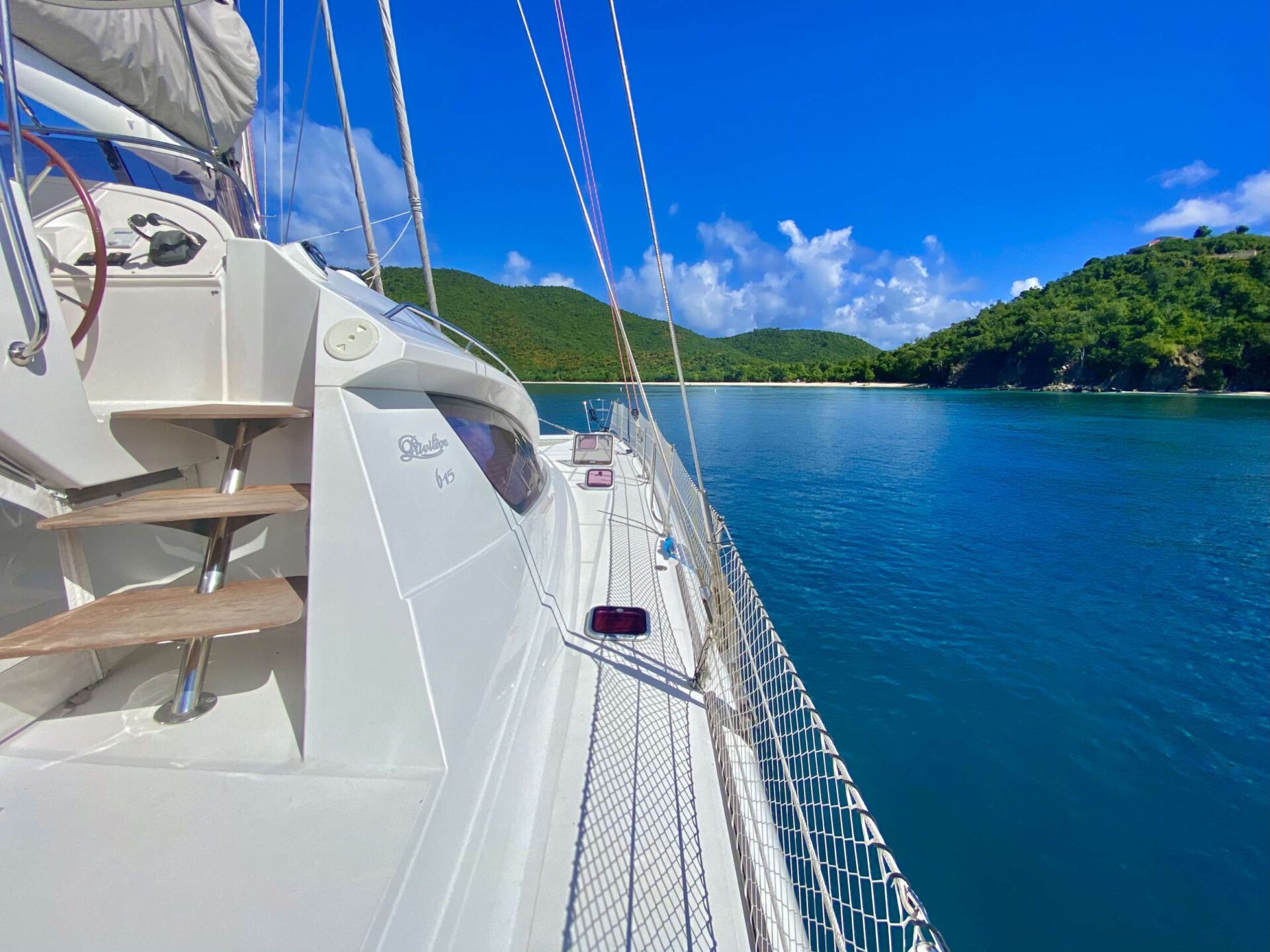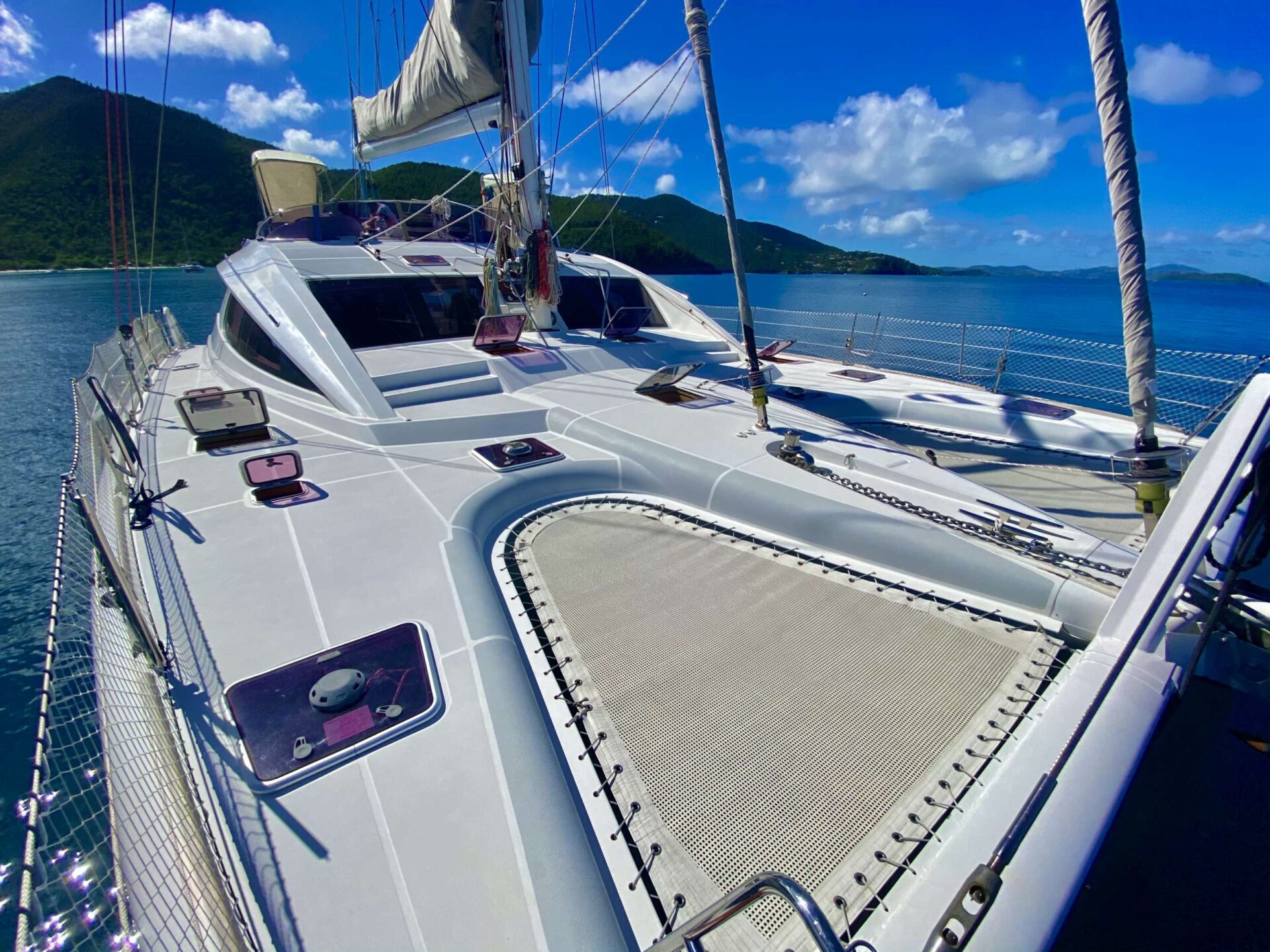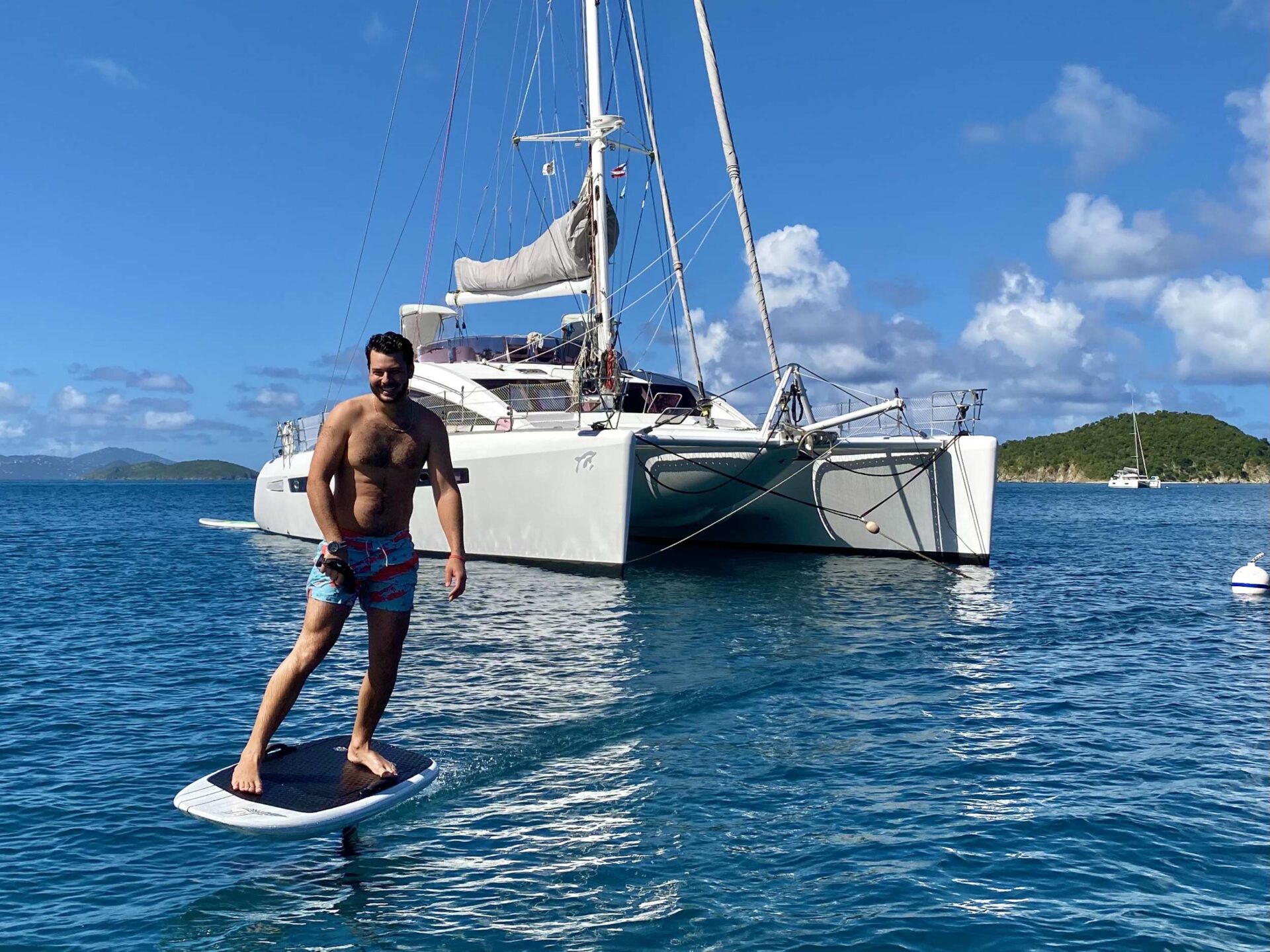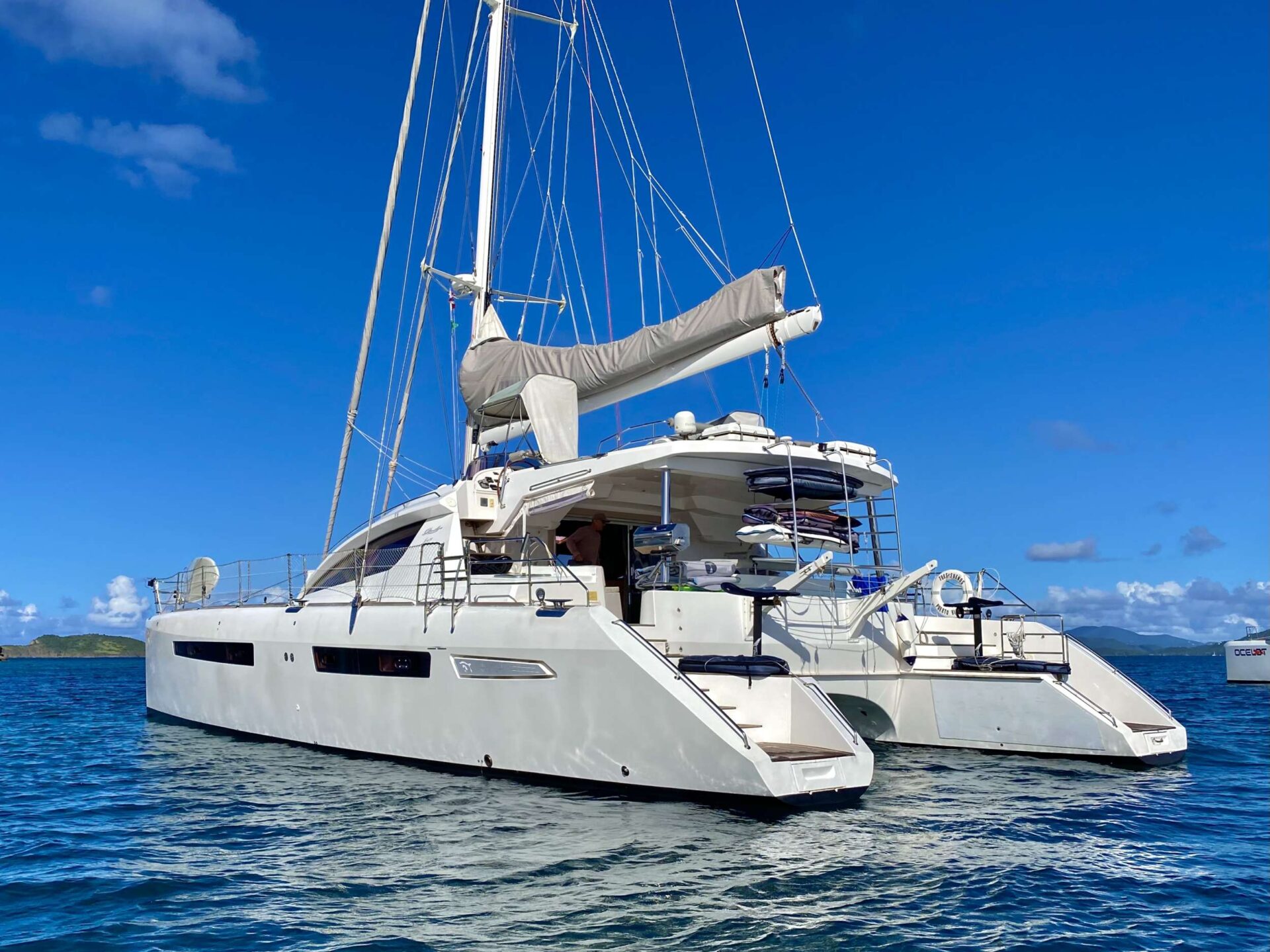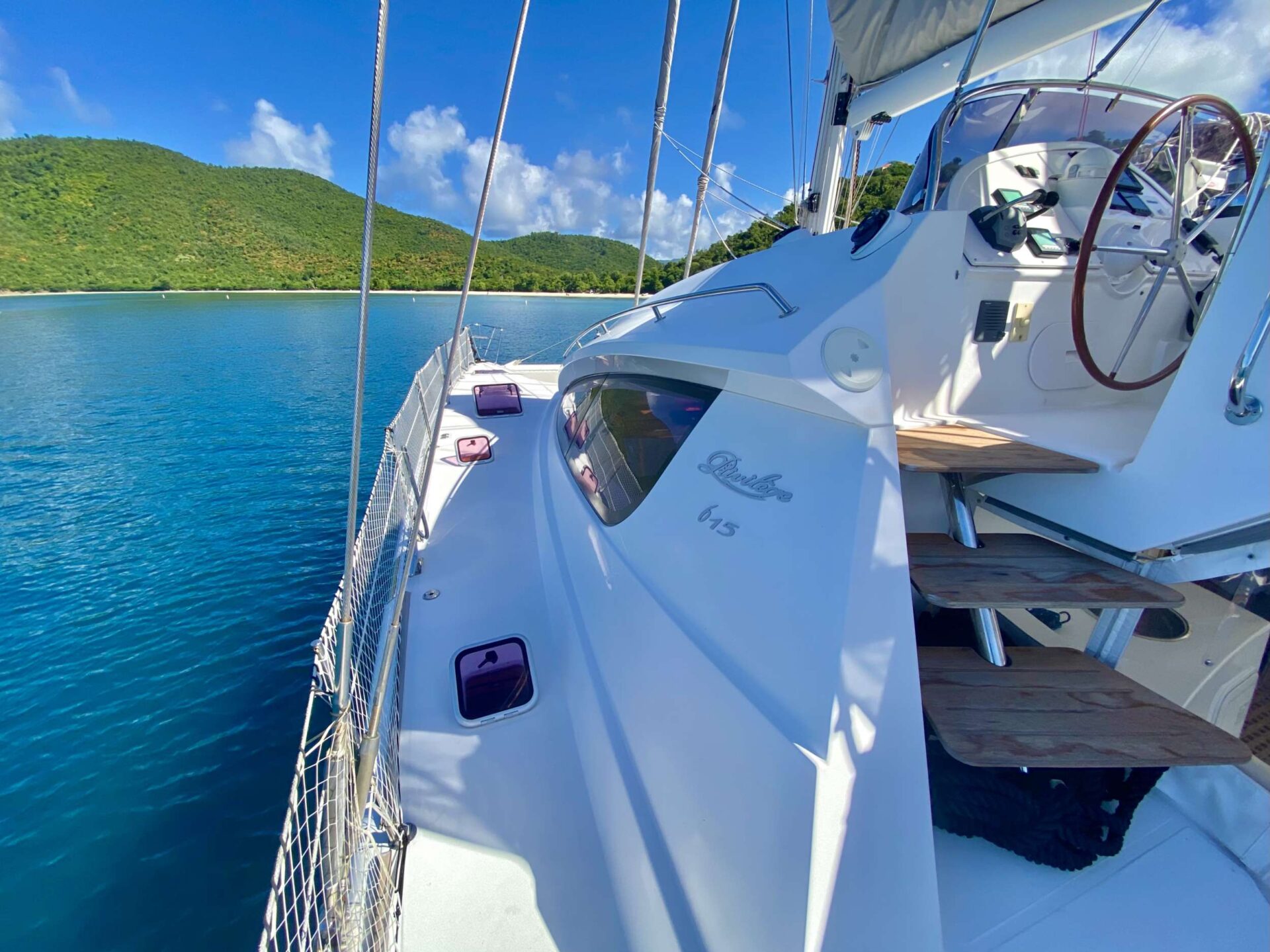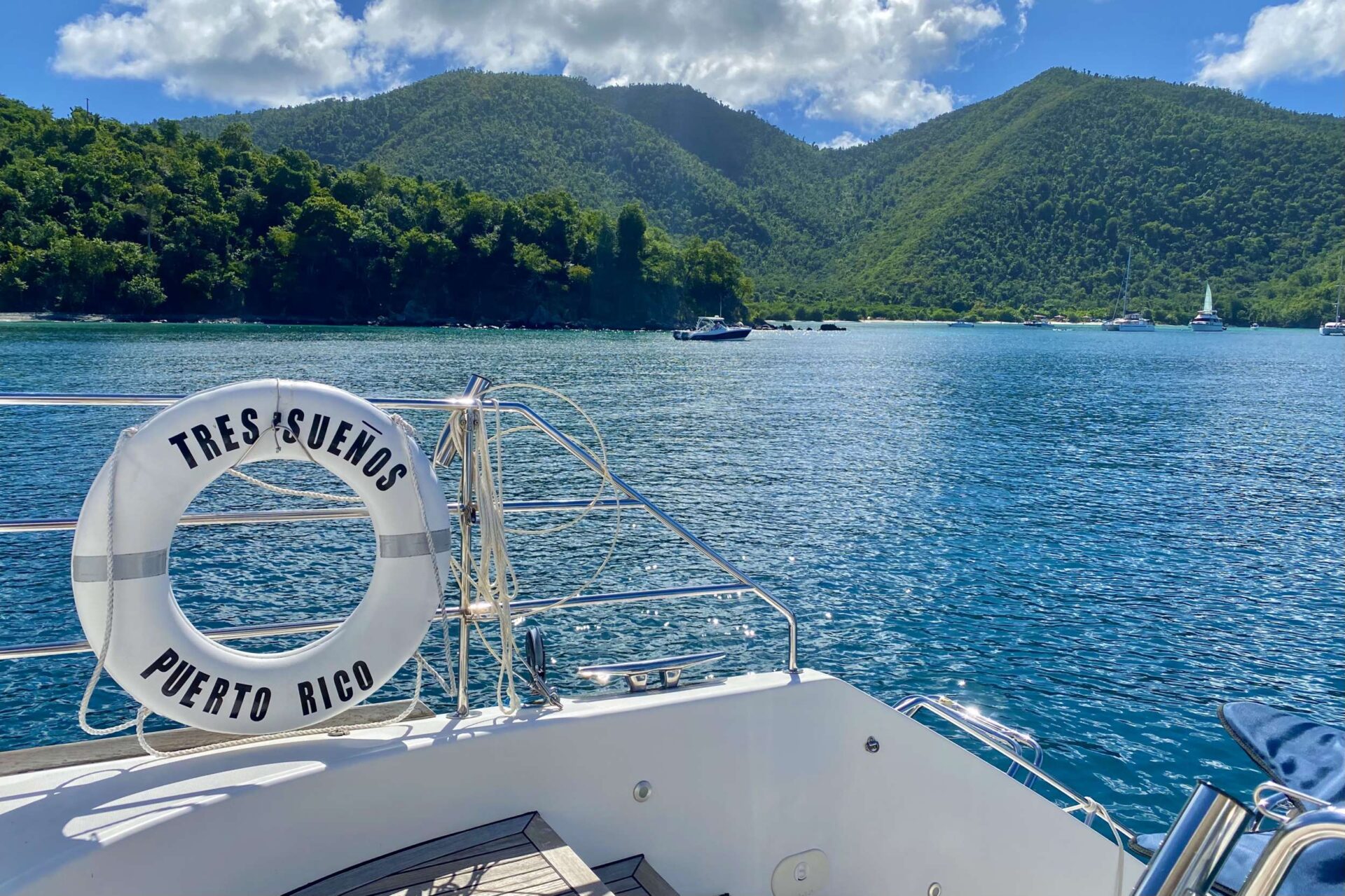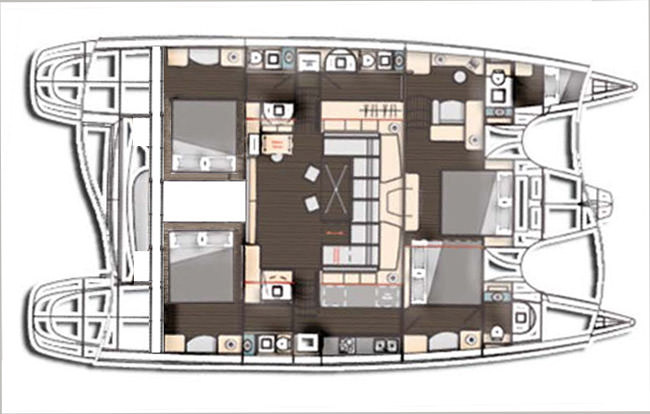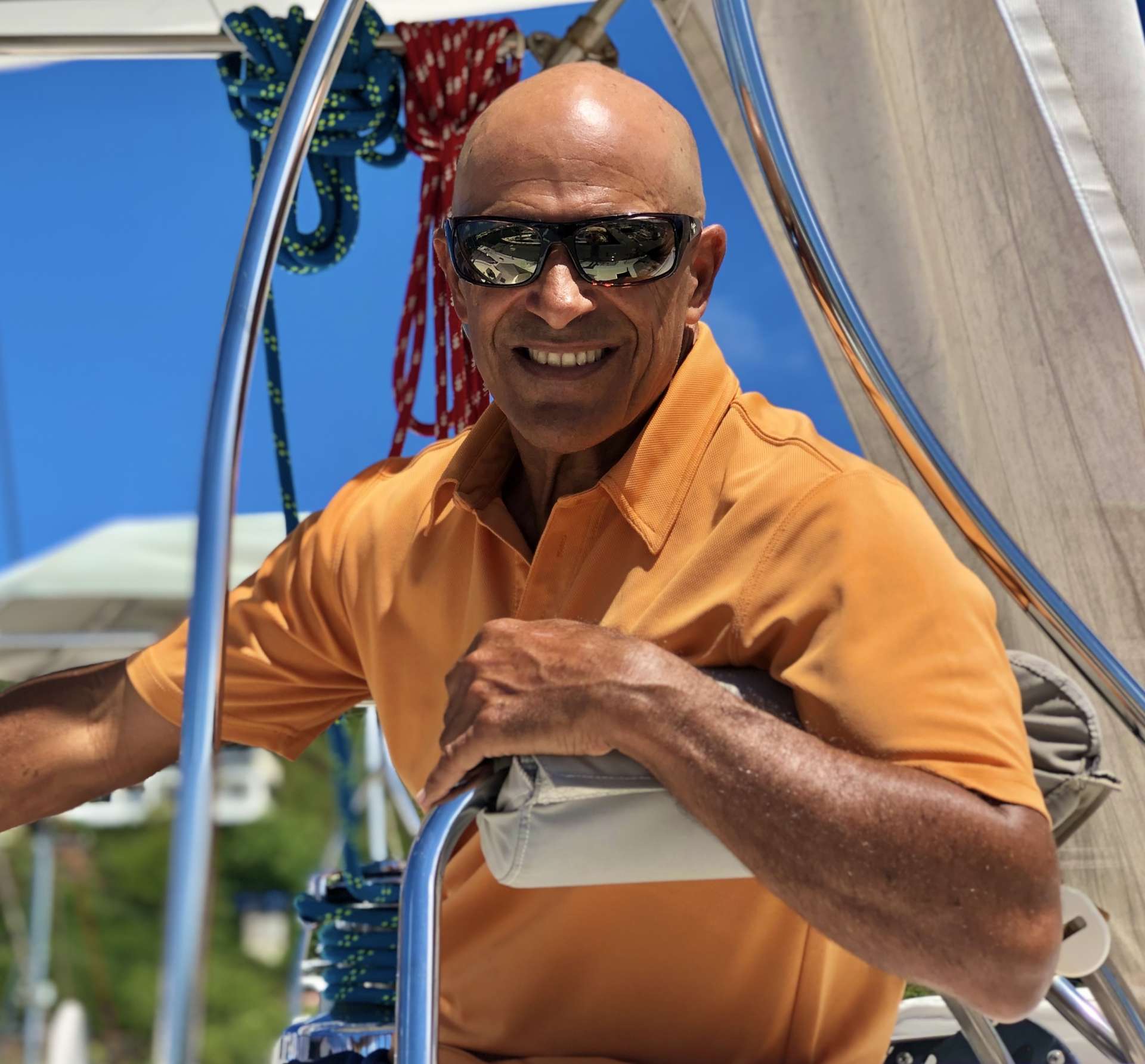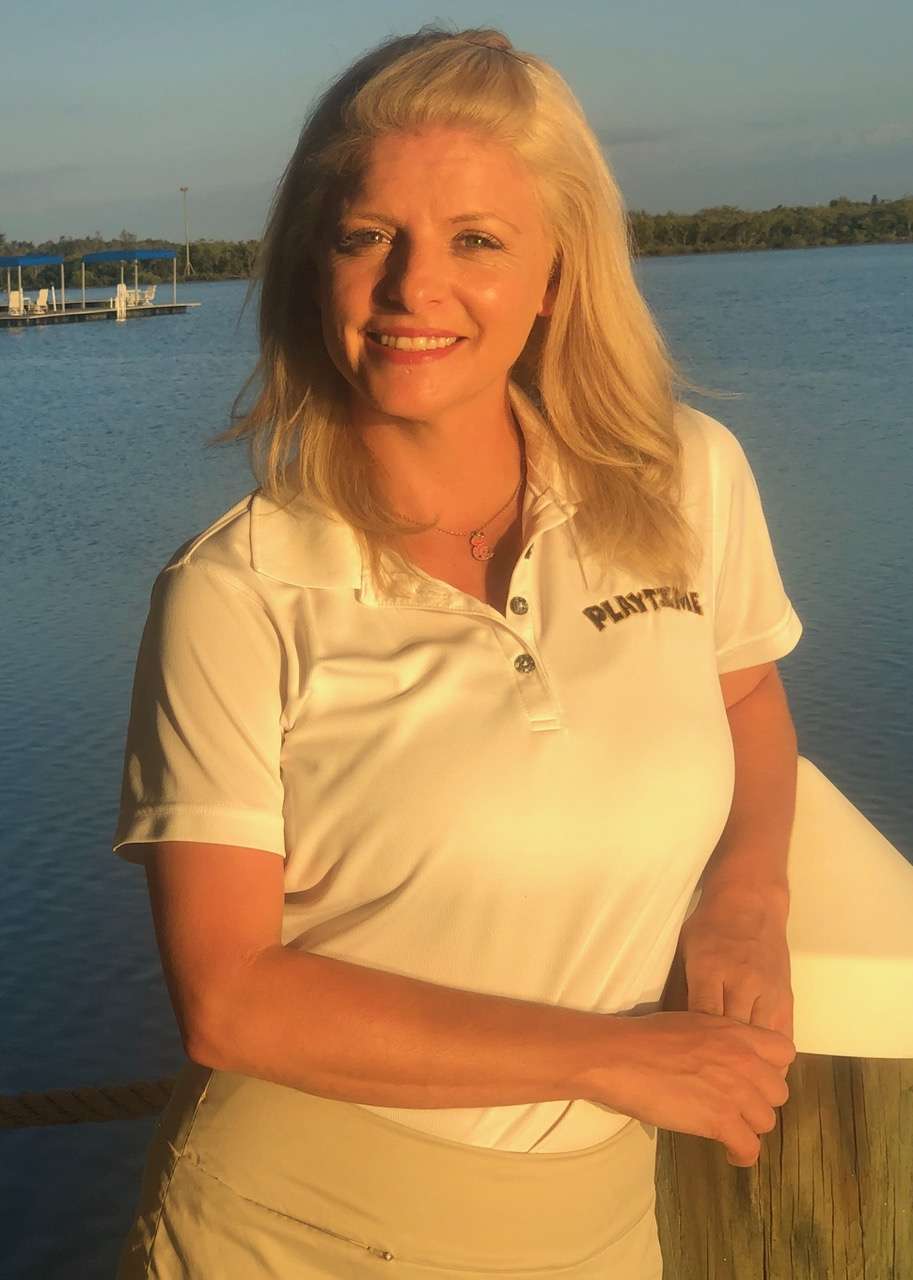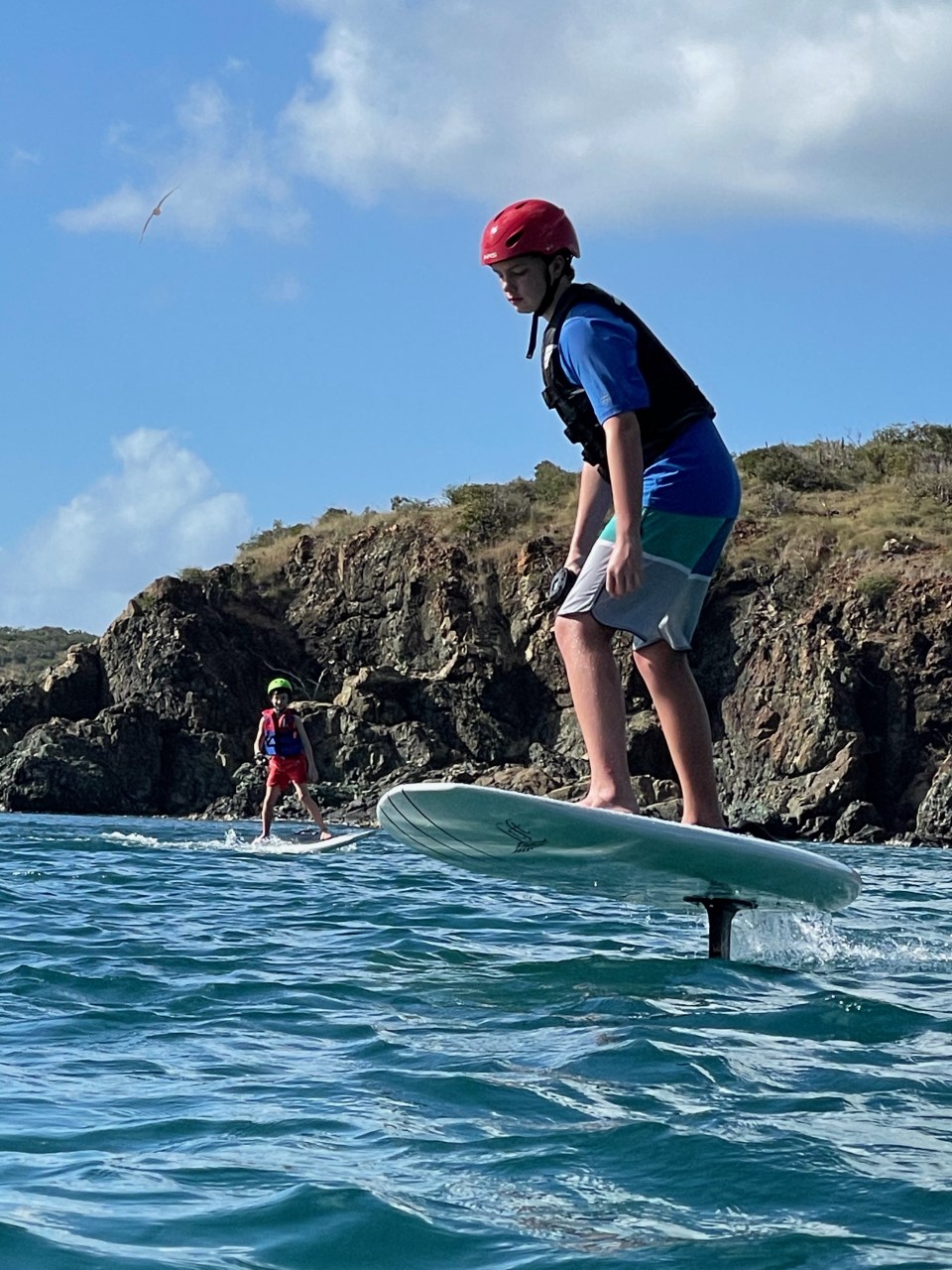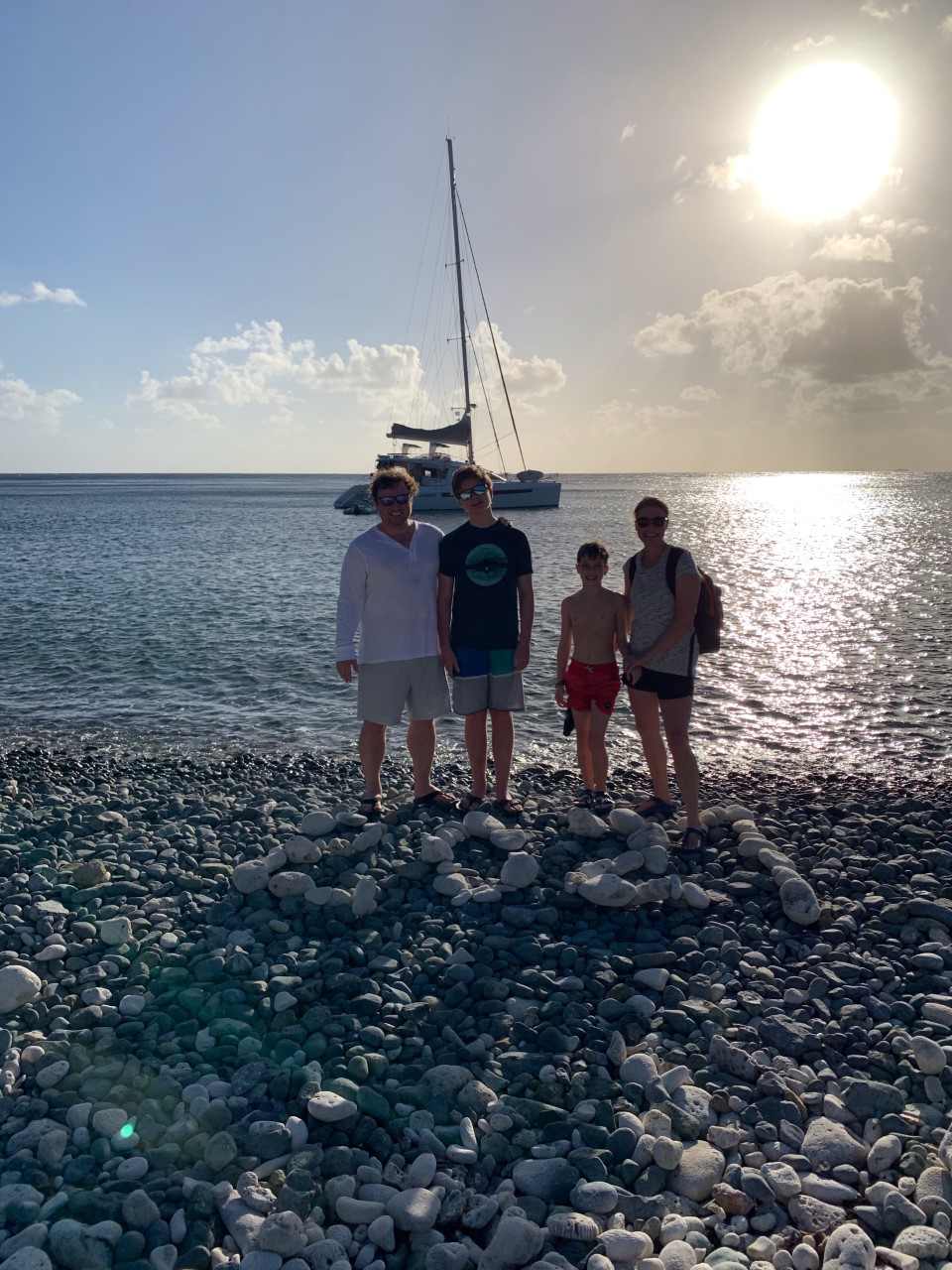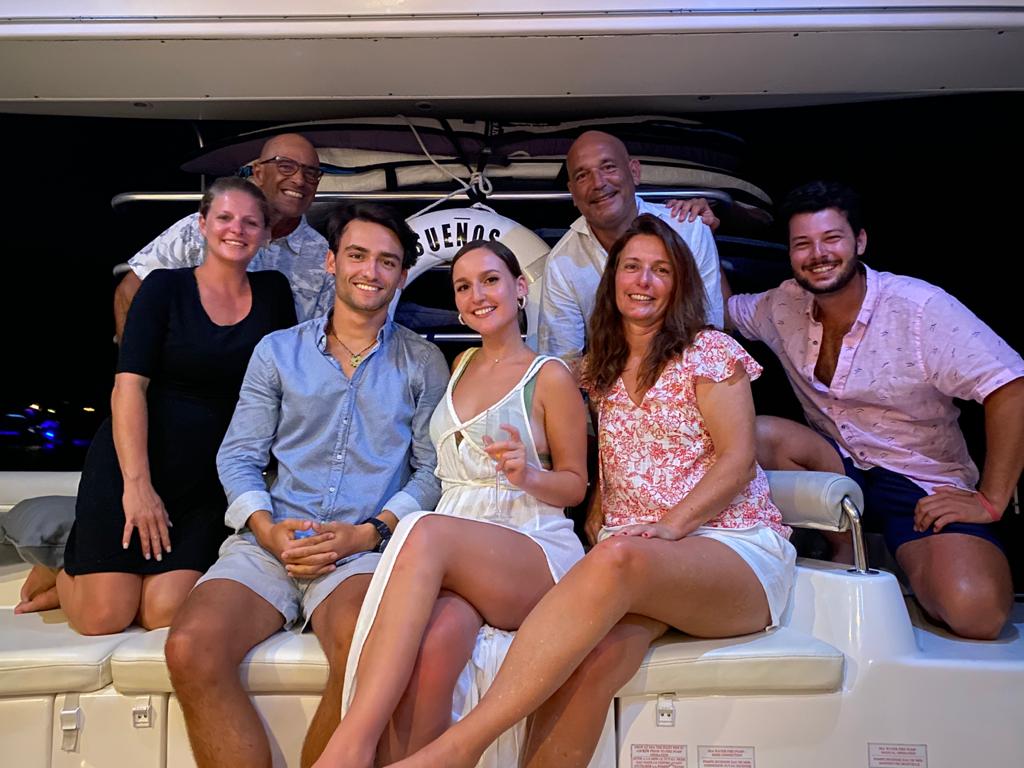 Description:
My name is Habier, the captain of TRES SUENOS.  We have Liz, our chef, and Floyd; he is going to be our instructor for the E-Foil, which is one of our main water sports attractions.  The name of the boat is Tres Suenos, which means sweet dreams for those of you who wanted to know about the name of the boat.
I'm going to start showing you the exterior of the boat.  Floyd is going to show you the e-foil and how we're going to do the lessons, and Liz will show you the interior.  So let's start.
Here in the cockpit we have our exterior table.  Most of the meals are going to be here in this area, although we have one inside table, which Liz is going to show.  So most of the meals – either lunch or dinners – will be done in this table.
So let's go this way up to the front bridge.  We are a Privilege 615 (61 feet) from 2011.  Here is our fly bridge.  We have a really nice area here where everybody comes when we are sailing.  If you notice we have two helm stations.  The reason for that is because the boat is so wide; for docking it makes it so much easier.
You can see have 360 view here in this area.  Down there we have some of our toys; we're going to go down there and show you the toys.  Watch your head here.
This yacht is really wide and stable, so when sailing is really comfortable.  There isn't going to be a lot of movement.  Here we have our paddle boards.  Here are our surf boards, which is part of our toys.  As I mentioned in the beginning, we do eco lessons and use of electronics foil board.  Floyd is going to talk to you more about that when we go to the stern again.  We have nice fishing gear.  We have a nice dinghy; we have 14′ AB inflatable with 70 hp Yamaha, so I'm going to have Floyd explain to you in more detail what the foil boards are all about.
How are you doing, everybody.  This is our 5.0 foil board – 5.0 equals five foot….  They have lithium batteries inside, which last about an hour for an inexperienced diver and three hours for experienced divers.  This is our hand controller right here.  This is how you accelerate the board.  You pull the throttle.  You can see the prop down here.  This is the wing.  So as you gain speed, you eventually get to the point where you're comfortable, and you can lean back on the board a little bit, just to redistribute your weight and you will start flying about two to three feet above the surface of the water.  It is an unbelievable feeling.  I don't know if anybody's done it or not, but it really is quite amazing.  There's nothing else like it.  These lift boards are top notch; they have the best computer boards in here; they are all covered in fiber, and for our equipment while we are doing the lesson, this is my new favorite thing, other than the e-foil, a speaking device to communicate with the person on the board.  Obviously I will have one; the person on the foil will have one as well, so I'll be right in their ear the entire time.  I'll be able to tell them what they're doing wrong, what they're doing right, what they need to do next, switch your weight back, switch your weight forward, and we're really excited to be able to get most of the guests trained on these boards within the first day.  So that's our goal, and it seems to be a pretty feasible one.  Other than the 5.0 foil, we have a 6.2 up top on this rack here, and down low, we have a 4.4.  So the 5.0 and the 6.2 are intended for beginners, but if you're intermediate or advanced, you're still going to have a great time on those boards, and then the fourth board is mainly for our advanced riders.  So typically I'll use that for my little chase boat and follow them around, making sure they have the support they need.  Our age range for this is anywhere from ten years old up or younger all the way up to 70 year olds.  Everybody's doing it.  It looks difficult but it really isn't.  It's going to be a lot of fun for everyone onboard.
Captain Habier said, 'We're going to look for the best places to do our lessons.  Let's go inside, so Liz, our chef, can show us the interior."
Hi, I'm LIz, the chef and first mate on Tres Suenos.  I'm going to start off showing you our beautiful spacious saloon.  This table seats six people for guests, so they can eat inside if they wanted to.
Walk this way.  I'm going to show you another area that I love…this bar..  Here we have the refrigerator and freezer.  These are for the guests use only.  We have a little bar area here.  I cook over here and an ice machine there.  As you come down this way, I'm going to start by showing you the master.  It has a King size bed.  All of our rooms have King size beds.  You can see once again, it's very spacious.  We have a couch in here.  There's lots of closet space and storage space for the guests.
One thing I want to point out, all of our rooms have separate heads and showers.  The showers are completely separate.
When you come in here, this is my favorite room – a beautiful spacious galley – we have dish washer, freezer, refrigerator, and I can definitely cook up some lovely dishes in here.
Another feature of the boat is the beds pull out.  You come in and then they go out.  So you can have them back as a seat or you can lay and make it a day bed and watch TV or read a book, hang out.
Now we're going to move over to the other side.  Once again, this is another stateroom with a King size bed, cushion, storage, an exact mirror of the other room that you have seen.  Separate head and shower.
Then you come here.  This is the real gem; this is the master suite.  As you can see, it's absolutely breathtaking how big it is.  Let me point out all the closet space, the desk that you have here, and lots of storage.
Now we can go outside, see the rest of the crew.
Based in St. Thomas, TRES SUENOS charters for:
$25,000 weekly all inclusive for two guests
$25,500 for three
$26,000 for four
$26,500 for five
$27,000 for six
Rates include food, fuel, bar, and dockage – everything! – except gratuity.  Christmas and New Years weeks are sold at a premium.
E-FOIL BY LIFT FOIL SPECIAL OPTION:
E-foil week is available, $4,000 https://youtu.be/_a3olblw8aY (Copy and paste to your browser)
Ever dreamed of flying over the water. Feeling weightless but in control of where you're going. E-Foiling has arrived in the US Virgin Islands. This exciting new E-watersport feels like carving deep snow or riding a magic carpet. Our playground is the spectacular coastal waters of the Caribbean.
Private unlimited lessons and use of the board throughout the week.
Check out the Youtube channel for more info: https://www.youtube.com/channel/UC-YtLQ9BhQ1UZF3sAk-1OGg (copy and past to browser)
$125 PER CABIN SLEEP ABOARD: Sleep aboard the night before charter dates. Boarding after 4PM, welcome cocktails, then dinner to be taken ashore at client expense. Includes breakfast the next morning. Valid for 6 night charter or longer. Minimum 2 cabins. EXCLUDES: Christmas and New Year's weeks.
HALF-BOARD RATES: Includes: 7 breakfasts, 4 lunches & 3 dinners. Requires 3 lunches and 4 dinners ashore at client expense.
2/$24,700 3/$25,050 4/$25,400 5/$25,750 6/$26,100
LOCAL FARE MEAL PLAN: Includes: 7 breakfasts, 5 lunches & 6 dinners. Requires 2 lunches and 1 dinner ashore at client expense.
2/$24,900 3/$25,350 4/$25,800 5/$26,250 6/$26,700
SVI CHARTERS: For one way charter STT-FAJ please add $1,700.
CHRISTMAS/NEW YEARS:
CHRISTMAS: 1-6 guests @ $31,000 with 6 night minimum
NEW YEARS: 1-6 guests @ $32,400 with 7 night minimum
New Year's must start no earlier than 12/27
Christmas must end no later than 12/26
***E FOIL Lessons on Tres Sueno*** $4,000 per week (all guests and instructor) 
TRES SUENO E-Brochure, Photos, Info Sheet, Crew Profile, Sample Menu, Guest Comments, Rates & Bookings
Information believed correct but Nicholsons cannot be responsible for content.