High Rate: $ 52,500 weekly Plus Expenses
Low Rate: $ 47,500 weekly Plus Expenses
Cabin Configuration:
Sleeps 9 guests in 4 cabins; two are the full width of the ship, one with King size bed, the other with Queen size bed, plus two smaller guest cabins, one with Queen bed, the other with two twin beds that push together to become a Queen, and this stateroom also has a foldaway Pullman. The crew are self contained aft. All the staterooms have their own private bathroom, air conditioning, and the yacht has Apple TV in each cabin, Satellite TV, and onboard Wi-Fi.
Specifications:
Length:
Builder:
Built/Refit:
Beam:
Draft:
Cruising Speed:
Regions Available:
Locations It Travels:





Special Features:
84'
Azimut
2015
20'
6'
12 knots
St. Thomas, St. Maarten, Newport, Rhode Island




Fly Bridge
Zar tender with 90 hp outboard
Three Crew
Two full beam Cabins
Families of up to nine
Hot tub to be installed Spring 2021
Water Toys
18' Zar tender with 90 hp engine
tube
two stand up paddle boards
submersible swim platform
fishing gear
wake board
light tackle
4 rods
snorkel gear
2 kayaks
rendezvous diving only
floating island
board games
two Yamaha sea scooters
one efoil board
hot tub to be installed during Spring 2021
Apple TV in all cabins
DVD player in master
Satellite TV
four chaise lounges
Molton Brown products
Miele coffee/capaccino/espresso maker
Have a Question About This Yacht?
Fill out the form below and we will get back to you quickly!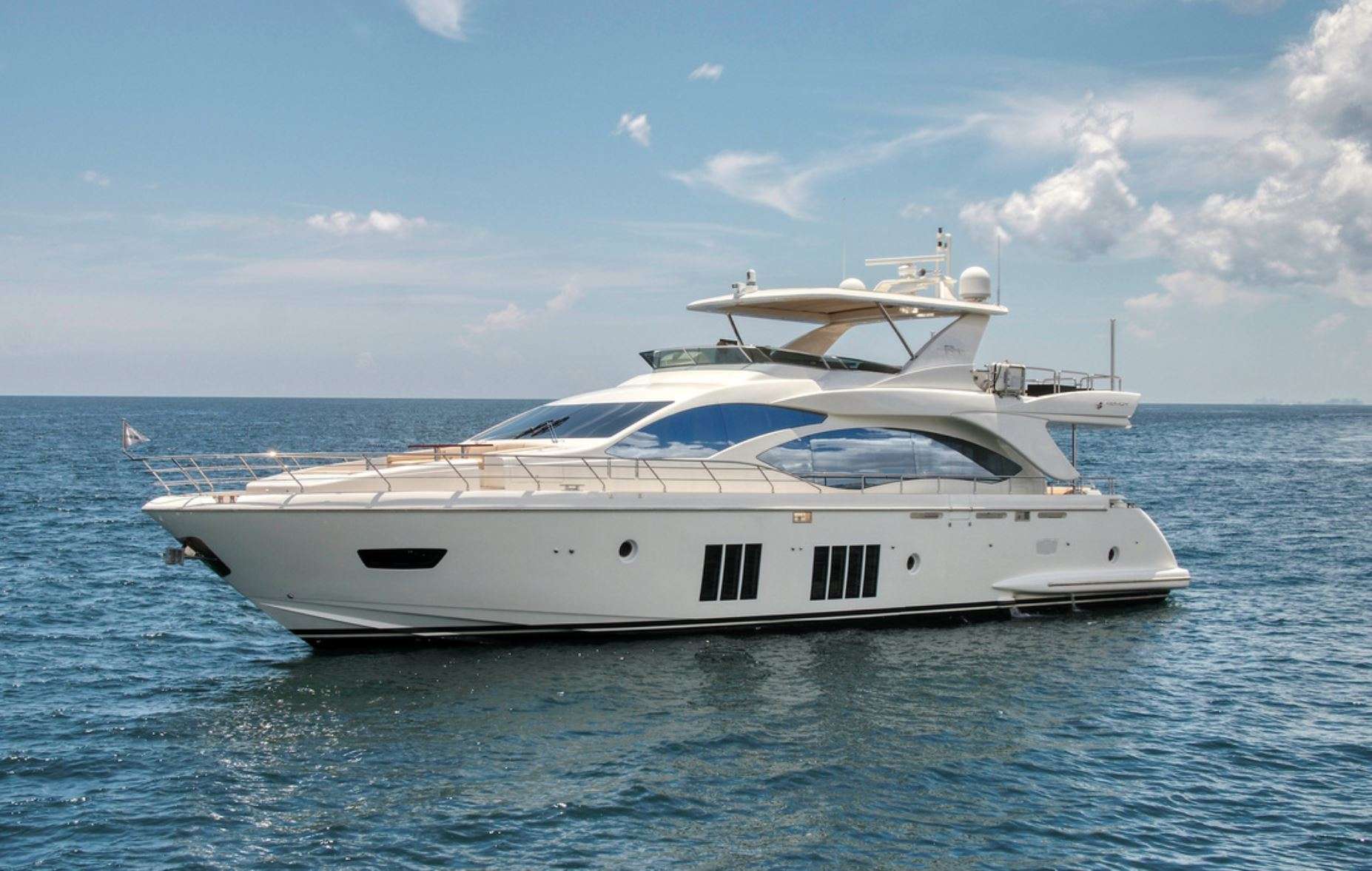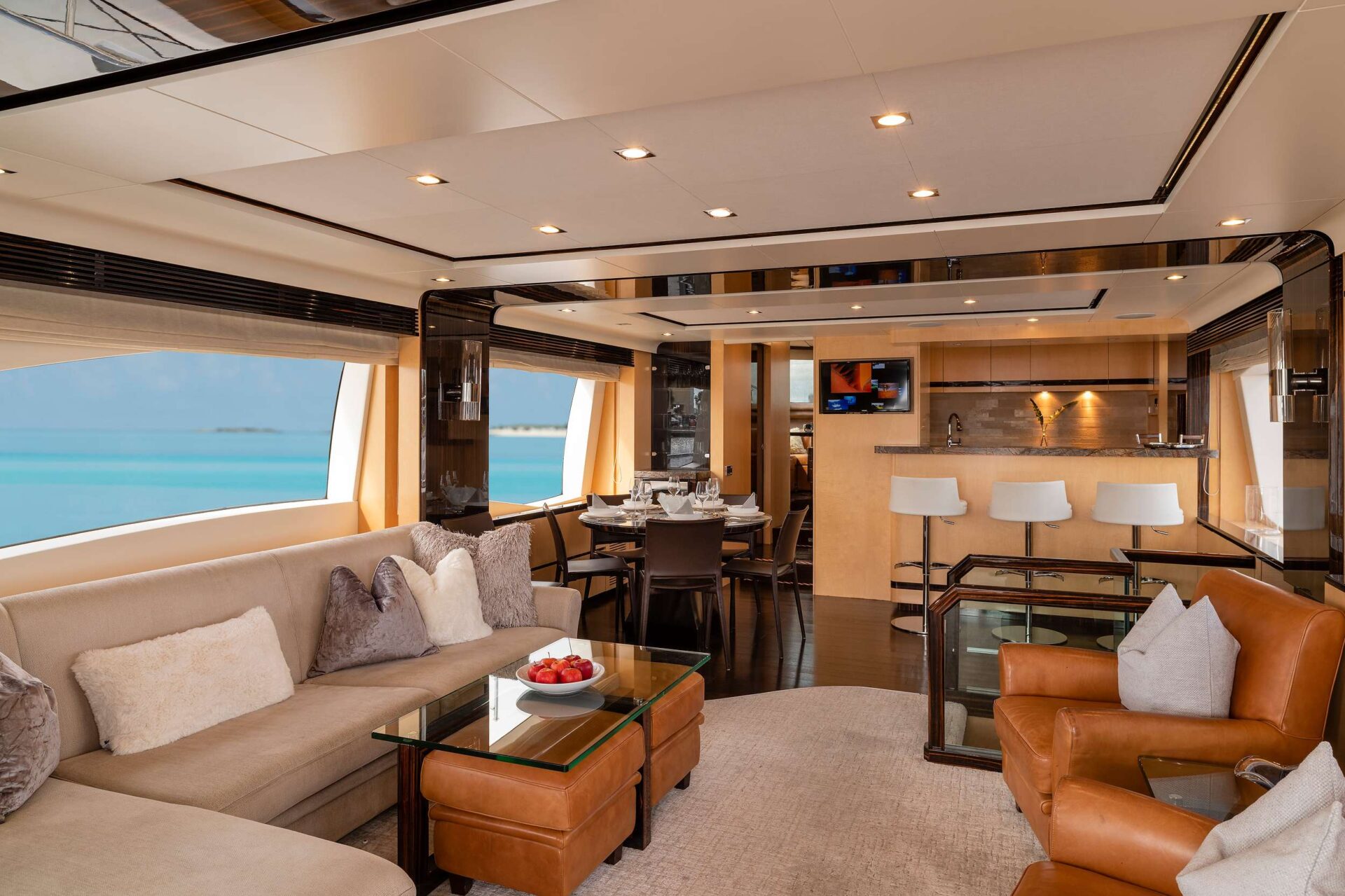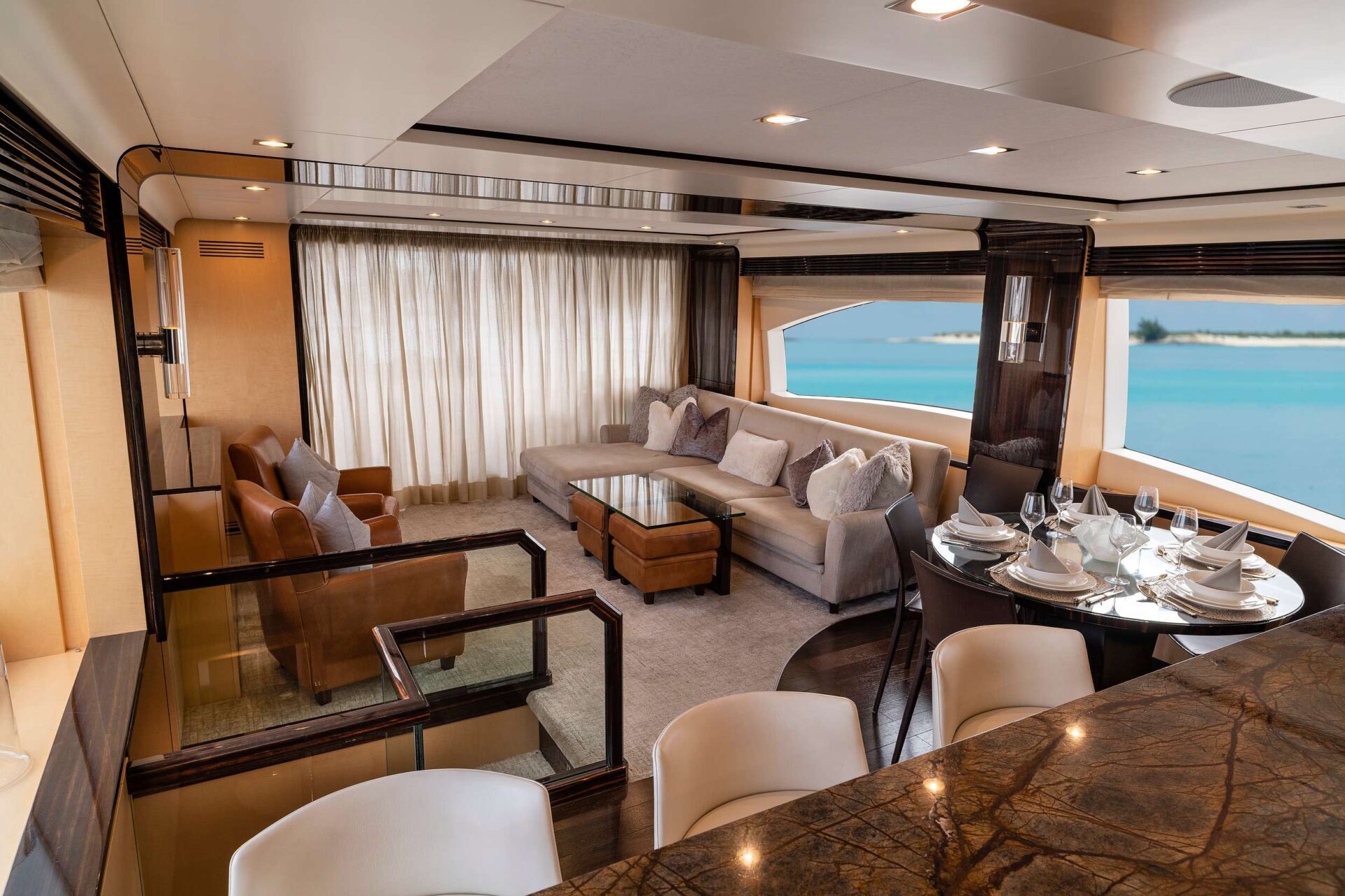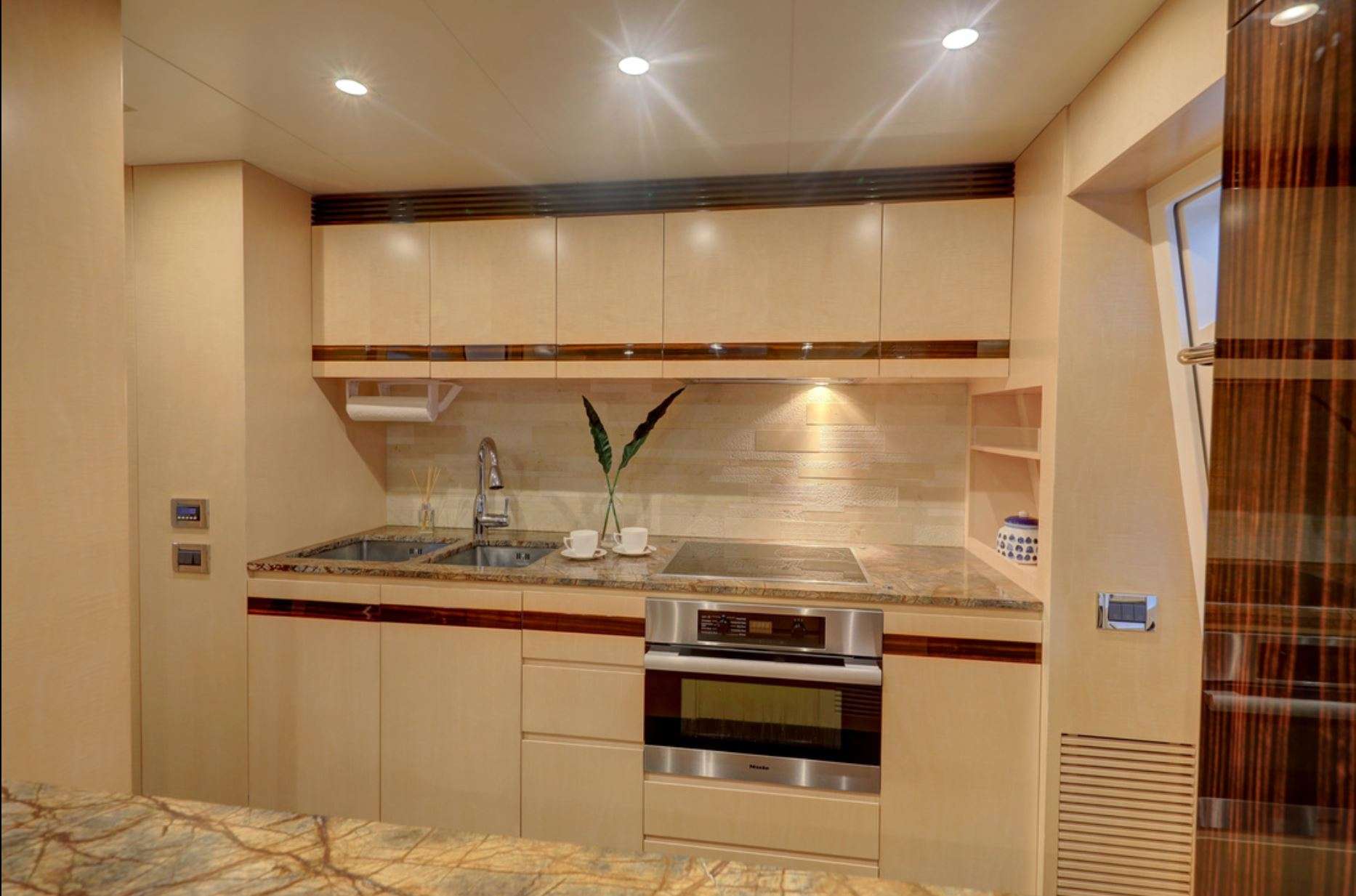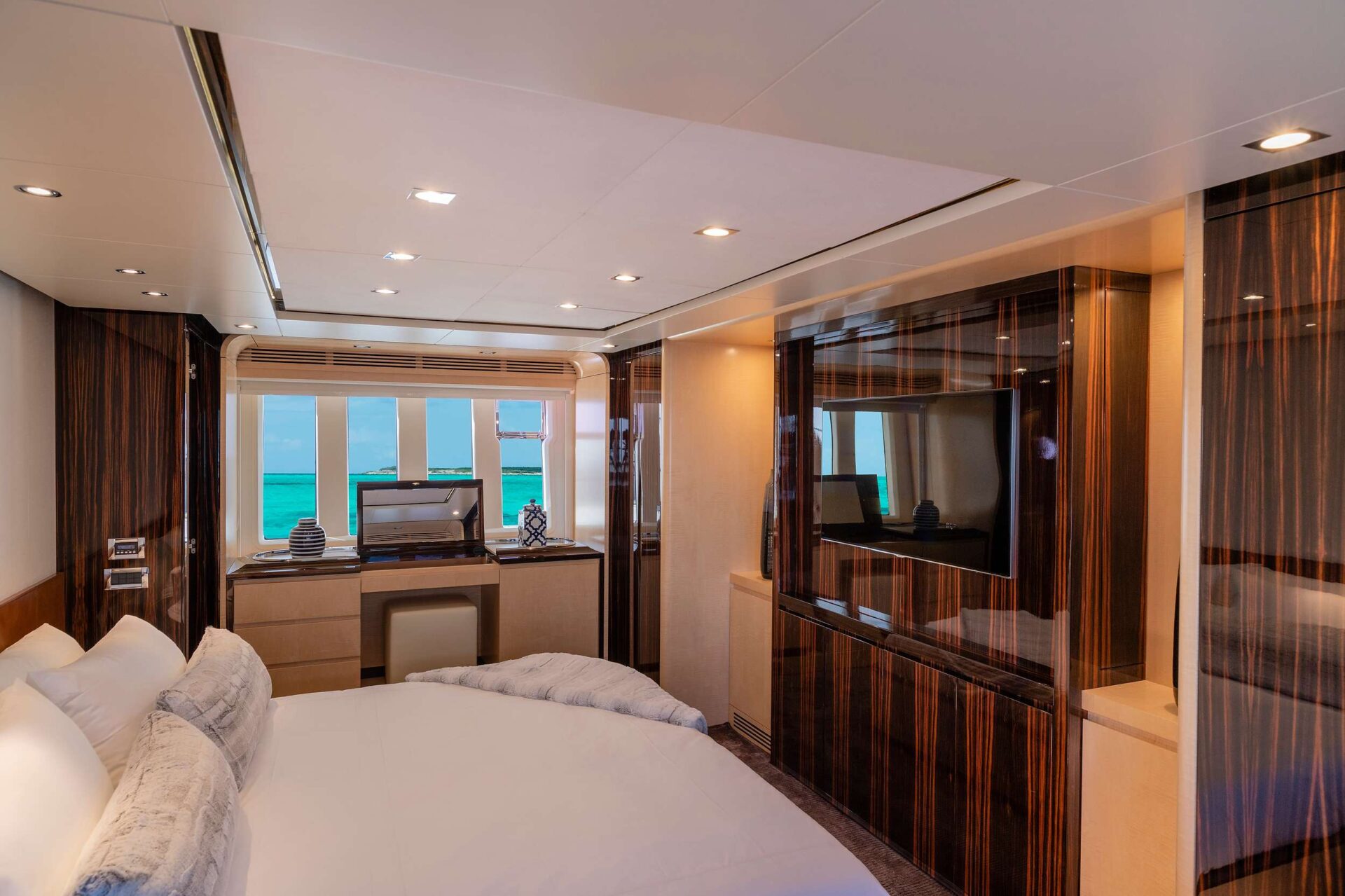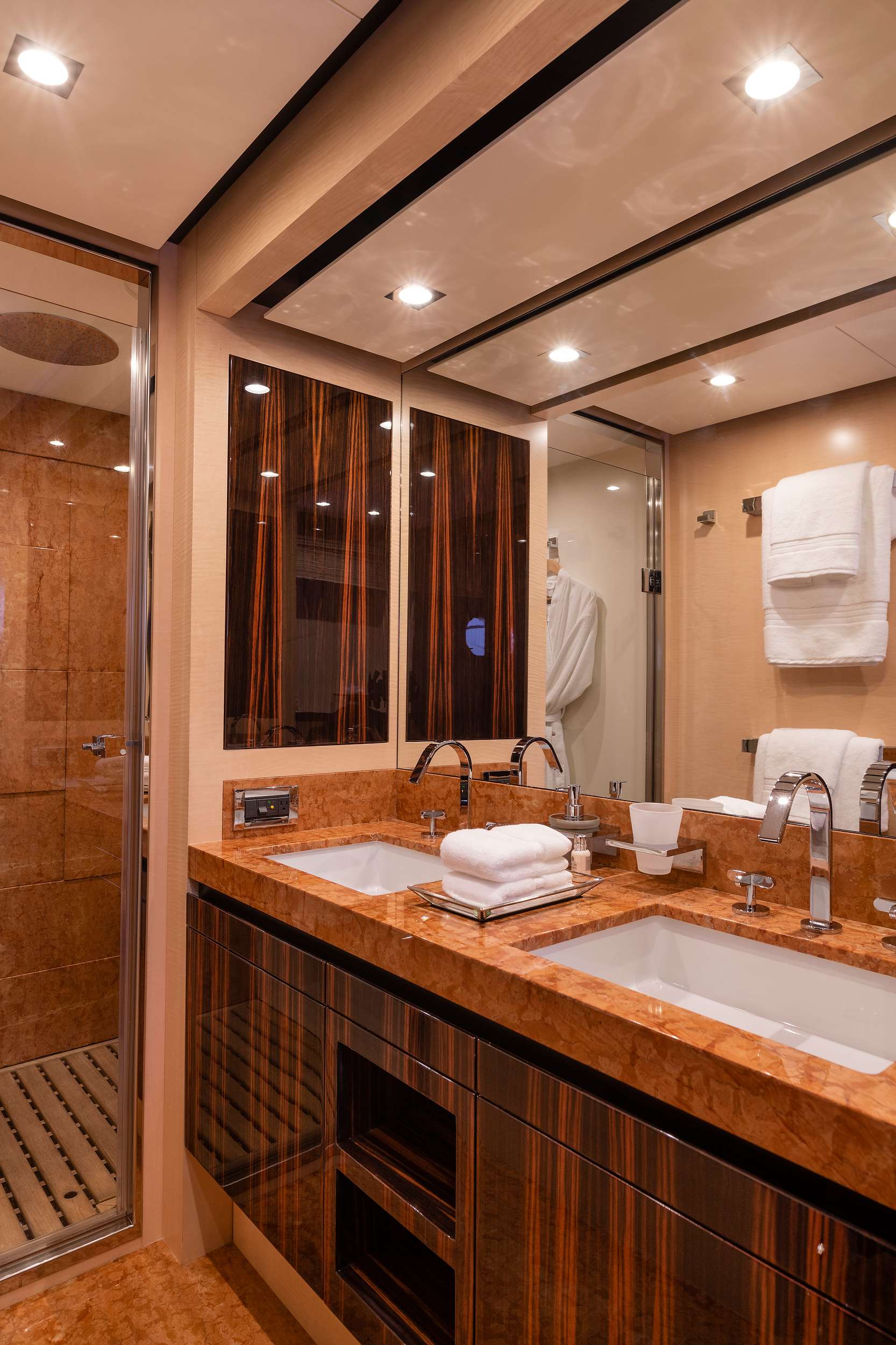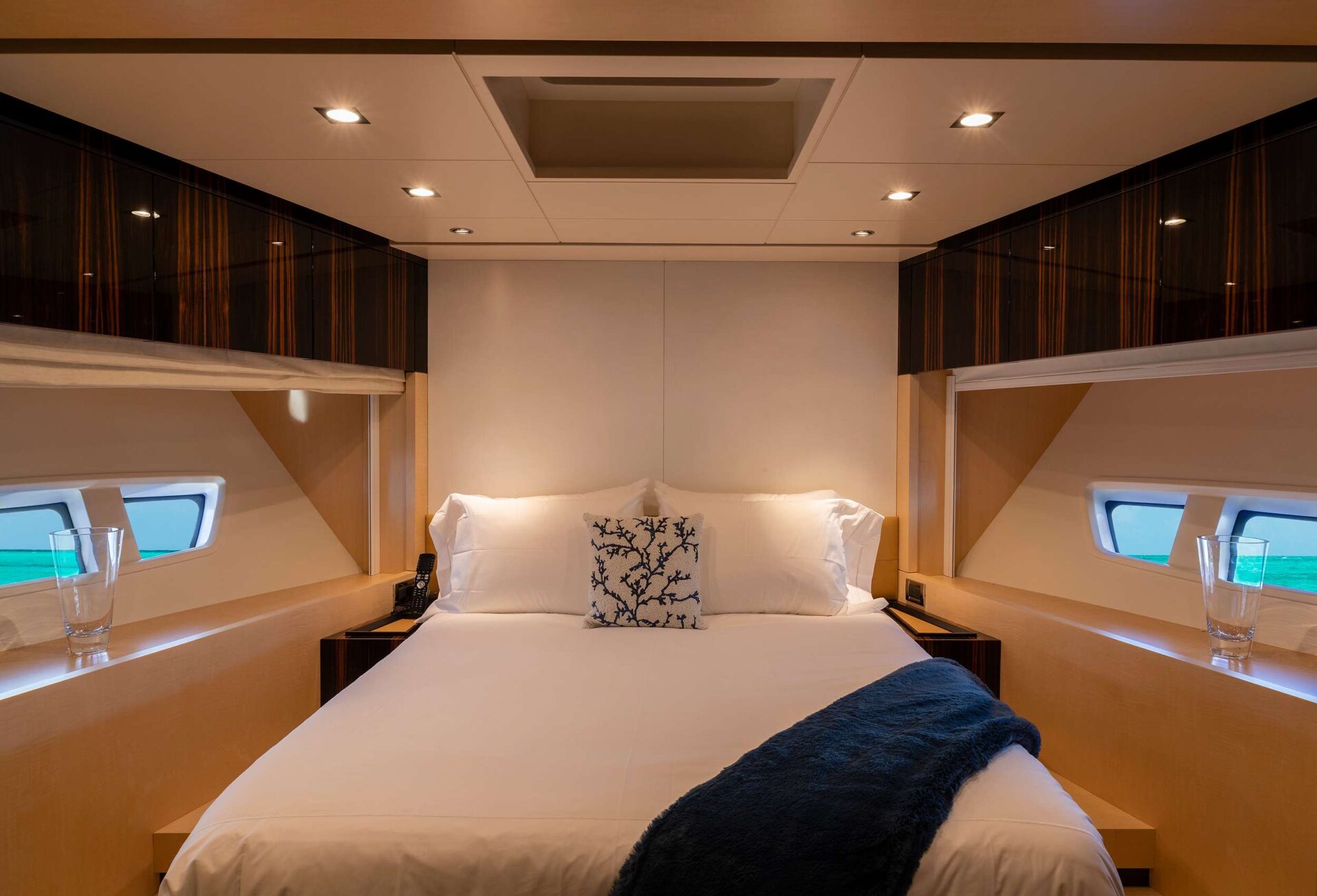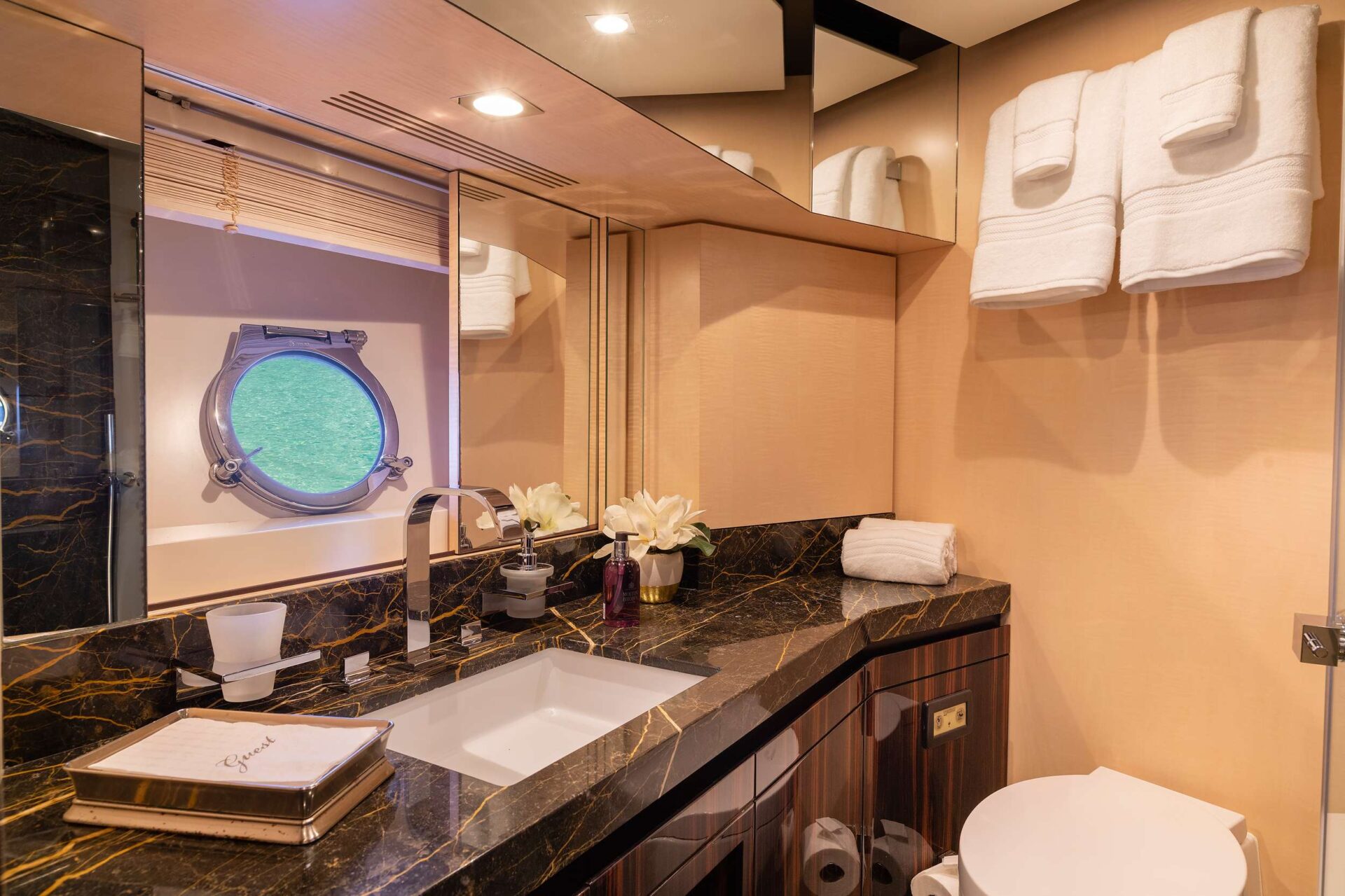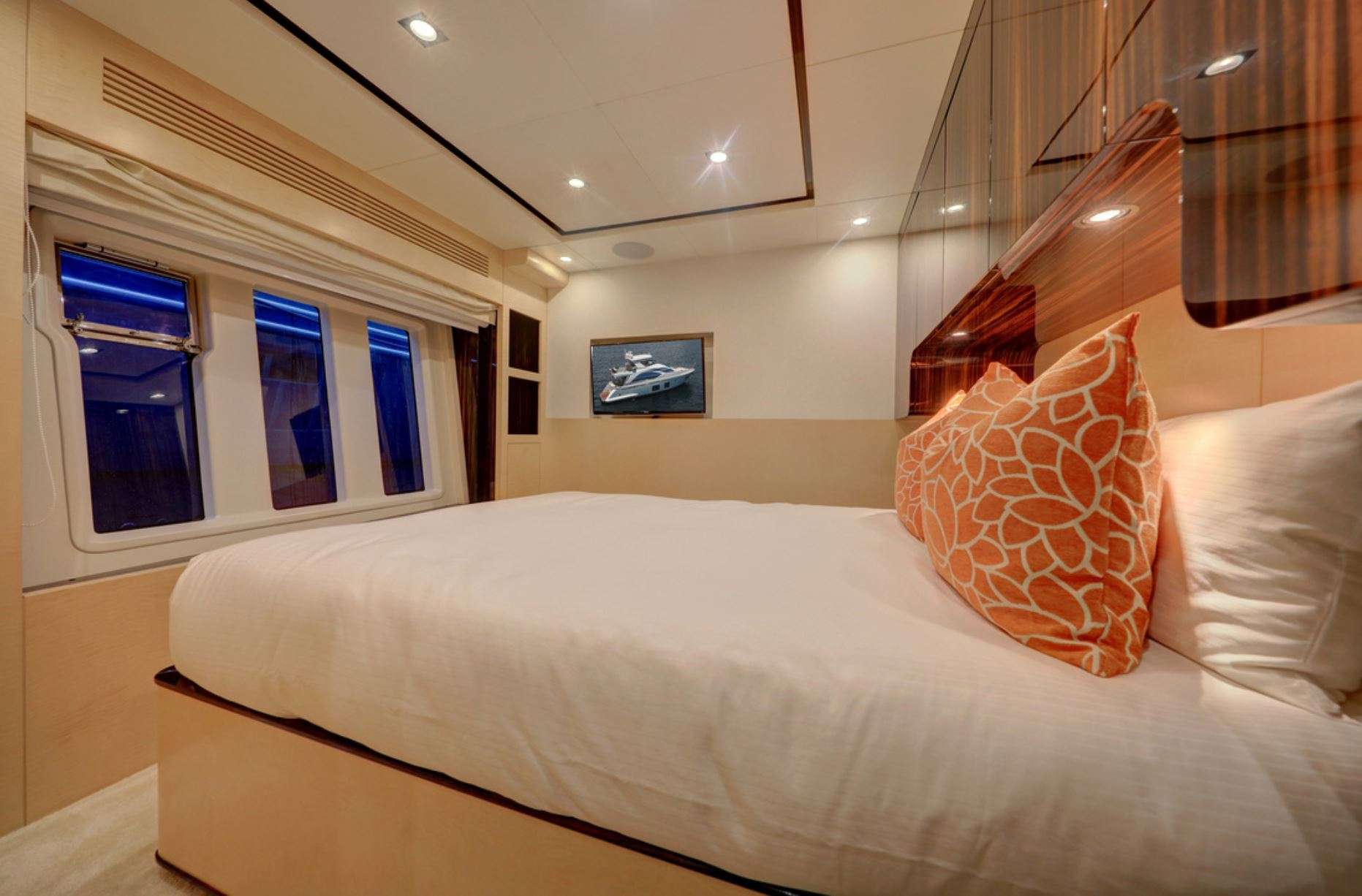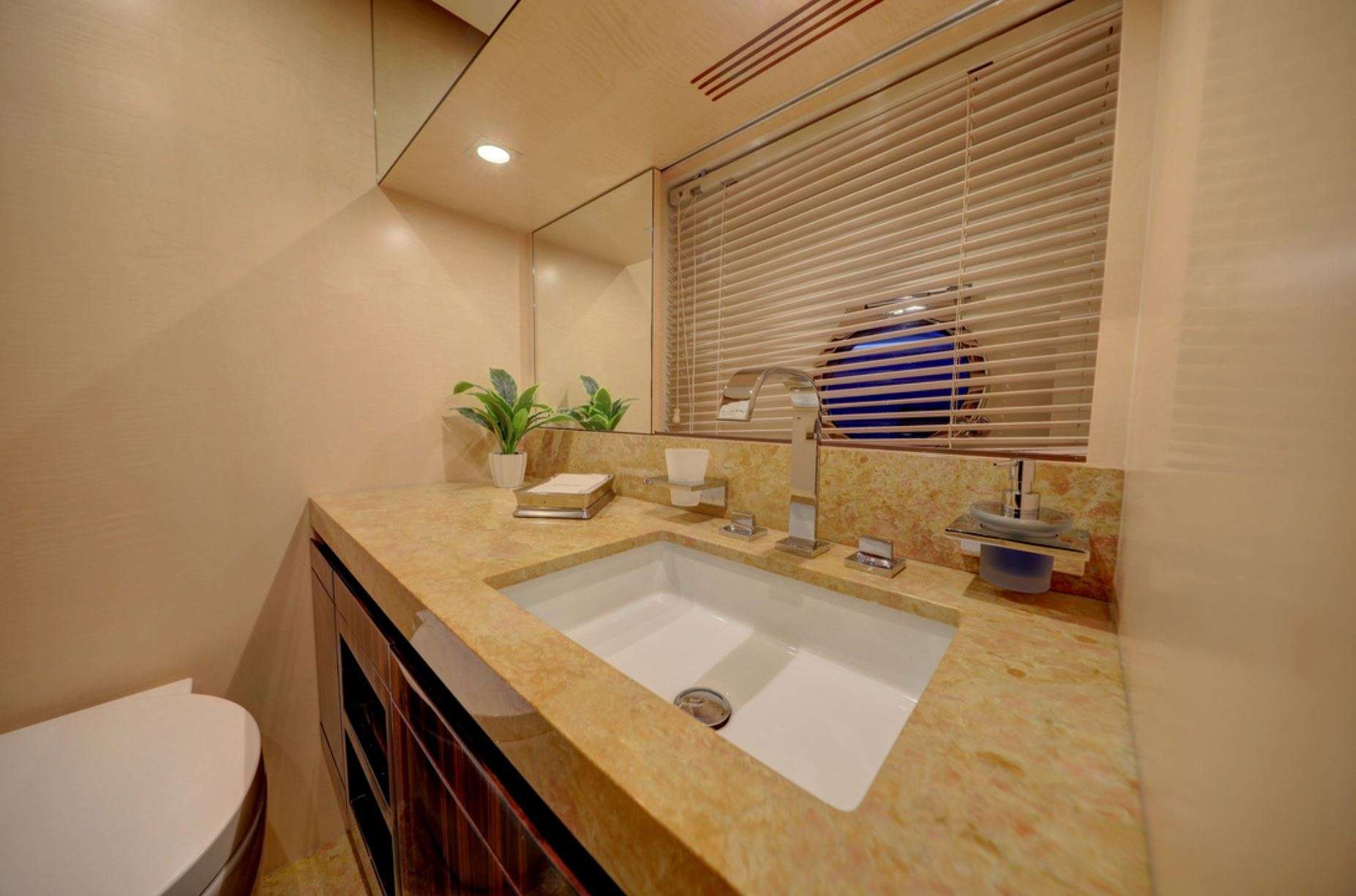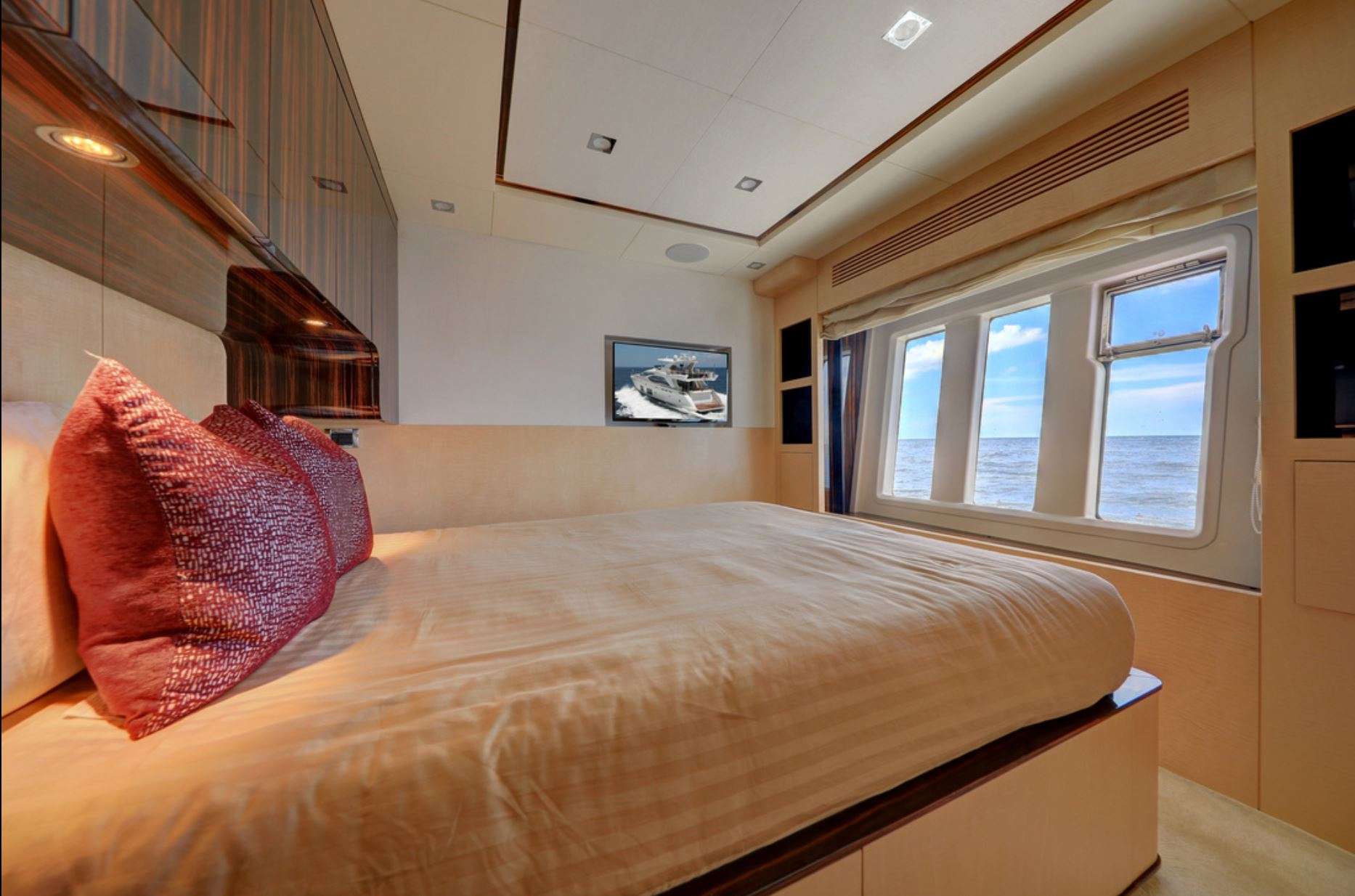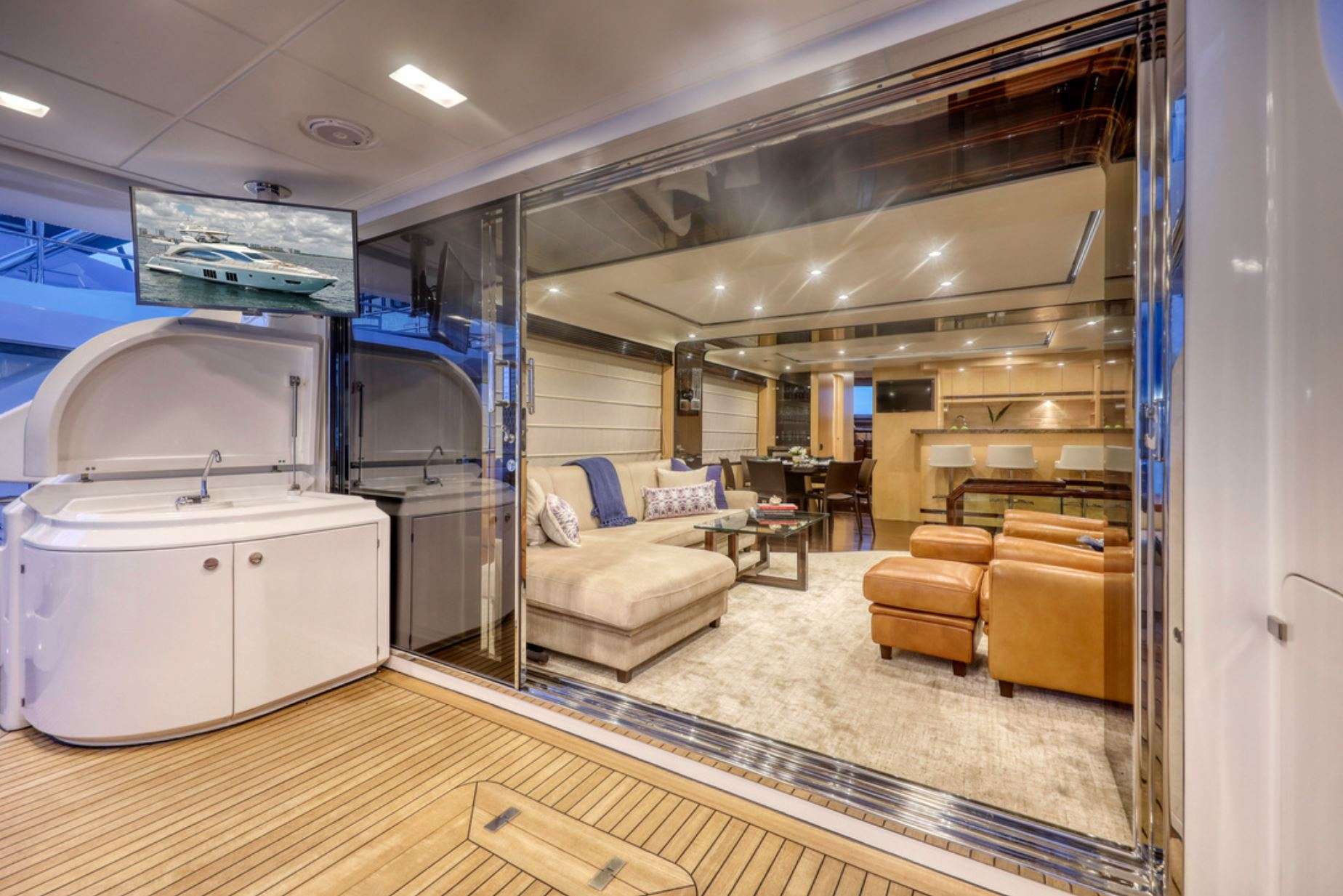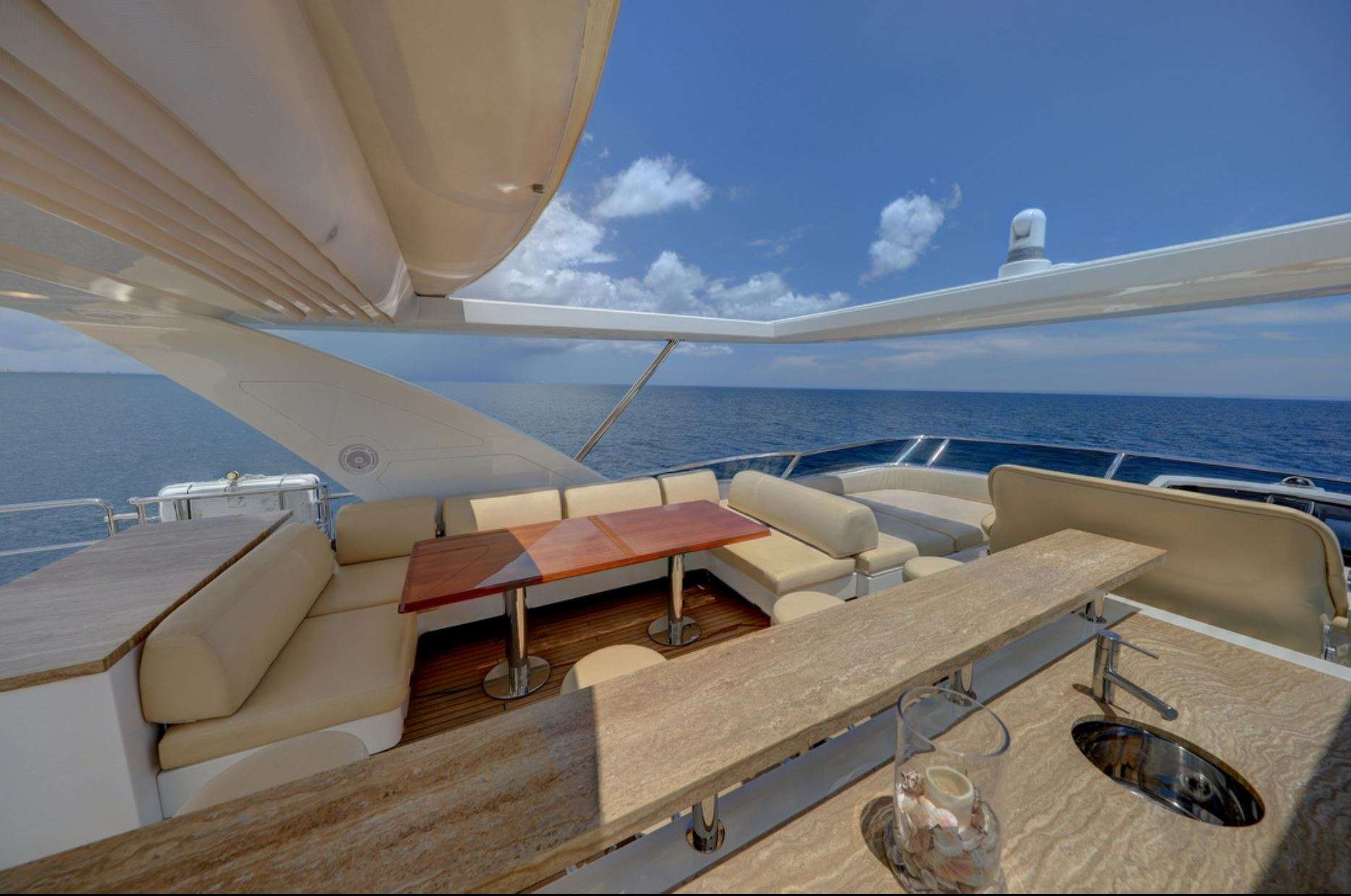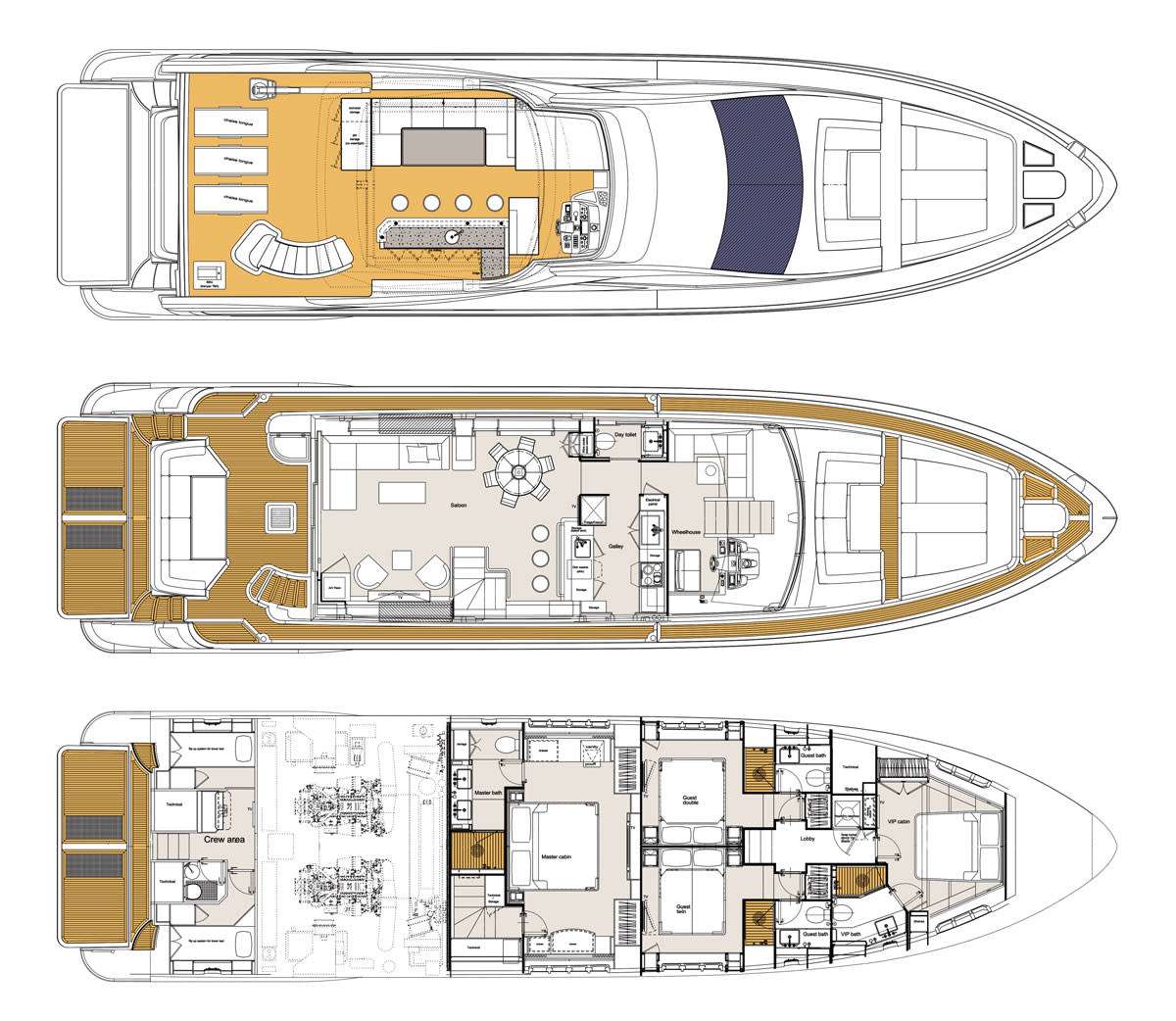 Description:
Welcome aboard VALERE.  I'm Captain Paul.  I'm going to give you a quick tour virtually of the vessel, so that you can have some idea of what she looks like.  As you can see, she's a real beauty!  2015 Azimut 84 footer, built in the Benetti yard, so it's not a normal Azimut build, and I'm going to go ahead and take you from the salon here where we are and bring you down to all the guest cabins.
One of the unique features we have about this saloon is the ability with the bar and an open galley to have a very large expansive view and with the bar, as a guest, sit and have a cocktail and talk to the chef, as she prepares one of your favorite meals and enjoy your evening.
From the salon we get to go to the master cabin.  We go down a short set of stairs to arrive in the full beam master cabin with beautiful panoramic view of the cruising ground on both sides of the cabin through large windows, a King size bed, plenty of storage for all of the things you bring with you, large screen TV at the foot of the bed, and the ability for you to watch DVDs, music, and here we go into the ensuite bathroom with large shower, double sink, and beautiful spacious area.
As we leave the master and go back on up to the main level, we'll bring you forward, but as we pass the galley, Chef Patty waves hello, and Captain Paul says, "The most fabulous chef in the world.  She's going to cook all of your favorite dishes."  Paul pauses to look at Patty's beautifully set dining table.  "This is our indoor dining area.  If we have inclement weather, we have the ability to seat five, six, or eight, or four depending how many the party is.  The table will go ahead and expand out with a leaf.  We have it set up for five right now, but we can set it up for however many we have in the party.
As you come forward, we have a day head, and a little seating area opposite the helm station on the inside of the vessel.  This helm station can seat two.  We have a great panoramic view out the front of the boat.  All of the navigation screens are here, so we can go ahead and navigate safely, and then right in the center, we go down to our three cabins here, which are absolutely fantastic.  As you walk forward, you'll go to the VIP cabin.  If you notice, this is the most beautiful view as we enter.  Panoramic view on both sides, starboard and port, its own large head and shower.  There's a vanity in the cabin, a lot of storage.  Every one of the cabins has TV – Apple TV – Direct TV.  We have Wi-Fi on the boat, so there's plenty of options for your entertainment onboard.
As we come back to the port side, there's a Queen cabin.  As you enter, you'll see the head is first, and then you come down a couple of stairs.  The queen cabins both port and starboard have TVs in the cabin, and look at this amazing window view out to the ocean from your bed.  This is a unique feature of this yacht, great views from every cabin.  This is the port side.  As we come out and go across the passageway, you'll see the starboard side.  The starboard cabin is unique, because we have a Queen bed, after we pass the head, and that Queen bed can be individualized to be two twins.  This bed separates and goes against the wall, opening up in the center.  We also have what you can't see right now against this bulkhead here there is an additional Pullman that is out being serviced but once it comes back in will be up against that bulkhead, so that we have the ability to have an additional child bed.  So this cabin can fit three people, still with the full window view from inside the cabin.
First mate Shane took us for a tour of the outside of the boat.  We'll head up to the sun deck.  This is one of my favorite aspects of the boat, he said.  You have the bar area here.  We have ice maker; this is where the magic happens with all the drinks serving, a great place to hang out.  If you come up this way, we have the fly bridge here where we'll do a lot of the driving throughout the day.   The captain and myself as the mate prefer to use the fly bridge just to be outside, and then we have some seating and sunning here.  We also have a retractable roof that pulls back, opening up the roof, and if it's a nice beautiful sunny day and it's not too hot, we'll pull the screen back out of the hard top covering the fly bridge to watch the stars at night and just get some nice views from there.
We have a table setting here.  This is from Patty, our chef.  She is a culinary genius, and she's also quite artistic, so this is just a sample of some of the place settings that she'll provide.  We'll often have dinner up here as well.
Aft of the fly bridge is another great spot to lay out and catch some sun and get those rays and then over this direction here we have the grill, which we'll do a lot of cooking from as well.
We'll head back down stairs and head out to the bow of the boat, where there's a fitted sunbathing mattress on the coach roof covered by a large umbrella and table area.  This is another great spot to come and sometimes we'll have lunch out here if it's a nice beautiful day and it's a spot for people to lay out if they would like to.  We also have some speakers up here for some music.  It gives a nice ambiance to laying out in the sun.
Here on the aft main deck is a nice seating area.  Often times we'll serve breakfast out here or lunch.  It's a really nice, beautiful spot for people to start off their day. And then on the back of the boat we have my favorite aspect, which is our new 17.2 foot Zar tender.  She's got 90 hp pushing her, and I can't wait to get this baby out with guests on it and do some tubing, and take people out to snorkel and just get out and enjoy it.  I think with this boat, people are going to have tender envy in the islands, because this baby is really nice, and I'm excited to get it out.
Thank you so much for checking us out, and I can't wait to see you guys in the islands.
Based in St. Thomas and St. Maarten during the winter and Newport, Rhode Island during the summer, VALERE charters for $47,500 a week plus expenses year round except at Christmas when she charters for $52,500 a week.  It is customary to wire a 35% Advance Provisioning Allowance (APA) to cover food, fuel, bar, and dockage 30 days in advance of charter.  Gratuity is extra.
VALERE Crew-Guided Video walkthrough of yacht
VALERE's online e-brochure, rates and bookings f
Information believed to be accurate, but Nicholsons cannot be responsible for content.  Please consult VALERE's online e-brochure, rates and bookings for information.