A Typical Day On A Nicholson Yacht Charter
Morning
After breakfast of your choosing, the crew will raise the sails. You are welcome to take the helm. If you prefer, just take the suntan lotion to the deck and relax. Depending on the area, you may cruise for three or four hours directly to the next night's anchorage; or, where islands are close together, you can make as many as half a dozen stops in a day, anchoring to snorkel here, lunch there, go shopping later, sip tea in another setting, have cocktails in another, and finally anchor for the night in yet one more perfect place.
Luncheon
After anchoring, take a swim in the incredibly clear, silky water. Indulge in French wines and cheeses, fresh fruits, tasty casseroles, and cool salads. Sit back in the covered cockpit. Close your eyes and enjoy the sea breeze.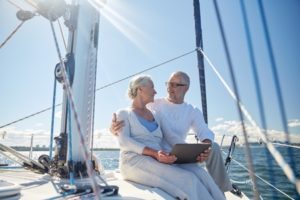 Mid-Afternoon
Enjoy refreshing tea and cakes served on board when you return from and exciting shore excursion. What's your pleasure? Hiking to a waterfall, shopping, scuba diving, sightseeing? Just tell us your preference.
Sunset Hour
The golden, fading light reflects in the crystal sea as you enjoy rum punches and hors d'oeuvres on deck.
Dinner
Soft music plays in the background as candlelight illuminates a feast of seafood and local specialties.
After Dinner
Relax on deck in the balmy evening air. Try to count the stars. Enjoy coffee by moonlight as the captain tells of the pleasures that await you tomorrow. On another evening, go ashore and dance the hours away – barefoot in the sand, at a local pub, or in a sophisticated nightclub.
Bedtime
Your steward or stewardess has turned down your bed, and you slip between cool sheets, relaxed, happy and carefree. As the gentle waves caress the yachts hull, the stars twinkle and you sleep, dreaming of tomorrow's adventures.