FEATURED LOCATIONS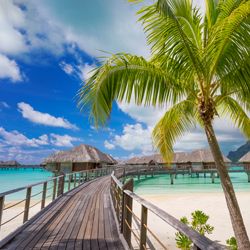 French Polynesia
With a superb tropical climate from March through November, fanned by trade winds, the warm waters of the South Pacific set the scene for an unforgettable deserted-island charter. Marooned in an idyllic ocean, forgotten by the 21st century, the islands of French Polynesia are a paradise of turquoise lagoons, lush scenery, and deserted beaches. Tahiti and Bora Bora are most frequented by visitors traveling to French Polynesia, but the Marquesas and Tuamotu Islands are part of French Polynesia as well. Charter yachts can be delivered to those areas on request.
The Marquesas are mountainous and dramatic and largely uninhabited, while the Tuamotus are the total opposite: flat, sandy atolls, but each area offers superb diving, and the Marquesas are unbelievably scenic as well. Tonga, Samoa, the Cook Islands, Hawaii and New Zealand are part of Polynesia as well, although they are not part of French Polynesia, and we occasionally have yachts available there.
When I think of French Polynesia, I think of the lucid writing of Herman Melville, who wrote Typee and Moby Dick, and one of the best travel writers of all time: "The long, measured, dirge-like well of the Pacific came rolling along, with its surface broken by little tiny waves, sparkling in the sunshine…" The South Pacific offers superb conditions for sailing yachts, but power yachts are available here as well. Most cruises begin in either Tahiti or Huahina and end downwind in Bora Bora.
Best time to visit: March through November, December through April are humid and warm.
Available Yacht Types: Catamarans | Sailing Yachts | Power Yachts | Mega Yachts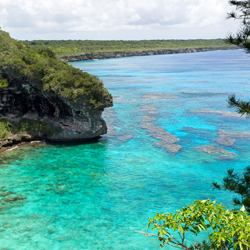 New Caledonia
New Caledonia is a 250 mile long by 30 mile wide island, called Grand Terre, located 750 miles off Brisbane, Australia. It has a long barrier reef opposite its capital Noumea that forms a long, narrow blue lagoon, ideal for cruising. Yachts cruise to Isles des Pines, 40 miles to the South, dominated by a tall volcano, and home of the dugong mammal, and the Loyalty Islands, to the West, where the daily life of local tribes and the customs of the Kanak culture perpetuate ancestral values. The airport to this island. which has one of the richest tropical forests in the world, is La Tontouta International Airport, 40 miles from Noumea, where your yacht will be ready and waiting for you, tied up alongside the public dock. New Caledonia is French, and the locals speak French, even though they are a mixture of Melanese, Polynesian, and Micronesian cultures. Melanesian tradition blends with French sophistication, from foie gras and frangipani, petanque and palm trees, tropical fruit and pastries, champagne and geckos, to kisses on both cheeks, windsurfing and kite boarding, snorkeling and sunbaking on coral beaches. New Caledonia holds a greater area of sheltered water than any other Pacific island, making it perfect for watersports among the sandy islands that lie within the calm waters of its lagoon.
Best time to Sail: May to December; the winter months are cyclone season.
Available Yacht Types: Catamarans | Sailing Yachts | Power Yachts | Mega Yachts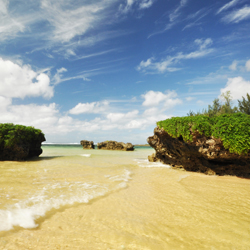 Vanuatu
Formally the New Hebrides, Vanuatu is home to several once-in-a-lifetime experiences: diving on extroardinary shipwrecks; an accessible active volcano; a giant banyan tree; cascading waterfalls; cultural ceremonies and dances; primitive villages with an ancient living culture; and picture-perfect beaches. For years Vanuatu was ruled by both the French and the British, until in 1980 it became independent and was renamed Vanuatu.
The island chain is shaped like a Y with the capital Port Vila on Efate Island located at the bottom of the V. Fly in and out of Port Vila International Airport. Located along the left V spoke, Malekula is an island rich in customs with a history of cannibalism. It is the most diverse, with over thirty languages, and has the best ritual dances. Espiritu Santo, a perfectly beautiful island with picture-perfect lagoons, located just beyond Malekula, is renowned for its diving and the SS President Coolidge, a luxury liner converted to troop ship, sunk in 1942 just off the beach. It contains military equipment and personal belongings abandoned as she sank. Also see Million Dollar Point, where military equipment was dumped after the war. Pentecost Island, located on the right spoke of the V, and accessible during a one week cruise, is famous for its land diving, a ritual where tribal men and boys jump from a manmade tower with a vine attached to their legs. Tanna, located on the tail of the Y, has Mount Yasur, an active volcano, where you can stand on the rim.
Best time to Sail: April through October. September and October are high season.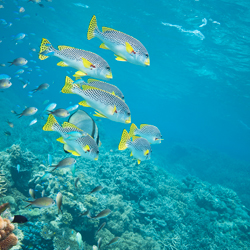 Australia
Australia's Great Barrier Reef & Whitsunday Islands
The Great Barrier Reef extends 1,400 miles from the Torres Strait to Fraser Island, near Brisbane. It is the largest natural living structure on earth. That is, the reef is made by billions of living organisms called 'polyps,' that support a wide diversity of life. It is a UNESCO World Heritage Site. It consists of myriad lagoons, atolls, coral outcrops, and sand cays, offering ample opportunity for snorkeling over shallow, colorful reefs, and diving with the big pelagics on the outer reef. Along the mainland coast there are endless halfmoon-shaded beaches, and the lush tropical rainforest tumbles all the way from the hills to the shore. The beaches are quiet, and bathing is not advised in many areas due to saltwater crocodiles, and from October to May, potentially lethal jellyfish; however, offshore water and islands are safe and a big advantage of visiting the coastline by yacht.
The 74 Whitsunday Islands lie close to the coast, but within the Great Barrier Reef itself, and boast safe bathing waters. A collection of stunning drowned granite peaks, most of the islands are uninhabited and protected. The wildlife is spectacular with underwater fish of all sizes and colors, in the bush lizards and birds, and in the air screeching cockatoos and fruit bats. The best way to fly to the Whitsunday Islands is by Cairns or Brisbane, then to Hamilton Island Airport.
Best time to Visit: April to November -there are just two seasons – the dry and pleasantly hot 'winter', which offers ideal boating conditions with light winds, calm seas, and balmy temperatures. Avoid 'the Wet' season between December and March.
Available Yacht Types: Catamarans | Sailing Yachts | Power Yachts | Mega Yachts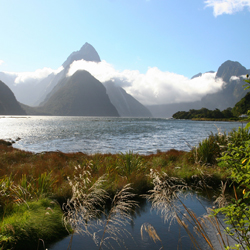 New Zealand
As the weather in the South Pacific starts to get too humid and hot in November, cruising yachtsmen head to New Zealand, whose high season is just getting under way in October. New Zealand is a yachtsman's paradise. Its coastline has so many twisting, turning indentations and snug harbors, it begs to be cruised. What accounts for the large number of bays is a drowned mountain range, located on the north end of South Island, called Marlborough Sound, whose valleys form five, deep, finger-like sounds, filled in by the Pacific Ocean that are 31 miles long. It's no wonder that heli flight tours are offered in this region. The channels are full of dolphin, and Captain Cook is a local hero. There are unique geckos, the Weka (a flightless bird), as well as penguins.
Dusky Sound, located on the remote south end of South Island, similarly has 17 fjords in what is aptly named Fjordland National Park. Power yachts often visit Dusky Sound. Large powerful sailing yachts, however, which need wind from the open ocean more often start their cruises in Auckland on North Island, and head out into the Pacific through the Hauraki Gulf to Great Barrier Island, whose eastern side takes a pounding from the Pacific Ocean. They then head south to the Mercury Islands, where there are spectacular rock pinnacles, caves and drop-offs. The underwater terrain is exceptionally varied. Never Fail Rock is a popular cave diving area with drop-offs to 120 feet. The Alderman Islands are a small group of rocky islets to the southeast of Mercury Bay, harboring abundant marine life. One features a volcanic cone; another has a rare species of tuatara (large reptile). The Bay of Islands to the north is known for its stunning beauty and history. Its marine life includes whales, penguins, dolphins and fantastic sports fishing. It is a paradise for those who love beaches and water activities. All can be reached on a week's cruise.
Best time to Sail: Year round, but October to May is high season. July through September is windy and cooler. December to February is crowded.
Available Yacht Types: Catamarans | Sailing Yachts | Power Yachts | Mega Yachts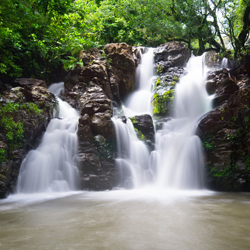 Fiji
Fiji is made up of two main islands – Viti Levu and Vanua Levu – off of which are two principal cruising grounds – the Yasawa and Mamanuca Island chain off Viti Levu and the more remote but stunning islands of Taveuni, Rabi, Kiao and Northern Lau, located off the northeast coast of Vanua Levu. Nadi International Airport is located on Viti Levu, where a departure from Port Denarau (20 minutes away) will see you at Malolo Island, the southern-most Mamanuca Island in only a few hours.
Charter Yacht captains argue that the best of Fiji is found on the more remote islands of Taveuni, Rabi, Kioa and Northern Lau off Vanua Levu. We won't argue with them. Those islands may indeed be very beautiful with stunning waterfalls, Rabi island dancers, totally gorgeus, turquoise lagoons and sandy beaches, plus Banaban inhabitants from Micronesia. But when Fiji is best known for its vibrant local island culture, why move away from culture? Guests visiting the Yasawa and Mamanuca Islands will have many an opportunity to visit a village chief and share 'Kava' with him. That's a strong drink made of bark, served in a coconut shell, over which the village chiefs traditionally conducted business. You'll have an opportunity to sample a 'lovo,' a meal of fish steamed in rocks and banana leaves underground. You'll be among Fijians who welcome you warmly each morning with the word "Bula!" which means 'good morning.' As well, the Yasama and Mamanuca Islands offer opportunities to swim with friendly sharks off Viti Levu Island, or seek out manta rays off the verdant coast of Nacula. Diving is good for novice to moderately experienced divers. It's a great area for guests who do not like open water sailing. When you reach the end of the chain, there is the famous Blue Lagoon anchorage, the set for the Blue Lagoon movie.
Best time to Sail: June through November; winter is humid.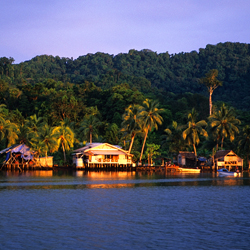 Solomon Islands
The English-speaking Solomon Islands are an exciting destination. They form two parallel island chains, between which yachts can zig zag back and forth. The archipelago stretches 950 miles and forms part of Papua New Guinea. The people of the Solomon Islands were notorious for headhunting and cannibalism before the arrival of the Europeans. More than 230 varieties of orchids and other tropical flowers brighten the landscape. With 300+ days of perfect weather year-round, the Solomon Islands are a paradise of nearly a thousand islands, atolls, reefs, lagoons, coconuts, palms, mangroves & orchids. With lush jungle, rainforest, volcanoes, waterfalls, crocodiles, parrots, butterflies, turtles & dolphins, there is so much to see and do.
The main island of Guadalcanal is home to 200 species of birds and an 8,000 ft. volcano. Santa Isabel features traditional dance and panpipe concerts, bush walks, villages built on stilts, breeding sites of Hawksbill turtles, skull shrines, and great bird and crocodile watching. Makira Province is isolated. Meet the 'leprechauns of the Pacific' – natives standing less than a meter tall. Rennell and Bellona Province has the South Pacific's largest lake, found on the world's best example of an uplifted coral island. Temotu Province is closer to Vanuatu than it is to its own capital; it is a volcanic island that erupts every hour with a plume of ash and smoke. The Western Province is considered the tourism mecca with azure lagoons and perfect underwater visibility. Skull shrines can still be found from what was once the home of the dreaded head-hunters. Fly in and out of Honiara International Airport or join us for a one way cruise to Papua New Guinea.
Best time to Visit: April through November, but July through September is high season.