With over 3,000 miles of cooling trade winds, it's no wonder that sailing is one of the Eastern Caribbean's greatest natural resources. From the calm, scalloped bays of the sheltered Virgin Islands, to the long, white sandy beaches of the Leeward Islands, to the volcanoes and rainforests of the Windward Islands, and the uninhabited atolls of the Grenadine Islands, the Eastern Caribbean offers a great deal of interest and variety with large islands intermixed with small ones, British-speaking islands intermixed with French-speaking ones, mountainous with flat, and "civilized ones" with others that are completely uninhabited.
While sailing, land is never out of sight, and it is possible to visit a new and different anchorage each evening. Brisk Ocean passages are interspersed with stretches of harbor-calm waters in the lee of the islands, and the Easterly trade wind is always on the beam, so cruising up or down the island chain is comfortable, whether northward or southward bound. There is no fixed point of departure or return between St. Maarten and Grenada. Passengers can board a boat in Antigua, cruise to Martinique and fly home from there. The following group could board in Martinique and sail to Grenada; the next group can sail from Grenada back up to St. Lucia. Whether northward or southward bound, you can cruise in a one-way direction, so you see something new and different each day.
Best time to sail: Year Round except August & September
FEATURED LOCATIONS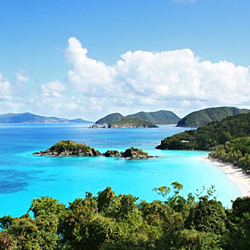 The Virgin Islands
The beauty of the Virgin Islands is its possibility to put sailing to a minimum. Not because sailing isn't fantastic; it is. But people who prefer activities other than sailing will be delighted with all that the Virgin Islands have to offer. All 30 or so British and American Virgin Islands are located in 30 square miles, so yachtsmen can enjoy the supreme scuba diving and snorkeling that the area has to offer. They can rent ATVs and motor scooters on Tortola, Jost Van Dyke and Anegada. Peter Island has a spa, while St. John has trails crisscrossing the island, offering safe, easy hikes to 18th century ruins and old Plantation Houses, an abandoned Copper Mine, a defunct rum distillery, a long meandering white sand beach. Our crews have been reporting that they have been swimming with dolphins on 40% of their cruises now, and Guana Island and Anegada sport growing Iguana and flamingo sanctuaries. Sea turtles have been making a comeback and can be seen in every harbor, on every reef while snorkeling, along with 18th century canon and all manner of species of tropical fish.
If you are not a certified diver, you might consider becoming one, as many yachts in the Virgin Islands carry scuba gear, and captains often double as dive instructors, who can finish the open water dives with you. Dive sites in the Virgin Islands have names like "Painted Walls," "The Indians," "Chimney," and "The Chikuzen." These sites look like something out of Gulliver's travels: "Winding canyons, sponge-encrusted tunnels, sheer cliffs," all in depths of 10 to 100 feet. For the fisherman, Anegada offers fantastic angle fishing for tarpon and bone-fish, while deep-sea fishermen fathom the depths for tuna, marlin and mahi-mahi just thirty miles offshore. Music and dancing occurs on almost every beach every night throughout the year. Local music features hip-hop and fungi bands, along with steel bands, reggae and blues. Tortola sports a huge fireworks display on New Year's Eve. Let the adventure begin!
The Leeward Islands
The Leeward Islands offer some of the most exposed ocean passages in the Caribbean, but if you sail in a one way, down wind direction from Antigua to St. Maarten, or cruise round-trip beginning and ending in St. Maarten by way of St. Barths, Nevis, St. Kitts and Anguilla, you won't notice the wind and waves at all. That said, cruising the Leeward Islands is one of the most rewarding cruising grounds in the Caribbean. It offers all the experiences that the other areas offer, combined! You see in a week rain forests, the best beaches in the Caribbean, French islands interspersed with British, 18th century forts, history, good food and restaurants, night life, beautiful harbors, and the "real" Caribbean.
The Leeward Islands of Antigua, St. Kitts, Nevis and Anguilla are best characterized by their rolling fields of sugar cane, picturesque native villages, restored 18th century ruins, and long, white sandy beaches. Fanny Nesbitt, wife of Lord Horatio Nelson of Trafalgar Square fame, grew up in Nevis, amidst its rainforest, while Nelson's Dockyard in English Harbour, Antigua is where Nelson refitted his Ships of the Line. Nelson's Dockyard is the best restored, Georgian Dockyard in the world, (and it is also where one unique man Commander Vernon Nicholson, O.B.E and his two strong sons established an empire that is still going strong: Nicholson Yacht Charters.) St. Kitts is home to Brimstone Hill, a beautifully-restored 18th century British fort, while Nevis is home to restored Plantation Houses, currently in operation as hotels and restaurants. Thus, you really get a sense of 18th century Caribbean history through a cruise from Antigua to St. Maarten, and sailing is at its best!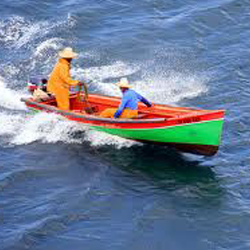 The Windward Islands
While the Virgin Islands and Leeward Islands are dry, coral islands with rolling hills, the Windward Islands are tall, jagged, volcanic islands, and what a difference this makes! The Leeward Islands may have white, sandy beaches for every day of the year, but the Windward Islands have as many rivers – with prawns – and the underlying volcanic activity makes for many a hot and cold waterfall. Pack a picnic lunch and take hikes in to rain forests where banyan trees drip down their vines, and eddo and banana leaves are as wide as elephant ears. Your destination is two waterfalls, side by side, one with water heated from subterranean sulfur springs and the other ice cold, having cascaded down from the mountain tops. It is good to be able to stretch your legs, and the hike is a fine contrast to the time spent at sea.
Cruising the Windward Islands is all about sailing one day, then laying over the next, and every island between Antigua and St. Vincent is British, interspersed with French. Passages between islands are between 15 and 40 miles, much of it in the lee of the Volcanos, with the wind always on the beam whether northward or southward bound. It is fun to wave at the fisherman as they pass by in their skiffs and smell the smoke of campfires ashore as you sail in the lee of the island. At night you see the fishermen's flambeaux on the Western horizon late into the night; they are casting seine nets for fish. Anchorages are in either large sweeping lagoons, or tiny, uninhabited creeks; all of them are palm-fringed with black-sand beaches. There is a foreignness about the Windward Islands that is unmatched elsewhere…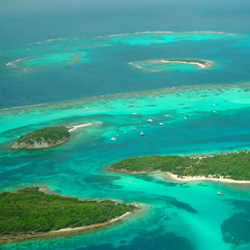 The Grenadine Islands
St. Lucia, St. Vincent, & Grenada
Explore the 32 unspoiled islands and cays of the Grenadine Islands – home to the finest sailing in the Caribbean. From the volcanic island of St Vincent, to the yachting paradise of Bequia, to the world-renowned celebrity island of Mustique, and the world-famous marine park of the Tobago Cays, enjoy the exhilarating short distances between islands, where sailing is never out of sight of land, and you can visit one island for lunch and another island for dinner. While on a yacht charter in the Grenadines, don't miss out on these sites and activities:
Attend the Easter Regatta at Bequia
Swim with the turtles at Tobago Cays
Hike to the top of La Soufriere volcano
Scuba dive or snorkel the stunning coral reefs
Go whale and dolphin watching
Take a warm water bath at the Owia Salt Pond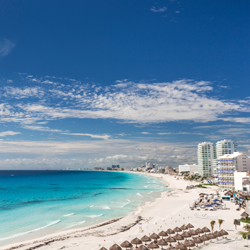 Cozumel & Cancun
Mexico's Yucatan Peninsula juts out into the Western Caribbean Sea and is entirely beach-lined with the most exquisite turquoise water, coral reefs, and mile long beaches. Just offshore lies a remarkable coral reef that is part of the Mesoamerican Barrier Reef System, the world's second largest in the world. Herein lay the popular island resorts of Cozumel and Isla Mujeres, destinations during a cruise along what's known as the Mayan Riviera, where there are numerous, ancient Mayan ruins and sanctuaries, commemorating Ixchel, the Mayan goddess of fertility and love.
Guests can customize their own itineraries, but we suggest starting and ending in Isla Mujeres, which is served by Isla Mujeres Airport, just minutes from the marina in the Port of Isla Mujeres. You could also start and end your charter in nearby Cancun on the mainland. From Isla Mujeres, you will be tacking downwind for about 75 miles, zig zagging back and forth between the island of Cozumel and the mainland, visiting such places as Punta Maroma reef, where there is multi-colored snorkeling, Cozumel Island, where there are Mayan ruins, Puerto Aventuras, where there is a marina that offers sporting services, such as golf, tennis, scuba, shopping and dining, and swimming with dolphins.
Talum is the preferred port of the Mayan kings and clergy in ancient times, located on the world's second largest barrier reef. In Talum you turn around and head back the way you came to end in Isla Mujeres or Cancun, or you can disembark in Talum.
Best time to sail: Year Round except August & September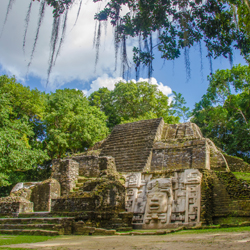 Belize
Belize is truly one of the world's last, relatively undiscovered travel destinations. The waters of Belize have so much to offer: incredible diving, snorkeling, island hopping, beaches, eco tours, and a wonderful sailing ground, protected by the world's second largest continuous barrier reef, a UNESCO World Heritage Site.
An average temperature of 84 degrees throughout the year and warm water year round makes this a sailing destination that is hard to beat.
Fantastic natural features such as the Blue Hole and deserted lagoons and cayes with manatees abound. Time it right, March to early June and you could watch the whale sharks migrating along the coast.
For the US and Canadian traveler, Belize offers the distinct advantage of being the only country in Central America with English as the national language. And remember…No Christmas winds or over-crowded anchorages!
Two of the best five dive sites in the Western Caribbean are located in Belize – the Blue Hole, which is not for the faint-hearted as hammerheads are sighted regularly there, and Half Moon Cay, which has a 6,000 ft. drop off, creating a free fall effect over spur-and-groove canyons, thick with corals.
Fly into Philip S.W. Goldson International Airport in Belize City. Your cruise begins and ends at Cucumber Beach Marina, just 3 miles SE of the city and a stone's throw from the heart of the cruising ground.
Best time to visit: Year Round except August & September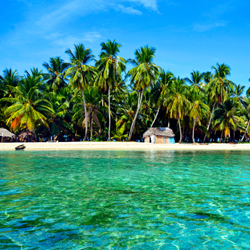 San Blas Islands
The San Blas islands are a group of islands in the Caribbean Sea, belonging to Panama. One of Microsoft's most popular wallpapers, the one with the deserted island in the blue lagoon, was taken in the San Blas Islands. There are 378 tiny islands within the archipelago, scattered in an area of about 100 square miles. The majority of the 378 islands have no inhabitants, but on the larger islands, you find the gentle native people, known as the Kunas, who are famous for their mola tapestries.
The Islands are not yet discovered by massive tourism, and the Kuna Indians are fully in control of the islands. The Kuna's protect their lands against massive tourism and keep them healthy and beautiful. This makes the San Blas Islands unique if you are searching for untouched nature and culture. Houses on the 49 inhabited islands are made of eco-friendly materials made from natural materials found on the islands and in the jungle. When you visit the San Blas Islands, don't forget to try some of the traditional Kuna food.
The most common way to get to the San Blas Islands is by flying from Panama City to El Porvenir, an island in the Gulf of San Blas, where you will sail the short hop to the San Blas. Your yacht will meet you in El Porvenir. Book flights here. Another way is to sail from Cartagena, the legendary city on the coast of Colombia, which has been designated a UNESCO World Heritage Site.
Best time to visit: Year Round except August & September