With Nicholson's you have many choices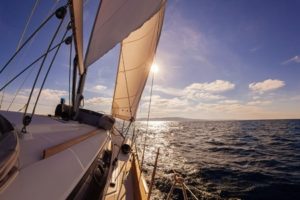 Fully crewed Yachts
This is our specialty at Nicholson Yacht Charters. You're always welcome to help sail, but there's no need to be an experienced yachtsman. On these vessels you are honored, pampered guests. You'll be taken care of by a professional chef, steward or stewardess, qualified captain, and congenial deckhand.
Captain only
Perhaps there is less luxury on this type of cruise, but oh, the things you will learn! Total involvement is the best teacher, and your experienced captain will guide you as you crew the boat, take the helm, prepare the meals, navigate, and trim the sails.
Tandem Cruising
This is the ideal option for larger parties or incentive groups. Several yachts are charted to cruise in company, meeting up at day's end. They often have fun races from one anchorage to the next. Weather conditions permitting, they raft together each evening so that guests may move easily from one vessel to another.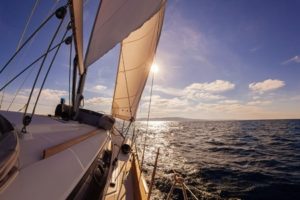 Types of Yachts
The next thing you will need to consider is what sort of vessel you prefer. Do you want your cruising adventure to include the rush of excitement you feel as the sails catch the wind and you start to fly? Or is it motoring across crystal clear waters more what you have in mind? Its your choice.
Classic Sail
These are the yachts of old with exquisite, timeless lines: clipper bows, counter sterns, lots of beautifully varnished wood. Many of these fine vessels are truly museum quality. Some classics may have a bit less living space, but the admiring looks you'll get in every harbor are yours to enjoy.
Cruising Sail
These yachts offer a pleasing blend of performance and comfort. Typically, they are characterized by larger, awning-covered cockpits; open deck spaces; and commodious accommodations below. Many are outfitted with double beds, thick pile carpeting, air conditioning, and larger bathrooms. They are perhaps not the fastest boats on the water, but who's in a hurry?
This is sailing at its most exhilarating. You climb windward for the thrill of a lifetime as the ship heels just the right amount and the keel grips the water. Your sails steady the motion of the sea and your adventure begins. There is nothing else like it.
Usually catamarans, these vessels are stable at sea and offer a tremendous amount of deck space. The cabin layout provides for exceptional privacy and spaciousness. Multihulls are fast off the wind and have an exceptionally shallow draft. You can anchor in as little as three feet of water, and perhaps even wade ashore to the beach.
For the ultimate in comfort, pampering, and speed, there is nothing like a motor yacht. You can count of sophisticated service, and many vessels also offer such amenities as a large saloon with the privacy of one-way windows, a spiral staircase leading to luxurious staterooms, and even a Jacuzzi. This is the choice when you really want to be pampered.