FEATURED LOCATIONS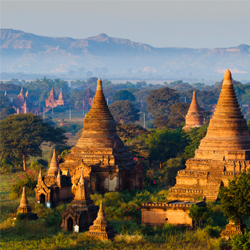 Myanmar
(Burma)
Myanmar's Mergui Archipelago is truly a beautiful and unspoiled jewel in the Andaman Sea. Myanmar is recommended for people, who are looking for water sports, scuba diving, and deserted beaches, a true get-away from it all in unspoiled surroundings, as opposed to cruising out of nearby Phuket, whose islands are dramatic but crowded. The islands in the Mergui Archipelago are pristine and dramatic. Distances between anchorages are only two hours apart in calm waters. There are beaches everywhere. Jungles grow on the islands, which are laden with exotic birds, such as the hornbill and fish eagles. They are also home to monkeys and flying foxes. The only people you see are the local "Moken" tribe of sea gypsy fishermen, whose villages are extraordinary. They are a friendly and welcoming people, who have never asked for anything, just really friendly. Because of the Mergui Archipelago's remoteness, and because the Mergui Archipelago only just opened to tourism in 1990, a yacht charter is the only way for visitors to experience its world class diving in areas with names such as Big Bank, Rainbow Reef, and Silvertip Bank. Some dive sites have huge boulders, soft corals, and sea fans. Other dives offer wall diving, caverns, tunnels and drop-offs. A sensory and truly exquisite experience, a Burmese charter is not soon to be forgotten. Yacht captains create custom itineraries for clients, but the most direct way to get to the Mergui Archipelago is to fly via private jet to Ranong Airport Passenger Terminal and transfer to your yacht at Kawthaung (Victoria Point). Or you can book an excursion fare into Phuket and begin your cruise in Phuket.
Best Time To Sail: High season is dry season, November to March.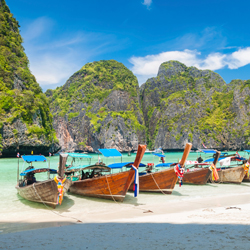 Thailand
Thailand is the fabled Far East, with colorful Buddhist temples, fragrant spices, heavenly food, gorgeous beaches, elephants, river ways of sampans and klongs, rickshaws, and charming, smiling people. There are two cruising grounds in Thailand, the Mergui Archipelago, which straddles Myanmar (Burma) and Thailand, and the other is the Phi Phi Archipelago out of Phuket. Depending on the speed of your yacht and personal preferences, either you can cruise Myanmar's unspoiled, jungle-like islands of the Mergui Archipelago north of Phuket and get away from it all, beginning and ending in Ranong (Thailand) (with regional airport), or you can sail the Phi Phi Archipelago out of Phuket and enjoy the dramatic limestone islands that rise like fingers out of the sea, full of day trippers and rock climbers from Phuket, but you'll be able to experience the night life, food and culture of Thailand. Khao Phing Pan (otherwise known as "James Bond Island") is located in the Phi Phi Archipelago, where the James Bond movie "Man with the Golden Gun" was filmed. From here you can sail down the coast of Thailand to the south toward Langkawi (Malaysia), a popular base for charters yachts, or head north to the Mergui Archipelago, thus experiencing both worlds.
Best Time To Sail: High season in Phuket is dry season, November to March.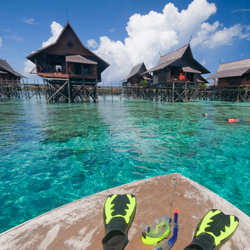 Malaysia
There are two cruising grounds in Malaysia, a cruise along the entire west coast of its mainland from Langkawi to Singapore, where there are a plethora of sandy stretches of land along with a generous number of islands, islets and sheltered coves in impeccably turquoise water and lush tropical vegetation, animated waterfront bars and seafood restaurants, and luxury resorts, ideal for kayaking, canoeing, waterskiing, swimming, snorkeling and diving. Or you can cruise along the more remote coast of Sabah Province on Borneo, where you can swim with dugongs ("sea cows") and see macaque monkeys and black giant squirrels swinging in the trees. Survivor's first season Palau Tiga was filmed in Sabah. Malaysia's strategic sea-lane position brought Hindu and Buddhist trade and foreign influences that reached their peak in the 14th century, when Islam established itself on the Malay Peninsula with a sultanate monarch that still reigns today. The Malay population continues to transmit glorious Hindu legends from this flourishing period of history, and a yacht charter can take you to its very source. Spices such as cinnamon, cassia, cardamom, ginger, pepper, and turmeric from the Far East passed through Malaysia, and the nation's culinary style is well diverse and composed of many different flavors.
For a cruise in Borneo fly into Kota Kinabalu International Airport and set sail for Palau Tiga. For a cruise along the Malaysian Peninsula, it's best to cruise in a one way direction, perhaps starting in Langkawi and ending in Singapore, where both have international airports. Malaysia is great to visit year-round, but the dry season is October to March, while Borneo is best to sail from April to October.
Best Time To Sail: Langkawi from October to March and the island of Borneo from April to October.