High Rate: $ 25,000 weekly All Inclusive
Low Rate: $ 20,500 weekly All Inclusive
Cabin Configuration:
Master + 3 guest queen cabins each with private en-suite electric head, vanity and separate shower. Crew have separate twin bunk cabin and private head. Entire yacht is full air-conditioned for client comfort.
Specifications:
Length:
Builder:
Built/Refit:
Beam:
Draft:
Regions Available:
Locations It Travels:





Special Features:
52'
Lagoon
2016
29'
5.1'
St. Thomas




Spanish Virgin Islands charters accepted
Master Stateroom
Family charters
Scurfer board instruction

Water Toys
13' tender with 40 hp outboard
water skis
kneeboard
snorkeling
tube
wakeboard
1 2-person kayak
floating mats
2 stand up paddle boards
two trolling and casting fishing rods
rendezvous scuba diving
Lilypad
salon TV and stereo
ipod/device hook ups
deck shower
sailing awning
special diets
barbecue grill
generator
onboard Wi-Fi
swim ladder
Have a Question About This Yacht?
Fill out the form below and we will get back to you quickly!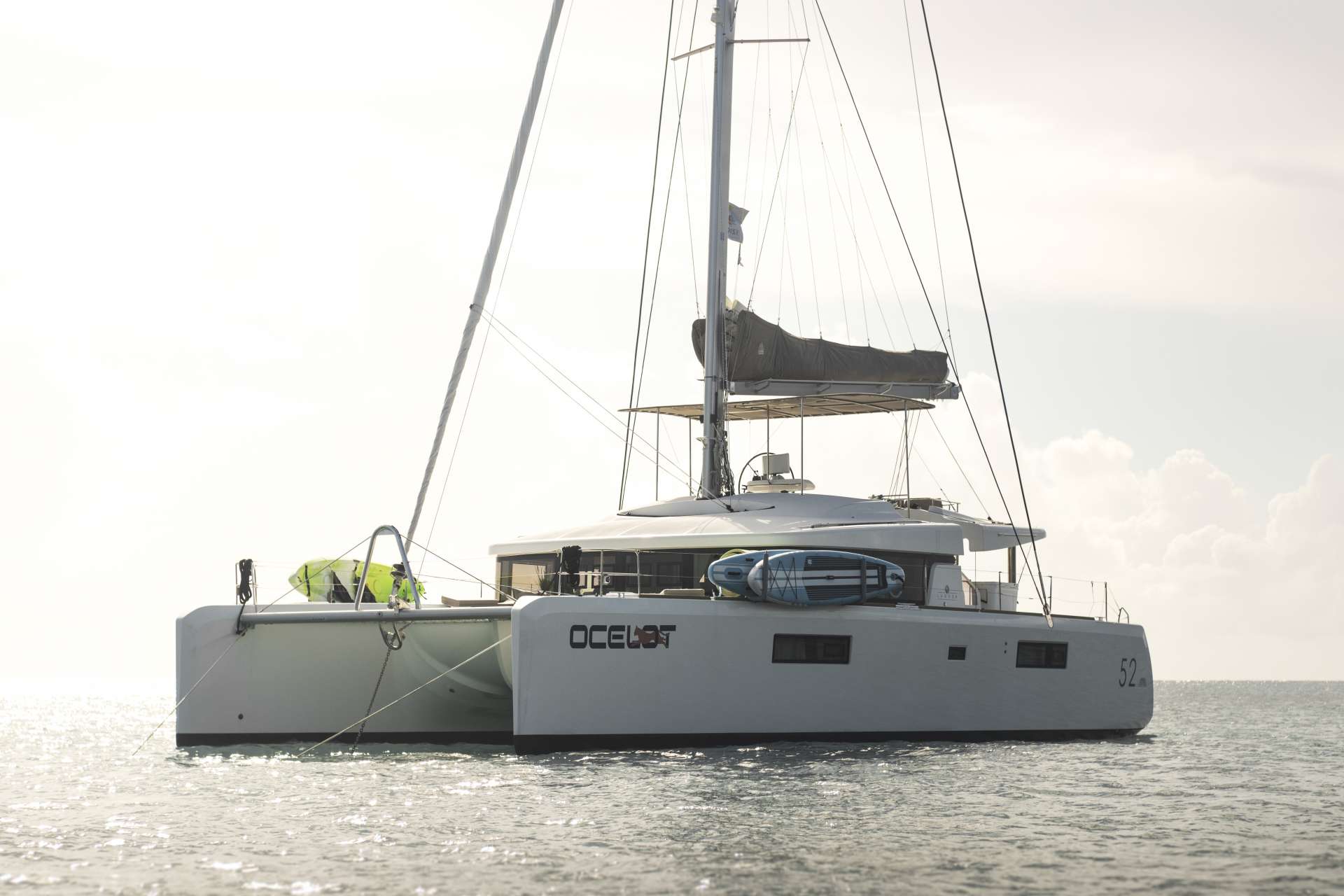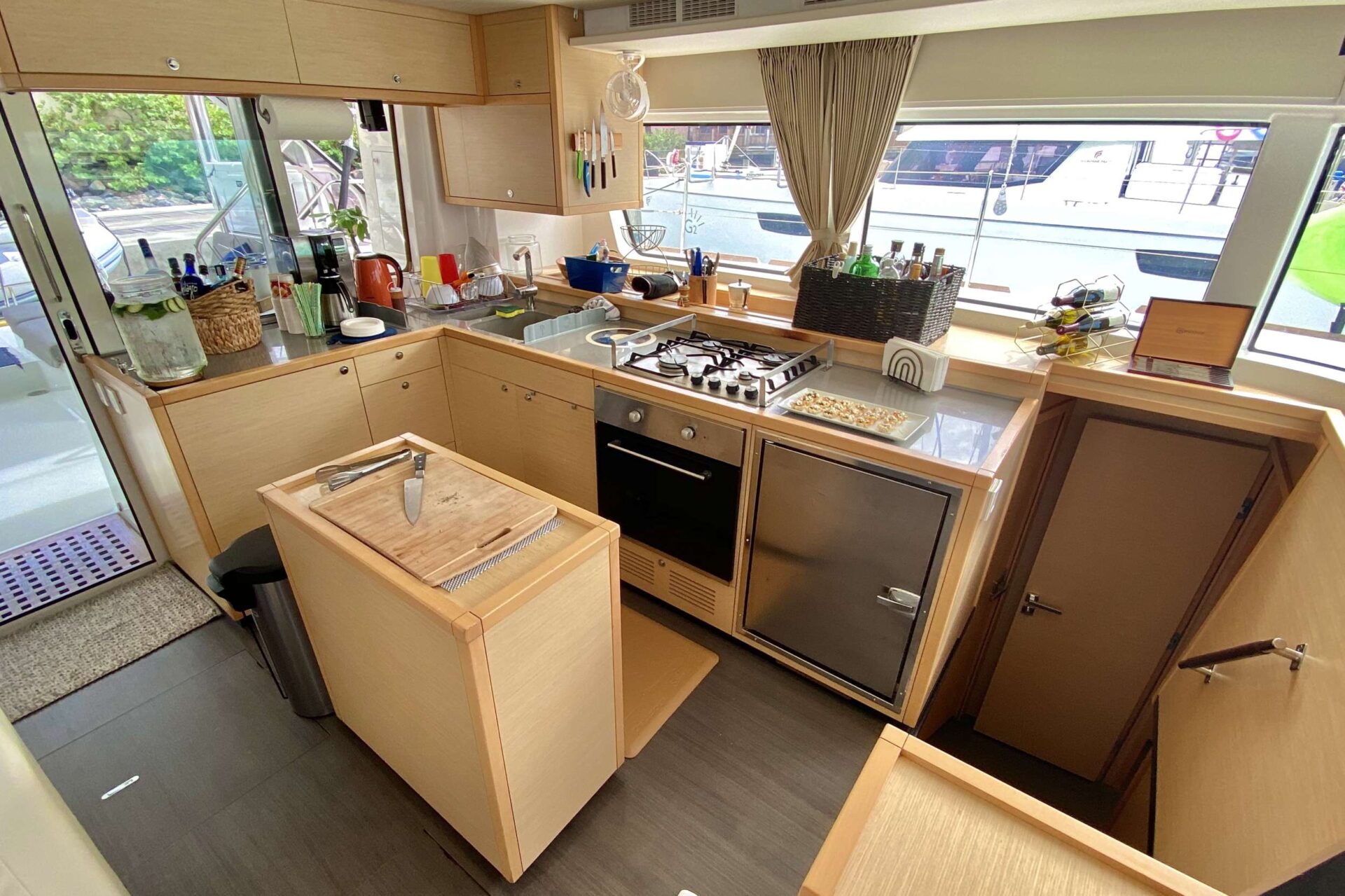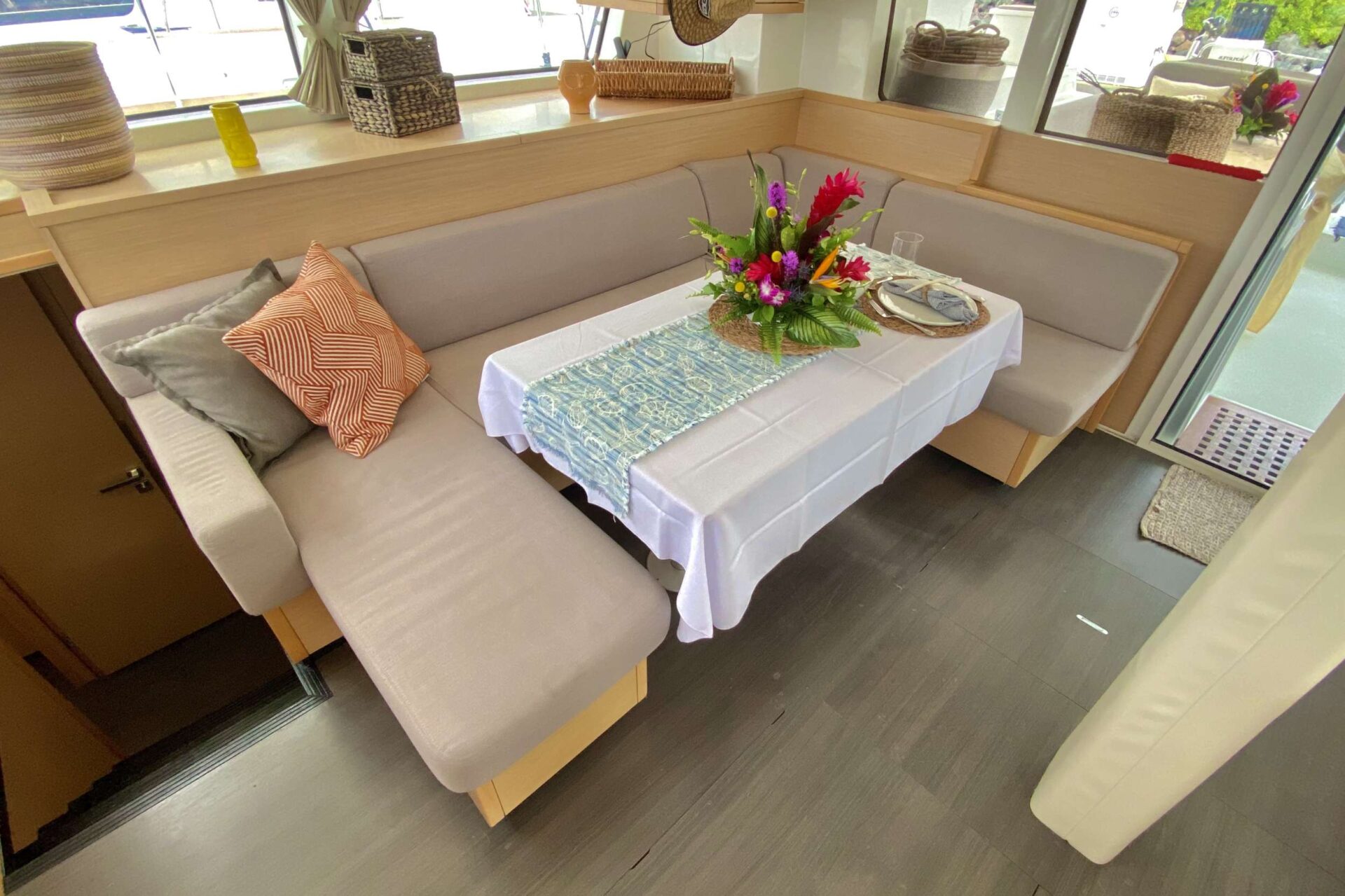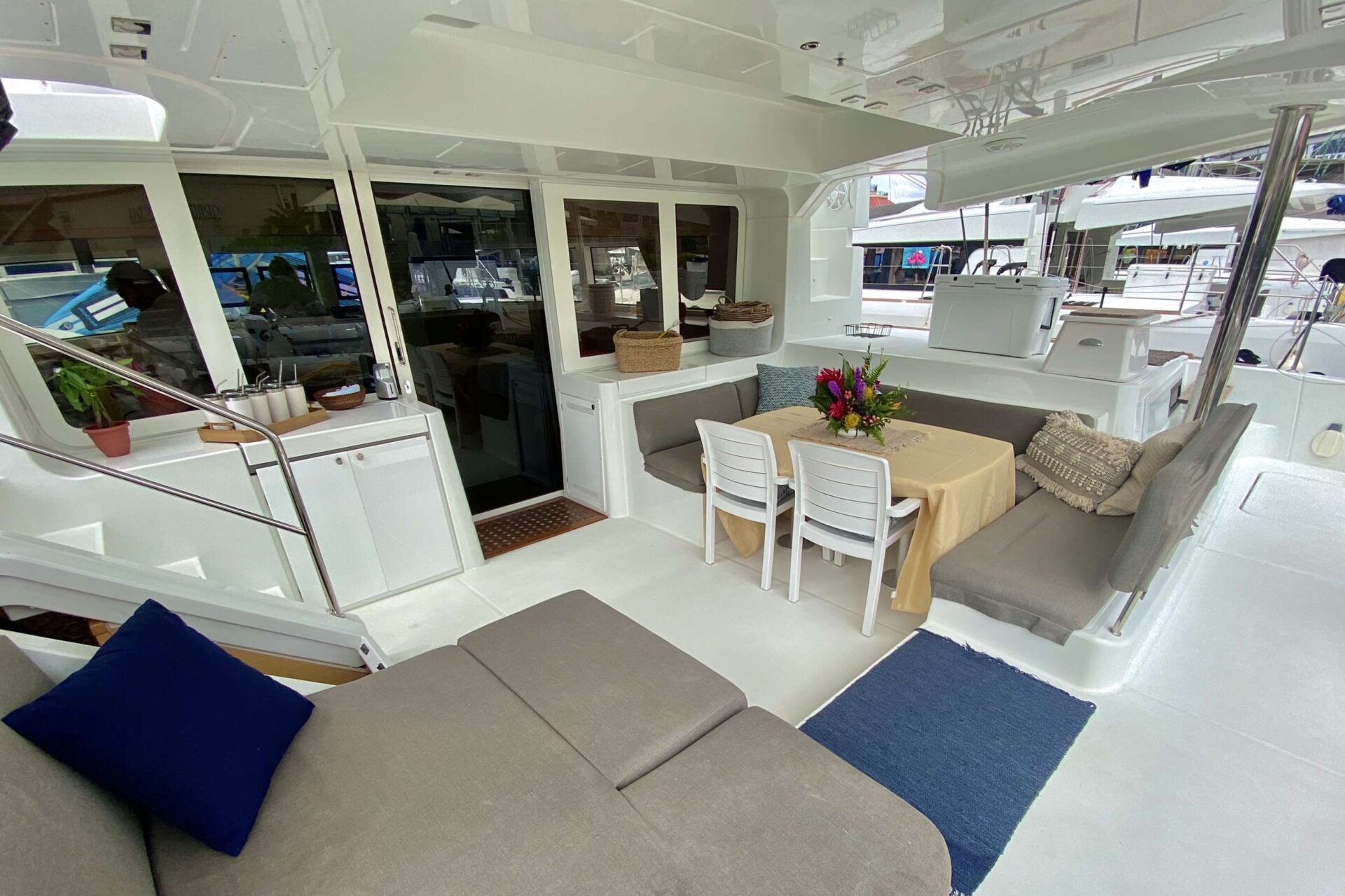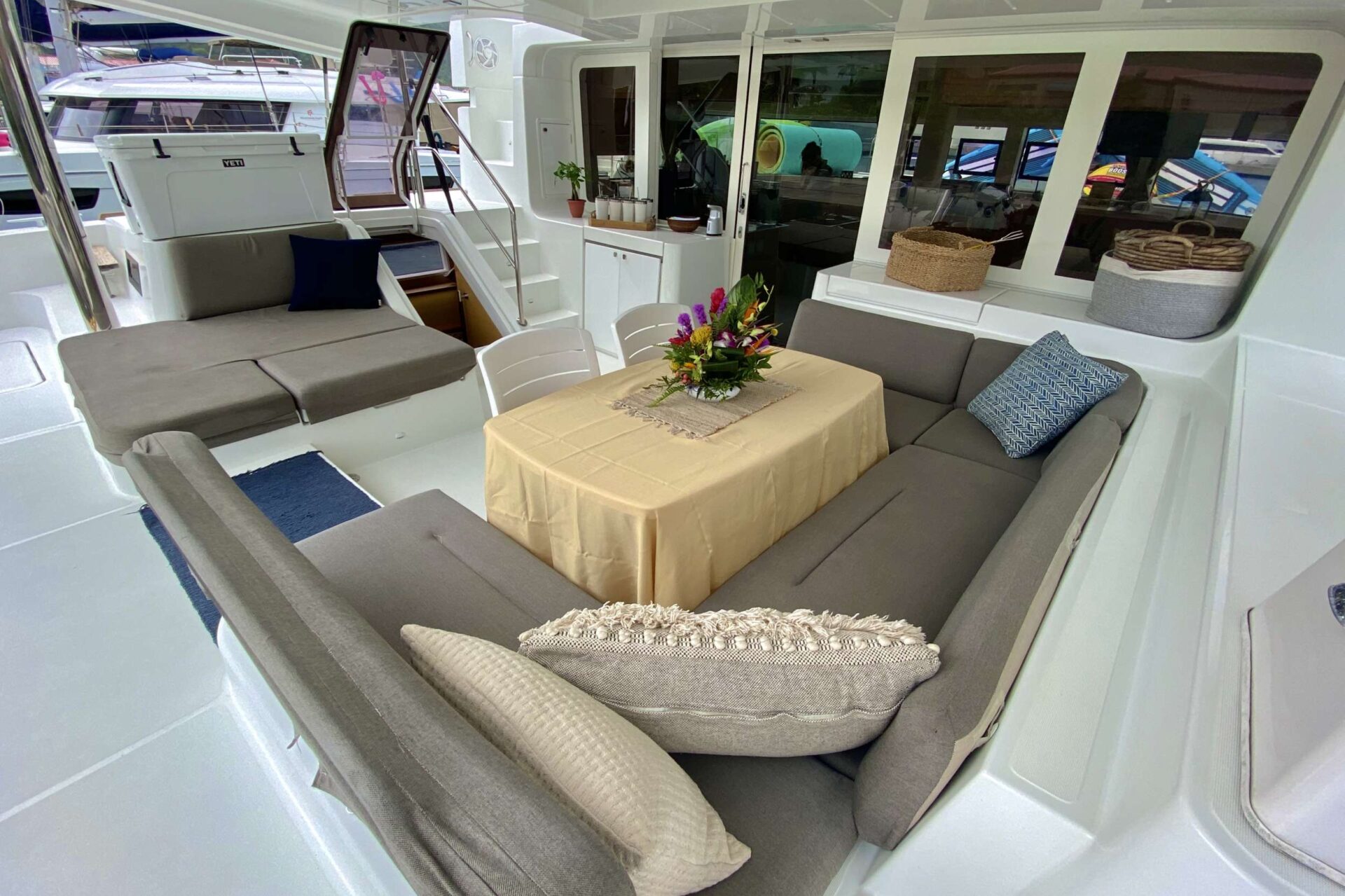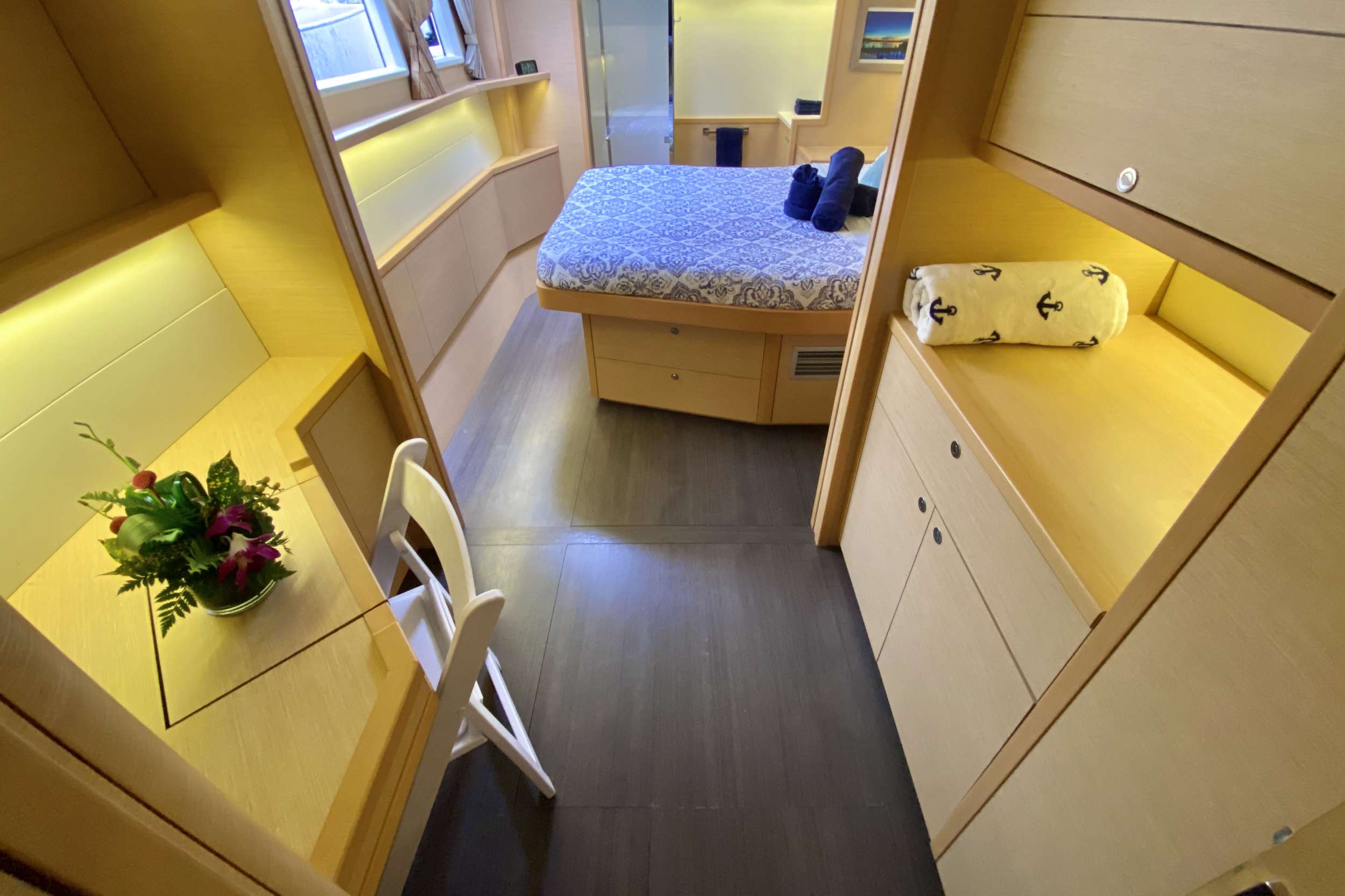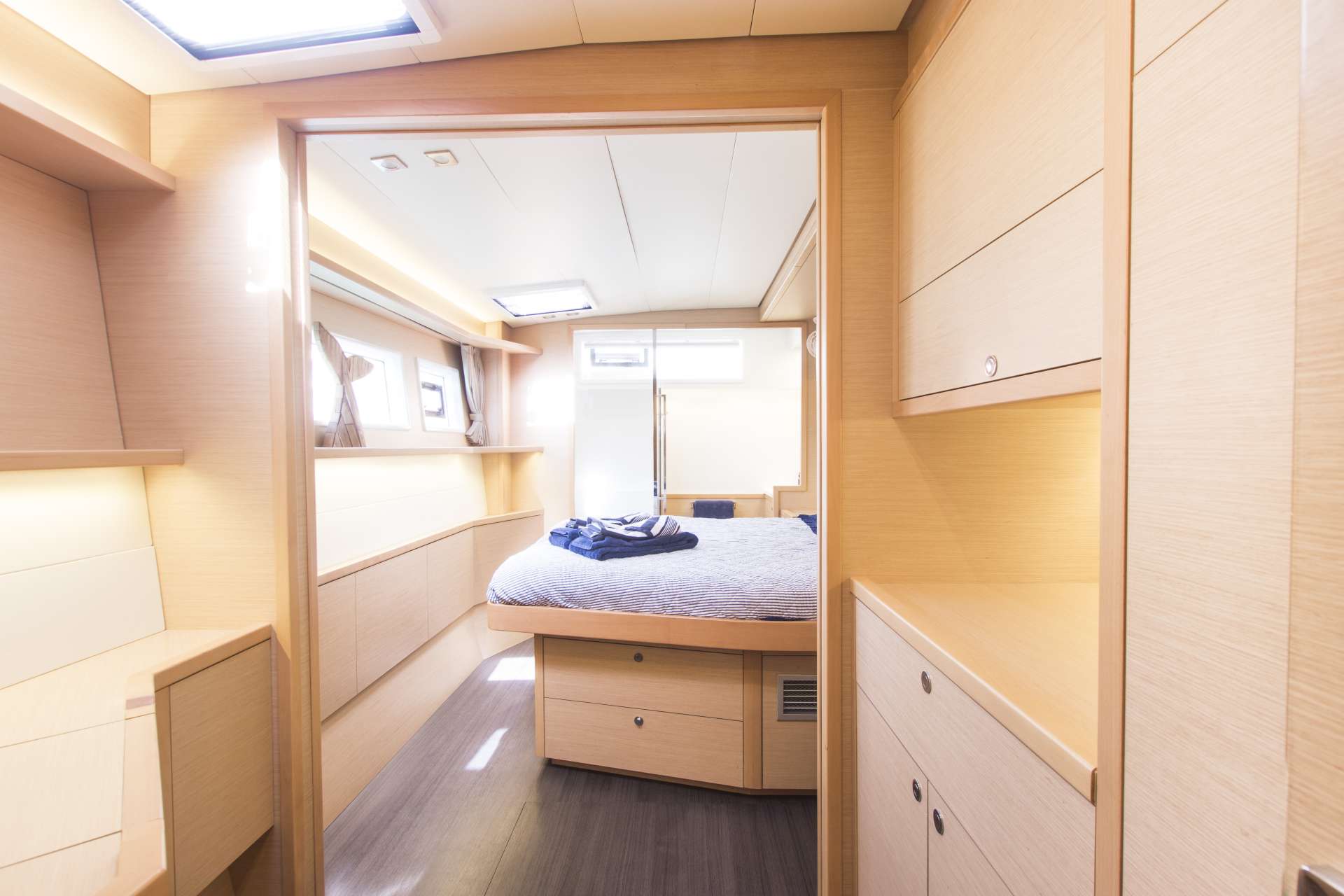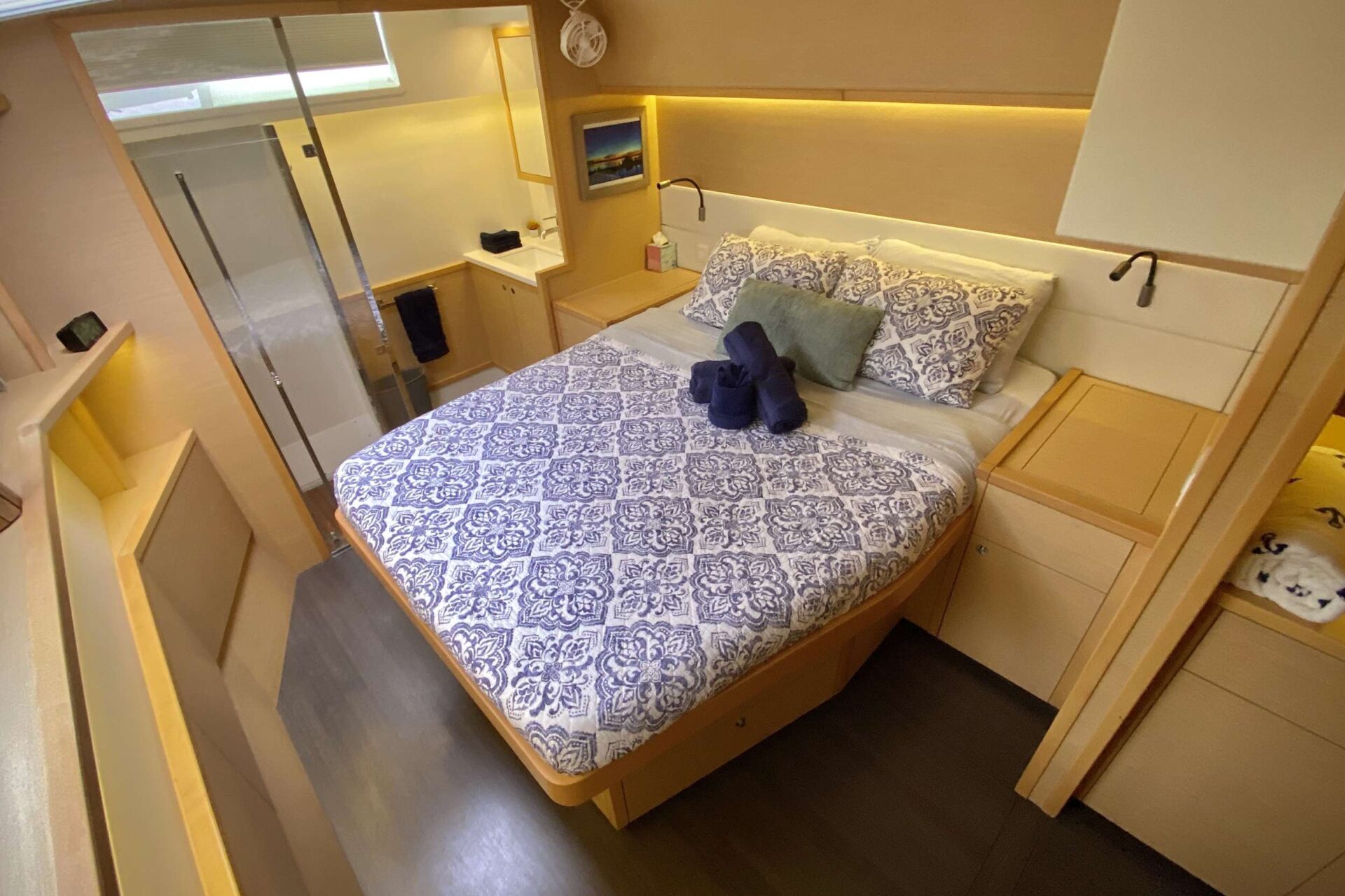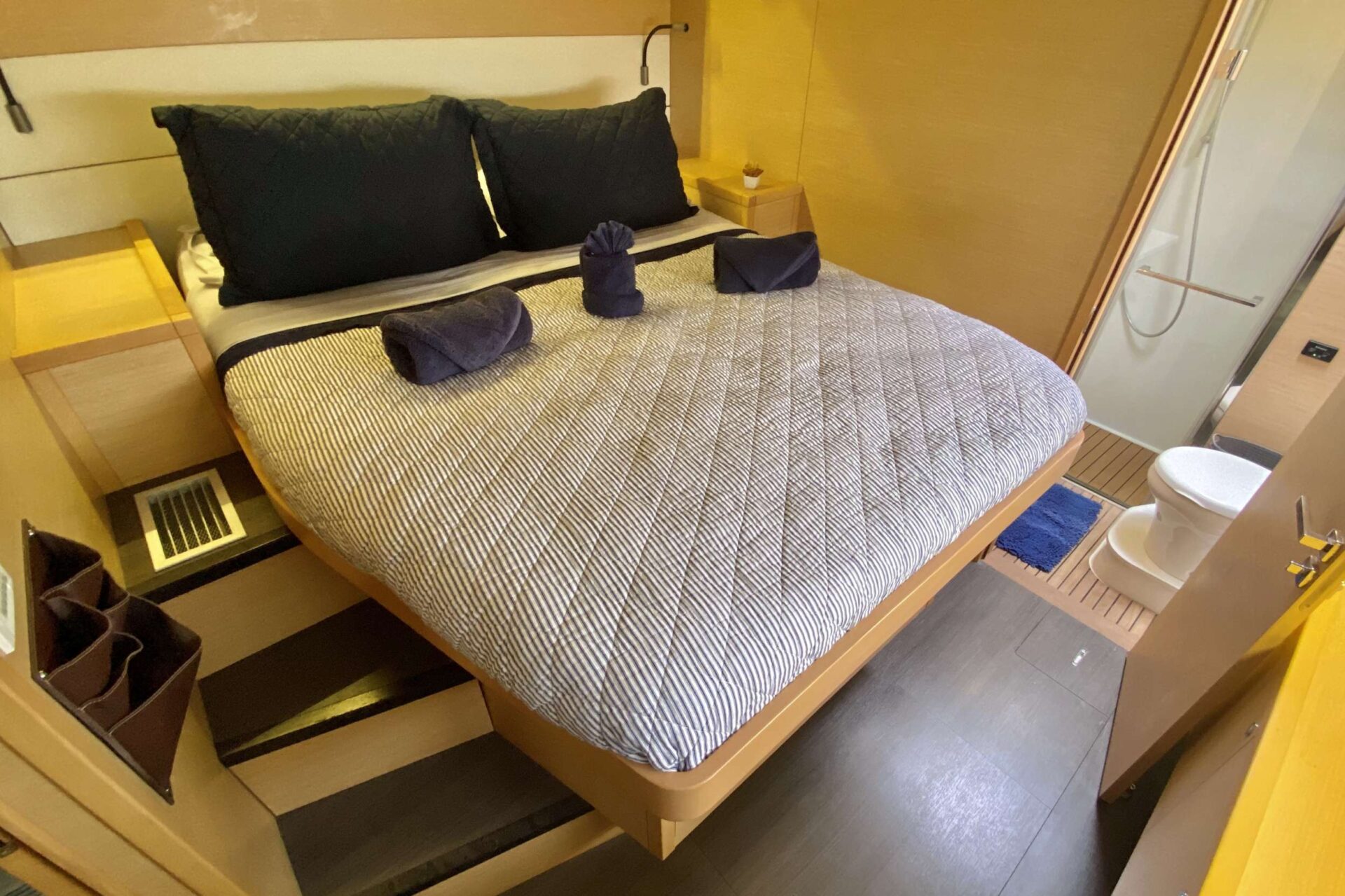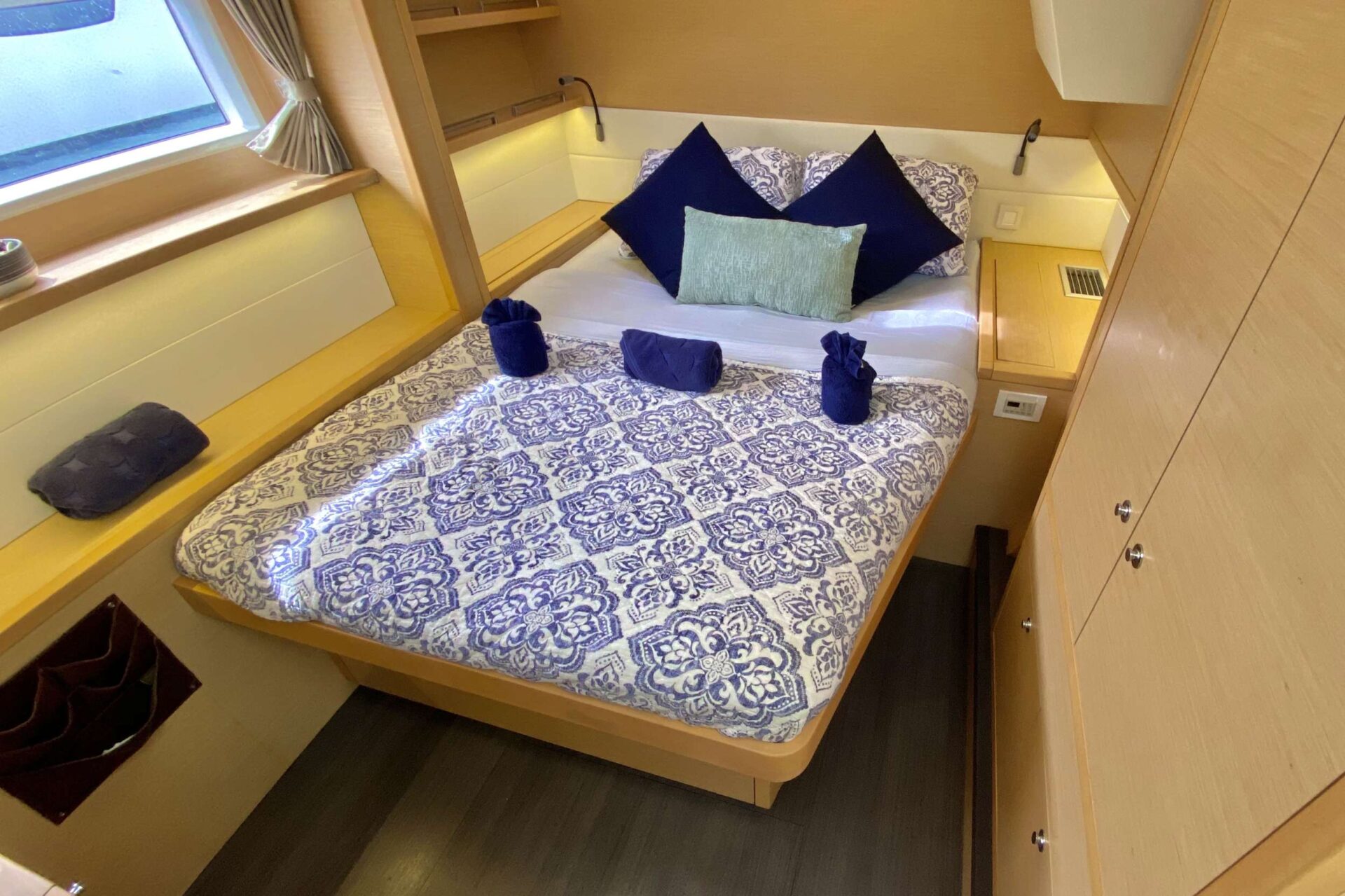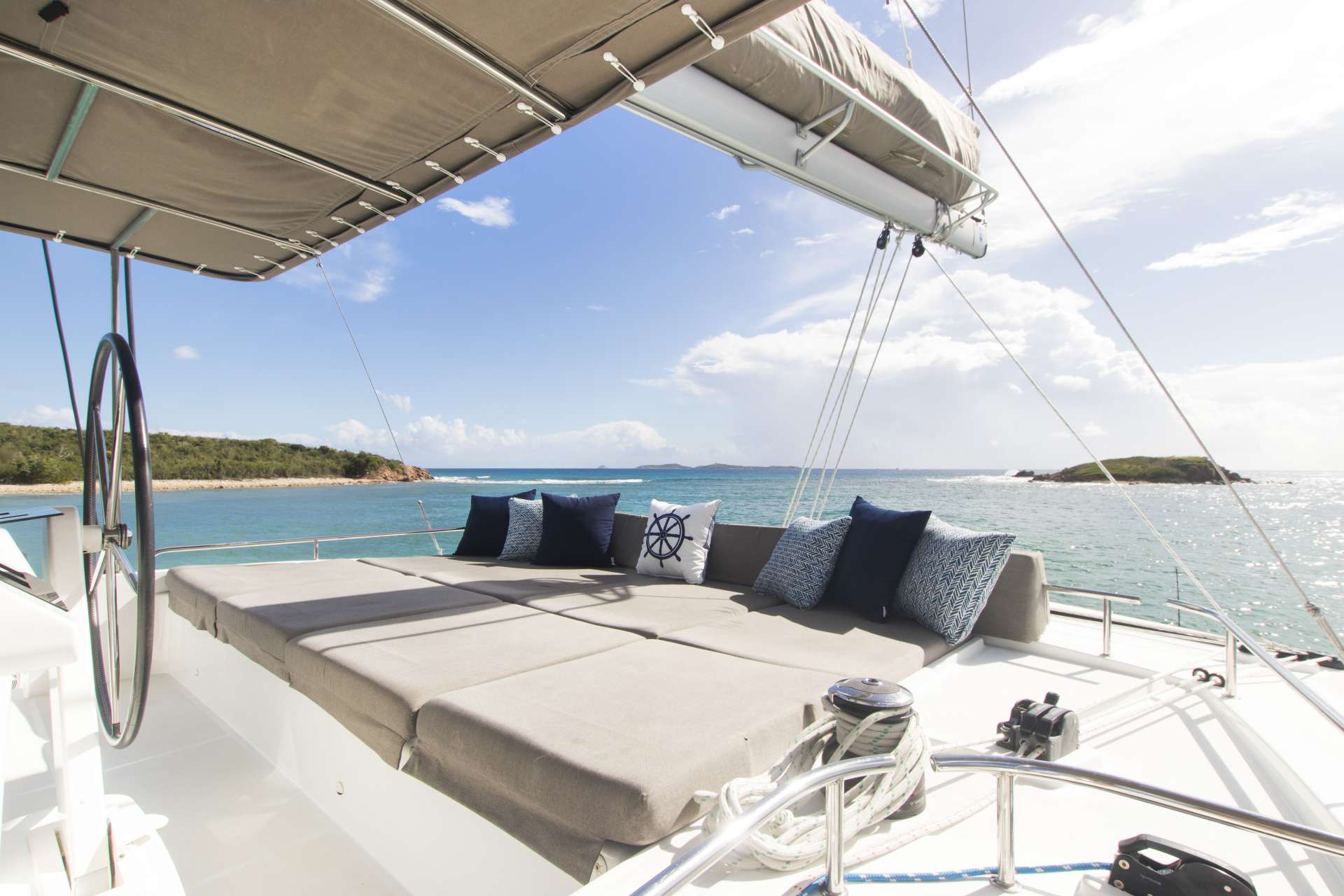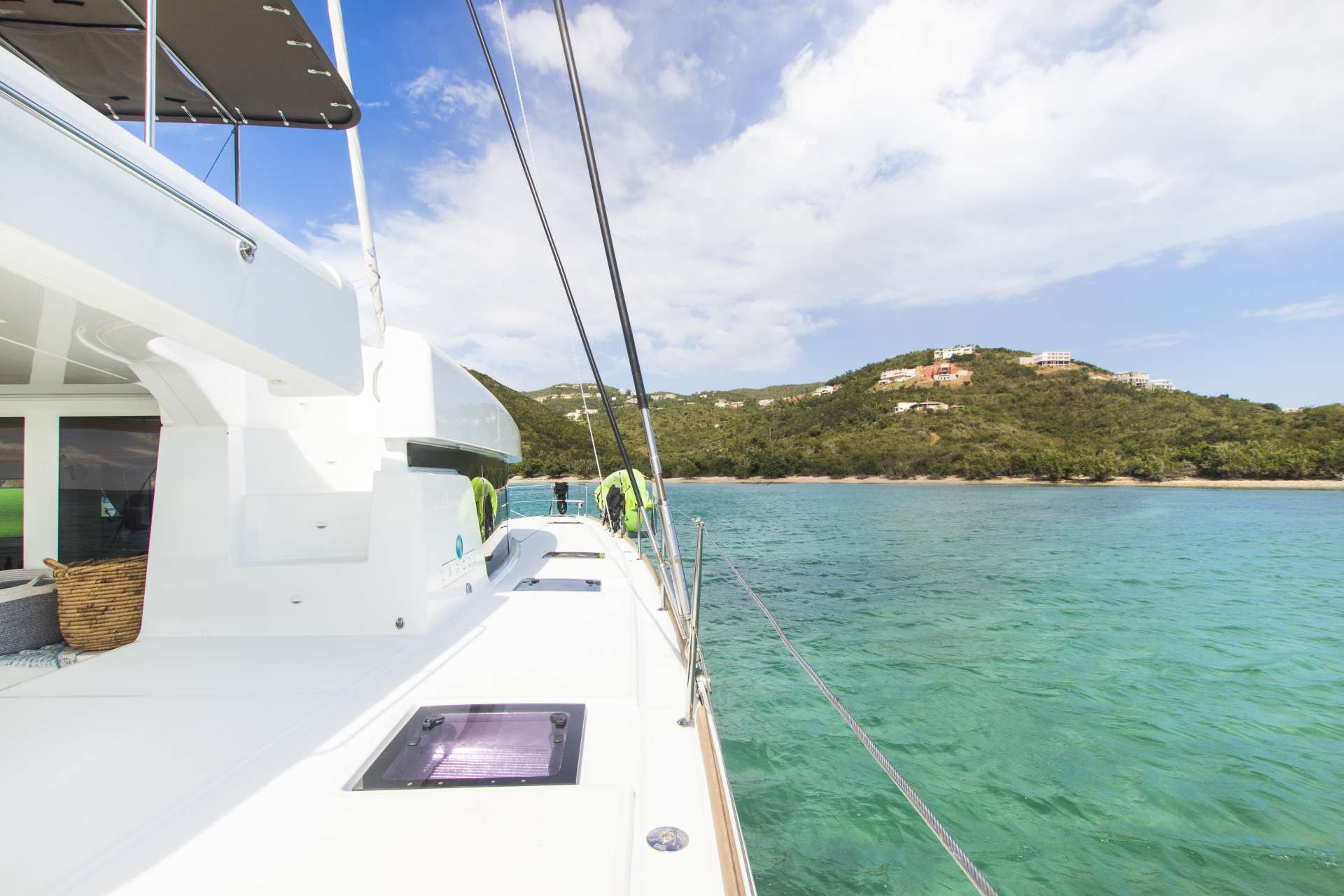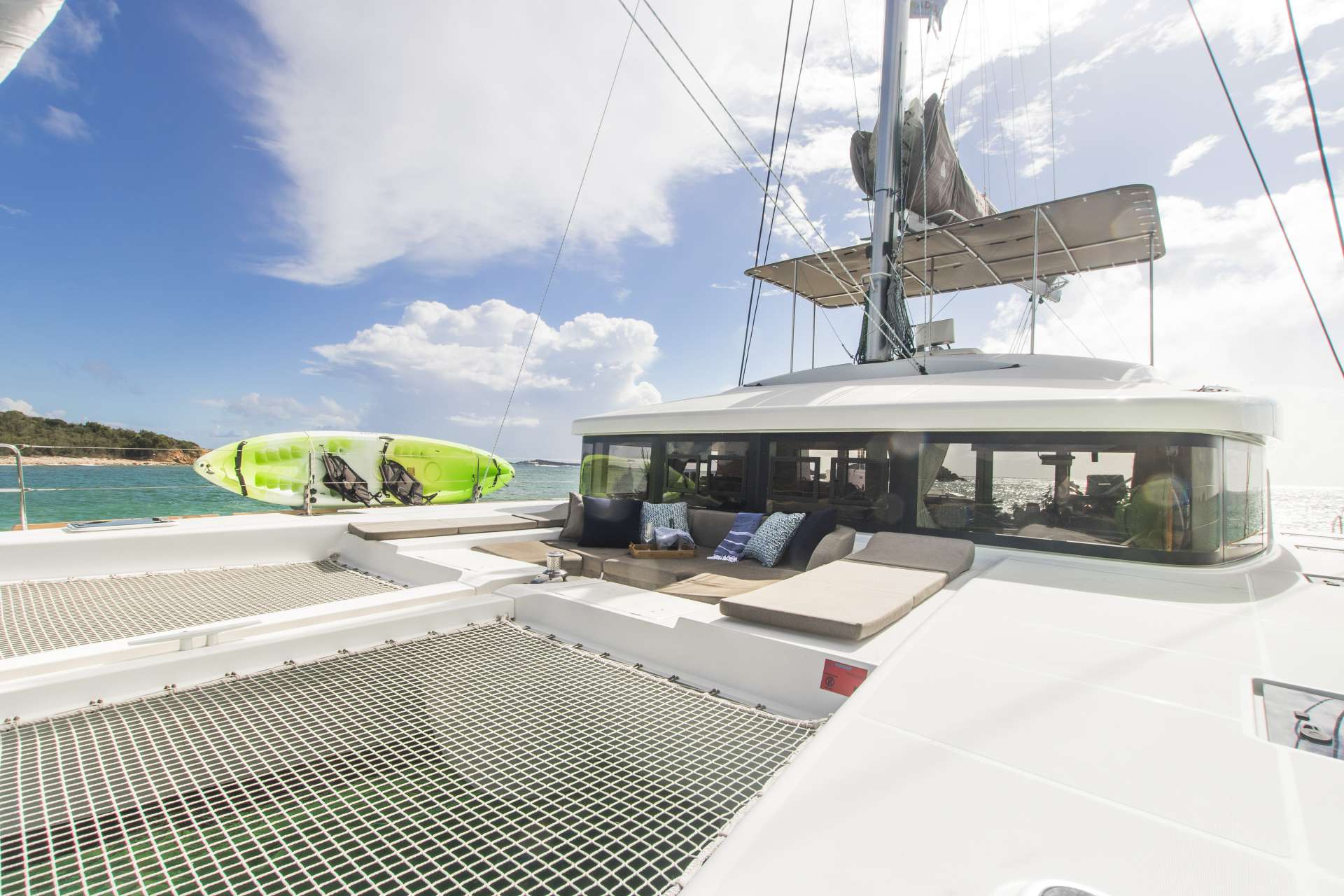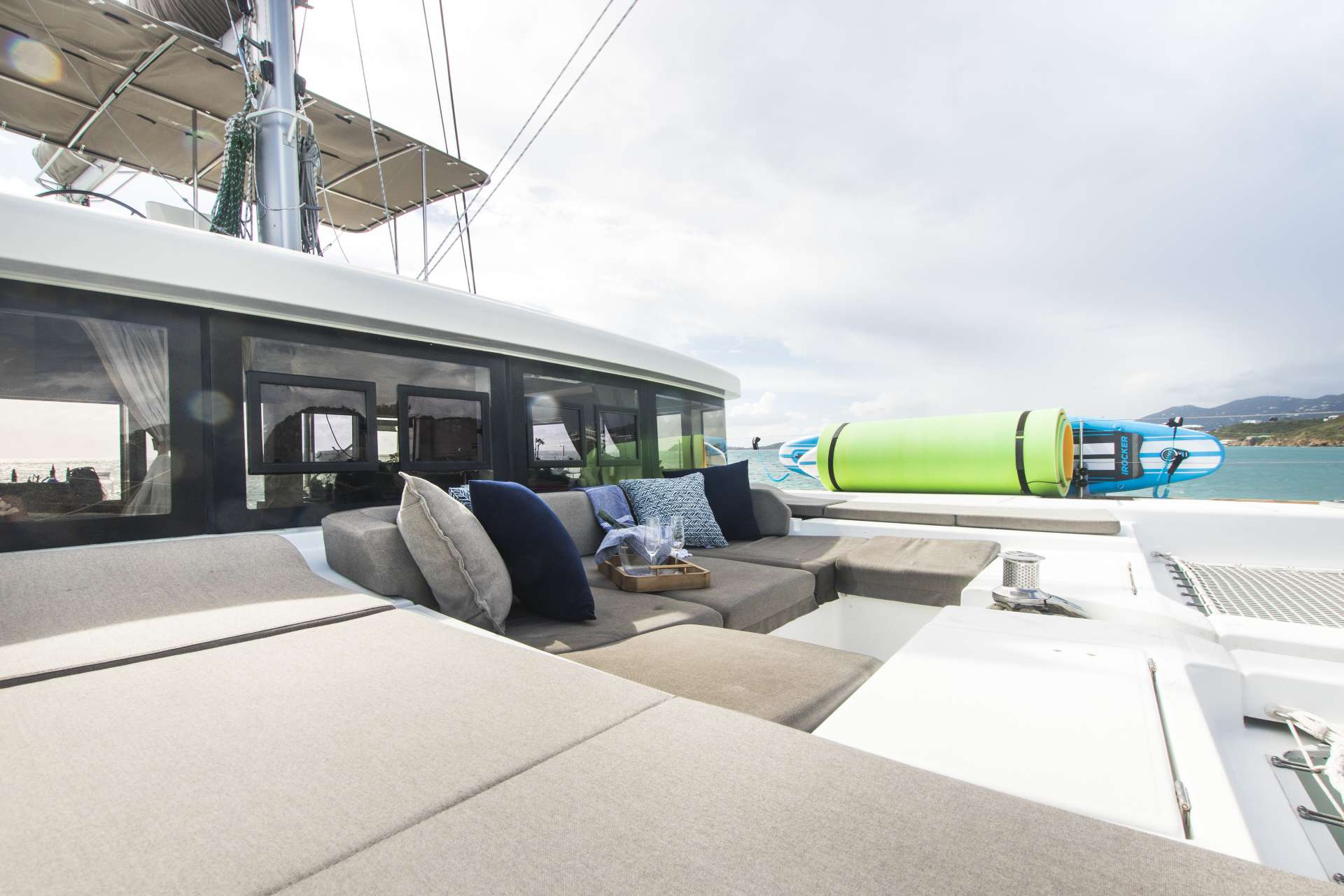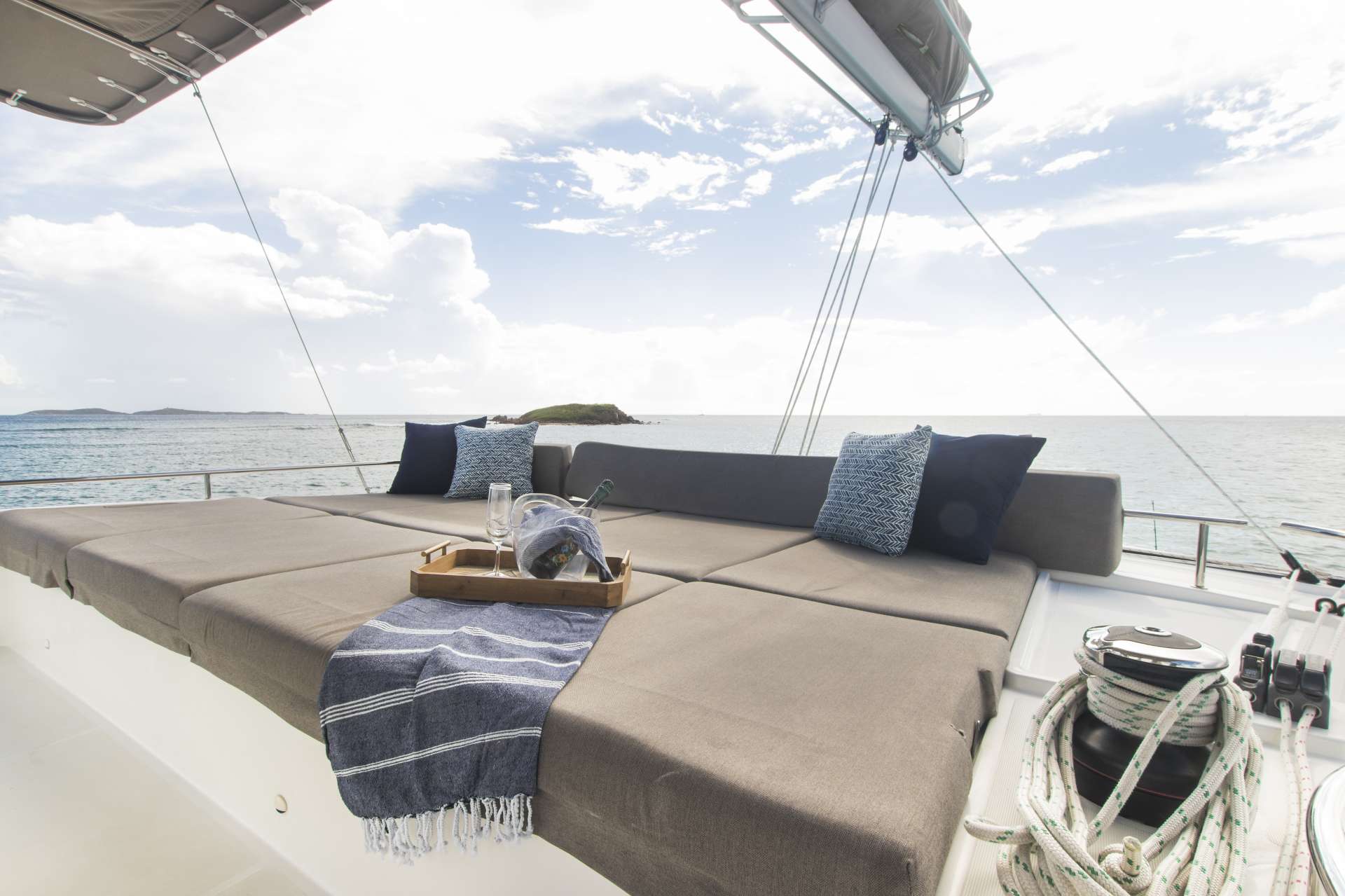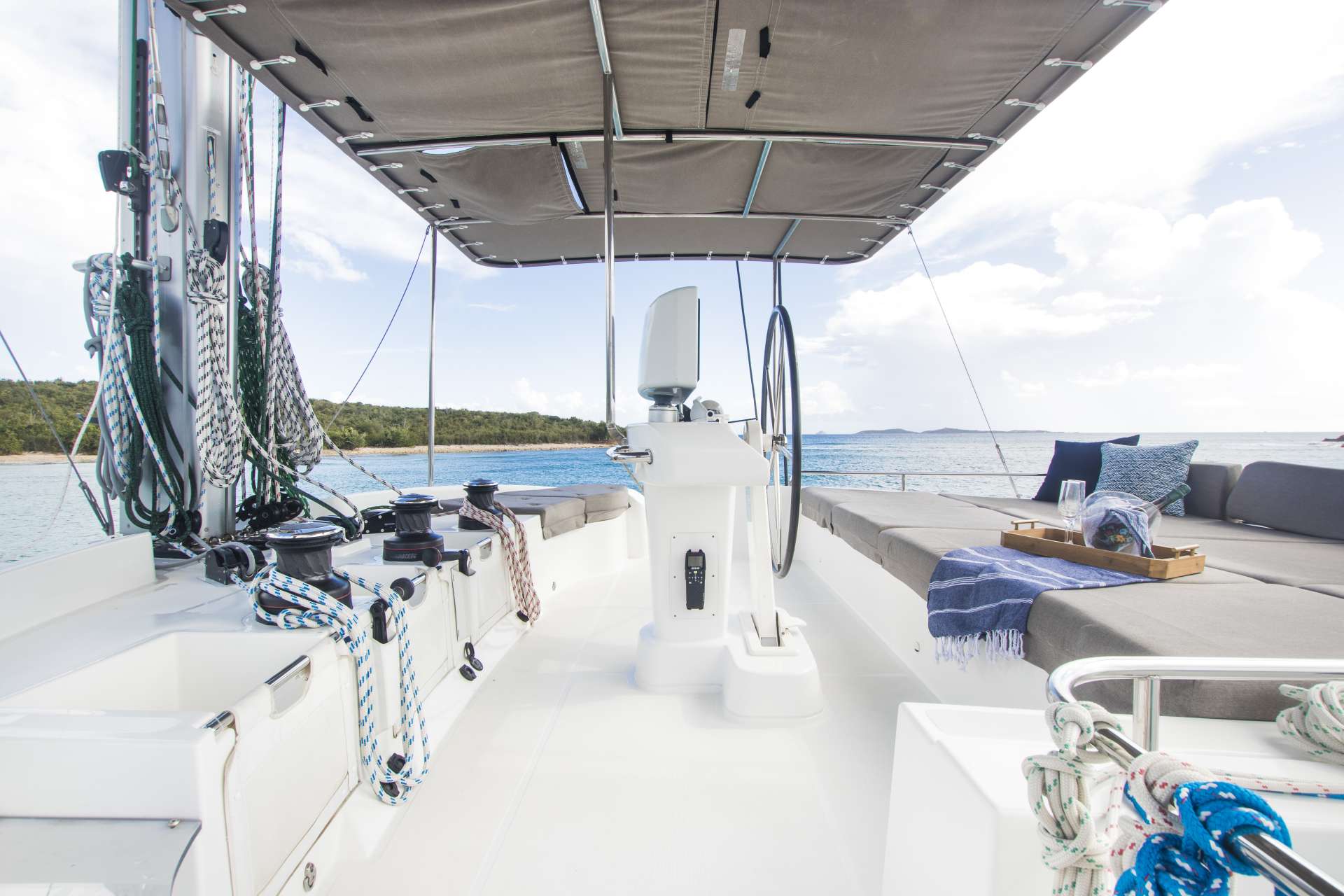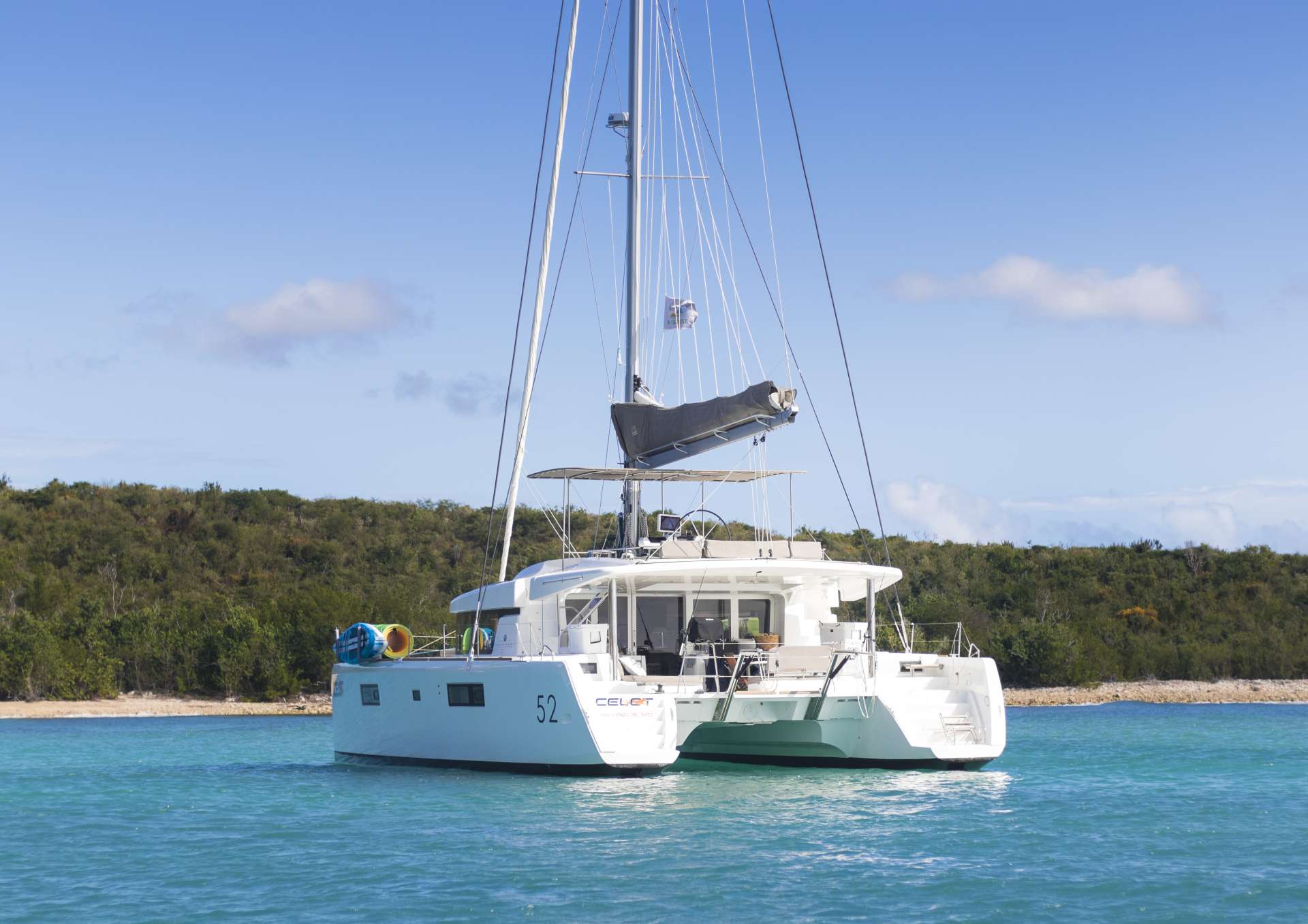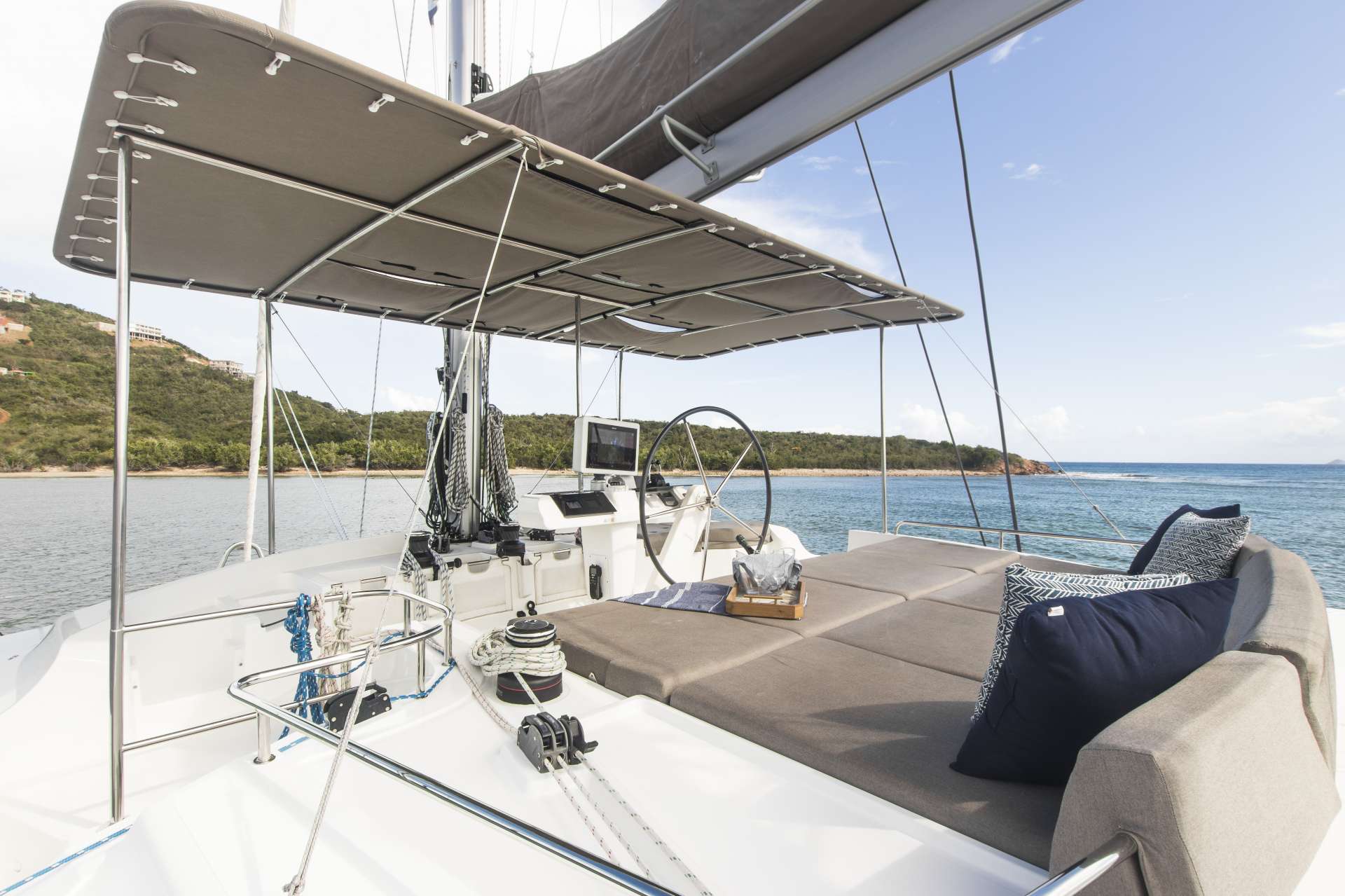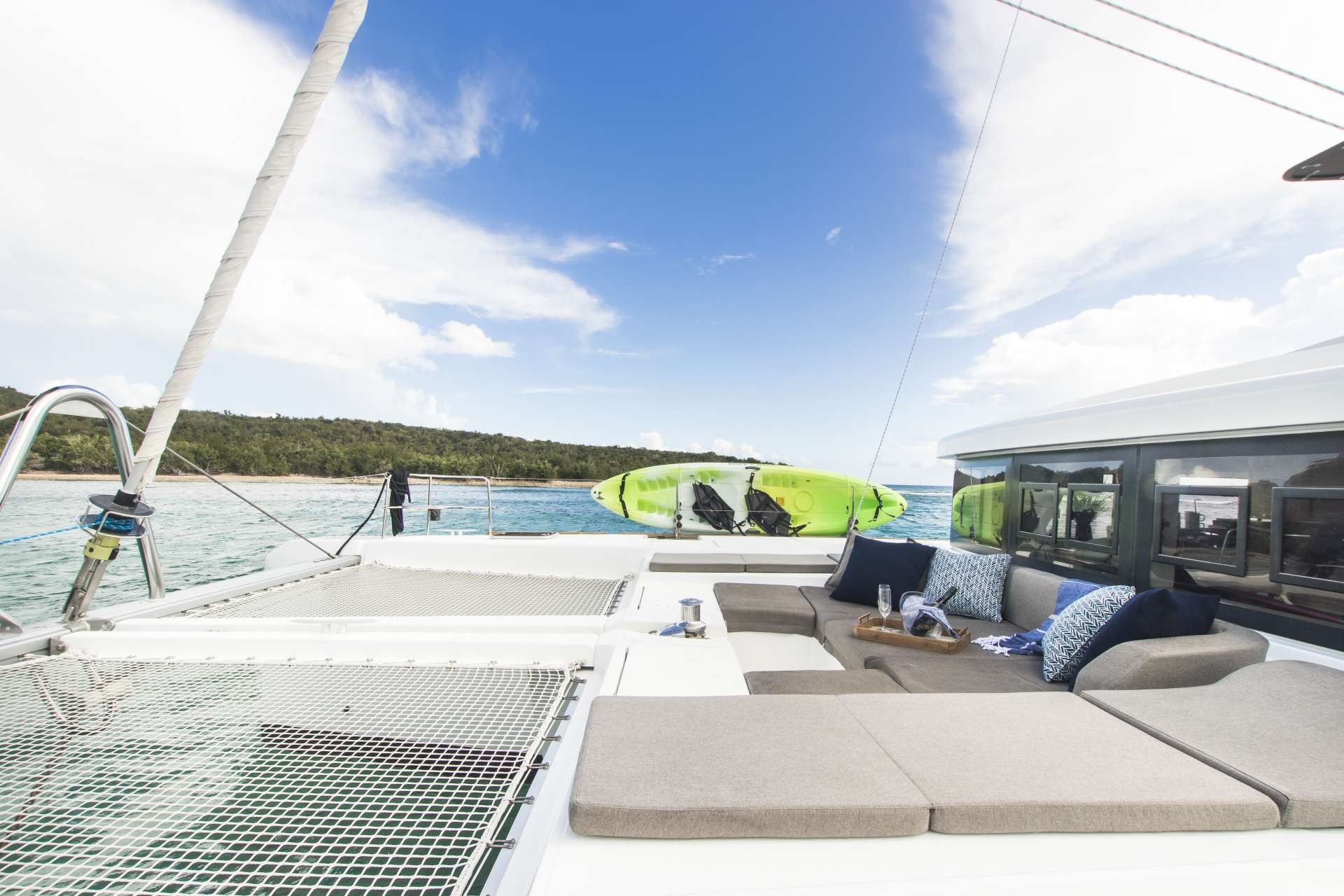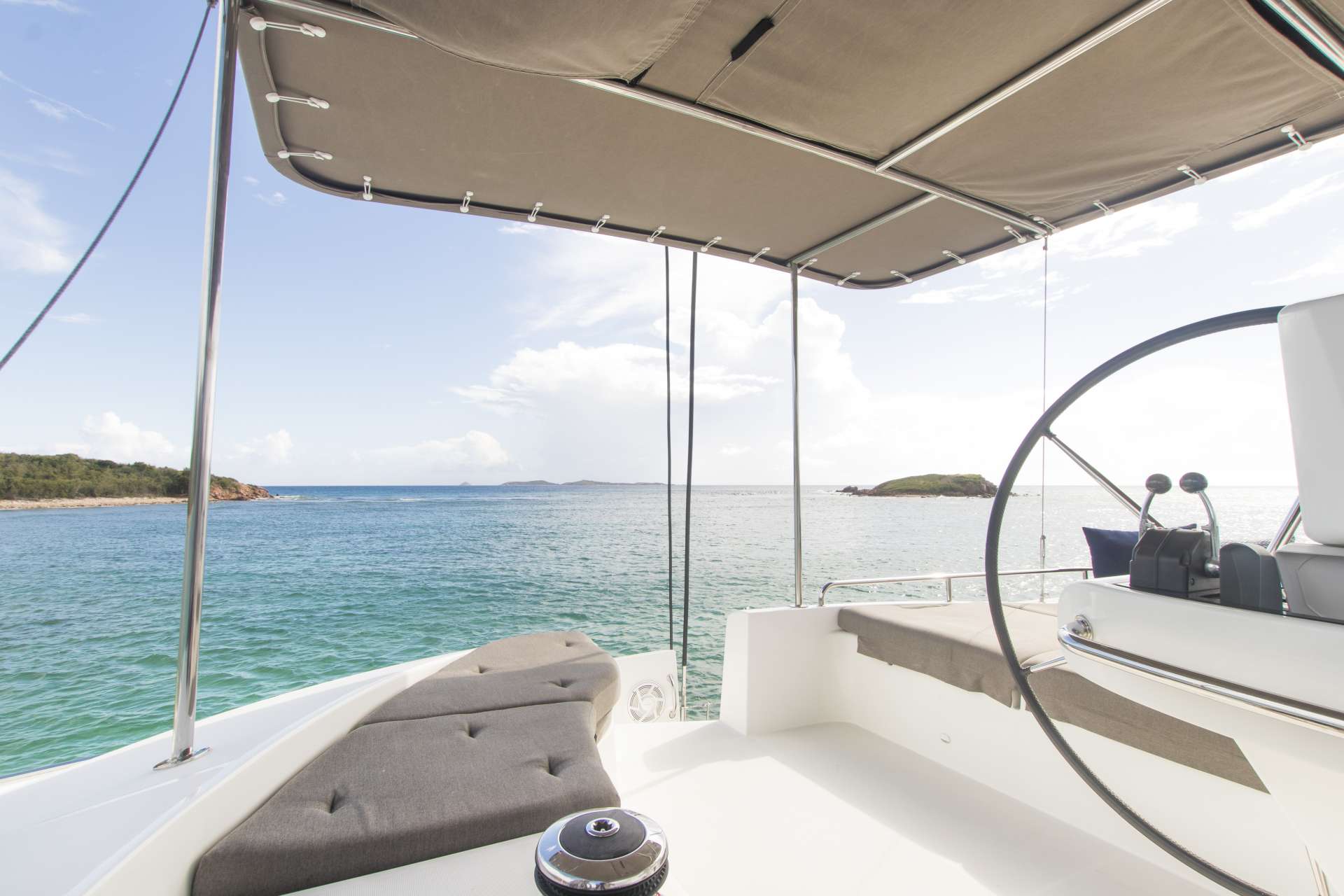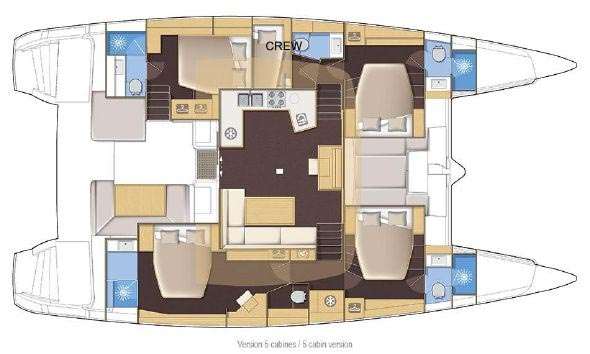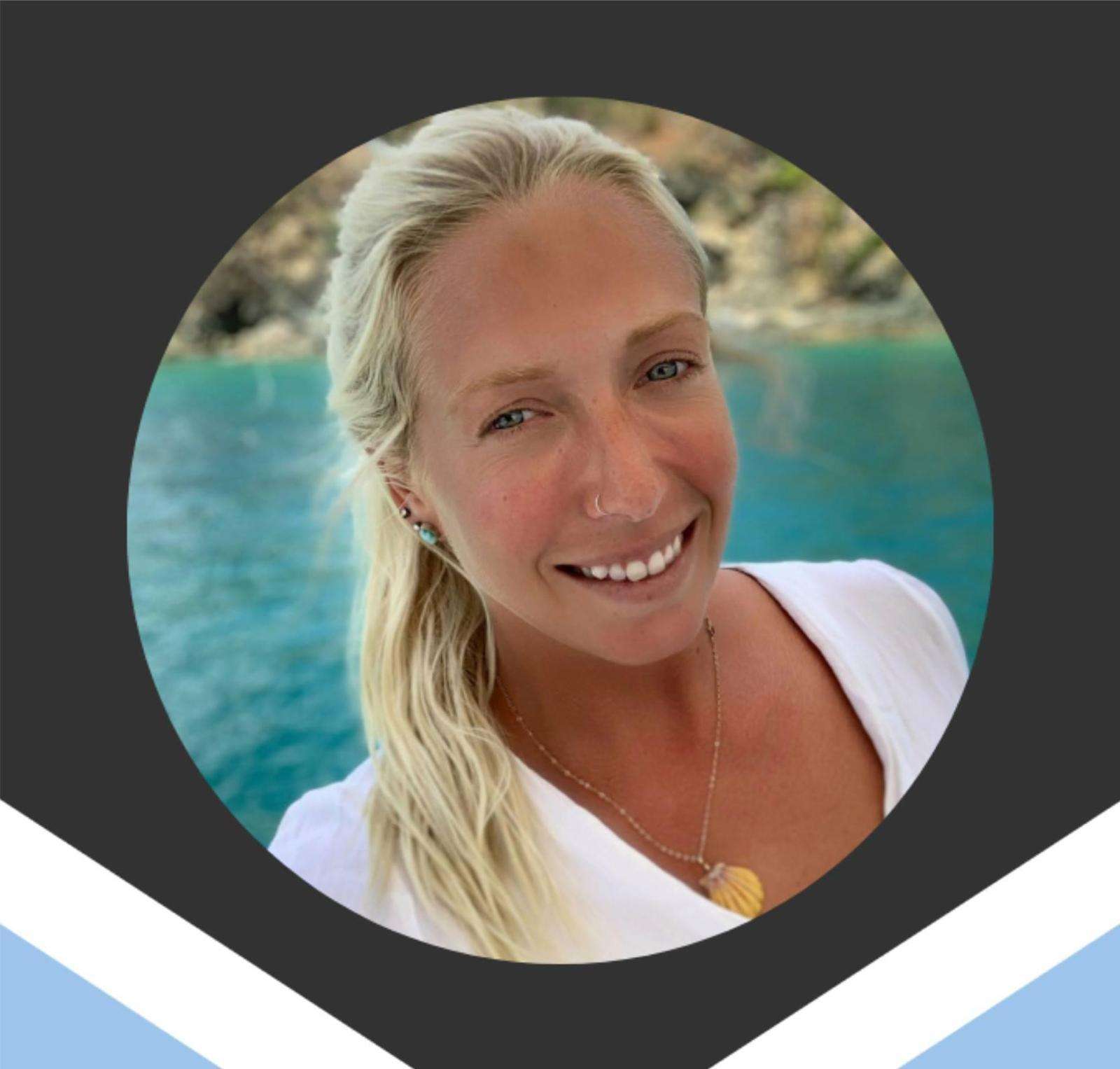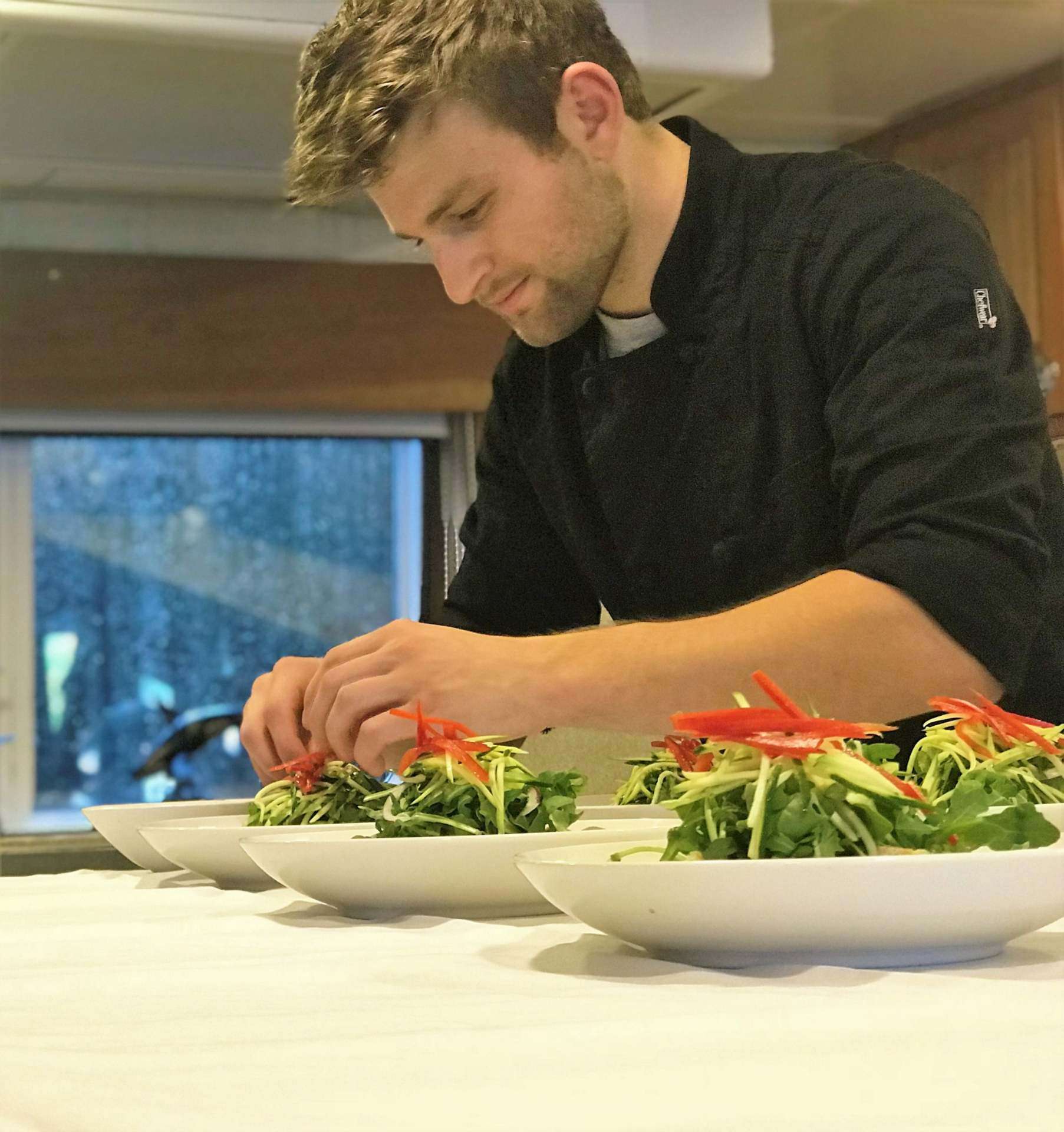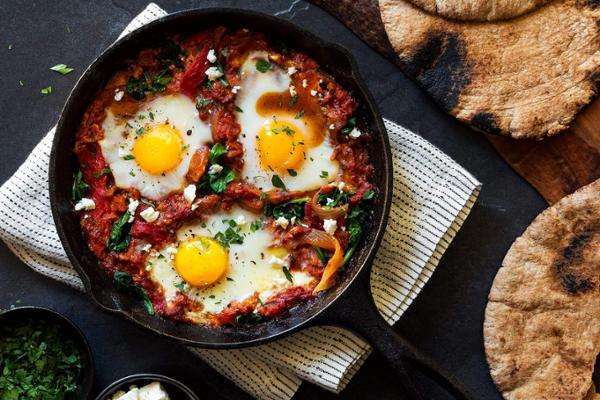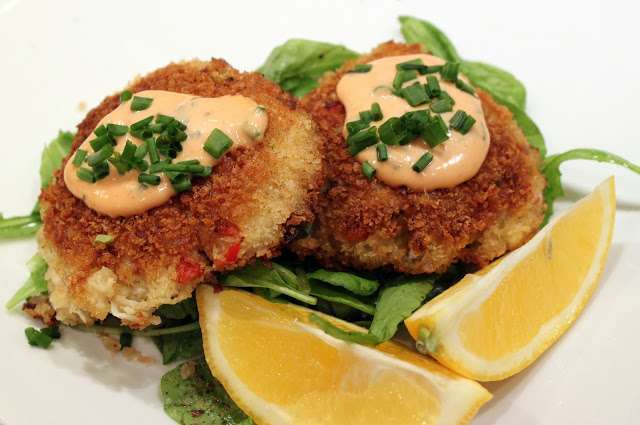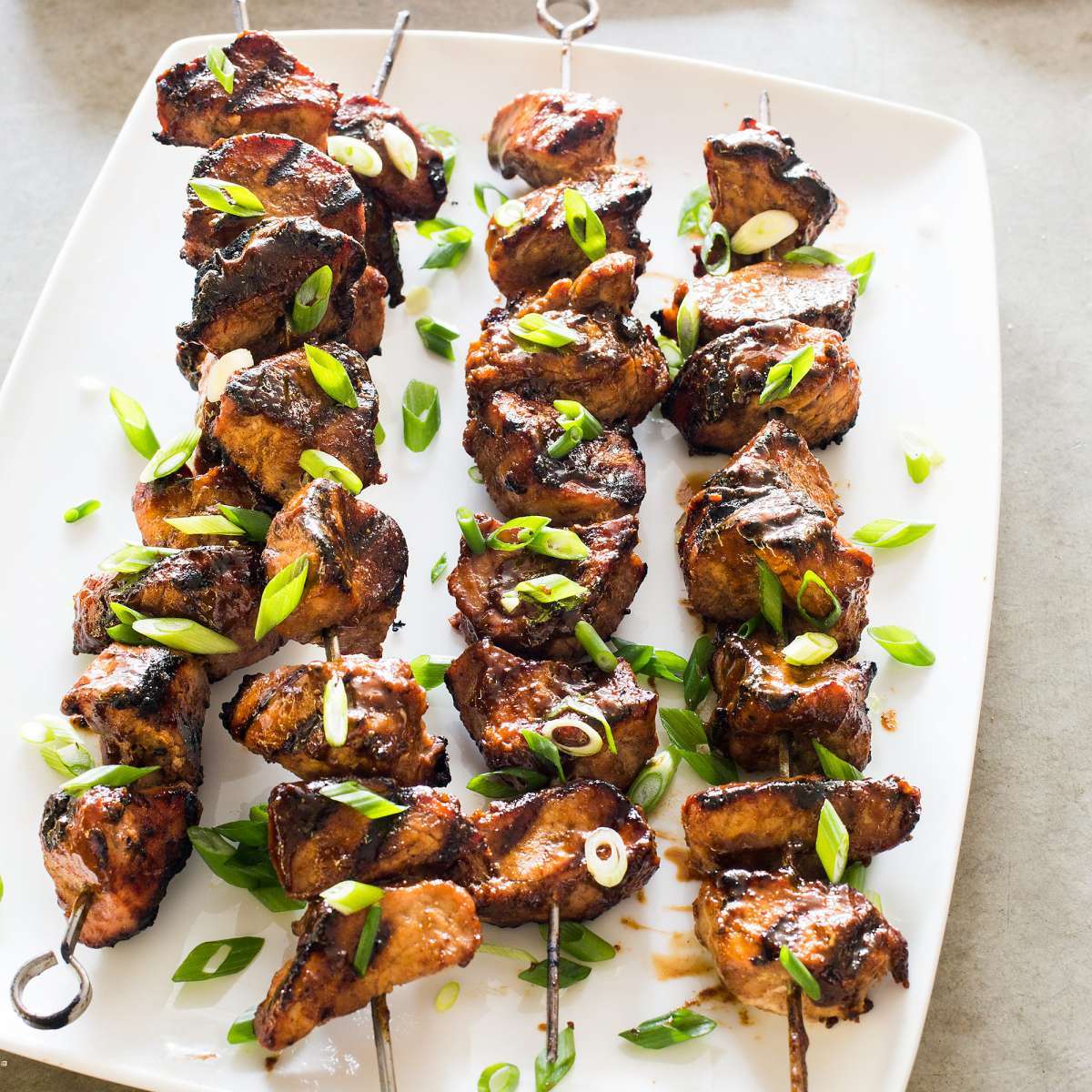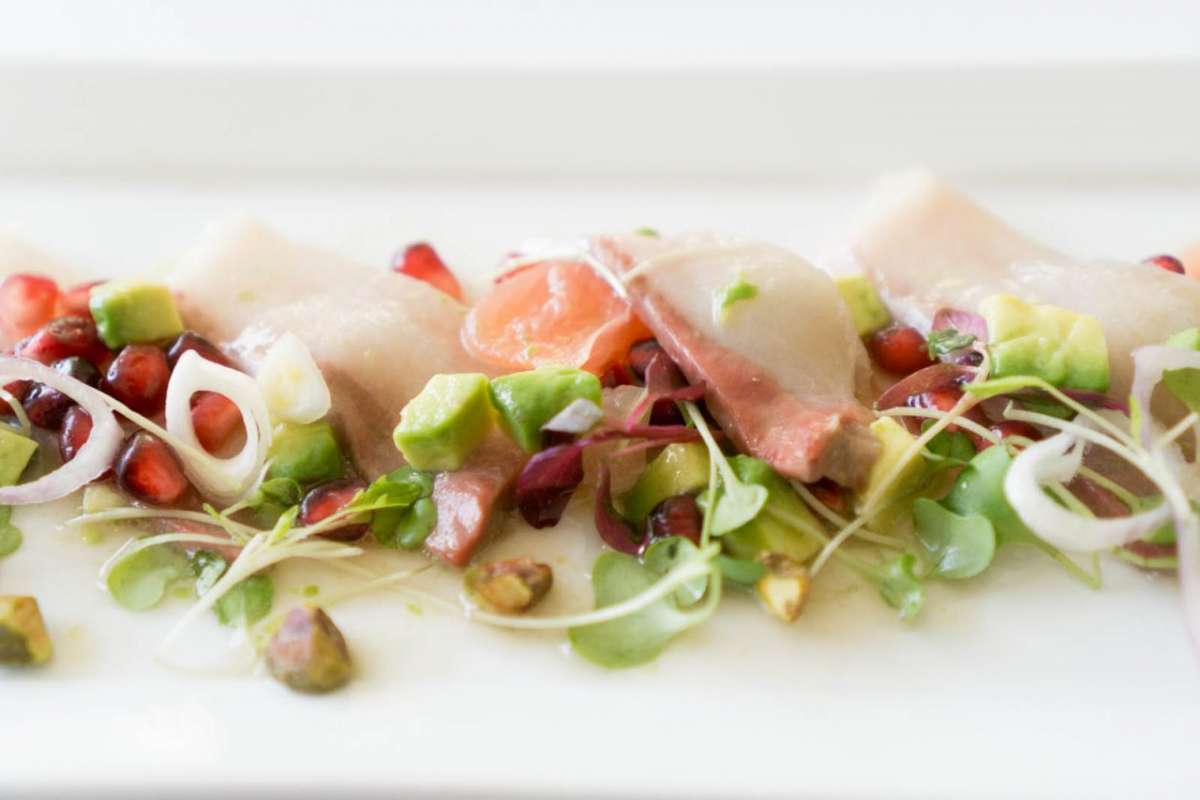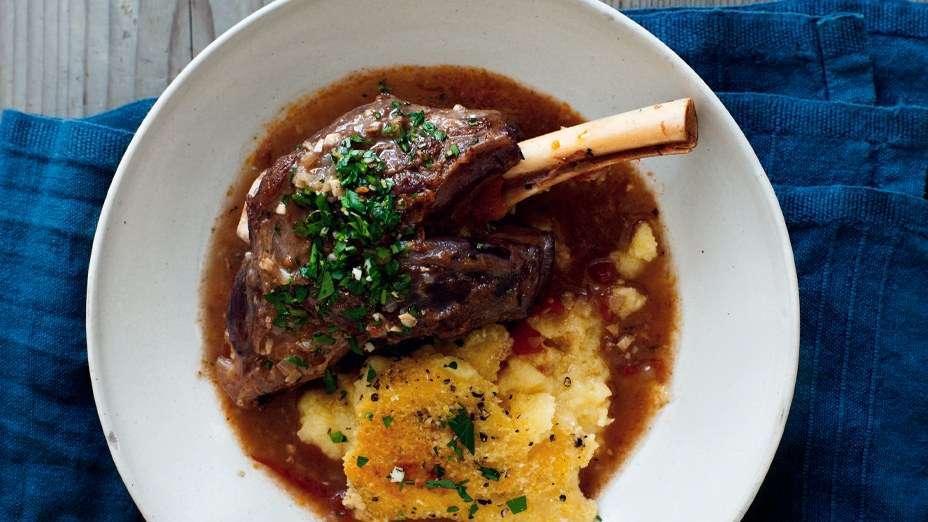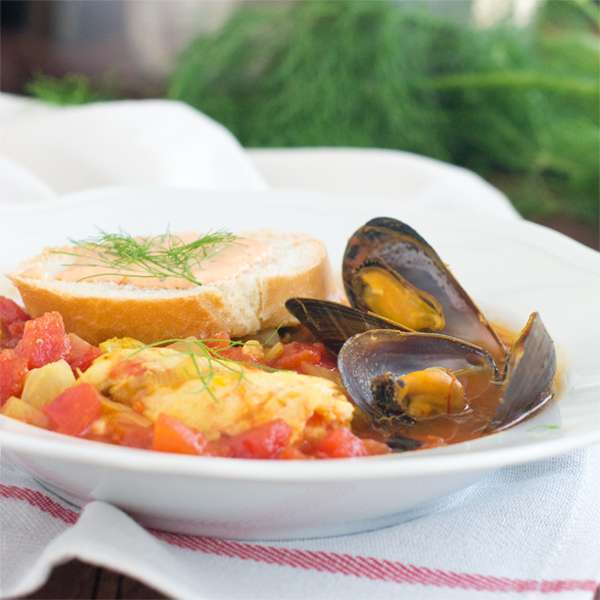 Description:
Welcome aboard OCELOT.  My name is Devan; I'm the captain, and this is chef Tim.  We're going to take you on a quick tour of the boat."  A pretty, female captain, Devan, whose father was a captain, took to the sea from the age of ten.  "Obviously, we've got the cockpit area right here.  This is where we serve most dinners most nights.  We are an eight passenger vessel, so sometimes if we've got kids and adults onboard, we'll arrange for the parents to sit outside to enjoy themselves and we'll keep the kids inside, give them a couple of toys, and give the parents a few minutes to enjoy themselves.
We've got our dinghy back here.  We've got a nice little 40 hp outboard on the back, so we can take kids scurfing; we've got a tube right down here; we take kids tubing.  We really just like to get them out on the water, enjoying themselves.  We've got four trolling rods onboard.  You can see two of them right here.  We've got a ton of fishing gear.  If we ever sail over St. Croix, we like to throw some rods in the water, get some fresh fish: tuna, mahi – filet it right up and make some sushi for appetizers.
Come up to the bow.  You can see right here, we've got all brand new Scuba Pro snorkeling gear.  We've got any sizes from extra small to extra large.  Everybody in the family can come snorkeling with us.
Up here on the bow we've got our two stand up paddle boards.  We love having paddle board races with everybody.  Sometimes we'll do guys versus girls, older versus young.  We get a little competition going.  It  really is a lot of fun to have that.
We've got our lounge area up here on the trampolines.  It's a beautiful spot when we're sailing.  Everybody likes to sit out front and get comfortable on the trampoline up here.  We've got our Subwing up here.  We tow that from the stern of the dinghy.  You put on some snorkel gear, throw on a mask, and you can actually slide underwater and see what's at the bottom.  It's a great way to find lobster.
We've got our floating mat right here, which is great when you want to have a couple of cocktails and sit in the water off the boat and relax a bit.  We've got our kayak up here, and we've got plenty of inflatable toys for the kids.  We've got our shark right here, and you can come up to the fly bridge, which is here.
This is our bridge deck up here.  It's a sun deck, the best spot in the house when we're out sailing.  You get a new view of everything, nice view of the bow, waves, beautiful.  We have a couple more inflatables up here for the kids.  We've got quick a big helm station right here.  It's a pretty cool feature.  Normally it sits here in the center, but you can actually hit this button here at the bottom and move it over to either the left or right, and you get a better vantage point when you're sailing.
As you can see, we've got some more fishing gear up here under the bimini, two more trolling rods.  Right above your head, we've got our scurfer boards.  We can actually take the kids out scurfing.  That actually is chef Tim's forte.  He's really good at it.
Come back on down, and I'm going to hand it over to Chef Tim to show you the interior.
Tim says, "We're going to take a quick tour of the cabin located off the cockpit here with the Mandalorian door that lifts up like in the movie Star Wars…..  We've got a queen here with full shower, toilet, all the amenities.
Come up this way, we're going to go inside to the main salon.  This is the galley where you'll find me cooking breakfast, lunch, dinner, appetizers, desserts.
We'll take you down to the port side.  Right here we have a Queen size bed, fresh water systems, separate shower.  We provide shampoo, conditioner, body wash.
Heading back up to the main deck, we'll go into the starboard side, and this is the most special room, in my opinion, the master suite, so you guys can fight over it, flip a coin, whatever you want to do, but here we have a proper master cabin with Queen bed, a little office space, tons of storage, shower, and then a WC closet, disconnected.
The forward cabin is very similar to the port side forward cabin.
We'll head back up to the main salon area.  At night you'll usually find me on the aft deck, playing this guitar.  This is it.  Welcome to OCELOT.
Based in St. Thomas, OCELOT charters for:
$20,500 weekly all inclusive for two guests
$21,250 for three
$22,000 for four
$22,750 for five
$23,500 for six
$24,250 for seven
$25,000 for eight
Rates include food, fuel, bar dockage – everything! – except gratuity.  Christmas and New Years weeks are sold at a premium.
CHRISTMAS/NEW YEARS: 7 night minimum, VIRGIN ISLANDS
CHRISTMAS: 1-8 pax $29,000 must end on or before December 26th
NEW YEARS: 1-8 pax $33,000, December 27th start or later
OCELOT Crew-Guided Video Walkthrough
OCELOT  E-Brochure, Photos, Specifications, Crew Profile, Sample Menu, Guest Comments, Rates & Bookings
SPANISH VIRGIN ISLANDS charters happily accepted!
LESS THAN 7 NIGHT CHARTERS: For 6 nights divide by 7N X 6N. For less than 6 nights, divide by 6N X number of nights.
MINIMUM NIGHTS: 6 inquire for less
BVI PORT FEE: Add $400 each end for BVI ports other than West End or Jost
SLEEP ABOARD Sleep aboard the night before charter dates. Available for $200 per cabin per night, with a 3 cabin minimum. Includes snacks, welcome cocktails & continental breakfast. Dinner is to be taken ashore at client expense. EXCLUDES: Christmas and New Year's weeks.
HALF-BOARD OPTION: Includes 7 breakfasts, 4 lunches & 3 dinners, happy hour canapes, standard ships bar and snacks. Other meals ashore at client expense.
2@$20,200 3@$20,800 4@$21,400 5@$22,000 6@$22,600 7@$23,200 8@$23,800
LOCAL FARE OPTION: Includes 7 breakfasts, 5 lunches & 6 dinners, happy hour canapes, standard ships bar and snacks. Other meals ashore at client expense.
2@$20,350 3@$21,025 4@$21,700 5@$22,375 6@$23,050 7@$23,725 8@$24,400
Disclaimer:  Information is believed correct and true, but Nicholsons cannot be responsible for its content.