High Rate: $ 25,000 weekly All Inclusive
Low Rate: $ 20,500 weekly All Inclusive
Cabin Configuration:
Sleeps 8 in 4 cabins ex saloon, 2 identical forward, 1 aft Queen to starboard, & 1 amidships to port with Full size bed, all with ensuite bathroom with stall shower & Wi-Fi. The crew sleep aft to port but take full cabin when 4 couples are aboard.
Specifications:
Length:
Builder:
Built/Refit:
Beam:
Draft:
Cruising Speed:
Regions Available:
Locations It Travels:





Special Features:
50'
Lagoon
2021
27'
5'
8 knots
St. Thomas




Brand new, 2021 build
Crew love to sail
Gorgeous saloon
Fly bridge
Onboard Scuba diving with Dive Master & air compressor
Scurfer instructor
Water Toys
12' dinghy with 30 hp outboard seats ten
adult and children's water skis
snorkel gear
tube
two-pax kayak
floating mats
beach games
stand up paddle boards
fishing gear
underwater still and video cameras
onboard scuba with dive master - 3 dives included for certified divers - $25/diver additional dives
complimentary USVI & BVI map to chart your itinerary; onboard Wi-Fi
Have a Question About This Yacht?
Fill out the form below and we will get back to you quickly!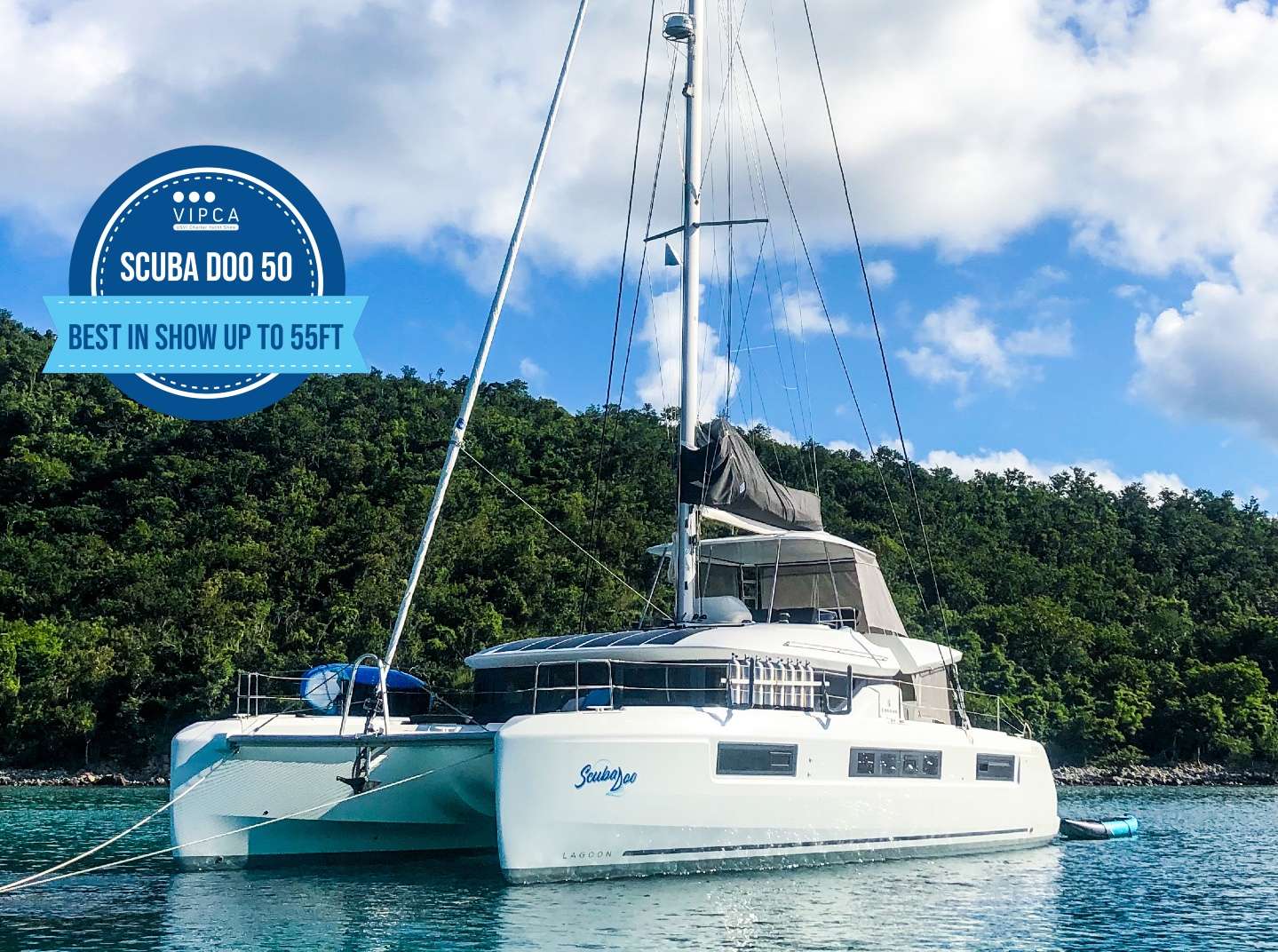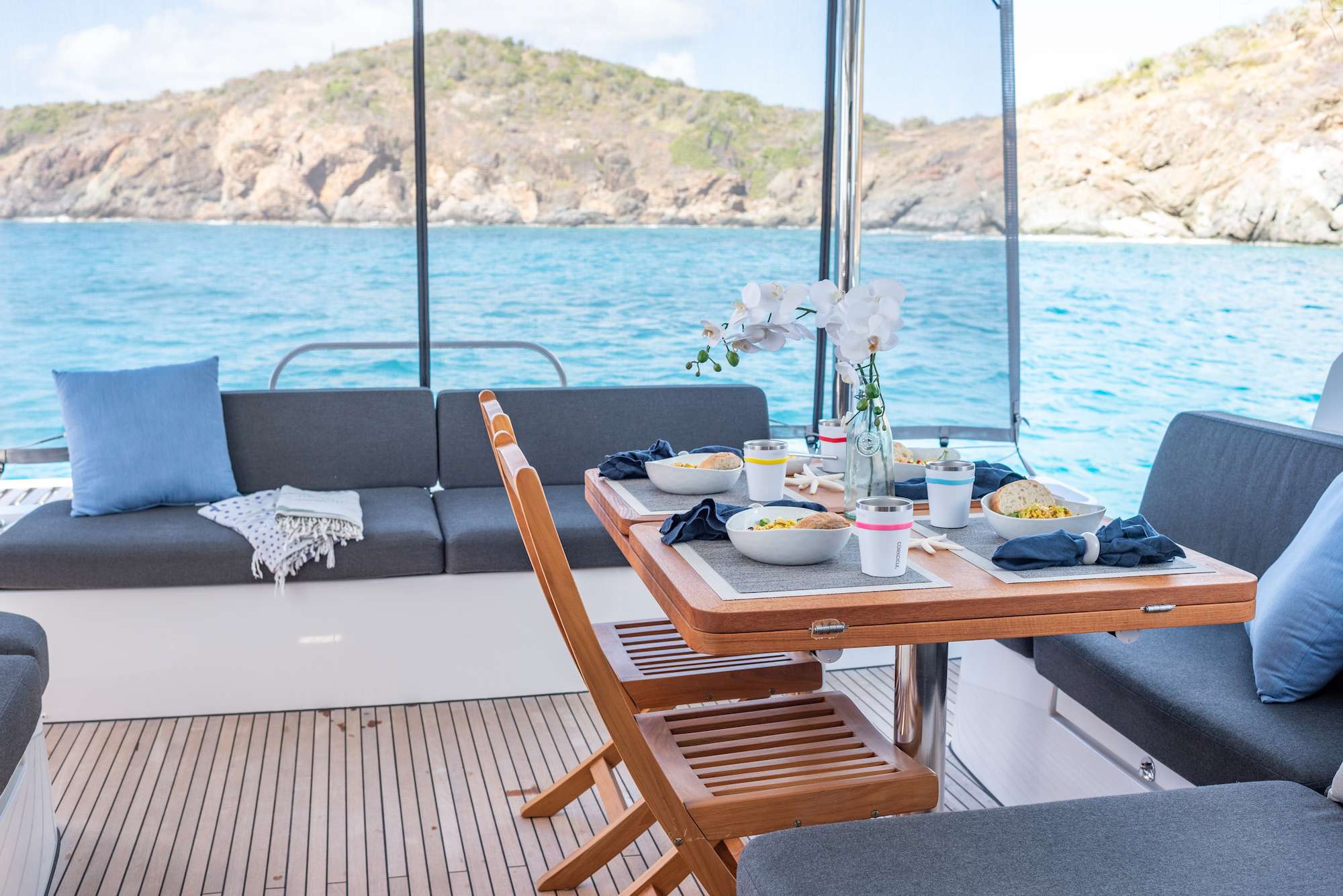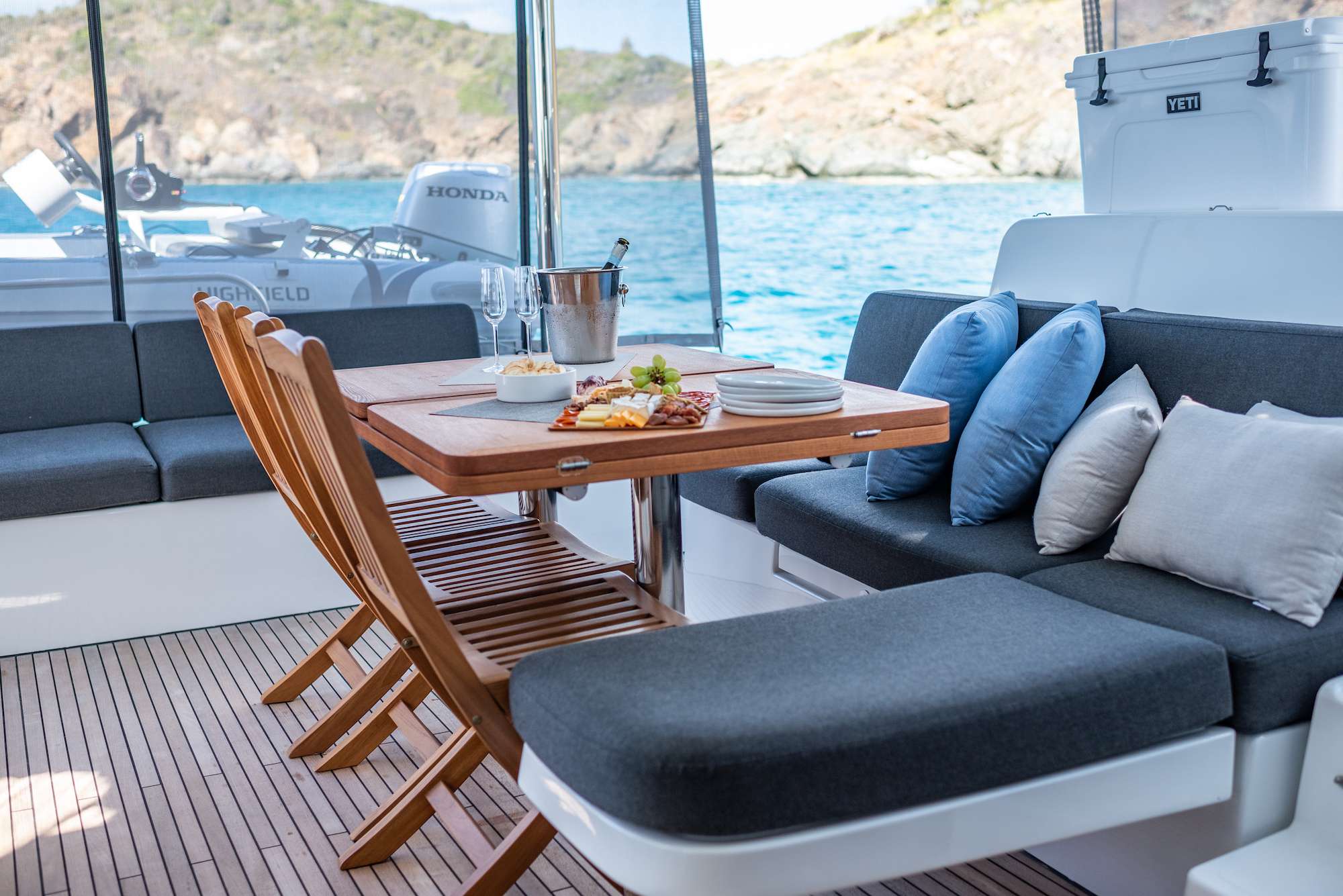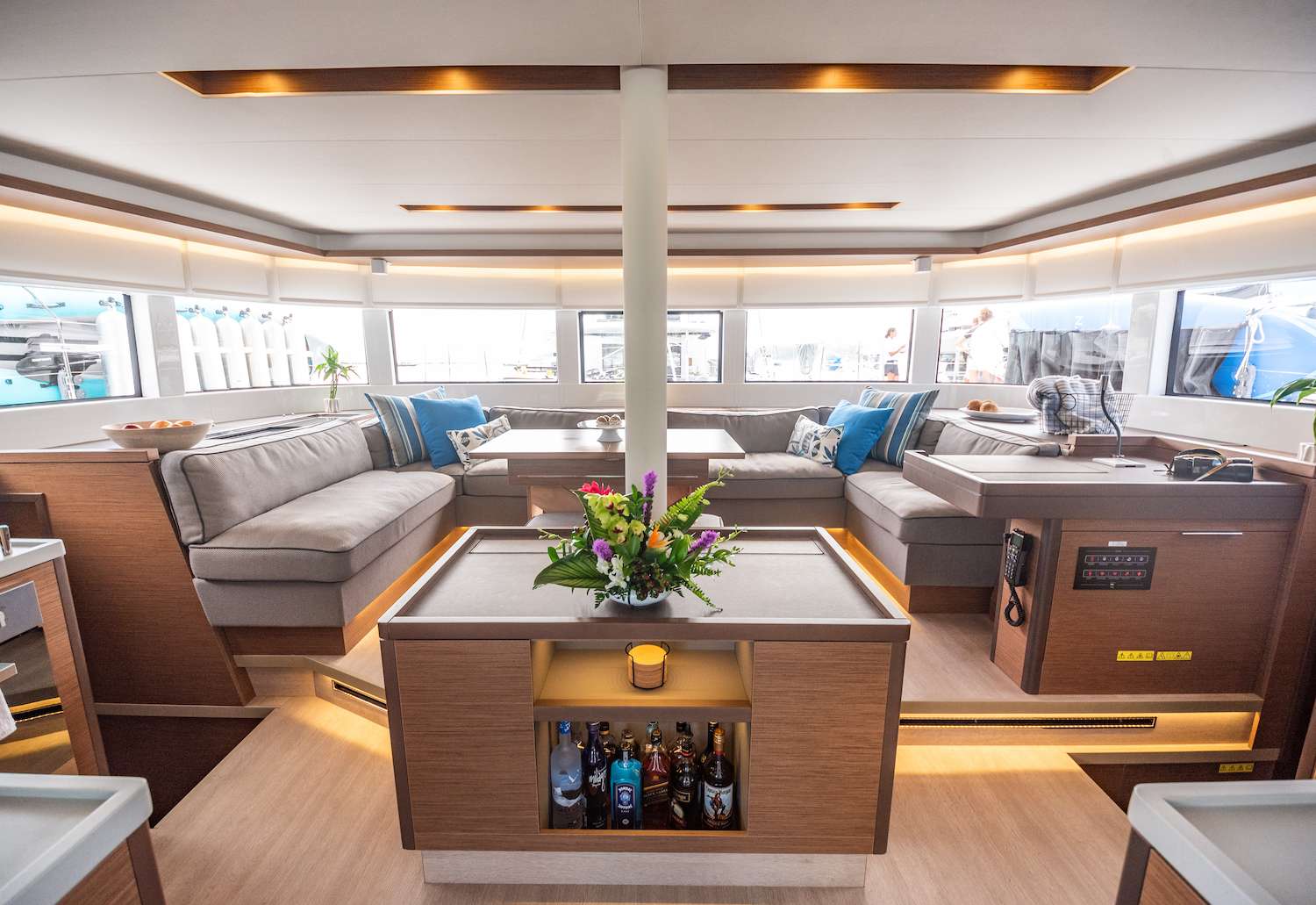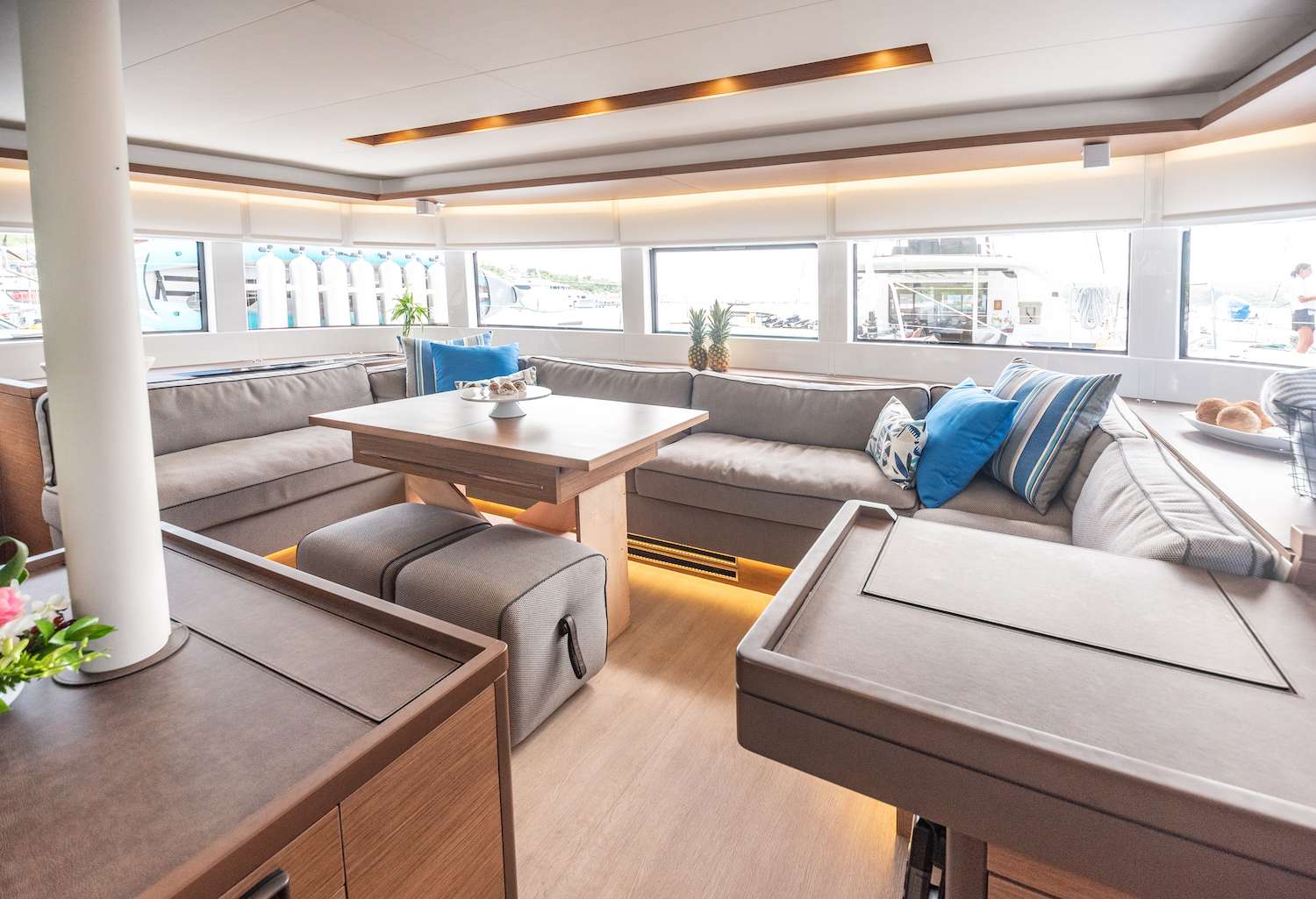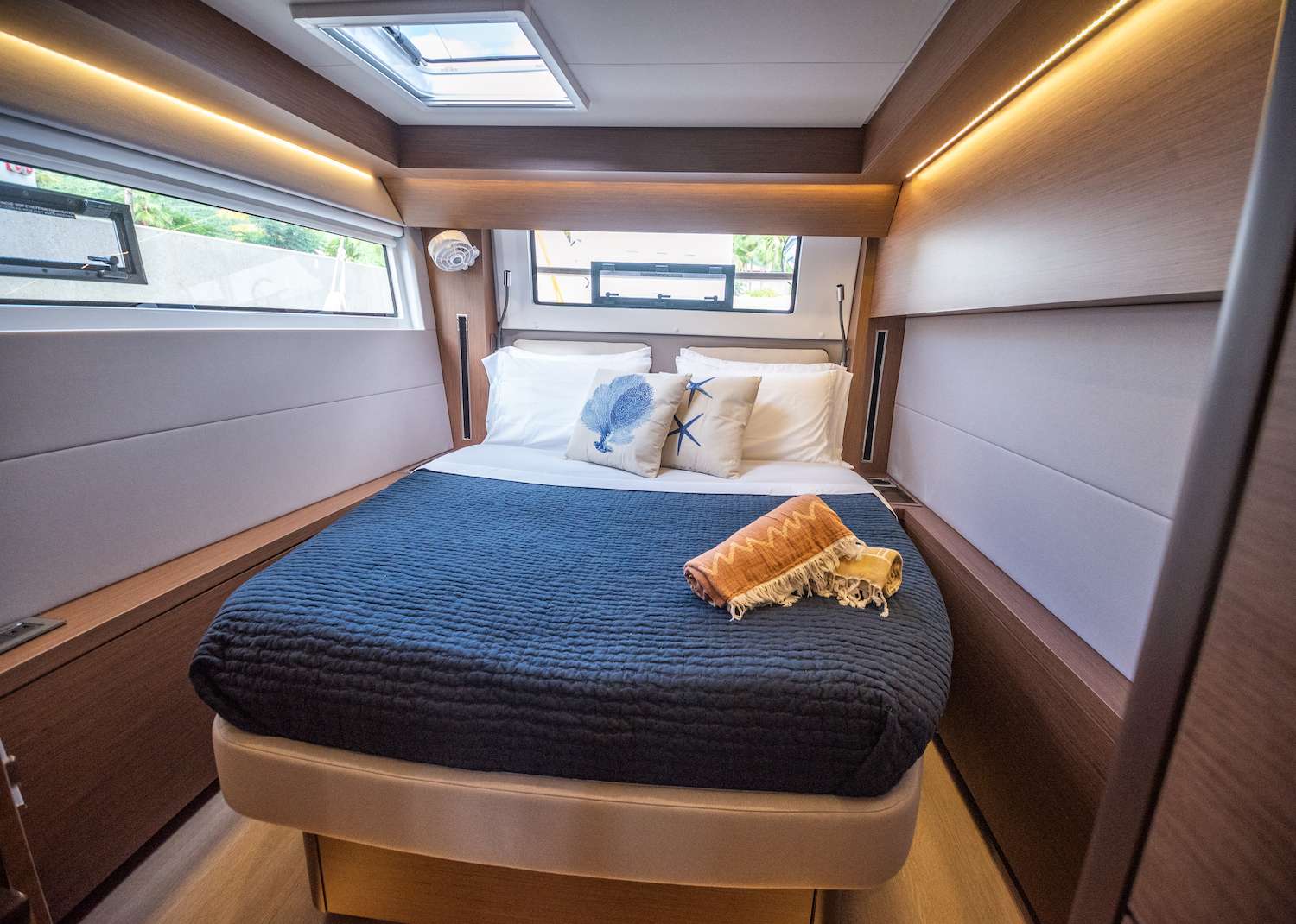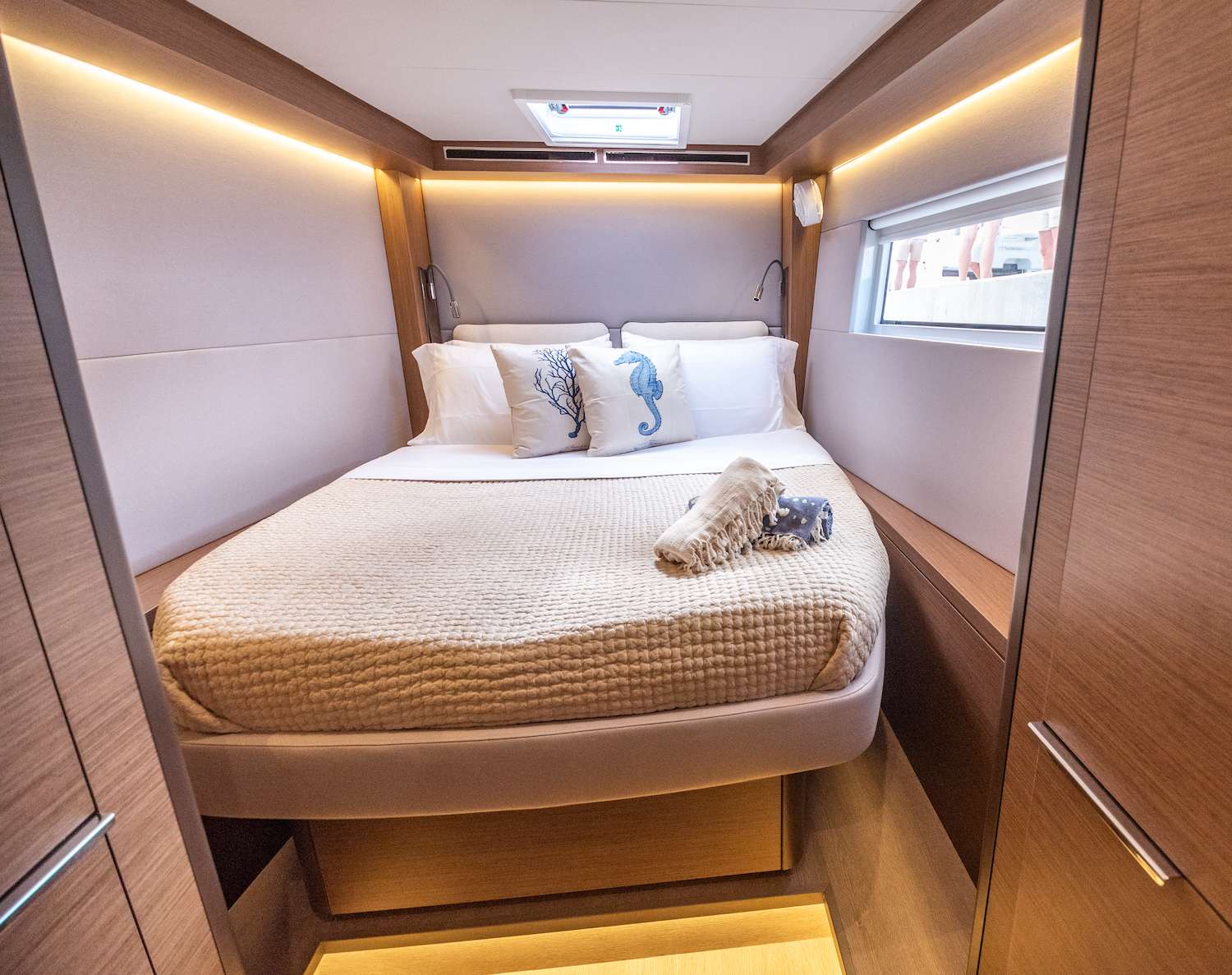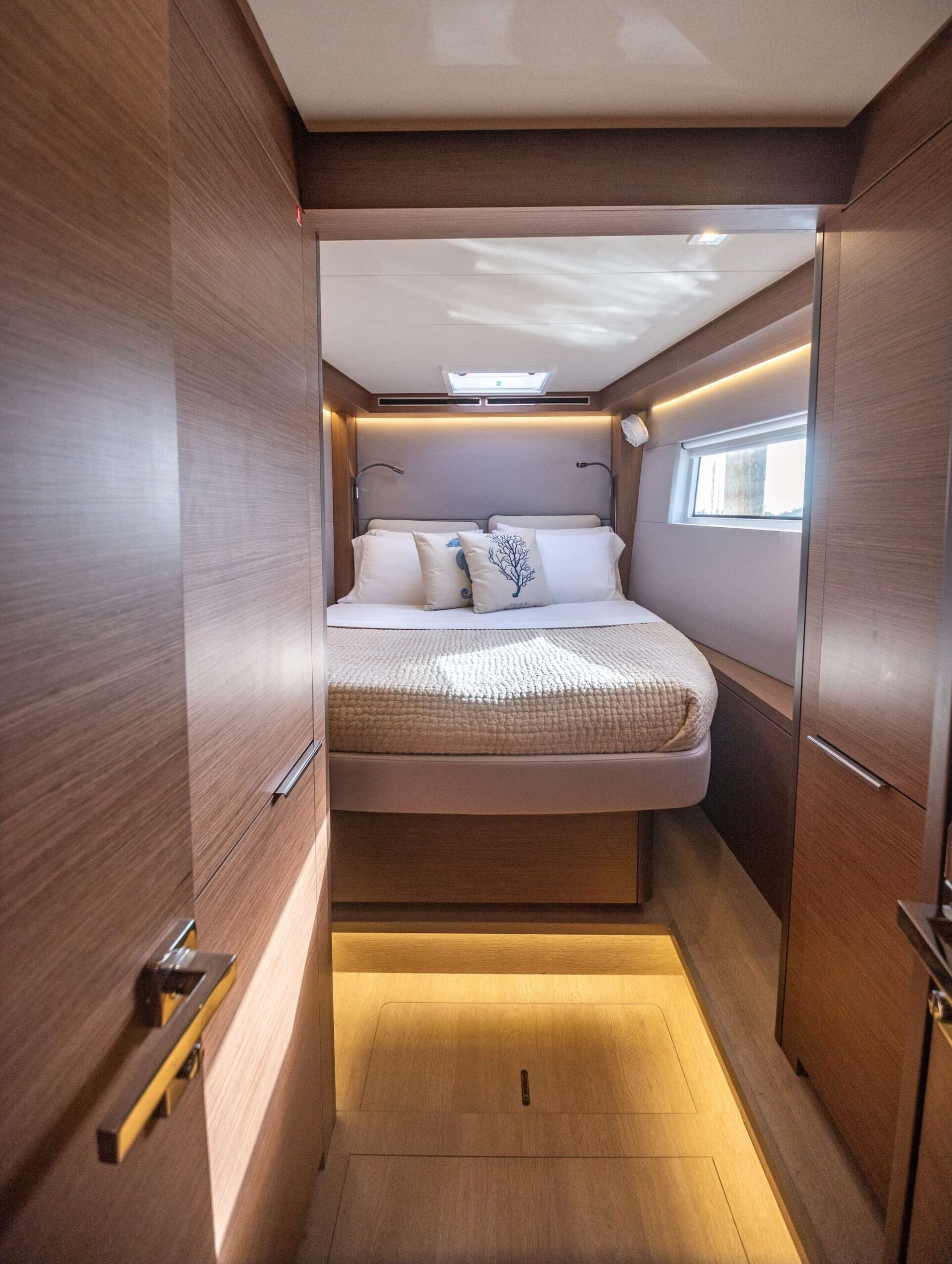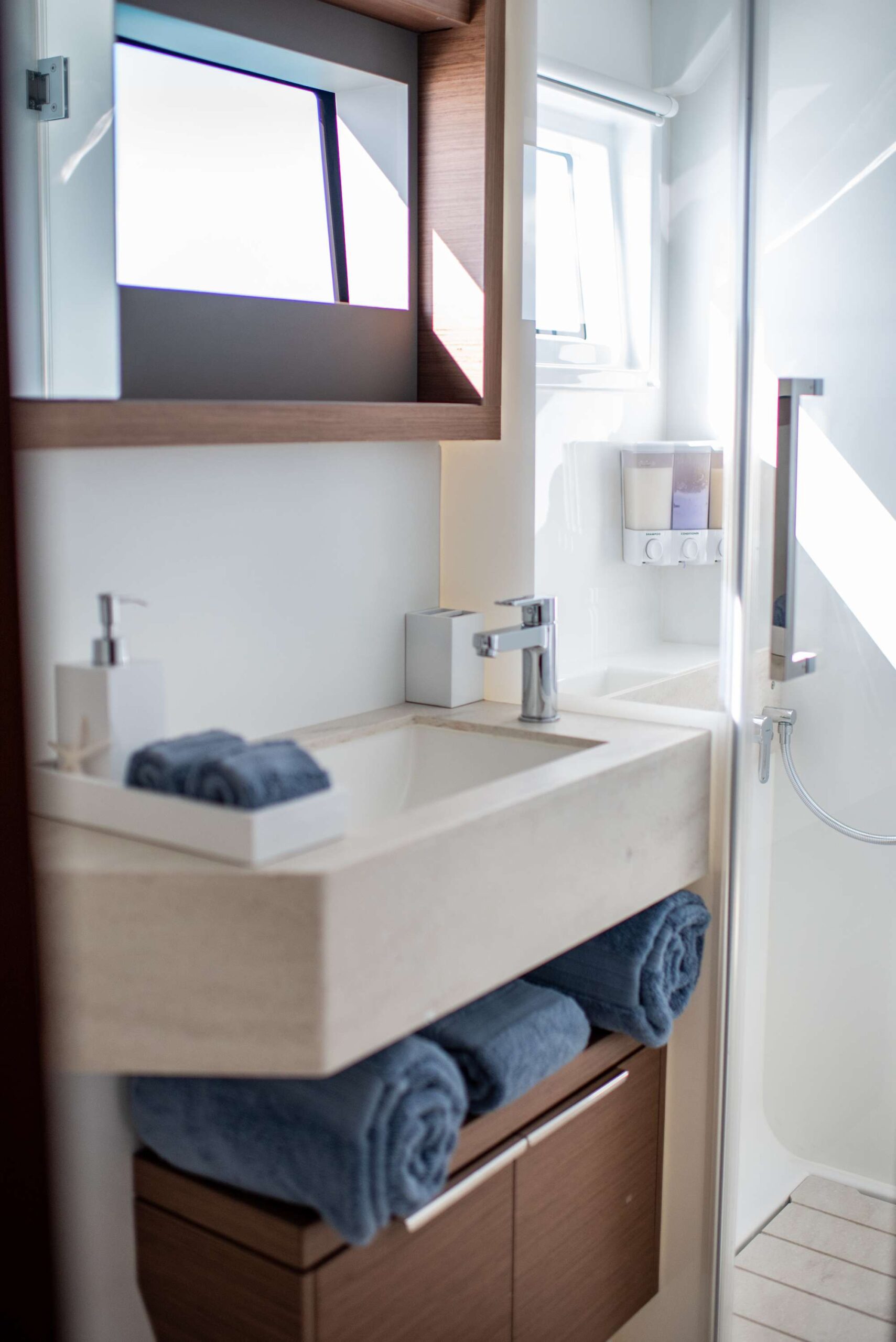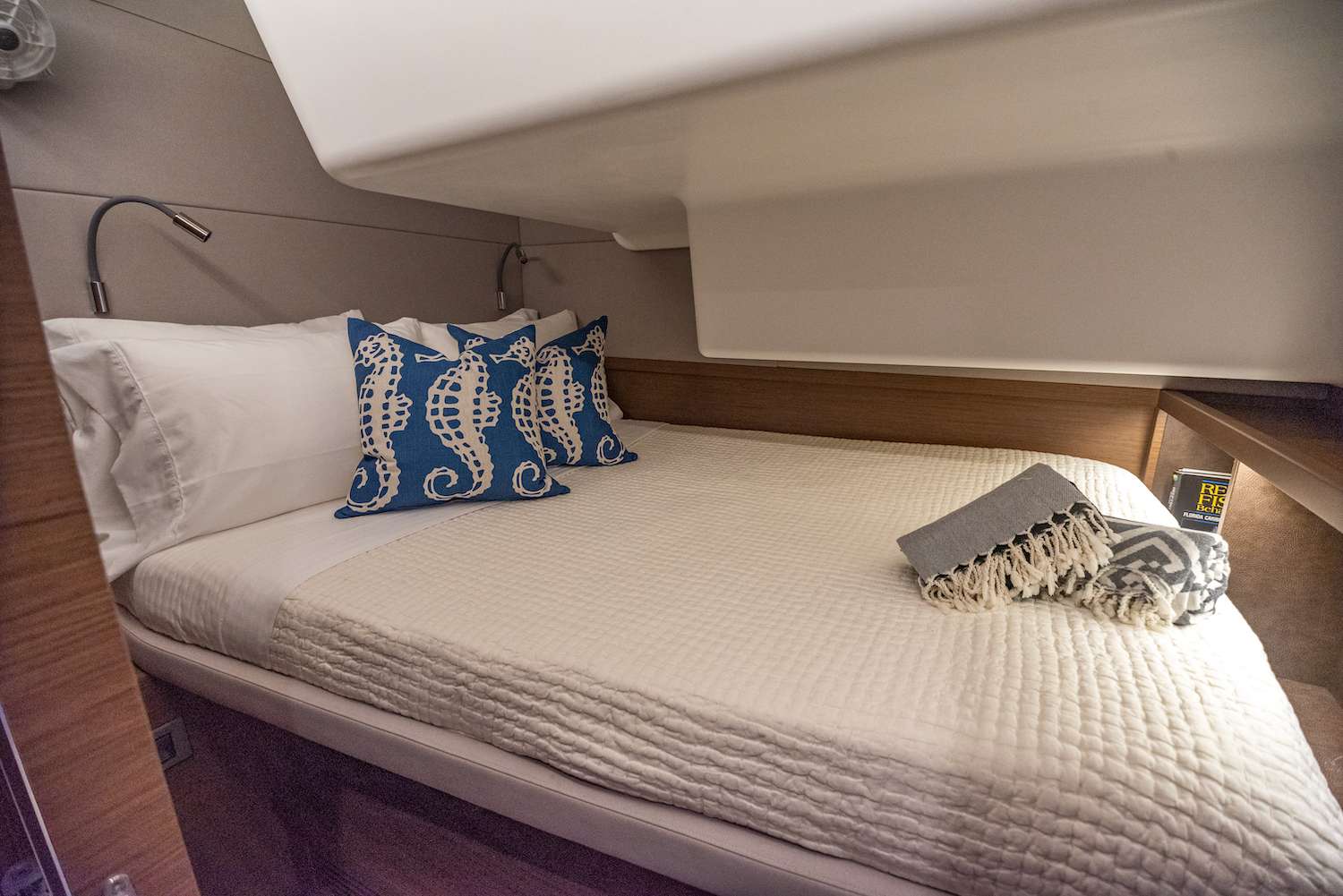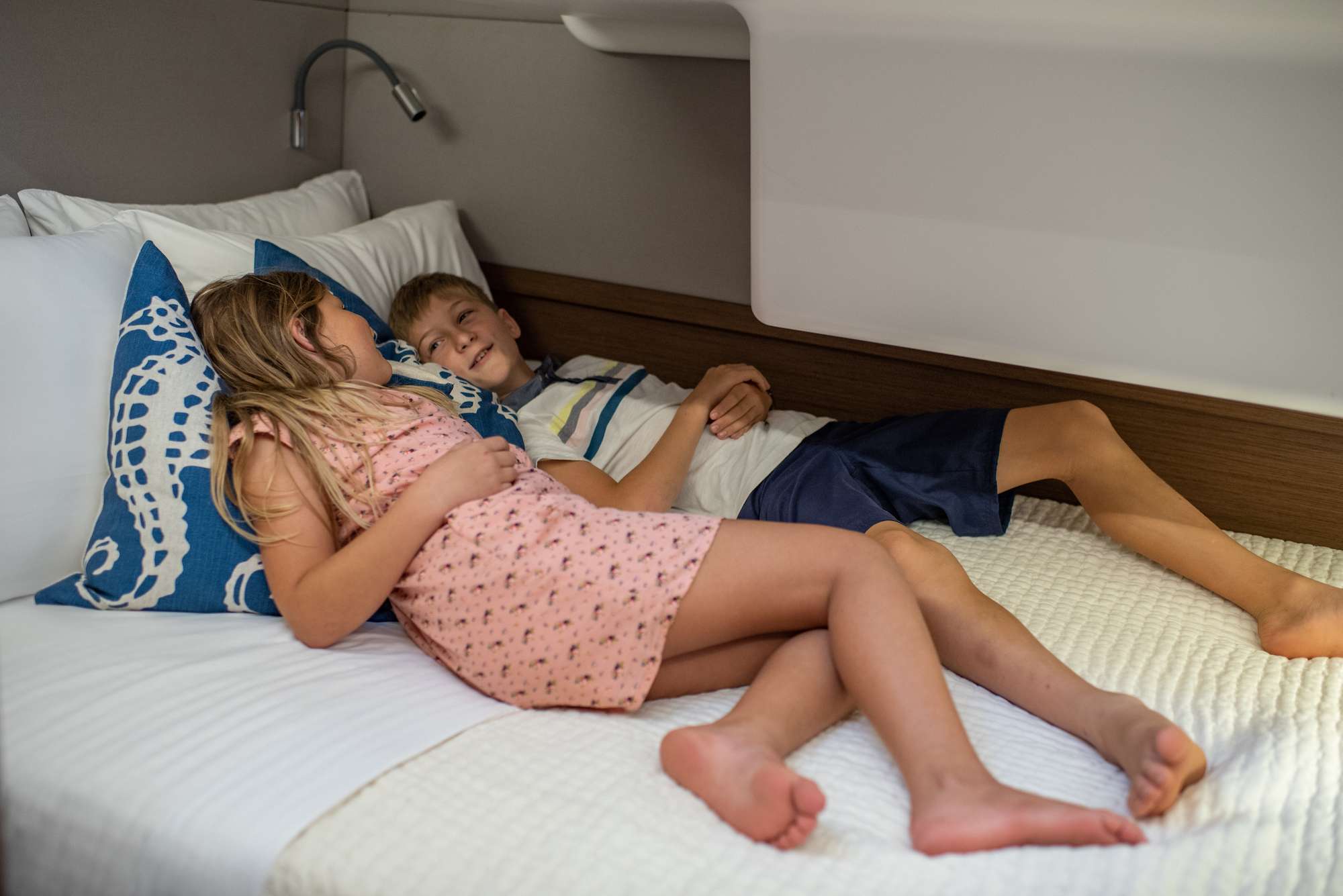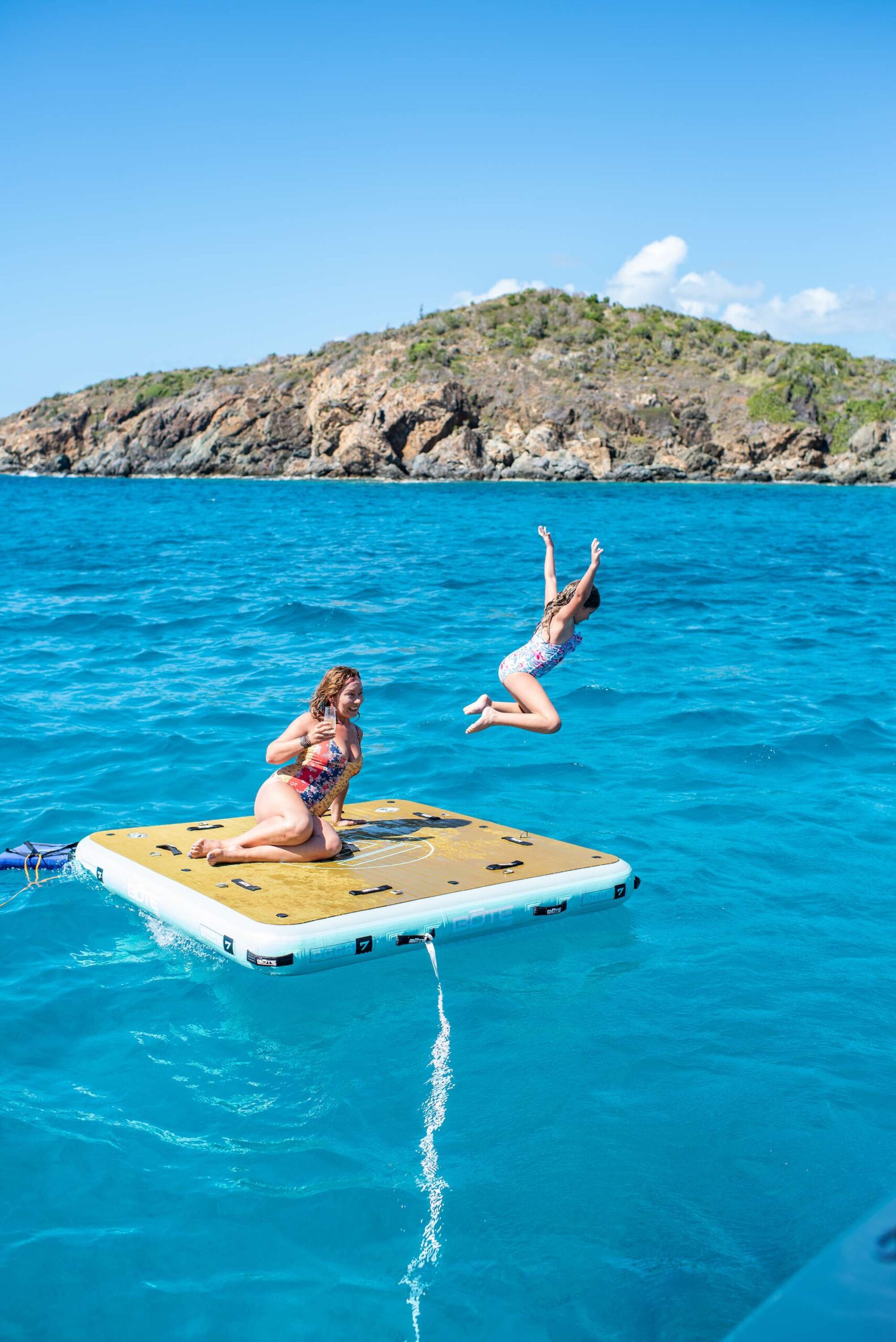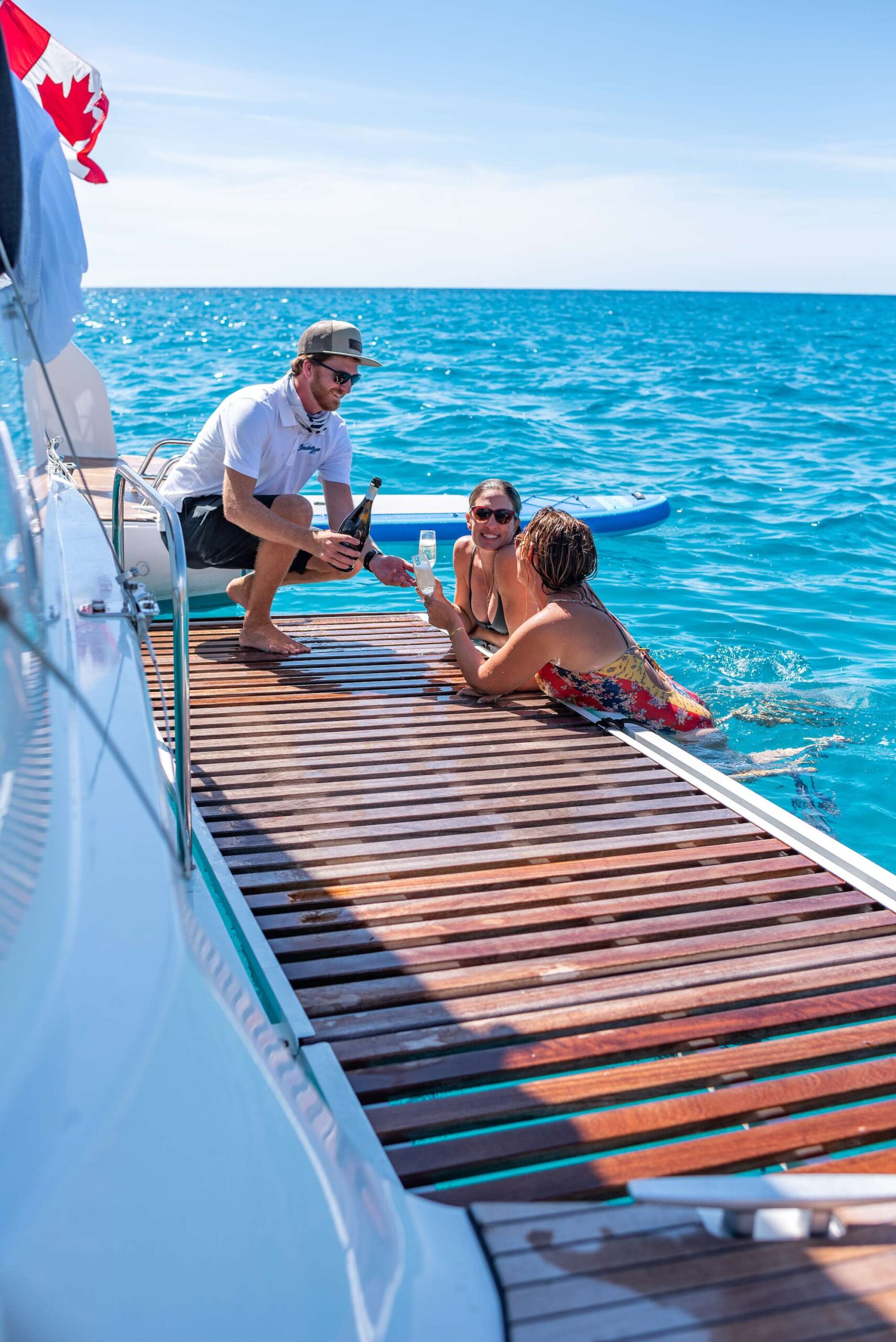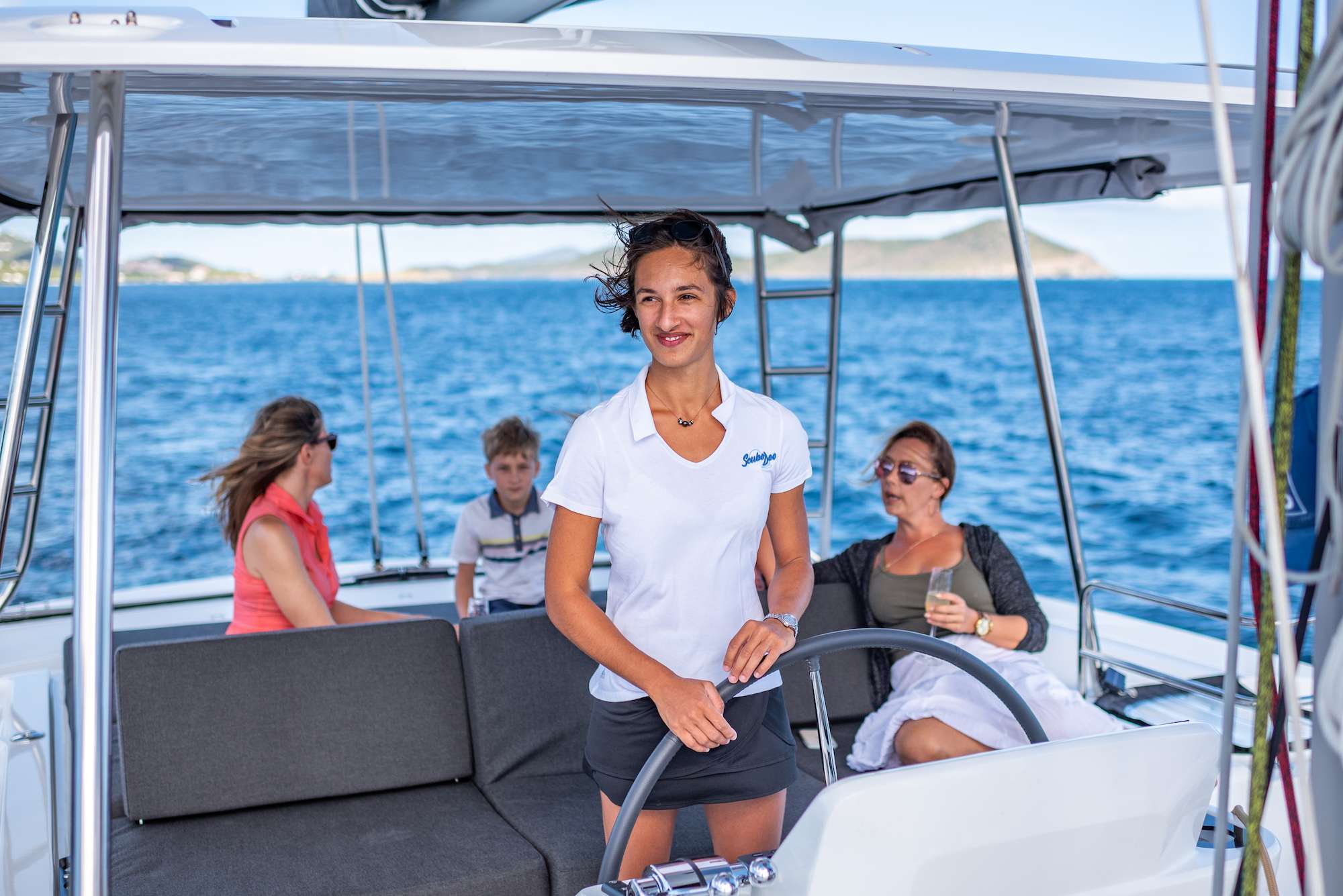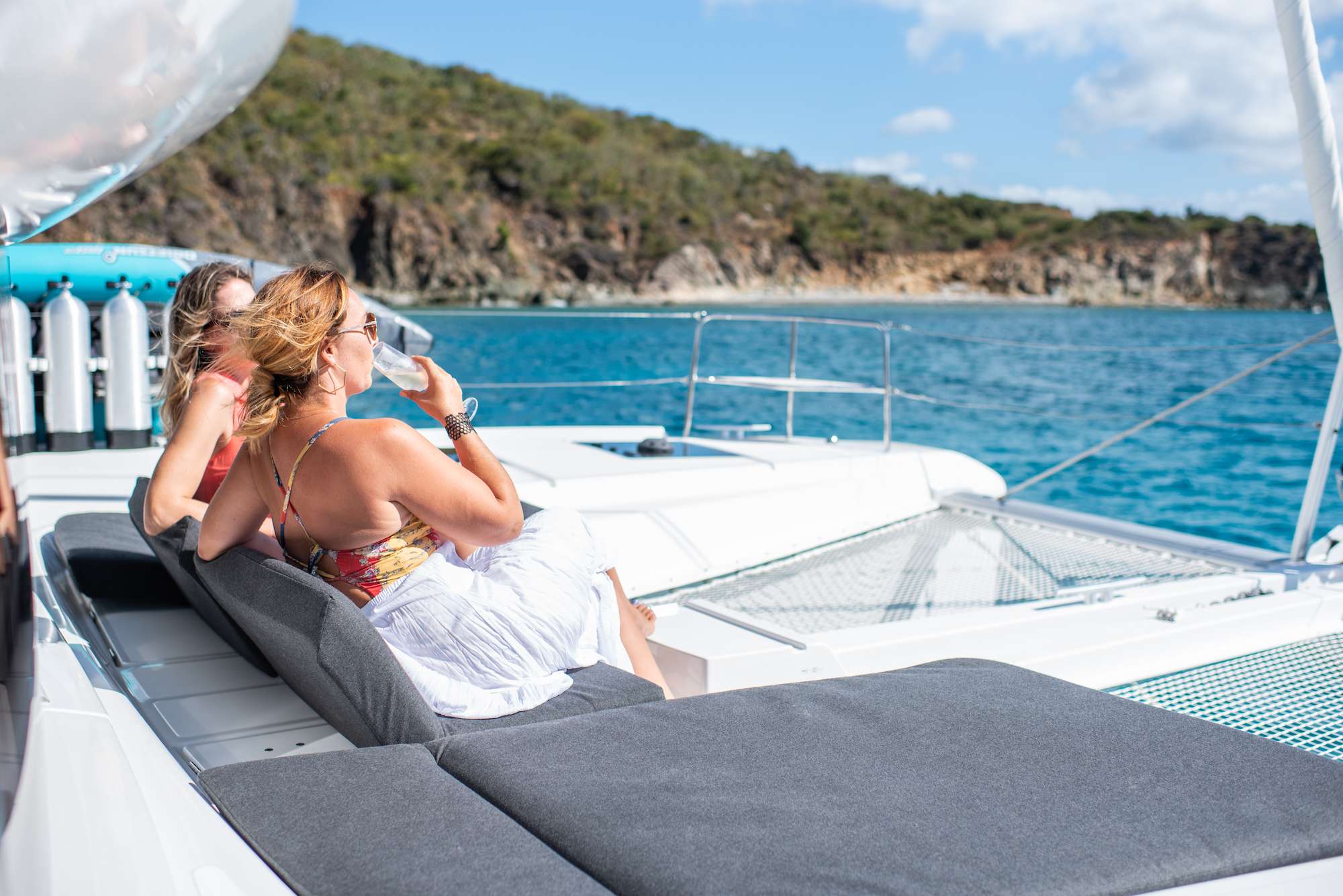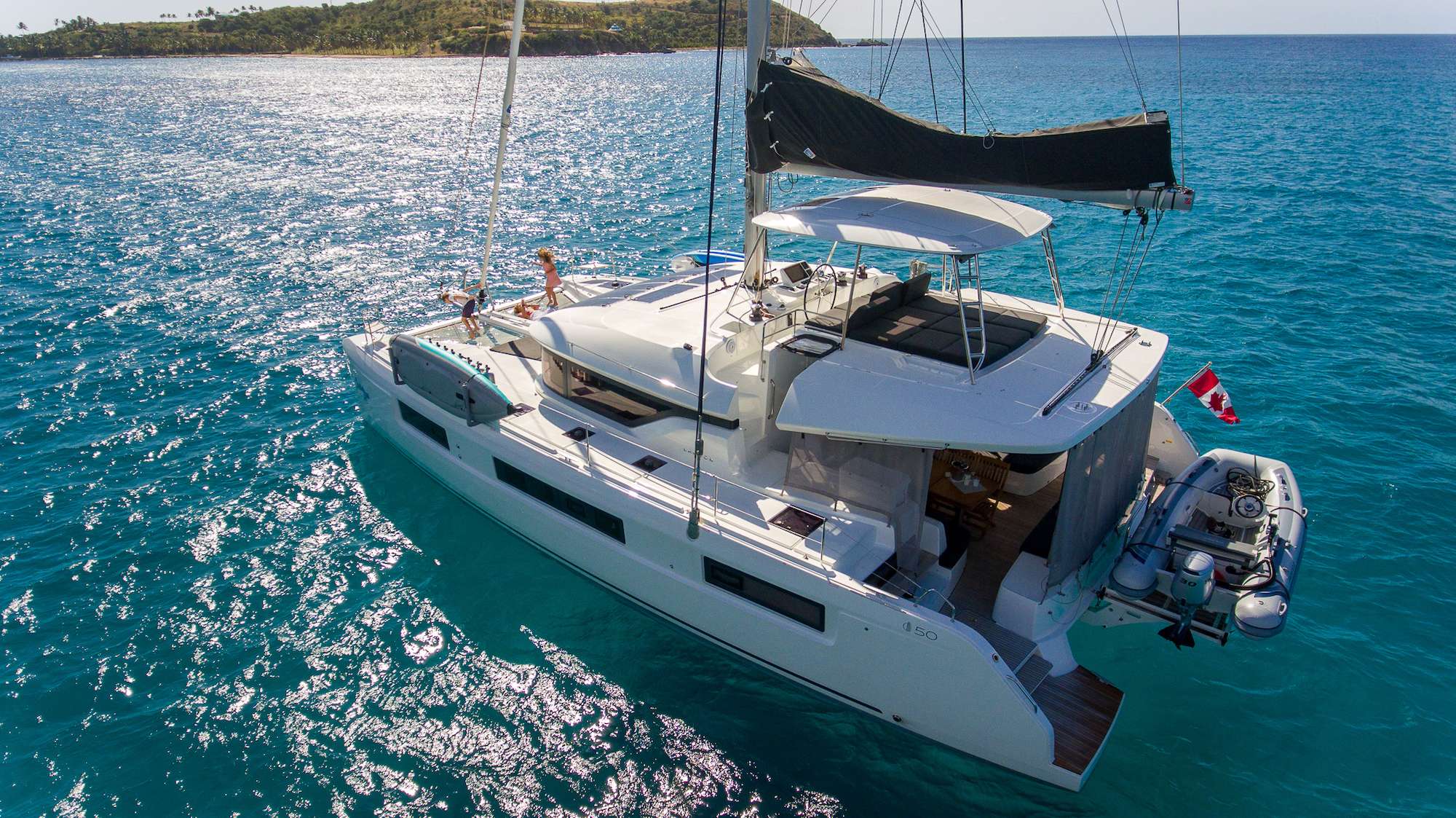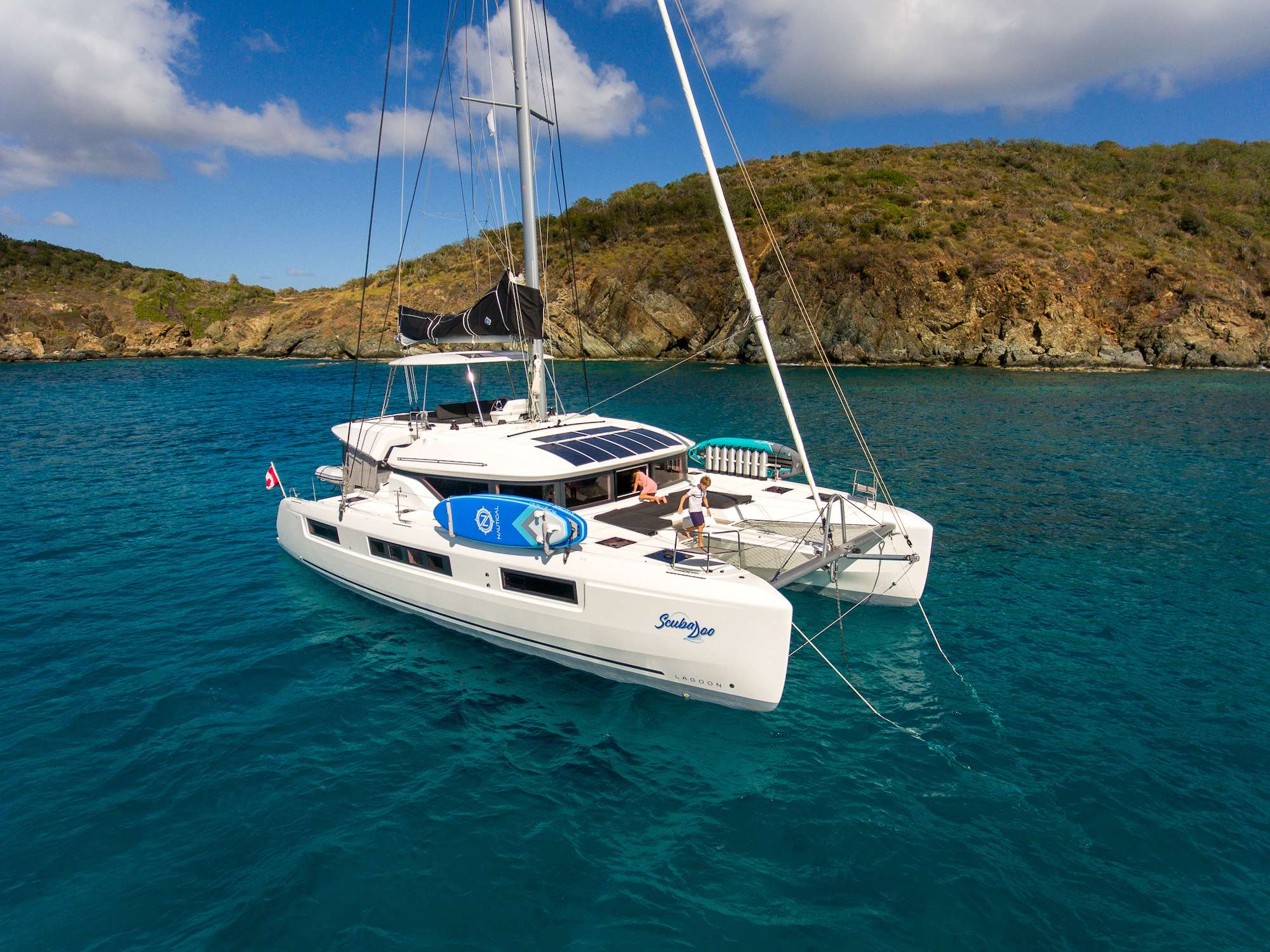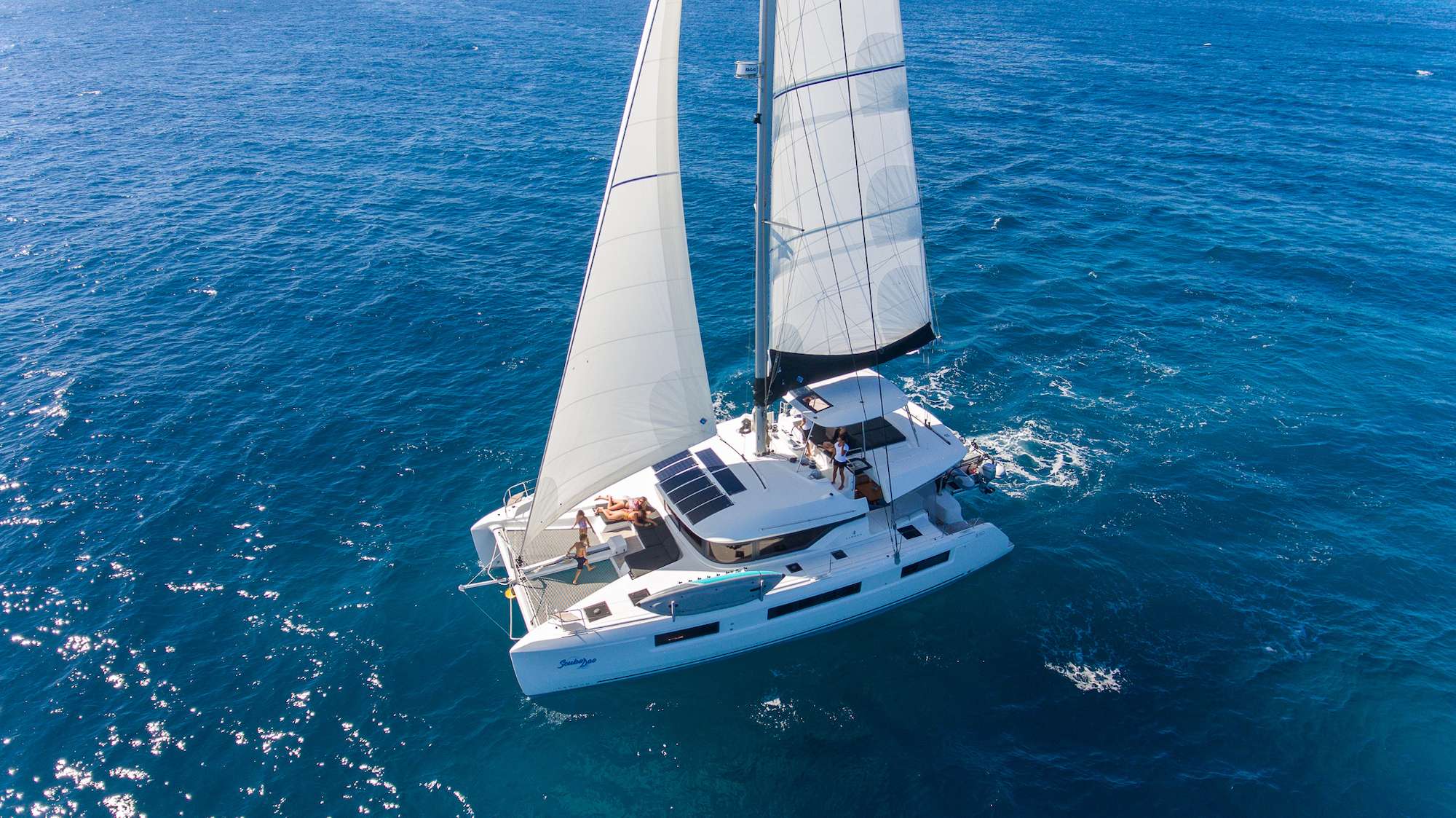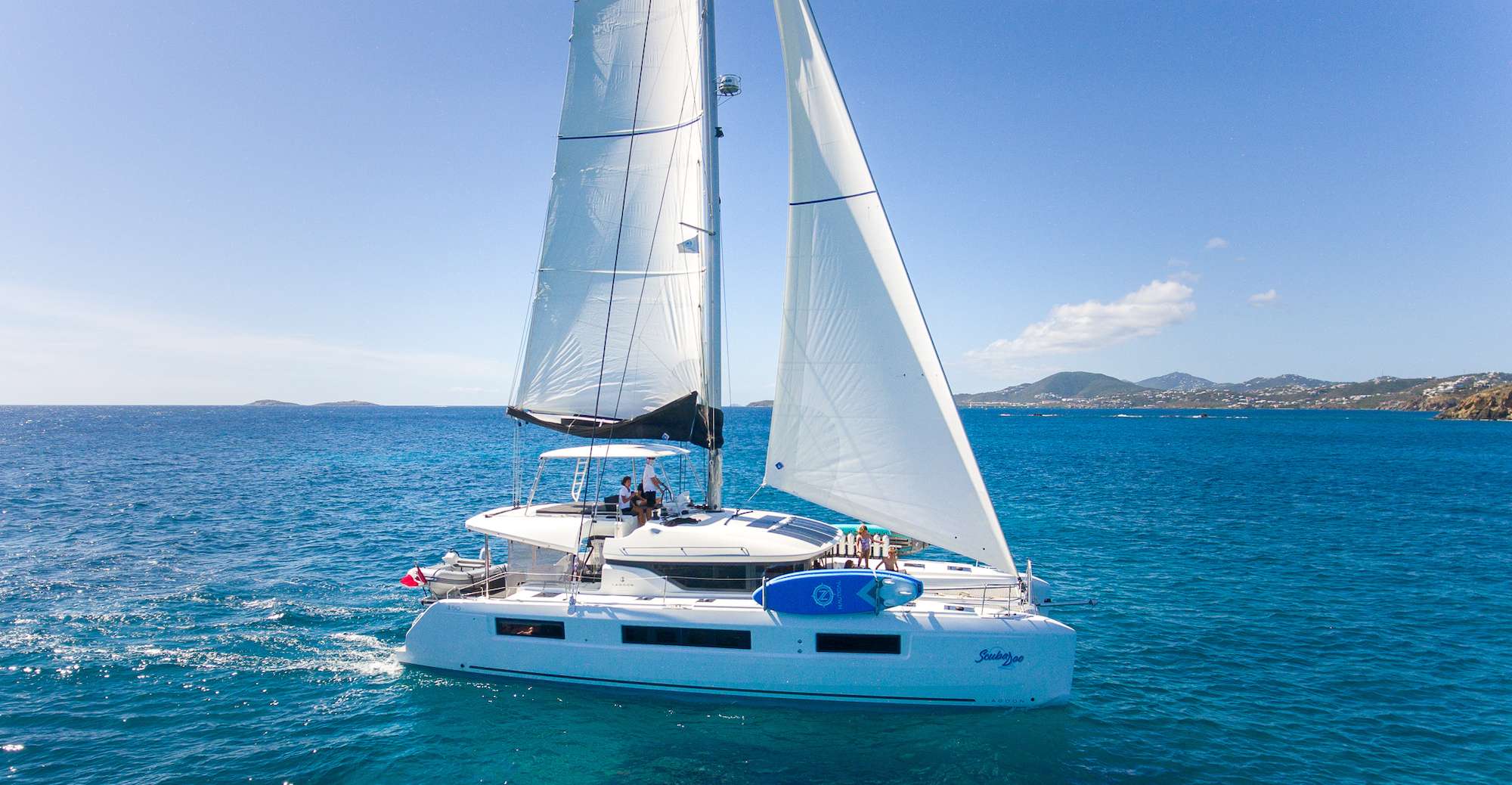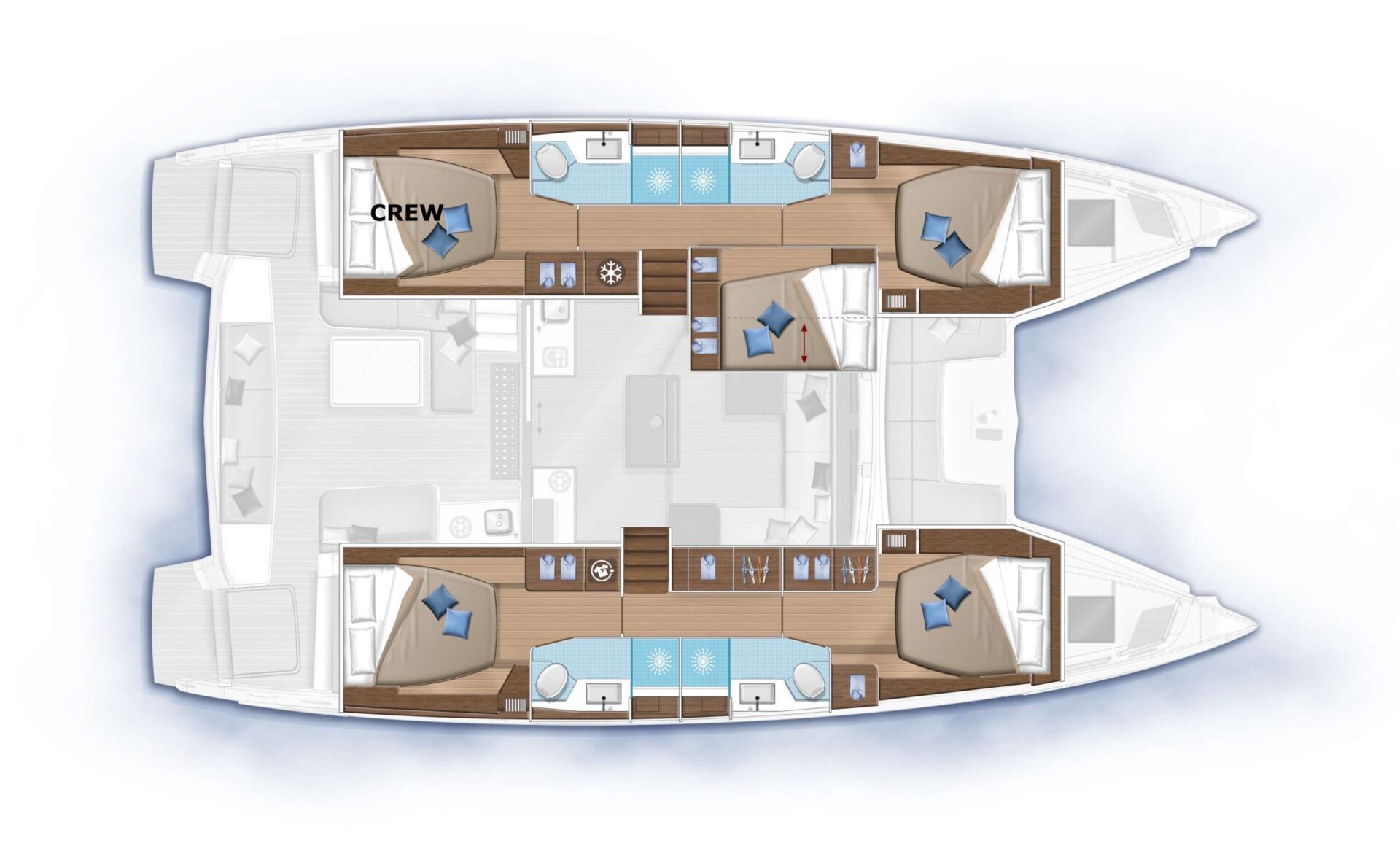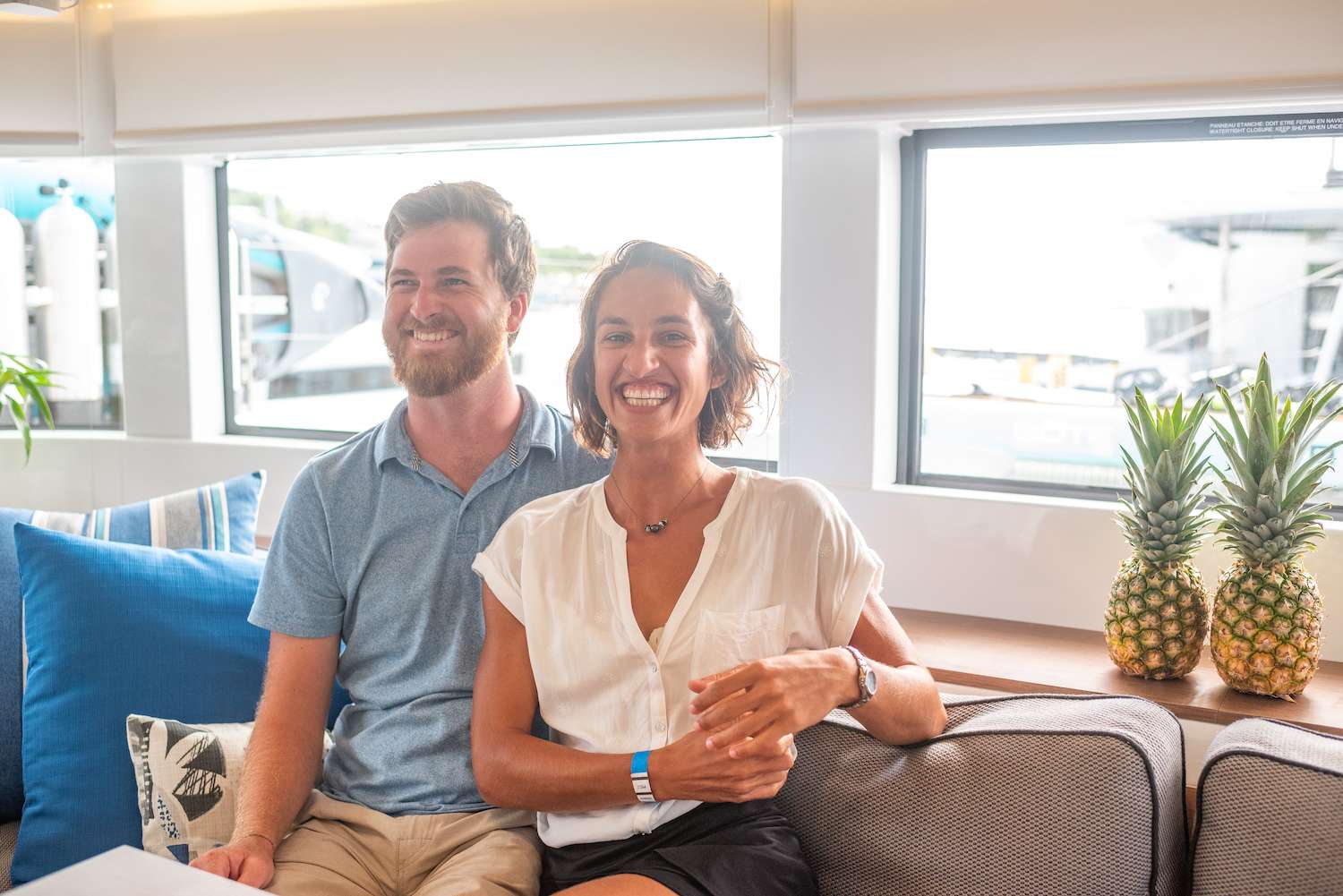 Description:
We're in between a little bit of that Caribbean sunshine and a rain squall right now, says Captain Charlie, checking out the sky,   "But we've got a great opportunity to go forward and show you the bow."  A likeable young American who trained as a Dive Master in Frenchtown and who ran the Lagoon 45 Great Adventure last year, he says, "We are totally outfitted with all sorts of toys – an inflatable kayak, dive gear, as well as some less diving oriented gear.  It's a new boat, so it means we have a lot of new toys.  We have this blow up dock, plus this sub wing….  He pauses and then says, "The subwing is as close as you will come to being a dolphin down here."
I have some land toys onboard as well, so if you want to play a little volleyball in the sand, we can do that.  We're outfitted with eight brand new sets of dive gear, and to make diving a little more enjoyable, we also have an air compressor.  We can fill up tanks on the go.
You'll also find that we have a couple of inflatable paddle boards.  I think some of our favorite toys onboard SCUBA DOO include our sails.  We offer sailing aboard.  We're in the market for a new Code Zero (asymmetrical spinnaker) for those light wind days; it's going to enable us to drift a little faster around the Caribbean from island to island…..
This brings us to our bridge deck.  The owner has opted for the hard top bimini awning, which provides shade as well as see through drop down curtains for inclement weather.  What we do have coming as well are some umbrella shades.  Shades are going to enclose this entire section, very similar to a beach cabana.  You'll have lots of privacy up here, lots of shade.  In the evening when the sun is setting, we can roll them up and enjoy some of those Caribbean views.
On deck are some of the new P&G hardware…the Zouk 3 system – it allows us to get to those islands you can't quite see off the horizon like St. Croix and Anegada.  Along with new reefing gear. With reefing gear, we can easily single handedly, but I don't like to take all the fun for myself.  We also get the passengers and fellow crew behind the helm, or anyone who wants to learn a thing or two about sailing a catamaran like this.  It's just a little more fun for me when there are more people here to rip around with.
Another excellent feature of this boat is our tender lift.  This lift lowers the tender nice and easy down into the water, then it unfolds and becomes a dock behind the boat.  We put chairs on there, hammocks, and it's also a wonderful dock for coming along side to in the dinghy.  It's a great add on provided by the owner.
That pretty much does it for the deck tour.  We can go check out inside for a bit, see what Cammi has got going on down below.
Hello, says Cammi, a young girl with dark brown hair who exudes genuine warmth.  "Welcome to the interior.  As you have seen on other Lagoon 50s, this is an incredible saloon.  Charlie and I are coming off a Lagoon 450, which we ran last year here in the Virgin Islands; it had nothing like this.  So this kind of open space is beautiful.  The table pulls out and becomes larger and also goes down to coffee table height, and it goes up to get some height here.
We've got the galley right here.  (I notice it's small, but this allows room for an enormous couch, a good trade, if you ask me, as I love sitting rooms, and this sitting room is wonderful on SCUBA DOO)  "So this is my home, my space," Cammi says.  "Adjacent is where we have fridges, freezers, a coffee area."  And then, knocking something over, she laughs and says, 'there are blue booth speakers throughout the whole boat; this is where we adjust it right here.  But yes, the Kitchen Aid is my favorite appliance.  I make homemade bread and all kinds of stuff, and our beautiful coffee maker is another favorite.  This coffee maker – I think we must be the most caffeinated crew at the boat show?  But it makes pretty much everything that you want; we absolutely love it.
So we're going to take you down to check out the cabins, follow me.  We've got one cabin back aft and one cabin up forward.  I'm going to open up the doors to the bathrooms, so you can see.  On this side we have two cabins each with their own head.  The other side is a little bit different.  Each cabin is a little bit different.  Guests come onboard and pick out which they like, what's best for you.
The large standard cabin on the other side is back aft; it's a Queen size bed, similar to the one you saw on the other side, and then forward we have a full size cabin; it does share a head with the forward cabin.  If you have eight full adults, Charlie and I will take this cabin.  There's a separate head for us that's kind of outside – up in the foc'sle – that we will migrate to, but any time a guest uses it, it has access to this bathroom right here opposite.  And then if you come up forward, if you do not have anyone using the full cabin, there is a separate door for that main cabin.  We can close it all, otherwise it's the same cabin as on the starboard side.
The table in the cockpit is where we eat most of our meals.  We add a leaf to the table to accommodate eight guests.
Based in St. Thomas, SCUBA DOO 50 charters for:
$20,500 weekly all inclusive except gratuity for two guests
$21,250 for three
$22,000 for four
$22,750 for five
$23,500 for six
$24,250 for seven
$25,000 for eight
Rates include food, fuel, bar dockage – everything! – except gratuity.  Christmas and New Years weeks are sold at a premium.
HOLIDAYS:
2021
Christmas Flat Rate $28,000 St Thomas pick up and drop off. 7 night minimum. Charter must end on or before 12/26/2021
New Years Flat Rate $32,000 St Thomas pick up. 7 night minimum. Charter must start no earlier than 12/27/2021
HALF-BOARD RATES:
(7/4/3 BREAKFAST/LUNCH/DINNER): $150 off / person
***3 lunches and 4 dinners ashore at client expense***
***Does not combine with child discounts***
CHILD DISCOUNT:
$250 off for each child age 15 and under.
***Does not combine with half board options***
***Age is based on the charter date NOT the date of booking***
***Max discount – 4 children***
LESS THAN 6 NIGHT CHARTERS DIVIDE BY 6 RULE:
(Rate / 6 X #Nights)
***(Rate divided by 6N X number of nights*** For 6 nights divide rate by 7 X 6N.
SLEEP ABOARD:
$1,200 Sleep aboard the night before the charter departs
Guests arrive to the yacht at 5pm. Snacks and welcome drink served, this is not an open bar. Dinner is ashore on clients expense. Continental breakfast provided next morning. Vessel departs at noon.
SCUBA DOO 50 E-Brochure, Photos, Specifications, Crew Profile, Sample Menu, Guest Comments, Rates & Bookings
Information believed correct, but Nicholsons cannot be responsible for content
..