SUNCOCO

106' Lowland DeVries
High Rate: € 42,000 weekly Plus Expense
Low Rate: € 34,000 weekly Plus Expense
Cabin Configuration:
2 Full Beam Kings + 2 Queen + 1 Twin in 2 compartments, each with private bathroom
Specifications:
Length:
Builder:
Built/Refit:
Cruising Speed:
Regions Available:
Locations It Travels:





Special Features:
106'
Lowland DeVries
1993/2016
12 knots / 240 liters/hour
Gocek - Turkey, Santorini - Greece, Athens-Greece




• Perfect yacht for family vacation
• Warm and welcoming interior
• Jacuzzi on the sun deck
• Best value for money
• Experienced captain, children friendly crew

Water Toys
One Zodiac rib 4
70m with 80hp Yamaha outboard
one 3-seat jet ski
two sea scooters Seadoo
one rib with electric outboard engine
tubes (variety)
couch floating
banana
two sit on top 8ft canoe kayaks
two paddle boards
water-skis
wakeboard
snorkeling and fishing equipment.
Have a Question About This Yacht?
Fill out the form below and we will get back to you quickly!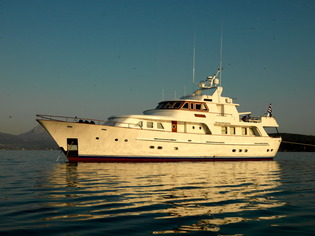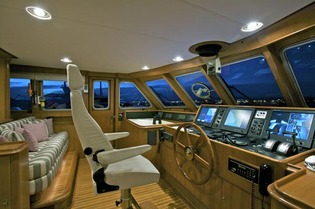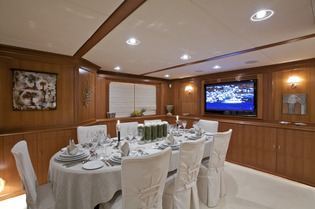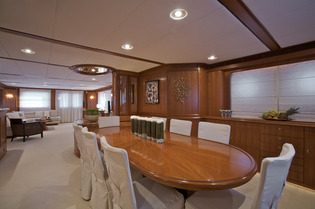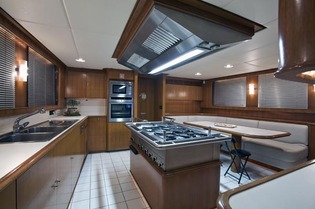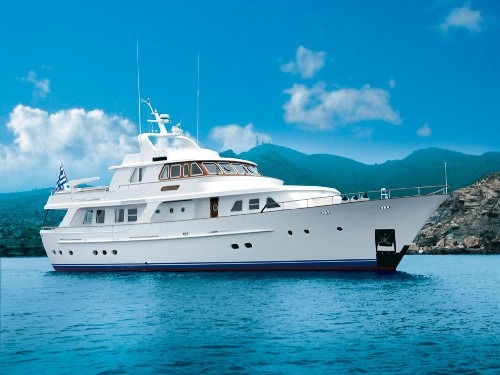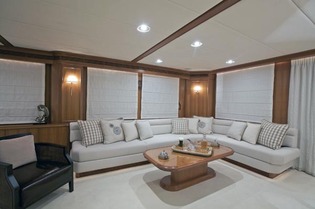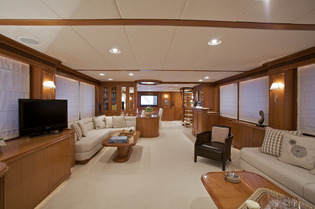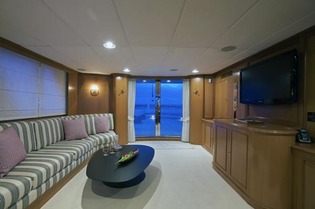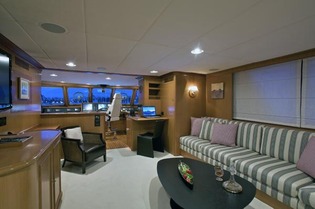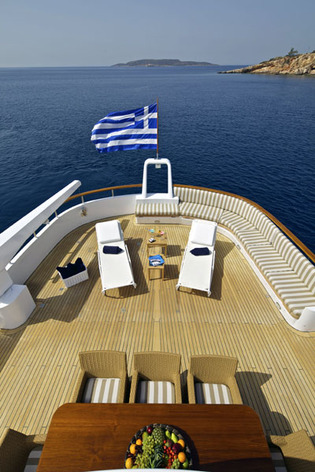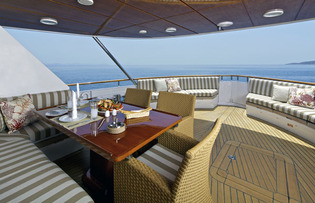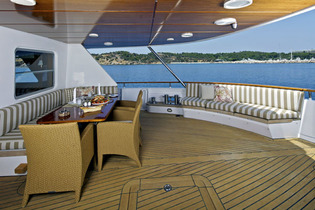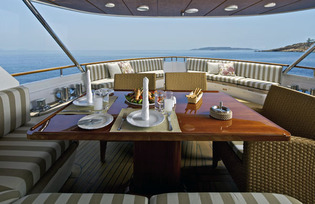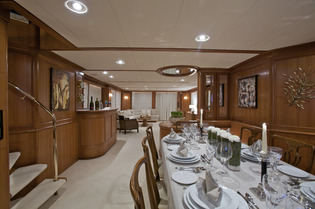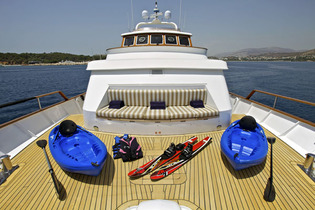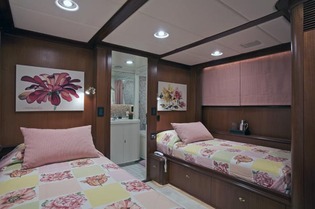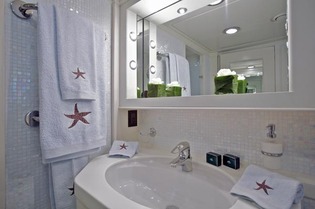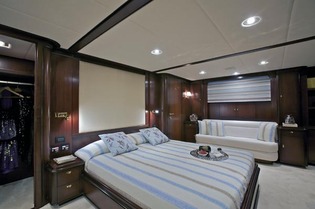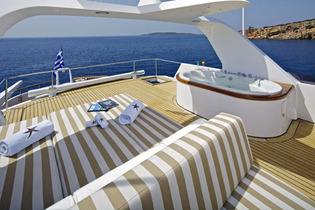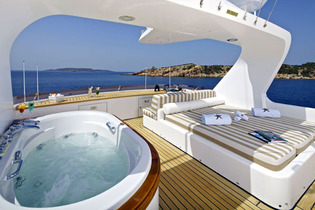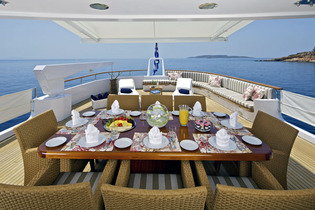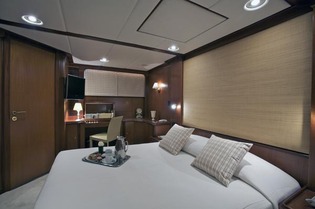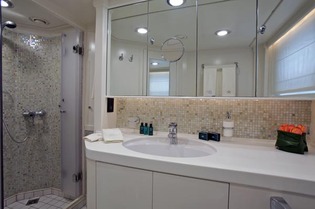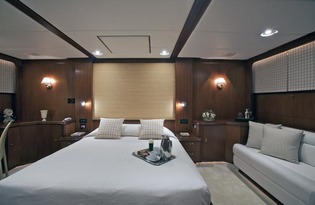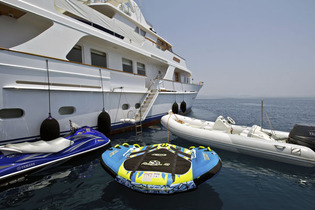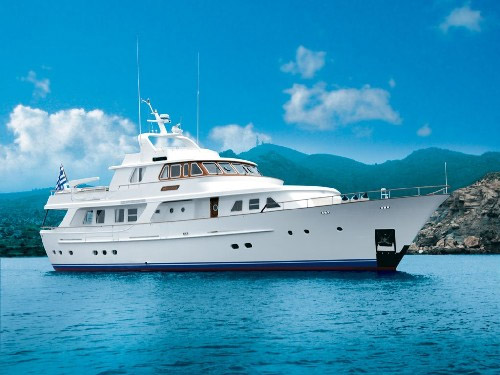 Description:
The newly refitted, 106′ Lowland DeVries, SUNCOCO is one of the few yachts her size with sky lounge, as well as a sundeck with Jacuzzi in Greece. Based in Gocek, Turkey, where snow-capped mountains rise sheer from the sea, delightful captain Kostas Agapiou grew up in Greek Turkey (Gocek) to a family that owned and operated fine restaurants. SUNCOCO is a food boat that specializes in authentic Greek Kitchen, Classic Traditional Greek Kitchen, and Modern Greek Kitchen. Working for Kostas for ten years, SUNCOCO's chef, Vassilis Vassiliadis, is well-practised in Arabic, Italian, and Spanish cuisines as well. When I went aboard in May of 2016, he was serving two kinds of cake, which were perfectly delicious – a coffee cake as well as an ancient Turkish crumb cake…. With new bathrooms in 2016, new carpets, and new teak decks, this beautifully maintained, elegant, large boat for her size was one of my favorites! Particularly, I liked Captain Kostas himself, who has a warm, "big" personality and a gentle heart. Maria Mendia rounds out the crew of three; pretty and young, she does Kostas and Vassilis proud. There are several places to dine aboard SUNCOCO: indoors, forward of the air conditioned saloon around a large, beautifully set dining table in white with red coral centerpiece, seating 8; outside on the main aft deck – a big varnished table with tan wicker dining room chairs; as well as upstairs on the upper deck, which adjoins the skylounge. Up yet another floor is the sundeck, where is the Jacuzzi and tan and white sunbathing beds. SUNCOCO's traditional and elegant, spacious, main saloon features that age-old, but time-tested, magnificent tan and white theme – those elegant colors that just go well together and always look fresh, and of course, all the soft furnishings are new: varnished, beveled teak panelling, white carpets, two corner L-shaped white couches, diagonally across from each other with tan and white throw cushion around various small varnished coffee tables – stunning!. The dining room chairs are upholstered but the outdoor furniture is tan wicker, lending a nice texture. With not one, but two, full-beam guest cabins, plus a Queen guest cabin and Guest Twin Cabin, located in two compartments, SUNCOCO is perfection! Two of the Mediterranean's three major civilizations lie in the Eastern Mediterranean. Tf you want to visit two of them in one cruise, choose a cruise in Turkey. While cruising the coast of Turkey, a visit to a nearby Greek Island offers a fine contrast: Greece is Christian, and Turkey is Muslim. Greece has black-robed priests, while Turkey has mosques with minarets and calls to worship. Greece has white-washed villages, while Turkey has camels, tobacco fields and women, who wear veils over their faces, and Greece is only fifteen miles away.