High Rate: $ 17,500 weekly All Inclusive
Low Rate: $ 16,000 weekly All Inclusive
Cabin Configuration:
Three equal Queen cabins, each with private bathroom. Crew sleep forward to starboard; the yacht has two foc'sle twin cabins with passthroughs to the forward guest cabins that can be used for families or single people.
Specifications:
Length:
Builder:
Built/Refit:
Beam:
Draft:
Regions Available:
Locations It Travels:





Special Features:
48'
Leopard
2017
25'
4.3'
St. Thomas & Sag Harbor, NY




Memory Foam Mattresses
Austen teaches sailing
Forward Cockpit
Water Toys
x Floating dock 8'x10' w/ waterslide (it's a 3' tall slide)
1x Floating dock: round doughnut shape- 10' diameter
designed for lounging with mesh trampoline spanning the center
w/ 4 cupholders
3x Inflatable paddle boards
1x Towable flamingo
2 person
1x Surf foil board (for intermediate to advanced riders
prior wakeboarding or surfing experience recommended)
1x Wing foil sail for use with paddle board or surf foil (5m Duotone)
1x 2 person ocean kayak (please advise prior to charter if this is desired
it is bulky and reduced deck storage area)
10x sets of snorkel
mask
fins: various sizes
2 x Small child life jackets
2 x Medium child life jackets
4 x Adult sport life jackets
3 zone speaker system with bluetooth connection
32" TV in salon with various TV shows and Movies stored on hard drive
-Underwater lights
Have a Question About This Yacht?
Fill out the form below and we will get back to you quickly!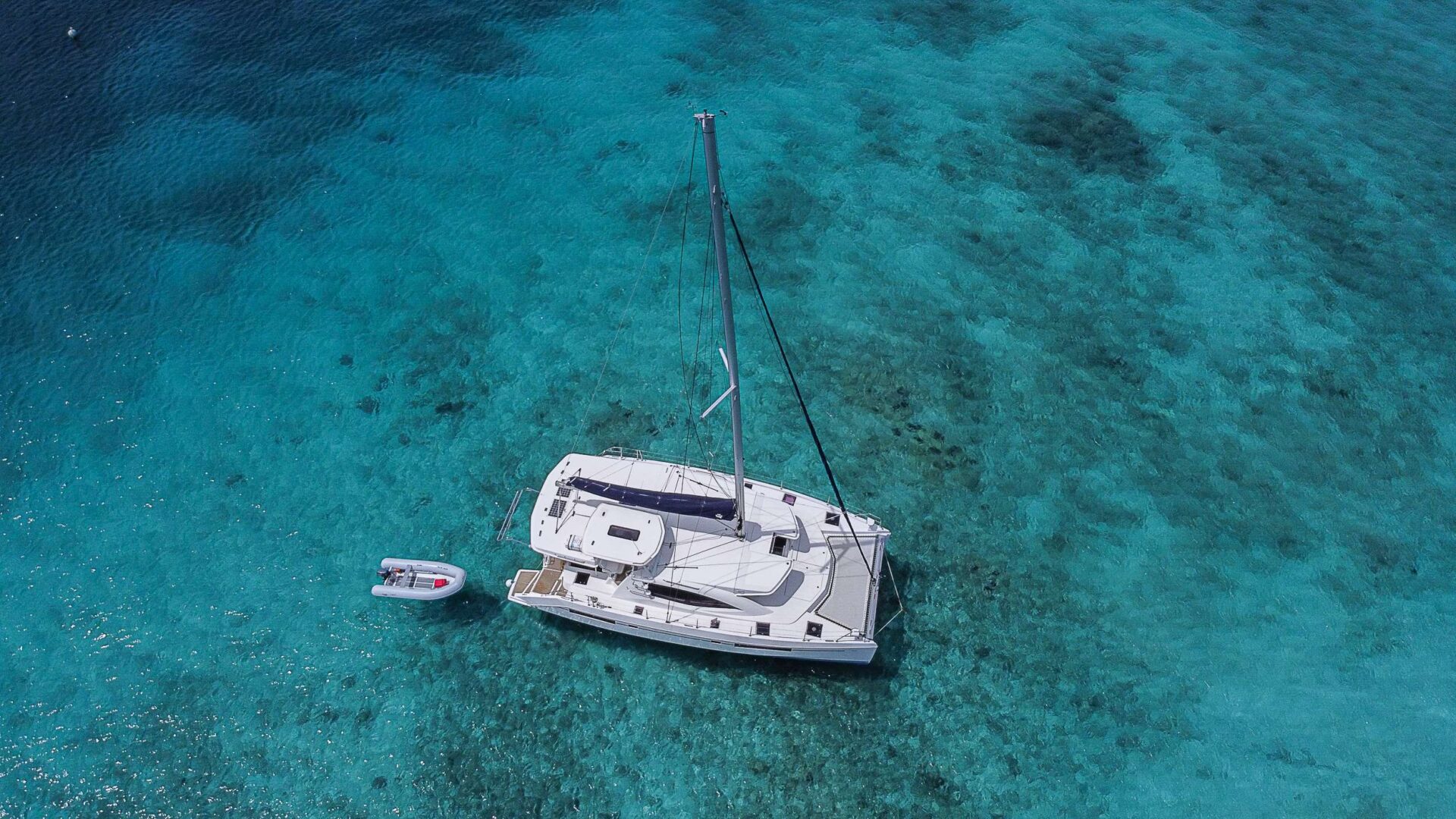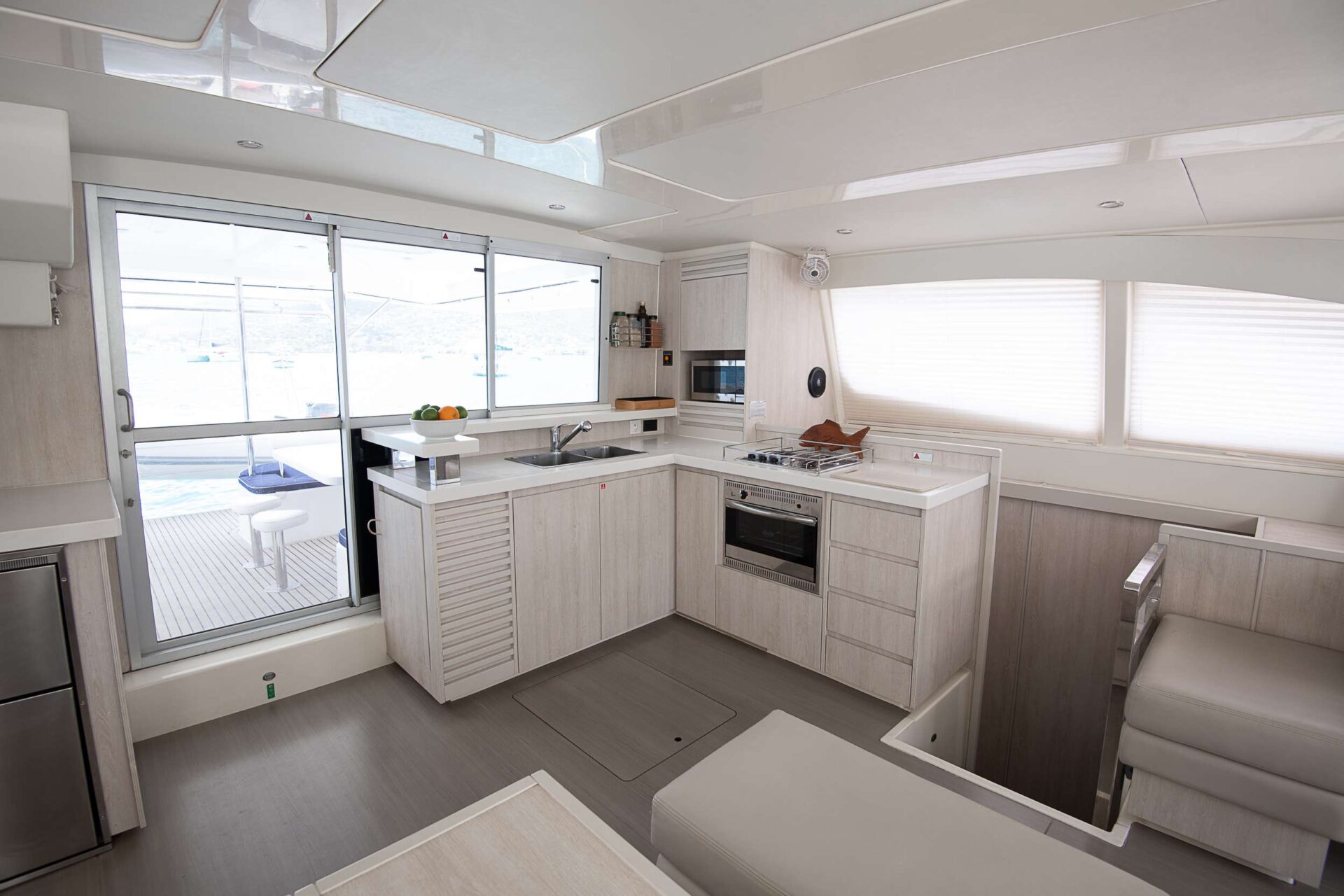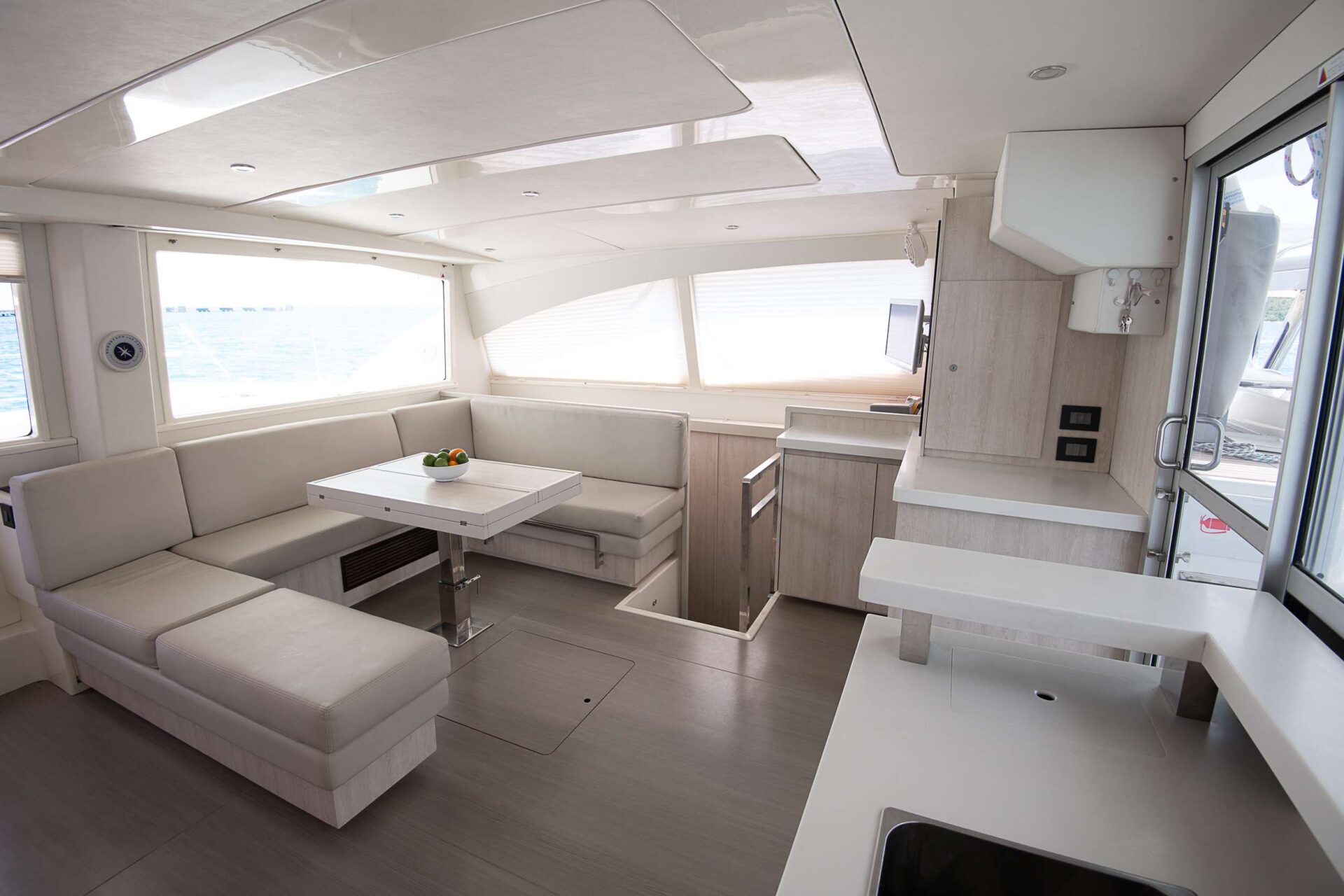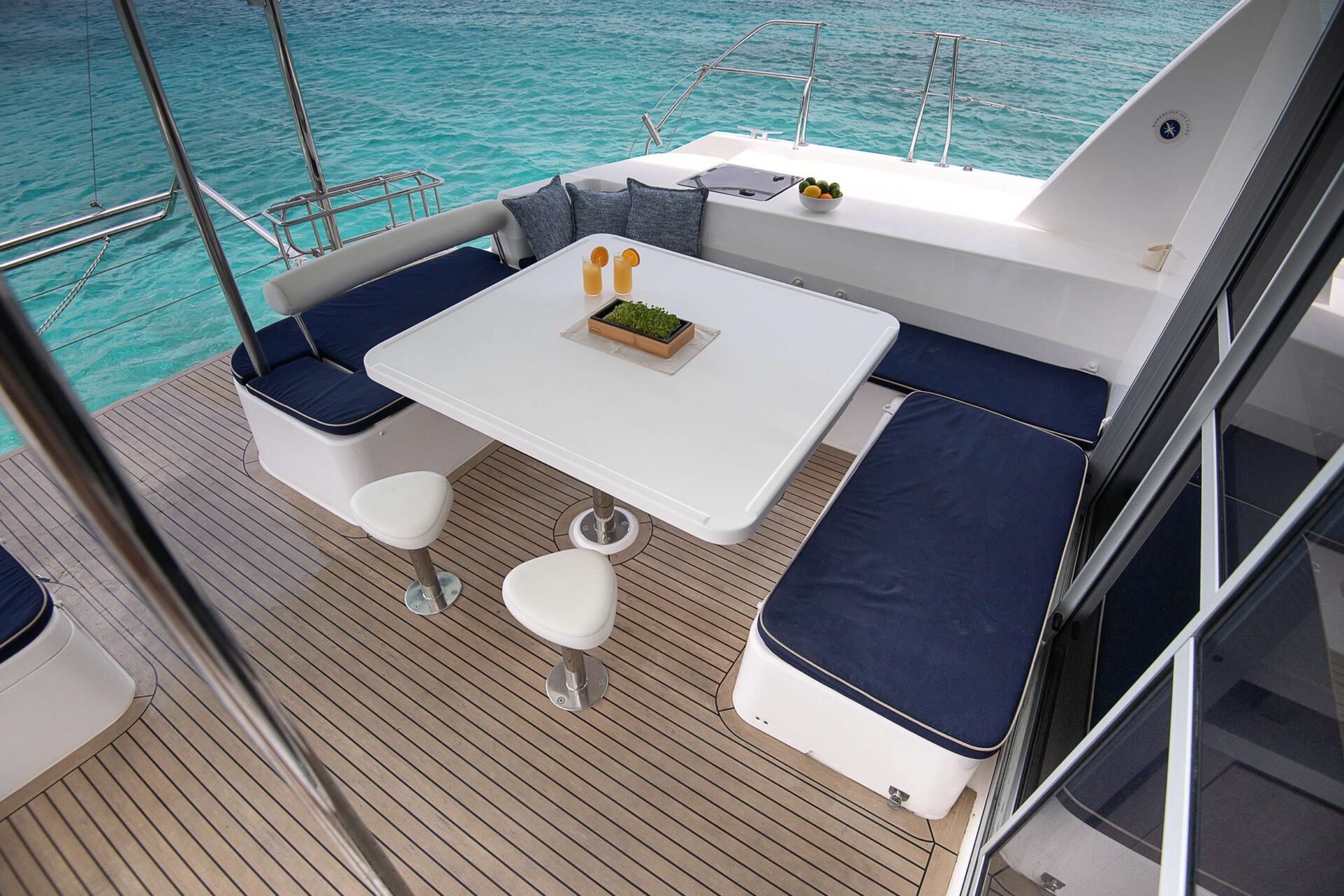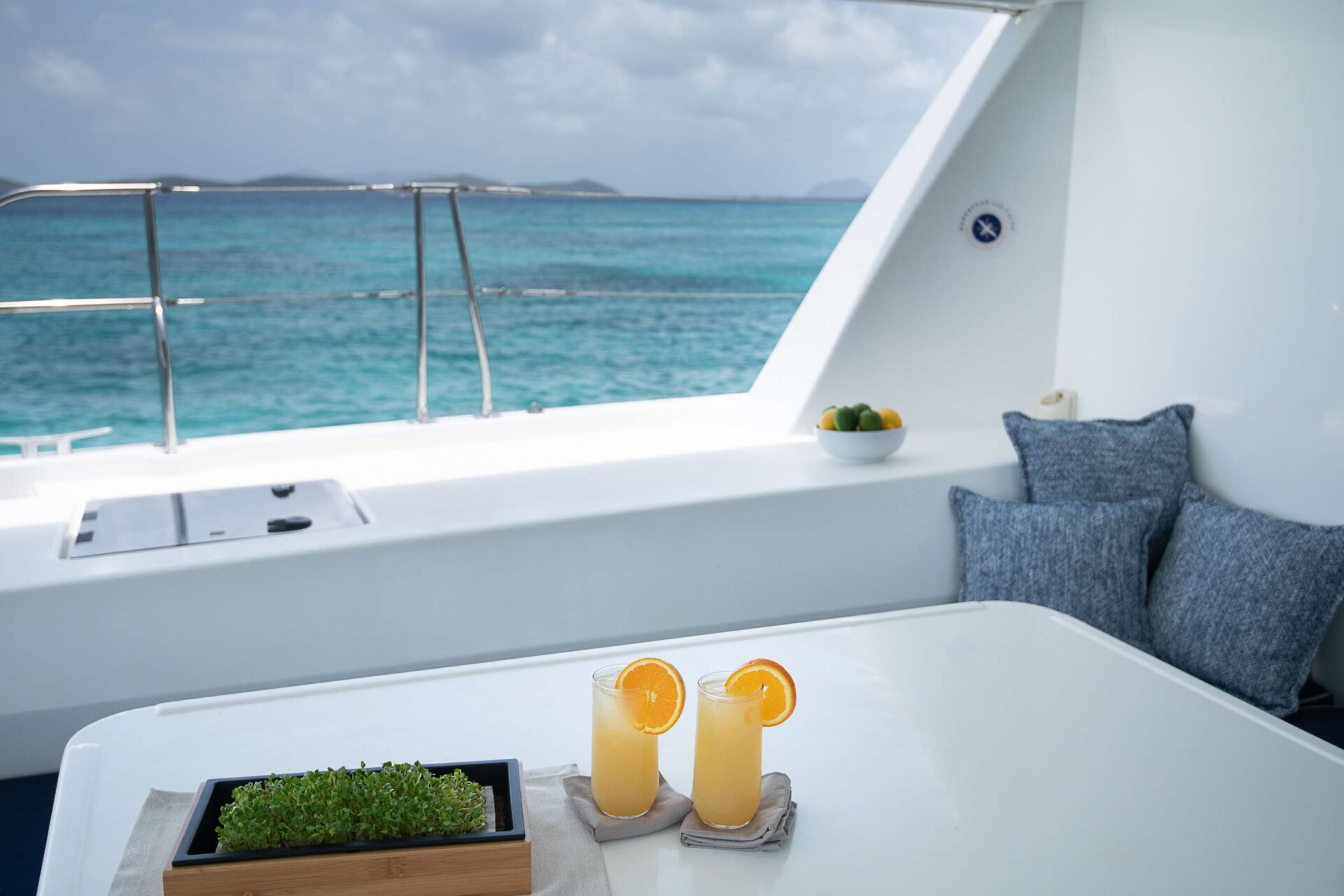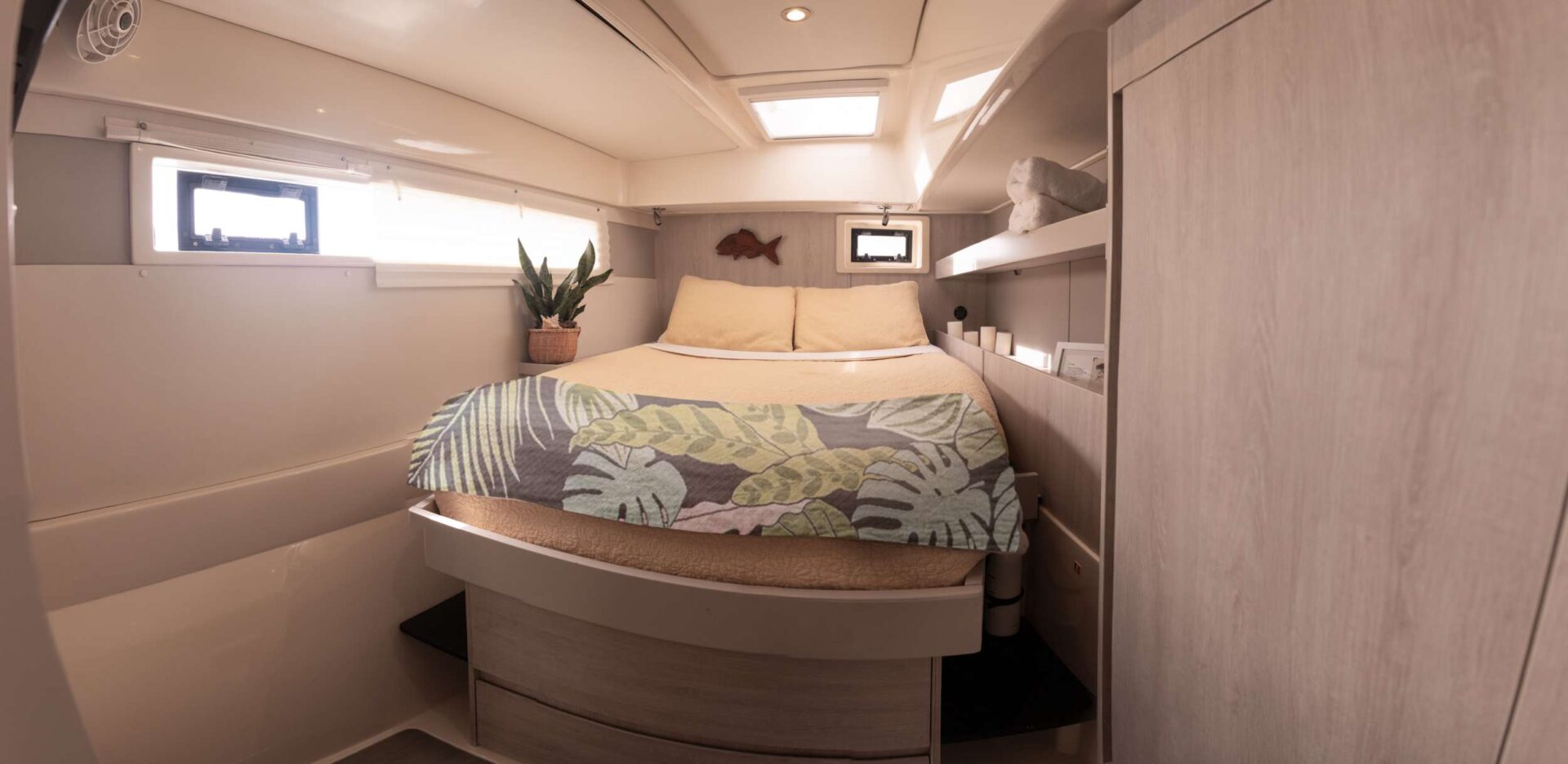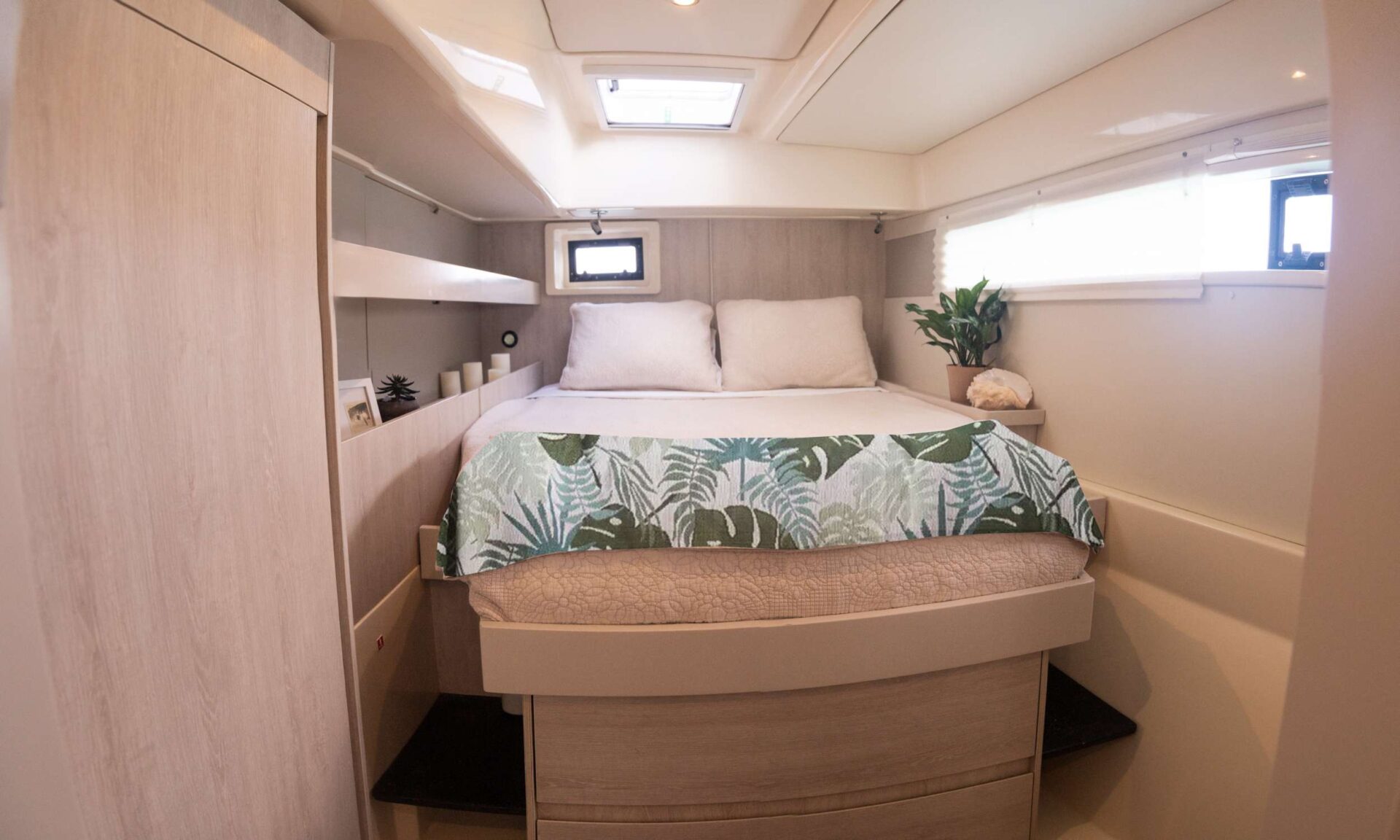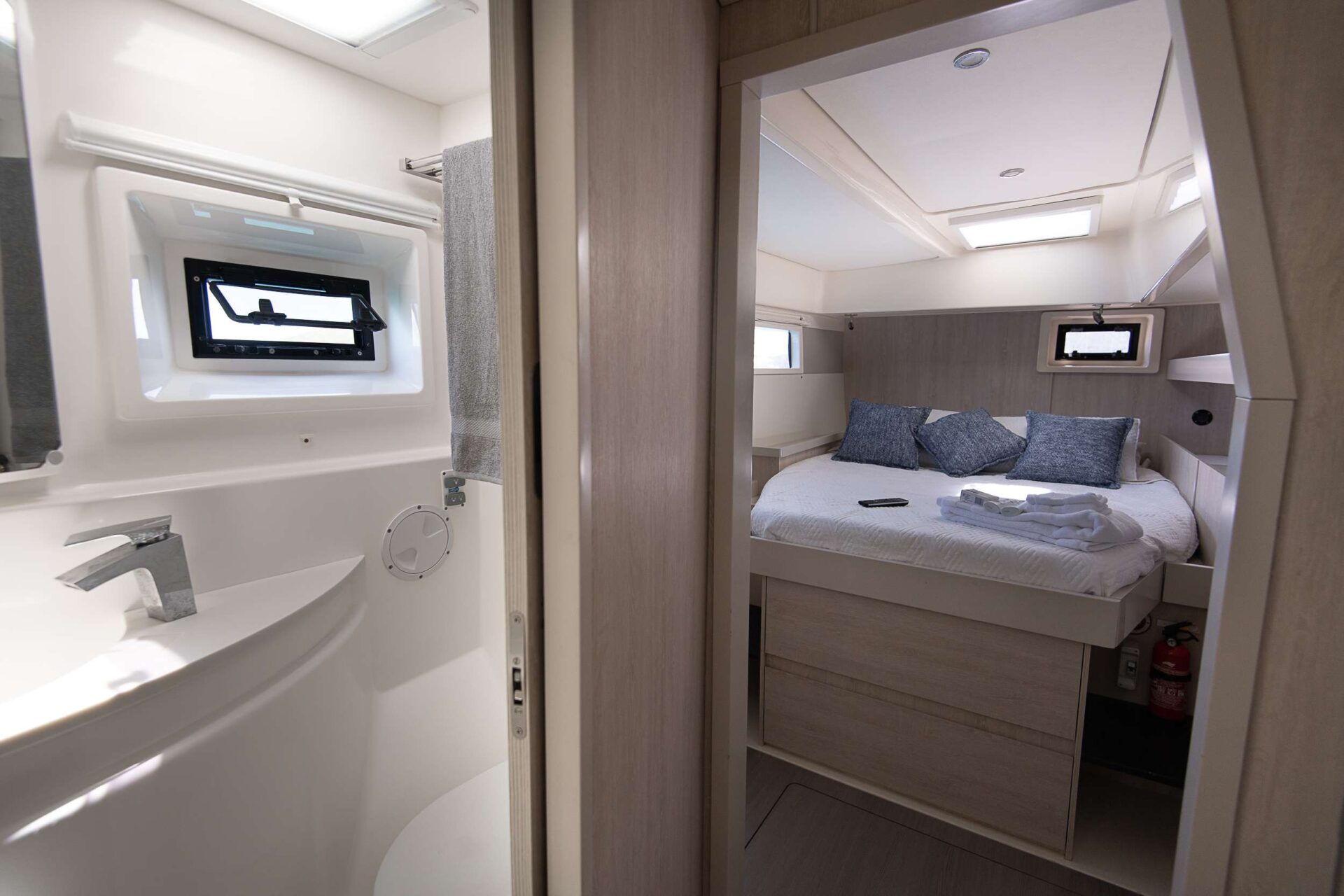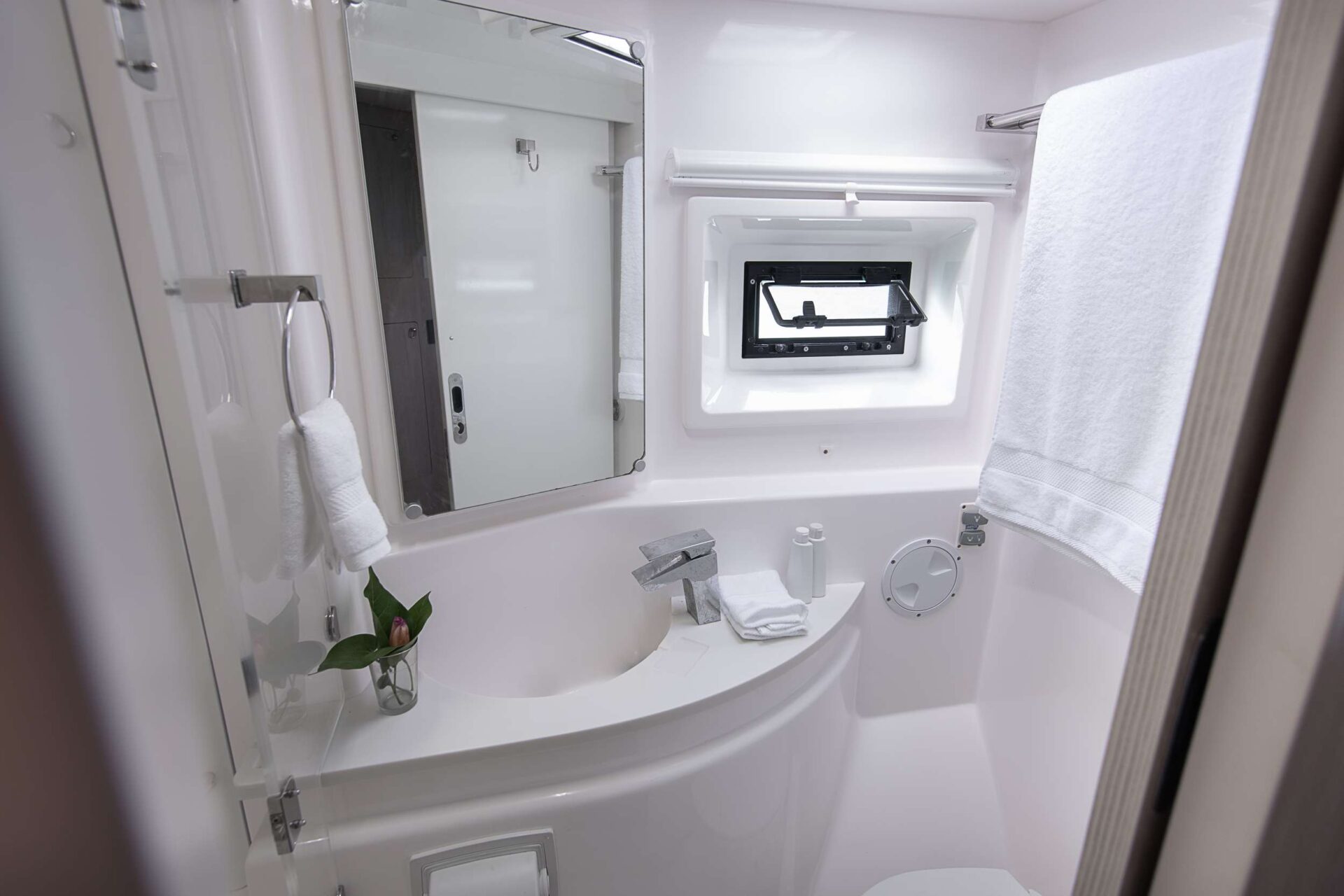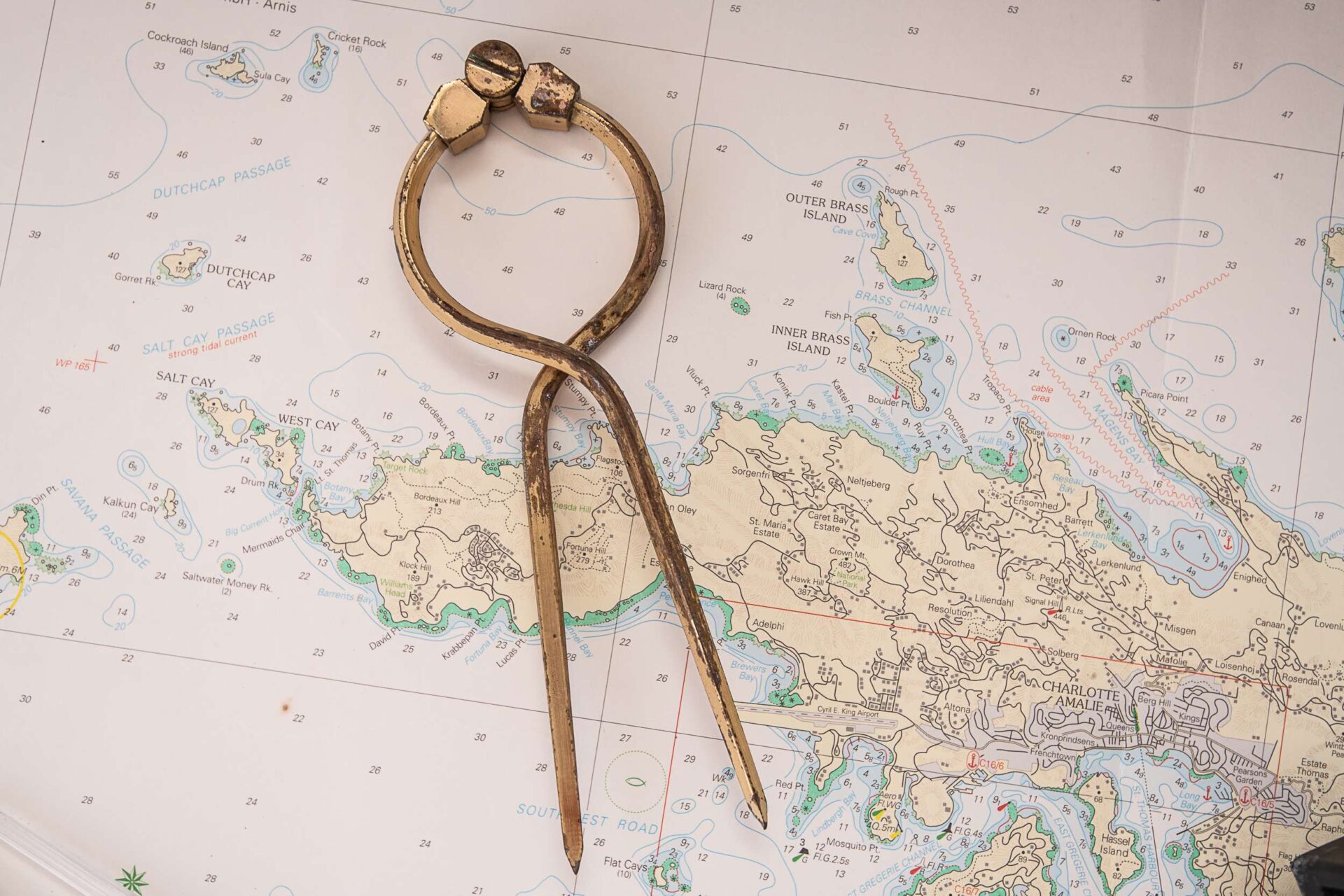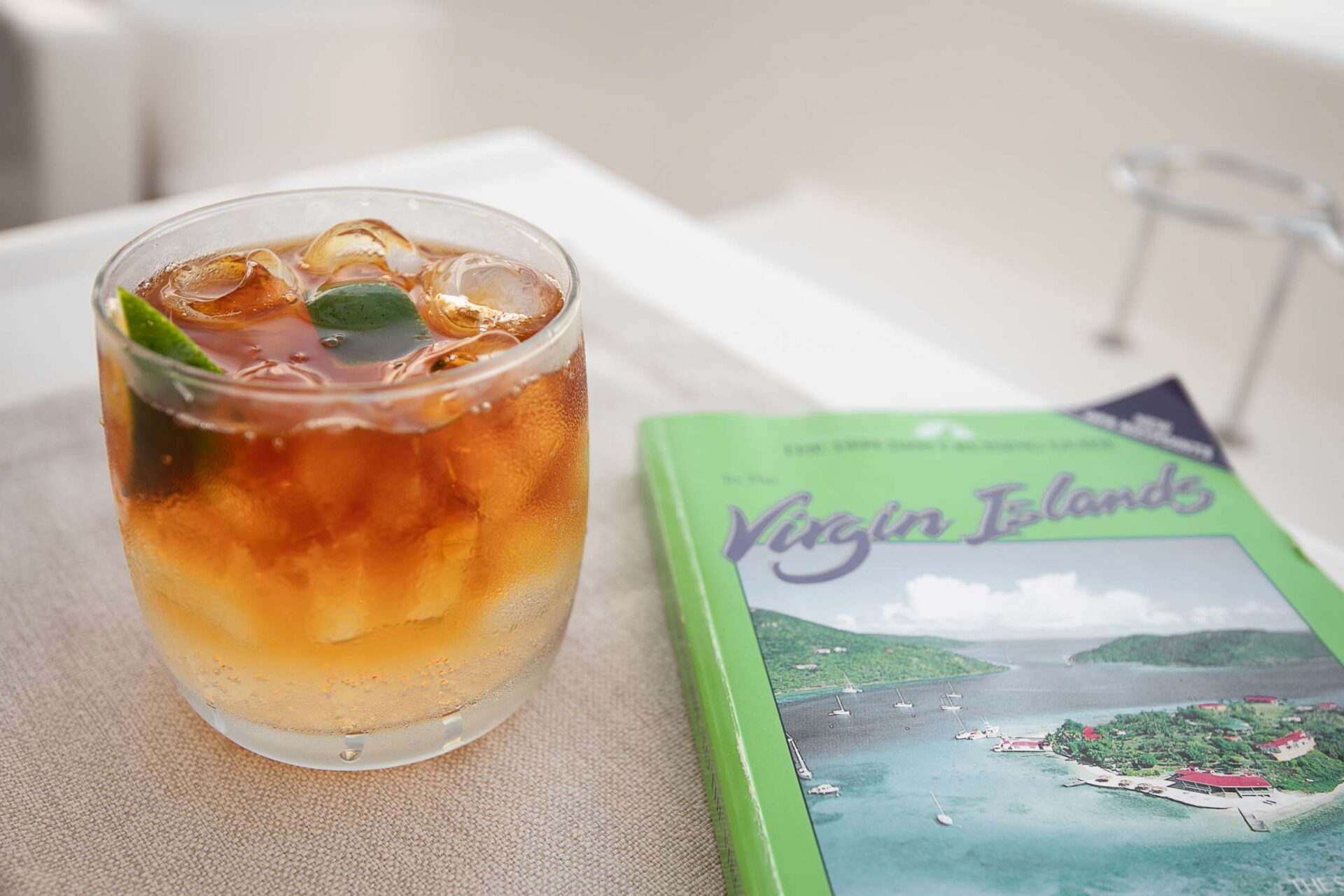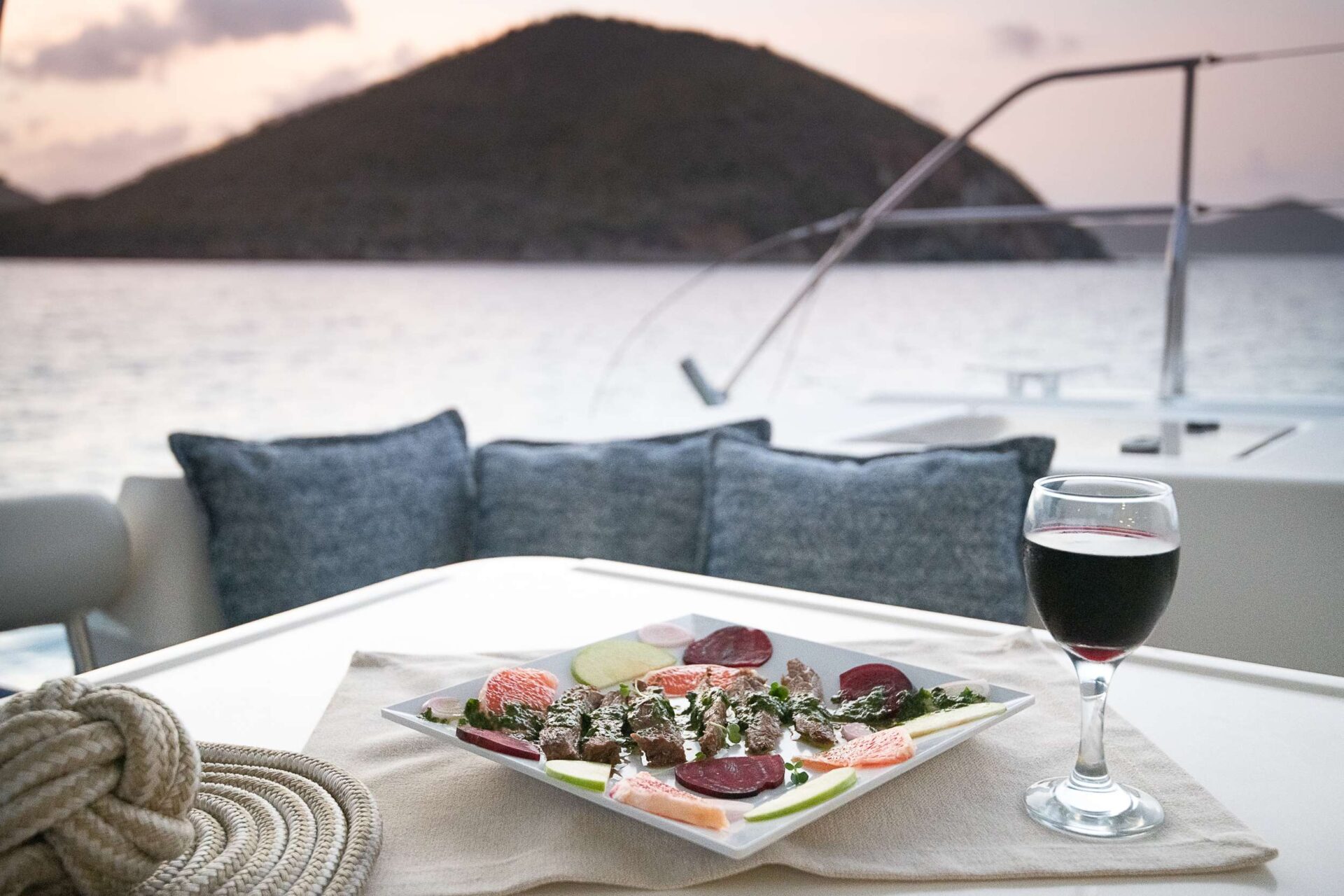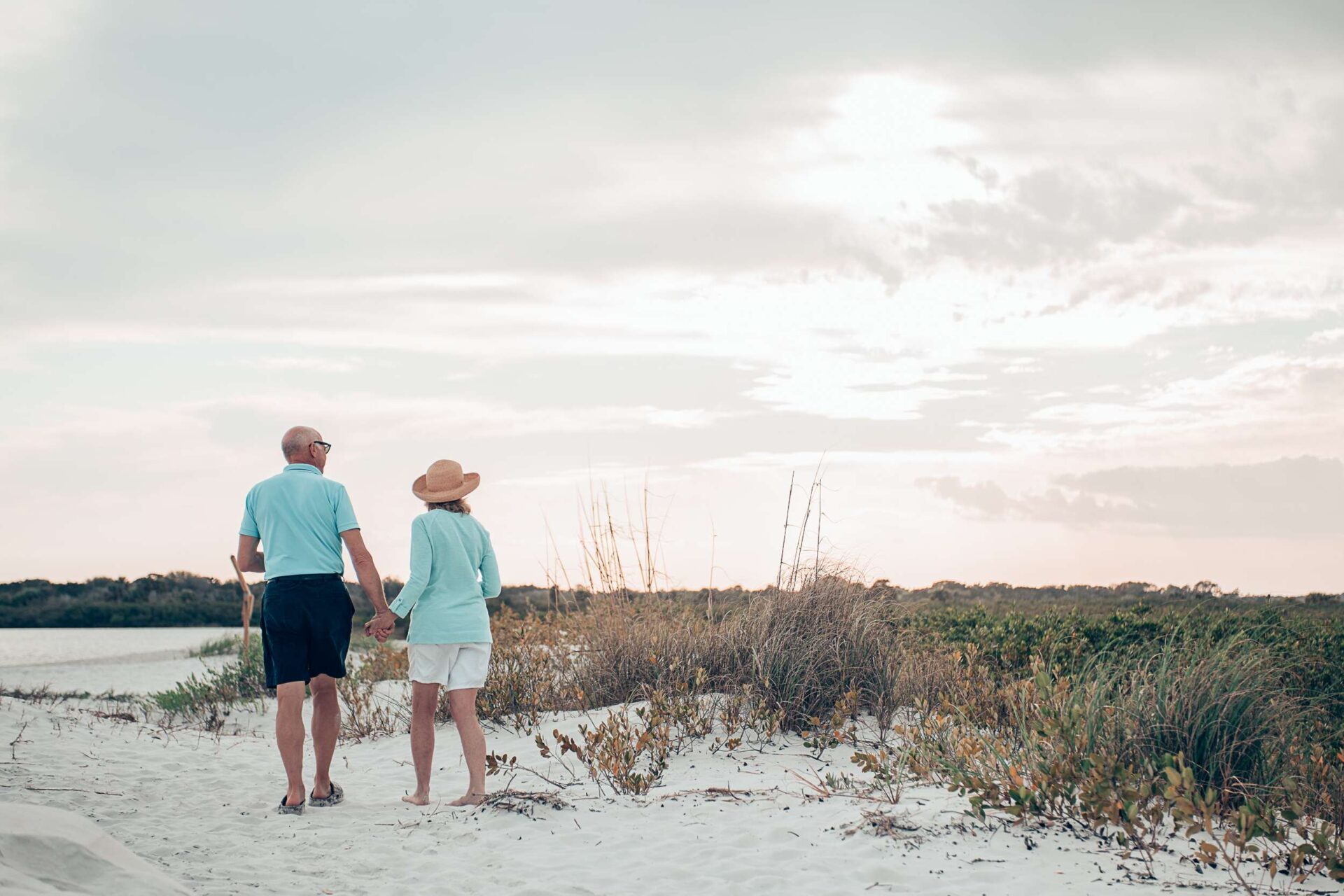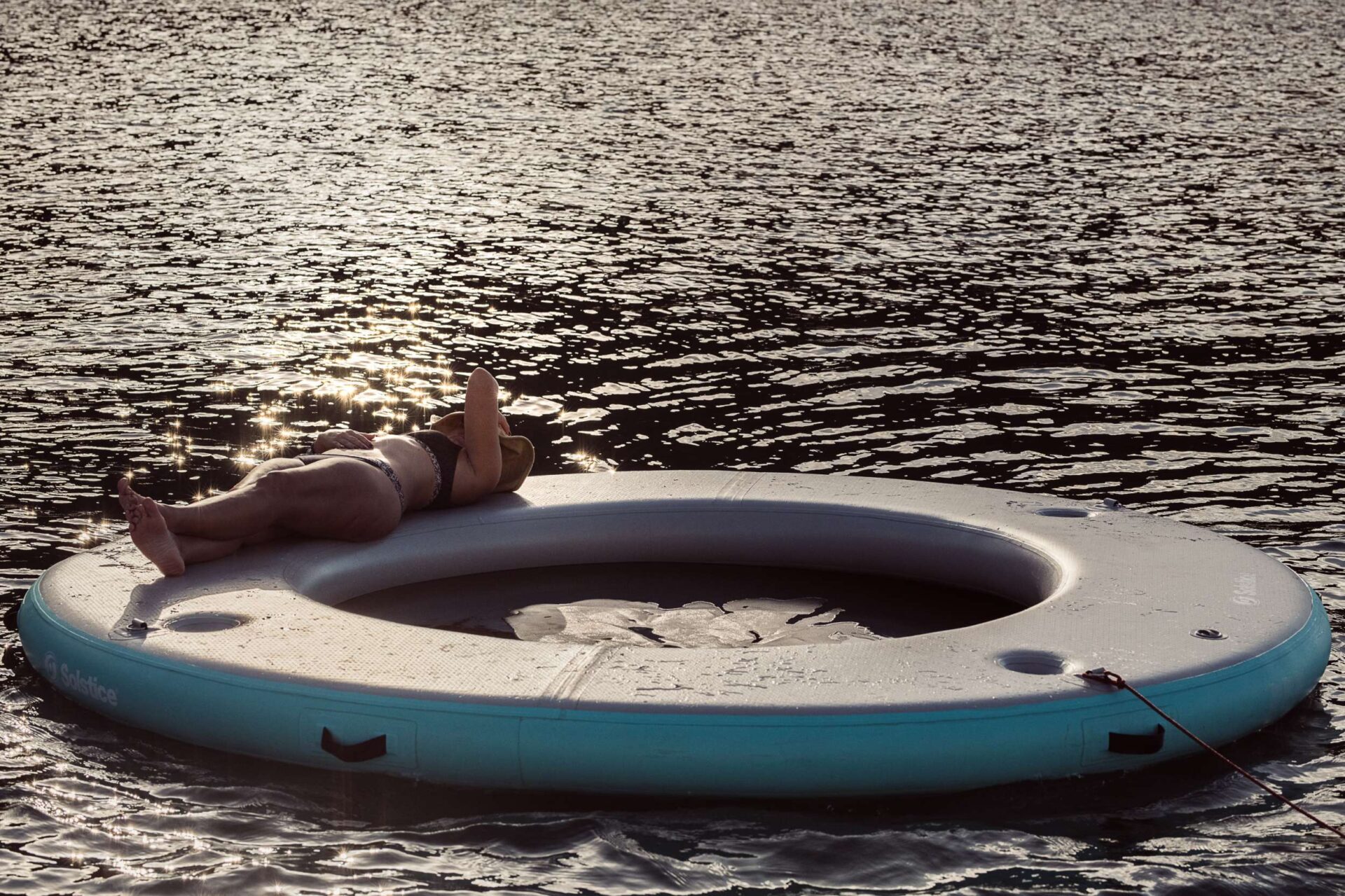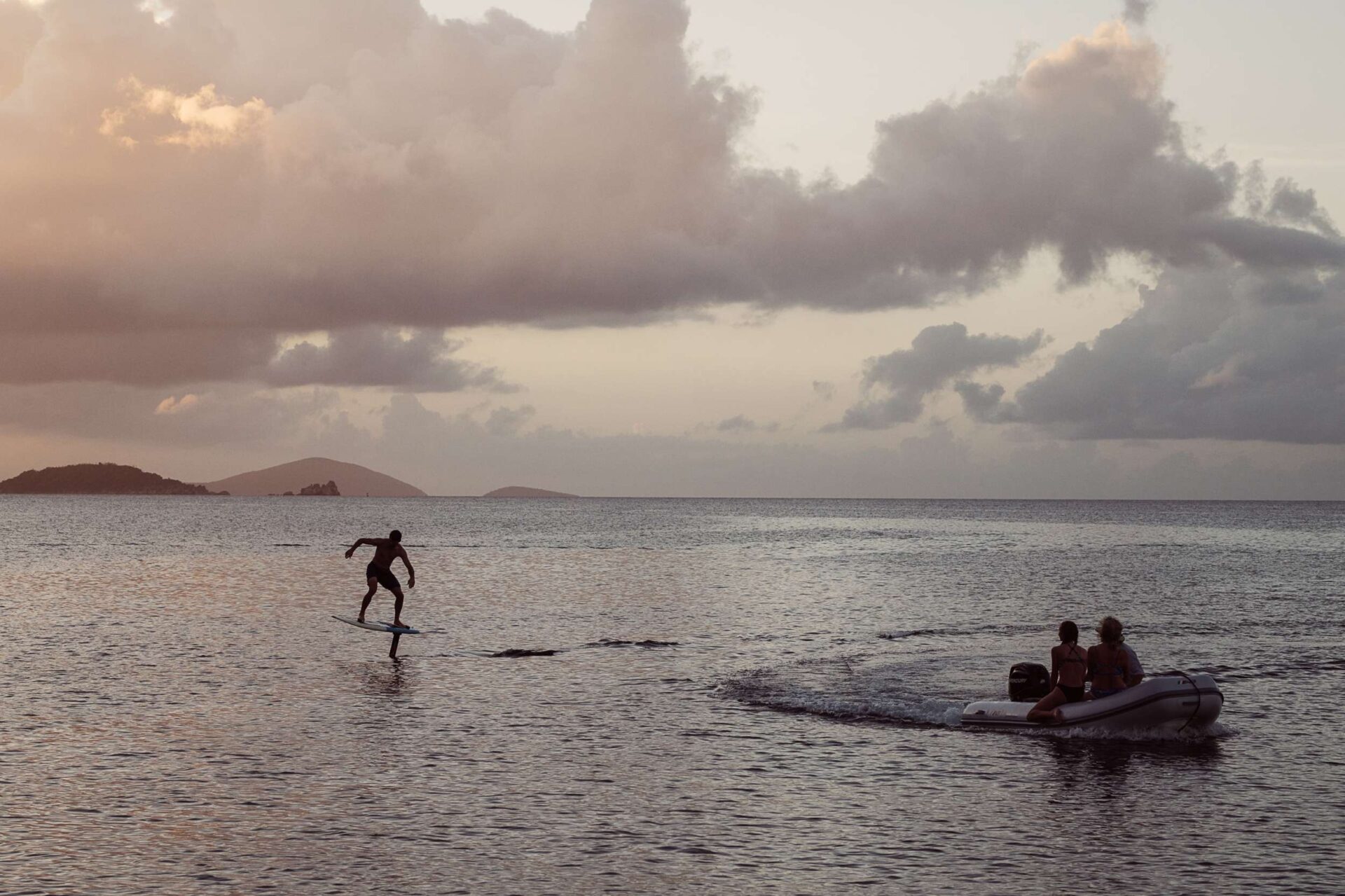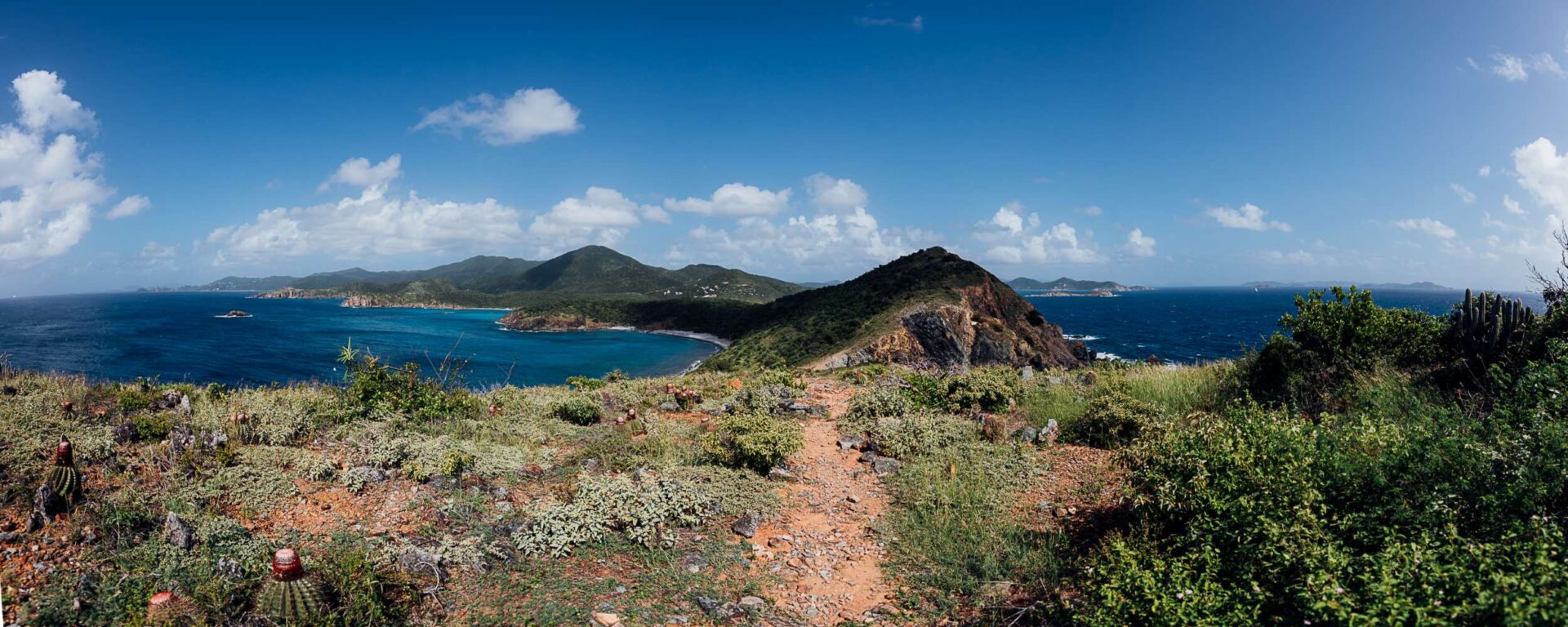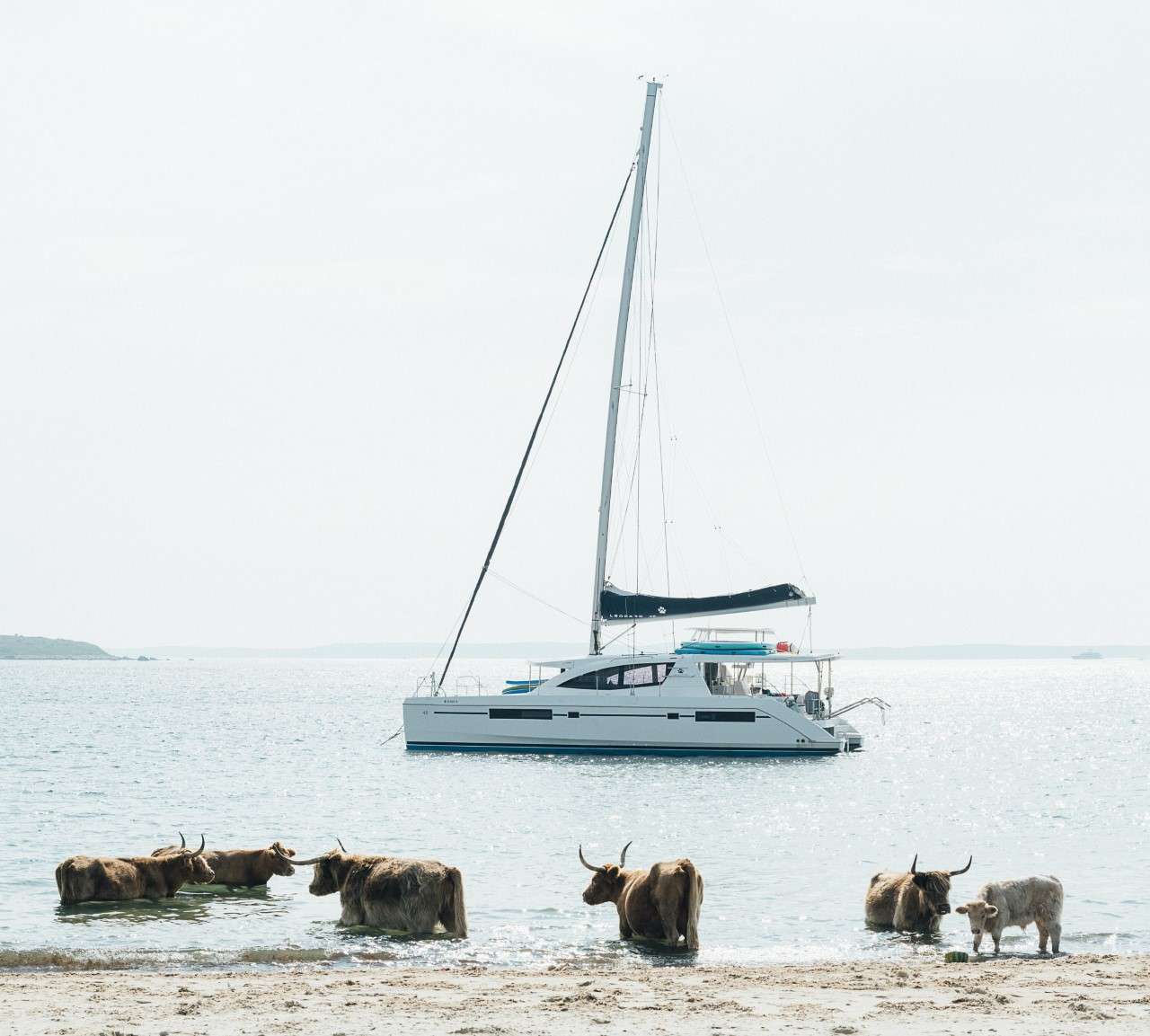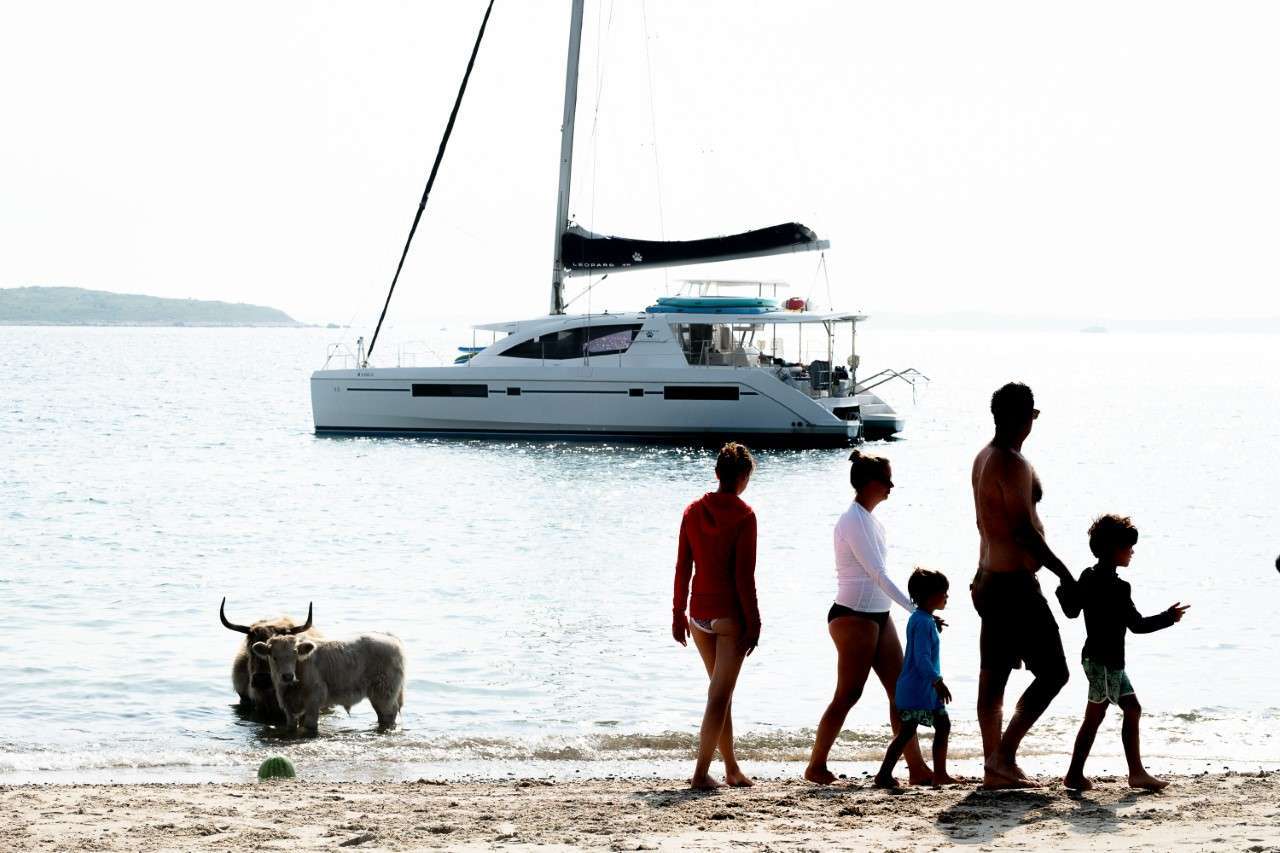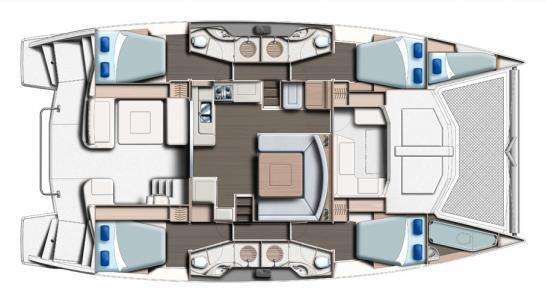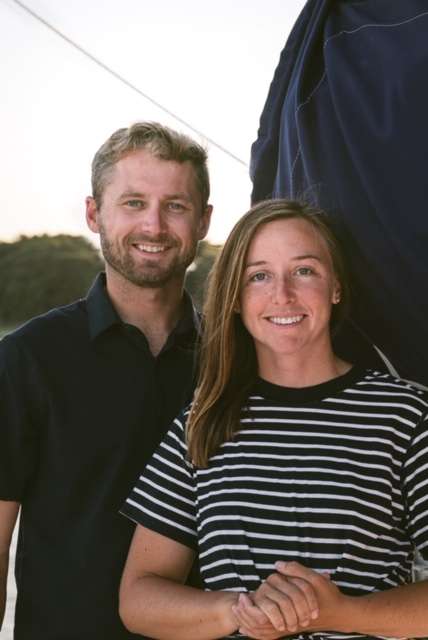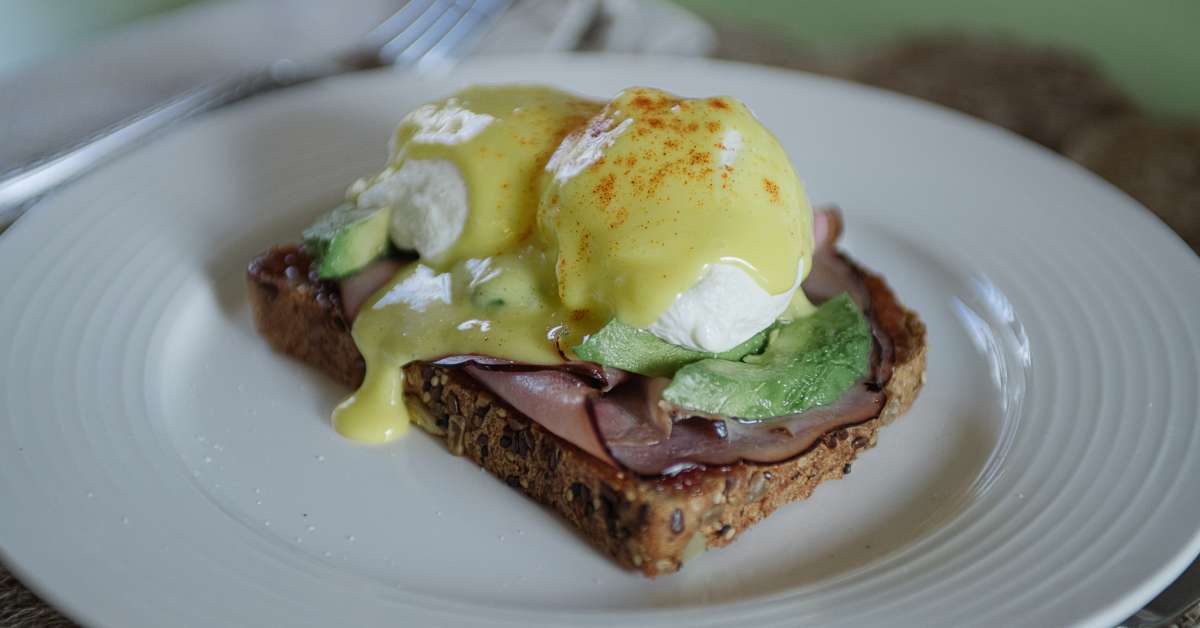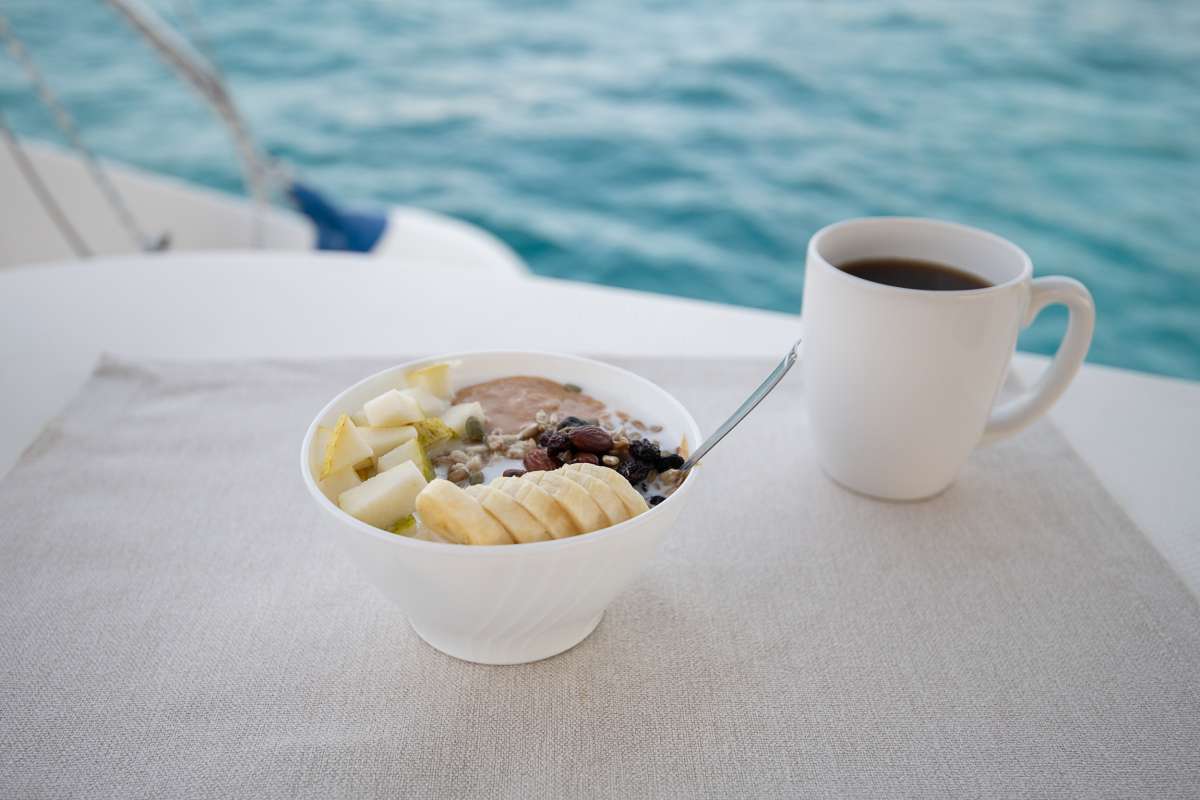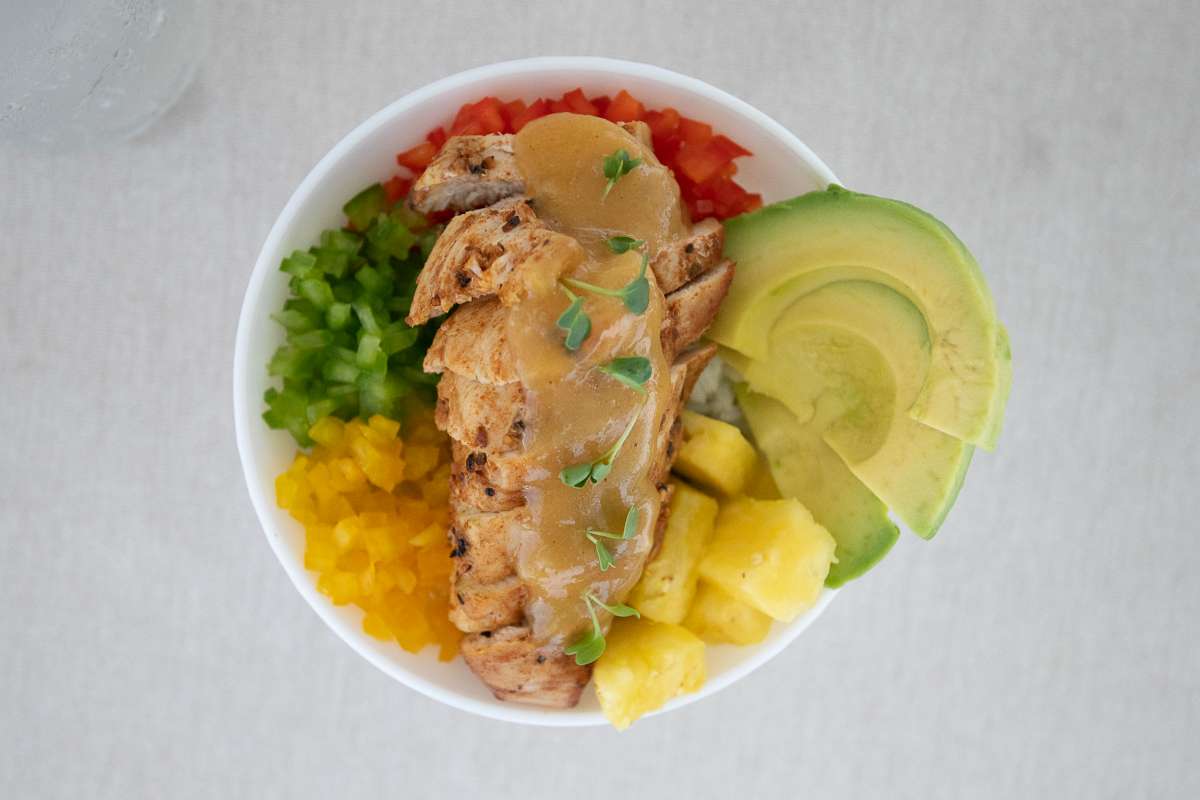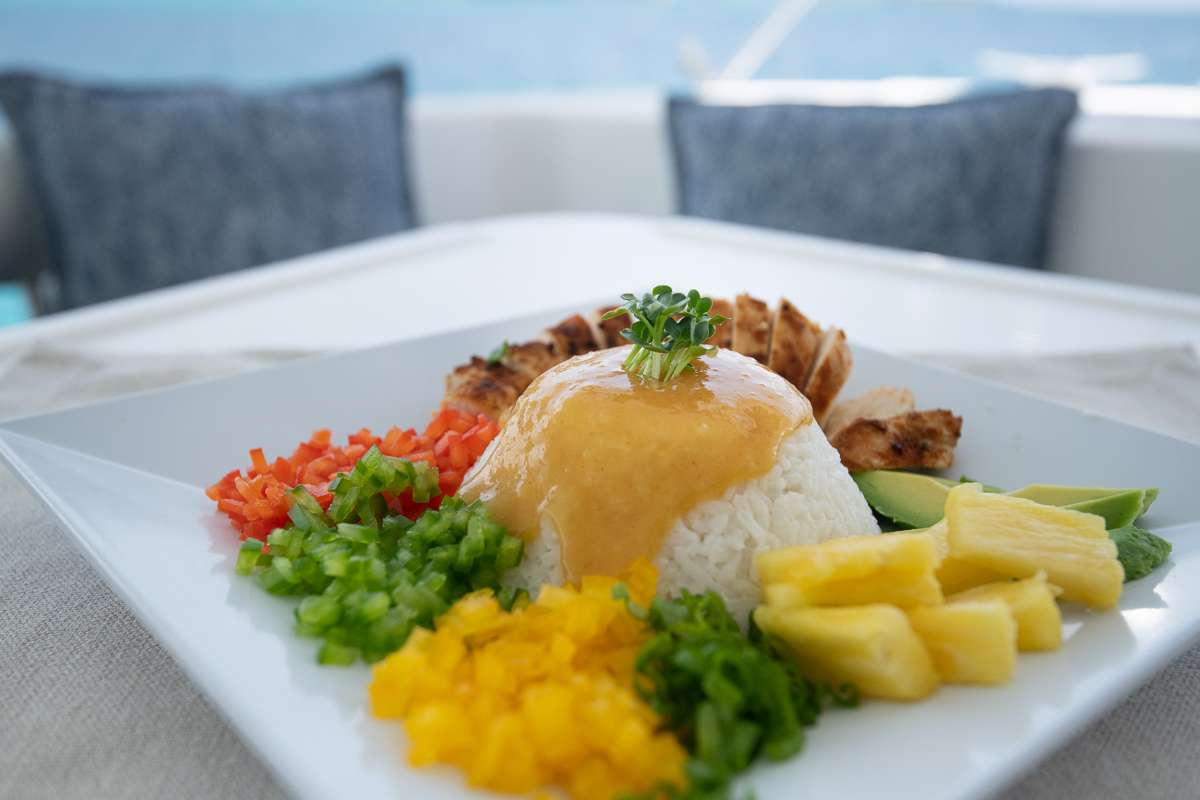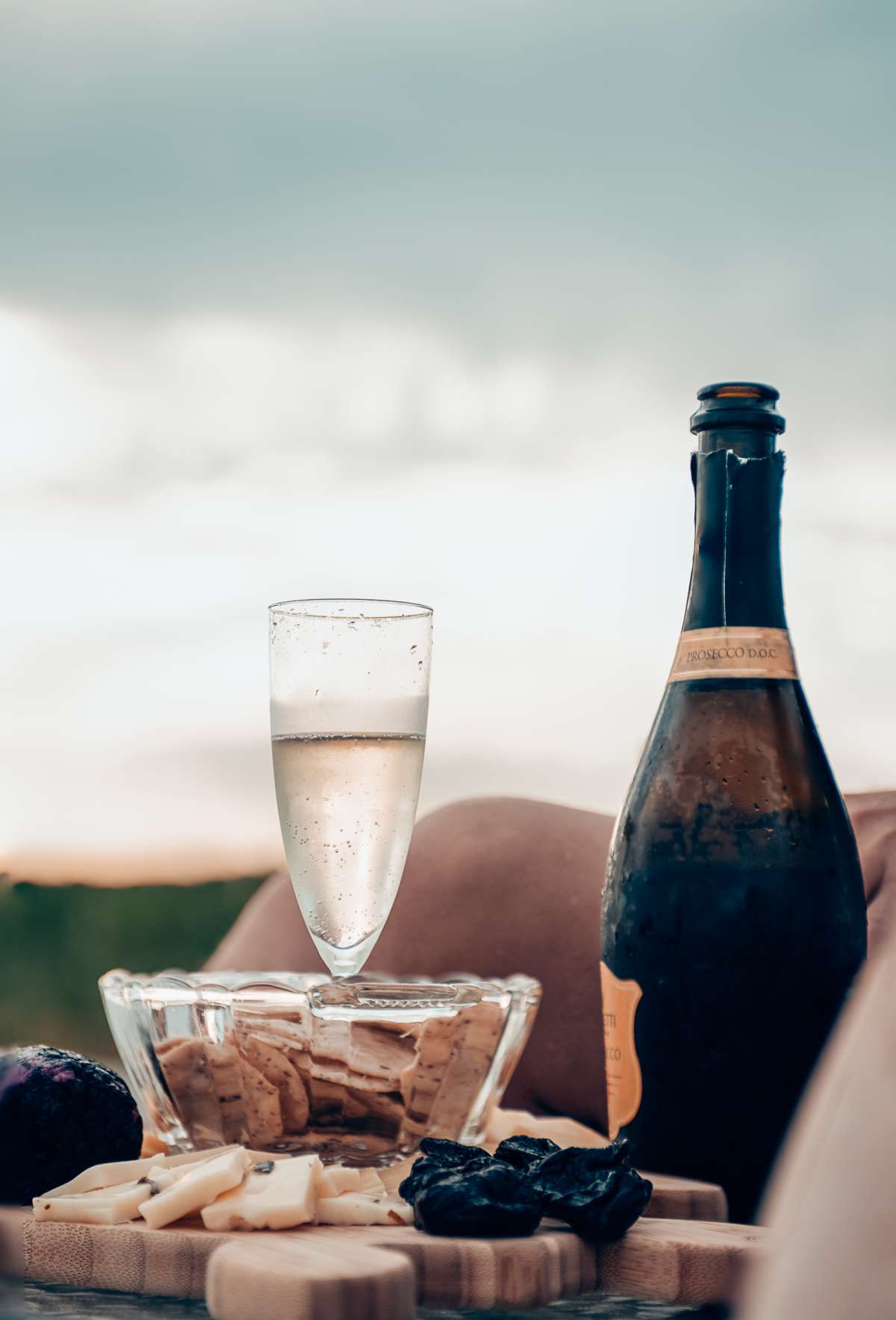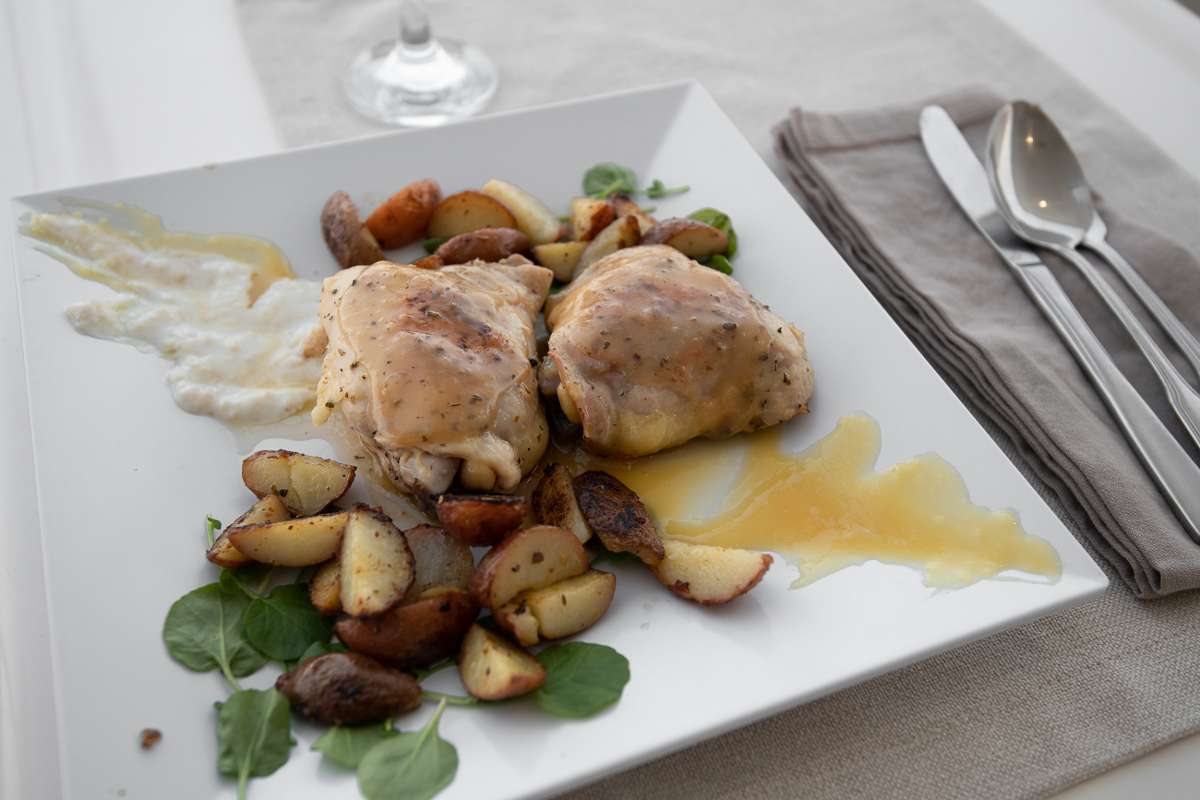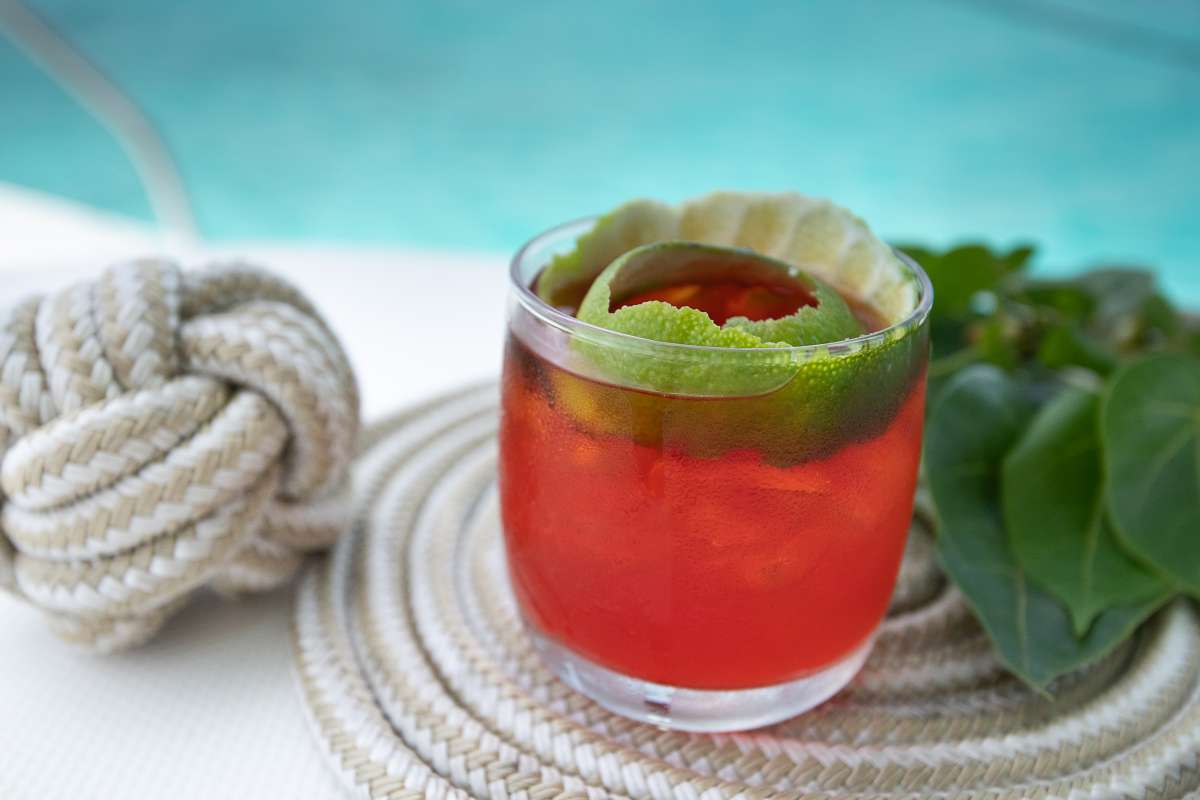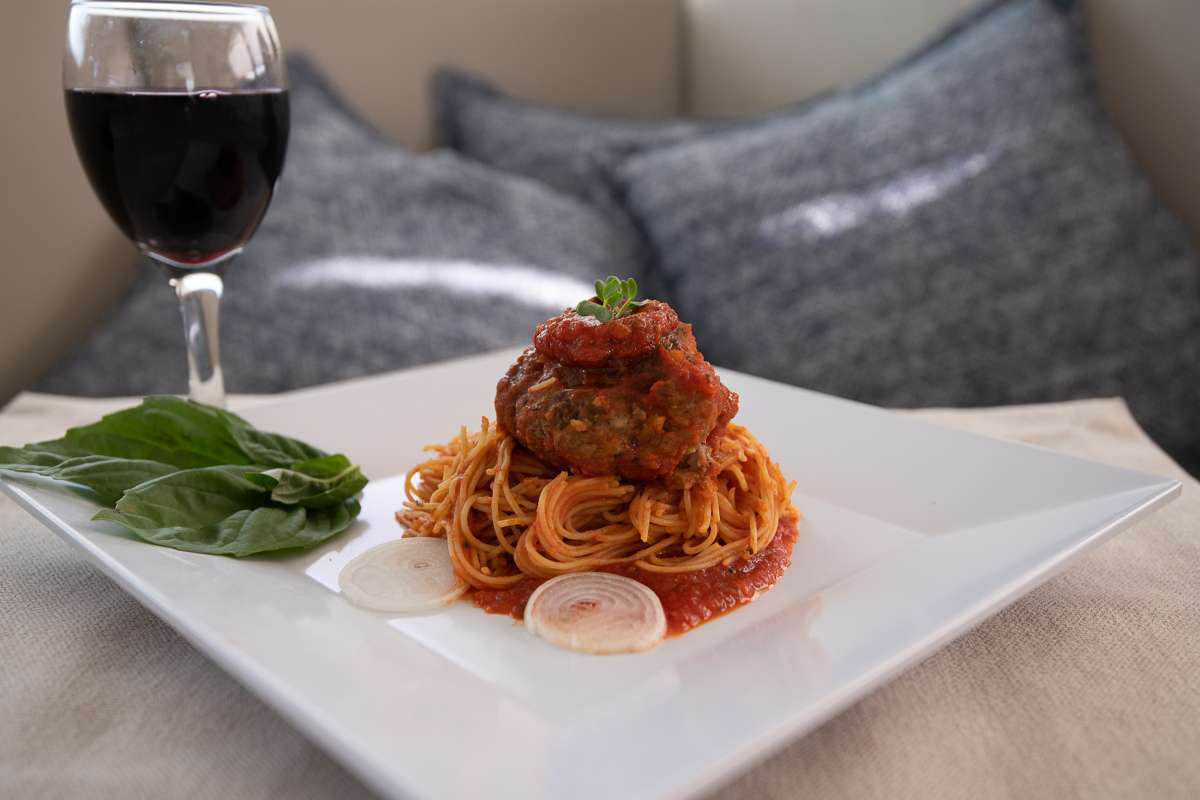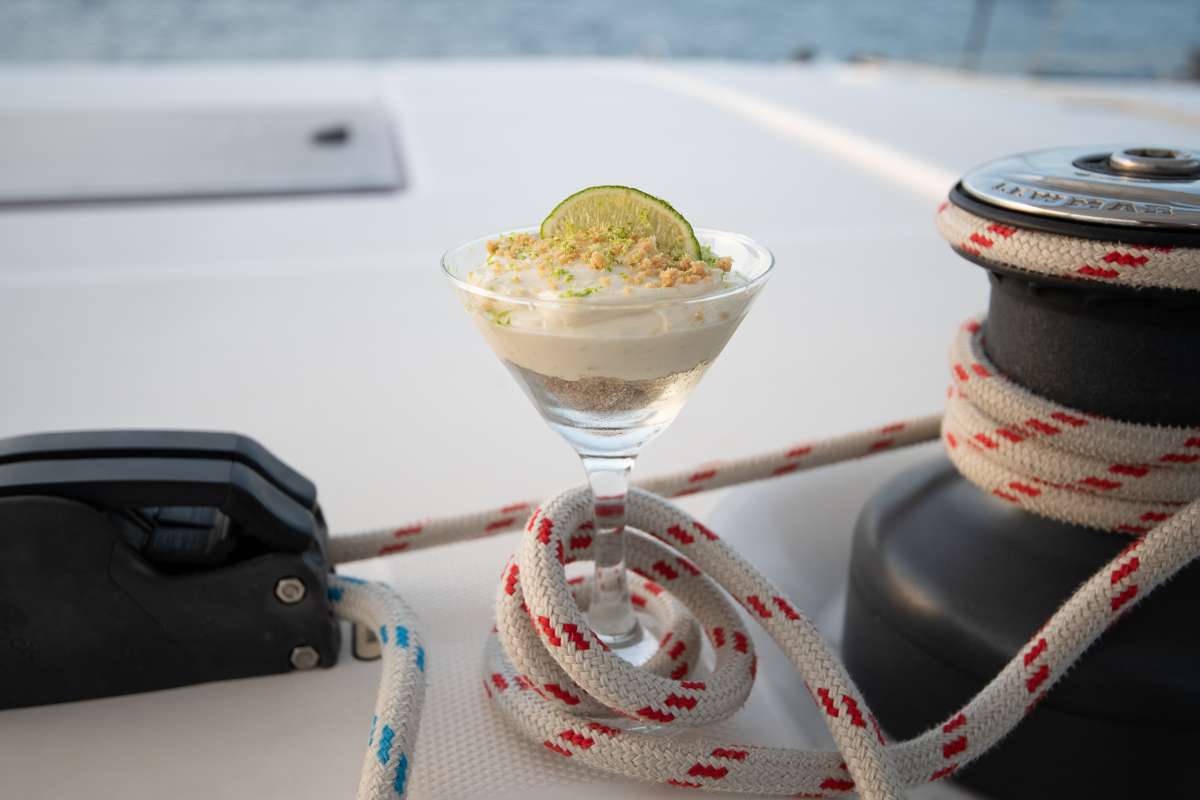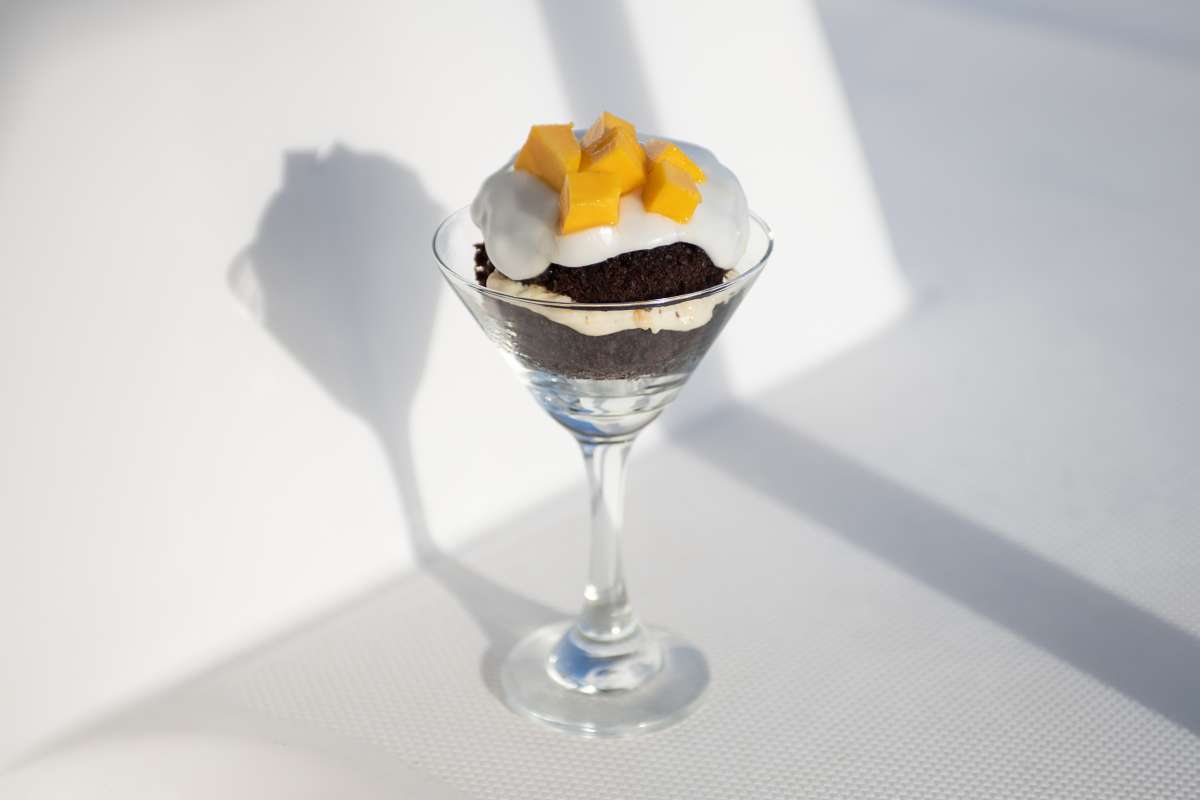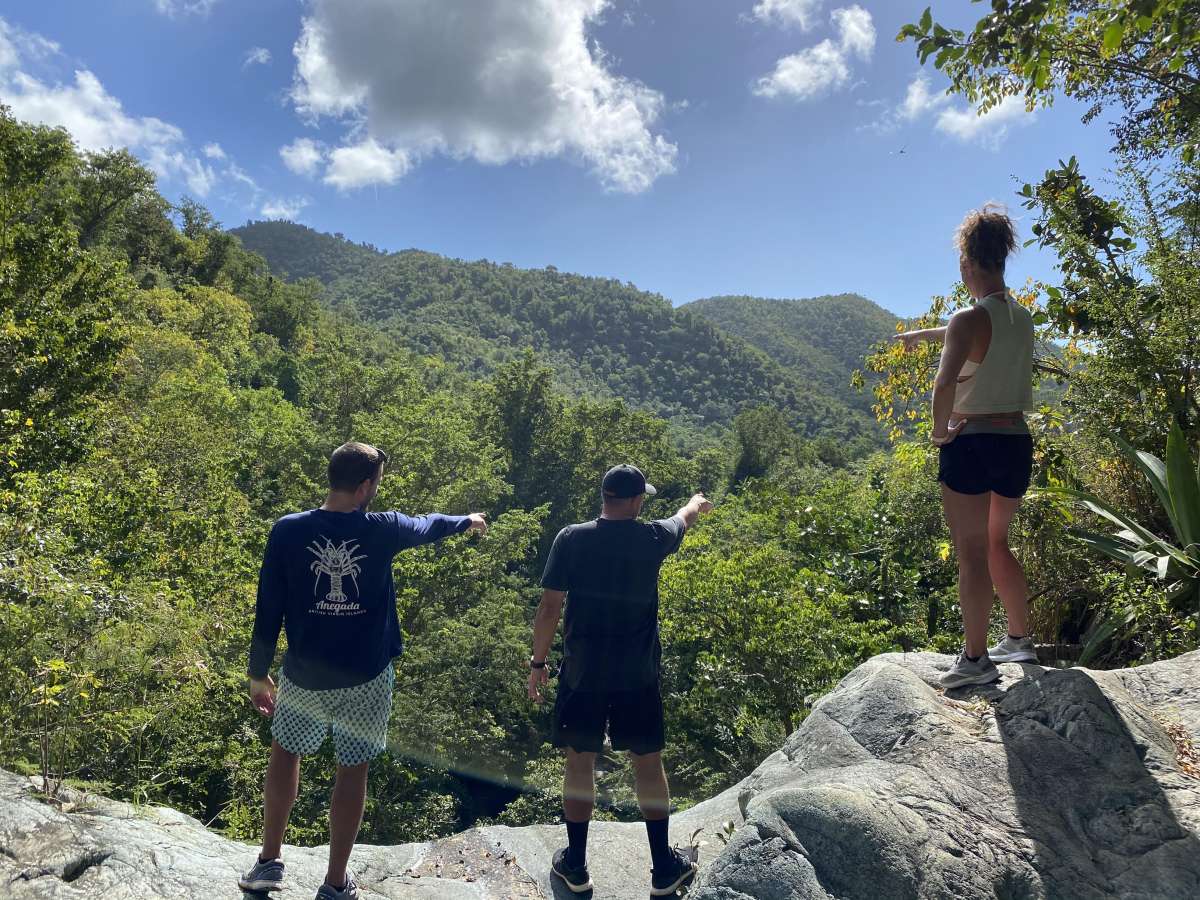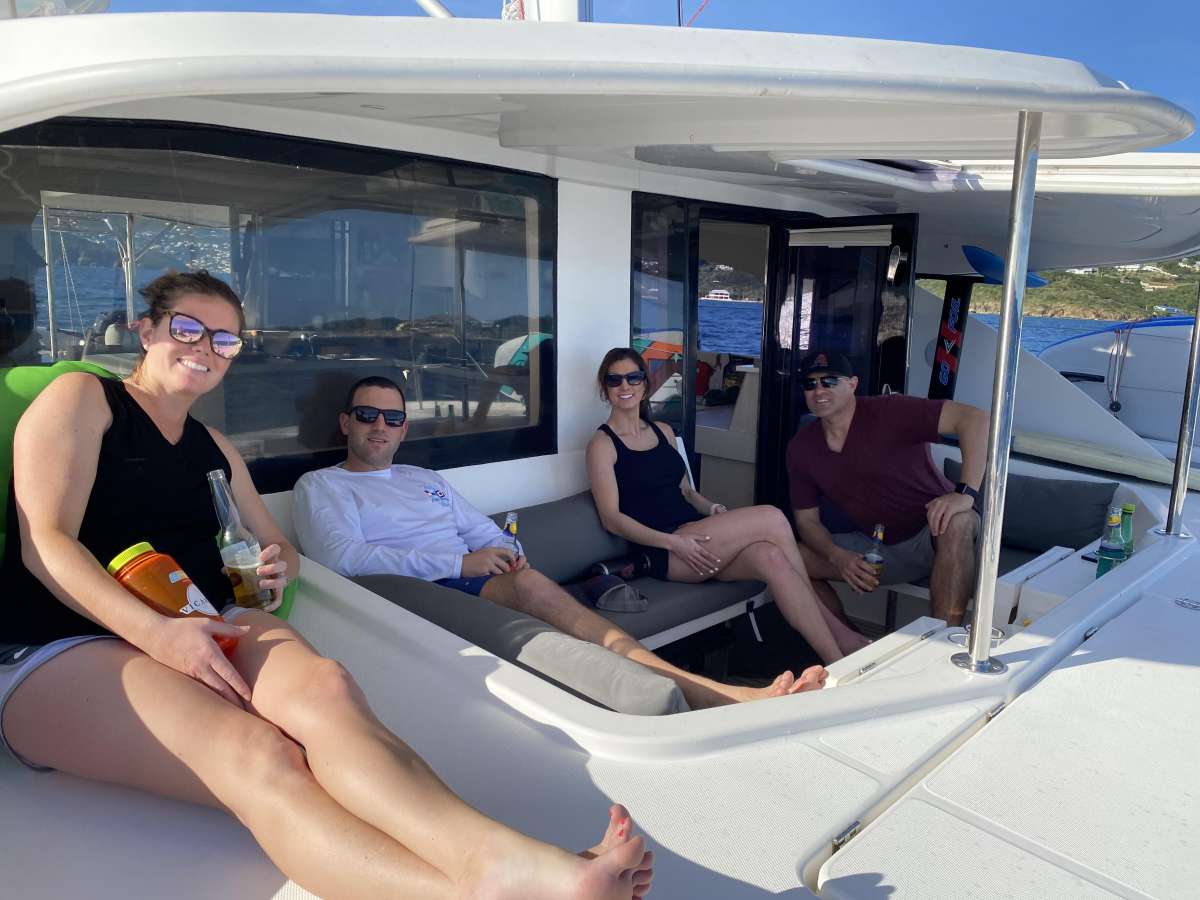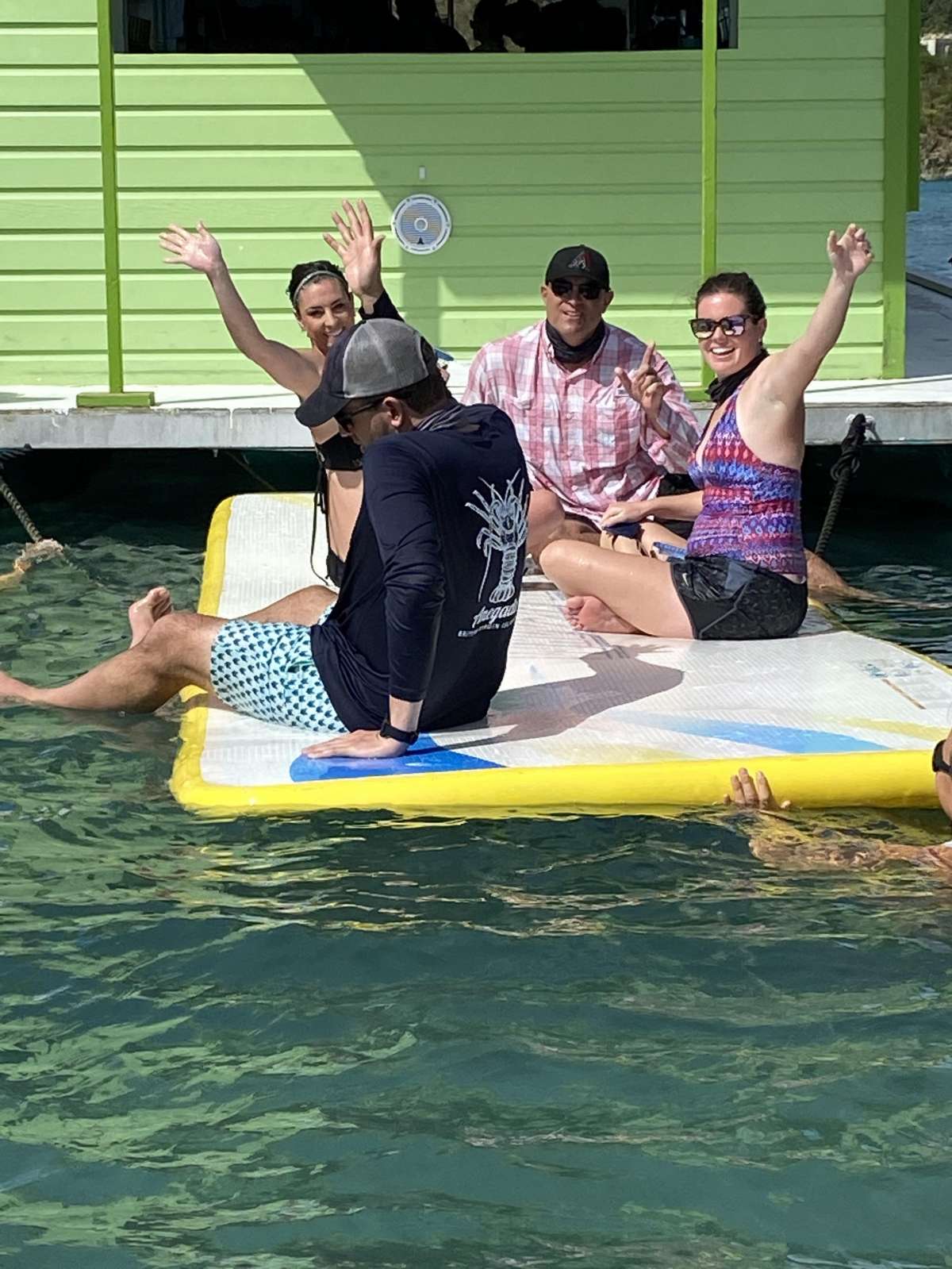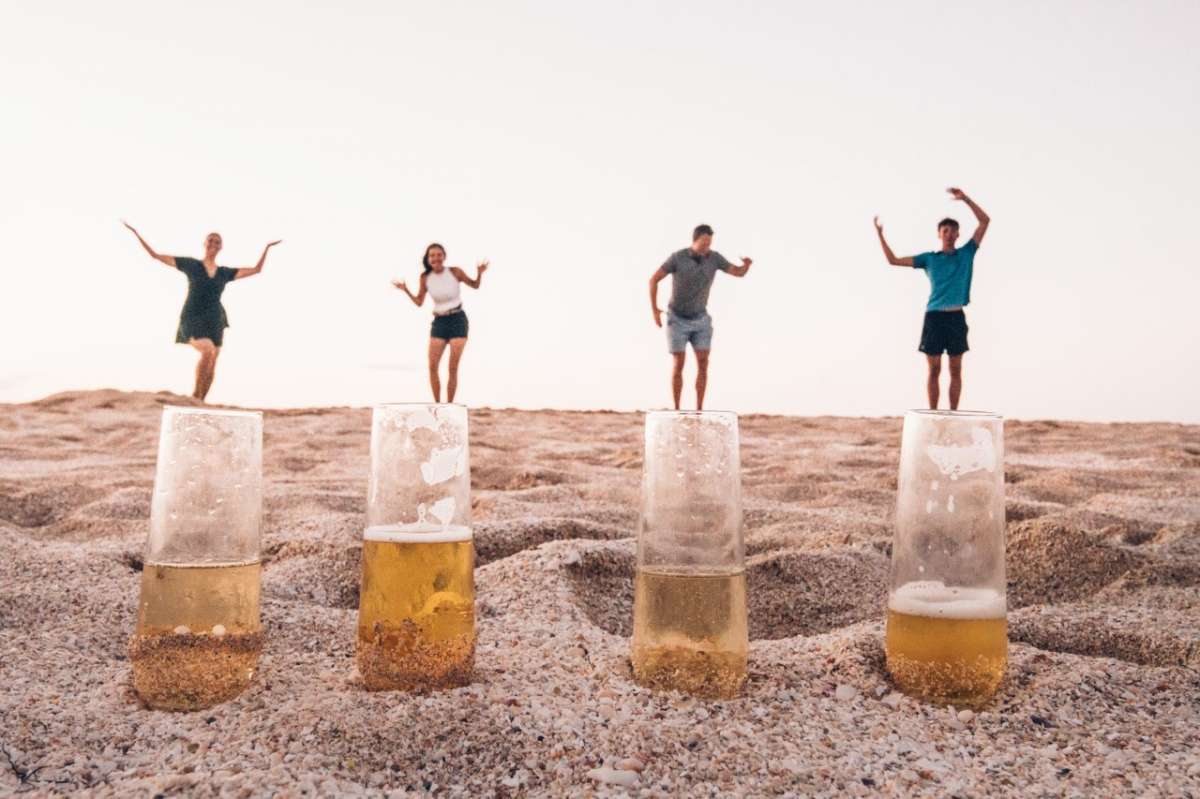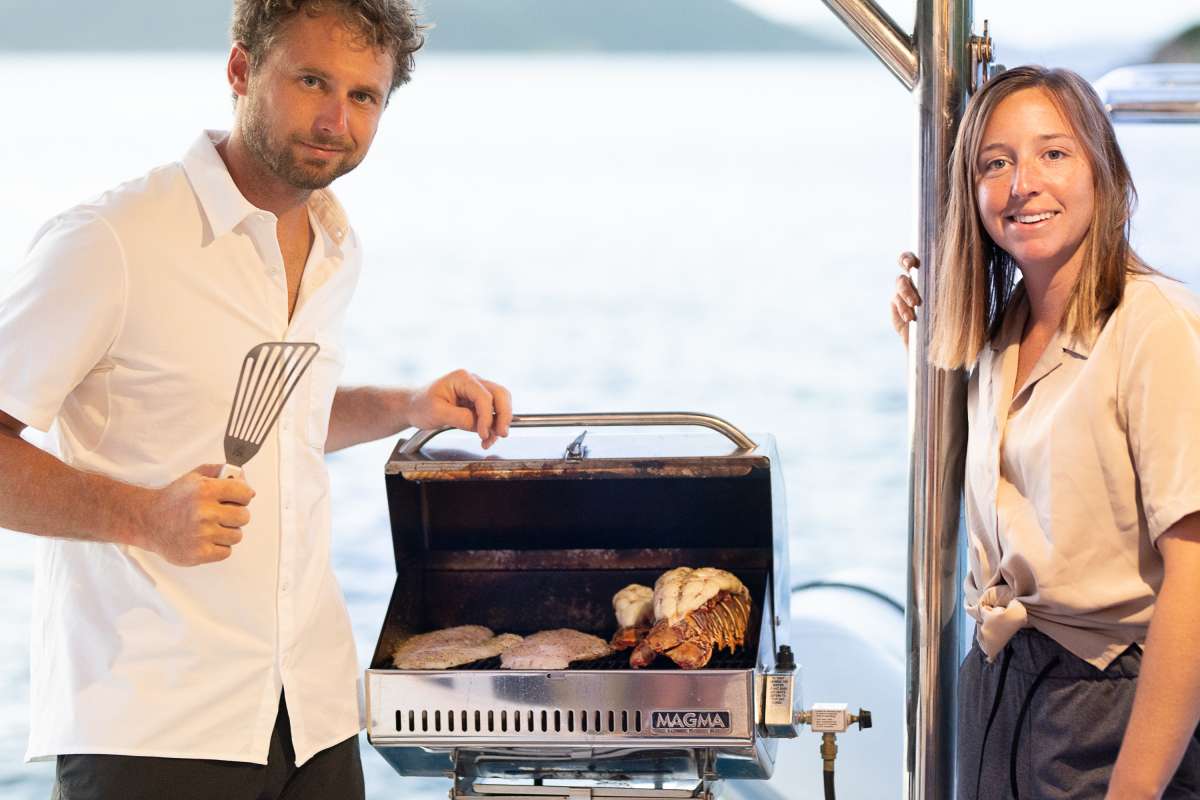 Description:
Welcome to Vicarious.  This is Philomena my crew, chef/hostess, and I am Austen, the captain.  We're a new crew but we have experience in charters, so we'd like to show you the boat and tell you about ourselves.
Out here in the aft cockpit we have seating for up to eight; we run with six guests, however.  Our seating indoor and outdoor takes eight, as we do take families of eight, utilizing the two forepeak cabins.  We have ample room back here.  This is an electric fridge that we typically sit on, if we're invited to dinner with guests, and walking around the boat, you can see that the flooring is the composite flexy teak; it's soft on the feet and feels nice; it doesn't get that hot.
The tender is a 12′ inflatable with a 25 hp engine; it's pretty good for towing; it's good for our water toys; we have a lot of different ones to show you.
In the walk around for the boat, this Leopard 48 has flush mount hatches, so there's less opportunity for stubbing your toe, but still no running on deck; one hand for the boat.
The water toy department, you can see up here on the bow, we have inflatable paddle boards, three of them, different sizes; we have water skis, wake board, the comfortable lifejackets that don't chafe; blue and pink, boy and girl, whoever wants to wear what.  A foil board, or surf foil, that means you're going at low speed, we also have a kite foil, which is kind of dangerous actually; these ones we wear a helmet, an impact life vest, when we're taking guests out, and here you can see this big donut, and what that is, it's made out of a material just like the stand up paddle boards; there's a mesh net inside, it creates a wadding pool, whether you want to sit in it or put your young novice swimmer in there and parents sit around the edge and keep an eye on them and have a cold one; there's a cup holder right there; it works really well for that.  We keep them inflated, easy to deploy; we can get the toys in the water as soon as we anchor.
We have an inflatable two person subwing, which is a lot of fun.  Over on the dock there, you can see if we were planning a beach day, we have a shaded pen or tent, plus shovels and cooler and little stereo system as well, to bring out and make it a nice day.
Instead of going back around the other side of the boat, we can come in through the forward access into the saloon from the bow, which is unique to the Leopards.  Sitting up here is really nice to have a sun downer or a cup of coffee in the morning; it's very private; it gets good breeze, when we're on anchor, because she's always pointing into the wind.  Accessing the saloon through this forward door here is very safe; we dog it down with three big ranchettes, preventing any water problem.  It's unique to the Leopard.  Philomena showed us how the table folds out or stows away.
Entering the saloon, Philomena, the chef said, "This is the galley, where we cook all foods; finger foods, all styles.  This is our table in the main saloon; the leaves fold out for full dining service, if it's raining, or if guests prefer to eat inside.  Usually we serve meals in the aft cockpit though. The table also drops down to make a bed.
Austen said, "This is a four cabin yacht, but we take six guests; the crew quarters are up in the forward starboard side, so we have three cabins with queen beds for parties of six, but we can take families of eight, utilizing the two forepeak cabins.  We'll take you below to see the port side cabins; it's a mirror image to the starboard side.
Come down below here, and if you go aft, you'll see one of the Queen beds.  The boat mattress foam is six inches; on top of that is a gel mattress pad, which is three inch memory foam; on top of that is a pillow top, and we have fresh fitted sheets with spares in vacuum packed bags ready to go for quick turnarounds.
Our guests this season are getting algine water bottles that they get to keep.  We brand them with our logo, with our sticker, and throughout the week, we'll have the water infused with lemon or cucumber, where they can refill their bottles and stay hydrated for the vacation.
These rooms have good storage; there is plenty of closet space for hanging clothes.  We have two drawers underneath each bed, one per person.
In the bathrooms there are electric flush heads.  The shower is separate stall.  We provide reef-friendly soap products, but guests may bring their own as well.  The showers have excellent water pressure.
Up forward we have a similar layout but the pointy end is a little narrower than the aft cabins.  I'd say the aft cabins are about 15% larger than the forward cabins, and unique to our boat, we have a pass through hatch leading forward into the foc'sle cabins, each with single bed, suitable for families of eight.  We've used it many times.  We adore families.
Come on upstairs and see the water slide towing on the stern.  Right now the seagulls are using it, but we can fold it down and rinse it off.
Our fly bridge is mostly the captain's helm station, since we have that forward cockpit for guests use at sea and cocktails, but we don't mind getting guests involved in the sailing activities, if they want, and there's plenty of room on the fly bridge for guests to help with the sailing.  I've taught sailing before, says Austen, for a number of years.  So getting somebody involved is pretty easy to do, and we can show them the ropes.
Based in St. Thomas, US Virgin Islands to May, 2021, Newport, RI for Summer 2021, then St. Thomas for Winter 2021/2022, the yacht charters for $16,000 to $17,500 weekly all inclusive for parties of two to six; rates slide according to number in party.  Christmas and New Years weeks are sold at a premium.  From late June, VICARIOUS will be available for charter in New England from Sag Harbor, Long Island, NY.
CHRISTMAS/NEW YEARS:
CHRISTMAS: $19,500 1-6 pax, 6 night minimum, must end by Dec 26th
NEW YEARS: $22,500 1-6 pax, 7 night minimum, may not start prior to Dec 27th
VI CHARTERS available until end of May 2021. Boat will be available in NEW ENGLAND for the summer.
******NEW ENGLAND AVAILABLE JUNE 19 TO SEPT 30TH******
FULL BOARD: 2/$18,500 3/$18,875 4/$19,250 5/$19,625 6/$20,000
HALF-BOARD: 2/$18,200 3/$18,425 4/$18,650 5/$18,875 6/$19,100 Includes 7B, 4L & 3D, other meals ashore at client expense
LOCAL FARE: 2/$18,350 3/$18,650 4/$18,950 5/$19,250 6/$19,550 Includes 7B, 5L & 6D, other meals ashore at client expense
Rates exclude dockage and excessive alcohol consumption.
Information is believed to be correct, but Nicholsons cannot be responsible for its content.  Please consult the yacht's online information and rates.