AKIKO

106' Alloy Yachts (New Zealand)
High Rate: $ 115,000 weekly Plus Expenses
Low Rate: $ 115,000 weekly Plus Expenses
Cabin Configuration:
5 Guest Staterooms (Master on bridge deck, VIP on main deck, 1 x double, 2 x twin each with bunk beds and a single)
Specifications:
Length:
Builder:
Built/Refit:
Cruising Speed:
Regions Available:
Locations It Travels:




106'
Alloy Yachts (New Zealand)
2007/2017
12 knots
AKIKO is based in Perth, Western Australia, and will be travelling the West Coast of Australia (Coral Coast to the Kimberley) and the SOUTH PACIFIC.
Please enquire about fantastic itineraries and what this region can offer! Perfect for off-the-beaten-track charters, family-friendly.




Have a Question About This Yacht?
Fill out the form below and we will get back to you quickly!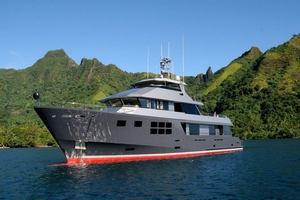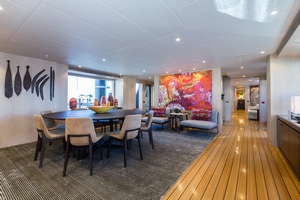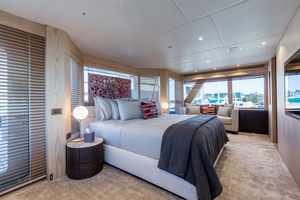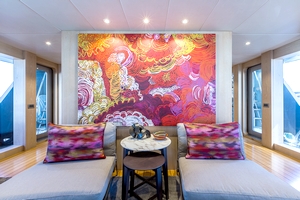 Description:
Built by Alloy Yachts to Lloyd's Registry standards and MCA compliant, AKIKO was first launched in 2007 and went on to pick up five major honours at the 2008 World Superyacht Awards.
The 112 ft. Custom expedition yacht features a sophisticated exterior design and engineering by Gregory Marshall. Previously named VvS1 (after a grade of diamonds), she is proudly introduced to the Australian charter market following an extensive refit in New Zealand in 2016-2017 by McMullen and Wing.
An expedition style motor yacht, AKIKO is versatile enough to enter small bays, anchor behind coral atolls or for game fishing over submarine reefs, whilst her luxurious design won 4 premium prizes at the World Superyacht Awards after her launch in 2008.
ākikō?
The Owners wanted to find the perfect name that reflected her country of origin, New Zealand. ākikō means "at a distance from home", which is the traditional Maori translation.
Location details: WINTER in Australia = June to September
SUMMER in Australia = November to February
AKIKO is based in Perth, Western Australia, and will be travelling the West Coast of Australia (Coral Coast to the Kimberley) and the SOUTH PACIFIC.
Please enquire about fantastic itineraries and what this region can offer! Perfect for off-the-beaten-track charters, family-friendly.
____________________
Wonderful charter references:
Charter Client, 3-week Christmas charter, December 2018 in Papua New Guinea:
"The Principal thinks that the yacht was built to a very high standard and is structurally in very good condition. It is exceptionally quiet and the stabilizers are excellent. The artworks on board are beautiful.
The toys and dive equipment were very good.
The crew were all very good. He commented that Craig, as Captain, bent over backwards to ensure that they had the best experience and he appreciated that very much. Craig, the guide, was clearly well-connected and was good at explaining local customs, culture, etc.
The chef was really good and produced excellent food.
The chief stewardess was efficient and also a "phenomenal" trainer for their daily workout on deck.
The Principal confirmed it was an outstanding charter and the holiday of a lifetime. It is rare that I receive such positive and effusive reviews from him, so I can only say WELL DONE to you and your crew for an amazing job! He was still buzzing when he spoke to me."
The Owners will be considering enquiries in the following regions:
_____________________
AUSTRALIAN WEST COAST
PERTH, ABROLHOS ISLANDS, MONTEBELLO ISLANDS (fishing, game fishing, diving, shipwrecks, hiking, reef experiences)
From May 2019
* Abrolhos Islands (April-May): World-class Diving and Fishing, Island Exploring: http://www.australiascoralcoast.com/destinations/geraldton-region/abrolhos-islands
>> please enquire for sample itinerary.
* Unesco-listed Ningaloo Reef: Explore Exmouth and Coral Bay area, Ningaloo Reef dive with whale sharks (season starts mid-March) and manta rays, fishing, incredible beaches. http://www.australiascoralcoast.com/destinations/ningaloo-reef-region/coral-bay
* Montebello Islands: World class game fishing & diving. https://parks.dpaw.wa.gov.au/park/montebello-islands
_____________________
THE KIMBERLEY, EAST AND WEST
June to September 2019
*Please enquire for itineraries. The region won the 2017 Boat International Superyacht Awards, and we hosted a 7-day famtrip in May 2017.
__
Adventure to the ancient . The ultimate sea-fari charter.
Where the Australian outback meets the sea in spectacular fashion.
Huge cliffs fall into the sea creating perfect and secluded anchorages. You can witness some of the earth's most remarkable Horizontal Waterfalls, see Australia's native animals in the wildlife from the comfort of the yacht and learn about one of the world's oldest civilisations, the Aborigines, in a landscape which never been touched by development. The Kimberley stands as a living example of ancient landscapes and its inhabitants.
_____________________
PAPUA NEW GUINEA
All enquiries considered from October 2019 (2-3 weeks preferred)
__
Papua New Guinea is a stunning destination best explored by private vessel. The country's 5,000 different clans, together speaking over 850 separate languages, form the most culturally diverse nation on Earth. Similarly, the diverse landscapes that stretch from oceanic trenches to expansive tropical reefs provide the varying landscapes that are home to five percent of the species found on the planet.
An experienced expedition leader who understands the people of this diverse nation and knows the best locations above, and below, the waves is key to a memorable sojourn in the diving mecca and anthropological marvel that is Papua New Guinea. Visitors are left humbled by the warmth and sincerity of the welcome they have received each and every day and overjoyed by the unparalleled diving and snorkelling.

_____________________
Please click here for a Photo Presentation of AKIKO
Charter Rates
US $115,000 per week *MYBA terns, 30%APA and local taxes apply.