High Rate: € 325,000 weekly Plus Expenses
Low Rate: € 265,000 weekly Plus Expenses
Cabin Configuration:
One full beam Master suite on the main deck with king size bed, vanity, and sitting room. The expansive onyx bathroom features his and hers facilities, 4 closets including a large walk in closet, jacuzzi bathtub and spacious shower.
One Twin Guest cabin on the main deck with en suite marble bathroom with bathtub.
Three Double Guest cabins on the lower deck with queen sized bed and couch. En suite marble bathrooms with bathtubs.
One Twin Guest cabin with couch. En suite marble bathroom with bathtub.

Plasma TVs in all areas, cabins, gym & sundeck
DVD/CD players
State of the art brand new A/V system
Creston media server and high end entertainment centralized system with remote controls in every room and entertainment area.
B&W ceiling mounted speakers throughout
Yamaha grand piano 1 in the main salon
Satellite TV
Wi Fi internet, GSM and VSAT free of charge
Movie/Music server with over 3.000 movies and over 100.000 songs
Board games, books
Communications:
Satcom, Wi-Fi internet access
Specifications:
Length:
Builder:
Built/Refit:
Beam:
Draft:
Cruising Speed:
Regions Available:
Locations It Travels:





Special Features:
192'
Lurssen
2003/2018
37'
12'
13 knots
Athens, Greece

EUR 325,000 weekly July, August, & September 1-15, 2020;
EUR 260,000 weekly May & June, 2020
EUR 220,000 weekly September 15th through October, 2020 + 12% VAT + 30% APA




• Built by Lurssen with exceptional sea keeping, comfort & plenty of interior and exterior volume
• One full beam Master suite on the main deck with king size bed, vanity, and sitting room. The expansive onyx bathroom features his and hers facilities, 4 closets including a large walk in closet, jacuzzi bathtub and spacious shower.
• Zero speed stabilizers
• Enjoy the panoramic views from her diverse saloons and observatory lounge
• State of the art brand new A/V system, Crestron remotes throughout the yacht, High-End speakers in the living rooms, Movie/Music server with over 3.000 movies and over 100.000 songs
• Gym and Jacuzzi area on the sun deck
• A wide variety selection of water toys
• Professional crew with exceptional charter references
• She is in immaculate condition due to constant upgrades such as new fabrics and linen throughout the yacht, new carpets, new teak furniture on the sun deck, new awning systems on sun deck and observe deck, major technical refit, upgrade of the audiovisual system, new toys etc

Water Toys
Tenders & Toys: 1 x Rib Eye 650 Custom Rib tender
200 Hp Yamaha outboard
ski/wake tower 1 x Capelli 625 Tempest RIB tender
150 Hp Yamaha outboard 1 x VX 1800 A-L Yamaha Cruiser Jetski 1 x Seedoo GTI 130 3seats Jetski 1 x Yamaha Wave runner Superjet standup Jetski 2 x Seabob F5S 1 x Flyboard Pro series 1 x Segway 1 x Egret one (Electric Kick Scooter) 2 x Aqua marina Inflatable kayak (2 pax.) 2 x Paddleboard 2 x Jobe Inflatable paddleboard 1 x Island Hopper water trampoline 1 x Jobe Banana (5 pax.) 1 x Twin extreme (Double donut) 1 x Jobe Lunar Towable (3 pax.) 1 x Jobe Tornado Towable (3 pax.) 1 x Jobe Airstream II Towable (2 pax.) 1 x Airhead Slice Towable (2 pax.) 4 x Sea biscuit 3 x Ski Pair (Adult) 1 x Ski Pair (Teenager) 1 x Ski Pair (Junior) 2 x Monoski slalom 4 x Wakeboard 6 x Jobe progress neo vest (M
L
XL
2XL) 4 x Helmet 6 x Gloves Ski 2 x Ski line and handle pro 2 x Wake line and handle pro 3 x Heavy duty towable rope 3 x Full face snorkeling masks Variety of snorkeling equipment (masks
goggles
flippers
swimming shoes
etc.) Diving equipment: 1 x Bauer compressor
Junior II W-HU SS ACD 4 x Regulators complete set 5 x Dive BCD's 10 x Dive Cylinders 12lt. Long sleeve wetsuits: 1 x large
1 x medium Short sleeve wetsuits: 2 x large
1 x medium
1 x small
1 x child Barbecue & Beach Set up Equipment: Full BBQ set BBQ Gazebo awning for 12 persons Tables and chairs
Have a Question About This Yacht?
Fill out the form below and we will get back to you quickly!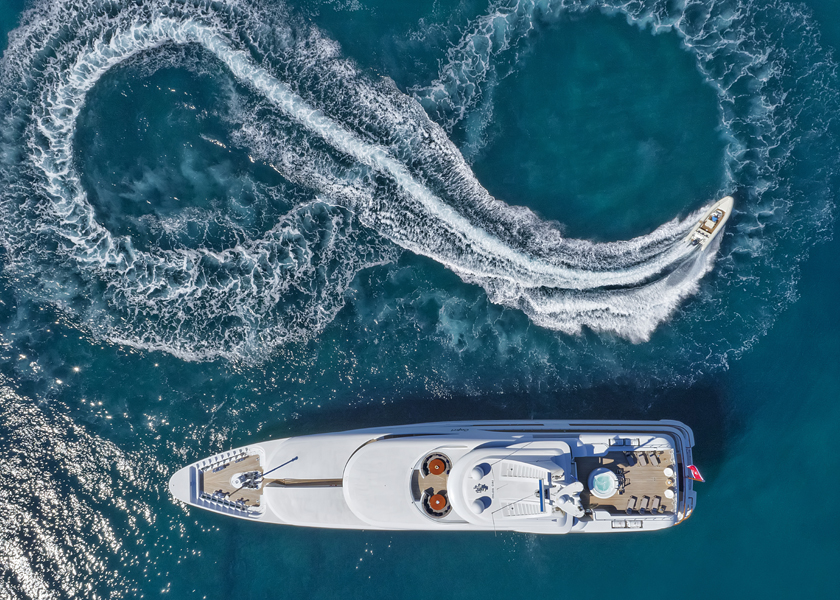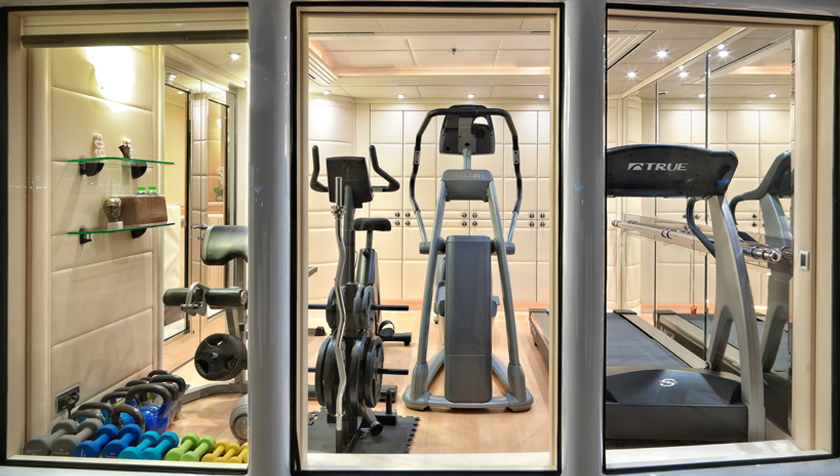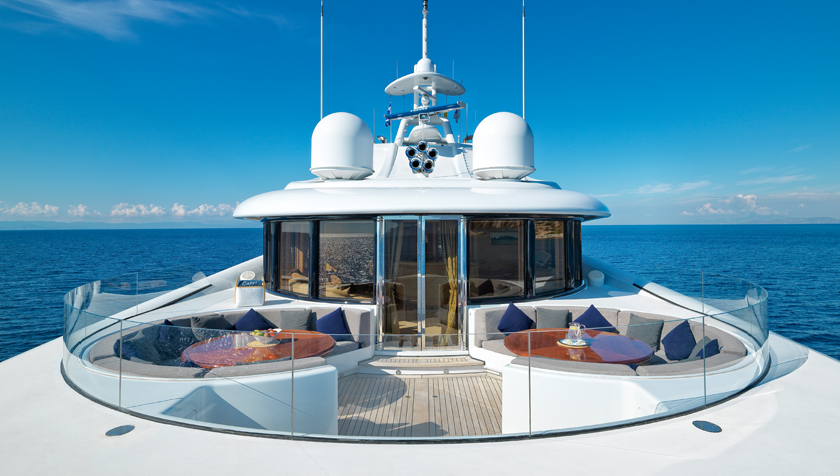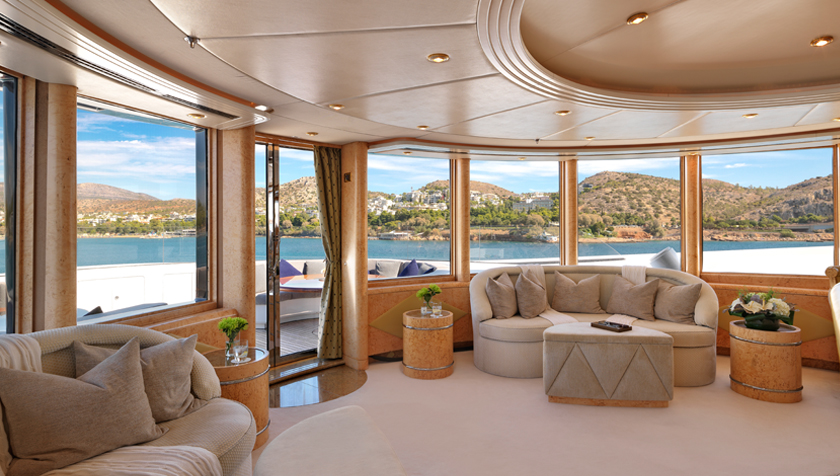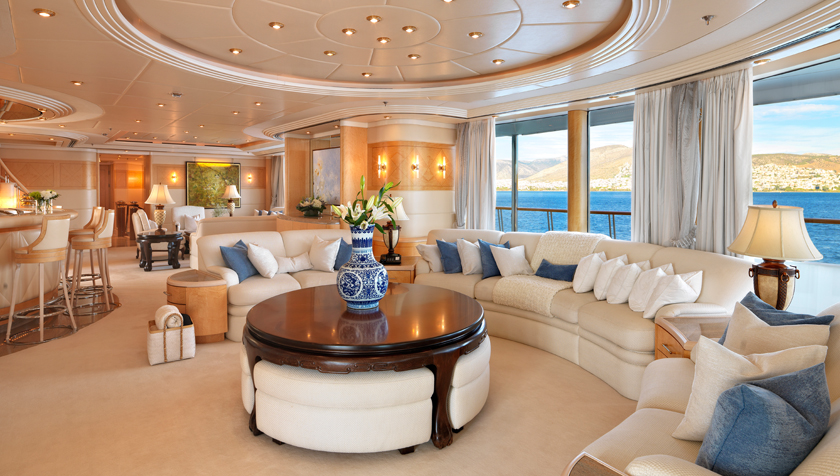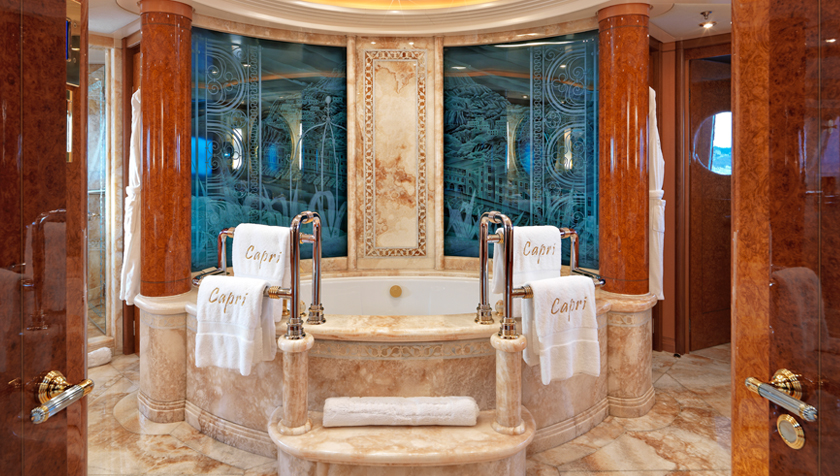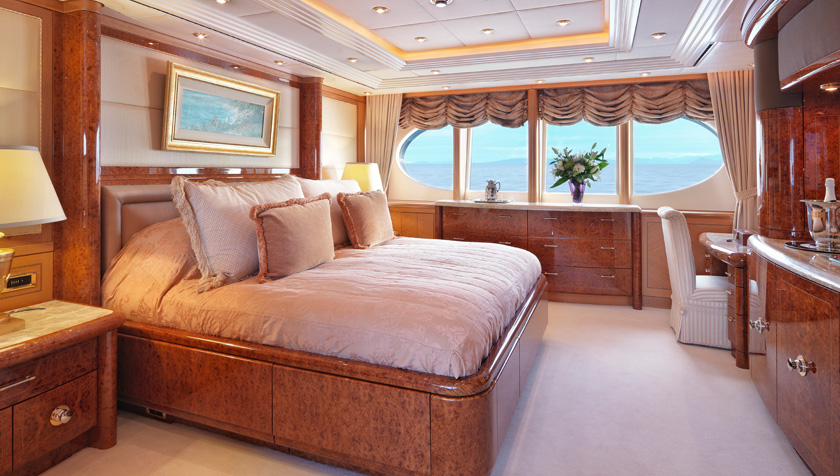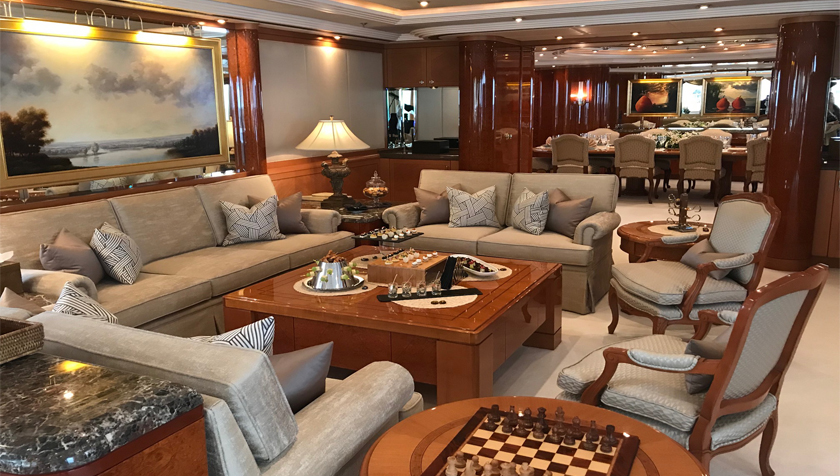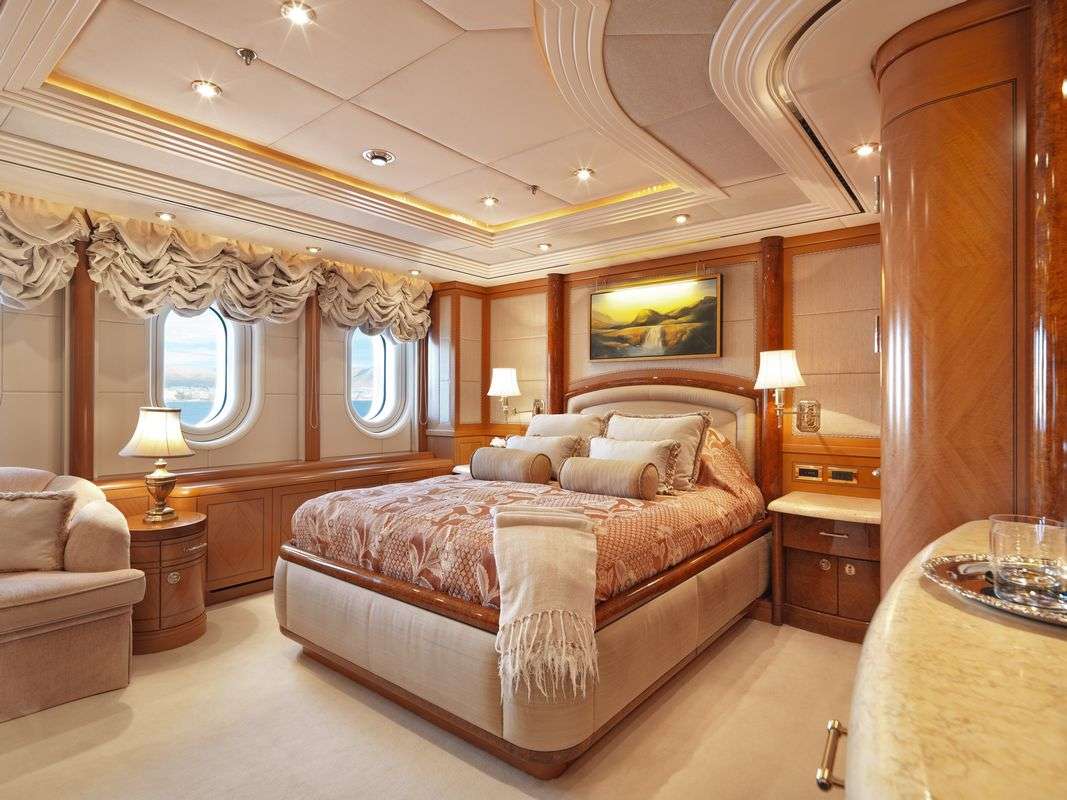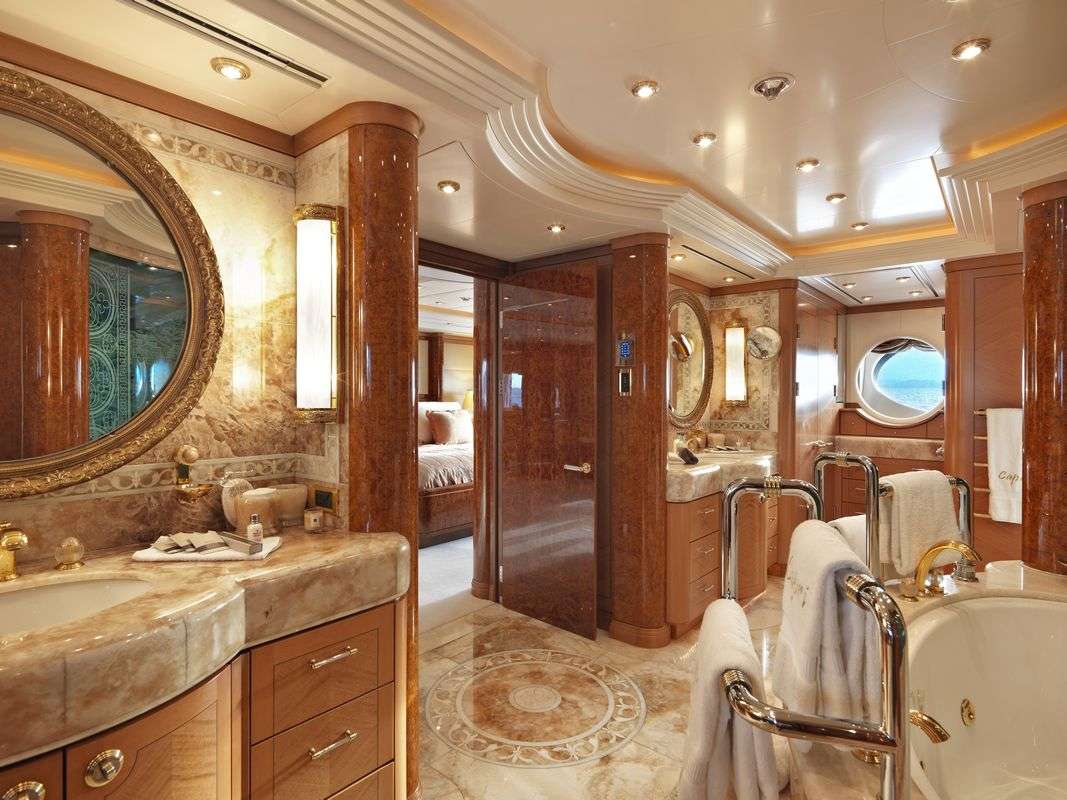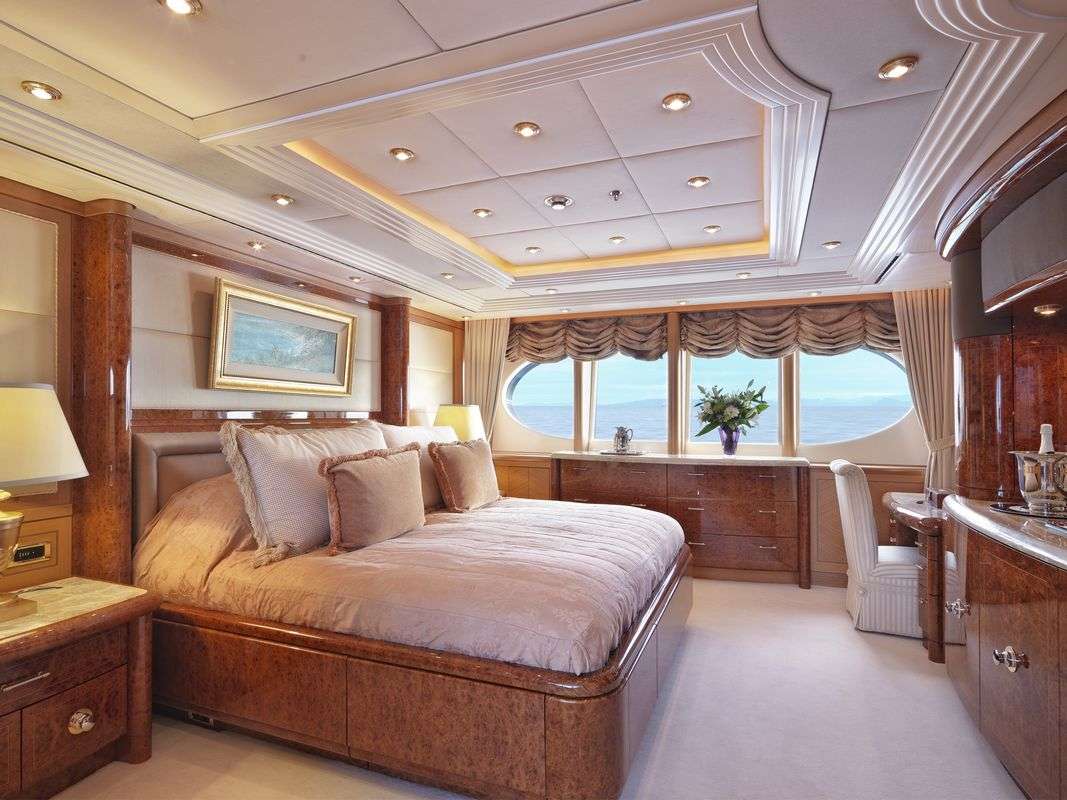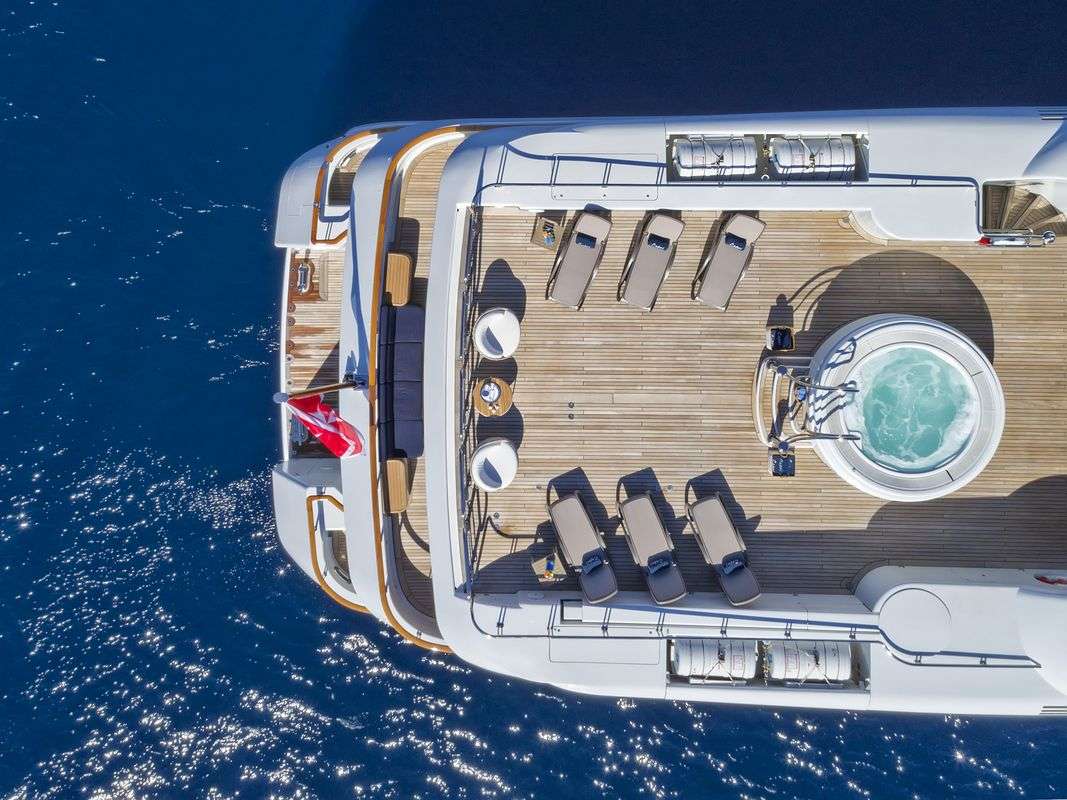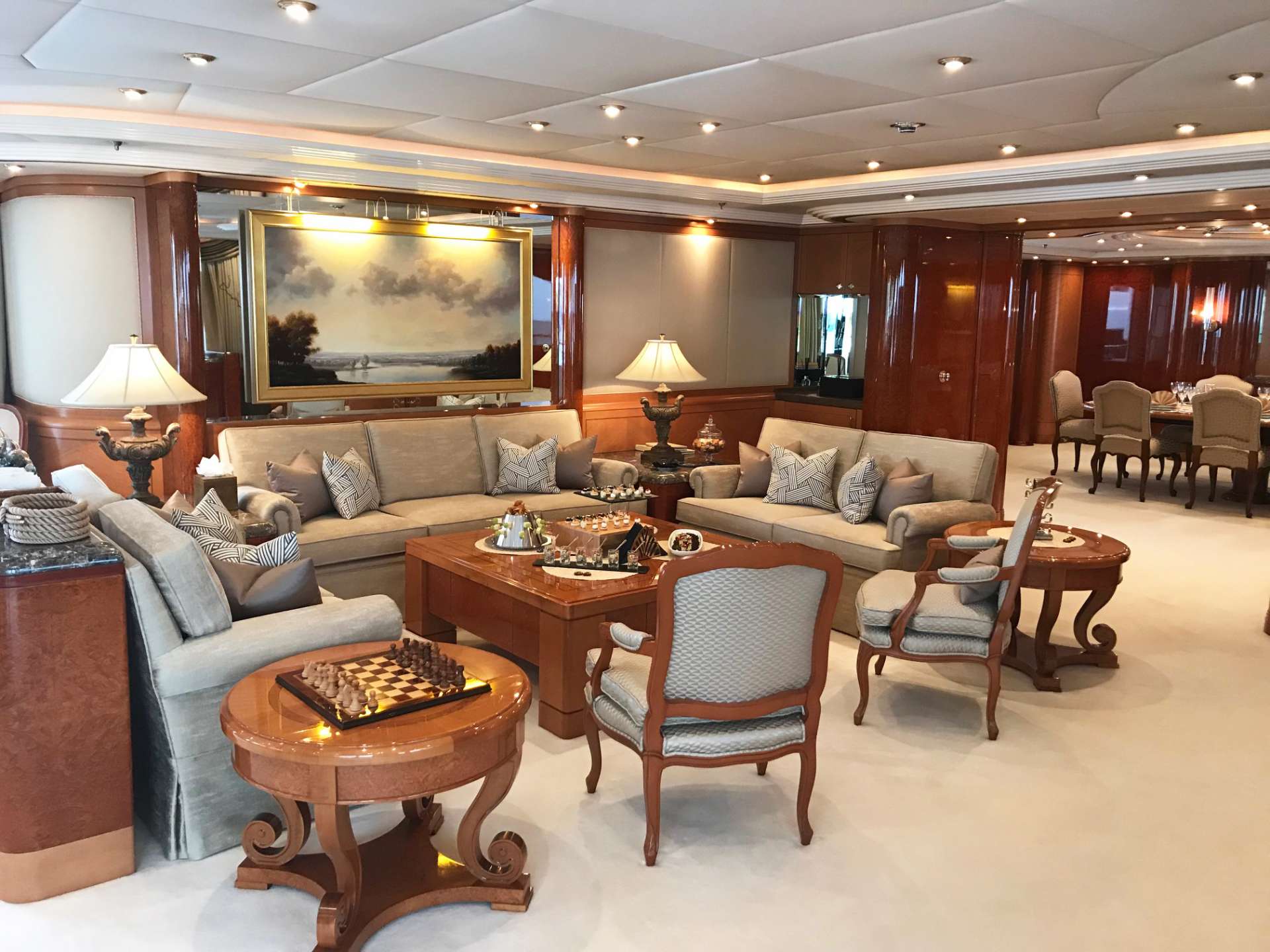 Description:
CAPRI I – My favorite yacht in Greece, because of the warm Wengi wood paneling, the onyx bathrooms, the three sitting rooms and design, plus creativity of the crew, the 192′ Lurssen motor yacht CAPRI I has a delightful Greek crew of 15, headed by Takos Tsakos,who welcomed us aboard in May of 2019 with offerings of warm towels for our brow.  The bar on the main deck aft was laden with ribboned gifts and water, a chocolate maker, and plates of delicious hor' doeurves. The crew was well prepared for our arrival with plates of petit fores and shot glasses of salads with spoons.  Unique to CAPRI is her Observation Lounge, Bar along length of Sky Lounge, Master Apartment with Twin, Office, Sitting room, focal tub, dressing room, Guest cabins with oval ports & onyx Jacuzzi Tubs, TV and couches, plus enclosed gym in glass on the Sun Deck and Jacuzzi
Rates & Availability:  Available out of Athens, Greece, CAPRI charters for EUR 265,000 a week during June and September 15-30, May and October, and EUR 325,000 a week during July, August & Sept 1-15,2020.  12% VAT & 30% APA for food, fuel, bar, and dockage are not included.  It's customary to tip the crew; the amount is for the charterer's discretion; 10% to 20% of the charter fee is suggested.
In May 2019, when we inspected CAPRI, Takos told us there had been many changes since the last time we were aboard in 2017.  Fabrics in the gorgeous main saloon with shiny wengi wood paneling and player piano had been changed; the curtains are lighter now.
Dining Room – We moved forward into the dining room, whose chairs had been newly reupholstered.  This room has lots of space.  Covered by a mirrored ceiling, the table had a table setting of beautifully folded napkins.  It extends to accommodate more than 12 guests, and doors slide to separate the main saloon from the dining room.
Guest Entrance – Forward of the dining room is the formal guest entrance with shiny wengi wood paneling, white marble floors, and striking gold bannister posts.
Master Stateroom – Located forward of the guest entrance, the master stateroom is an apartment for families with VIP twin stateroom plus master stateroom with King bed with white sheets and Gaugin style throw cushions with textured white flowers with green stem.  The master has sitting room to starboard and full beam marble tan bathroom with central focal Jacuzzi tub with green etched glass ensuite with lots of different rooms for changing in, for privacy.  The bathroom is onyx, and there's an office ensuite as well.
Accommodation Deck – Four guest cabins are below.  Reggie the second stewardess showed me around.  She's from the Philippines, blond….  There's a Twin cabin with couch and three oval ports for views of the cruising ground from the cabin.  Pillows with tassels and lime green swag curtains are gorgeous!  There's a Queen with tanned headboard and three oval ports.  The halls have inlaid Naugahyde paneling amidst the Wengi wood paneling.  All the cabins have TVs with Creston controls and bathtubs with etched glass, new carpets.  All the stonework in the bathrooms had been cleaned over the winter.  There's a mini bar in the foyer.  A Queen cabin with wool throws and gold framed art is so feminine; there are two of them!  Beautiful cabins!  Guests feel comfortable and relaxed.  So you have the master and twin on the main deck and 1 twin and 3 Queens on the lower deck, all with TV, onyx bathrooms with tub.  Some of them have couches as well.  They're large staterooms.
Sky Lounge – A bar along the full length of the upper deck sky lounge  with two saloons on either side in white with blue throw cushions is just stunning!  Floor to ceiling widows let in lots of light.
Observation Lounge on Sun Deck – There's a third saloon located on the sun deck, an observation lounge, located indoors.  It's called the flight deck lounge, and it too has floor to ceiling widows along the forward end, offering the most beautiful views.  There's a bar with stools, leather wild beastie rug, two couches, two chairs, day head.
Enclosed Gym & Jacuzzi – Aft of the observation lounge is the enclosed gym; aft of that is the alfresco Jacuzzi with sunbathing mattresses all around it with TV.
Sports equipment – A huge array of sports gear is offered; they have everything – scuba, 3 jet skiis, flyboard, two inflatable tenders, a Segway, gym equipment, yoga.  The list is long.
E-Brochure, Rates, Spec Sheet, List of bookings, Crew Profile, Sample Menu:
Capri i 192 Feet.  (Power)
Sleeps 12 Guests in 1 King(s), 3 Queen(s), 2 Twin(s)
Online brochure and Rates http://www.cyabrochure.com/eb/544/accX/5386/1
Disclaimer:  Details are given in good faith and thought to be reliable but are not guaranteed.
CAPRI I Photo Presentation 2020  CAPRI I Sample Menu 2020