NEWPORT, R.I. (June 27, 2017) – It's often said that the captain and crew make the charter, and to drive that point home crew competitions and activities throughout the five-day Newport Charter Yacht Show presented by Helly Hansen (Monday, June 19 through Friday, June 23) highlighted not only the skills but also the personalities of the professionals in charge of client pleasure on the show's 25 participating yachts.
In a contest organized by Winnie DeCoster of The Captain's Concierge and sponsored by ISS GMT Global Marine Travel and Denison Yacht Sales, chefs from eight yachts competed whisk-to-whisk for the coveted title of "Best Charter Yacht Chef." The participants were given a basket of ingredients that included 10 oz. strips of Wagyu steak; various micros, flowers, greens, vegetables, and herbs; and Rhubarb. They were tasked with creating an entrée for each of three judges that would collectively choose the winning dish (and chef) based on 40% taste, 35% presentation, 10% creativity and originality, 10% use of ingredients provided, and 5% table presentation.
Best Charter Yacht Chef winner Ian Gabbe of the 116-foot M/V Renaissance and his winning dish. (photos by Jennifer Tinkoff)
Taking home the Best Chef title was Ian Gabbe (Jacksonville, Fla.) of the 116-foot M/V Renaissance. His Wagyu strip steak was grill marked and finished in the broiler, then placed on a bed of parsnip puree flavored with lovage and drizzled with a chocolate mint-flavored Bordelaise sauce. A mushroom ragout was flavored with most of the herbs provided, and a light fresh salad made use of the greens and was dressed with a pop of vinaigrette. The dish was accented with a tomato and rhubarb jam.
Gabbe, a multiple gold medal winner in certified American Culinary Federation contests and the only one of the eight participating chefs who had competed before in culinary competitions, was nonplussed early Tuesday afternoon when his presentation to the judges had to be planned around preparation of gourmet meals for a scheduled charter broker luncheon aboard Renaissance.
"It's what you do," he said while in his galley, alluding to the pressures of being a charter yacht chef. After learning he had won, at Thursday night's boisterous party and awards dinner sponsored by Ward's Marine Electric and KVH Industries, Gabbe said, "The thing I liked about this was that at other competitions, there's always a huge disparity between first and last place, and in this one, all the plates were phenomenal." Indeed only one point separated first, second and third places. "I would have had fun if I didn't win, but winning's always nice!"

Judges Orr, Des Chenes, and McGowan; Runner-up Chef Jean-Marc Masson of M/V BW; third-place finisher Chef Daniele Messina of M/V Frisky Lady (credit Jennifer Tinkoff)
Runner-up Chef Jean-Marc Masson (France) on the 120-foot M/V BW cooked his Wagyu strip steak sous vide. It was divided and plated separately on top of four different bases: parsnip puree, radish and rJudges Orr, Des Chenes, and McGowan; Runner-up Chef Jean-Marc Masson of M/V BW; third-place finisher Chef Daniele Messina of M/V Frisky Lady (credit Jennifer Tinkoff)hubarb puree, shitake and radish duxele, and tomato jam. The plate was garnished with mushroom and radish pickles, braised radish, and a coulis made from the cress.
When asked what inspired him to enter the competition, Masson laughed, "I just started as the chef on BW, and they told me that this contest was part of the package!"
Third-place finisher in the Chef's Competition was Chef Daniele Messina of the 112-foot M/V Frisky Lady.
Judge Kevin Des Chenes, a private chef out of Boston who is a regular on cooking shows and will be a judge on Beat Bobby Flay next season, said this judging job was anything but easy. "The take-away is that there are many different styles but they can all be equally as good but different." Other judges were Tom Orr with Engineered Marine Coatings, Inc. and Kitty McGowan of US Superyacht Association and NautiCom Communications.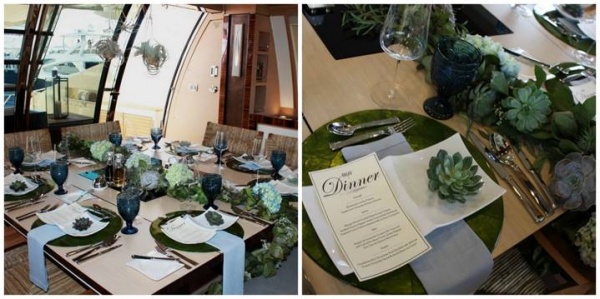 M/V BW won best overall in the professionally judged Tablescaping Competition (credit NCYS/Barby MacGowan)
BW's crew was in for all the crew competitions, which included Tablescaping, Signature Cocktail (sponsored by Keel Vodka), and Designer Water Competitions on Wednesday. "You go big or you go home," said BW's Head Stewardess Bex Kerol, capturing the essence of Newport Charter Yacht Show.
To that point, Kerol's and colleague Sarah Lind's beautifully complex yet soothing arrangement of peonies, ivy vine and succulents amidst a blue and green table setting aboard BW won them best overall in the professionally judged Tablescaping Competition, while BW also took runner-up spot to M/V Blue Moon (Ashley Pursel, Laura Finnerty, Jordan Sowman, Bethany Garrett, Michelle Cobb) in the Designer Water Competition, judged by "fans." The challenge was to make flavored water utilizing the water onboard in tanks. Blue Moon's was infused with strawberry, kiwi and lemon and served in a classy reusable bottle.
Fan favorite in the Specialty Cocktail Competition sponsored by Keel Vodka was S/V Serenity (Grace Dvornik), with its Keel vodka infused with lime and jalapeños, mixed with simple syrup made from cilantro, lime, pineapple and jalapeños, and served in a sugar-and-lime-zest rimmed glass. Tablescaping fan favorite was M/V Tail Lights (Sandra Murphy, Lisa Murphy, Jeff Marshall) with a design inspired by Peter Pan: the theme was "Never Grow Up," with woodland décor.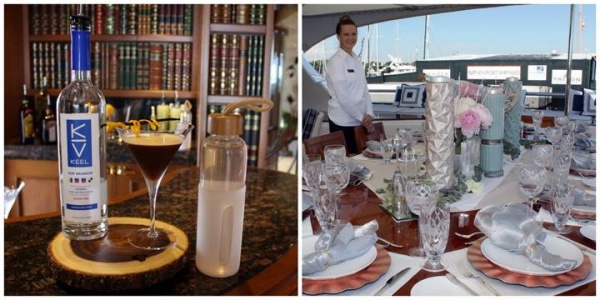 Newport Charter Yacht Show hosted Tablescaping, Signature Cocktail, and Designer Water contests for crews: Blue Moon concocted a winning designer water along with a "Dark Moon Martini" made with Keel Vodka and designed a "Rosé all Day" table setting. (credit NCYS/Barby MacGowan)