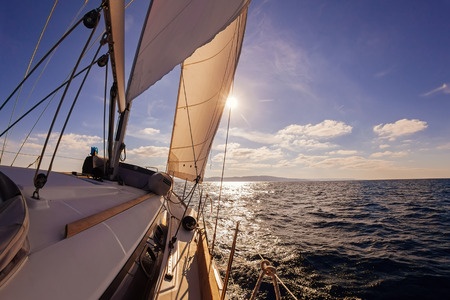 Whether you're interested in taking a sailboat, catamaran or power yacht on an upcoming charter, it's important to learn more about the different options available in order to choose one that suits you and your party's needs best.
Based on the number people who will be traveling on your chartered yacht, and the activities you wish to partake in, there are several different charter types available.
In this blog post, we will discuss three of the more popular options to help you decide which is best for you.
Fully Crewed Yacht
One of the more popular options for those booking a chartered yacht, this fully crewed yacht will ensure all your needs are taken care of, allowing you to sit back and relax as your charter travels to your destinations.
Travel in style and get pampered as you deserve with an experienced crew serving you with delicious food, drinks and more. You'll even be able to sail from time to time (with the captain's approval) before giving the reigns back.
Captain Only Yacht
As its name suggests, this type of yacht charter will only provide you and your guests with a captain to steer you safely to all your destinations.
This is the perfect option for parties that want to get hands on with taking care of the yacht, trimming the sails, navigating, preparing meals and more.
For a thrilling and fully immersive experience, a captain-only yacht is the perfect option.
Tandem Cruising Yachts
Tandem cruising yachts are the perfect option for those with larger parties or incentive groups. With this option your party will be chartering several yachts that will meet up at a desired destination.
This will not only allow your party more room to move around on each yacht, but fun "races" can even be held to see who can get from one anchorage to the next fastest.
If the weather is good, the yachts can even be rafted together so guests can go from one yacht to the other with ease.
No matter if you have a large group travelling with you or just a few friends and loved ones, and are budget-minded, there is sure to be a yacht that meets your criteria.
For the very best chartered yachts headed by an experienced crew, we ask that you think of our team at Nicholson Yacht Charters.
We are the oldest yacht charter company in the world and take great pride in offering the very best chartered experiences around the globe. To find out more about the options we have available, we invite you to give us a call today at 800-662-6066 or 617-661-0555.