Best Time to Visit:
March through June
Clients often ask us what the weather is like in the Caribbean. "When's the best time of year to cruise?" I was born and raised in Antigua. I'll be glad to help you with that.
Although the Caribbean is nice year round except during August and September, when it is hurricane season, the best time to sail the Eastern Caribbean from St. Thomas to Grenada is in the early summer – March through June…. Just as it's nice in North America during the early summer, so is it nice in the Caribbean…. There are fewer tourists, fewer squalls….less clouds….more settled weather patterns…. tropical fruit and flowers are in season…. Lower rates… Flowers bloom in June….
Settled Weather Patterns: More options for anchorages in early summer
March through June is when the trade winds calm down, so yachts can visit anchorages and islands that are otherwise difficult to get to in stormy, windy conditions. The islands of Saba and Statia in the Leeward Islands have deep, exposed anchorages…. It's hard to anchor securely in 100 feet of water with the wind blowing you on to shore. Yachts visit Saba and Statia in calm weather only, so the anchor doesn't drag. Thus there are more options for anchorages in early summer during calm, settled weather. …The whole Eastern side of Martinique, for instance, can be explored in early summer…. Martinique has a lagoon on the windward side ideal for cruising, between the outer reef and the mainland that otherwise is impossible to cruise during winter.
For the most part Caribbean anchorages are shallow, sandy, and secure, located in the lee of the islands on the Western side of the island chain… Tradewinds are easterly…. The wind blows from the East. And note that the island chain runs from north to south between Florida and Venezuela. So the tradewinds hit the chain at a right angle. Thus, the wind is on the beam whether sailing north or south up or down the island chain….
Weather No Longer Effects Rates
In lieu of publishing discounted rates in the summer as yachts in the "olden days" did – back in the 60s – they offer specials. This is because yachts in the Virgin Islands are so well booked – they easily get 25-35 weeks of charter a year. Hence, they're interested in booking gaps in their calendars…not discounting for the entire summer months….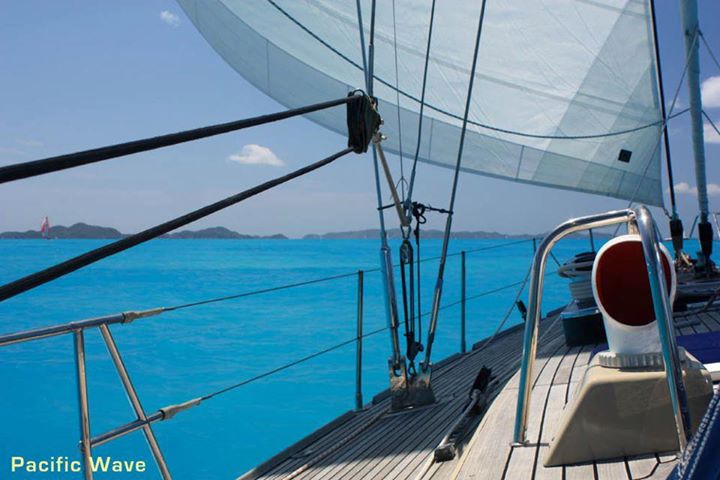 From the deck of PACIFIC WAVE, the 72 ft sloop, operated by Lynn and Mark Miles- "A norther has kicked up some sea activity in the BVI; the result is the seas are more than their usual brilliant palette of blues and azures."
Christmas Winds
But of course Christmas is the time when everybody wants to charter…..and yachts charge a premium for it. Historically, Christmas is the time when it's guaranteed that every single yacht will be on charter together. So popular is Christmas you have to book a year in advance. And when we say Christmas, we mean New Year's week. Christmas cruises begin after Christmas. It blows like stink at Christmas – known as 'the Christmas winds". Local phenomenon.
When it's cold outside, that's when most people go – January, February, March… Spring break, Easter….extremely popular times…. Christmas winds blow themselves out right after Christmas.
Christmas ends with a thud. The week right after Christmas in early January is usually always fallow…. Yachts offer specials to book January 5 to 12….. And of course the weather improves….
Hurricane Season
June too soon

July Stand By

August it Must

September Remember

October All Over
The fall is a good time to travel to the Caribbean also. Starting in late October after hurricane season which is 'July stand by, August it must, September remember, October all over,' fall extends from late October through November….. But the fall is cloudy…. It's hard to get a tan! It can also be wet, but there are deals to be had. Yachts offer specials in the fall.
Thanksgiving
Thanksgiving is a great time to go; most people have the time off; It's great to have a chef, so you don't have to cook, and yachts accept less-than-seven-day-charters over Thanksgiving at discounted rates. Somehow though, yachts remain open that week… It's not a popular time, yet it should be…. Airfares are low…as are hotels… Fall is when the yachts offer specials…. Yachts that operate year round in the Caribbean find charters getting busier starting in late October, running through November….
Captains take their holidays in August and September, hurricane season. They sail their yachts south to the Grenadines or Trinidad, which never get hurricanes, or they put them up on land or in the mangroves, secure them, and go on holiday, when there's nothing going on in August and September….rainy season. The fall is a bit wet also…
Summer is Hot
Summer is hot in the Caribbean. Fortunately, it's not humid. The Caribbean is dry…. Many restaurants, hotels, and boutiques close in summer, off-season…. But neither of these things matter on a yacht charter, because the trade winds blow on the water; yachts swing into the wind; hatches scoop the wind up and funnel it below, creating breezy, bug-less conditions for sleeping. Because you're on a private yacht, you don't notice that you're the only person in the hotel. Yachts are all inclusive, so you're not dining in the restaurants or visiting towns; you're visiting windswept anchorages, doing your own thing.
August is Mango Season
My sister Libby Nicholson lives in Antigua; she runs Pineapple House, a guest house in English Harbour; last August she visited Antigua to see about a hurricane and wrote: "I passed by the market and asked one of the girls to give me a huge box of grafted mangoes for a deal. Then I met Rasta Ike, and he gave me an even bigger box of mangoes, for $100 EC…. Then I went to the airport, and I saw MORE MANGOES….BOUGHT THEM ALLLLLLLL…. WEEEEEEEEEEEE…. JUST CALL ME MANGO FACE!"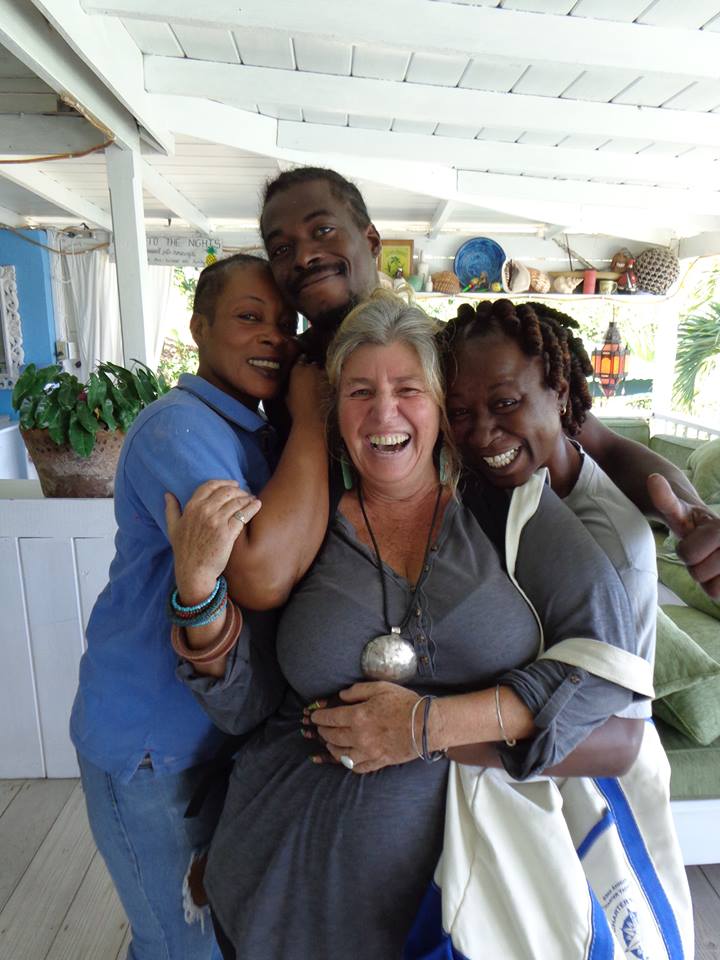 Another thing Libby Nicholson says about the Antiguans in the off-season is how extremely happy everybody is. One random day in August last year, she visited an office in Antigua. Everybody was laughing and smiling, having a good time. Then she visited another office right afterwards; they too were laughing and smiling and having a good time. She said, "Everybody is happy around here!" And that was just a random day during the summer time…
Sail Happy!
Submitted by Shelby Nicholson – April 5, 2016