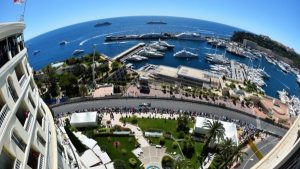 Within Coastal Waters of the United States, Nicholson Yacht Charters, Inc. arranges fully catered, Corporate, Day, or Event Charters for 12 guests maximum for day to week long, dockside or sail-out Charters aboard Large Super Yachts with captain and crew.  Within coastal waters of the Mediterranean and Caribbean, Corporate charters may involve more than 12 guests, but they may not go to sea with that number aboard; in compliance with safety regulations, charters must be held at dockside only, and the number of guests accommodated varies with each yacht.  Numbers typically range from 30 to 100 passengers, depending on the size of yacht.  Since charters can be coupled with Events ashore, like the Cannes Film Festival, Daytona Beach Speedway Events, the Monaco Grand Prix, or the Newport Jazz Festival, dock-side charters often are of interest to Corporate clients.
Because 99% of Private Luxury yachts are Registered as Commercial Vessels and not as Passenger vessels, cruises within the Continental United States Waters must be limited to 12 guests, whether at dock or underway, to comply with US Coast Guard Regulations.  Single day or Evening charters within Coastal Waters of the United States can either be at dock or at sea, including stops for lunch or dinner, and it can take place late into the night, or by day, but it can only involve 12 guests max, in compliance with US Coast Guard regulations.
Our Crews aboard Super Yachts within United States coastal waters, the Mediterranean, or Caribbean can arrange gala shipboard parties for parties of 12 to 100 (depending on location, as discussed above), or they can involve formal, sit-down lunch or dinner cruises with the table set with any kind of theme you like, such as an Alice in Wonderful lunch party, or a Twenties Cocktail Party, or as an Hawaiian Luau, which Crews aboard any Typical Super Yacht is able to do.  Offerings depend on the yacht.

Super Yachts lend themselves well to Corporate clients needing a venue to conduct business meetings, as Super Yachts are often equipped with privacy panels, audio visual equipment, and Celebrity-Savvy crew to serve and tend to guests.  Dining rooms often can be converted to board rooms for private catered meetings.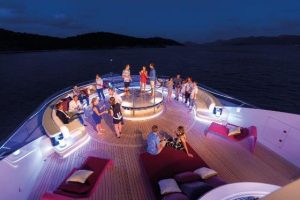 For Corporate Charters lasting longer than one day, taking place overnight and continuing for more than just a day, our Super yachts typically have accommodations for six to twelve guests in three to six staterooms, and cruises can either be coupled with Events ashore or they can be chartered for several days, gunk-holing from interesting port to interesting port.  Here meetings can be interspersed with time spent ashore exploring, or guests can remain aboard to use the yacht's sports equipment and enjoy the amenities aboard and the fine cuisine of the trained chef and the services of the several stewardesses, who are aboard.  Cruises also do not have to involve a meeting at all.  Super Yachts and their Crew offer Fine Holidays for Businessmen, Celebrities and Athletes looking to enjoy the perks of their labor.  Super Yachts are also often available in the Far Reaches of the World….
Cruises may start at any port, but there is often a delivery fee to get the yacht to the port of your choice, unless the port of your choice happens to be the port where the yacht is normally based.  Typical hubs for charter yachts when not on charter are Fort Lauderdale, Florida, Newport RI, and Cannes France, where delivery fees are often not charged.
CANNES FILM FESTIVAL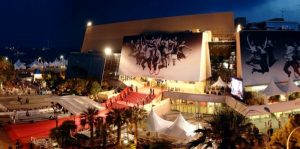 Chartering a Super Yacht is a great way to Book Accommodation right in the very heart of the Cannes Film Festival.  Yachts are berthed within easy walking distance of the pavilions and offer super deluxe accommodations with Jacuzzis, Spas, Master bedrooms, Michelin-rated chefs, and full gamut of professional crew.  Sit on deck and watch the sunset.  Entertain fellow colleagues attending the festival.  Our yachts are operated by professional crew with all the necessary credentials.  Yachts obtain dock space well in advance and can be chartered for the entire period or parts therein.   Entertain a large group and stay at anchor, or plan a business meeting, followed by a formal luncheon or dinner aboard.   Or sail out and explore the French Riviera.
MONACO F1 GRAND PRIX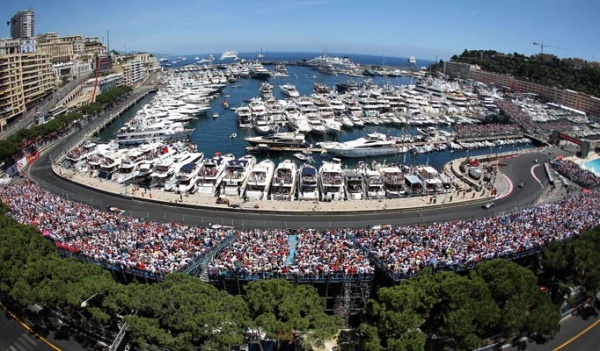 For a Description of Yachts Offering Corporate, Day, or Event Charters in New England, the Bahamas, Mediterranean and Caribbean, please click here and Search Yachts. Under Number of Guests, please select Event Charters.  Read a description of their offerings.
Length: 296′ – Cussens Werft Germany
Guests: 40 | Price as low as: €695,000 a week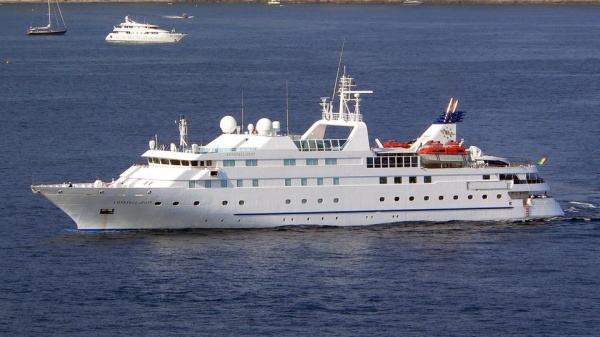 Available for the Cannes Film Festival and Monaco F1 Grand Prix, the 296′ converted cruise ship LAUREN L is the Perfect Yacht for Events, Dinner, Receptions, and Cocktail Parties….  €115,000/day – Up to 300 Guests Onboard at Quay – LAUREN L Photo Presentation PRIVATE CHARTERS Accommodating up to 40 guests in 20 private staterooms, LAUREN L is also available for private charters in the Western Mediterranean.  Blending classic style and attention to…
READ MORE
Length: 102′ – Cerri Flyingsport
Guests: 10 | Price as low as: €46,900 a week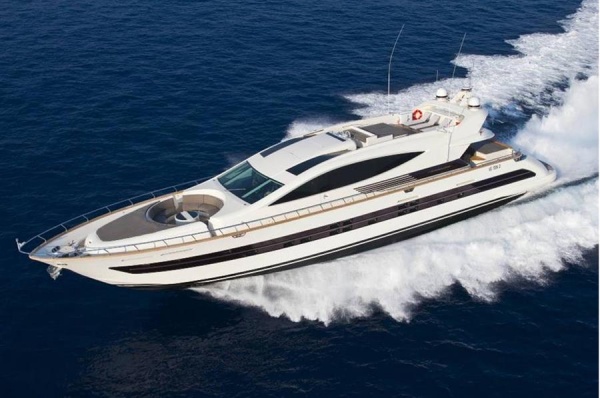 After four successful charter seasons and lots of excellent Brokers' references collected, The 102′ Cerri Flyingsport motor yacht, Toby, is one of the most popular charter yachts in the South of France. Experience chartering as it should be in the Mediterranean, with amazing food, comfort, toys and all while being spoiled with great service. TOBY accommodates ten guests and has five crew and is available in the South of France for the Summer…
READ MORE