Dear Friends,
Let's continue the fun with some pictures and stories from
NICHOLSON CHARTER YACHTS
based in the Virgin Islands.
---
The Virgin Islands have hiking trails that criss-cross the islands that are safe for tourists. Jost Van Dyke has a walking trail that wraps around the coastline. It also has a trail with ATV rentals that climbs up into the mountains. St. John has walking paths to abandoned sugar plantations in the center of the island. Anegada has a twenty mile, white, sandy beach that feels like eternity to walk along; no matter how long you walk for, you feel like you are getting nowhere at all. It also has a sandy road, and islanders offer motor scooter rentals. I've enjoyed long walks through the mountains of Tortola, where I've felt perfectly safe and enjoyed meeting the locals. It feels good to get off the boat and stretch your legs after a long sail.
ATVing the mountain trails on Jost Van Dyke.
Photo courtesy of 62′ S/Y Catsy
---
Climbing Up!
Photo courtesy of 62′ Cat Catsy
---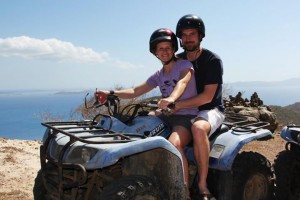 High above Great Harbour, Jost Van Dyke , BVI – 62′ Cat Catsy
---
After a quick sail out to Anegada (8.6 knots average) the guests hit the road – 47' S/Y Caribbean Dream
Rent motor scooters to explore the sandy back roads of Anegada.
---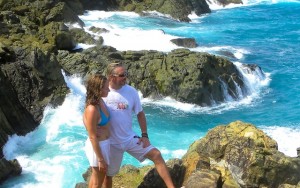 Hiking the shoreline of Jost Van Dyke
Jost Van Dyke has a coastal walking trail that wraps around the island.
---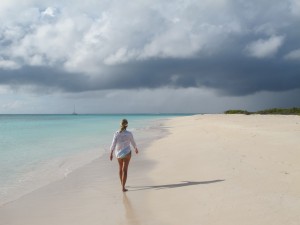 Sherri on Sailing Catamaran Green Flash says, "One of my favorite things to do on Anegada is to walk the hour and a half to Cow Wreck Beach. It's an incredibly surreal walk. You literally walk for miles, watching the sand, water and sky change colors before your eyes with not a soul in sight. And it's a great way to earn Belle's BBQ lunch!" S/Y Green Flash
---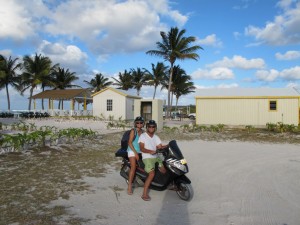 Renting scooters on Anegada is a great way to get around and see the whole island in a day. If you don't mind getting stuck in the sand every once in a while, you can take the back roads and see some really different parts of the island.
---
Walking the long beaches of Anegada feels like you're walking through eternity. You don't seem to get anywhere at all!
---
Sail Happy!