It has been a tense time, watching Hurricane Irma with helplessness take her wrath on our lovely Virgin Islands.  It is heartening to see the assistance being given to the islands, and the recovery process beginning! We know the people are strong, resilient & proud, and we look forward to doing our part with them.
Reports have been coming in…. Below is a list of yachts and their status, following the hurricane. Some yachts were, of course, heavily damaged, but most have survived.
We have noted a degree of hesitation to charter in the Virgin Islands now. Certainly, we must all be conscientious in our activities. Top notch sailing is still there. Beaches are still there. The bars will be there, just a little less fancy for the moment! There will still be everything available for beautiful fun-filled charters… lovely catamarans, great service, good food & beverages, Anegada lobster, and warm clear waters with tropical breezes.
Given the option to cruise down island, the Grenadines, for instance, a beautiful cruising ground to the South not effected by Hurricane Irma, many charter crews  in the Virgin Islands have taken the stand to decline charters there, even at this early juncture, such is their belief in the Virgin Islanders spirit to clean up by Christmas, the start of the season, and continue chartering in the Virgin Islands this winter, to show visitors the wonders of the Virgin Islands and her beautiful waters.  So keep the faith.  Come sail the Virgin Islands this winter!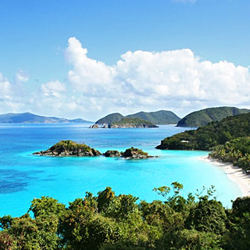 Yacht Status Updates
ALTERNATE LATITUDE – Safe in Puerto Rico
AMAZING GRACE – cosmetic damage only, safe in STT
ANTILLEAN – Safe in STT
DAUNTLESS – Safe in Annapolis
DEEP BLUE – Safe in Puerto Rico
DIANNA ROSE – Safe in Grenada
DREAMING ON – Safe in Belize
DREAM SONG – Safe now in Puerto Rico
EUPHORIA – Safe in Puerto Rico
FEEL THE MAGIC – Safe in Puerto Rico
GENESIS – Safe in Puerto Rico
GUIDING LIGHT – Safe in Puerto Rico
HYPNAUTIC – Safe in Puerto Rico
LADY KATLO – Safe in St Martin
MAKAI – Safe in Puerto Rico
MIMZY – Safe in Puerto Rico
MORE AMORE' – Safe in Puerto Rico
NANA – Safe on hard in Nanny Cay, undamaged we hear
NEVERLAND – Safe in Puerto Rico
PEGASUS – Safe in Puerto Rico
OUT OF OFFICE – Appears to be fine, will know tomorrow
QUEST – Safe in St Croix
SANDCASTLE – leaning over but upright at VG, will know more tomorrow
SHANGRI LA – Safe in Grenada
SPLIT SECOND – Safe in New England
SANTA ANA – Safe in Puerto Rico
STARFISH – Safe In St Kitts
STARGAZER – Safe in Grenada
THE ANNEX – Safe in St Martin
TOBARTHS – Upright on land in Nanny Cay, dismasted
TRINITY – Safe in Puerto Rico
TWO IF BY SEA – Safe
ULTIMALIFE – Safe in STT
VENTANA – Safe in Europe
WINDSCAPE – Safe in Puerto Rico
YES DEAR – Safe in Puerto Rico
ALTITUDE ADJUSTMENT -Damaged in VG
DRUMBEAT – Damaged in VG
SUBLIME – Damaged in VG
FLAMBOYANCE  – TBD in VG
FLAME – TBD
SUITE LIFE – Safe in PR
THREE MOONS  – Safe in PR
RUNAWAY – Safe in PR
STEPPIN UP – Safe in PR
SIREN SONG – Safe in the Grenadines
LADY DEE – Safe in PR
SEA WITCH – Safe in NE
TEMPLAR – Safe in FL
ENTHEOS – Safe in the Grenadines
TABOO  – Safe down Island
MAJESTIC SPIRIT  – Safe in the Grenadines
QUIXOTE – Safe in NE
STORM PETREL – Safe in NE
WHISPER – Safe Compass Point
SABRAGE – Safe in VG
AKKA      St. Maarten         OK
ALTER EGO          Florida   OK
AMAZING            BVI/Tortola/Village Cay  Damaged, awaiting insurance assessment
AMAZING BLUES               Barbados             OK
AMAZING LADY  BVI/Tortola/Village Cay  Damaged, awaiting insurance assessment
AMERIGO            New England      OK
BAMARANDI       St. Maarten         Damaged, awaiting insurance assessment
CALYPSO              Miami    OK
CAP II    New England      OK
CAMELOT            Mediterranean   OK
DELICIA Greece  OK
FAIRSKIES            New England      OK
FREEBIRD            Bahamas/Georgetown    OK
GOOD VIBRATIONS          Virgin Gorda        Hauled Out; OK
HARMONY          Martinique          OK
HAWKEYE            Europe  OK
IRRESISTIBLE      St. Thomas          OK
ISLAND LADY      St. Lucia               OK
LADY M Europe  OK
MANUTARA        Florida   OK
MOJEKA               Grenada               OK
MOJITO               St. Maarten/Oyster Pond               Unknown
MUSTANG           New England      OK
NEMO CAT          Antigua Hauled Out; OK
NEMO S/Y           Grenada               OK
NENNE  Europe  OK
NIRVANA             St. Maarten/Oyster Pond               Unknown
PERFECT HARMONY        Florida   OK
PERFECT SENSE  Florida   OK
PIGGYBANK         Ft. Lauderdale/Canal       OK
RISKY WATERS   New England      OK
RUBICON            Bahamas/Georgetown    OK
SAGITTARIUS      Grenada               OK
SEAHOME            Grenada               OK
SEA SENOR          Bahamas/Nassau             OK
SEACLUSION       Florida   OK
SEADUCTION      St. Maarten/Oyster Pond               Unknown
SILENT WINGS   Grenada               OK
SKIMMER            BVI/Tortola/Village Cay  Damaged; awaiting insurance assessment
SYRENE Ft. Lauderdale    OK
TELLSTAR            Chesapeake        OK
VICTORIA            Virgin Gorda        Hauled out, mast down but OK
VISION  Martinique          OK
VITESSE Florida   OK
XIMERA Grenada               OK